Not the largest, nor the fastest bird in the sky, but that doesn't stop the hawk from being an apex predator. These birds have been admired by humans for their fascinating beauty. And there beauty isn't limited to nature. They look just as good on skin as they do in the sky, so it comes as no surprise that hawk tattoos are so popular!
But before you go and get your own hawk tattoo, let us help guide you in choosing the perfect piece of ink. Below we'll show you the most unique, most stylish, and best-looking hawk tattoos ideas of 2023. You'll surely be inspired with the perfect idea of which tattoo style to get, as well as where to get tattooed on your body.
With that said, let's begin.
Neo Traditional Style Hawk Tattoo
The color palette here makes this looks like a scene right out of a Fall landscape. But yes, hawks can actually be this color. This tattoo is inked in Neo Traditional style which is often considered to be the grown-up version of New School. There's no longer a distorted or cartoonish appearance. Instead the resulting imagery is accurate looking although not quite photo-realistic.
Neo Traditional Hawk Full-Sleeve Tattoo
Although it appears that parts of this tattoo were inked at different times, the Hawk beautifully fits within the upper circle. Seeming to represent the moon, it perfectly highlights the Hawk's face. Bold block shading and a muted color palette complete the picture.
Large Black and Gray Hawk Tattoo
This Hawk looks pretty angry but then again hawks aren't known to be too friendly. The muted shading is beautifully inked and adds to this angry mood. Black ink is watered down to create the varying tones of gray. Completing the design and taking it to another level are the swirling waves of negative or uninked space. Props to Artist IG:@cledsontattoo from Brazil
Linework Hawk Tattoo on Man's Upper Back and Arm
A 2D rendering is created here with the use of black lines that are simple and clean. Although there's minimal overall shading, the heavier inked feathers on the upper right create a nice artistic touch. Of course what's most striking about this design is its sweep across the upper back onto the arm. It's an unexpected touch that makes full use of the canvas this area provides.
Black and Gray Hawk Tattoo on Man's Chest
What's striking about this tattoo is the design itself which is positioned off-center. The wings spread across the chest highlighting the collarbones and perfectly framing the neck. The talons, also off-center, curve towards the midline creating focus.. Add to this heavy black shading and this is one very dramatic tattoo.
Pair of Black and Gray Hawk Tattoos on Arm
You can sense movement here. With open wings, a lateral orientation and plenty of surrounding negative space you know these two Hawks are soaring above. The sky seems to be the limit but luckily these two aren't going anywhere.
Large Black and Gray Hawk Tattoo Across Back
The orientation of the hawk in this tattoo is definitely different; at first it's even hard to distinguish where the head is. Of course you immediately notice the beautiful expanse of the wings which showcase impressive detailing. This detailing is brought to you using black lines, shading and the smart use of negative or uninked space. All together you get one big, bold tattoo.
Large Black and Gray Hawk Tattoo on Woman's Back
The wings of this Hawk are beautifully depicted in this tattoo. With flowing curves they spread across the back highlighted by the dark edges of the feathers. Skilled shading and white ink result in a Hawk seen in all his glory. Just not sure I'd want him right on my back.
Asian-Inspired Hawk Tattoo
Look at this picture and you'd probably think it's an example of classical Asian art. Or perhaps you might think it's embroidered or printed fabric. The detailing is so intricate and the shading so sophisticated it would be hard to think otherwise. Of course this is the work of one very skilled artist taking ink to skin. Big props to Artist IG:@moon.cheon from Seoul, Korea – the home of many great tattoo artists
Black and Gray Hawk Tattoo on Forearm
It looks like there are two tattoos here with the Hawk fitting right in with the upper design. Look again and you're impressed by the impressive detailing seen on the Hawk. The design itself perfectly utilizes the long linear canvas provided with the florals artfully adding interest.
Blackwork Hawk Tattoo
Done in Blackwork , this tattoo is suggestive of New School style. There are the heavy outlines and exaggerated depictions reminiscent of graffiti or pop art. There's a sense that rules don't count and that creativity rules and…That's Good
Custom Hawk Tattoo
This is a very cool custom tattoo. It's immediately reminiscent of Aztec artwork that often depicted Hawks and eagles; both symbolic of warriors. Of course the bold red graphic is also characteristic of this artwork. Extending it onto the body of the Hawk elevates the design to another level. Props to Artist IG:@david_tattoos from Redlands, CA
Realistic Black and Gray Hawk Tattoo
It's hard not to imagine that this isn't a painting. The inking, the lines, the shading are all so precise it's amazing that this is ink on skin. White ink is then used to add texture and light to the design making this Hawk appear ready for flight. Props to Artist IG:@sergey_le.tattoo_artist another great tattoo artist from Seoul, Korea
Black and Gray Hawk Tattoo on Man's Chest
The shading in this tattoo is so impressive. It's at times subtle, at times bold; always sophisticated. The design is thoughtfully dictated by the anatomy here. The talons and tail accent the pectoralis while the wing follows the curve of the shoulder. This is how a tattoo should "fit" the space where it's inked. Well Done
Large Black and Gray Hawk Tattoo on Man's Chest
There's plenty about this tattoo that's sure to grab your attention. First it's big stretching from shoulder to shoulder. Centered right above the sternum, a focal point is immediately established that pulls you in. Then there's the heavy opaque inking with beautiful curved lines below. All together this is one big and beautiful tattoo.
Realistic Black and Gray Hawk Tattoo on Forearm/Hand
This tattoo showcases beautiful subtle shading that's created using only black ink. It's then watered down to create the varying tones of gray which are seen. A nice artistic touch is the use of white ink highlighting the linear expanse of the wing as well as the petals. Of course the lines of this design are beautiful as they sweep across the forearm onto the hand.
Realistic Hawk Tattoo with Touches of Blue
Look at this tattoo and you'll notice a few things. First there's the use of white ink that defines and details the Hawk. It's also successfully used to create the light seen from behind the trees. There are also the opaque bands of black ink which swirl around the forearm. And then you can't miss the splashes of royal blue ink that even line up with the blue eye. Dramatic Indeed
Linework Hawk Tattoo on Arm
This tattoo is a beautiful example of Linework style. As the name implies, the design is created using a a series of lines. Shading is achieved by inking lines in close proximity to one another. Although a sense of depth is achieved, a true 3D rendering isn't the goal. Look at the hawk's face and you can see that the absence of inking here actually adds to the final design.
Realistic Black and Gray Hawk Tattoo on Arm
What's not to like about this tattoo; unless of course you don't like Hawks. The lines, shading and contrast are all beautifully inked. And then there's the design itself. Its outline mirrors the lines of the shoulder and upper arm. It's as if this design was just meant to be here. Props to another great artist out of Korea Artist IG:@noma_tattooer
Realistic Hawk Tattoo on Forearm
With thin lines, muted tones and subtle shading this Hawk has a delicate feel to it. The expanse of negative or uninked space on the body of the Hawk certainly helps create this feel. The large area of negative space surrounding the design similarly adds to this mood.
Blackwork Hawk Tattoo on Chest
Blackwork style utilizes only black ink with no gray. The design detail is achieved by the incorporation of negative or uninked space. In this tattoo the heavy planes of opaque black ink are nicely offset by the adjacent subtle shading. The result is a bold, fierce-looking Hawk.
Realistic Black and Gray Hawk Tattoo
Technical and artistic skill are both on display in this tattoo. White ink is used to great effect around the eyes creating a gaze that's hard to look away from. There's also the creative use of negative or uninked space. The face of this Hawk actually comes to life with minimal shading or contrast. The darker shading seen at the bottom of the design is both subtle and sophisticated. Add two swirling bands of negative space and you see how an artist sets himself apart. Props to Artist IG:@rafaelandradetattoo
Custom Hawk Tattoo with Unique Shading
The shading in this tattoo is so unique. In certain areas it's subtle while in other areas it's highly stylized. Even the leaves blend effortlessly with the body of the Hawk. Framed by the beautifully shaded moon, this Hawk is a standout. Props to Artist IG:@wolfang.ink from Mexico City, Mexico
Asian-Inspired Hawk Tattoo on Shoulder
This tattoo appears to have been inspired by classic Asian art. The characteristic fine and rough strokes are both seen. Although it's true that bright colors are frequently used it's as common to see Asian works with a muted color palette. And of course birds are one of the major themes in Asian art.
Hawk Tattoo with Japanese Kitsune Mask
The kitsune or fox is highly prized in Japanese culture as it's associated with the gods. For this reason the kitsune mask has traditionally been worn by many Japanese at festive occasions. Here the mask is dangling off the Hawk. What do you think it all means?
Custom Black and Gray Hawk Tattoo Across Chest
There's so much to like about this tattoo. First there's the skilled inking as seen in he steady black lines and the contrasting shading styles. In areas the shading has a light, subtle feel while in other areas it's heavy and bold. Of course the design itself is super artistic. Stretching from shoulder to shoulder, the repetition of the triangle adds interest and focuses the viewer's eye on the tattoo…and this guy who isn't too bad to look at.
Neo Traditional Hawk Tattoo on Side of Calf
Neo Traditional style is characterized by stylized shading, clean dark outlines and a focus on human and animal portraits. Check. Check. Check. But it's also characterized by a muted color palette. Obviously all we have here is black ink. Welcome to the marriage of Neo Traditional and Black and Gray styles. Here the black ink has been watered down to create the varying gray tones. They're exquisitely used to perfection to ink this Hawk.
Black and Gray Hawk Tattoo on Man's Forearm
The lines and shading in this tattoo are impressive yet it's really the design that sets this tattoo apart. First there's the orientation of the hawk with its tail pointing towards the elbow. Its starkly linear outline and heavy inking immediately catch your attention. Opposite the tail and essentially mirroring it, the head of the hawk has very muted detailing and shading. Of course with the wings looking like a cuff hugging the forearm, this is one impressive work. Big props to the Artist IG:@arang_eleven
Neo Traditional Hawk Tattoo on Man's Arm
The muted tones of Neo Traditional style are on beautiful display in this tattoo. Some say that there's a newfound maturity seen with Neo Traditional style; essentially a style that's now all grown-up.
New School Hawk Tattoo
New School style is characterized by its use of heavy outlines, vivid colors, simple shading and intentional disproportions. Its inspiration is often found in graffiti and pop art. This design is so interesting in the way it represents the Hawk in a disjointed, creative way. Topping it all off are those bright red berries.
Black and Gray/Neo Traditional Hawk Tattoo on Arm
Hawks aren't necessarily very endearing but this tattoo certainly is. The flowers and foliage associated with Neo Traditional style seem to welcome you in. Complete with stars, a Crescent moon and even a butterfly this tattoo showcases amazing shading. It's muted, subtle and sublime.
Large Hawk Tattoo on Chest
A Hawk holding a duck must have a specific meaning; just not sure what it is. And that's what's so cool about tattoos. It's your chance to tell a story; perhaps very personal. Of course whether you share the meaning is entirely up to you.
Black and Gray/Neo Traditional Hawk Tattoo
Although a muted color palette is absent, elements of Neo Traditional style can be seen like simple outlines and simple shading. Here of course everything is inked in black and tones of gray. With a throwback to Old School, the wings are even suggestive of an American flag.
Old School Hawk Tattoo on Top of Thigh
It's usually easy to spot Old School style with its simple outlines, simple color palette and bold outlines. Of course this isn't your Grandpa's Old School tattoo of a flag or pin-up girl. Even Old School can get anupdate. Here the big round red ball creates an instant focus making it hard to look away.
Linework Hawk Tattoo on Forearm
This is such a beautiful tattoo. The many intricate black lines are steady and uniform with a true precision to them. The shading at times is muted and subtle but alternatively also bold and eye-catching. Of course the linear expanse of this design perfectly fits the canvas which the forearm provides. Perfection
Small Black and Gray Hawk Tattoo over Sternum
If you want to create a focal point on your chest, a tattoo over the sternum is the way to go. Located right in the middle of the chest, the viewer's eye will be immediately drawn in. This realistic tattoo showcases beautiful shading and contrast along with plays of light.
Black and Gray Neo Traditional Hawk Tattoo
The muted mood of Neo Traditional style is brought to you here in Black and Gray. Black ink is used which is then watered down to create the gray tones. Of course the addition of white ink adds a pop and contrast to this palette.
Realistic Black and Gray Hawk Tattoo on Man's Arm
One look at this tattoo and you know realism was the goal. From the eye to the beak to the feathers, this is an absolutely accurate rendering of a Hawk. Skilled shading creates the exquisite detailing while uninked areas create light. The heavy shading at top is the perfect finishing touch.
Old School/Blackwork Hawk Tattoo on Arm
The linear, geometric lines of this tattoo resemble a wood carving. Enhancing this feel is the heavy opaque inking which is predominant throughout the design. The result is a "solid" block-like feel and absence of any sense of motion. Looks like this hawk isn't going anywhere.
Neo Traditional Hawk Tattoo on Forearm
The muted shades are so pretty in this tattoo especially offset by the black ink. There's even a sheen to the colors reminiscent of a silk print. Elevating the artistry of this tattoo are the linear curves of the Hawk's body which are in beautiful counterbalance to the branch on the left.
Black and Gray Hawk Tattoo on Woman's Arm
The thin black lines and subtle shading seen in this tattoo immediately attract your attention. The design too is also a real showstopper. With the side orientation of the Hawk, the wings gracefully highlight the upper arm. The resulting large area of negative or uninked space between the wings is nothing short of beautiful. And if that weren't enough, the drape of the wings around and onto the chest is like…Poetry In Motion
Cool Hawk Tattoo on Inner Forearm
This is such a beautiful design perfectly showcased on the inner forearm.. The detailing is done in such a creative fashion as seen in the repeated pattern across the body of the Hawk. The shading is similarly impressive varying from broad strokes on the tail to subtle touches on the wings. Completing the design are the sketch-like lines of the perch.
New School Style Hawk Tattoo
New School style has an irreverence to it with no need to follow the rules. There are bright, vibrant colors and bold outlines. There are even birds dripping with blood red jewels and decorative necklaces. Why not? New School is all about creativity and letting you "paint" your world your way.
Old School/Blackwork Hawk Tattoo On Woman's Back
Although this design is big and bold it's never menacing. That's in part due to the simplicity of design and shading. In essence this is a 2D rendering without the realism that a 3D image would evoke. So if a bold yet welcoming Hawk is your goal, this tattoo is perfect for you.
Realistic Black and Gray Hawk Tattoo
The tones and shading in this tattoo are awesome. Highlighted with white ink this Hawk really comes alive. You can even see a glimmer of light reflecting off the eye. Then what truly makes this design beautiful is the sweeping flow of the feathers across the skin.
Black and Gray Hawk Tattoo
This hawk gets a softer look with the addition of pretty foliage. The sweeping curved lines and the muted tones throughout the design together make for a more delicate mood; which is nice sometimes as Hawks can be pretty scary.
Old School Hawk Tattoo on Calf
It's often said that once you go Old School you stay Old School; case-in-point these calf tattoos. The Hawk has the simple color palette and block-like shading characteristic of this style. Of course this isn't your Grandpa's Old School tattoo of a flag or pin-up girl. Even Old School can be new.
Minimalistic Realism Tattoo of Hawk with Arrows
Often a Hawk with arrows represents a warrior and bravery. Regardless of the intended symbolism this tattoo showcases real skill.The lines are thin and uniform, the contrast subtle and the shading precise. With open wings ,this Hawk appears to be soaring above in the open sky.
Black and Gray Hawk Tattoo
What's so good about this tattoo; namely the intricacy of detail. Slight gradients of color and shading produce the enormous detailing seen. Of course the fact that this is all done in such a small space is evidence of one skilled artist.
You Might wonder why Hawk Tattoos are Popular. The hawk is a powerful bird, with sharp eyesight and fierce hunting skills. This makes it an ideal choice of tattoo symbol for those who admire strength, power, and determination.
The hawk is a very powerful bird with incredible vision. They have keen eyesight and can spot their prey from great distances, making them one of nature's most efficient hunters. This makes them ideal for representing traits like focus, accuracy, strength, swiftness, and courage on your skin.
Hawk tattoos have long been regarded as a symbol of strength and power by many cultures around the world. They are traditionally associated with spiritual beliefs, particularly in Native American tribes.
Hawk Tattoos Meanings and Symbolisms
In many western cultures, this bird is also seen as a messenger from the divine realms – either bringing good news or warning of impending danger. It is considered to be a strong protector that can help overcome life's challenges and ward off evil spirits.
Because hawks are known to mate for life, they also make excellent emblems of loyalty and love. For this reason, many couples choose to get matching hawk tattoos in remembrance of their commitment to one another or a celebration of their relationship.
In many Native American cultures, the hawk has long been revered as a messenger from the gods or spirits of nature, so it is often chosen by proud parents-to-be as a symbol of new life or as an expression of hope for a healthy baby on its way into the world.
In ancient China, there is also strong evidence that people looked up to birds for their insight into the world around them. The Chinese used the hawk as a symbol of bravery and power in battle because they believed these qualities could be channeled through the tattooed skin of warriors.
What many people may not know is that the hawk tattoo can also symbolize wisdom, as its keen eyesight allows it to spot prey from high above and swoop down on them with lightning-fast speed. For this reason, many tattoo enthusiasts choose the bird of prey as a metaphor for their sharp intellect and ability to turn opportunity into success.
Many people choose hawk tattoos because they believe that hawks have powerful spiritual significance and are revered by many cultures around the world.
Other meanings associated with the hawk include protection, independence, honesty, fearlessness, and discernment. So depending on the symbolism, you wish to incorporate into your design, there are plenty of options out there when it comes to choosing what type of hawk tattoo suits you best.
Hawk Tattoo Designs
There are many different hawk tattoo designs, each one representing something slightly different based on its color, shape, size, and other features. Many people choose to use symbols with hawk tattoos to represent their journey with spirituality and the higher self.
One popular design is an outline of a hawk in flight against a background of beautiful scenery. Other designs incorporate symbols such as feathers, military imagery, and even tribal art featuring geometric patterns.
Whether you want something simple or intricate and ornate, there's sure to be a hawk design that suits your style. Here are just some of our favorites:
1. The tribal-style hawk tattoo. Tribal designs are still super trendy right now. With its sharp lines and clean edges, it's the perfect way to show off your love of the hawk.
2. The realistic-looking hawk tattoo. Some hawk tattoos are designed to look as lifelike as possible, which is why such designs are always so eye-catching and striking. With its soft feathers and big round eyes, this one's sure to take your breath away.
3. The traditional hawk tattoo. If you prefer a more classic approach, then the traditional style is ideal for you. It may not be the most creative designs out there, but it certainly looks great on anyone who loves hawks for their beautiful plumage and strong bodies.
4. The tribal-style sparrowhawk tattoo. As we all know, many birds of prey are called hawks. But that doesn't mean you can't mix things up and get a tattoo of another type of bird. Sparrowhawks are particularly beautiful, so it's no wonder that they are such popular subjects for ink pieces.
5. Try a set of hawk tattoos on the forearm. It's always fun to get a matching tattoo with someone else. If you have an artistic partner-in-crime, then why not consider putting together a pair of hawks?
6. How about a colorful hawk feather tattoo on the arm or leg? One trend we've seen recently is using small colored feathers as accents in ink pieces (think peacock feathers or macaw wings). This is a great way to add some extra vibrancy and color to your hawk tattoo.
7. What's more beautiful than the wings of a hawk? Exactly – nothing. So don't be afraid to show off these gorgeous limbs, by getting inked with a stunning wing pattern.
8. The set of colorful small feathers on the leg or arm. As we've seen, there are many ways you can use colored feathers as accents in your ink piece. This design combines both bright colors and clean lines, which makes it one of our all-time favorites.
9. A cool idea would be a detailed large feather on the upper arm or shoulder blade. If you are looking for something truly unique, then you'll love this gorgeous ink piece. You can combine a tribal-style design with realistically painted feathers, making it the perfect way to show off your love of these beautiful birds.
10. A majestic design you can try is a large traditional-style hawk tattoo on the upper arm or leg. When we think of traditional tattoos, images like sailors and pinup girls come to mind. But many other designs fit this category, including hawks. Add bold lines and big colors that bring you joy.
You don't need to worry about finding the perfect design as we have handpicked some of the finest designs here. We present you with the very best tattoos of a hawk for men and women.
Traditional Tattoo Of Hawk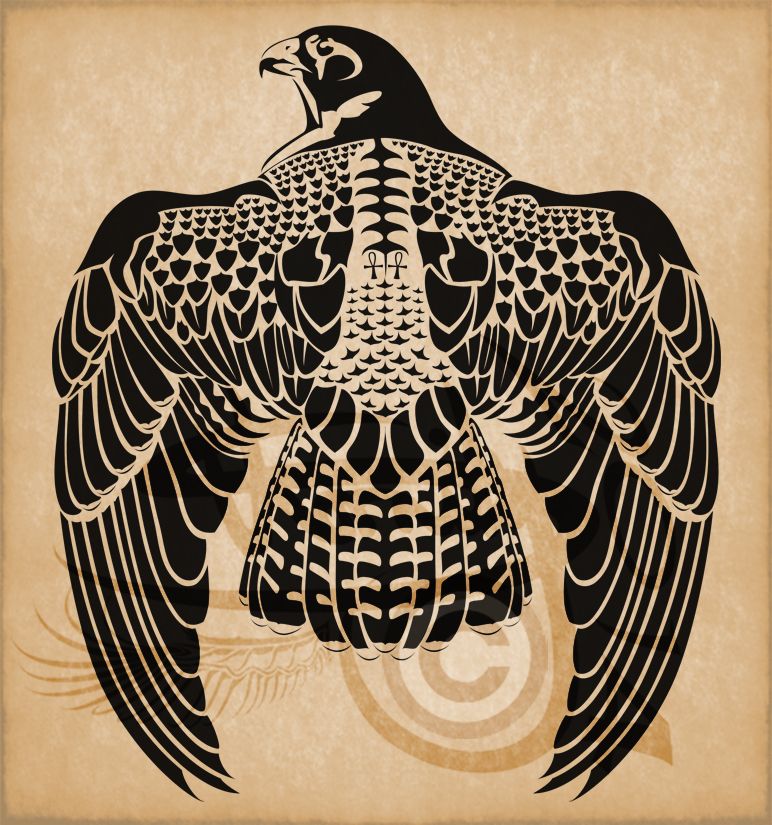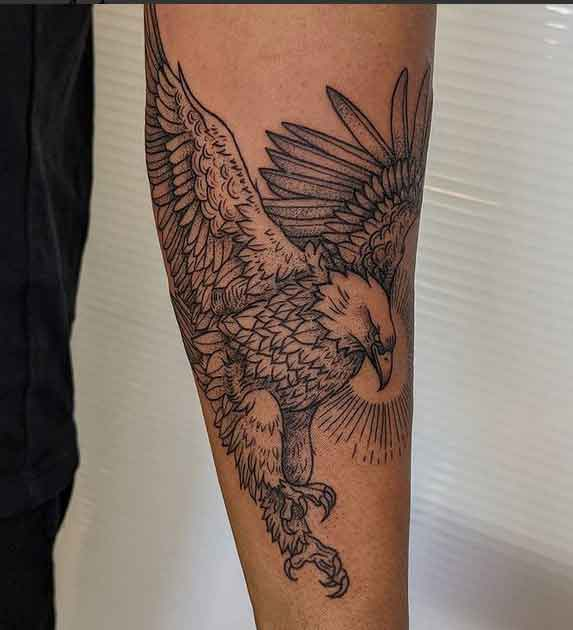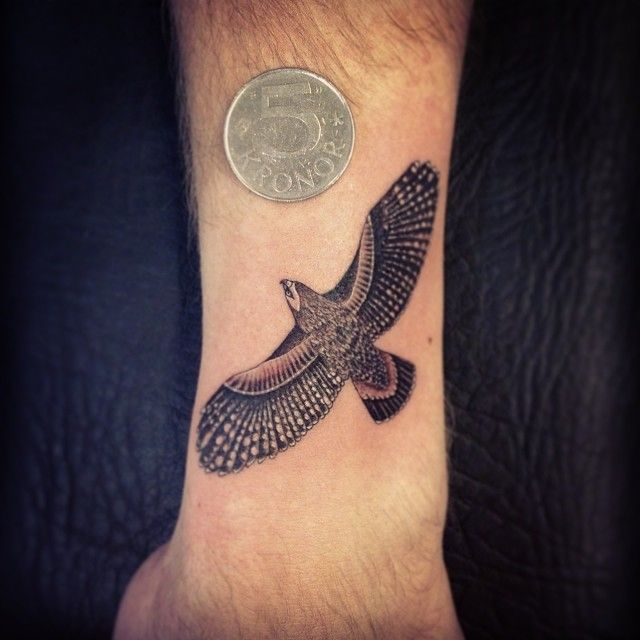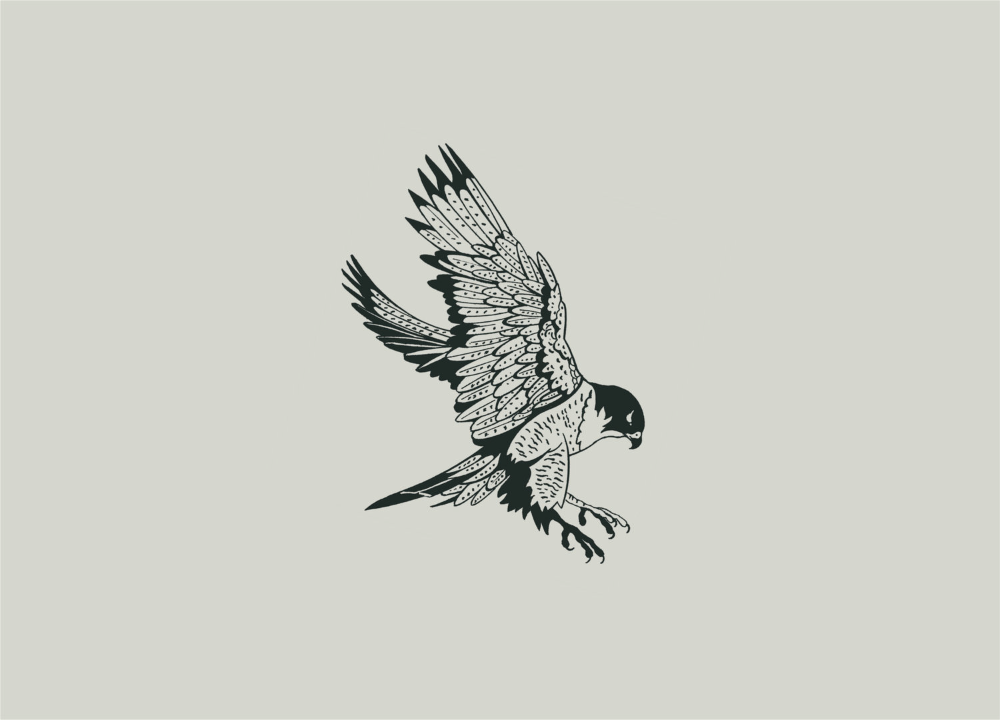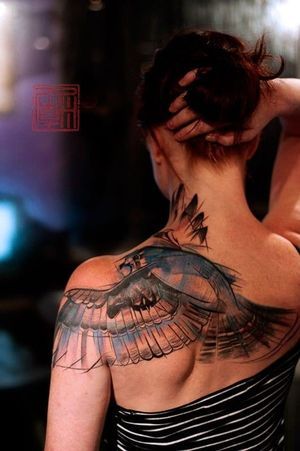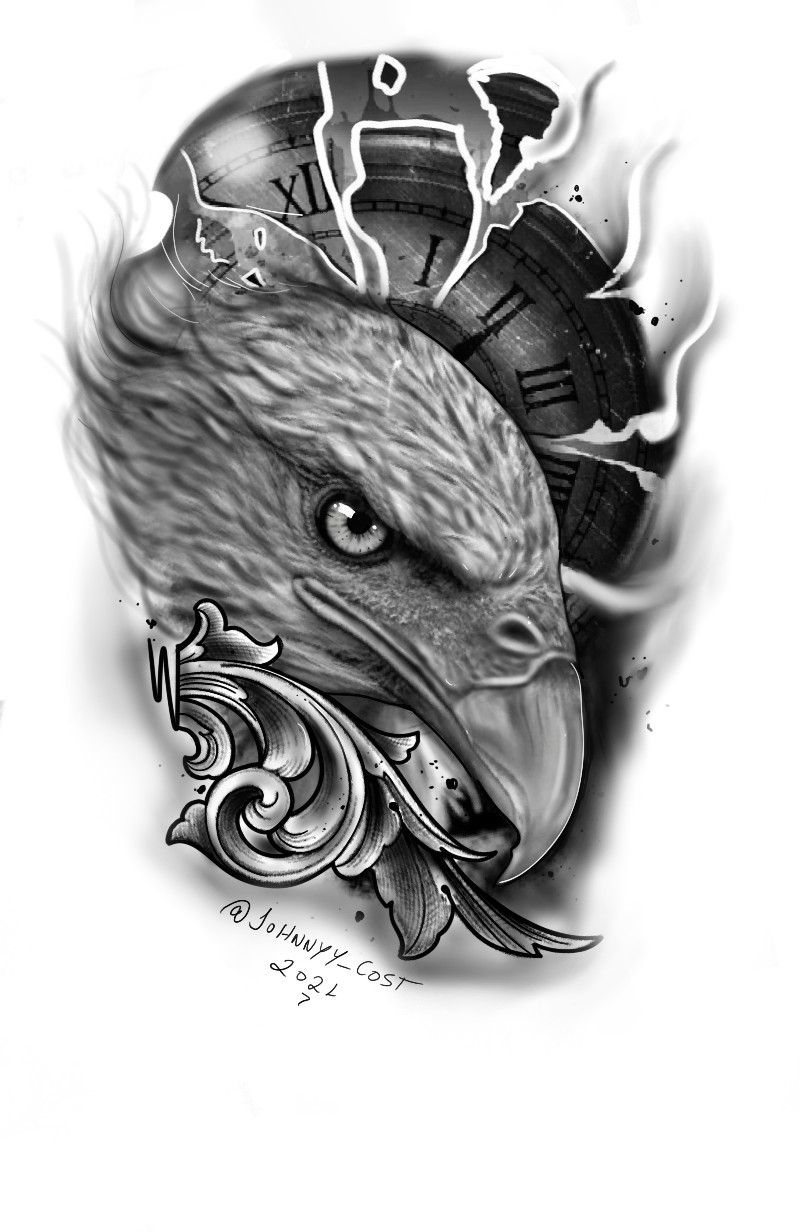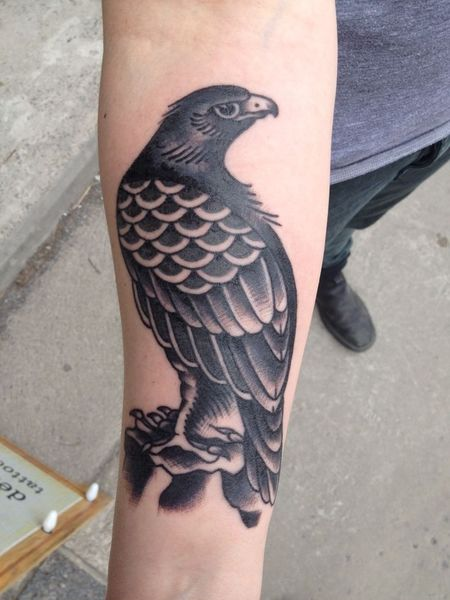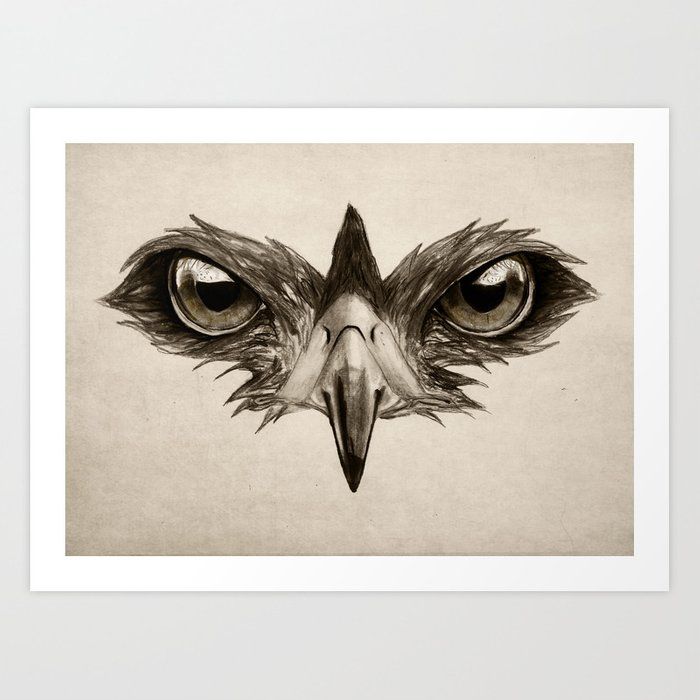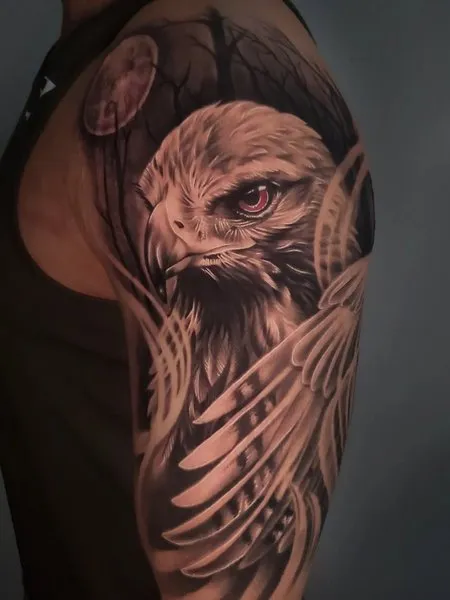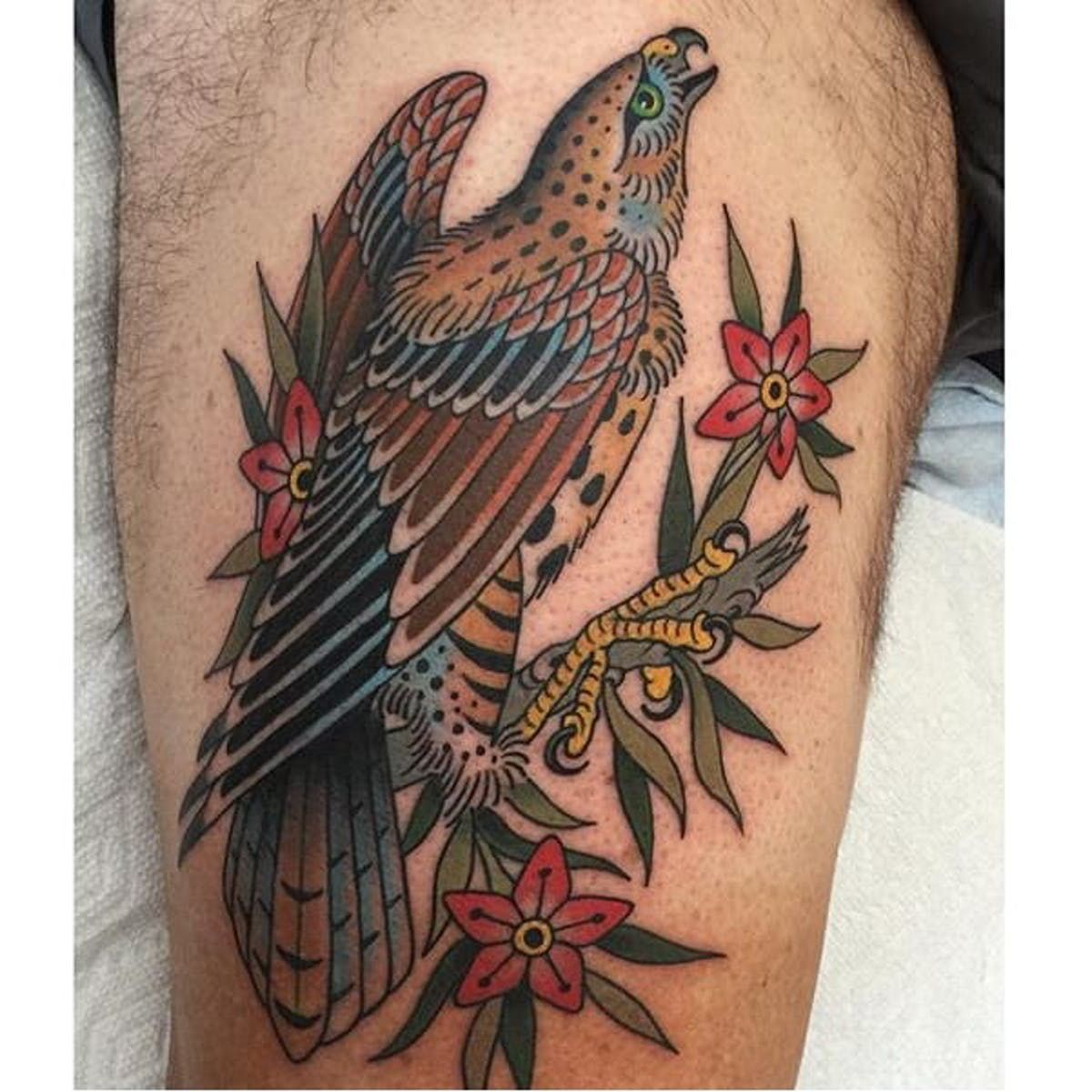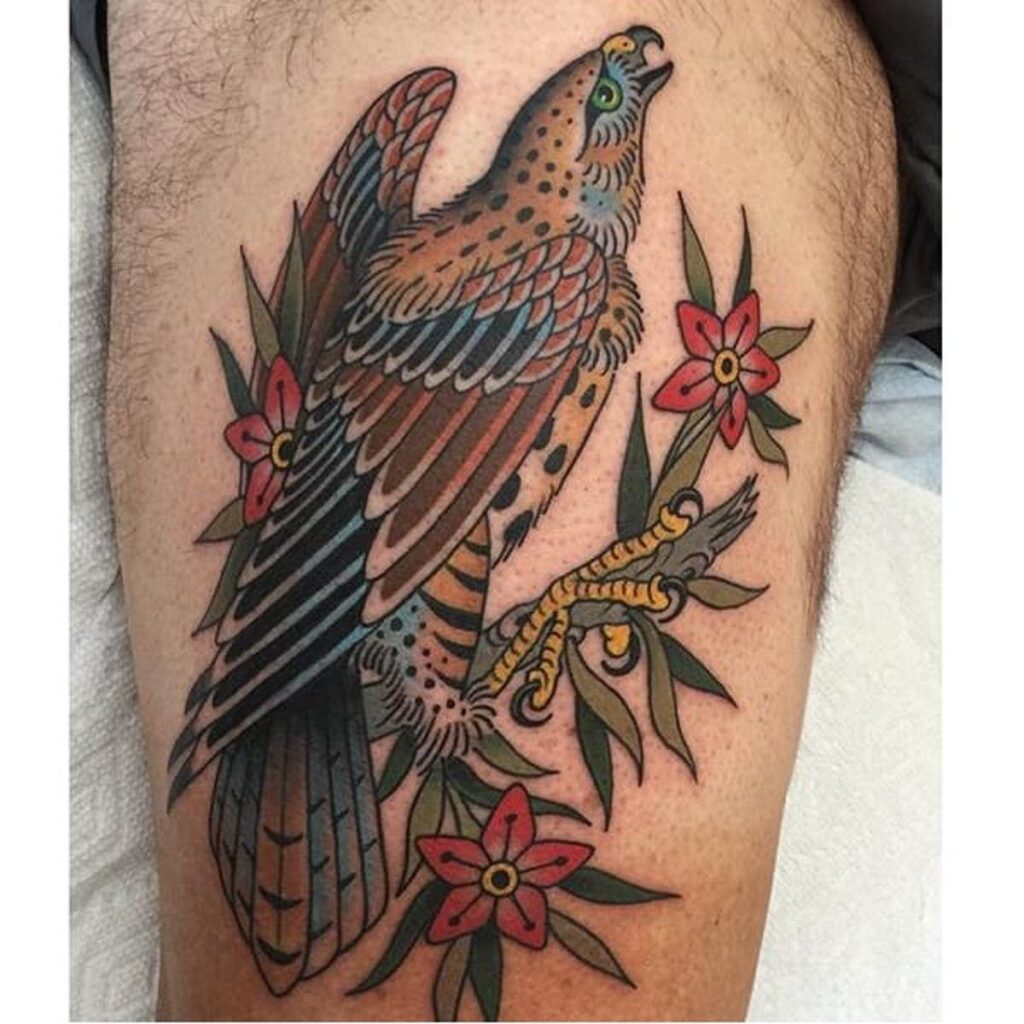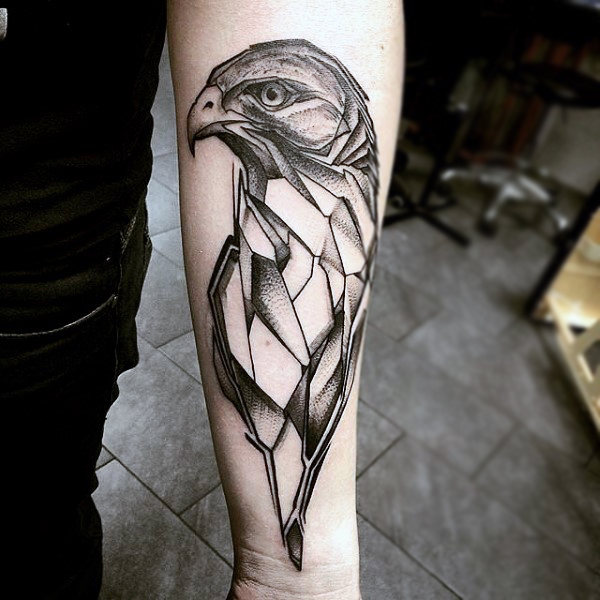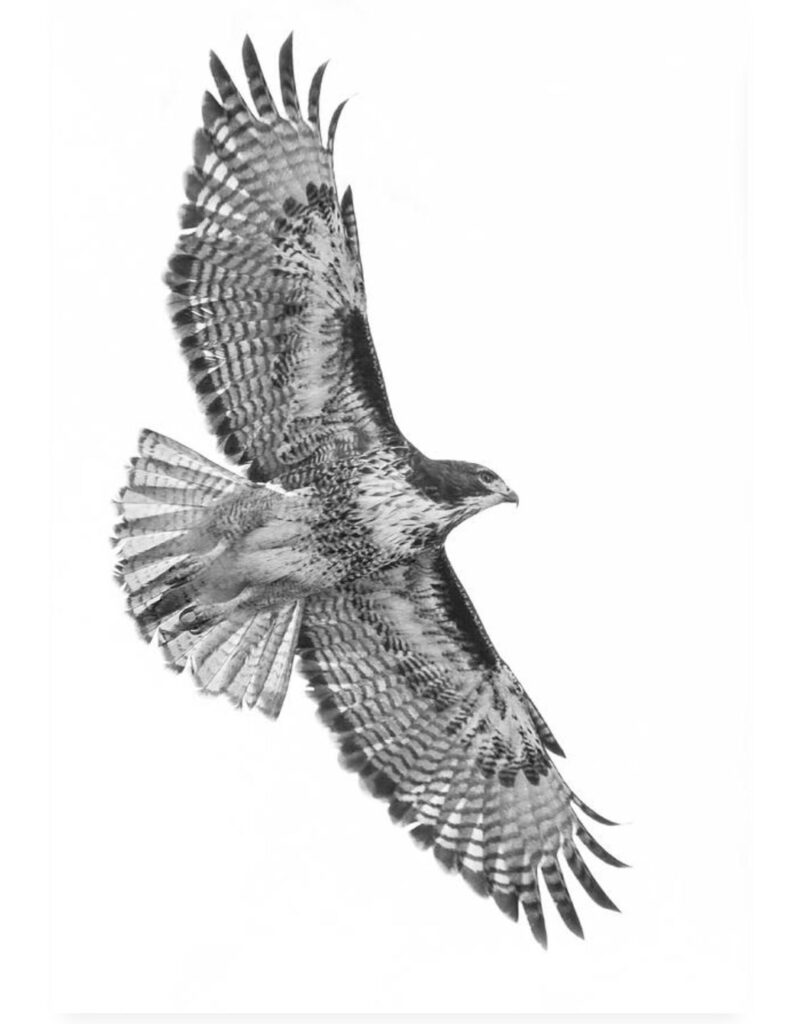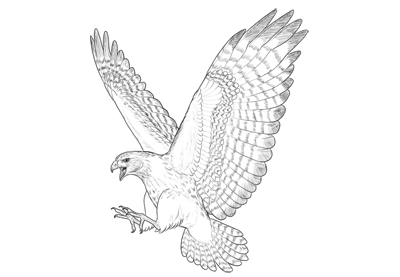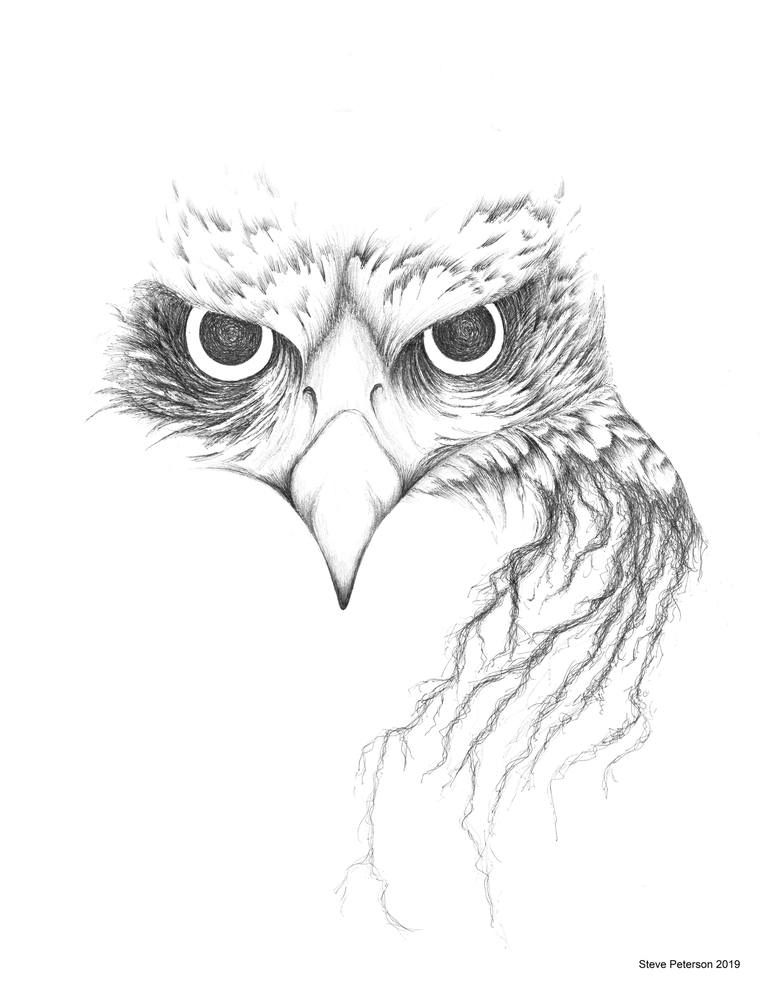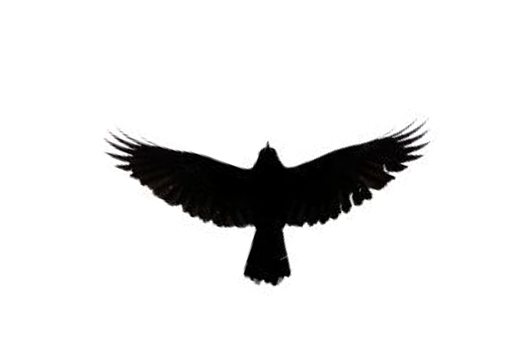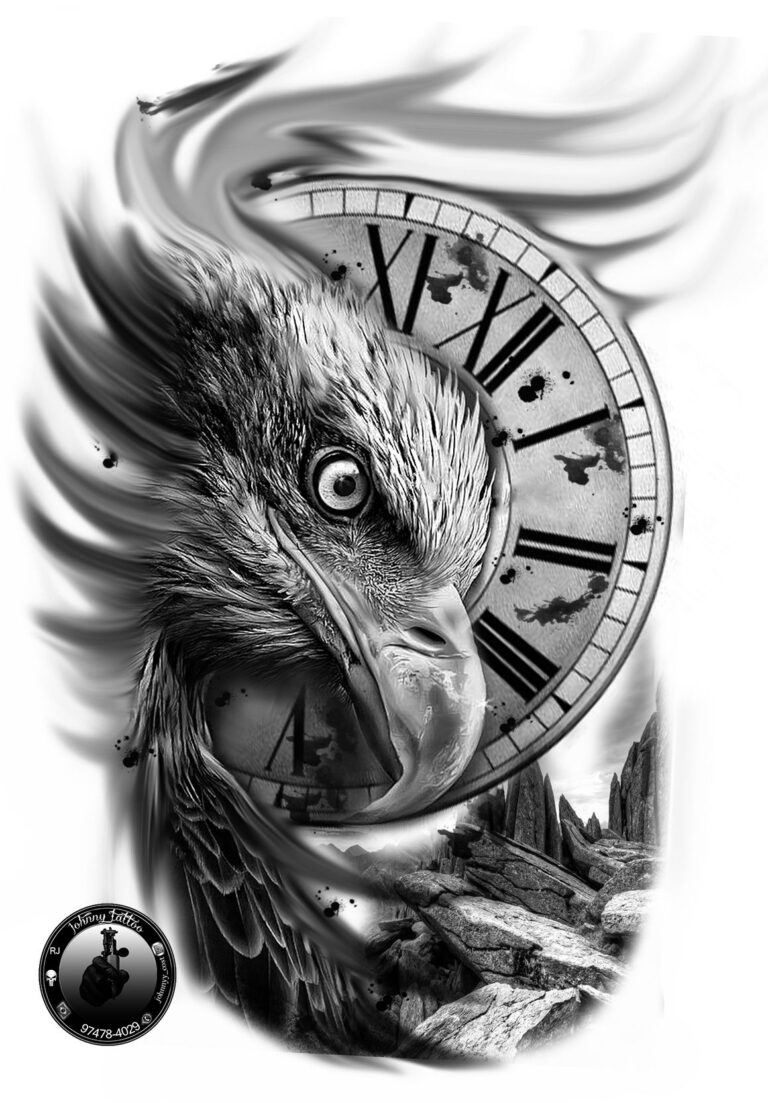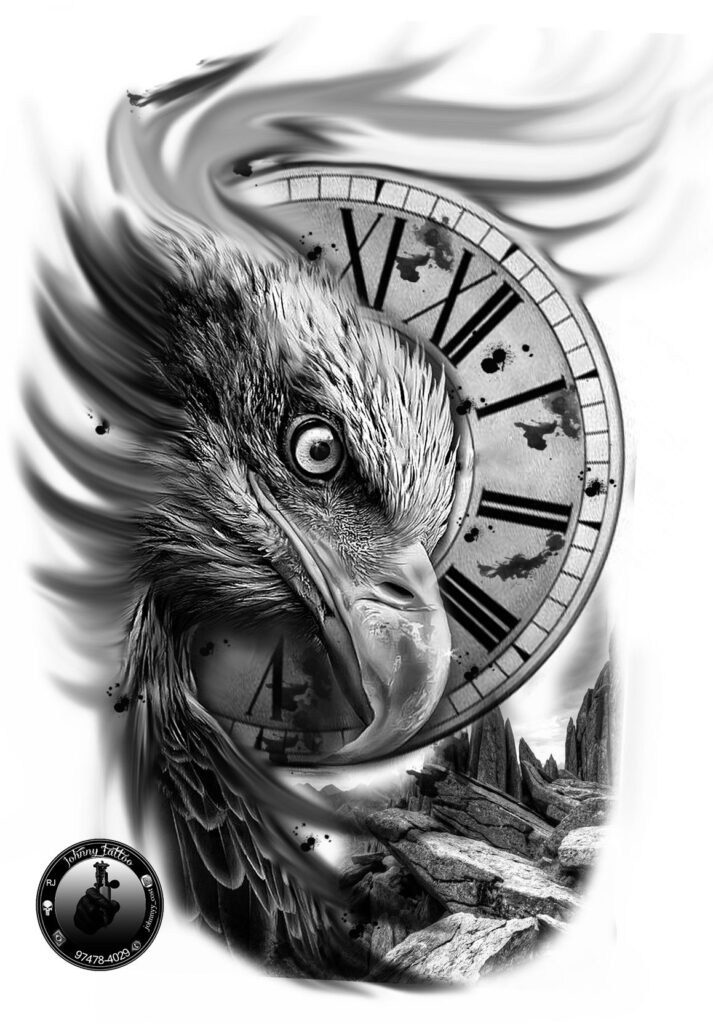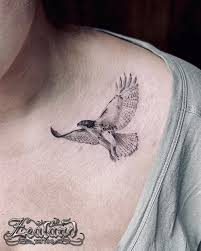 Watercolor Tattoo Design of Hawk
Also Read Daddy Tattoos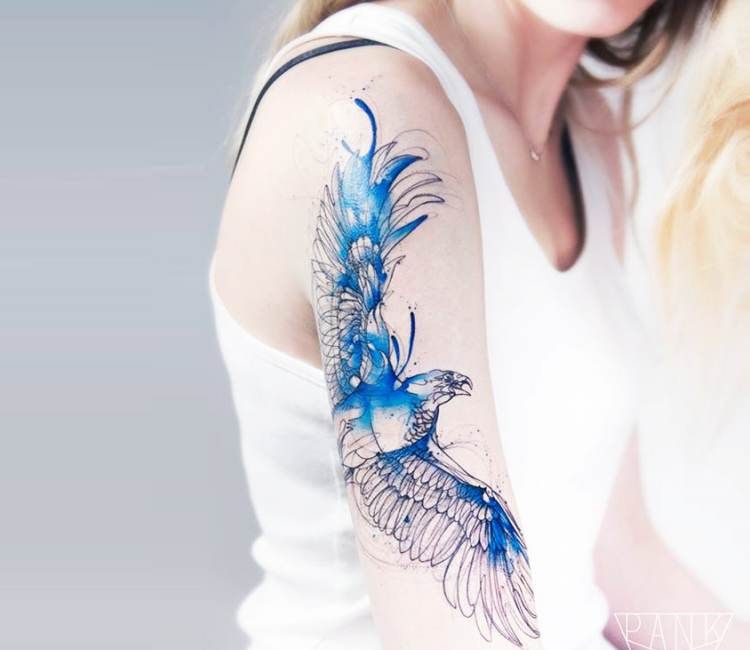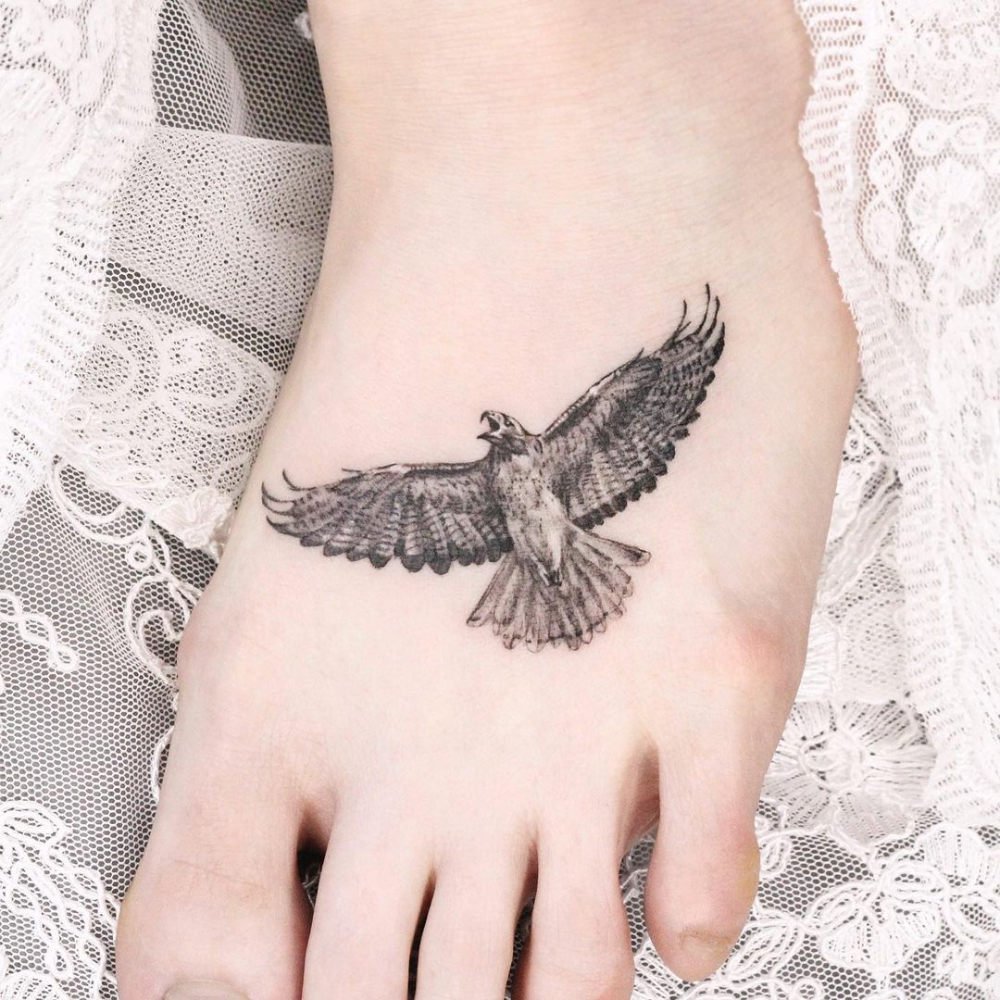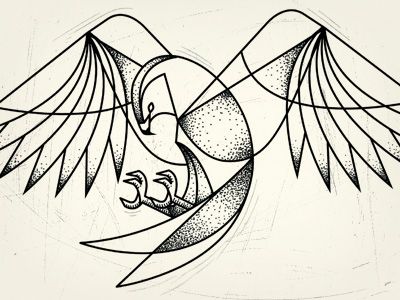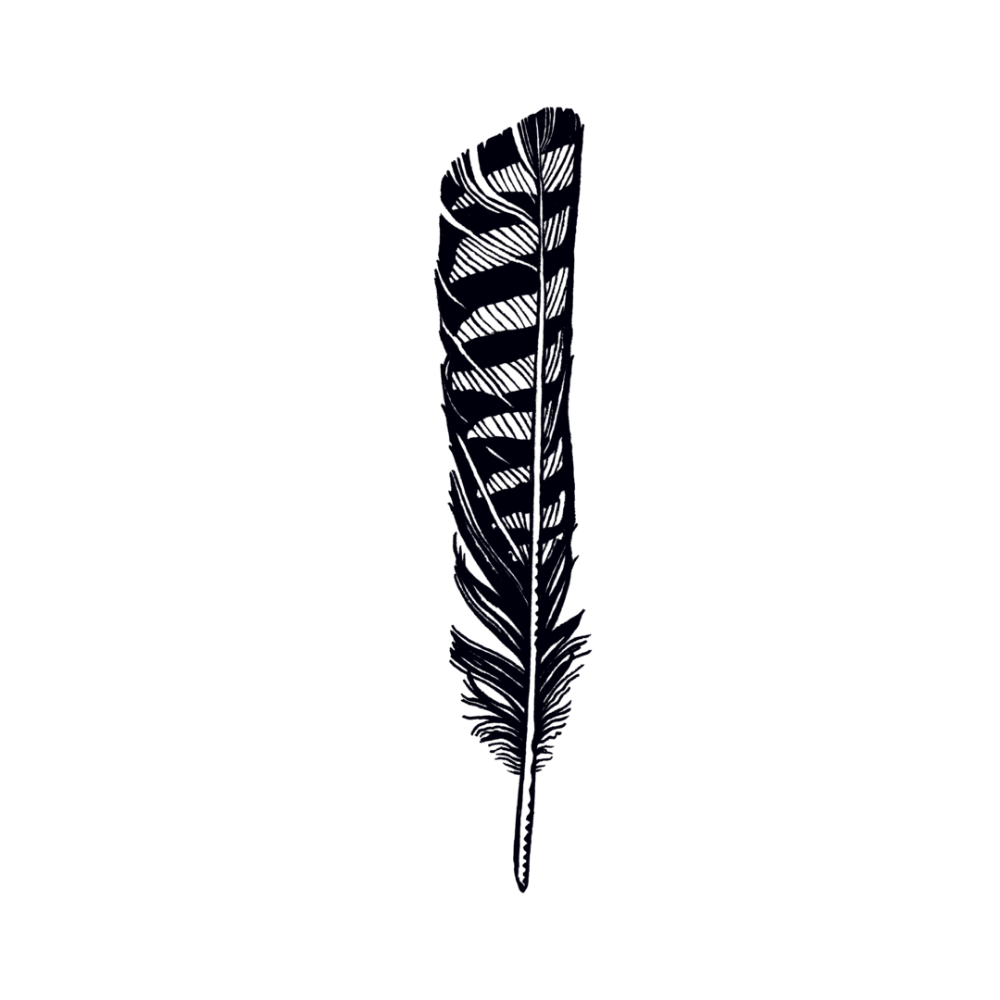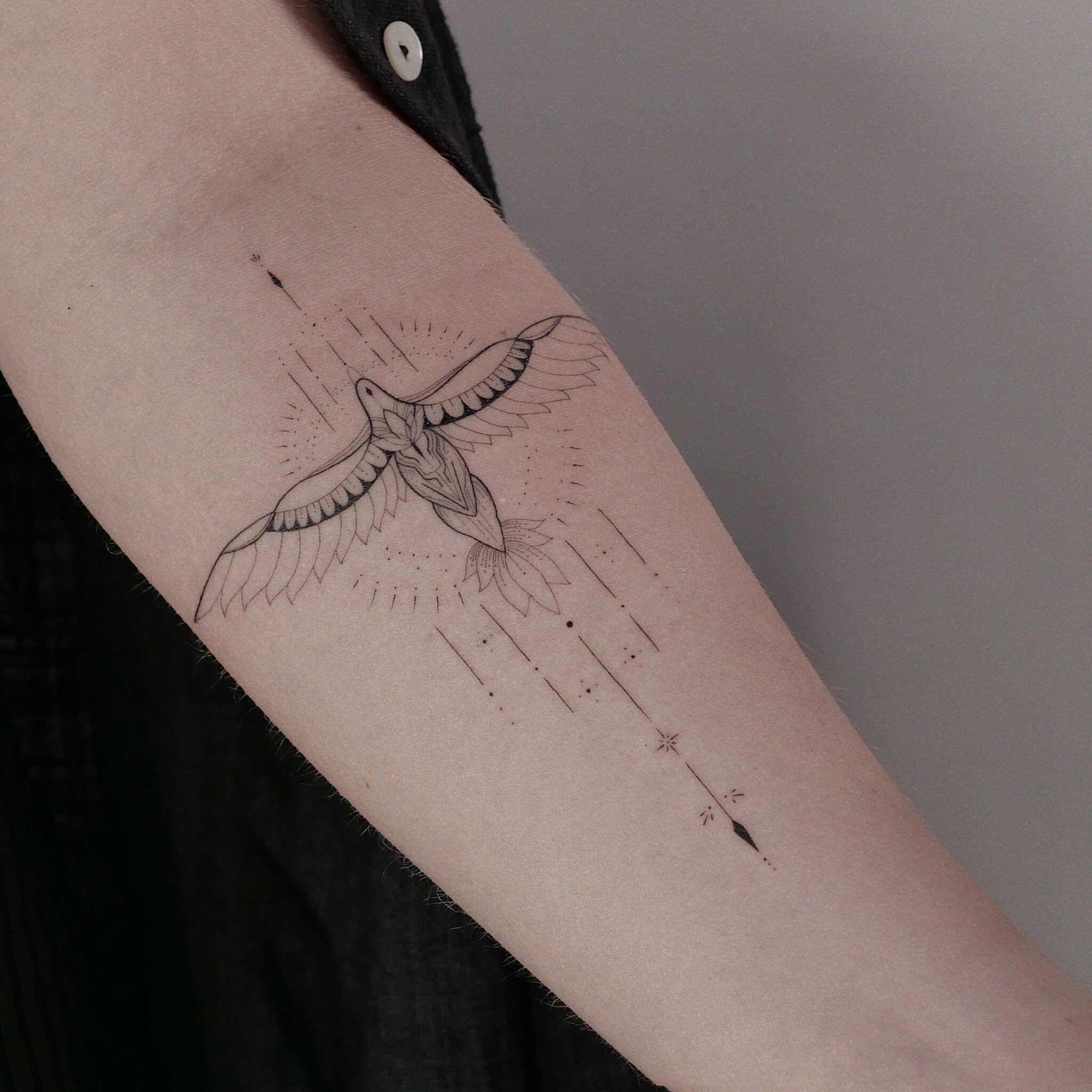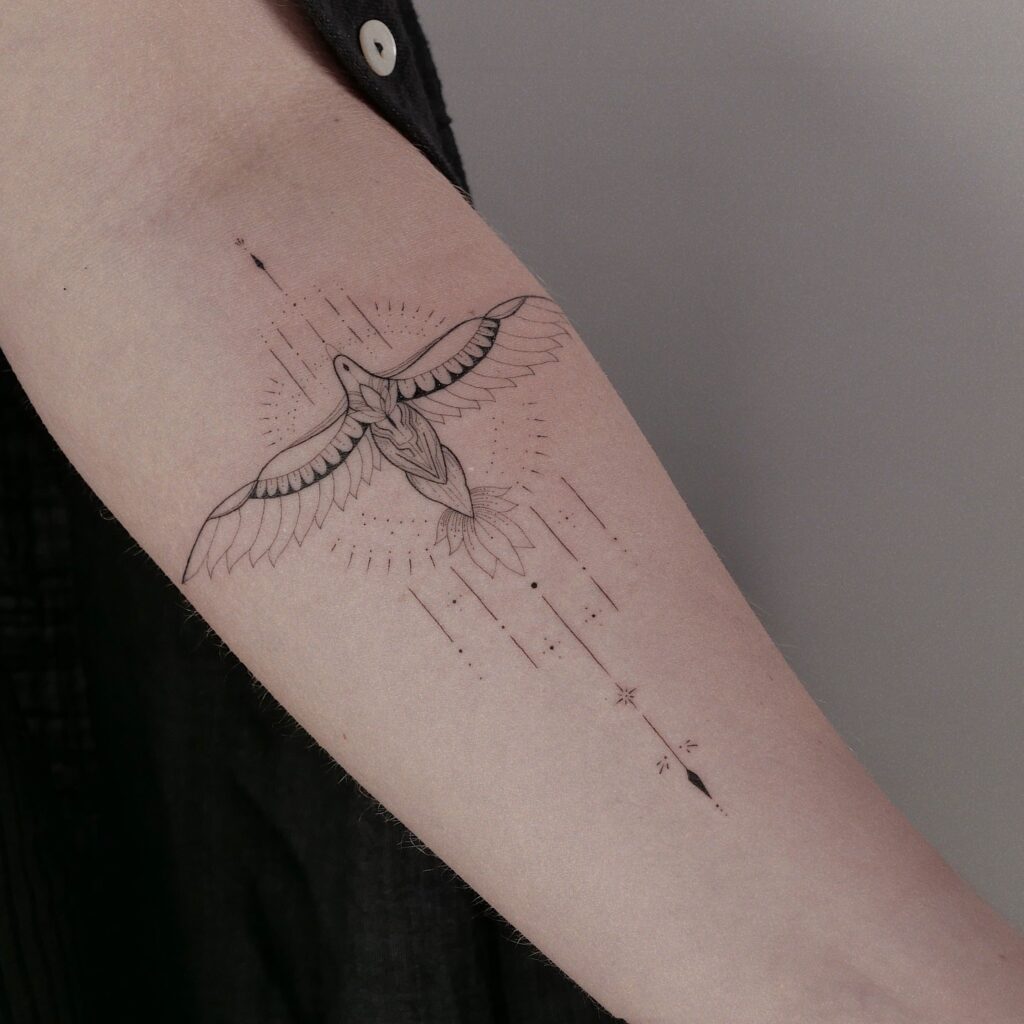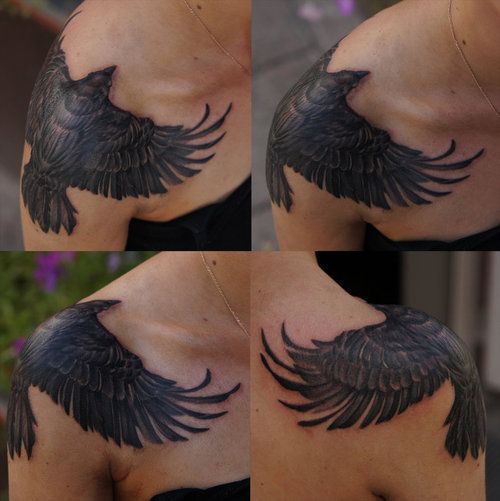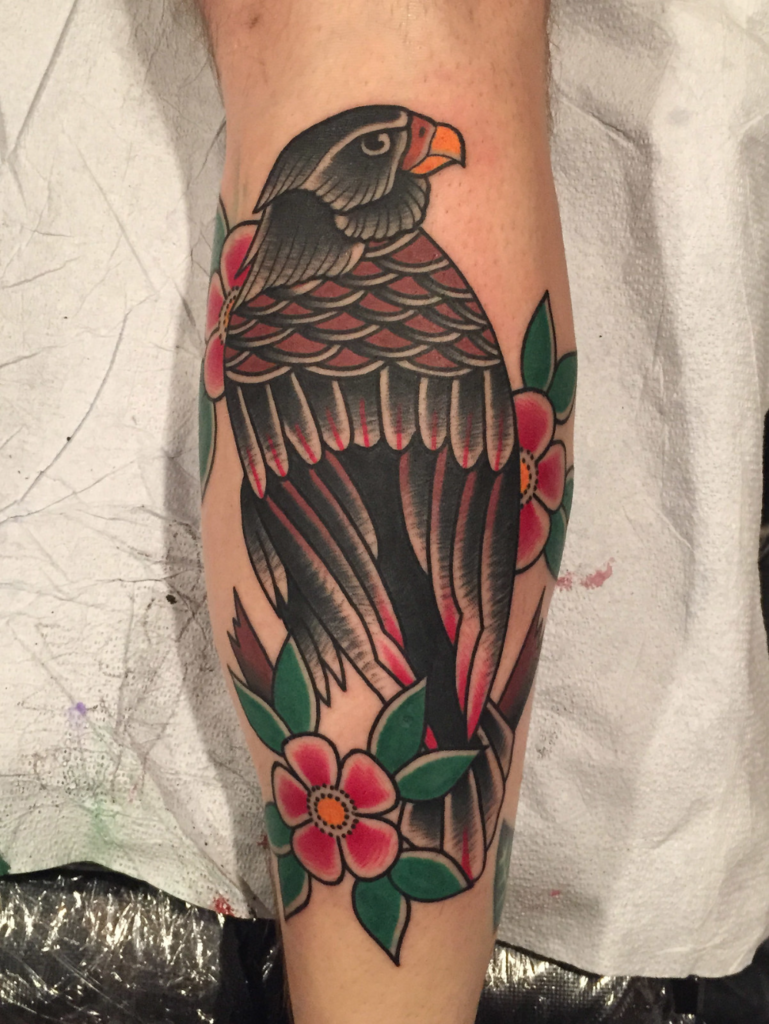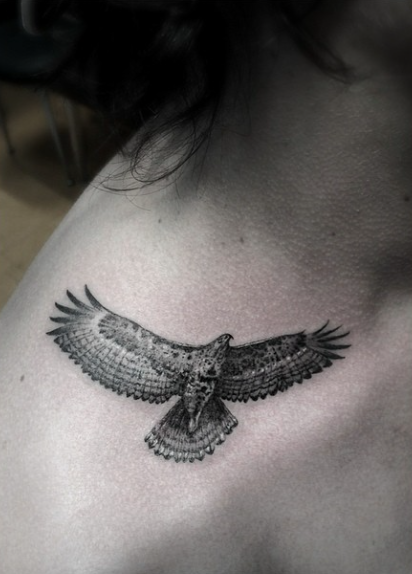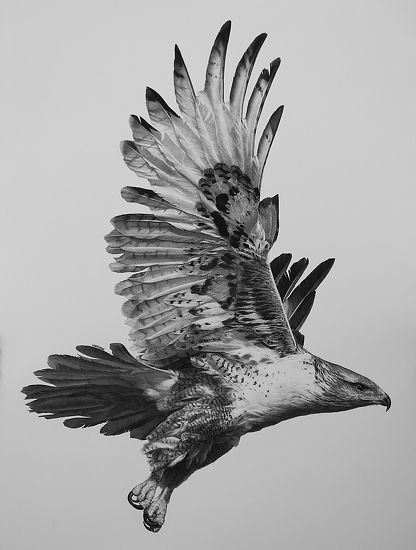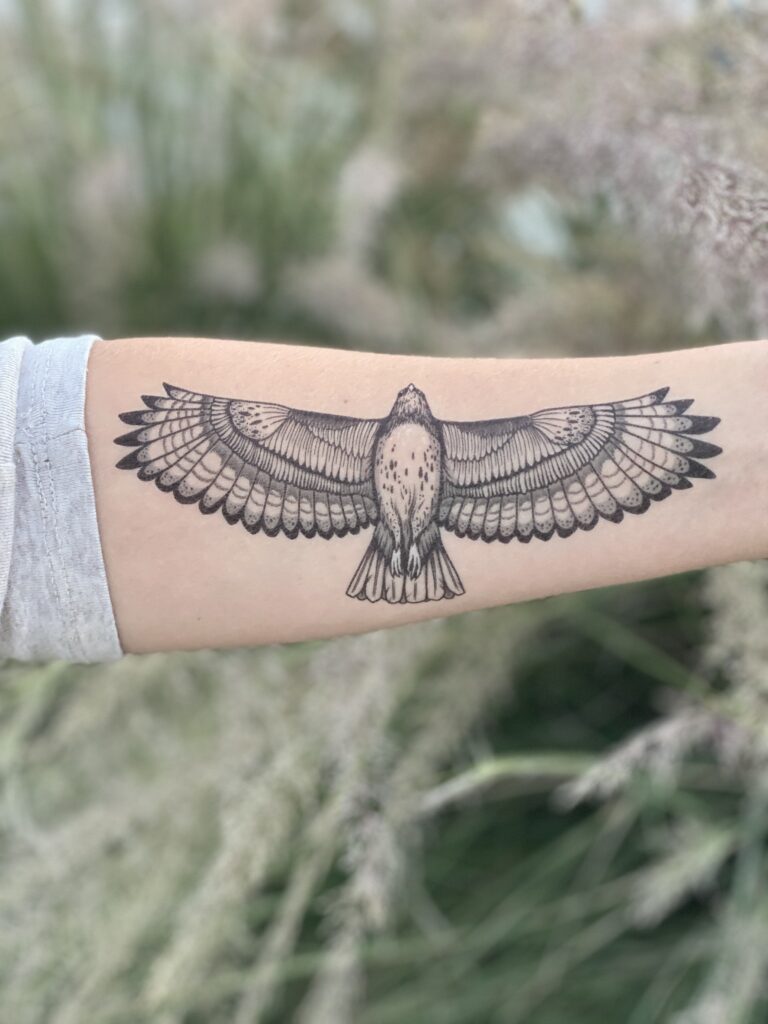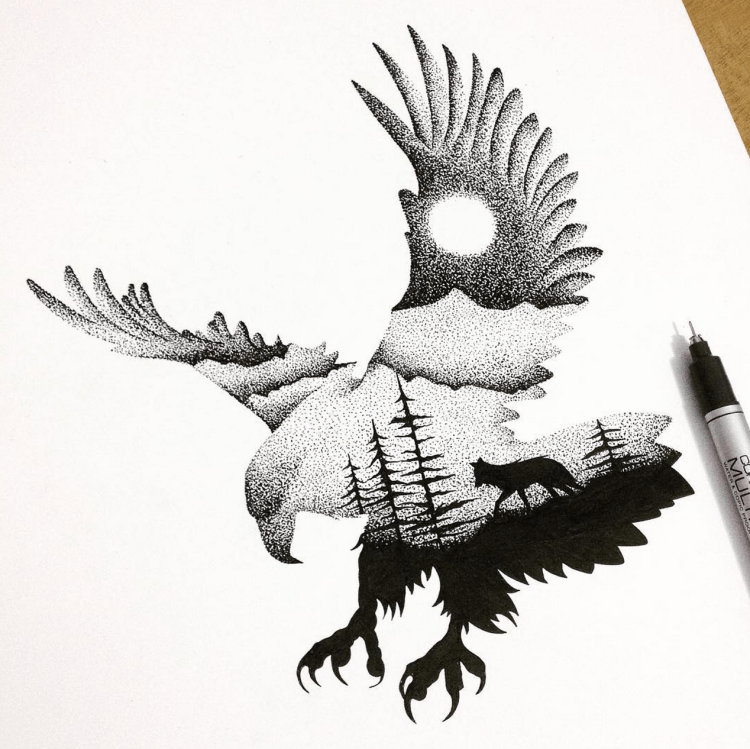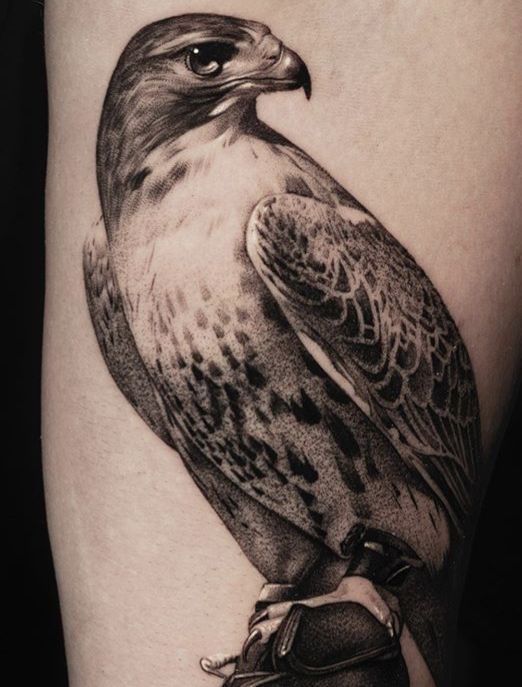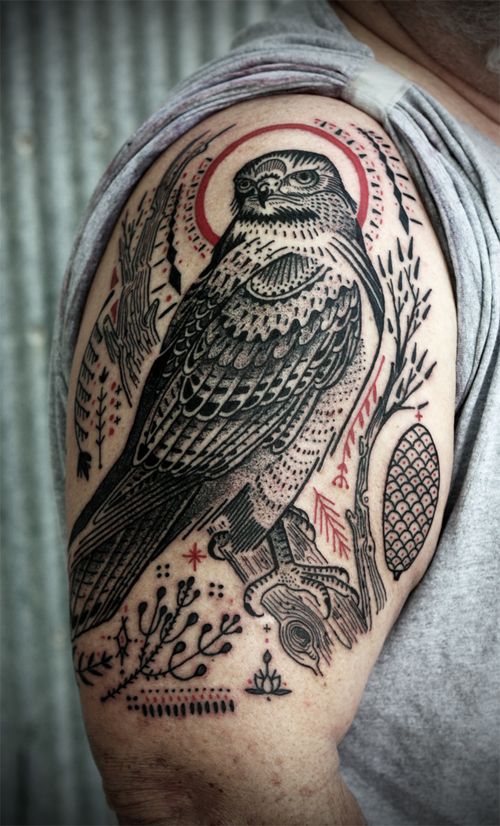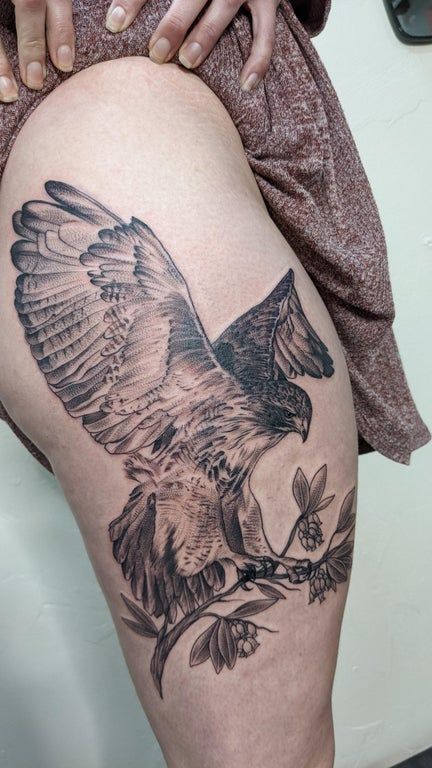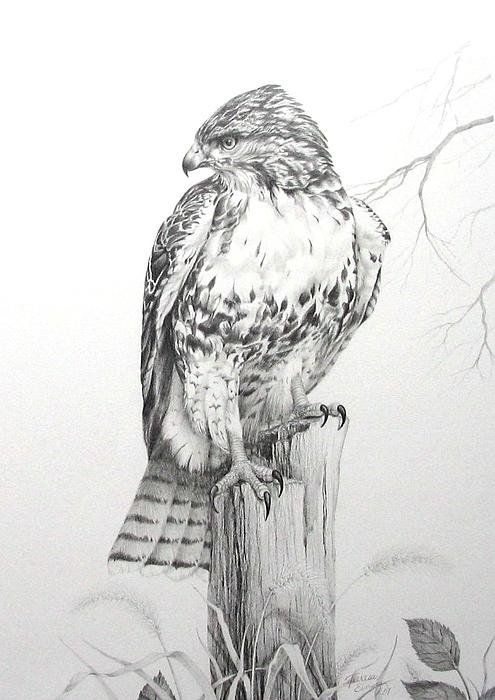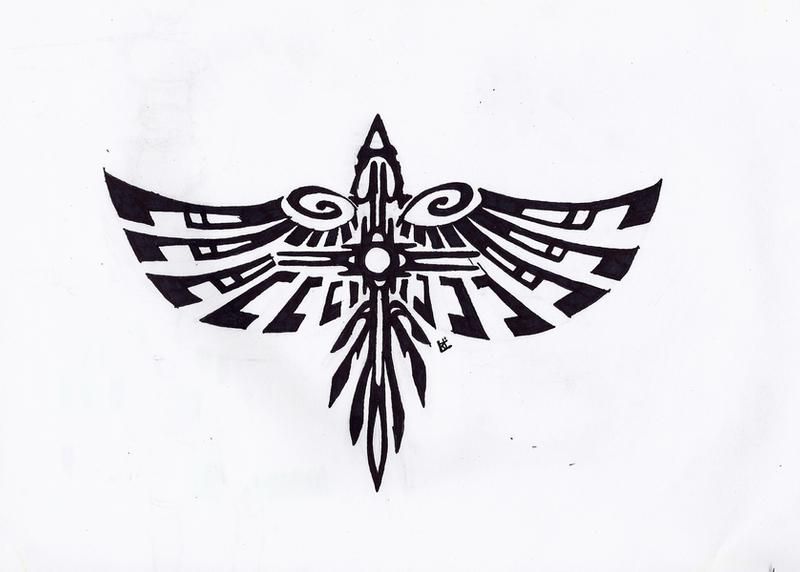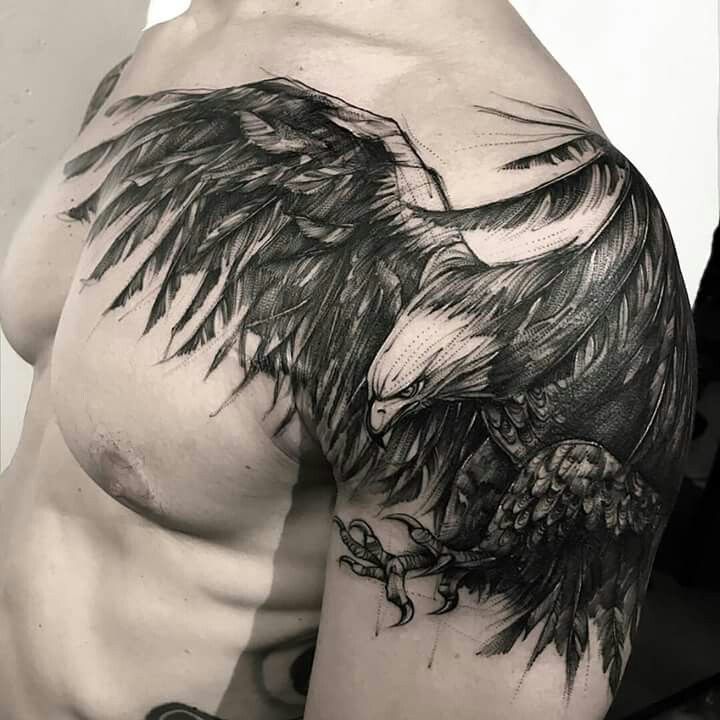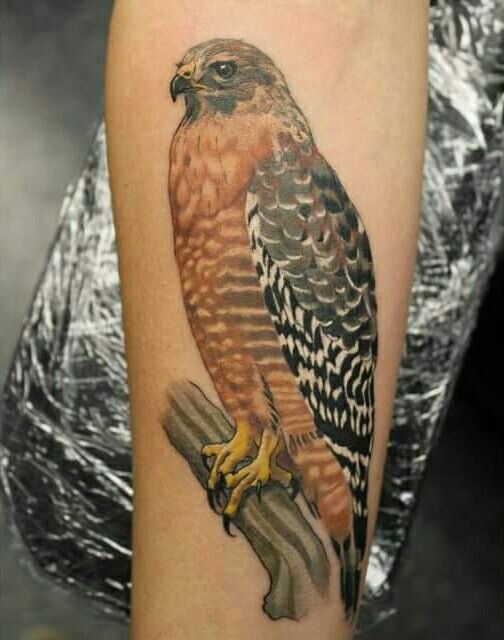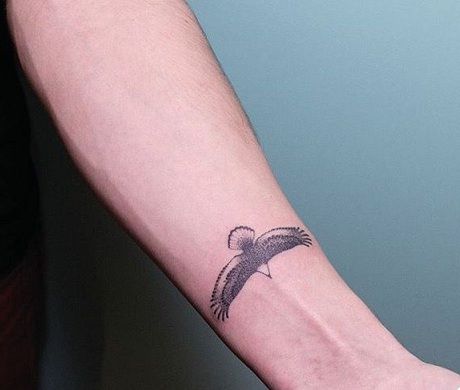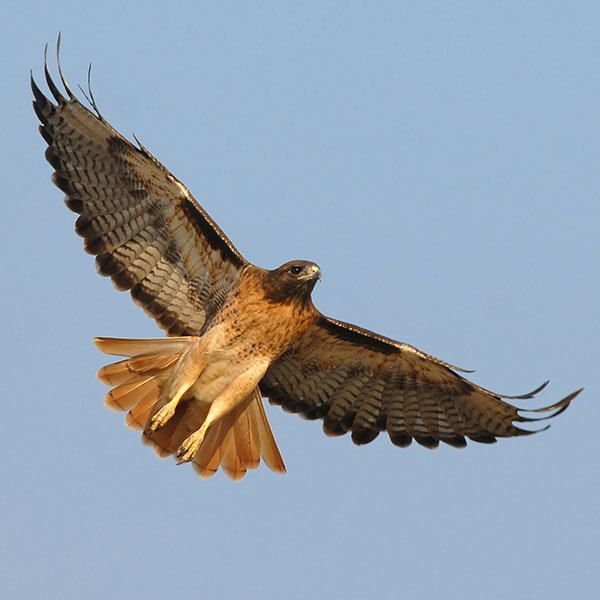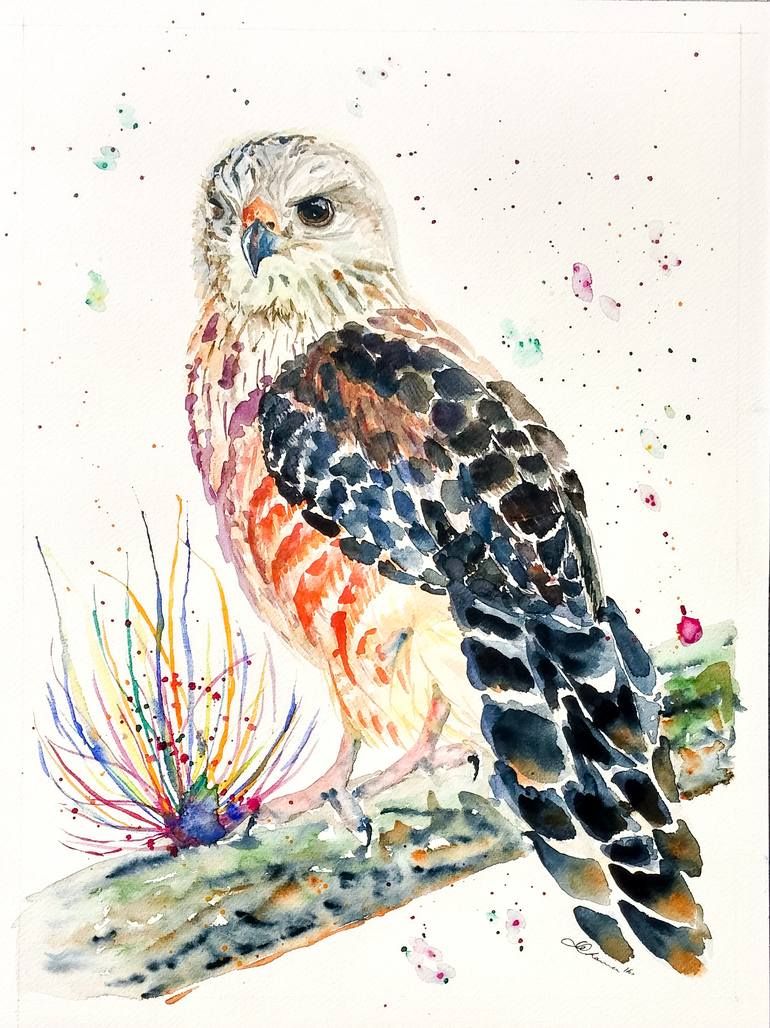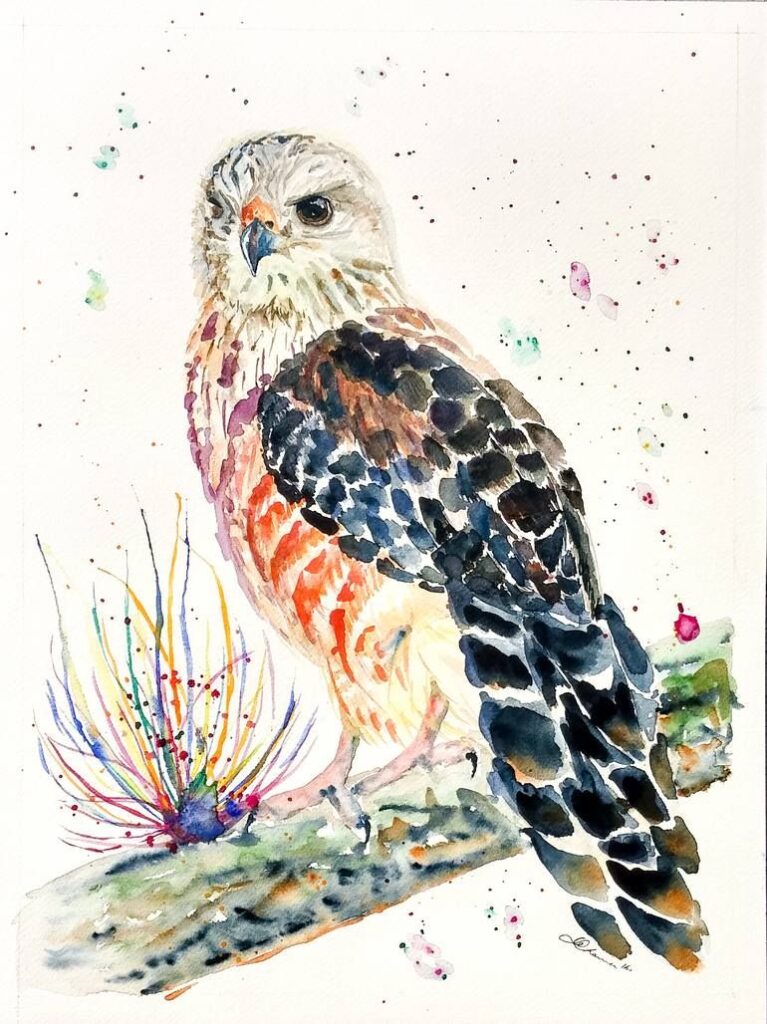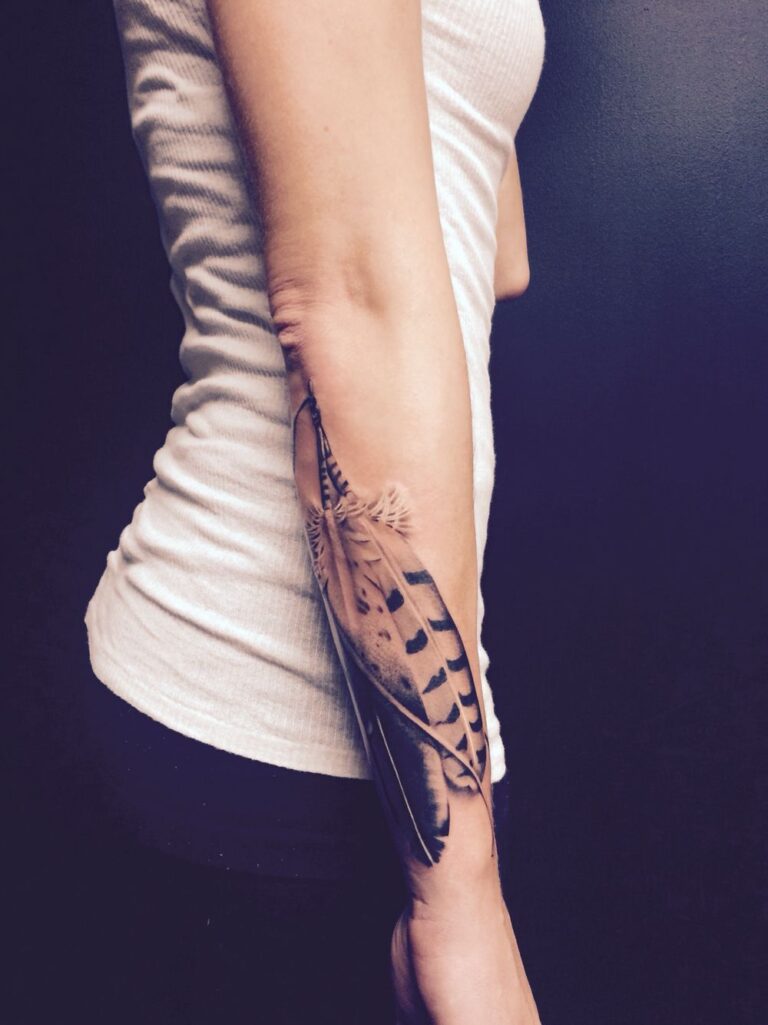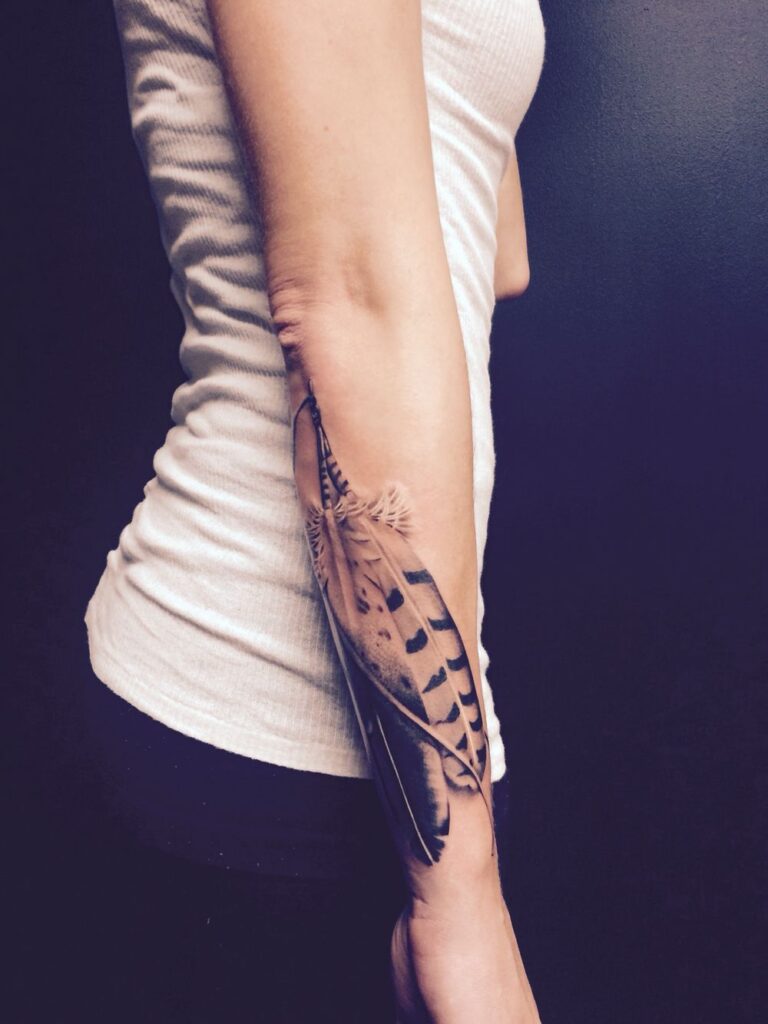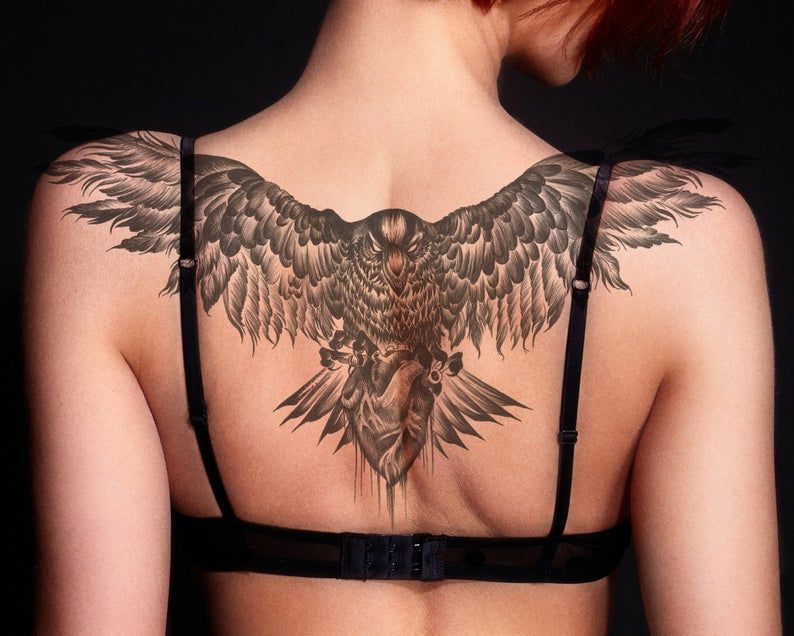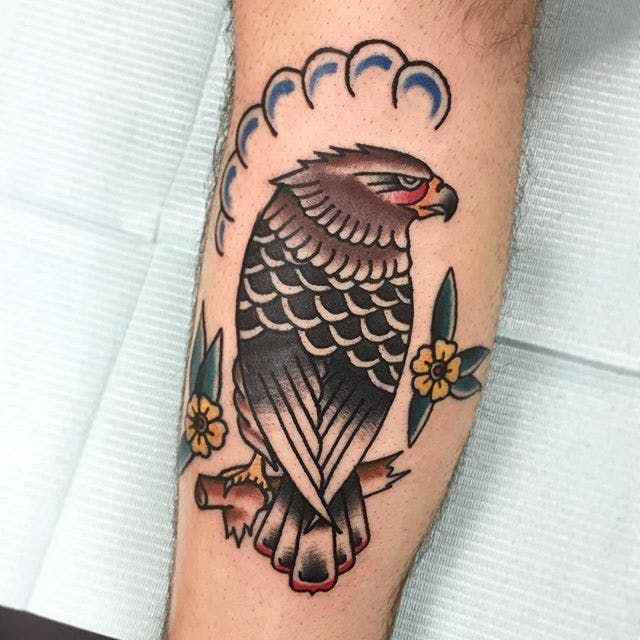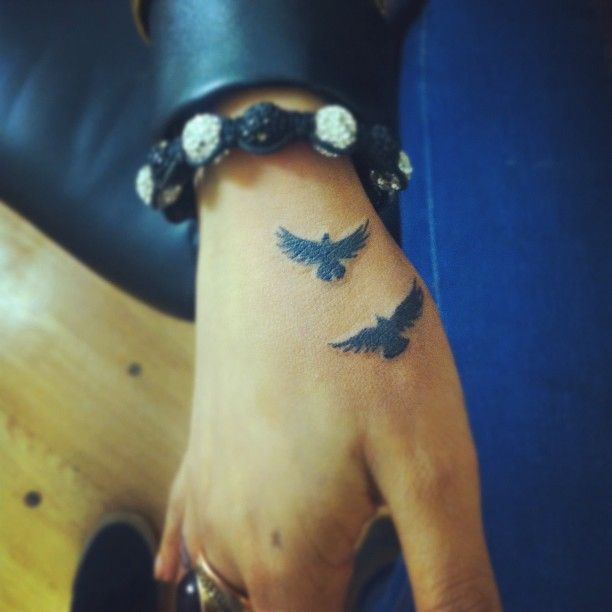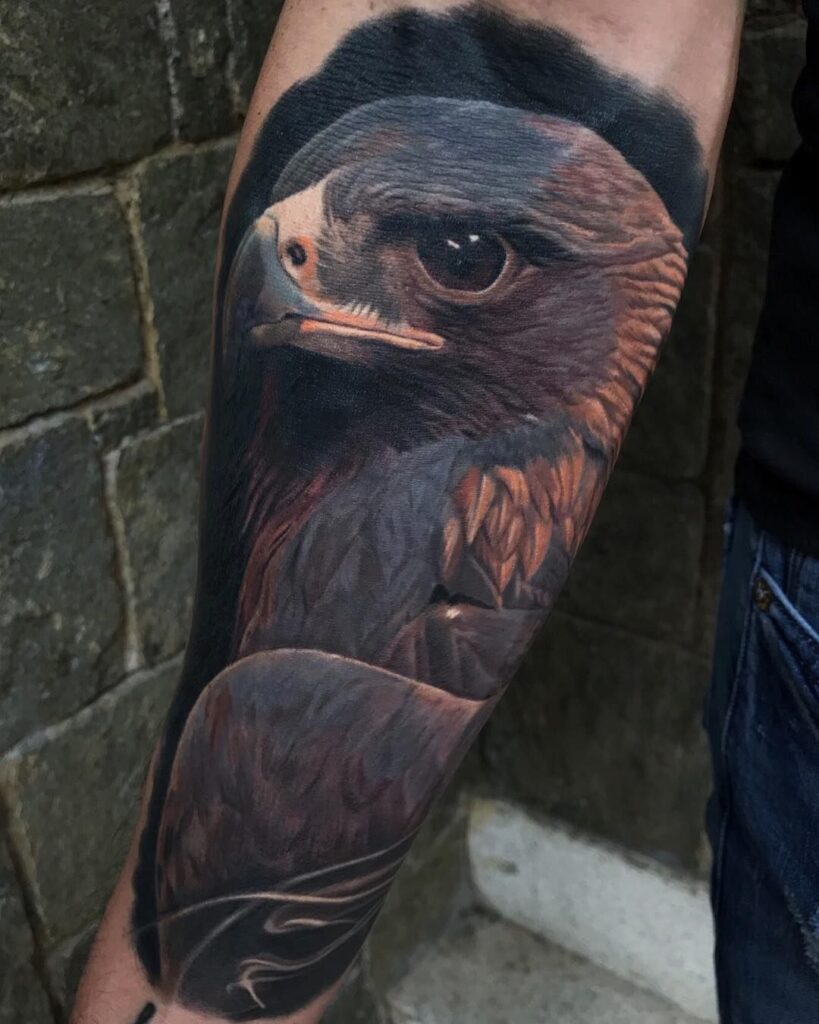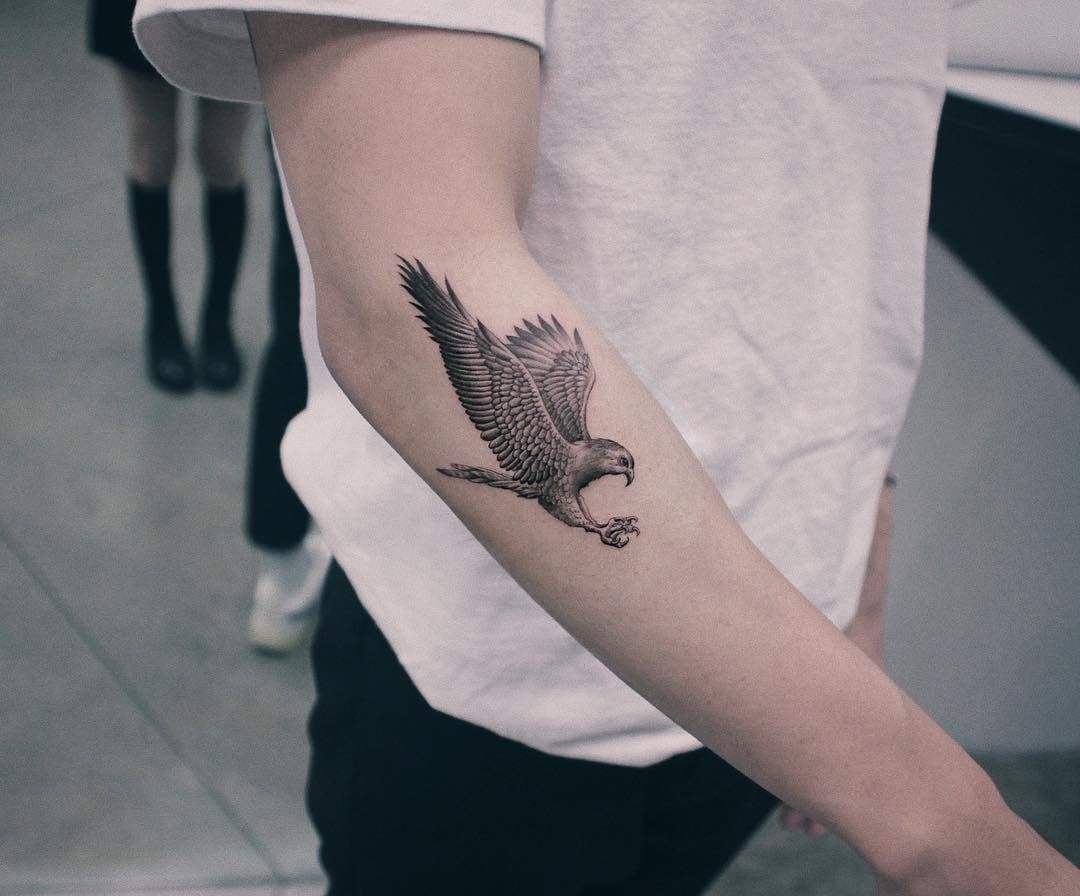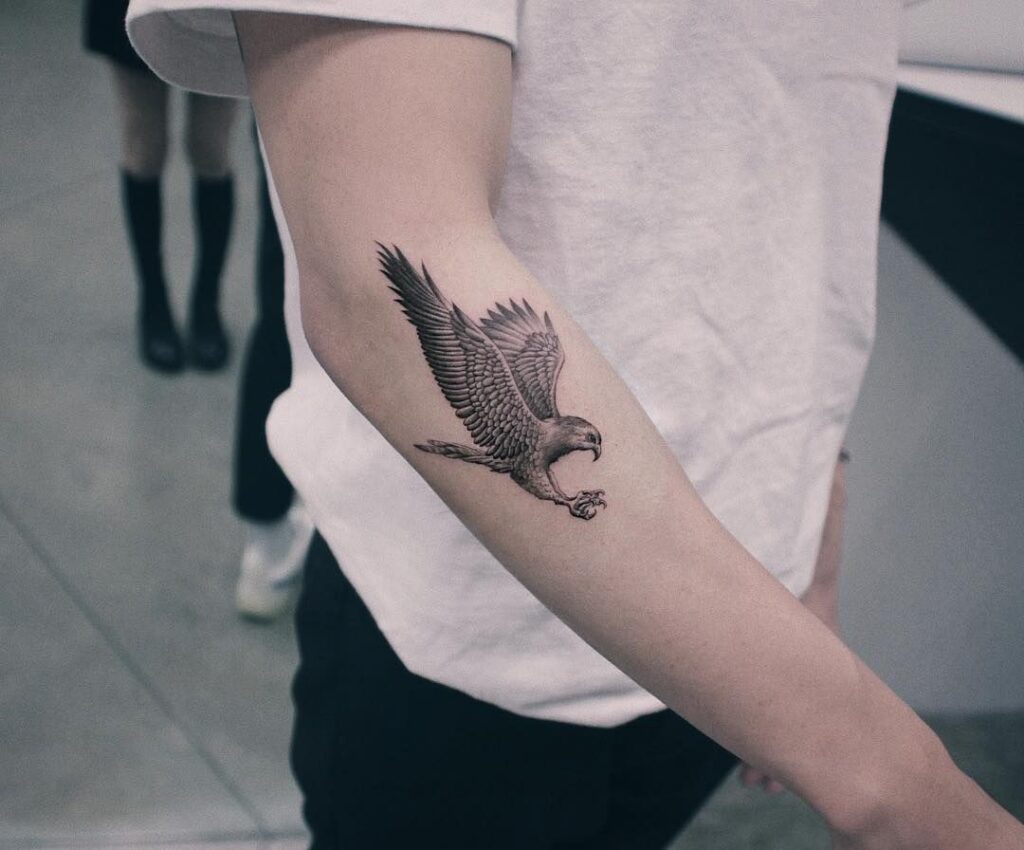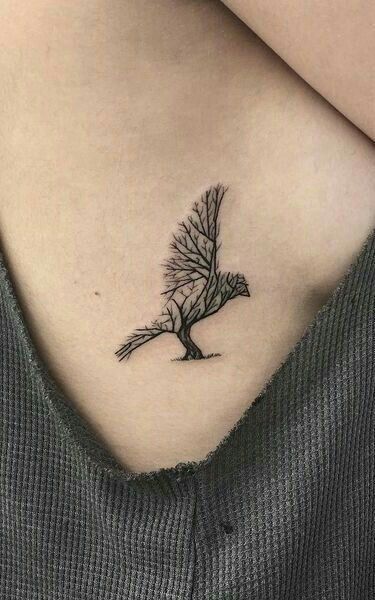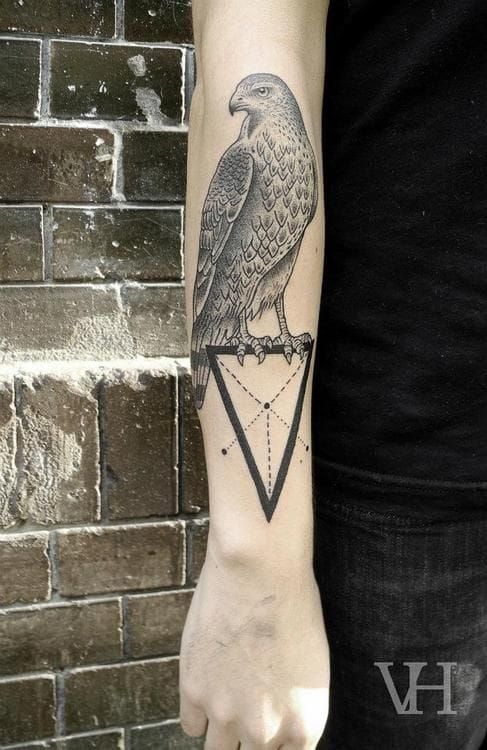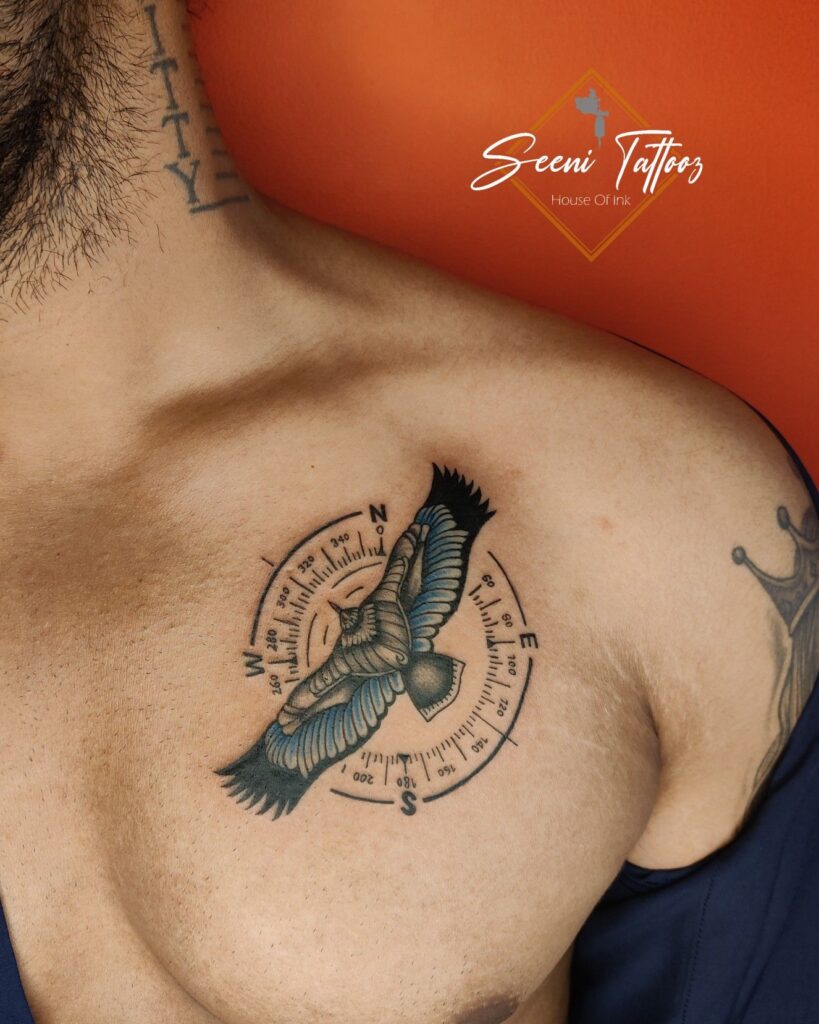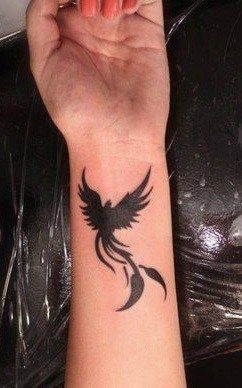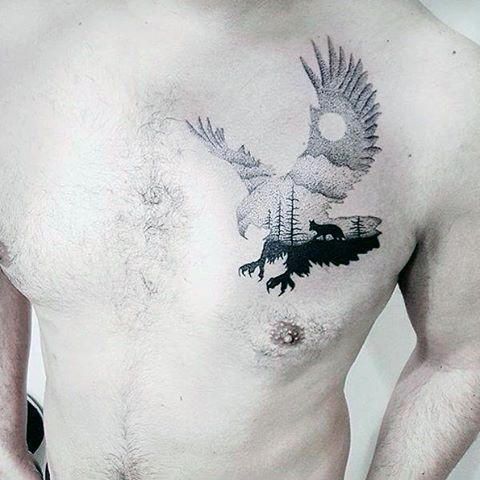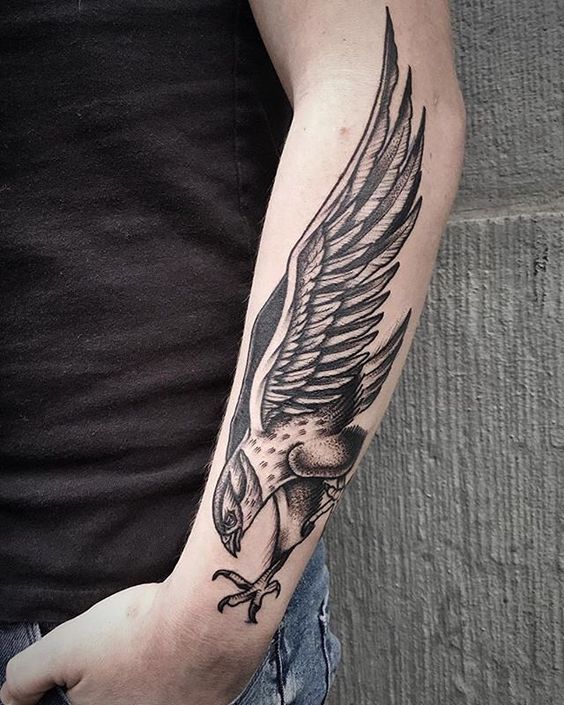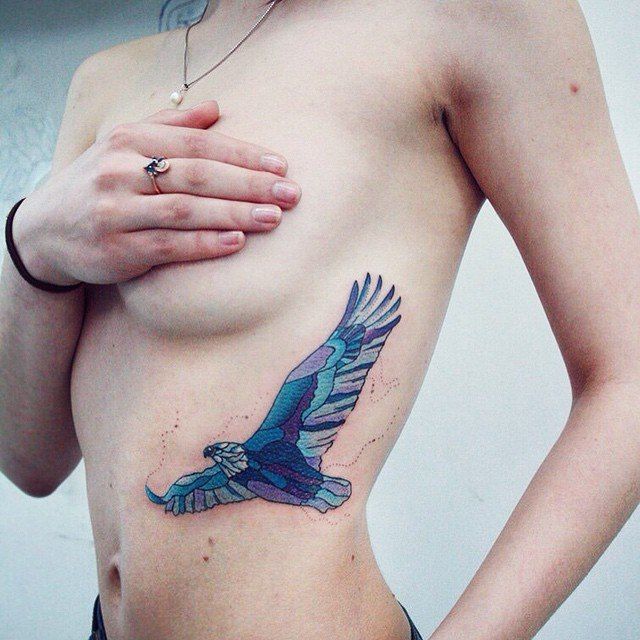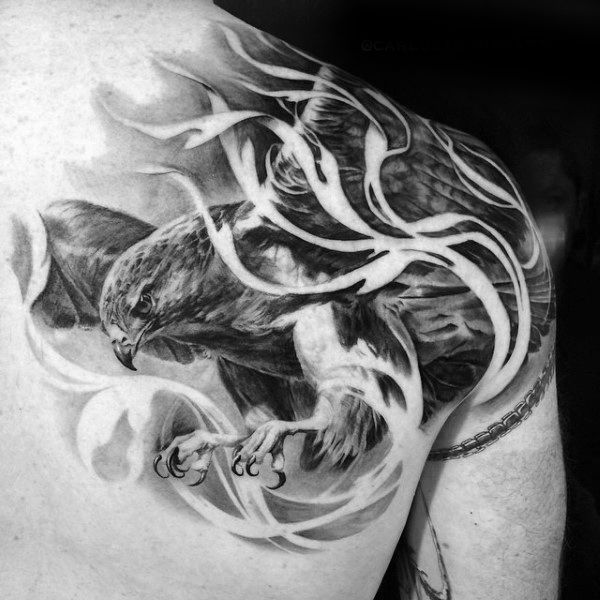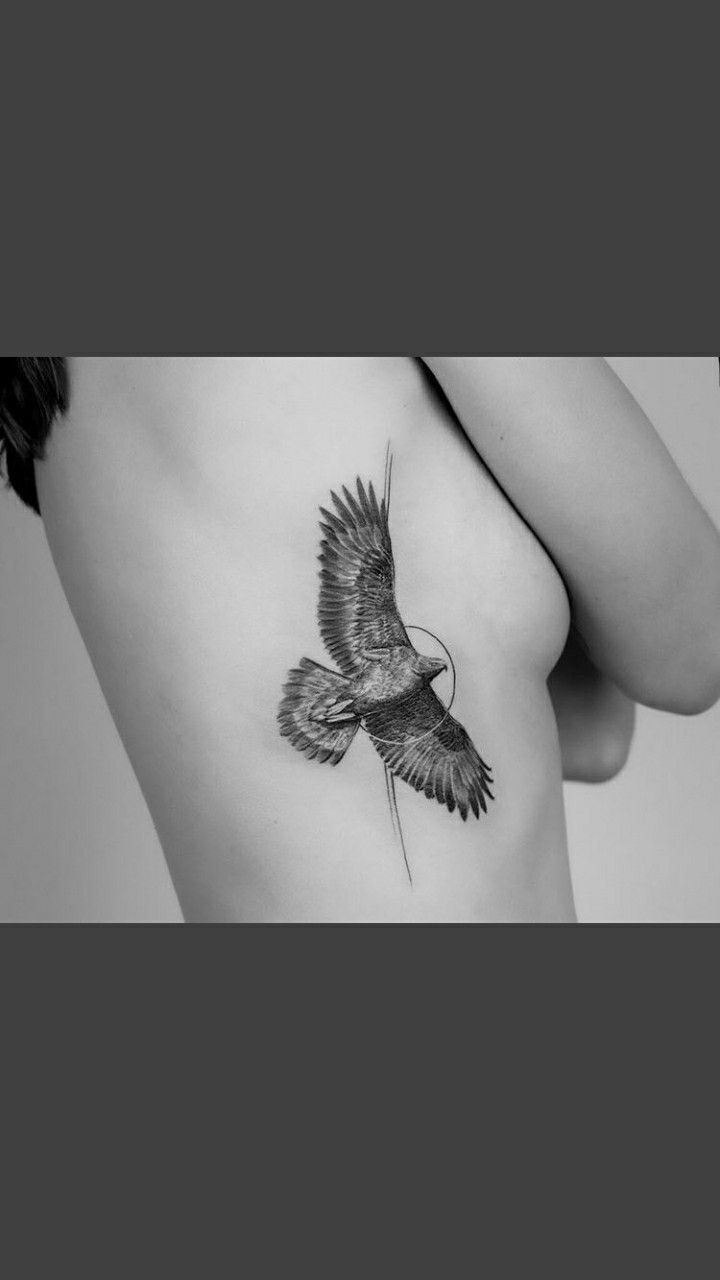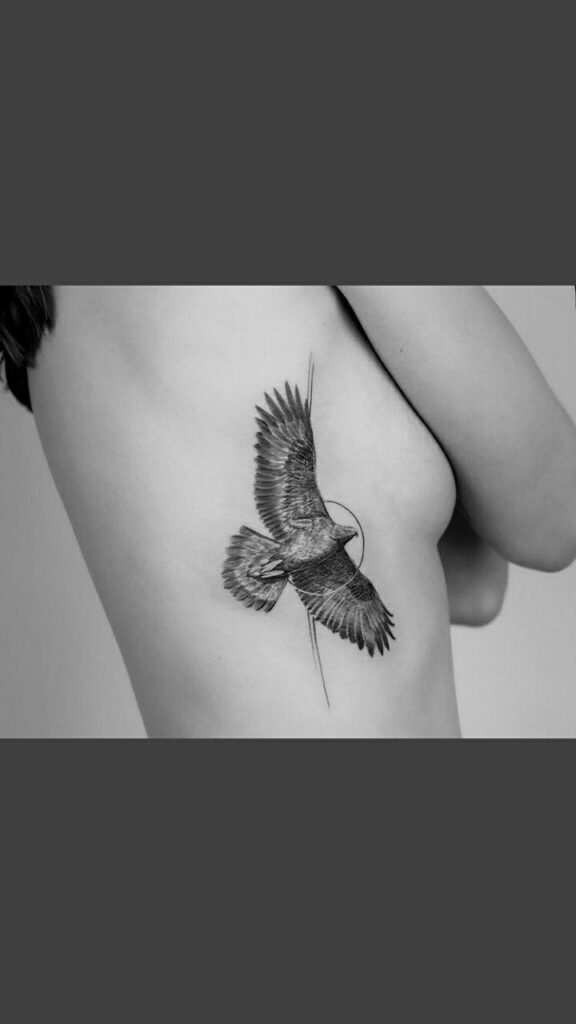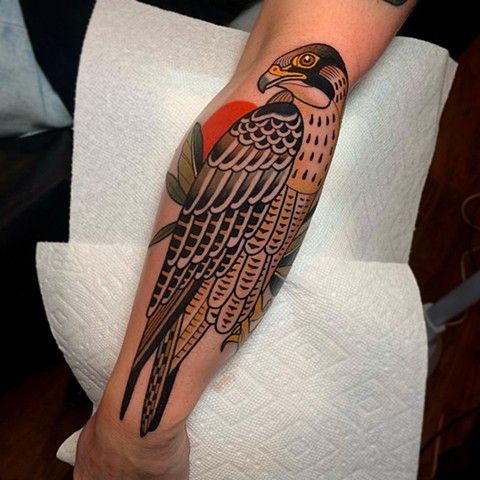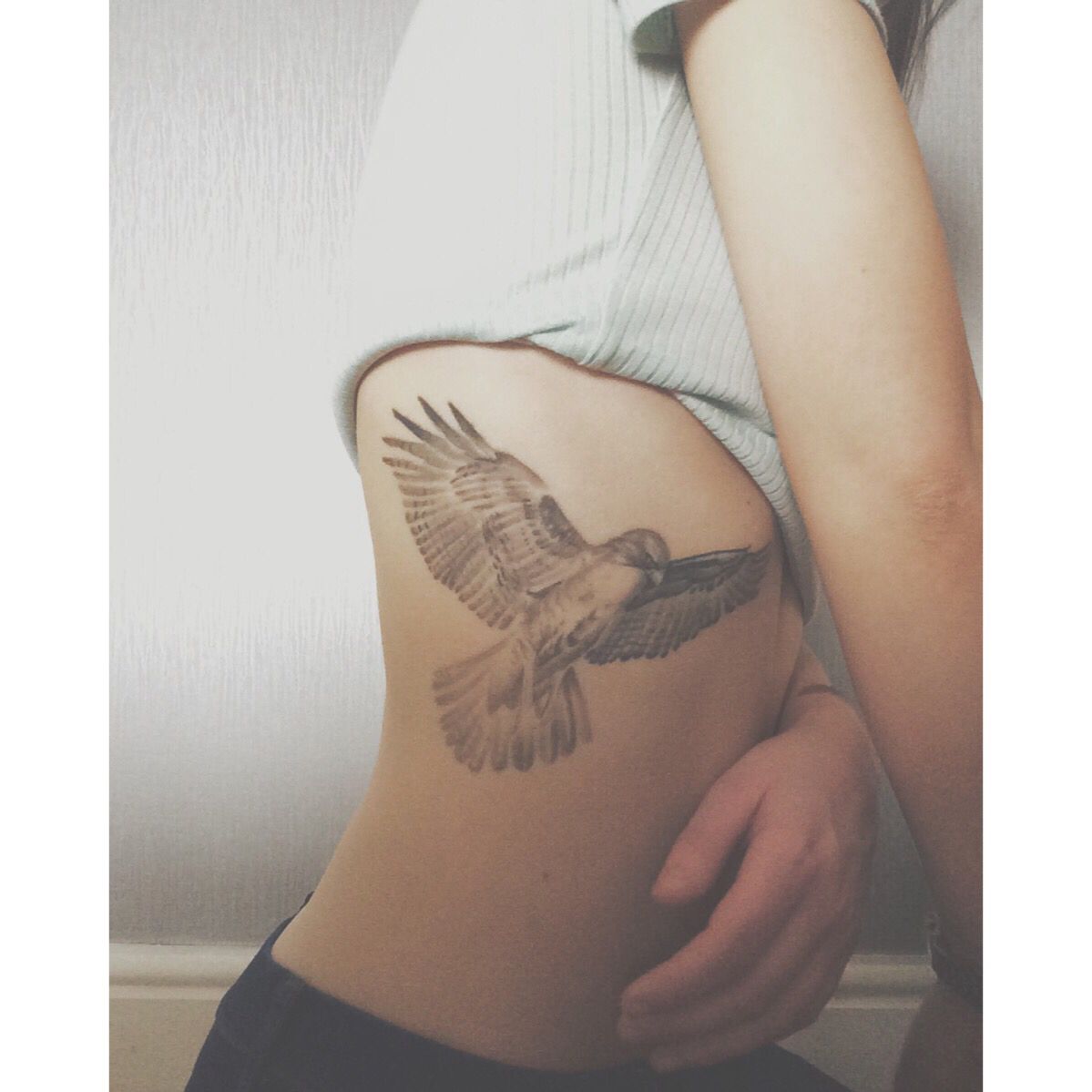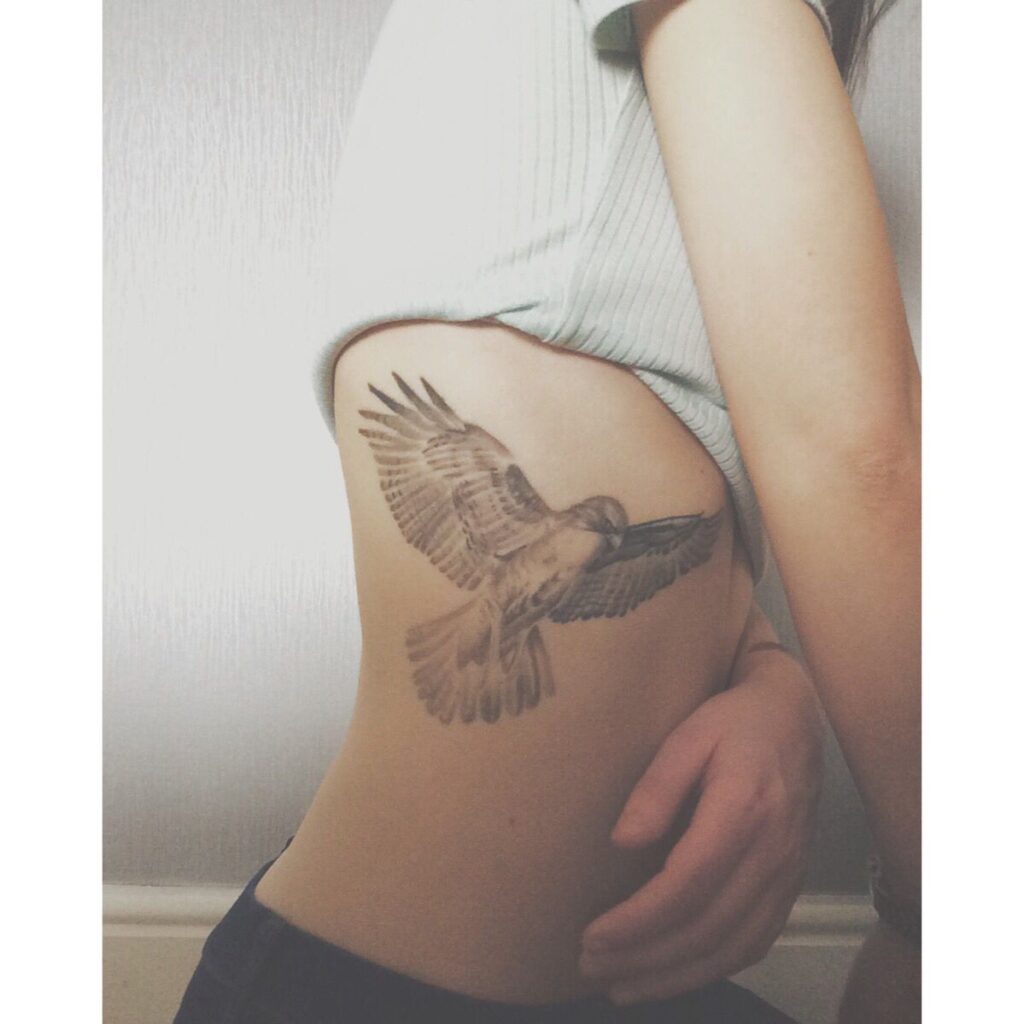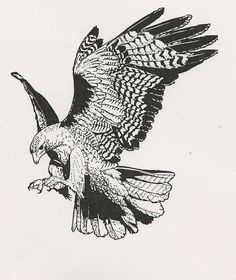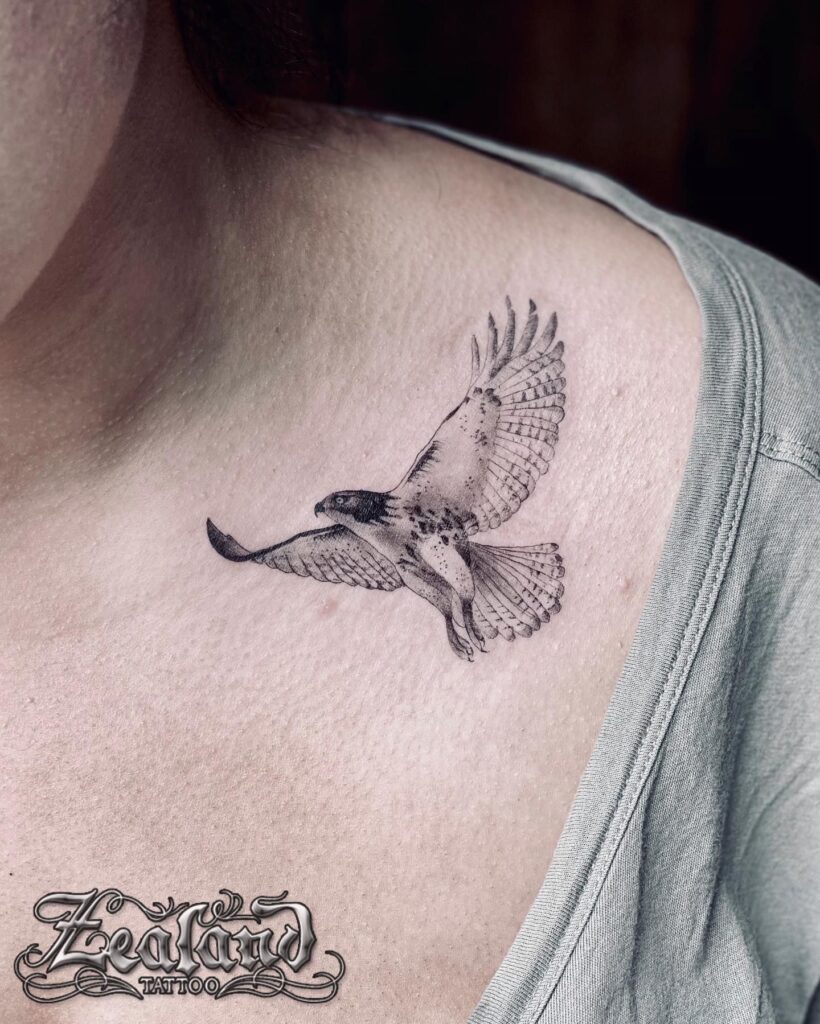 Old School Tattoo Idea of Hawk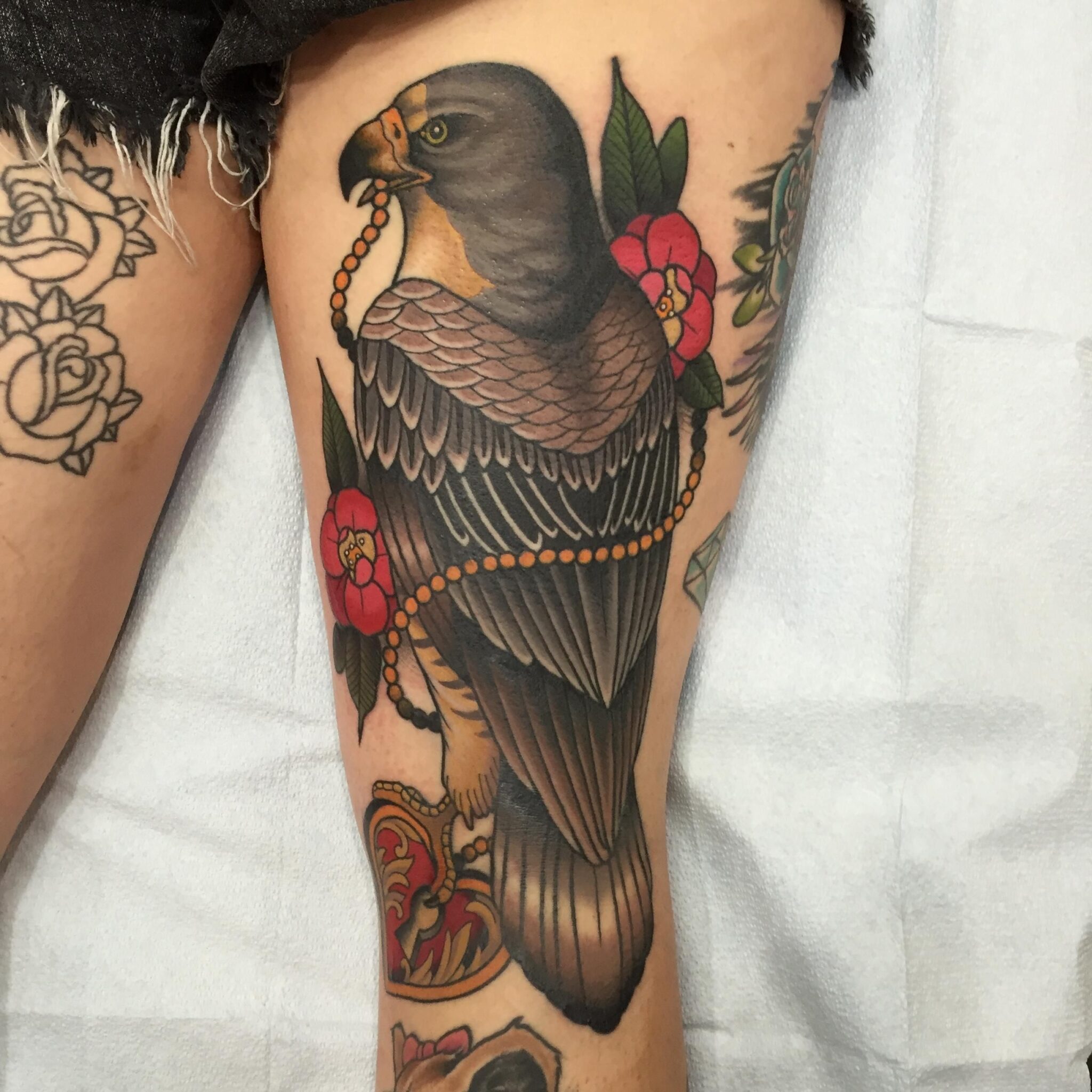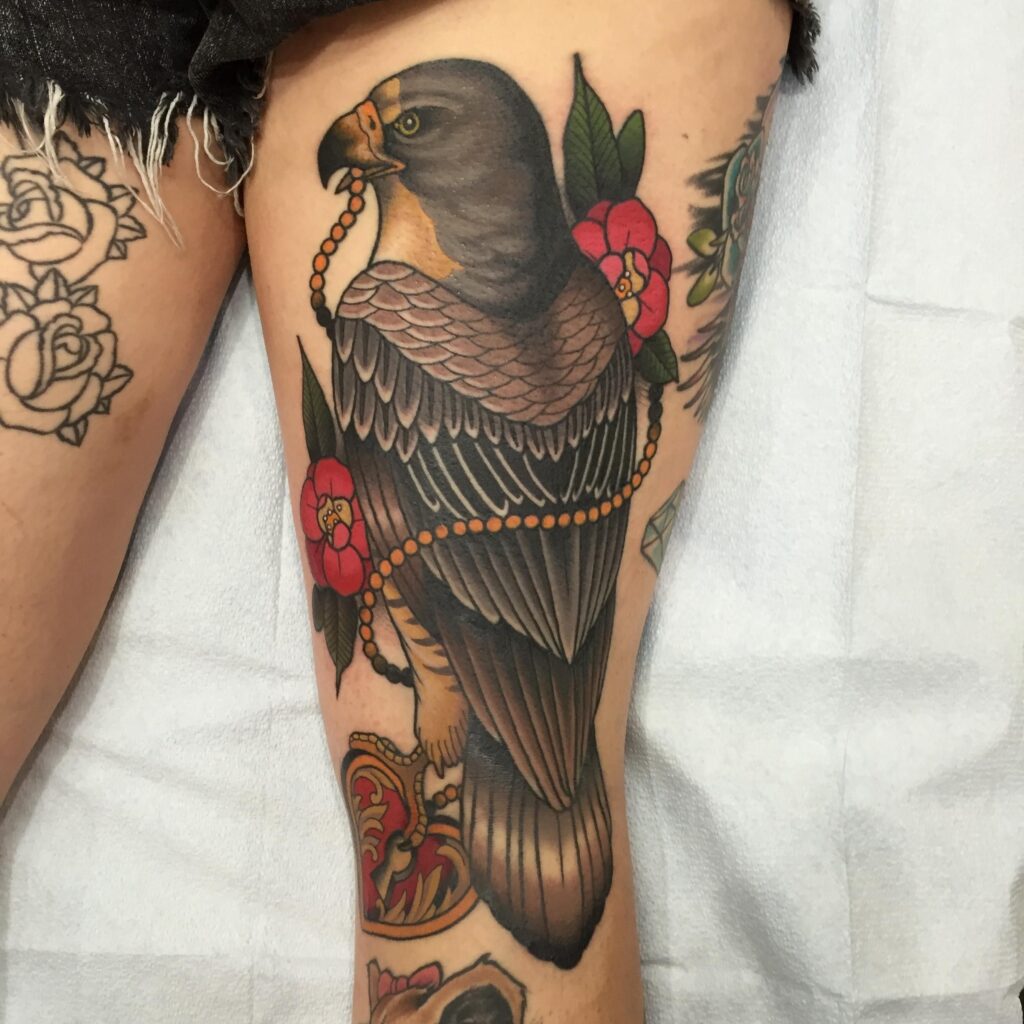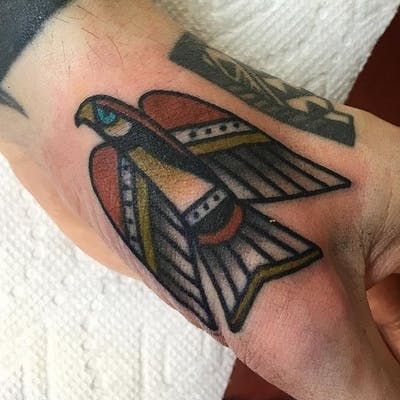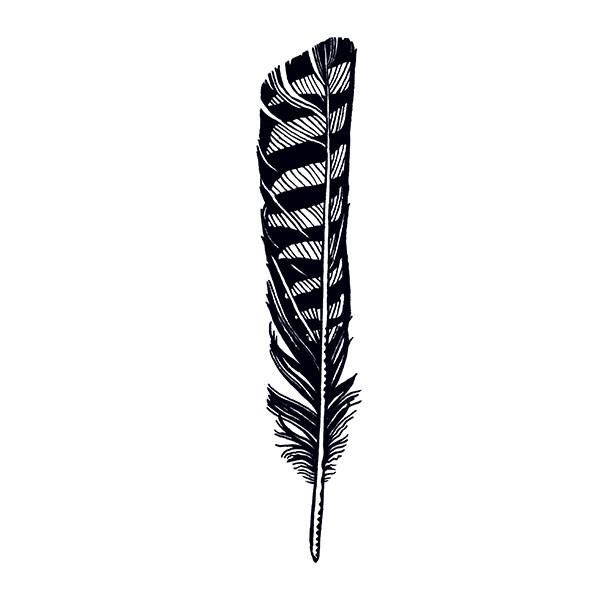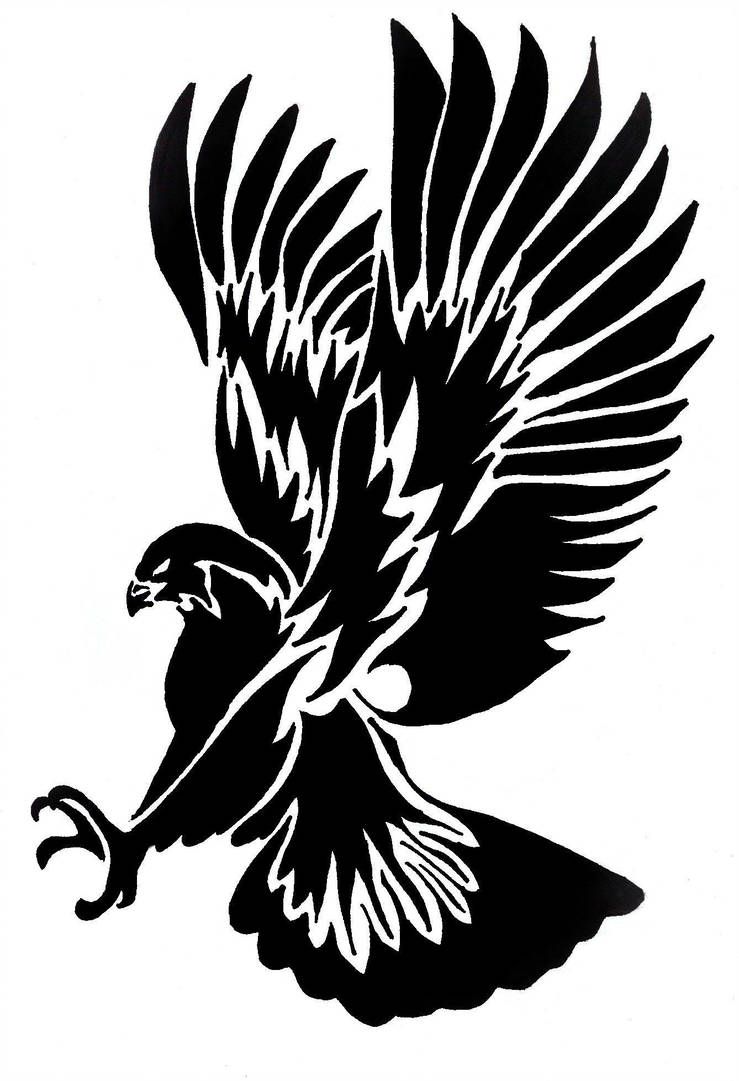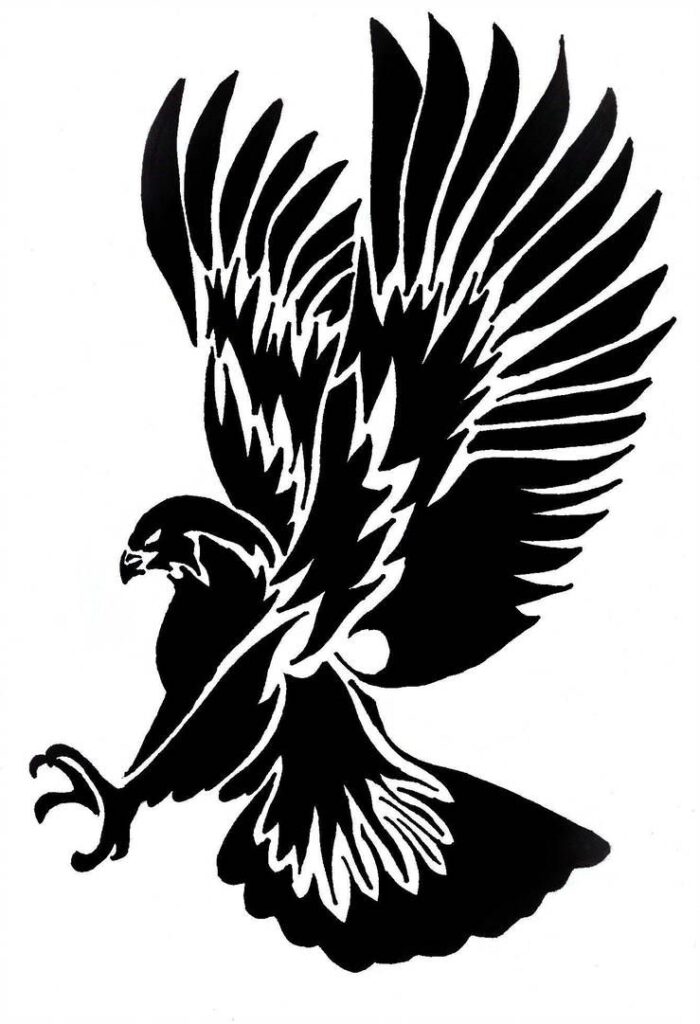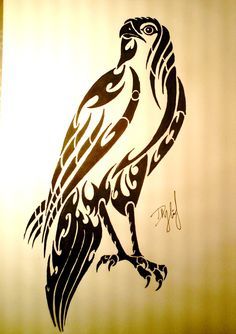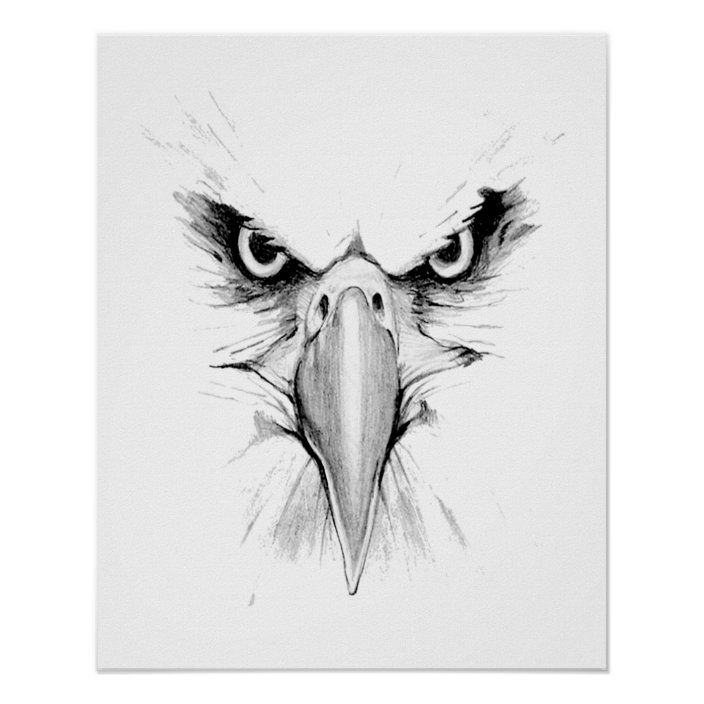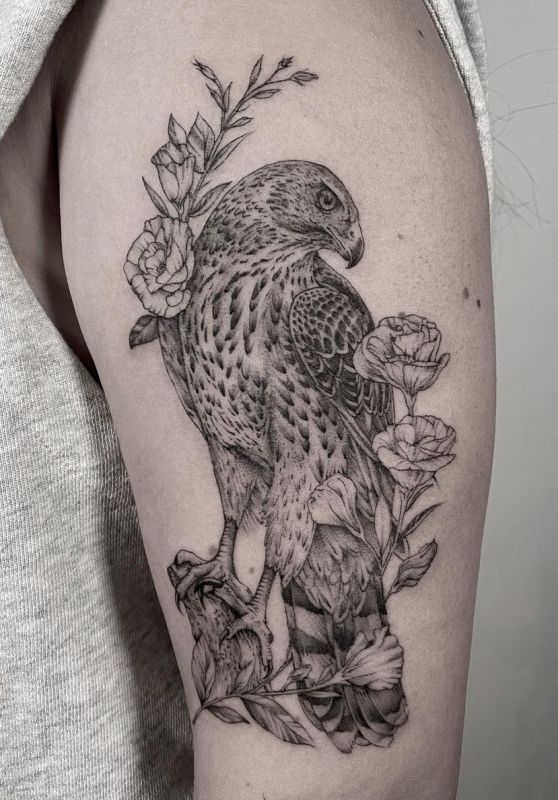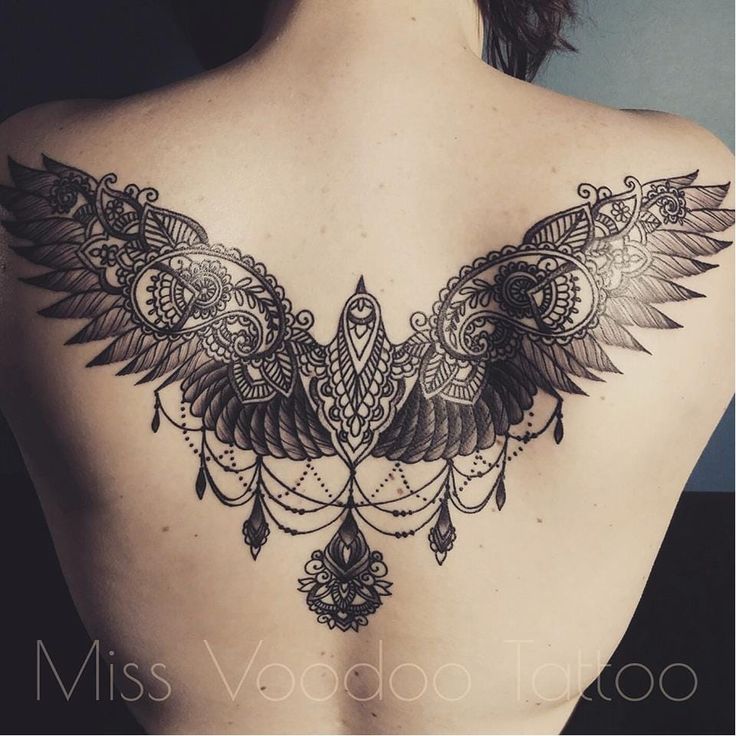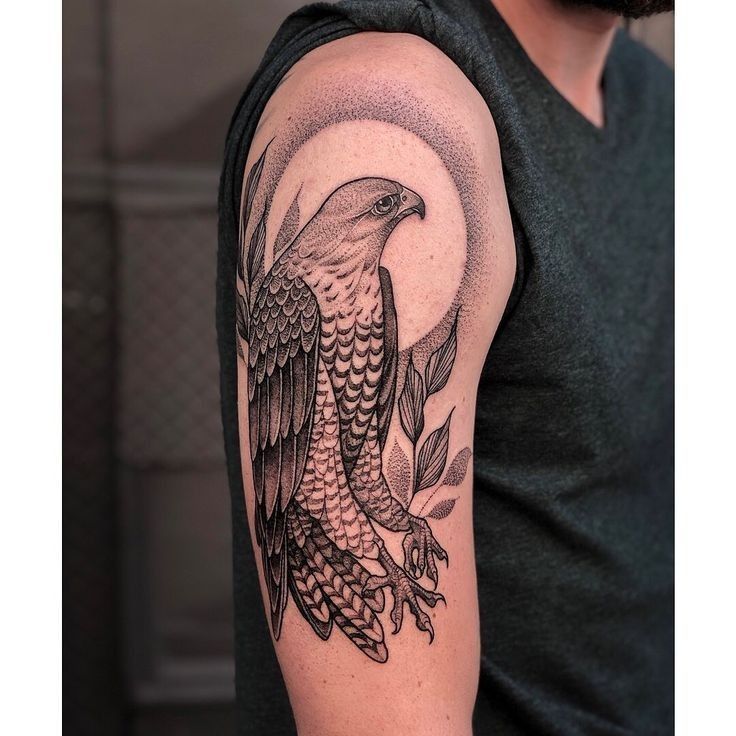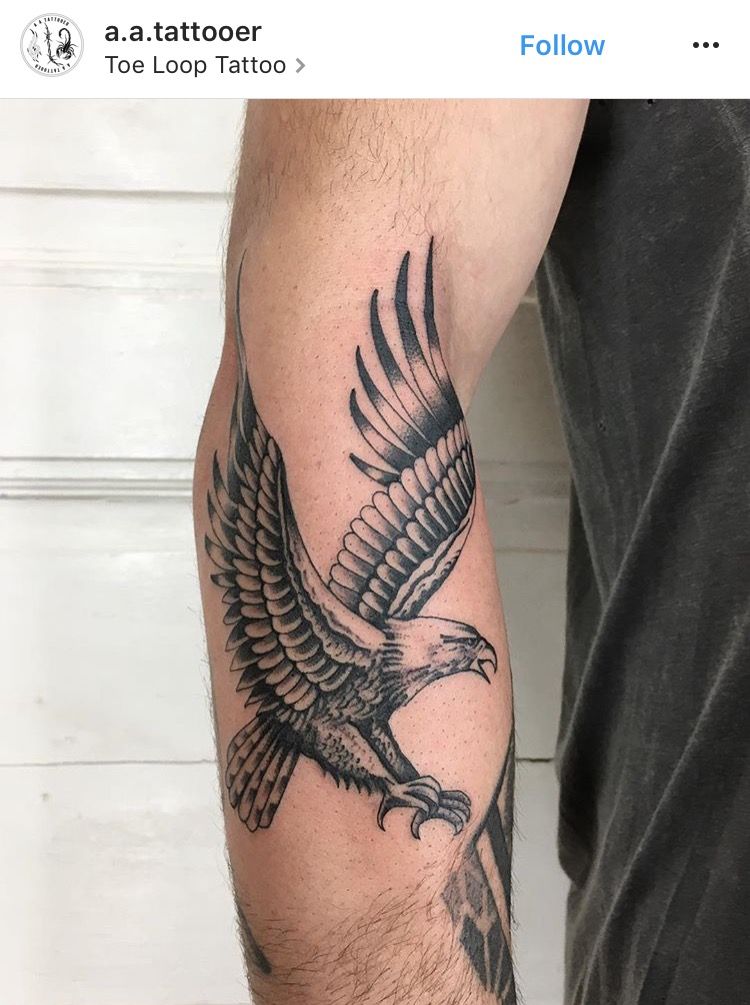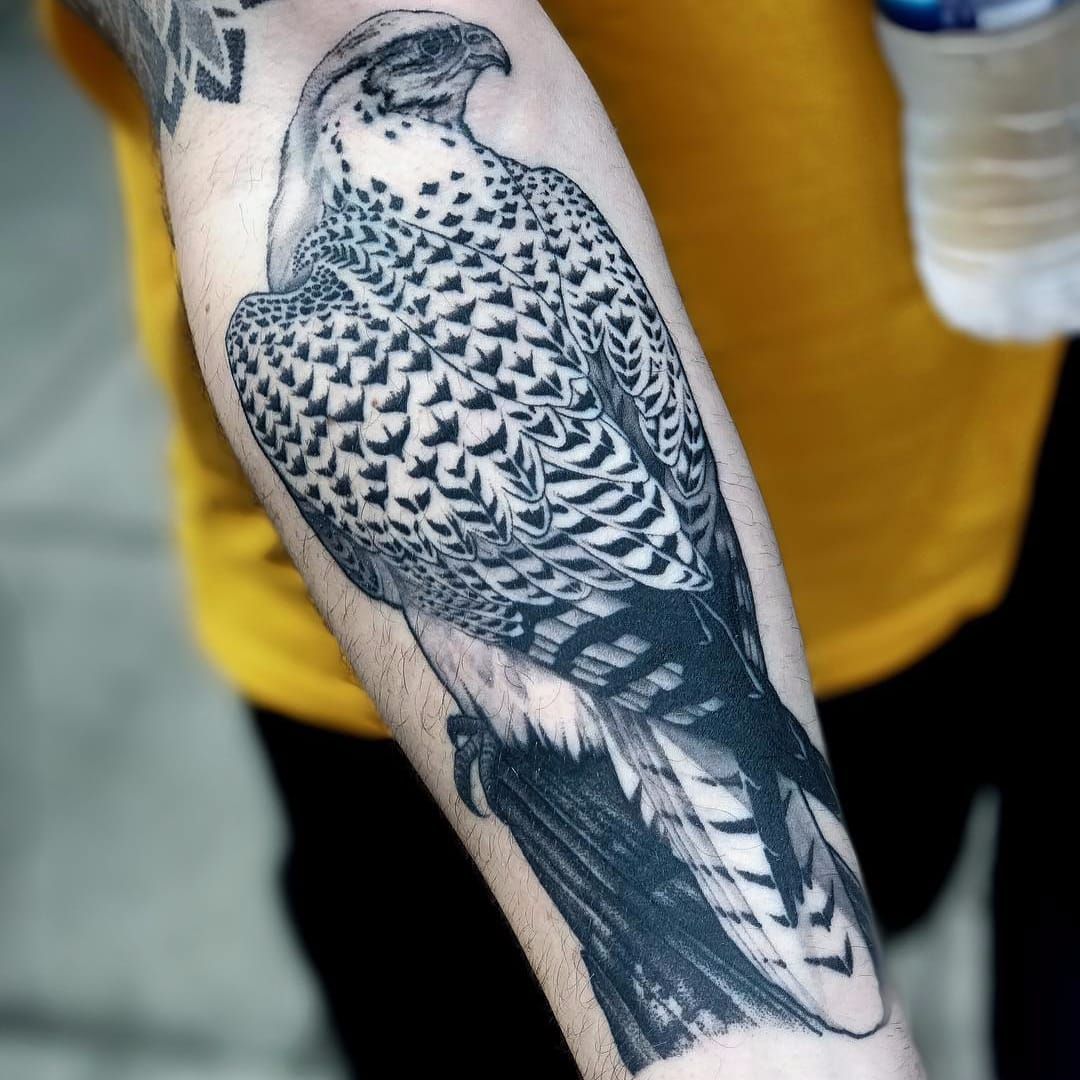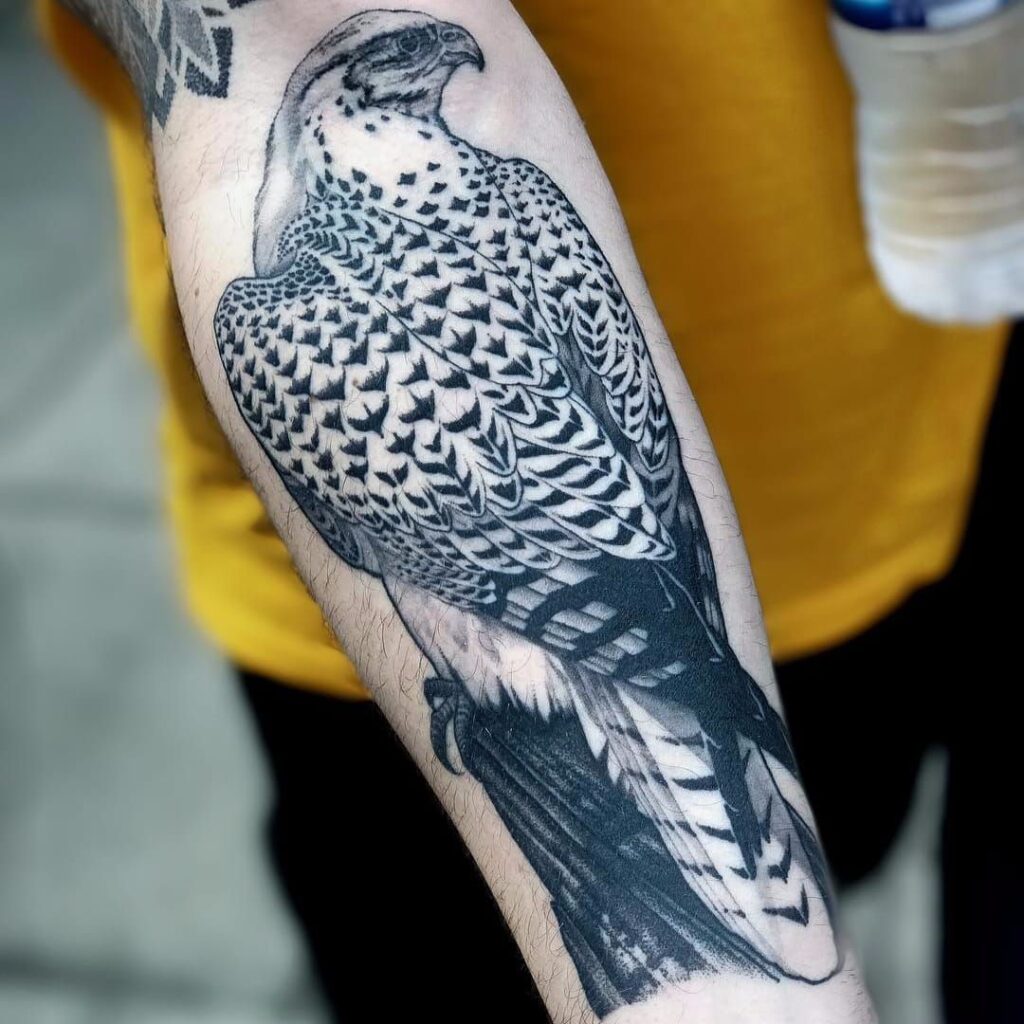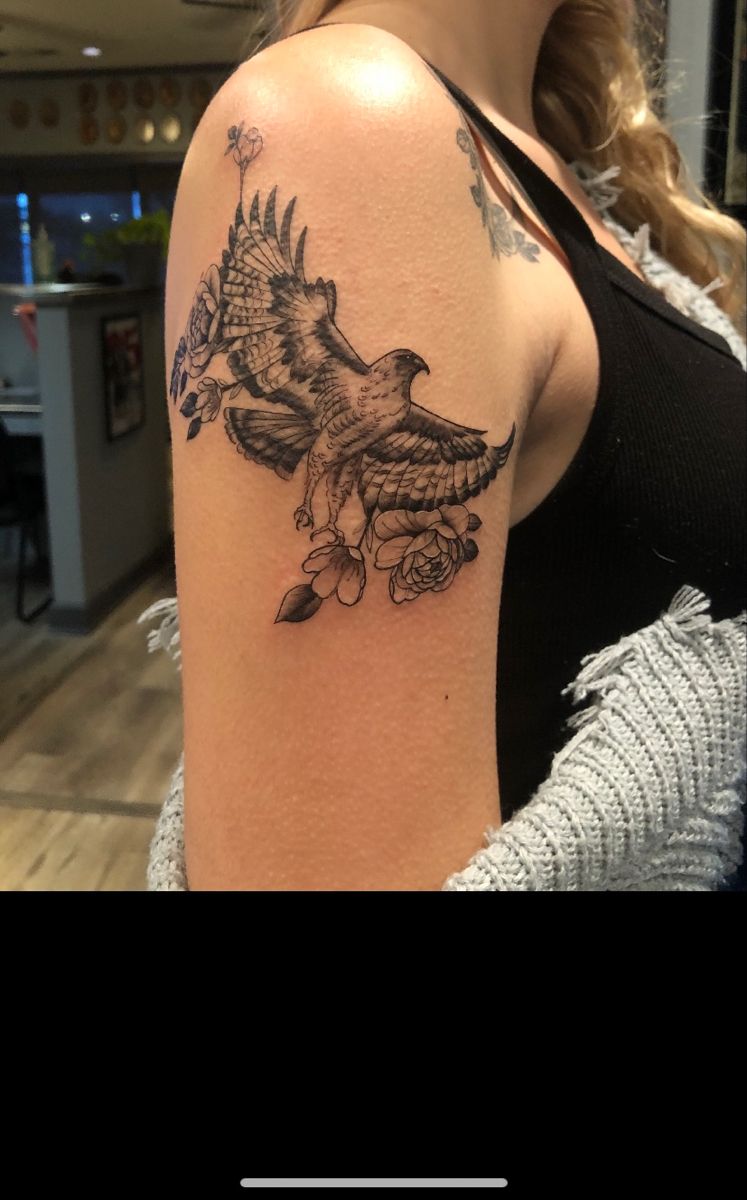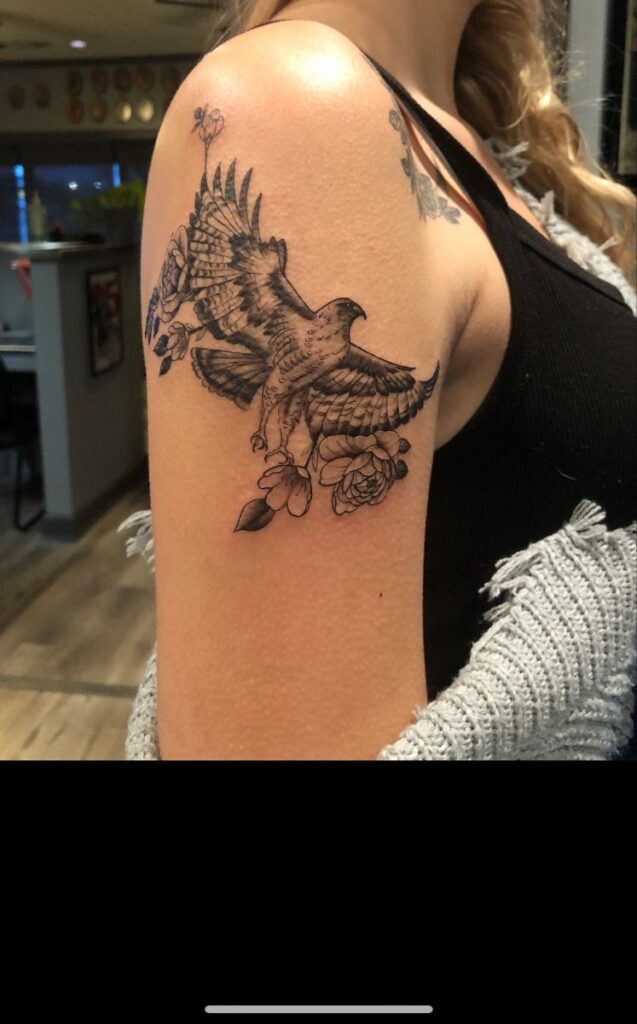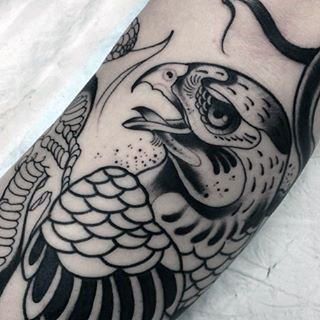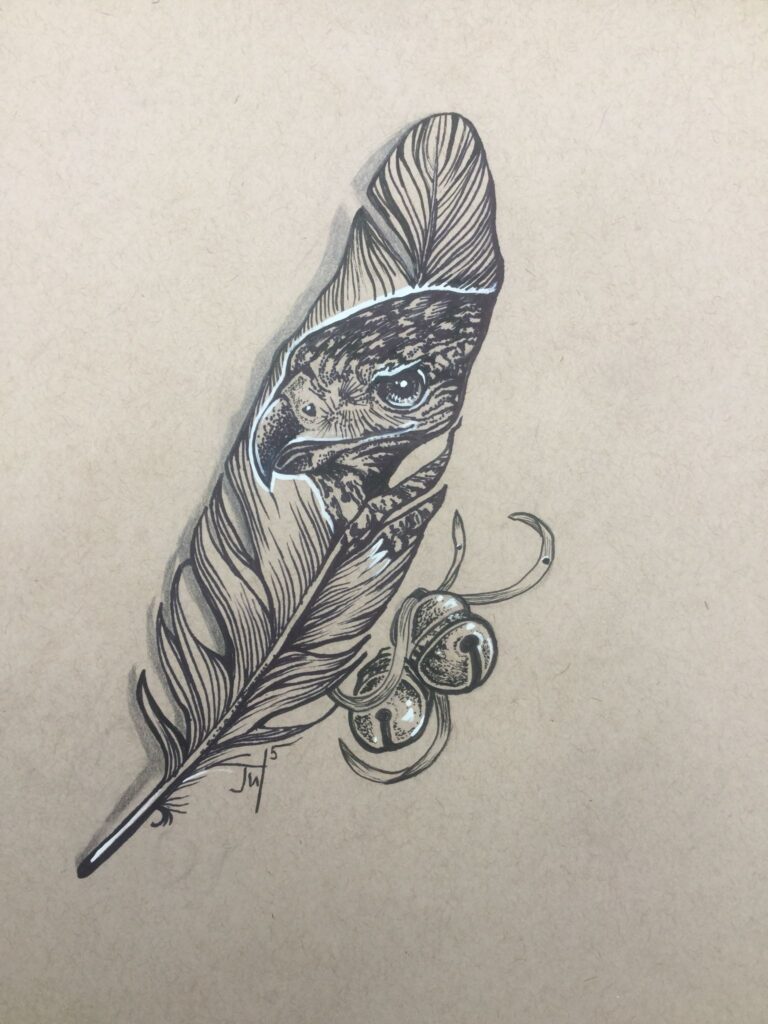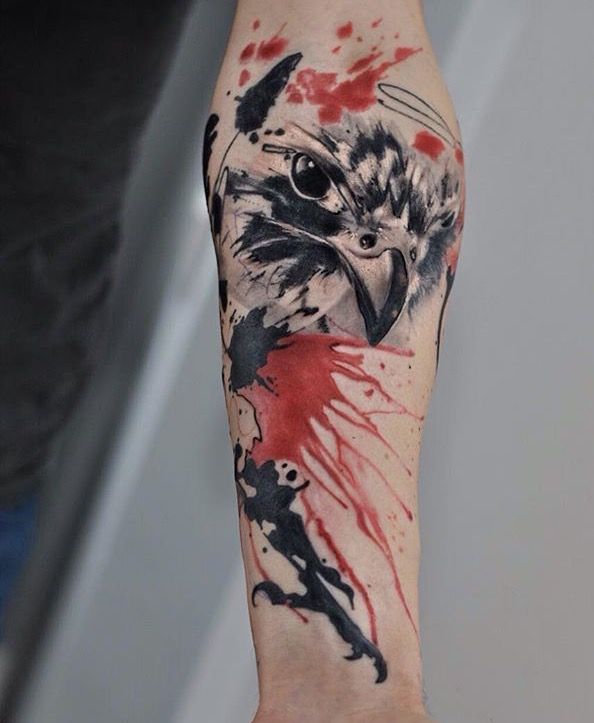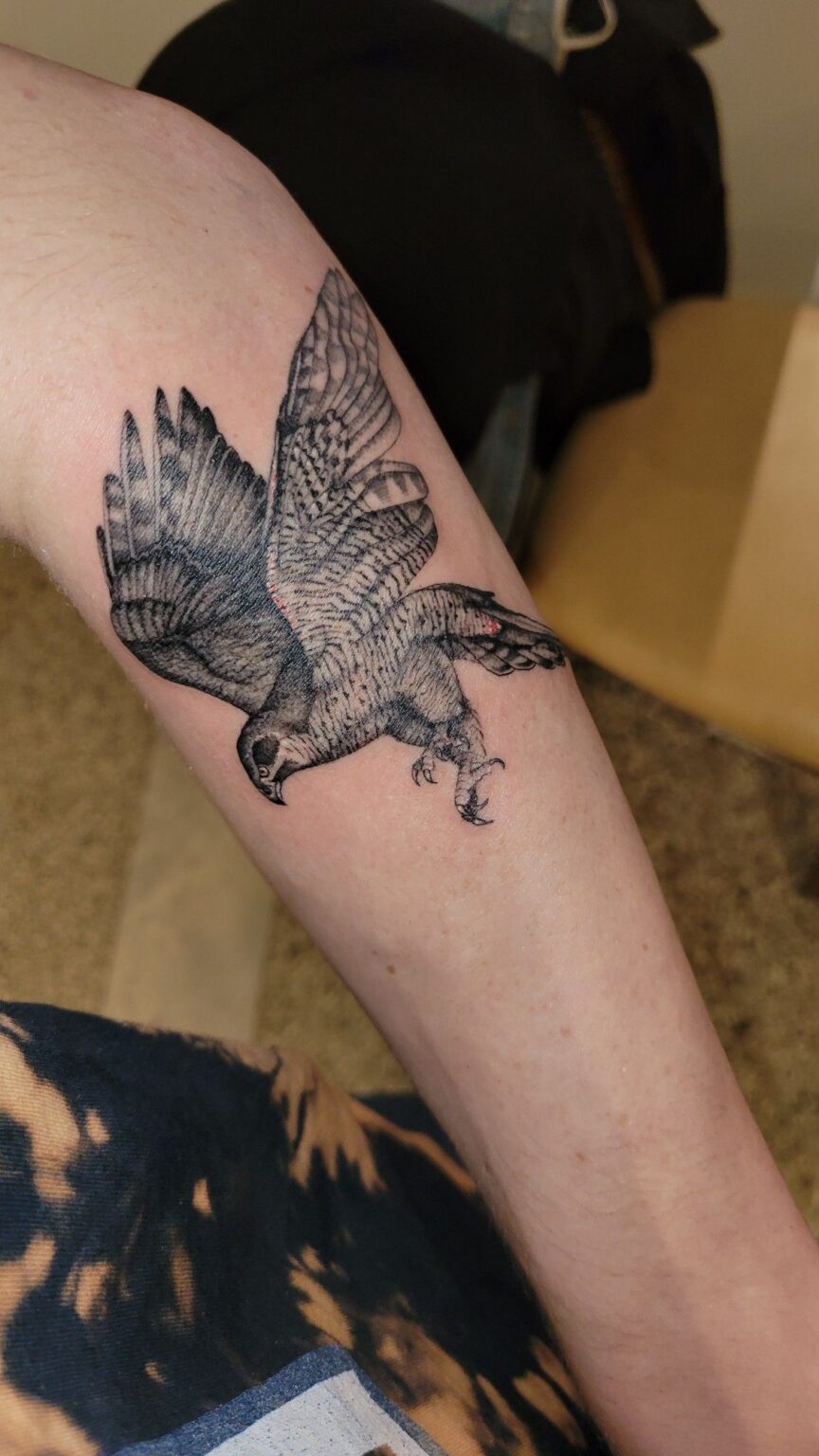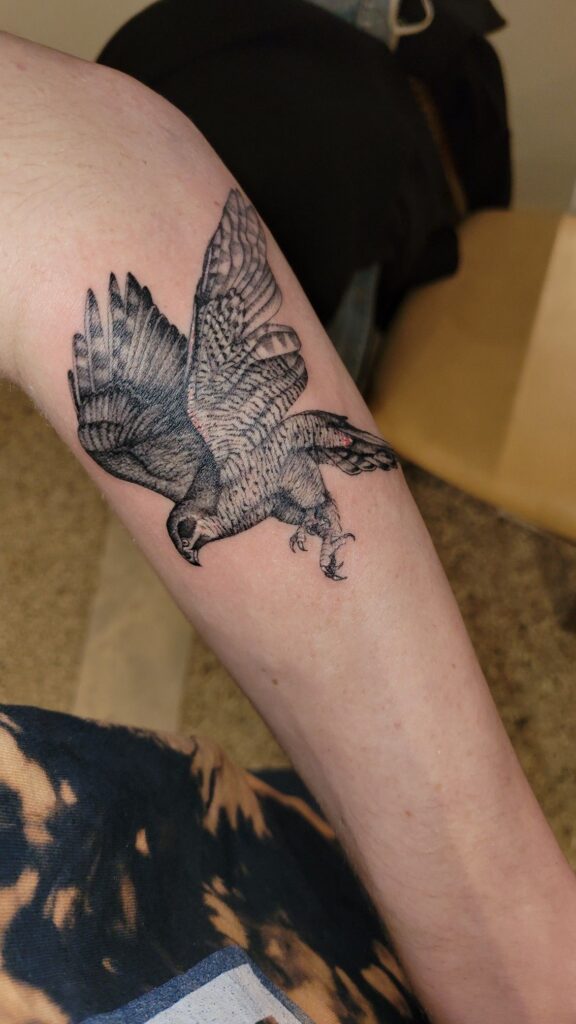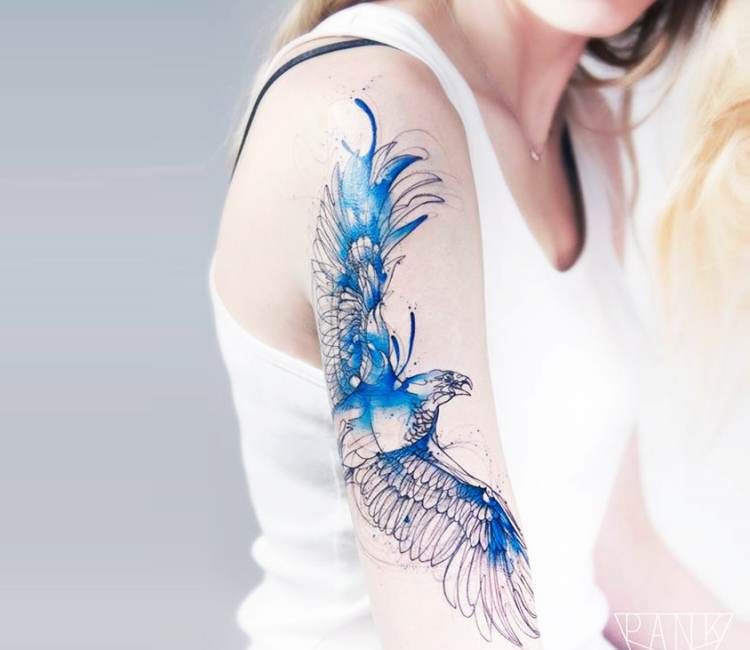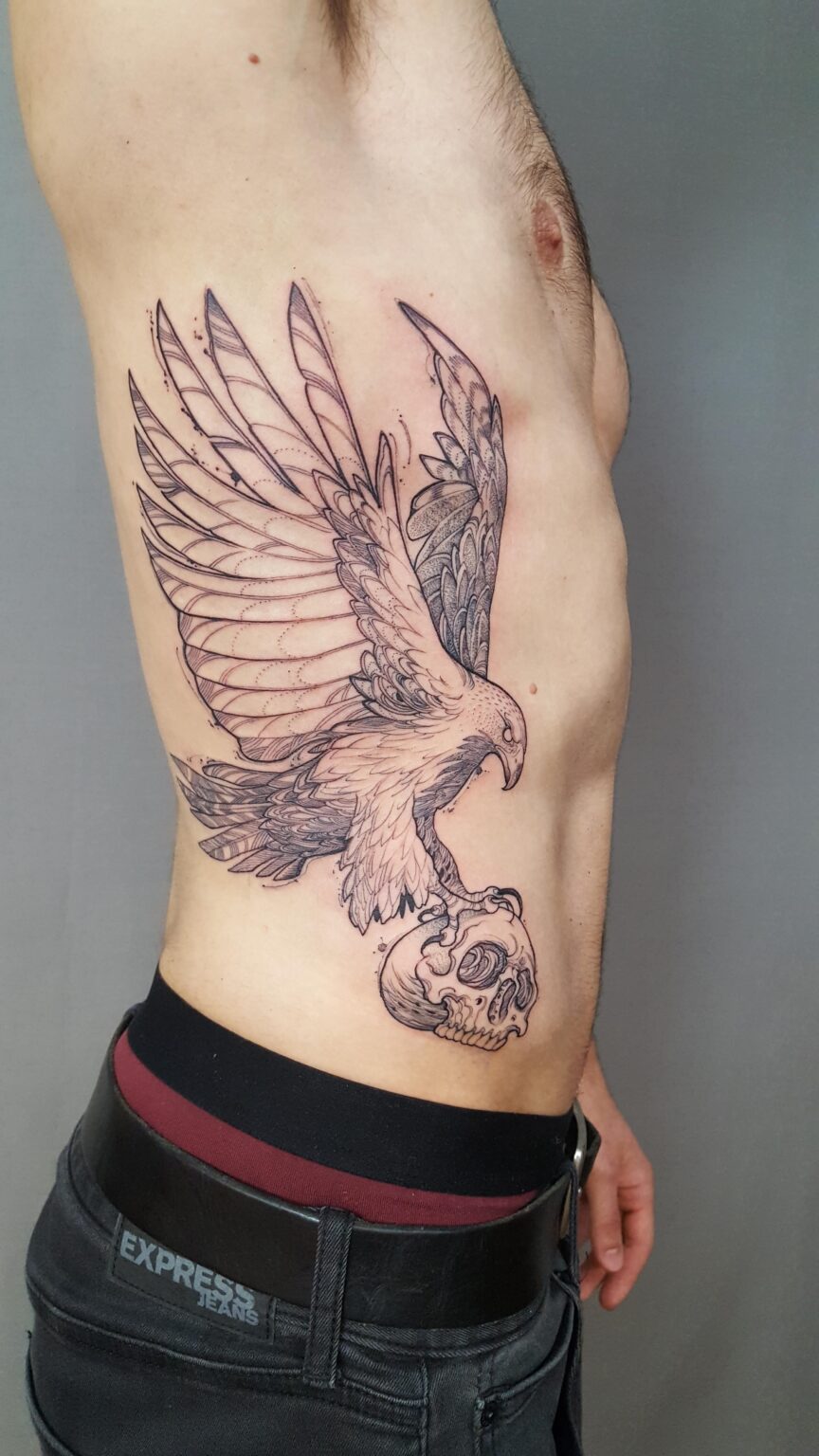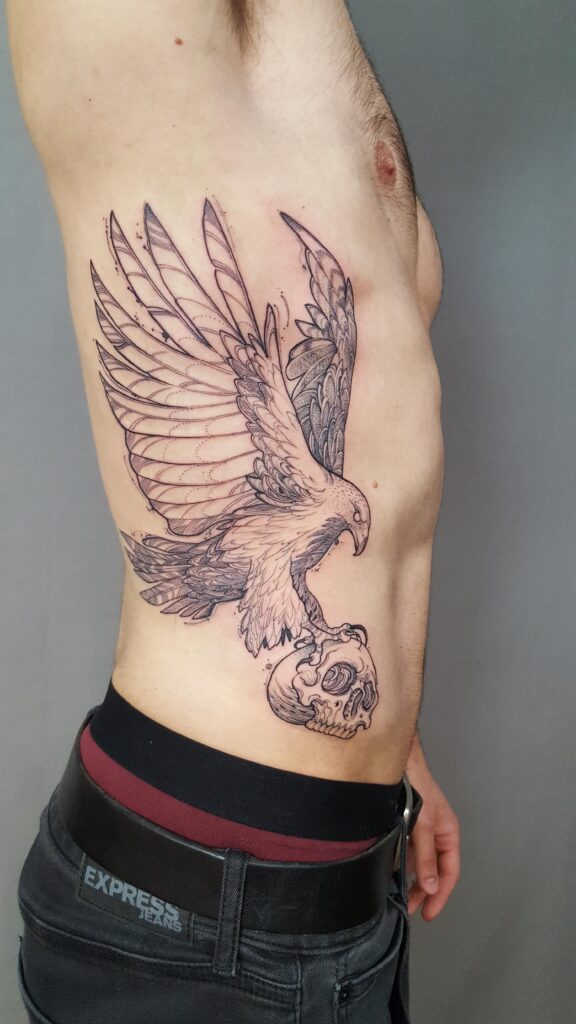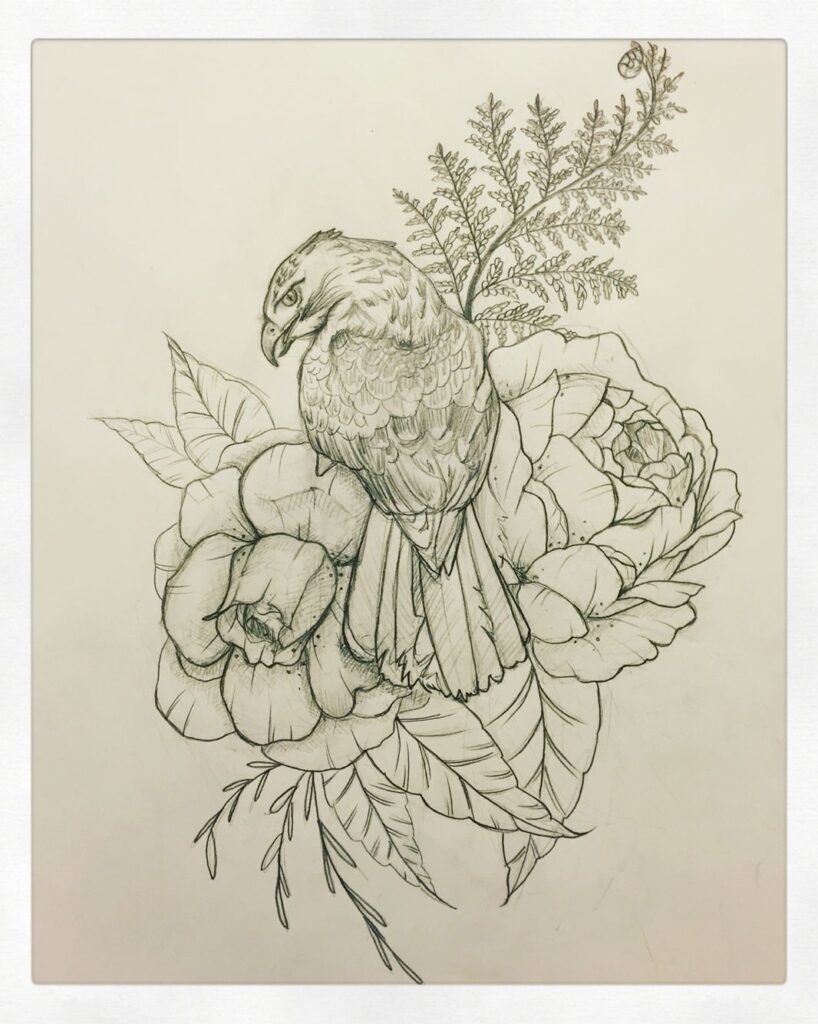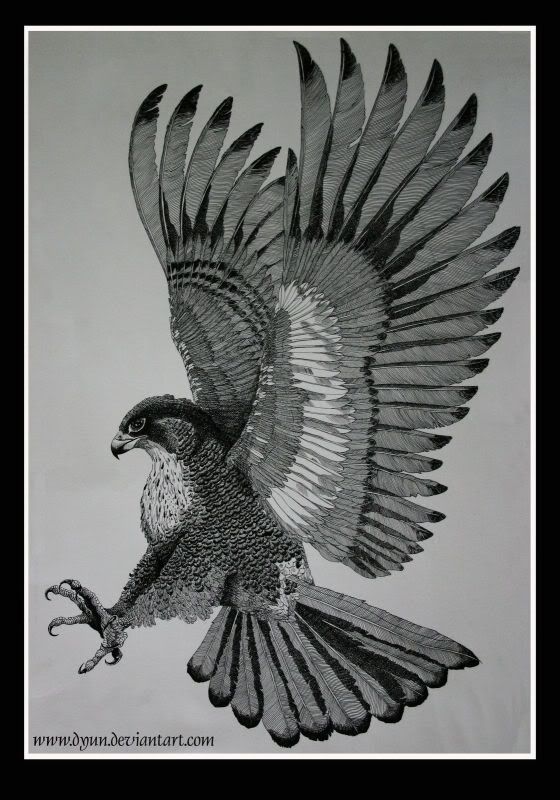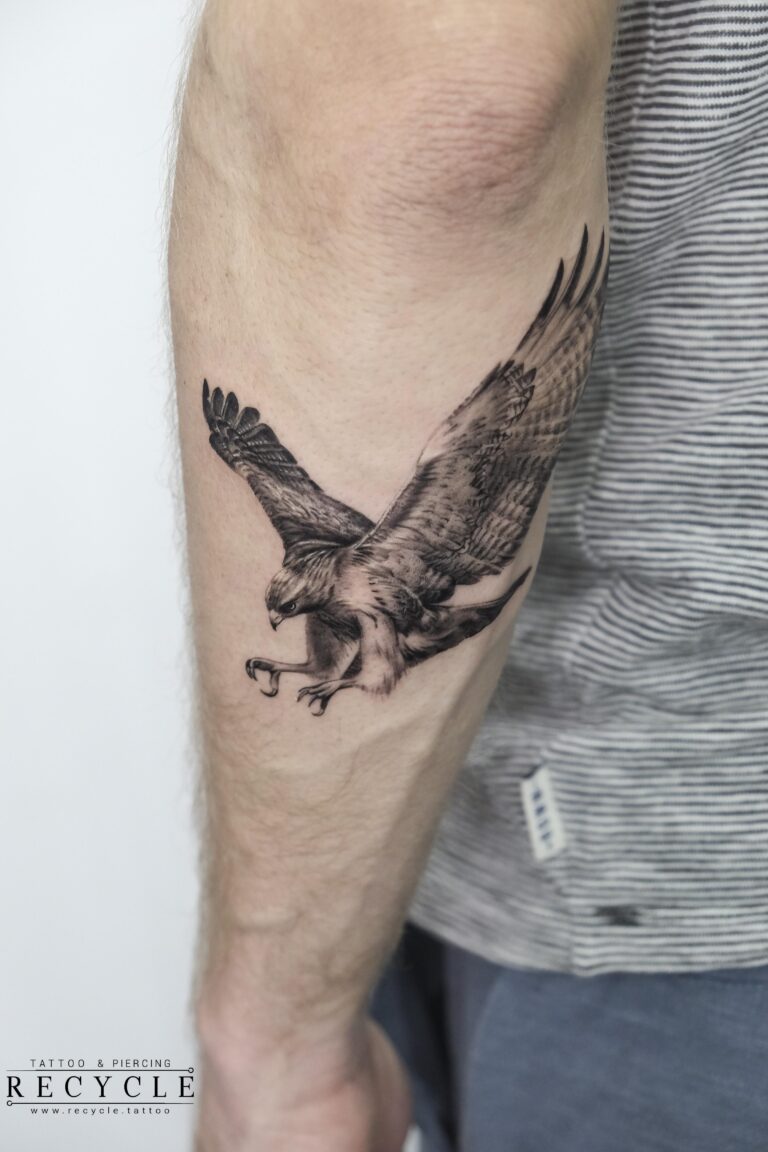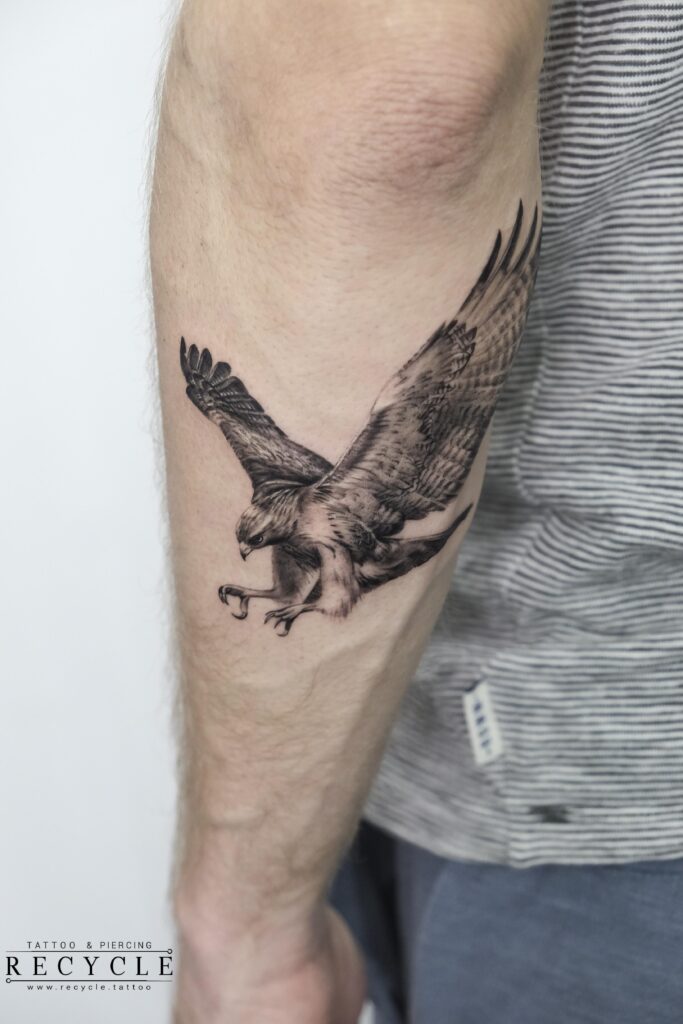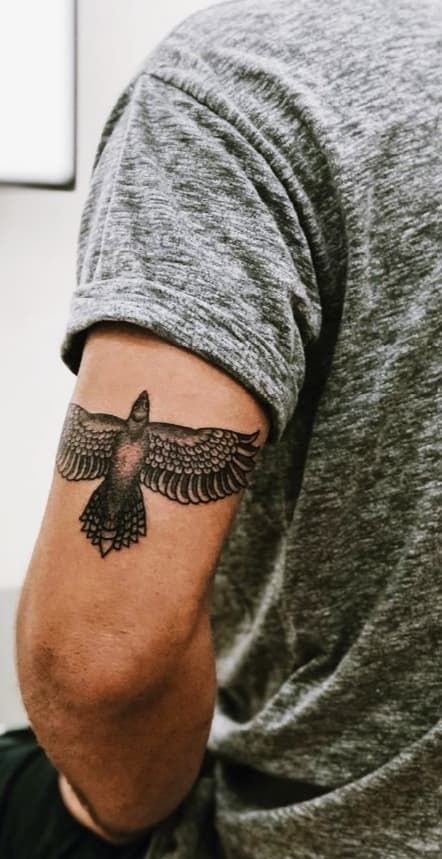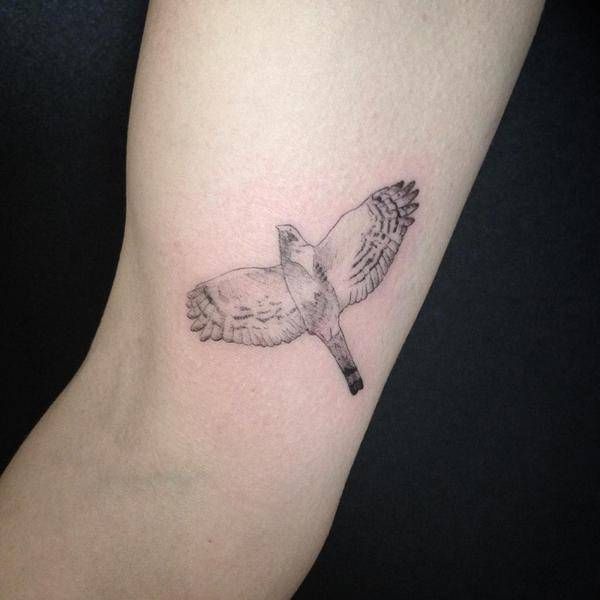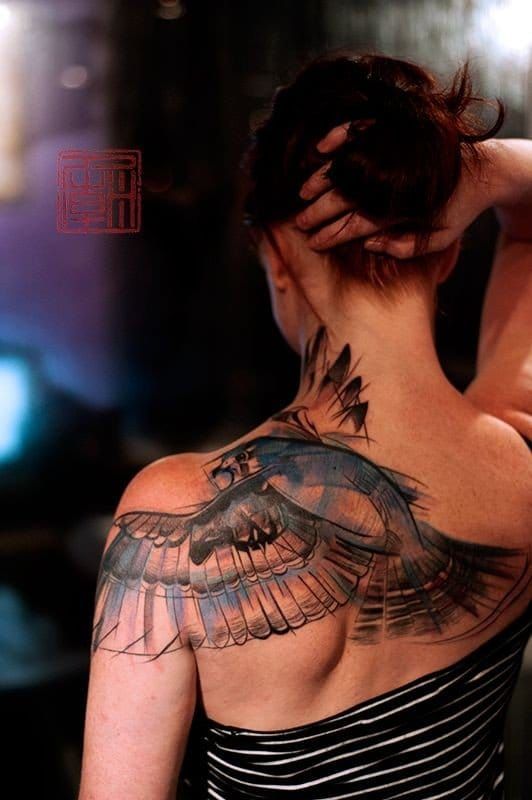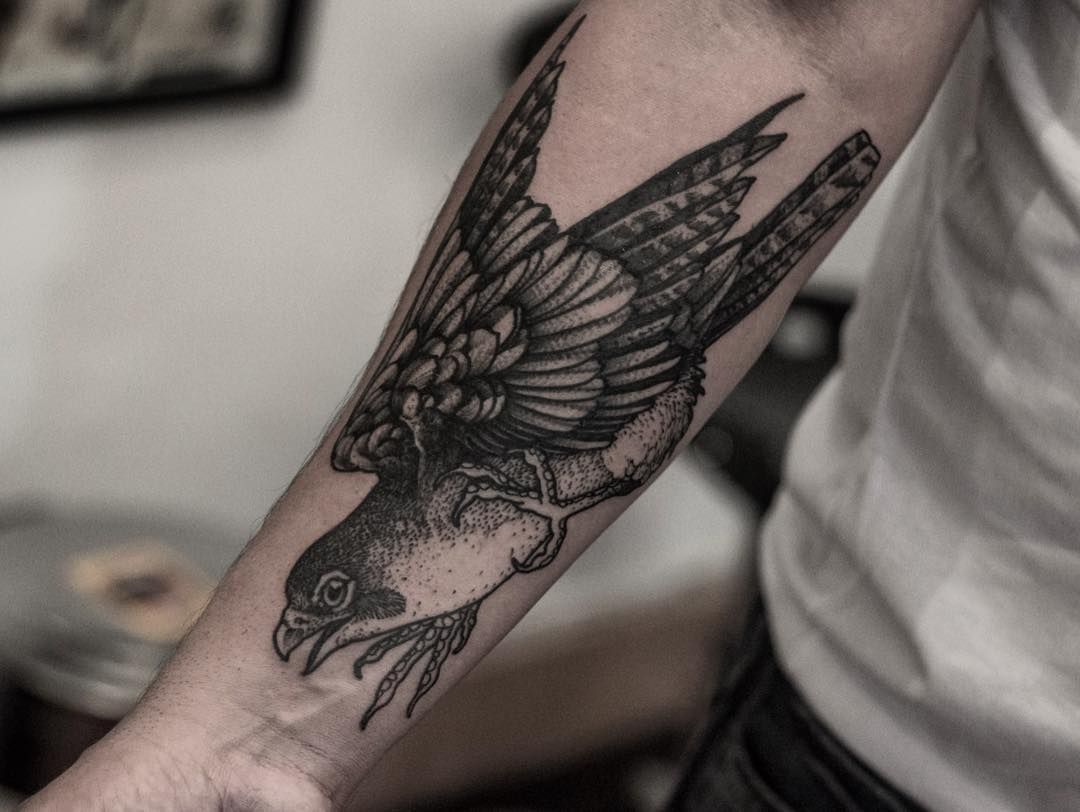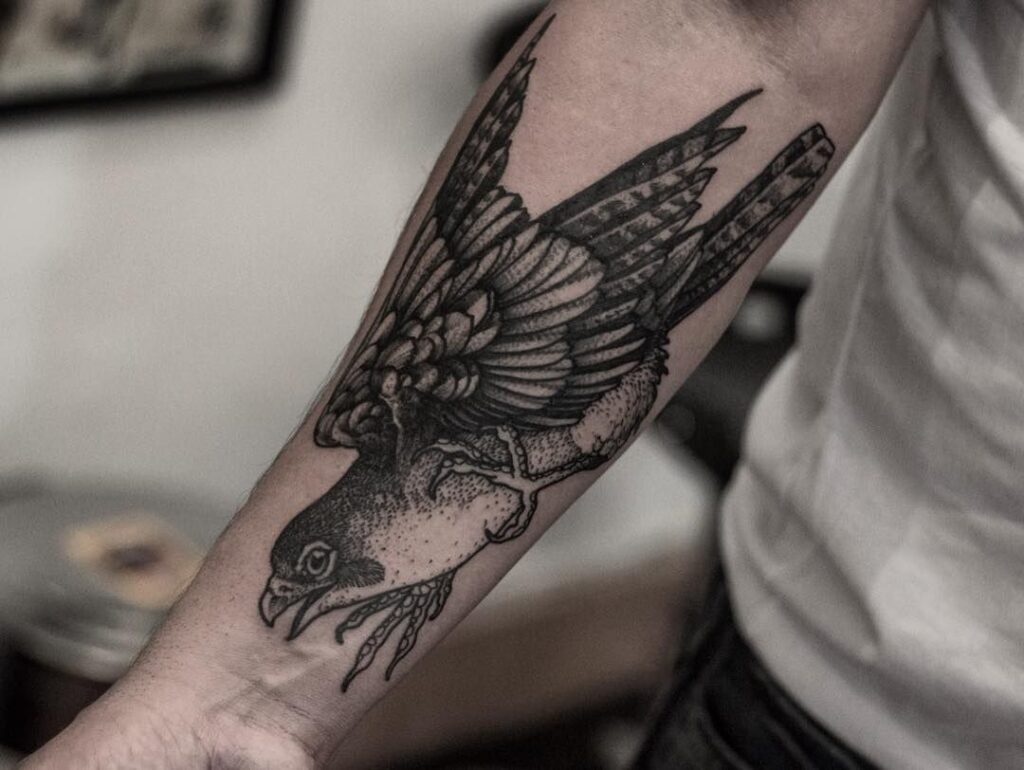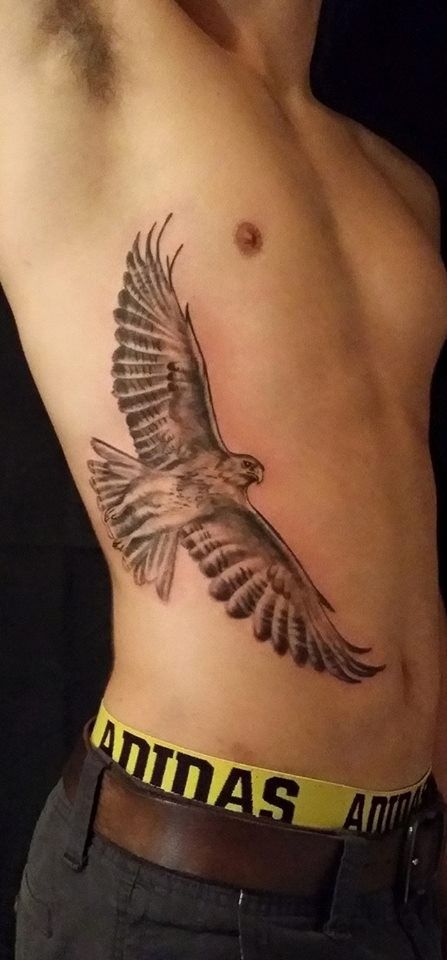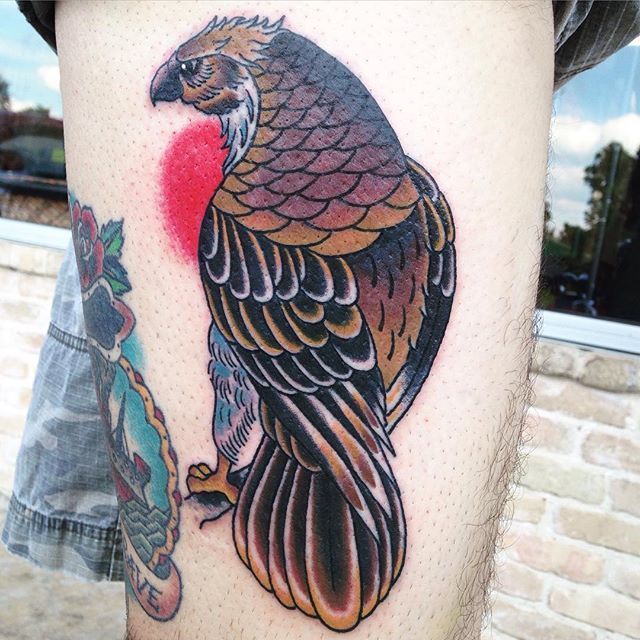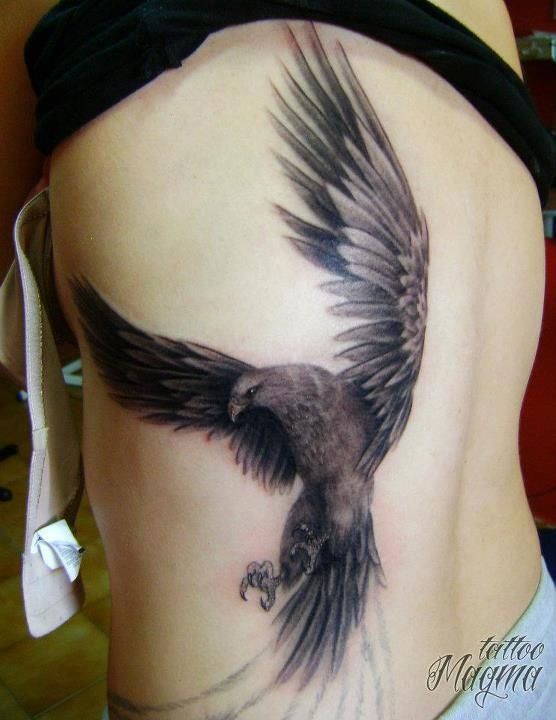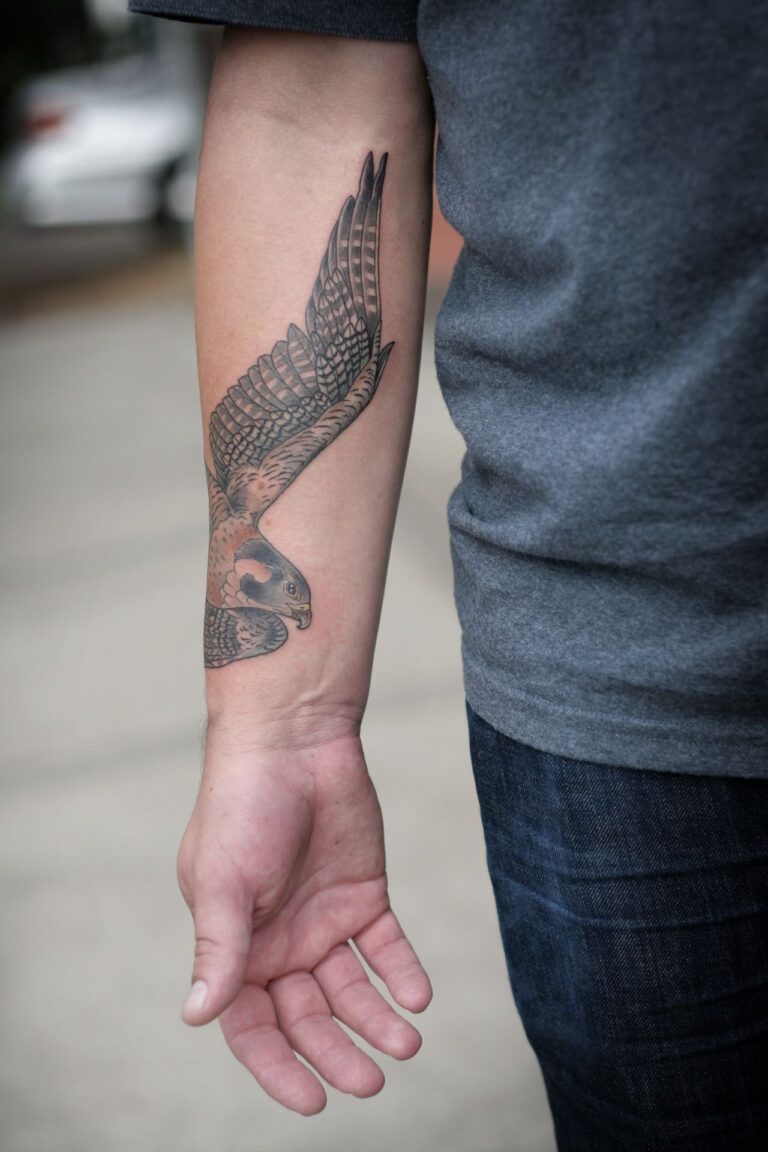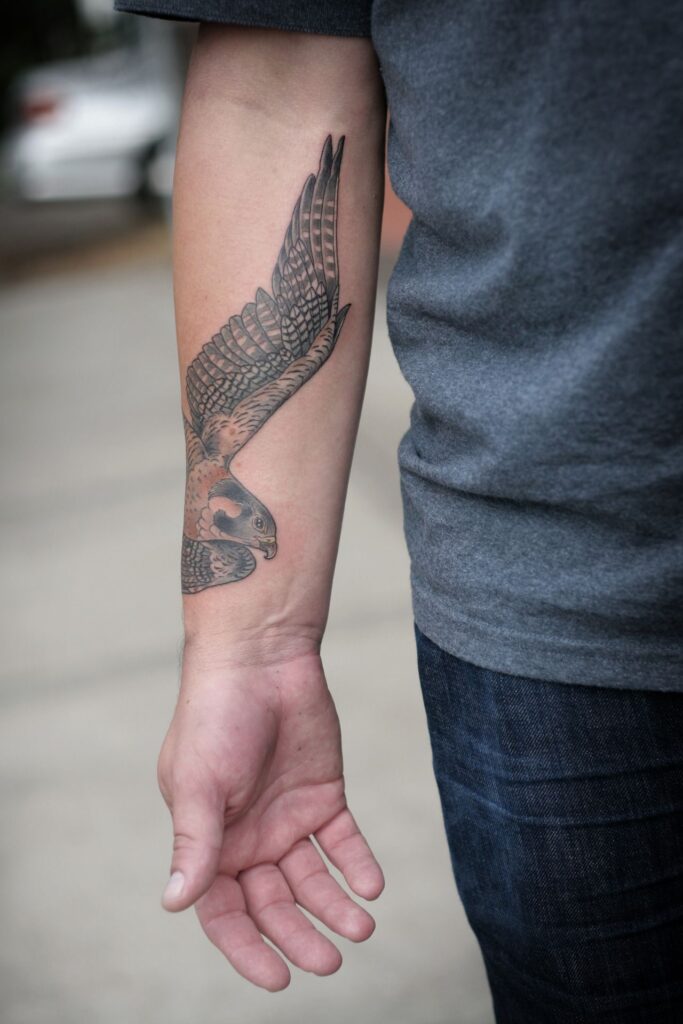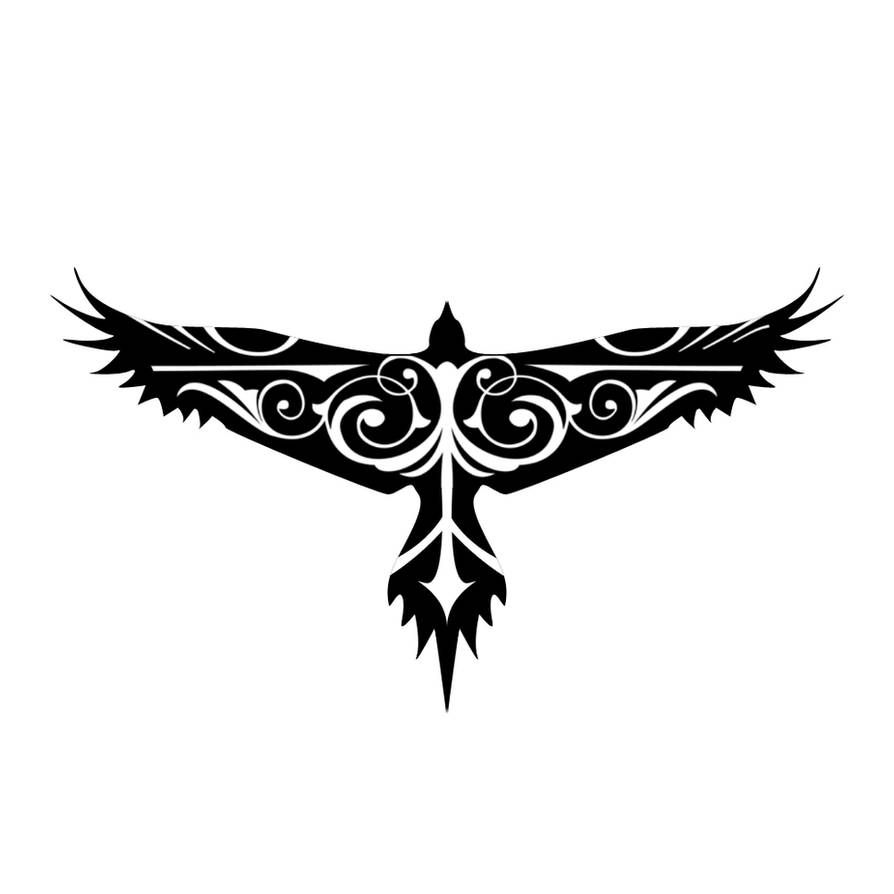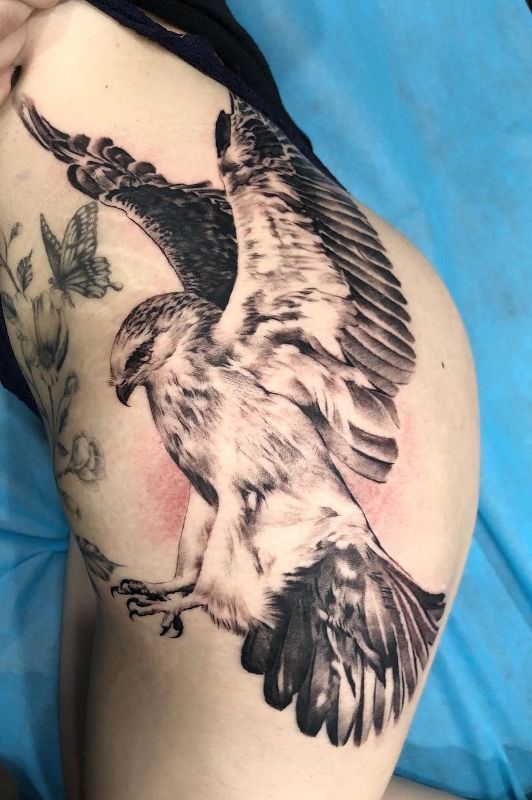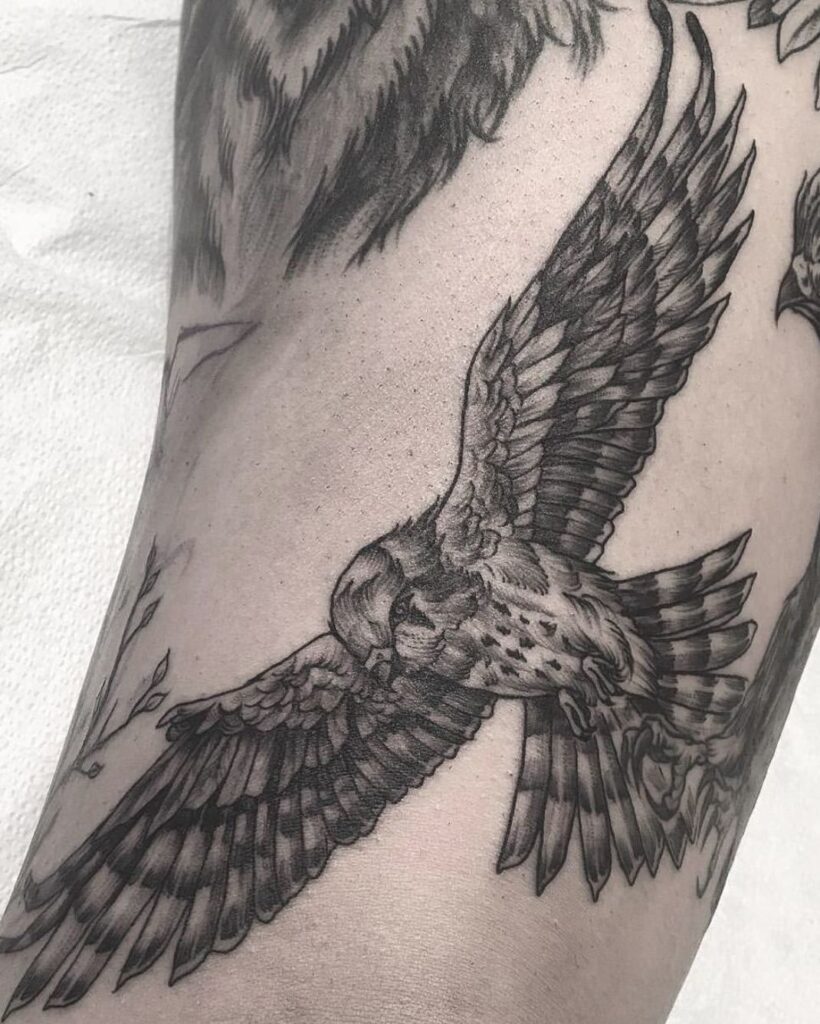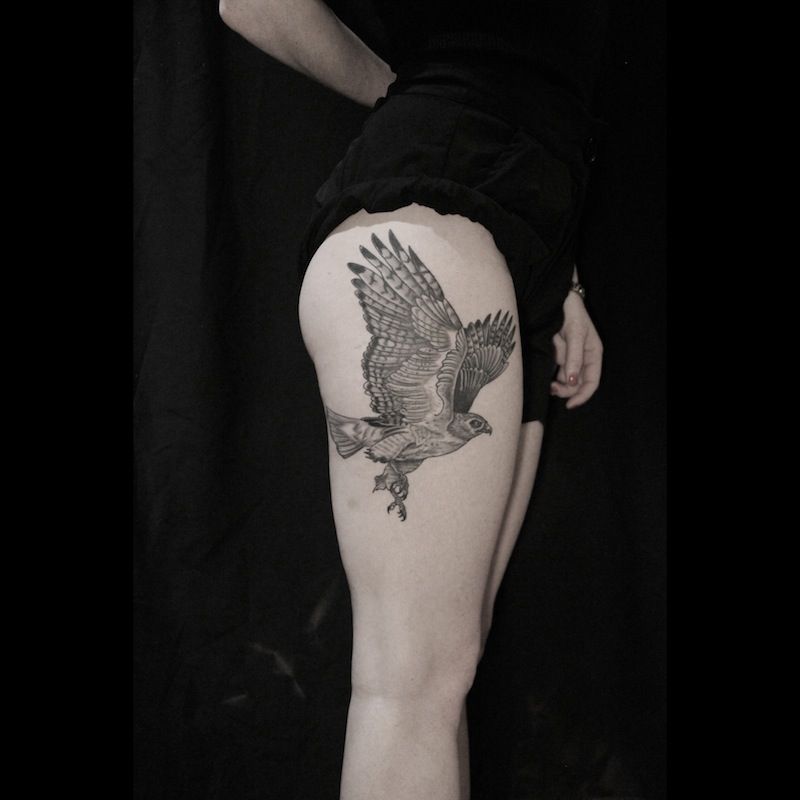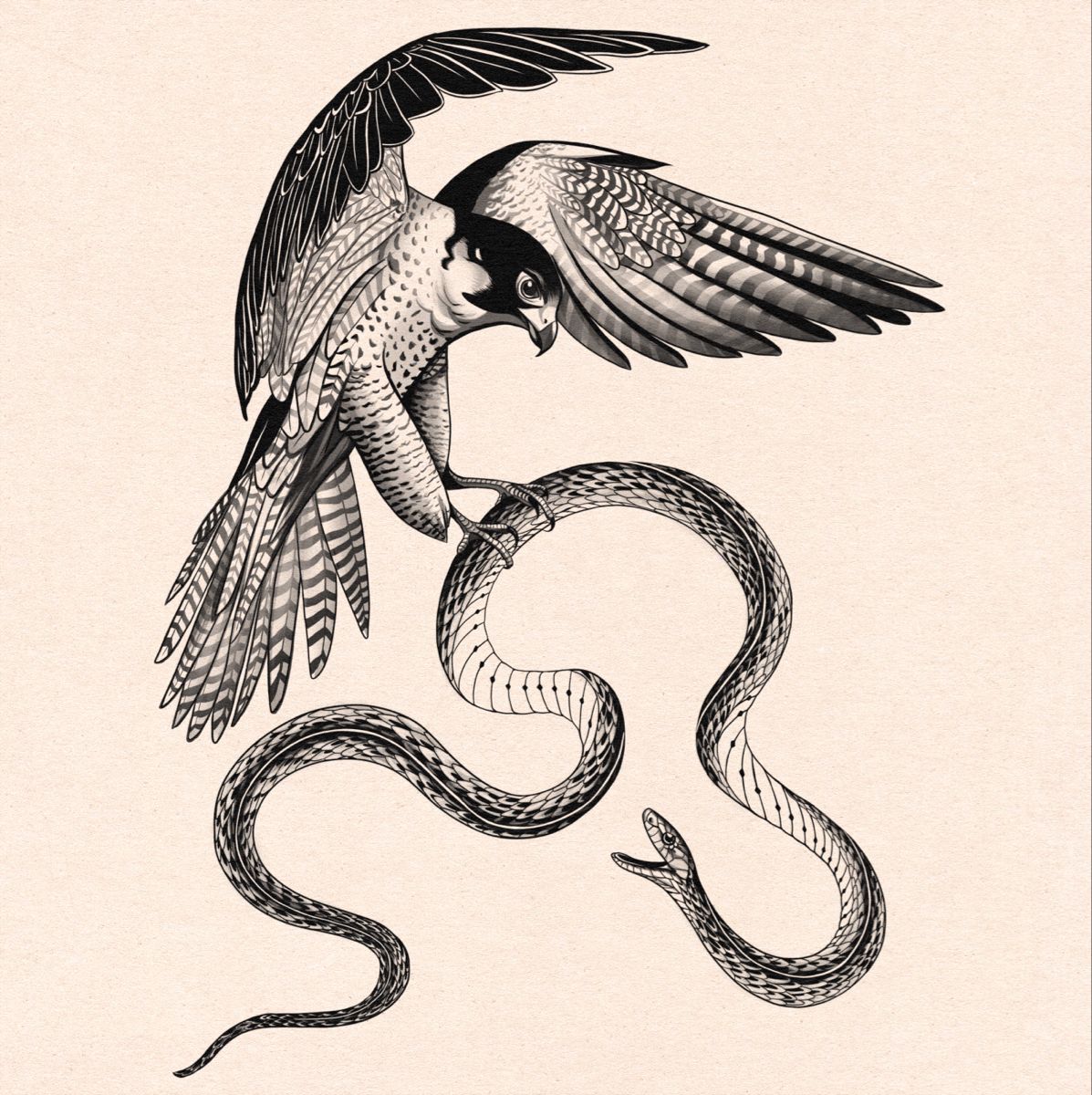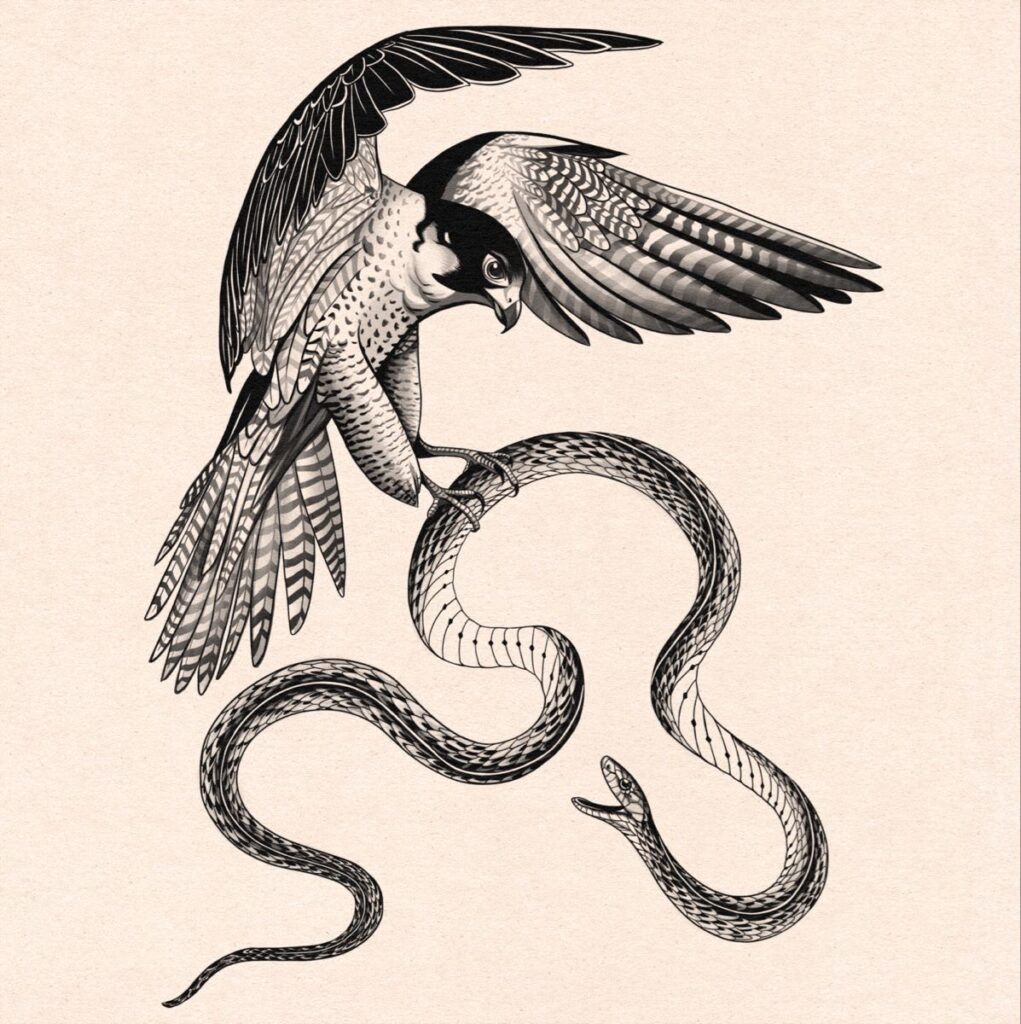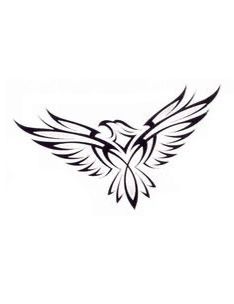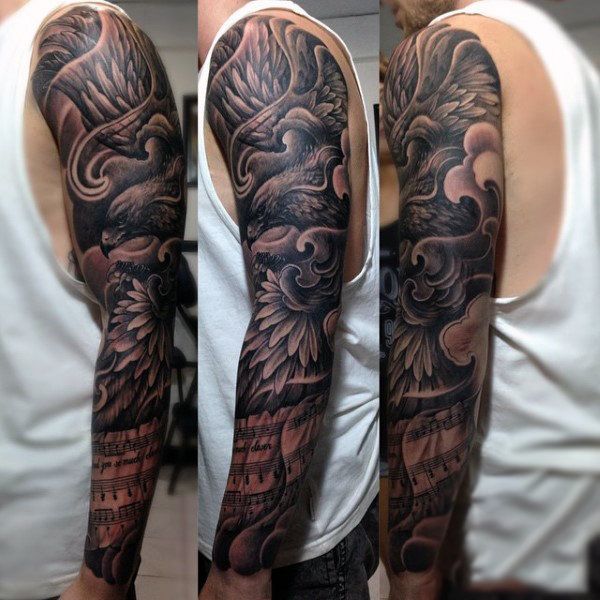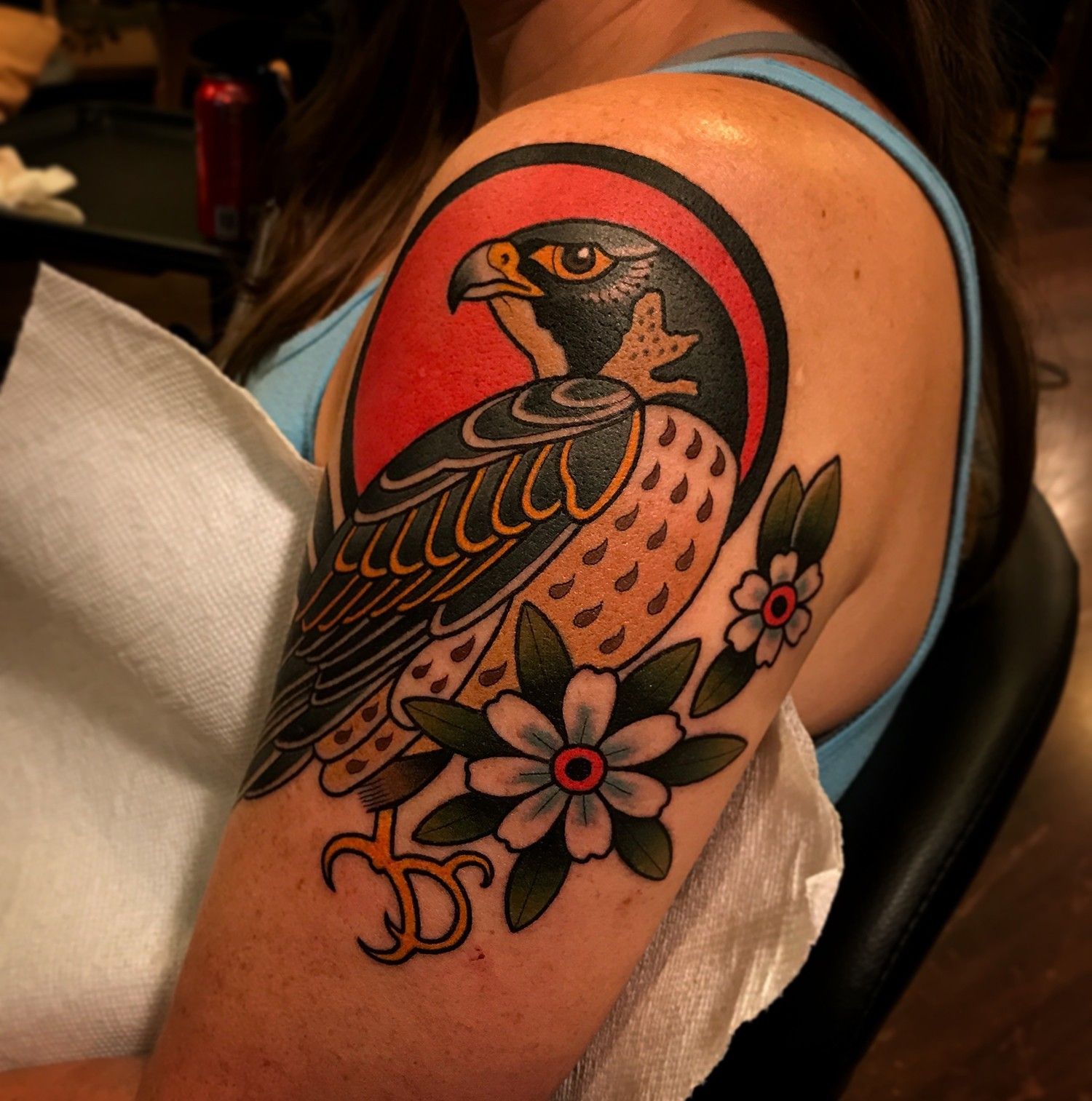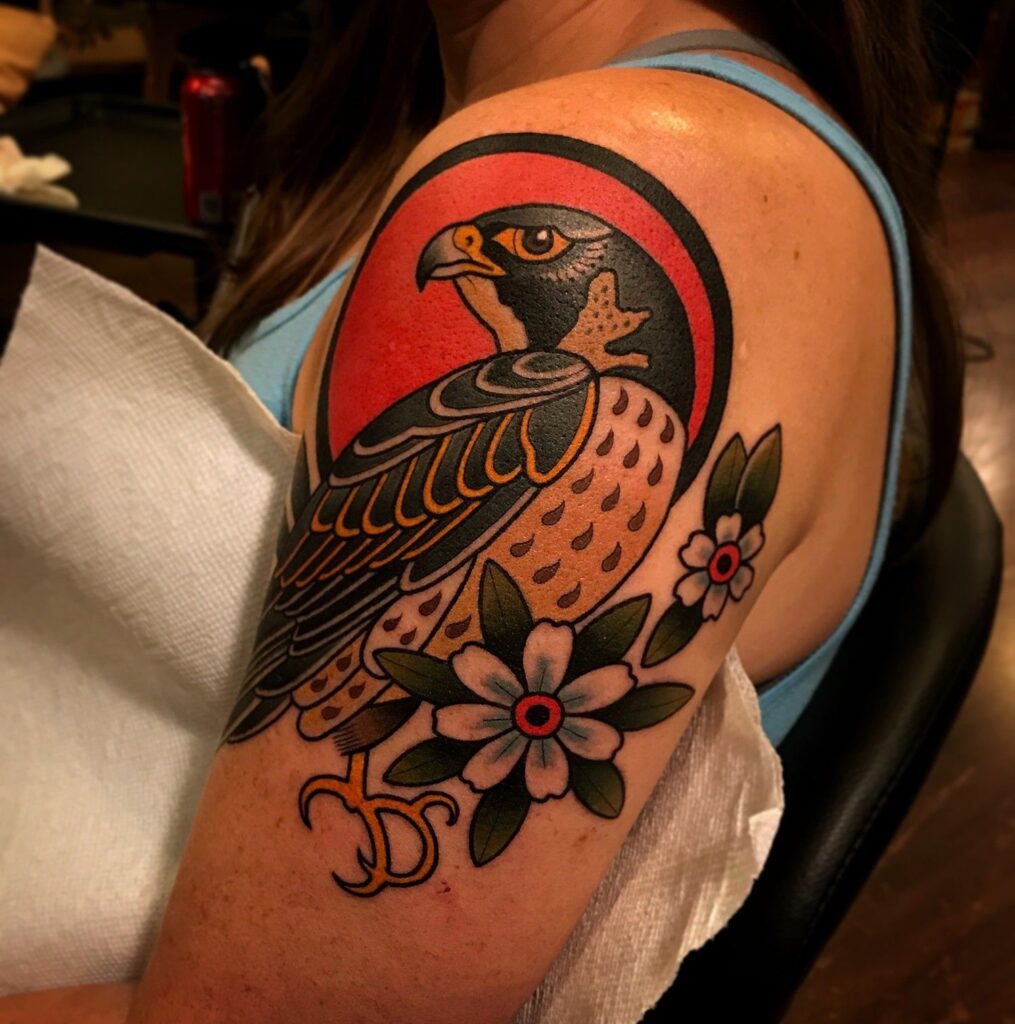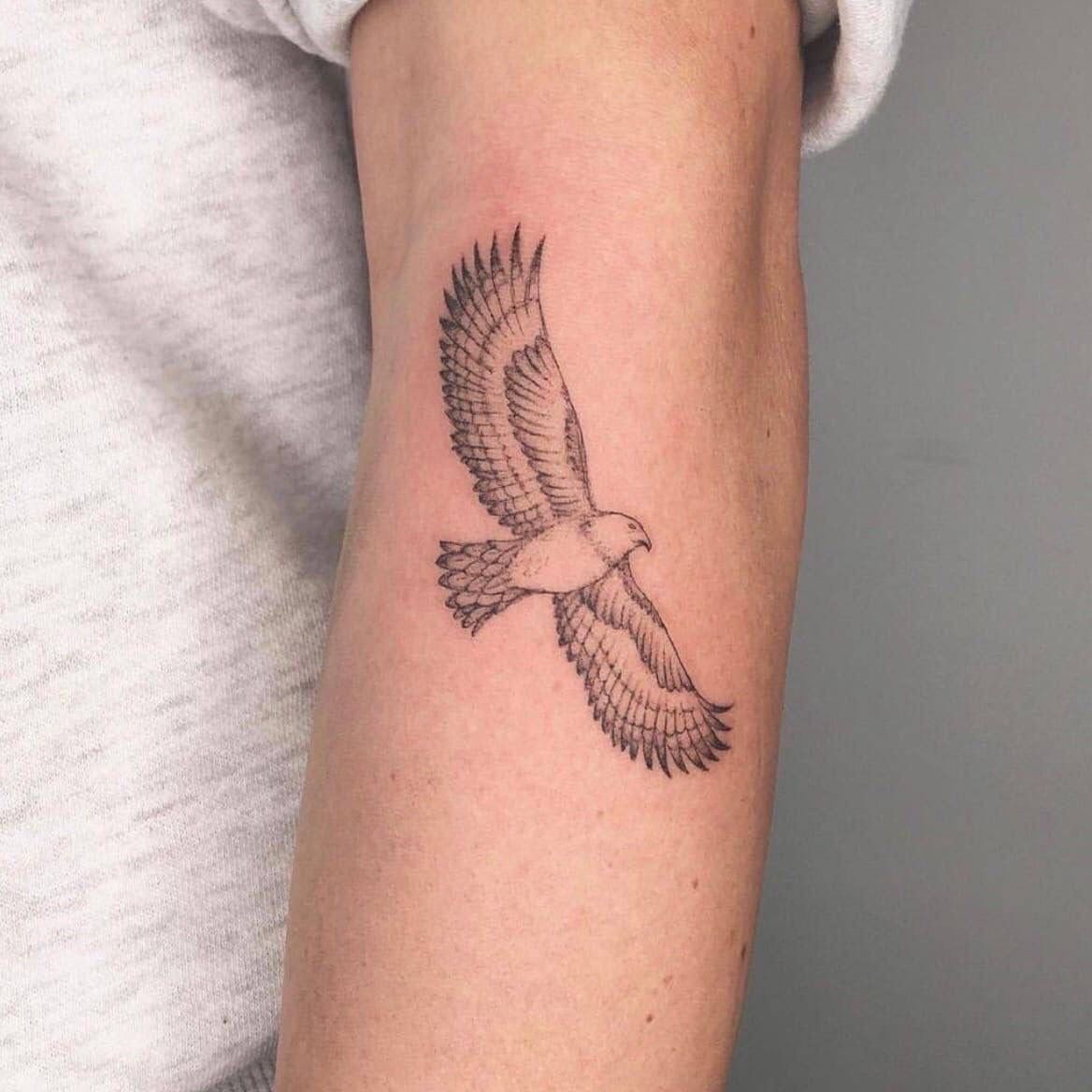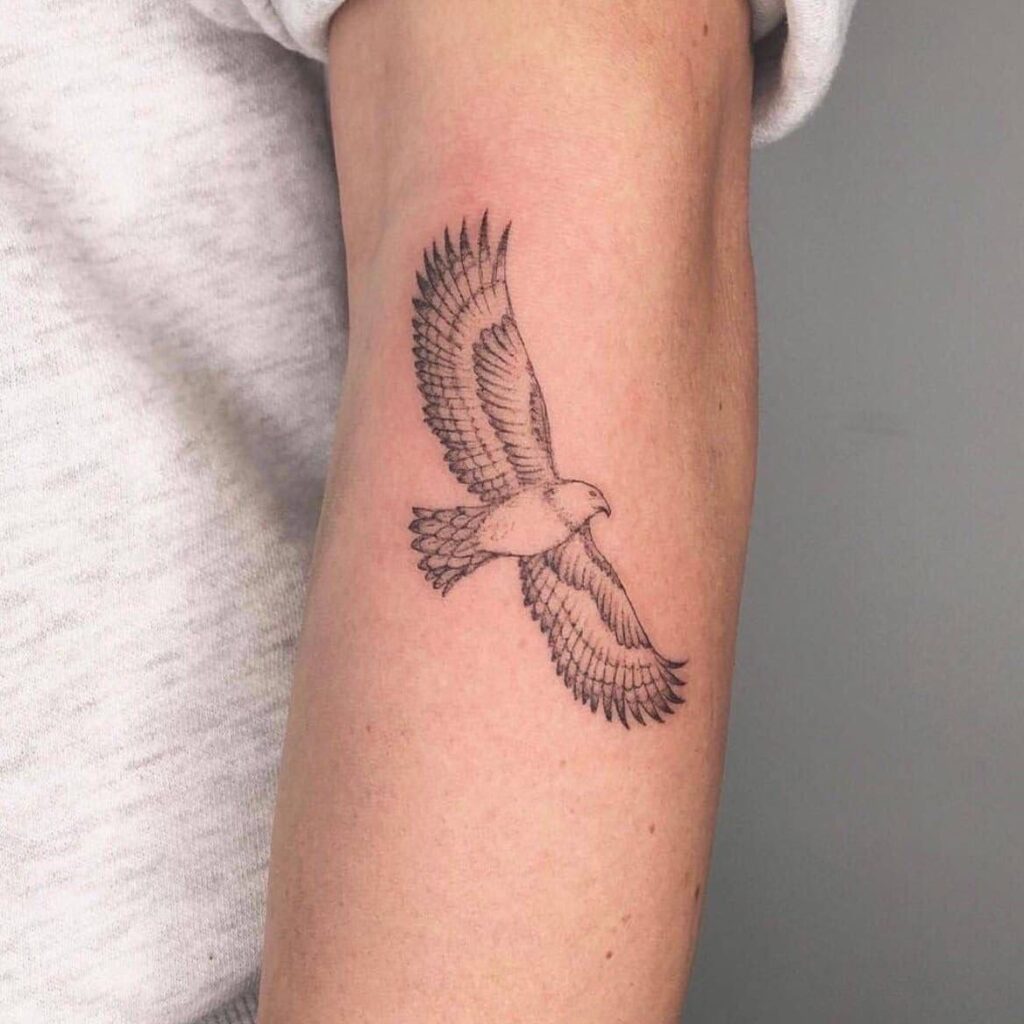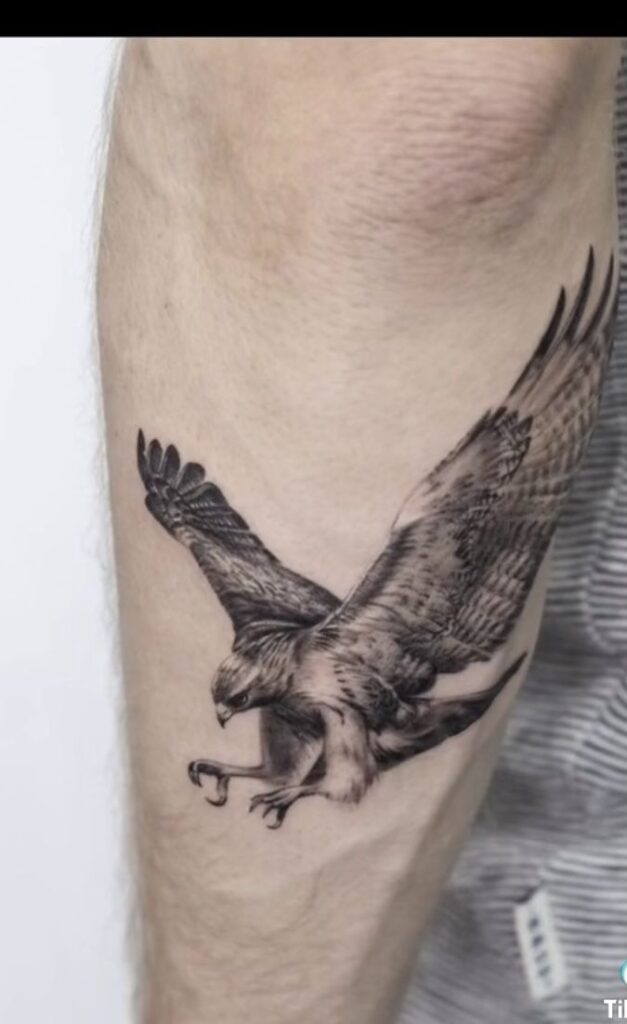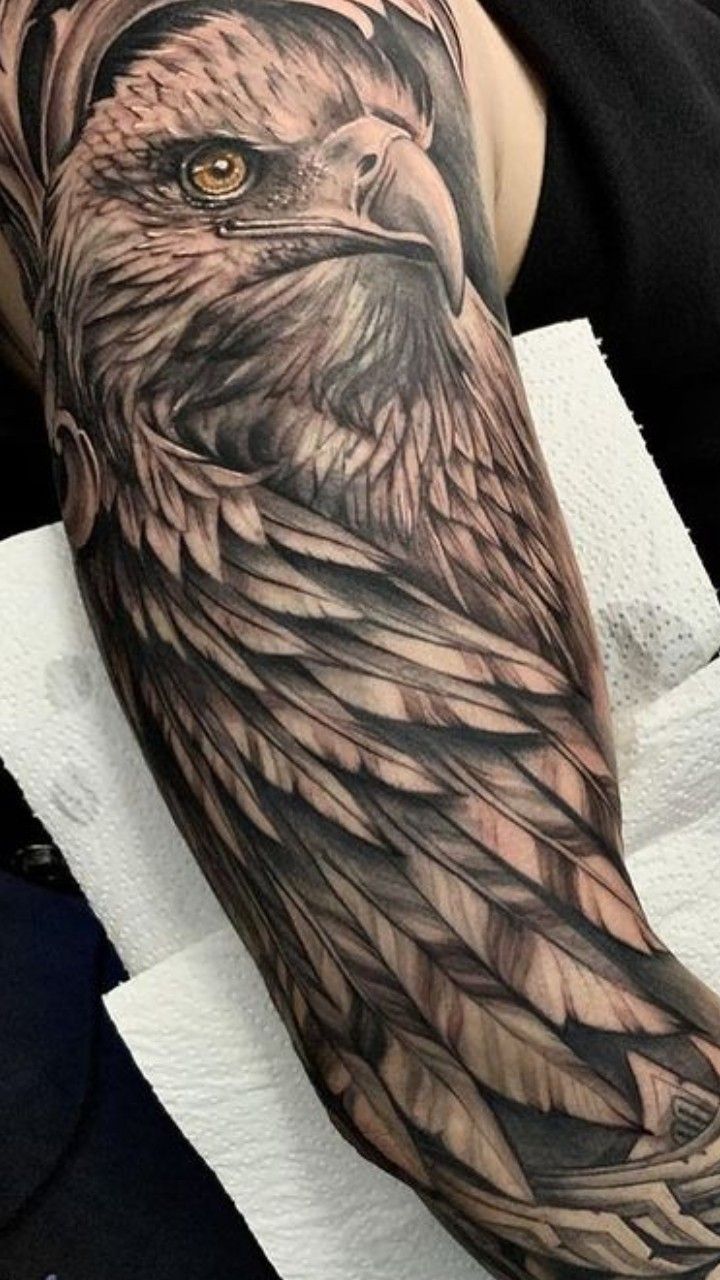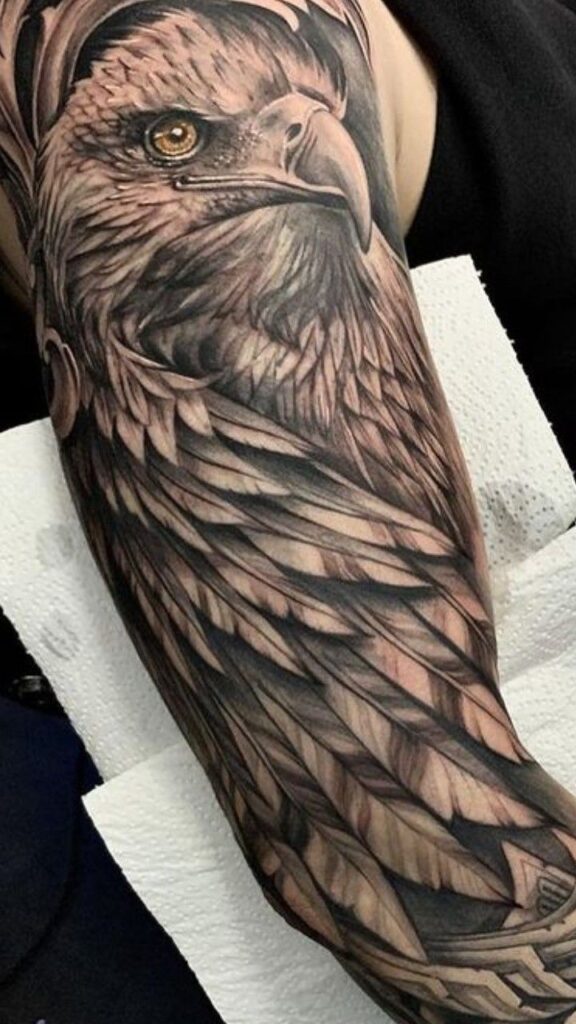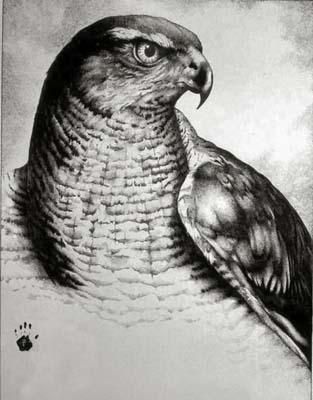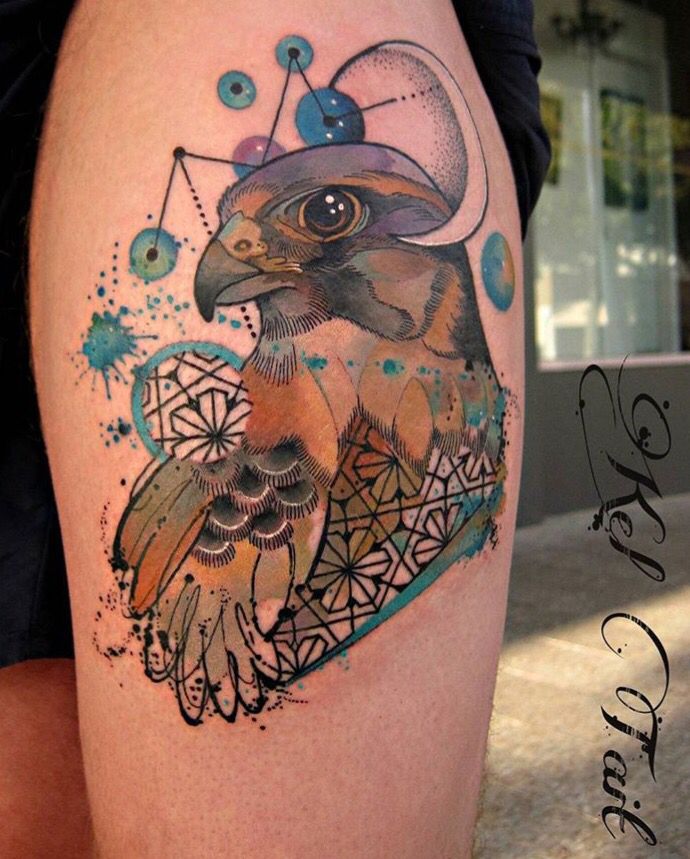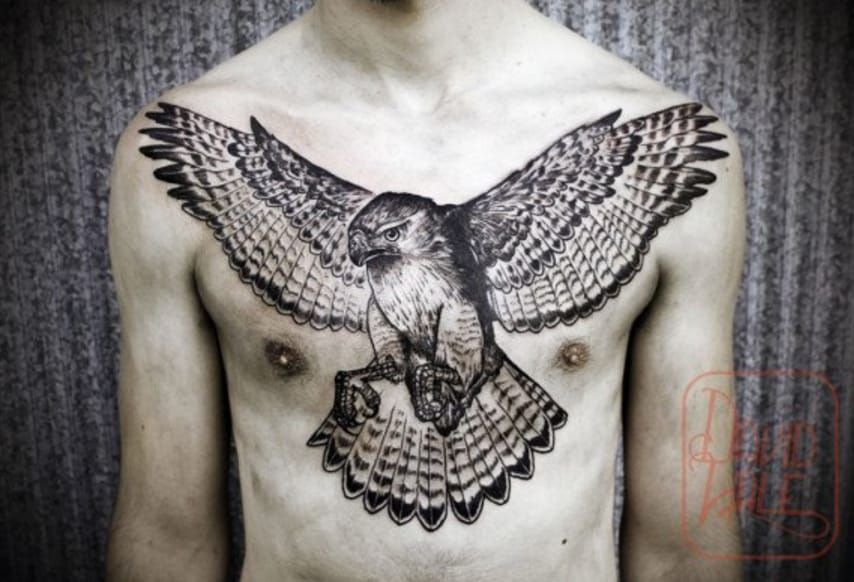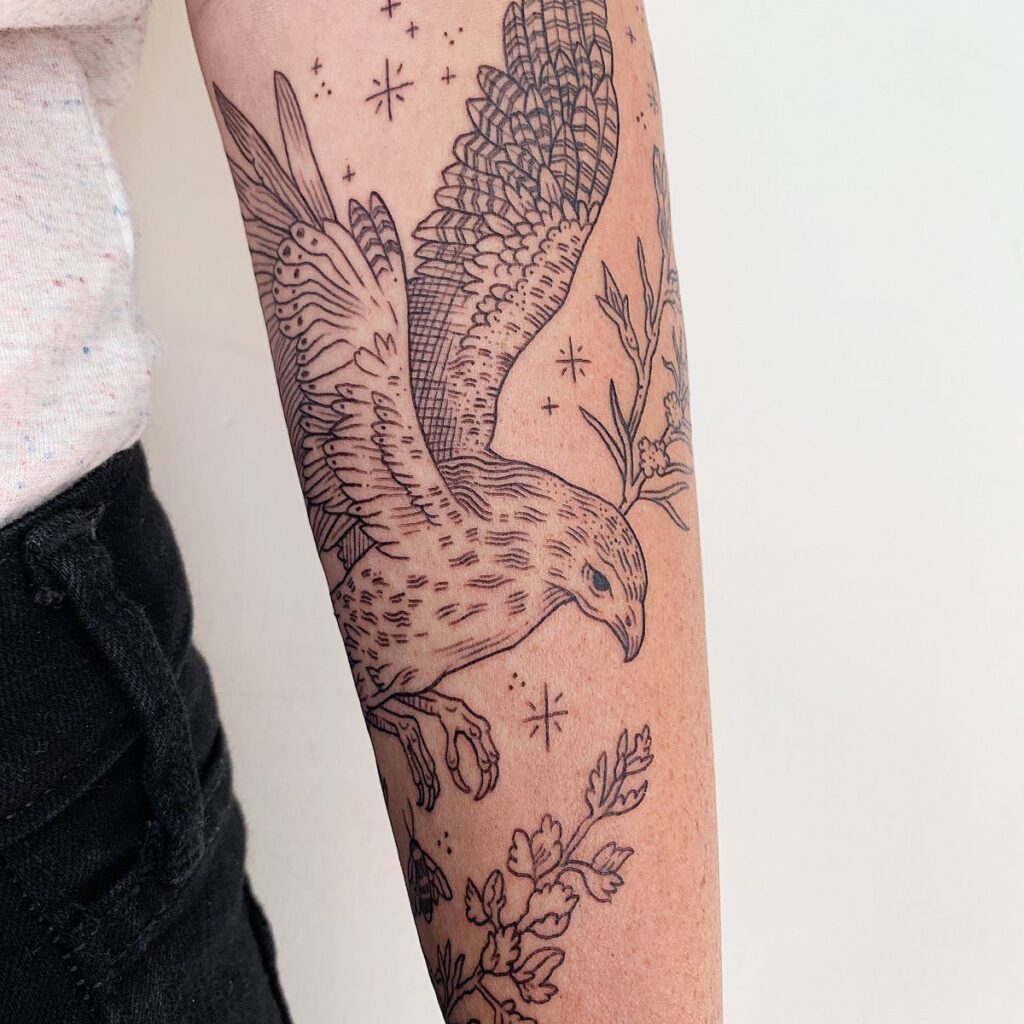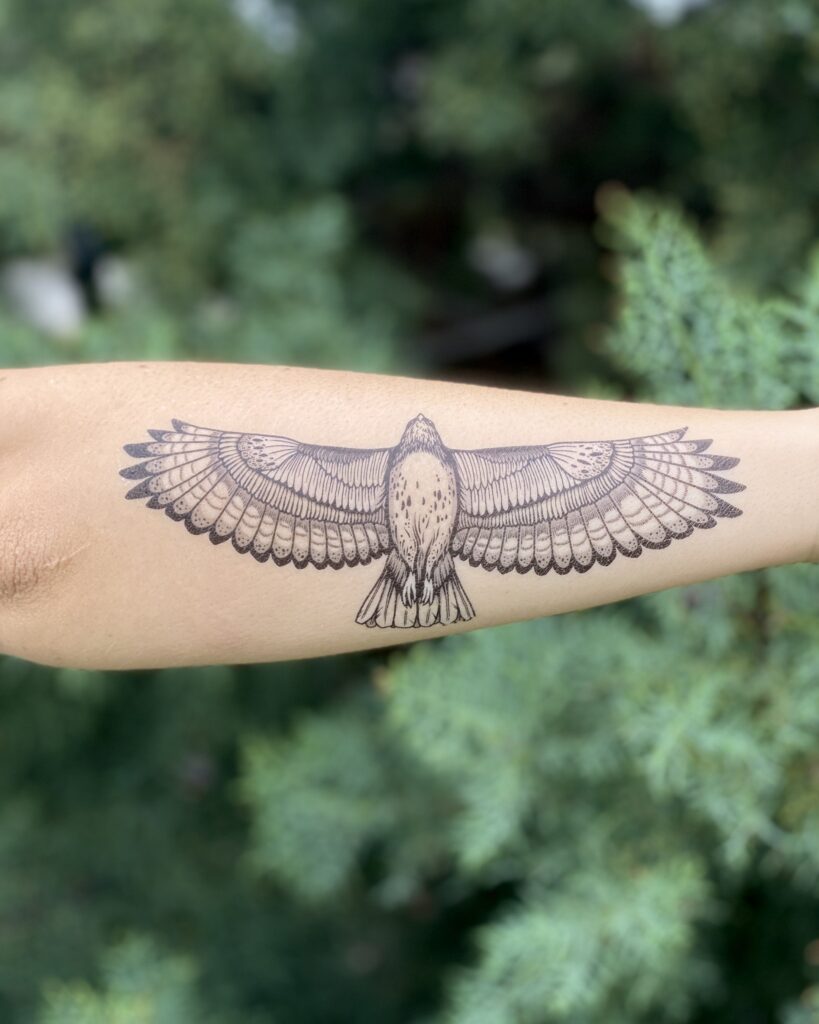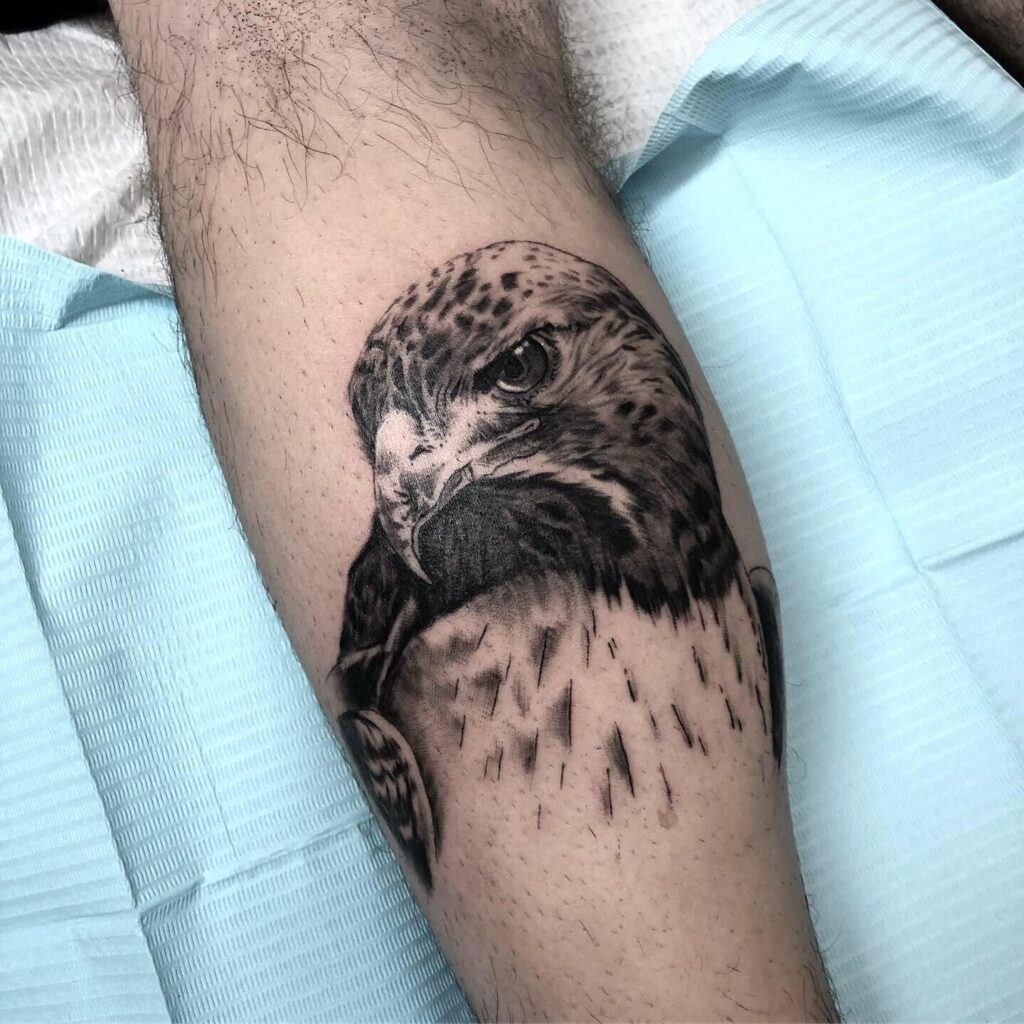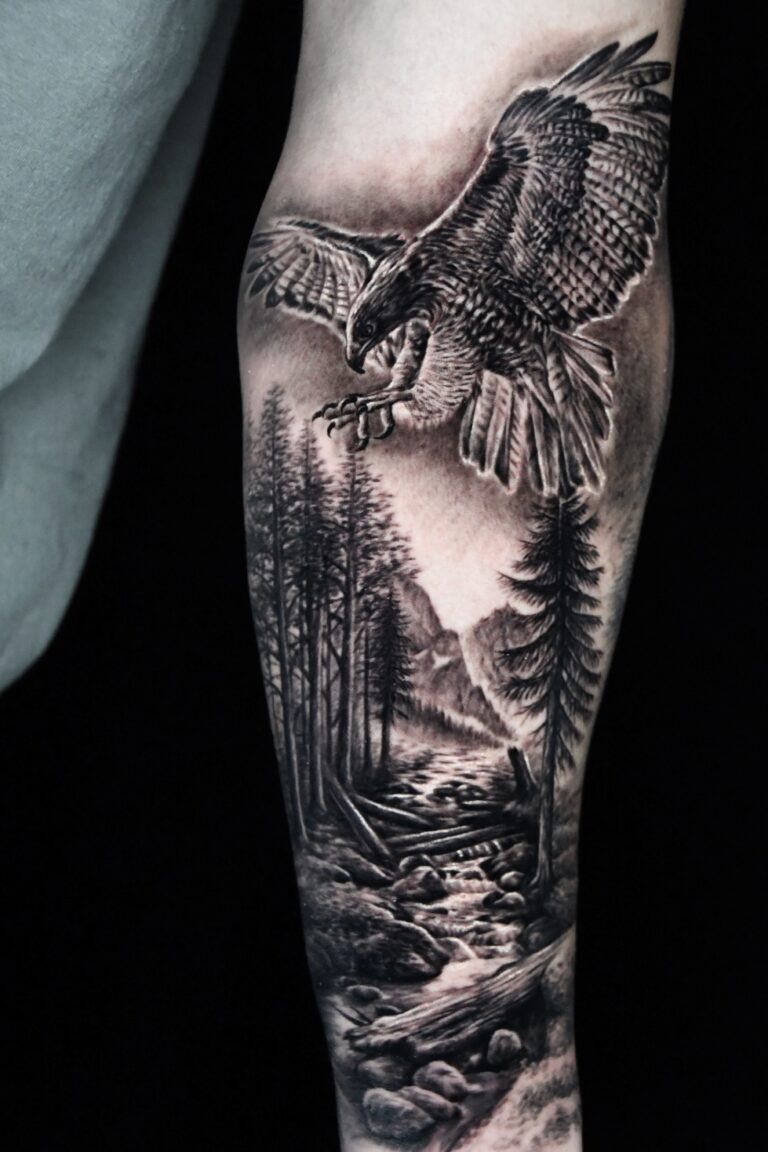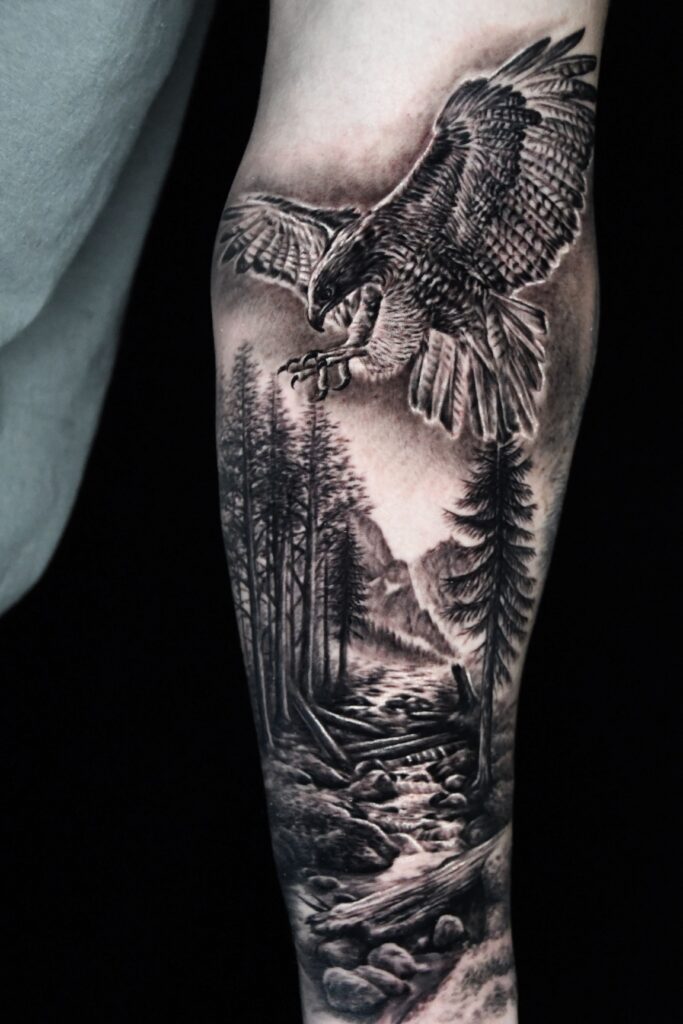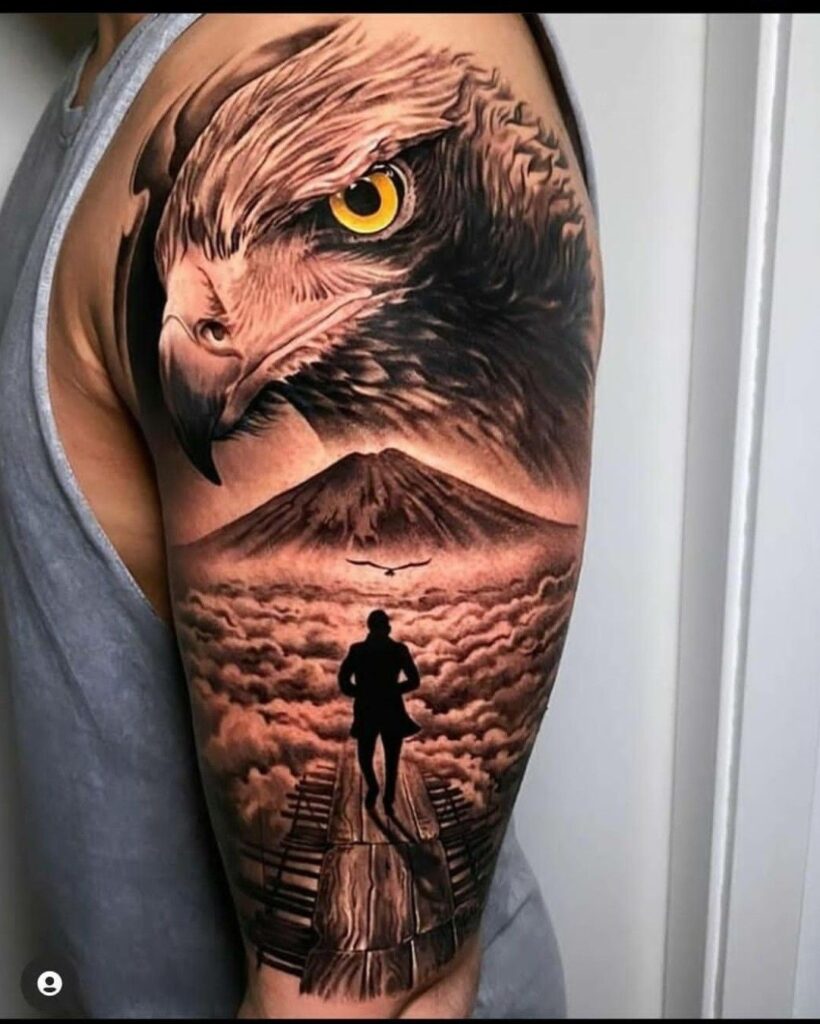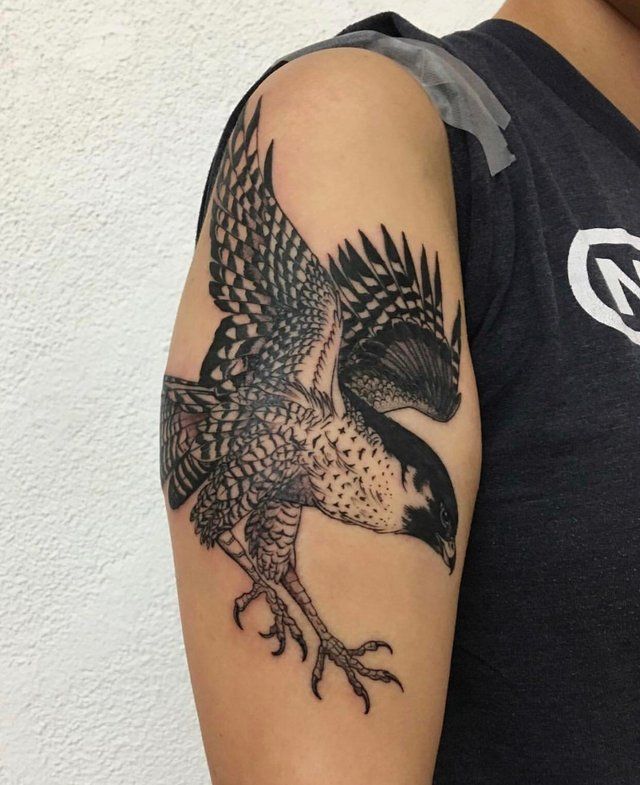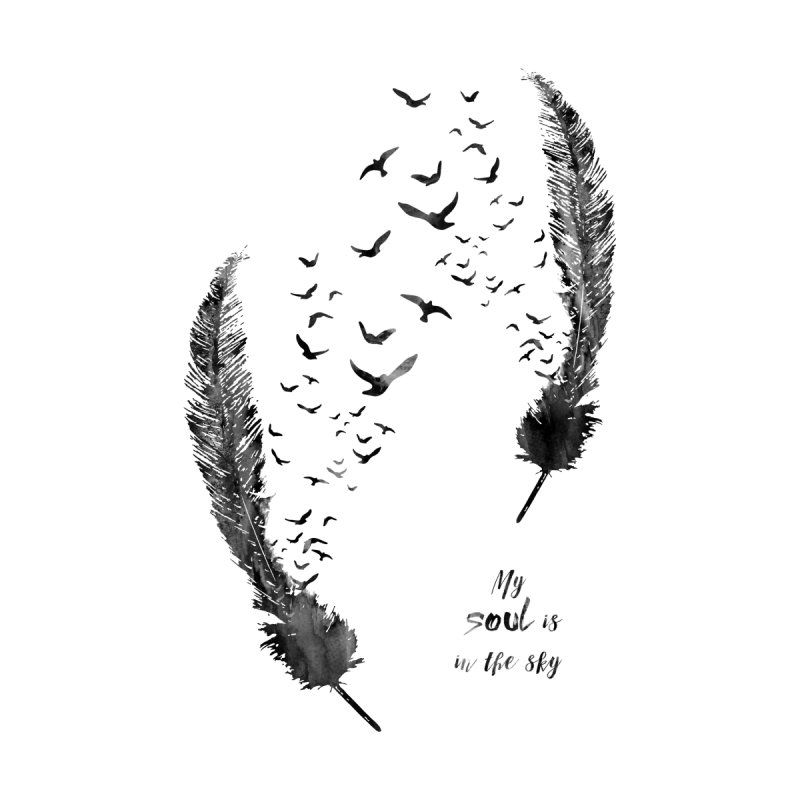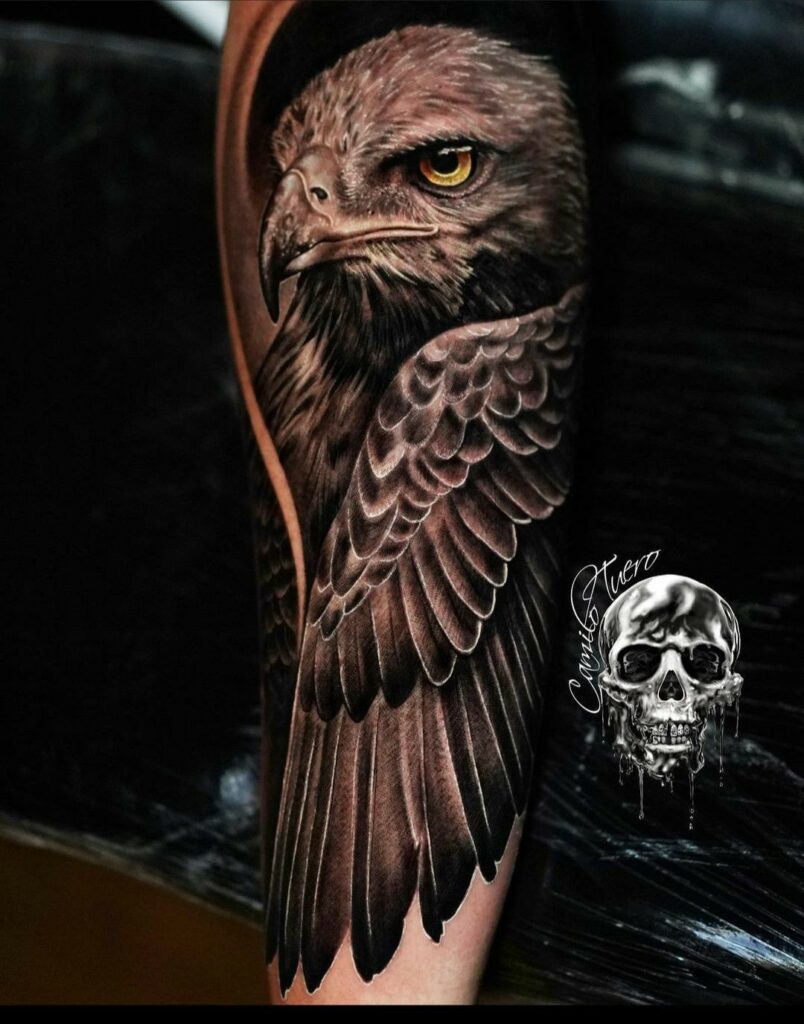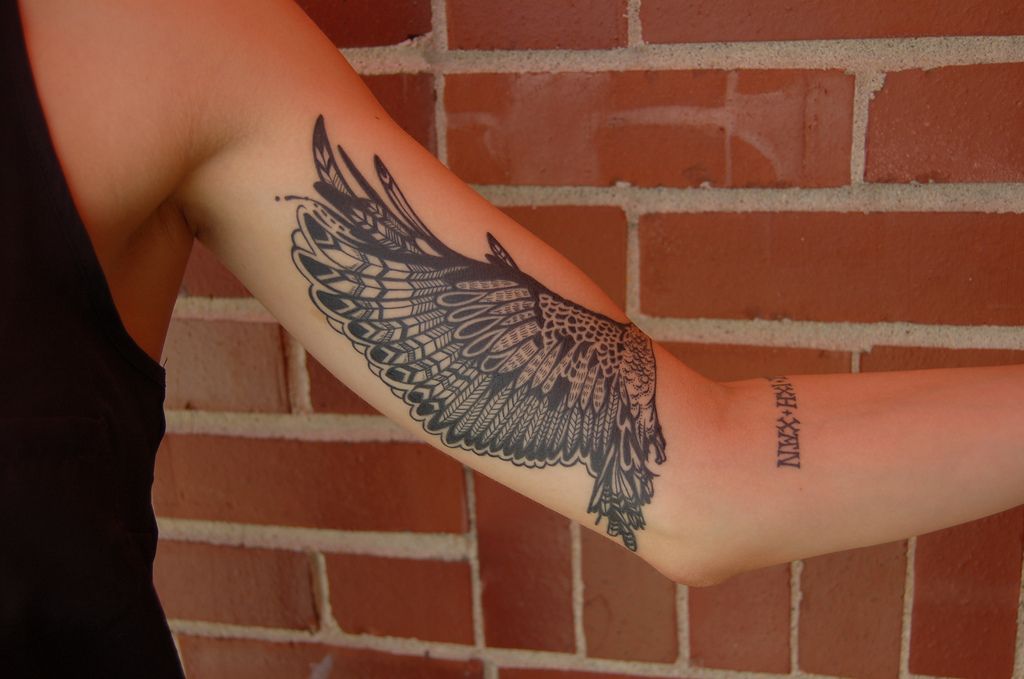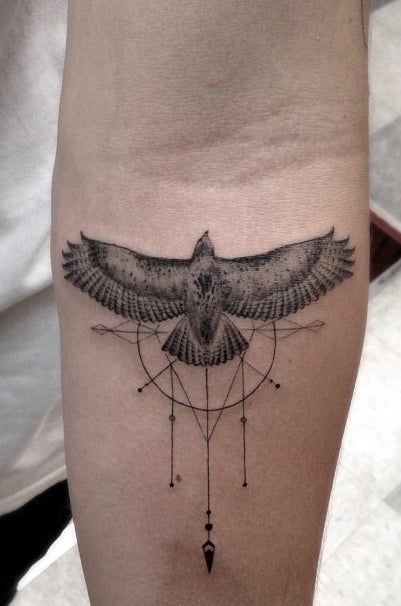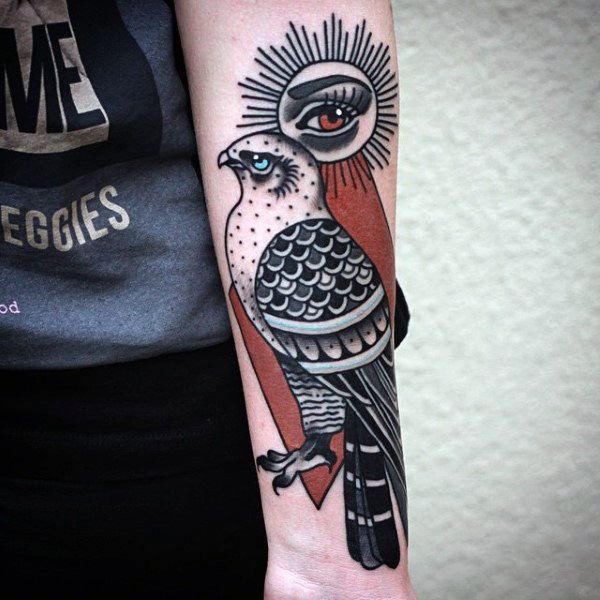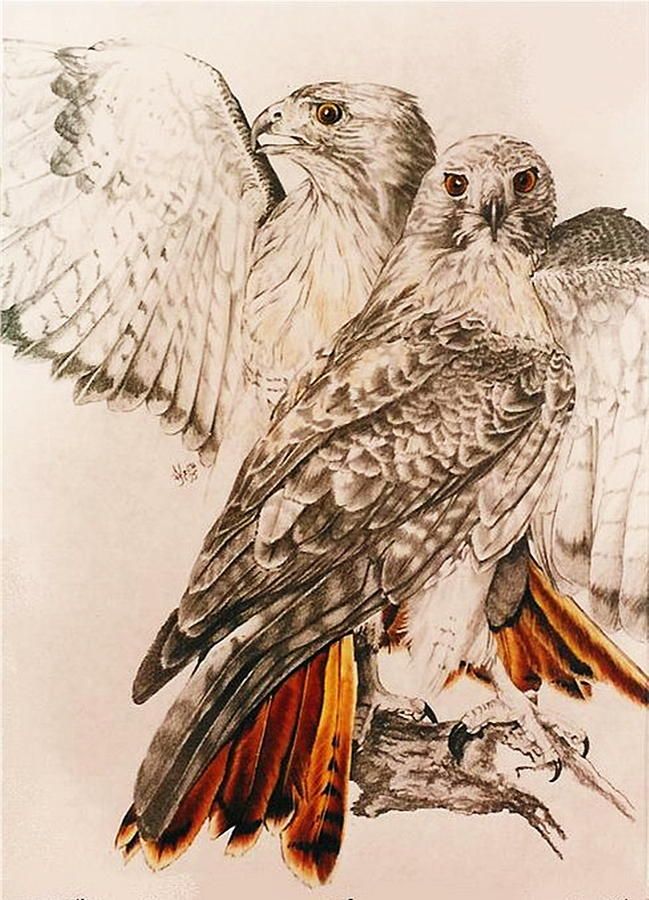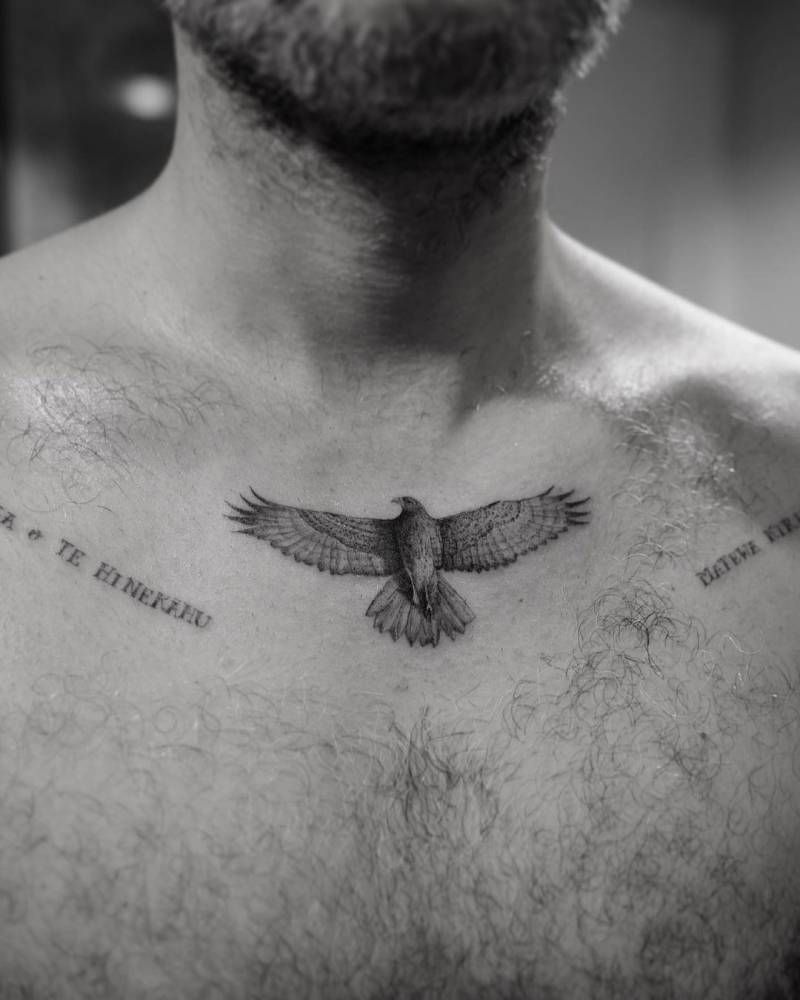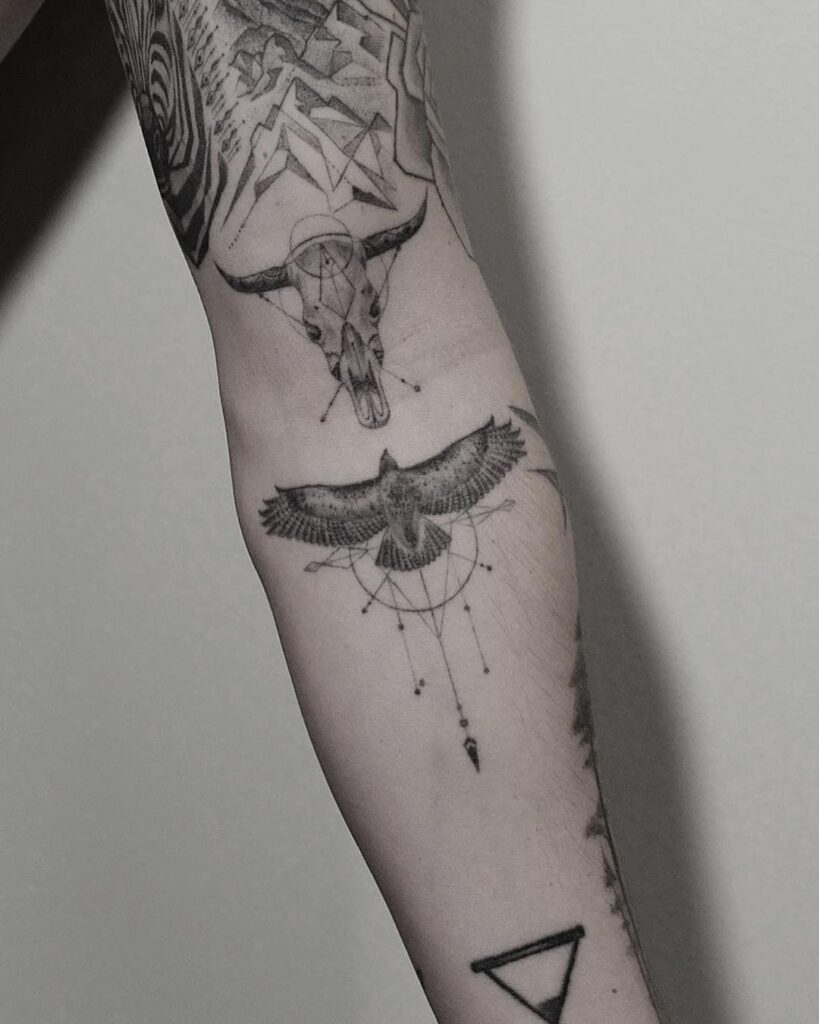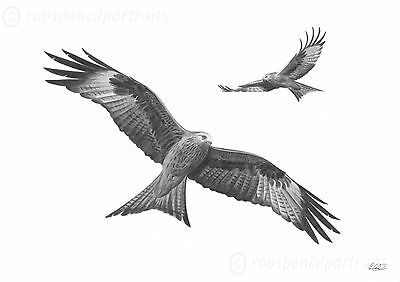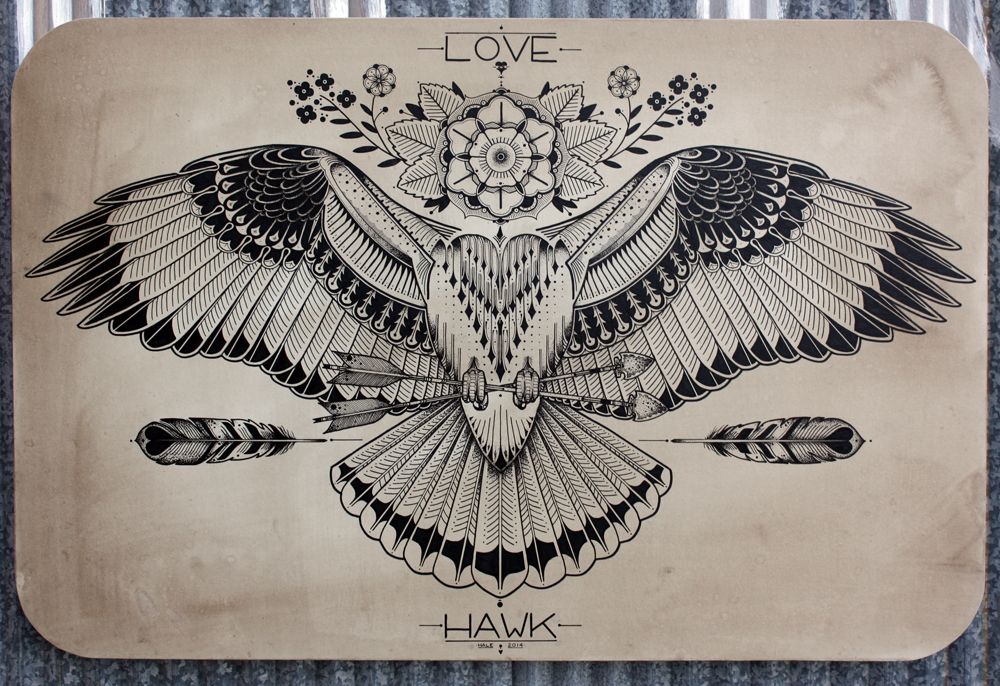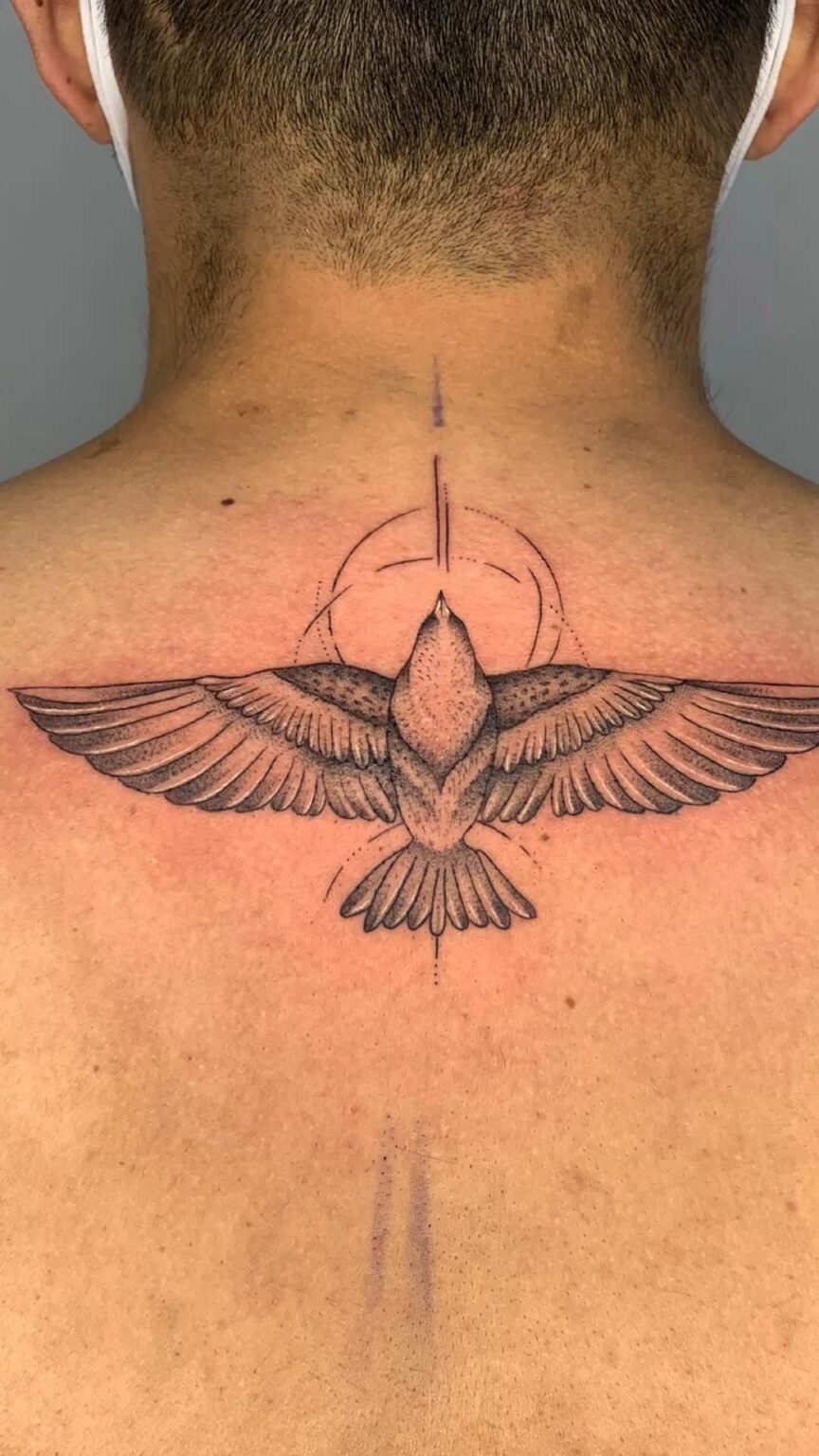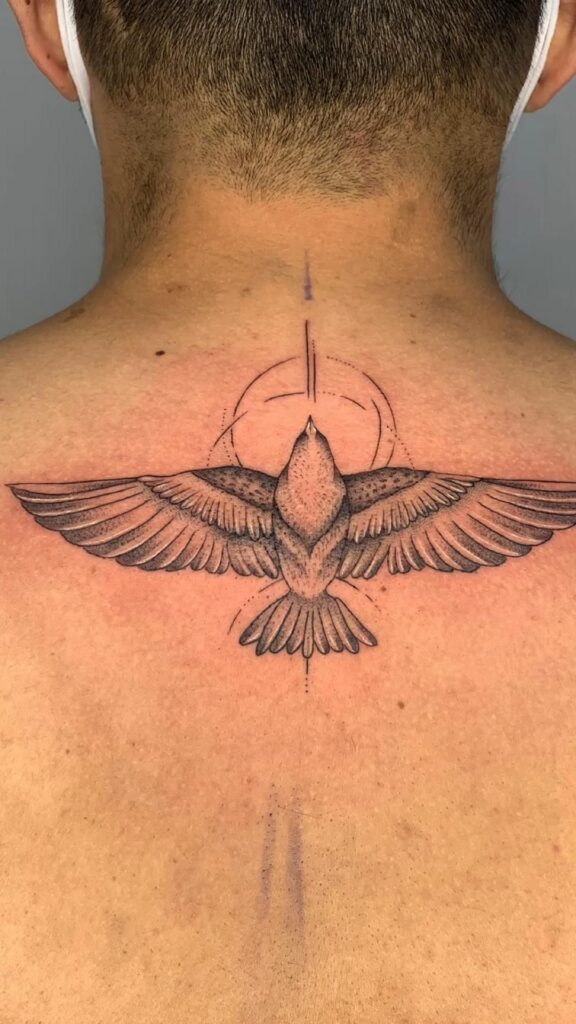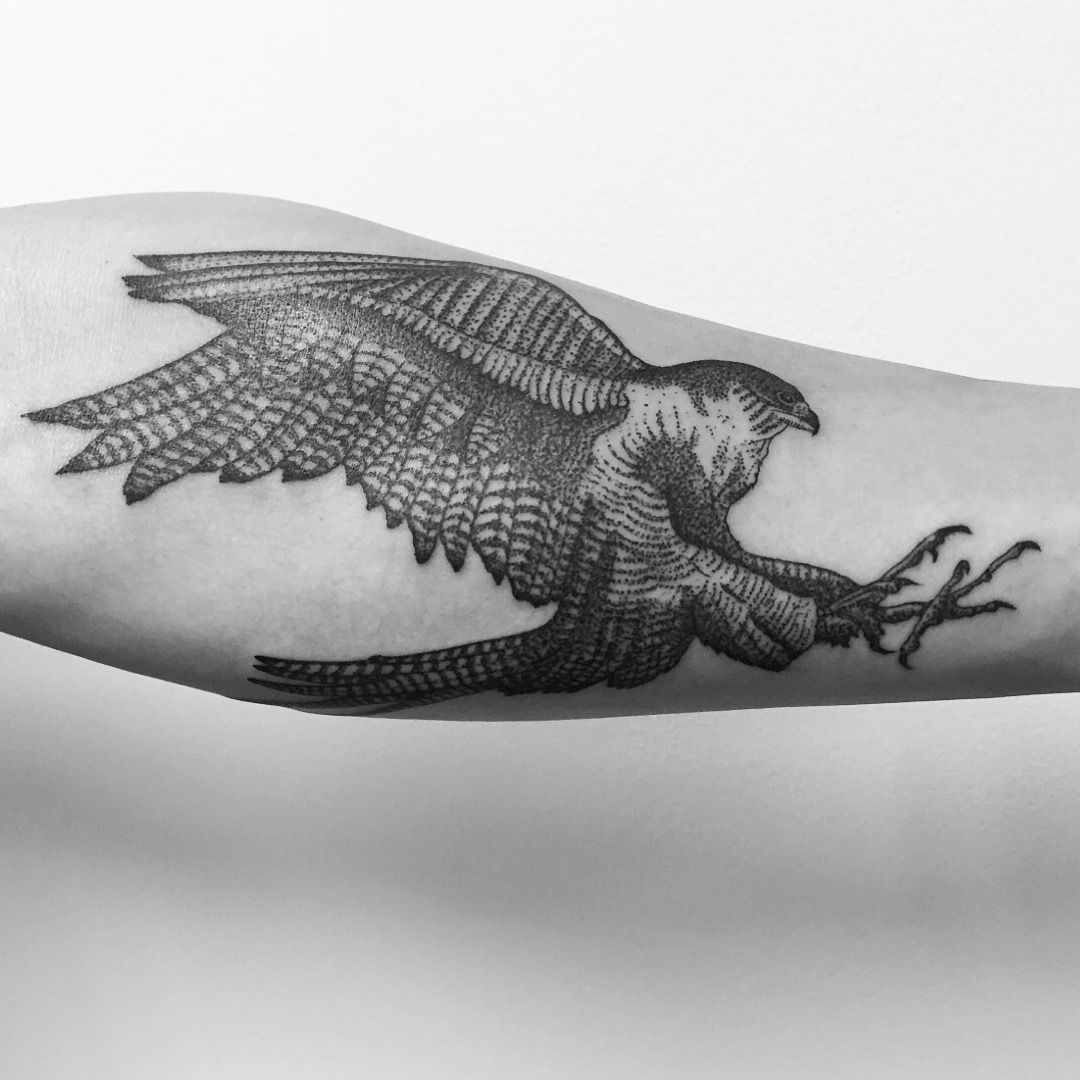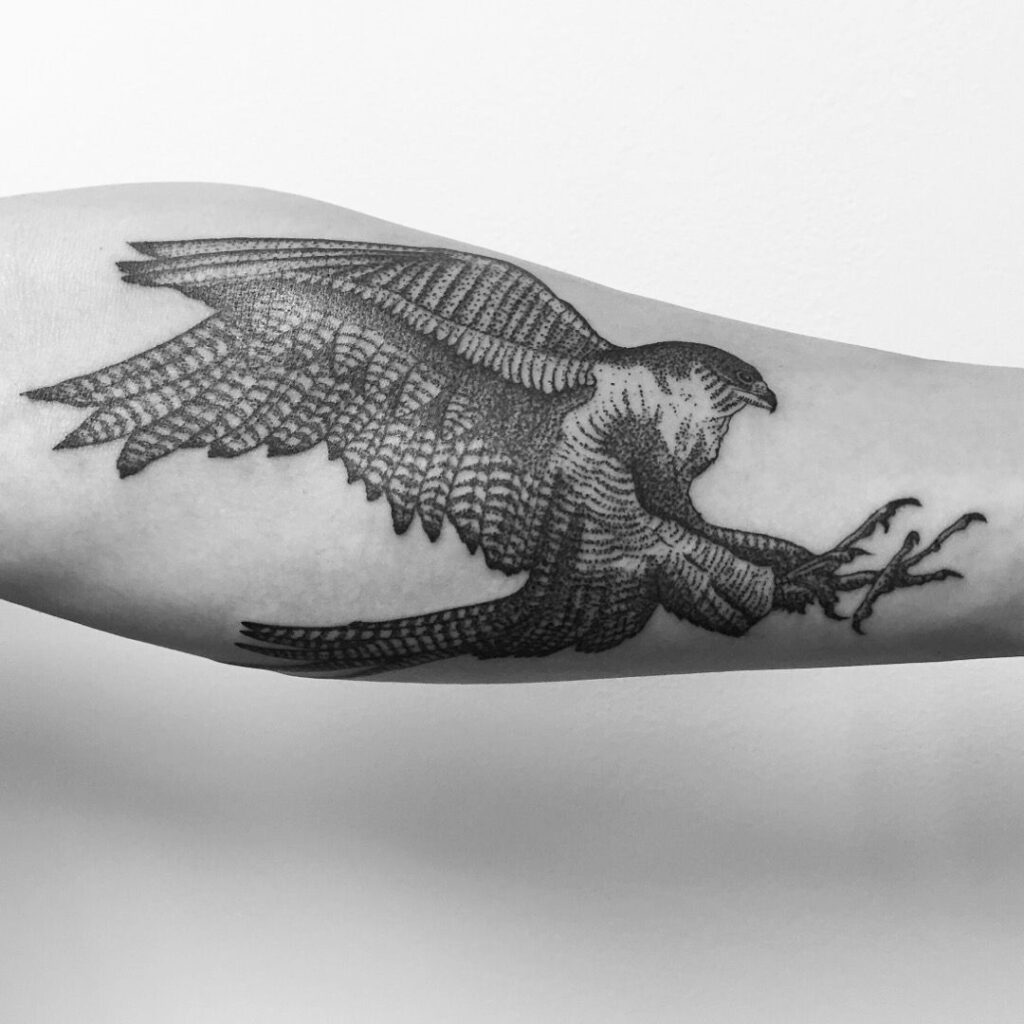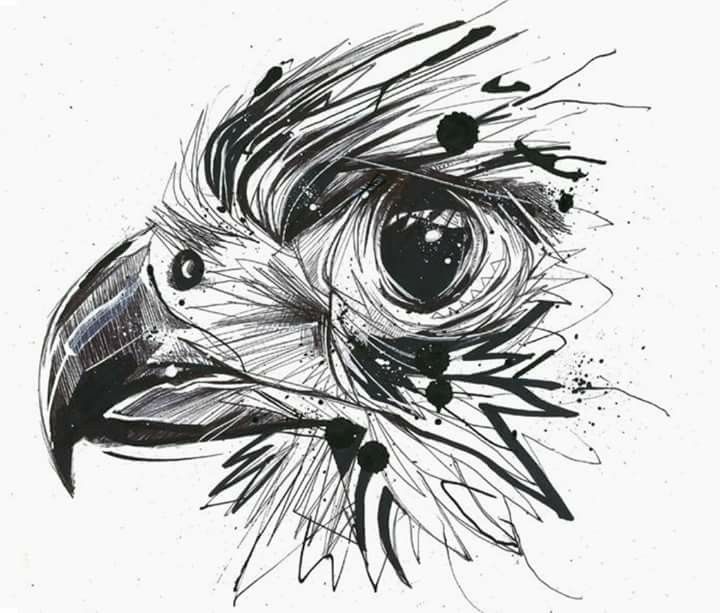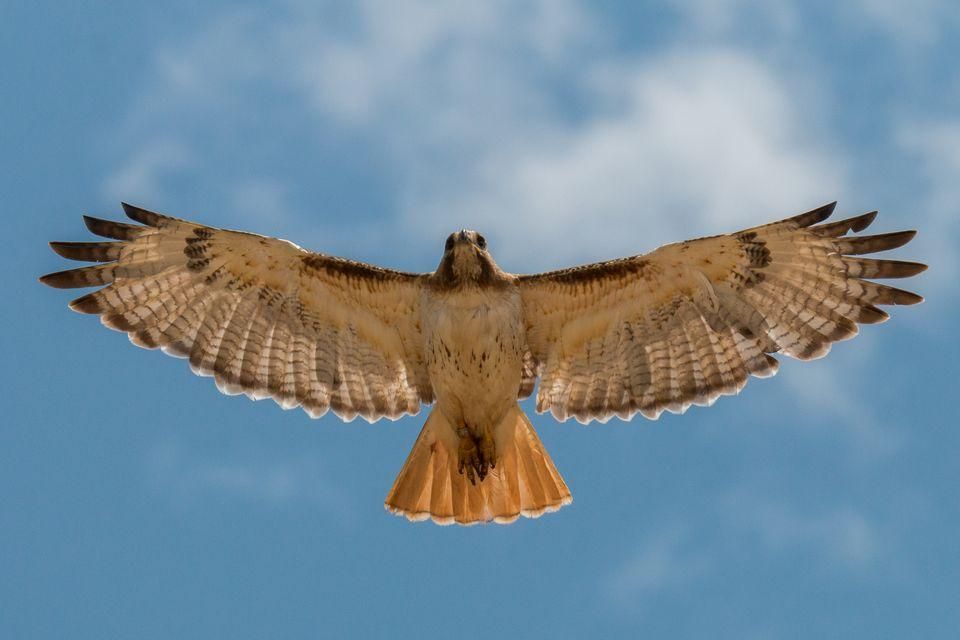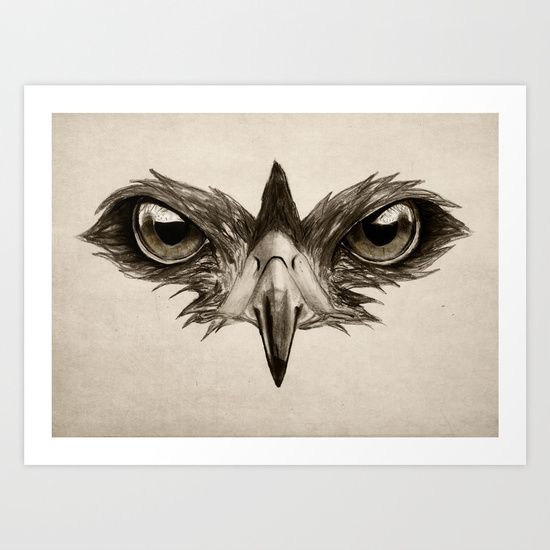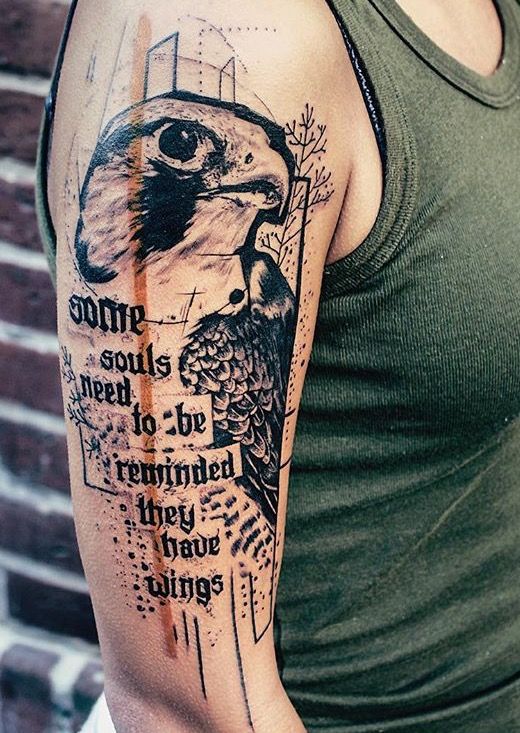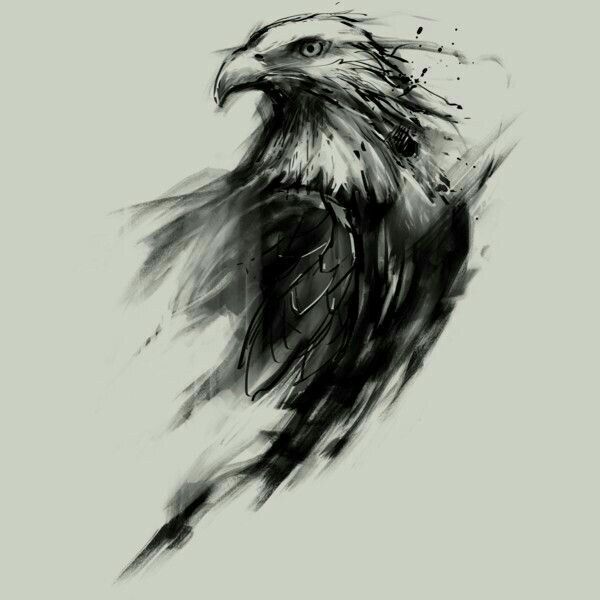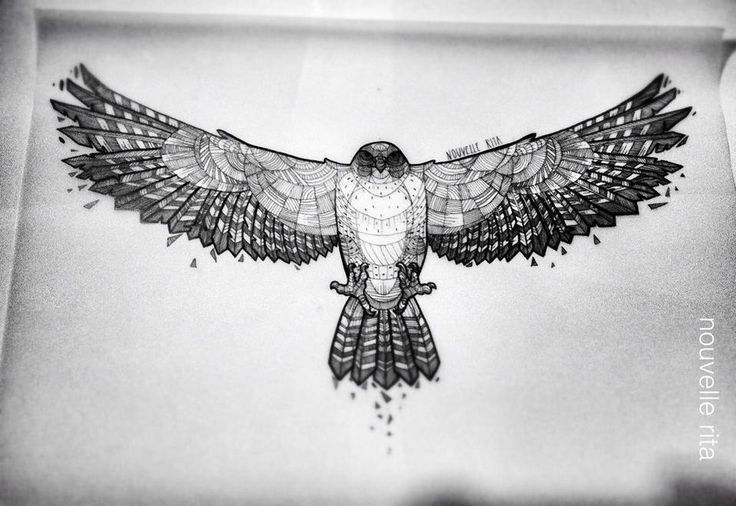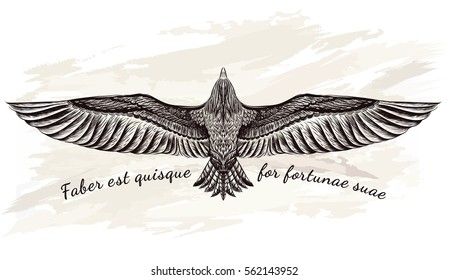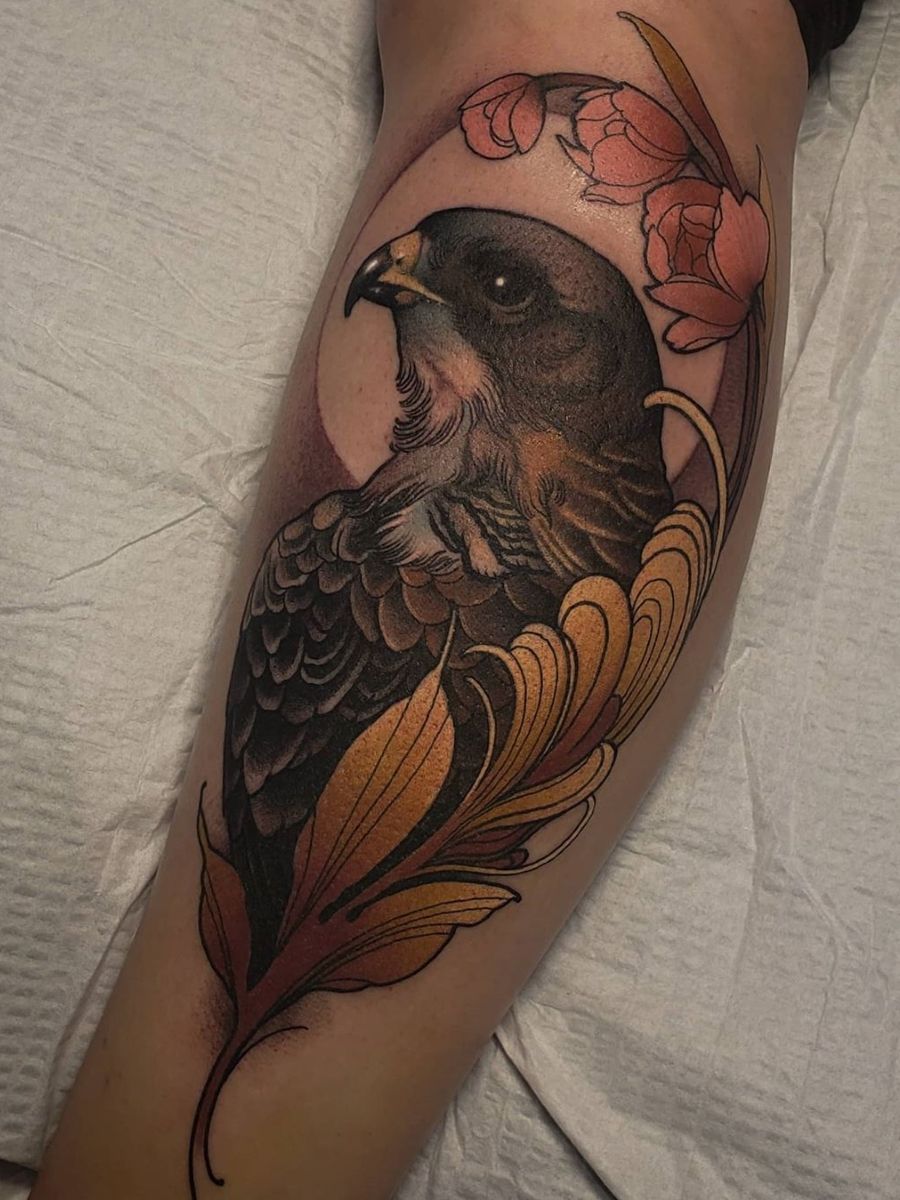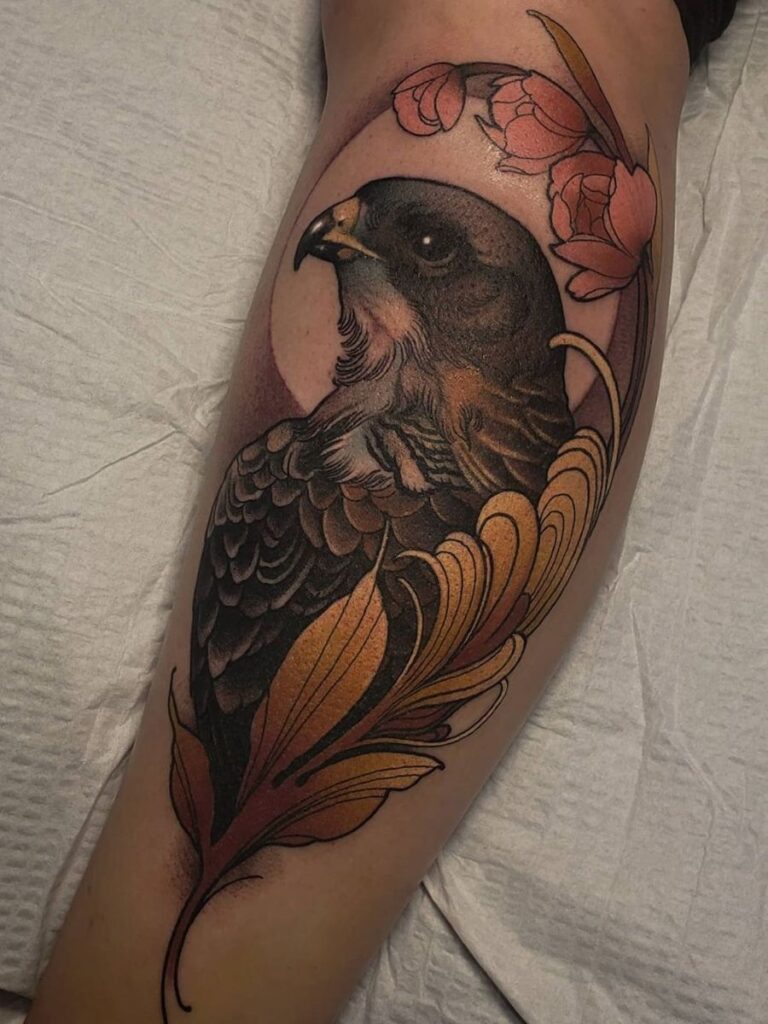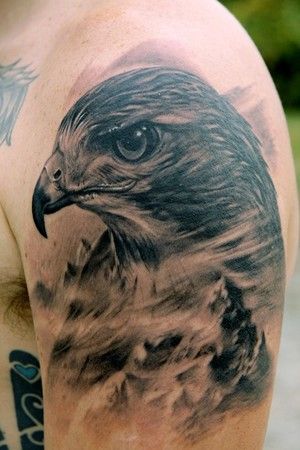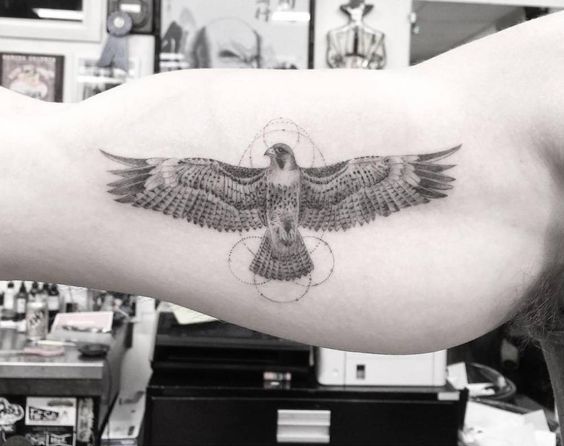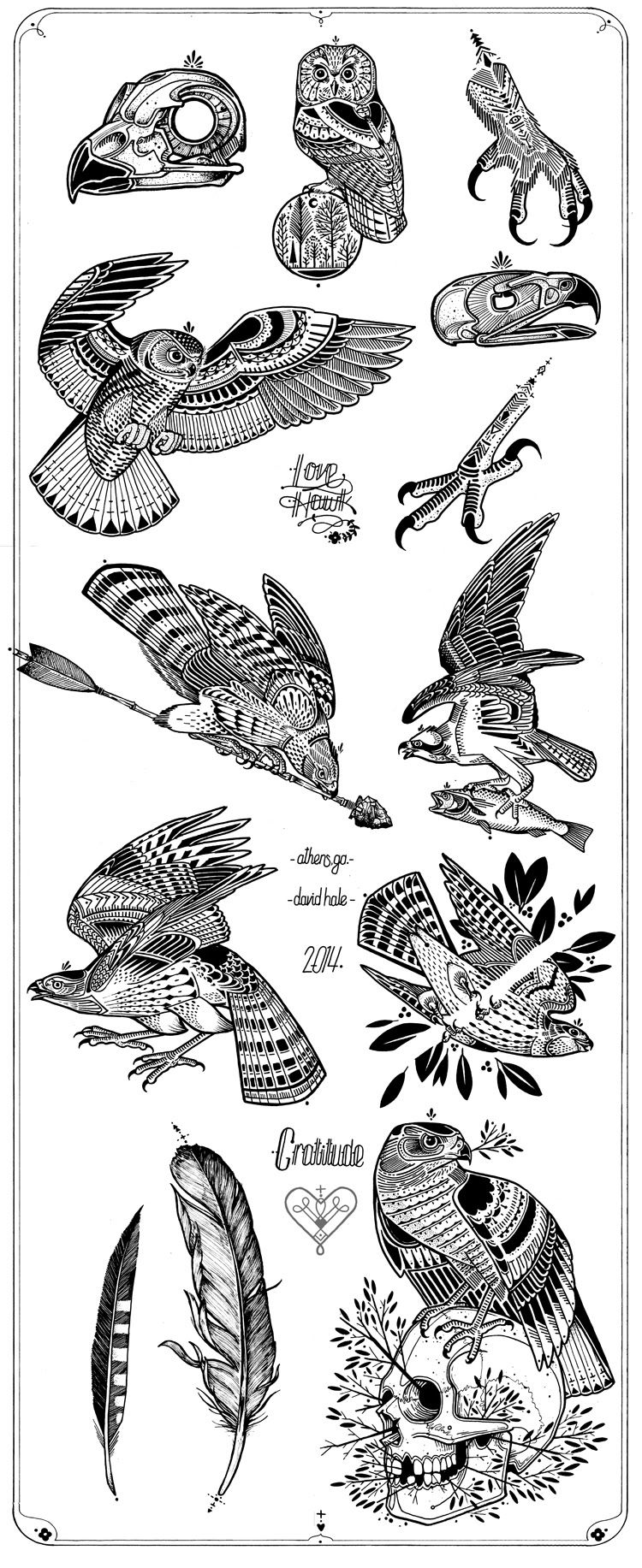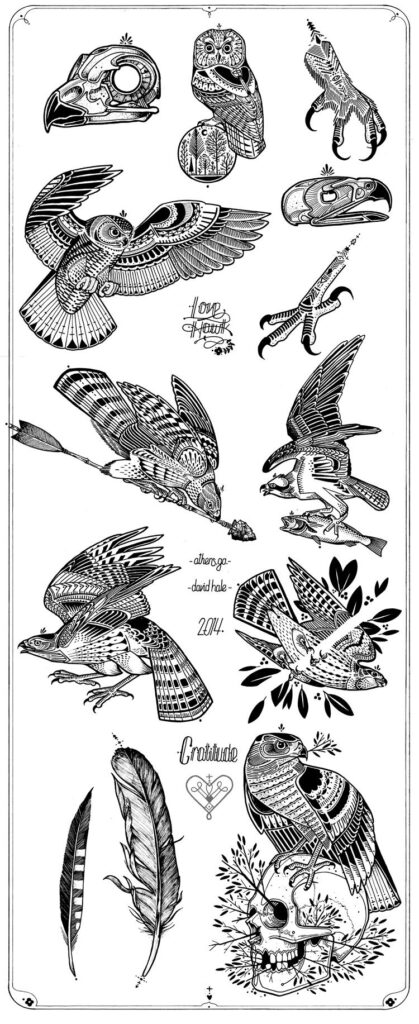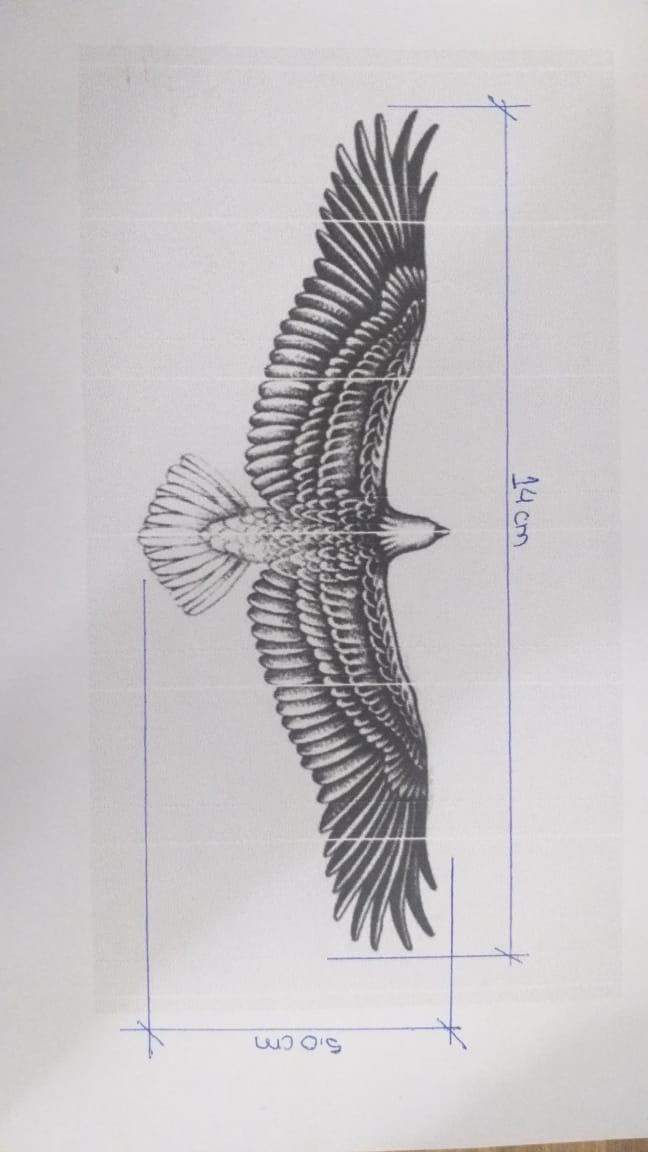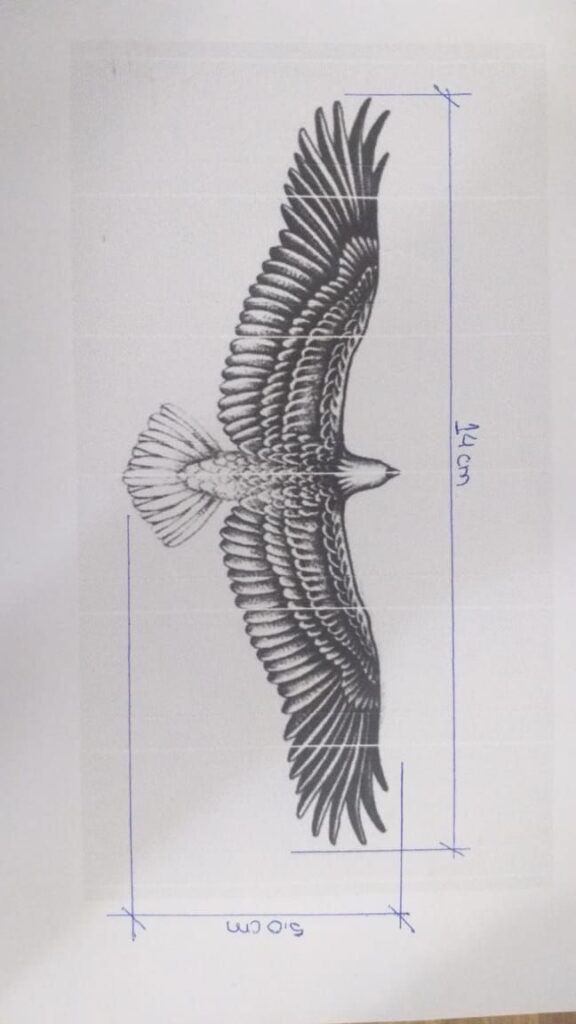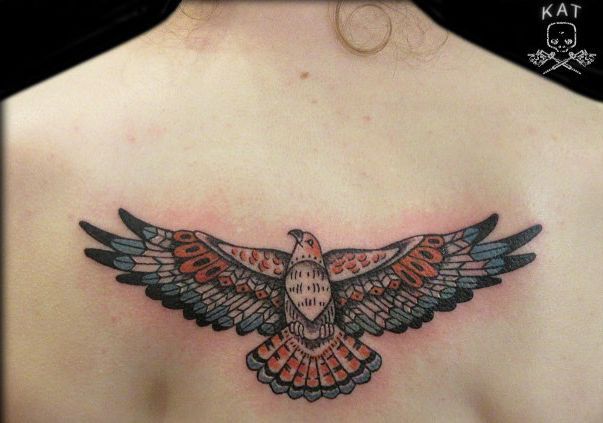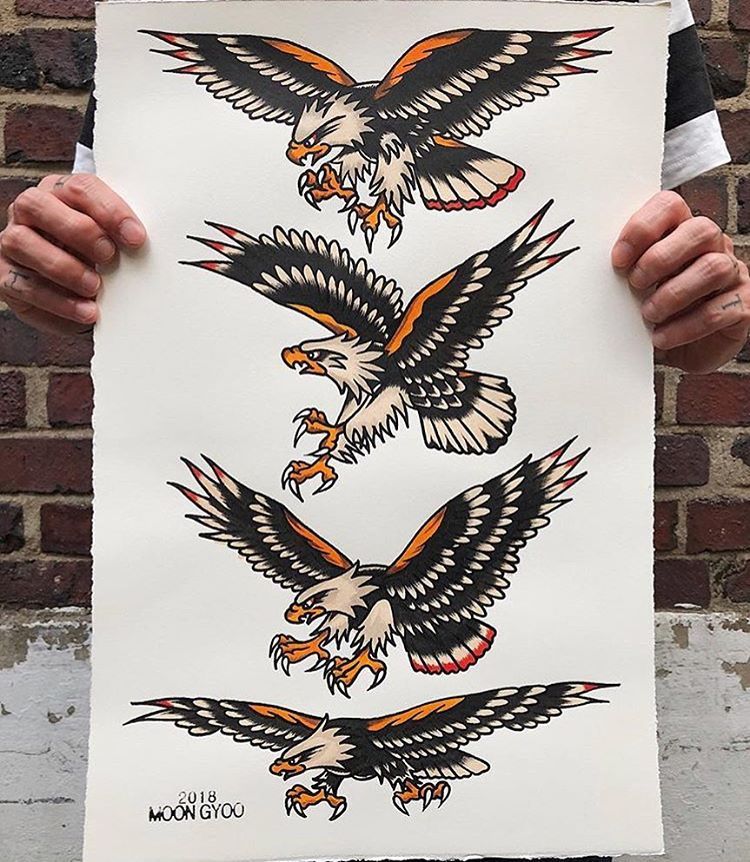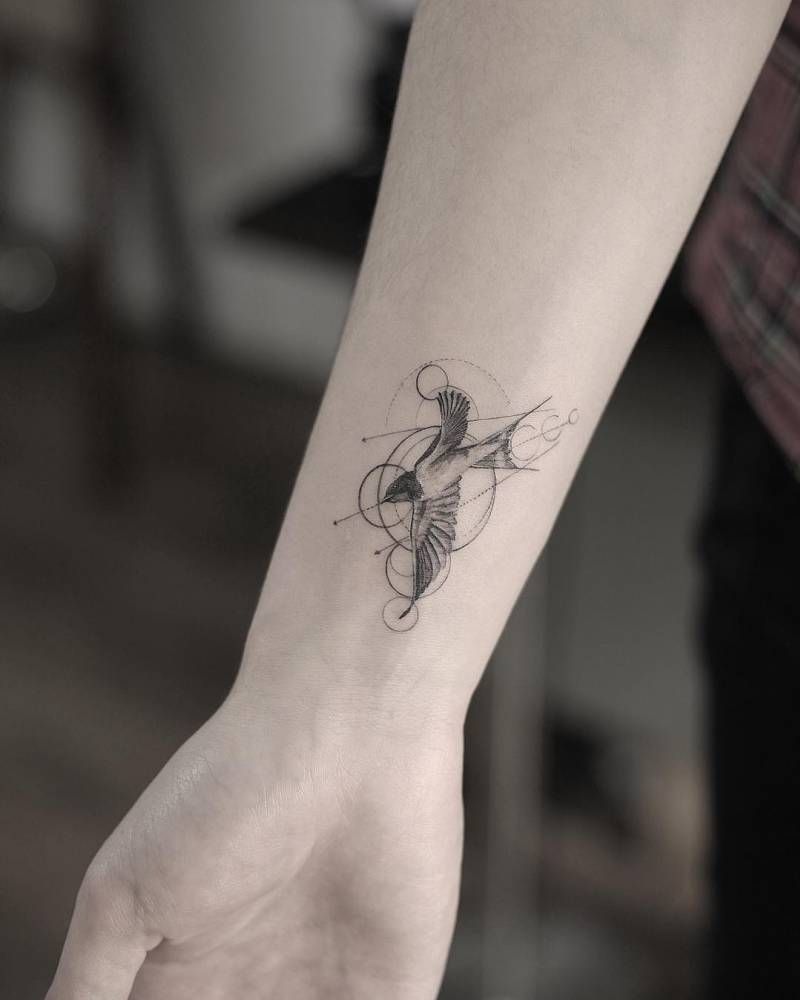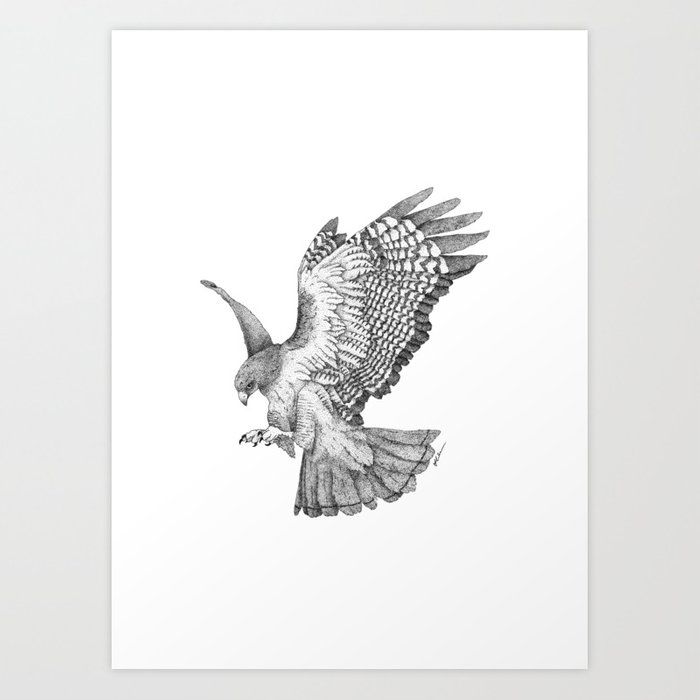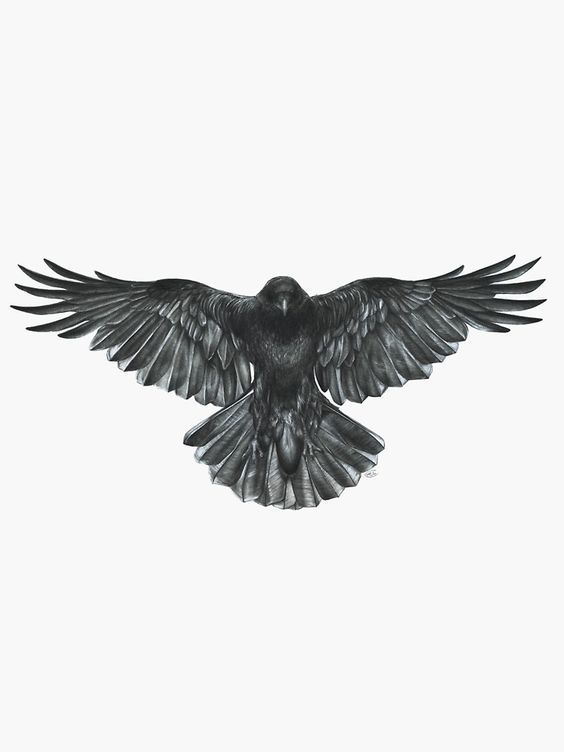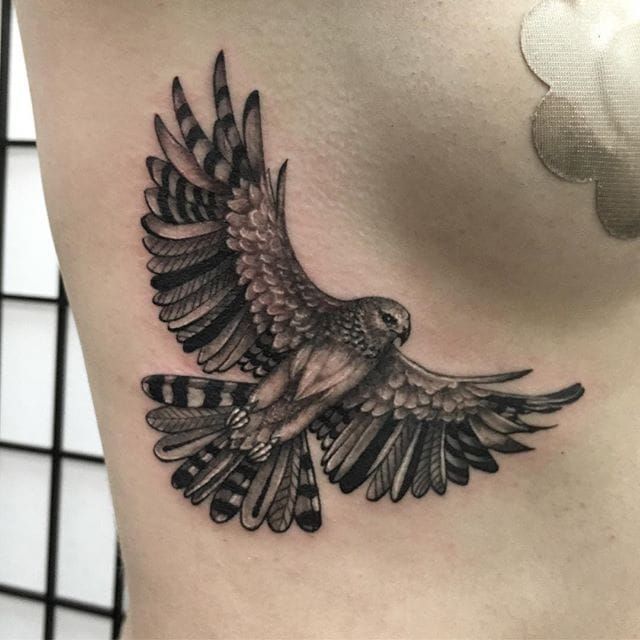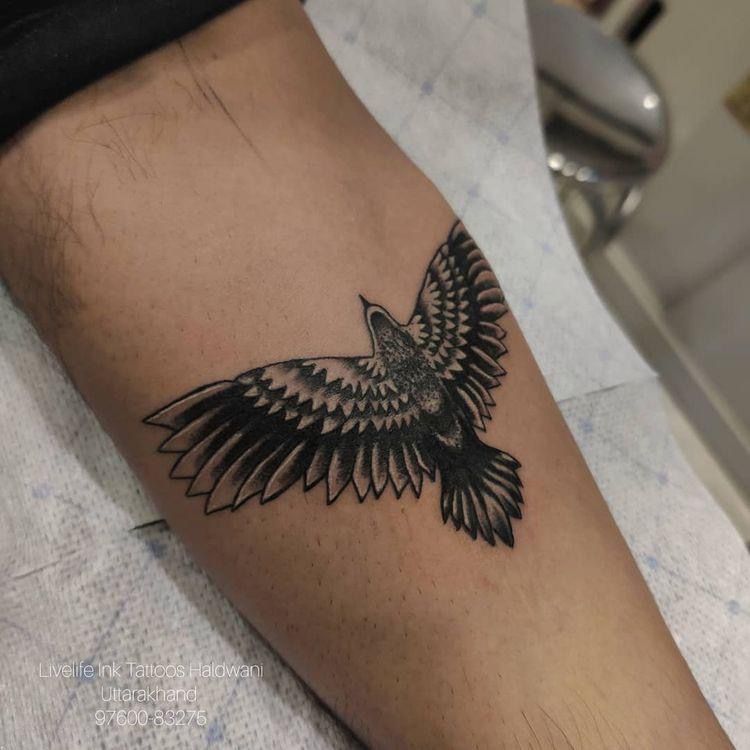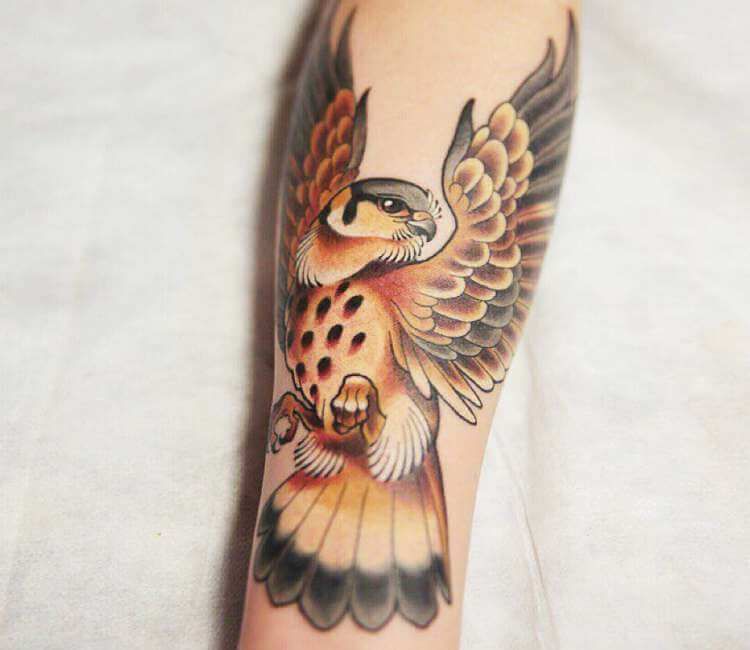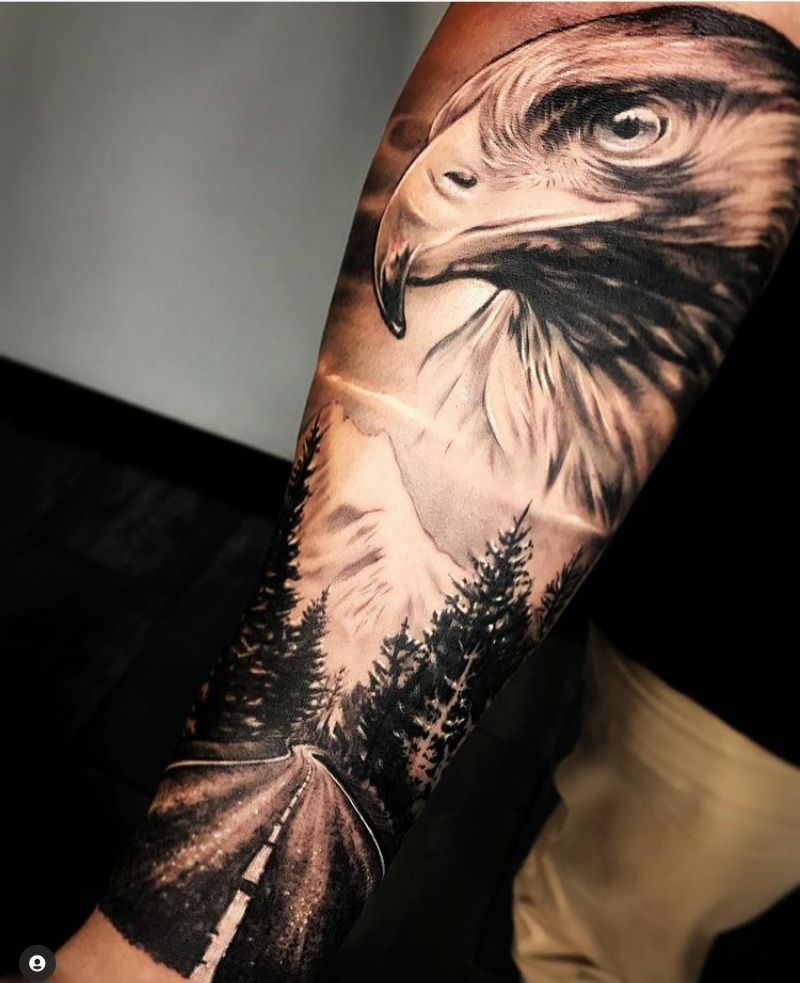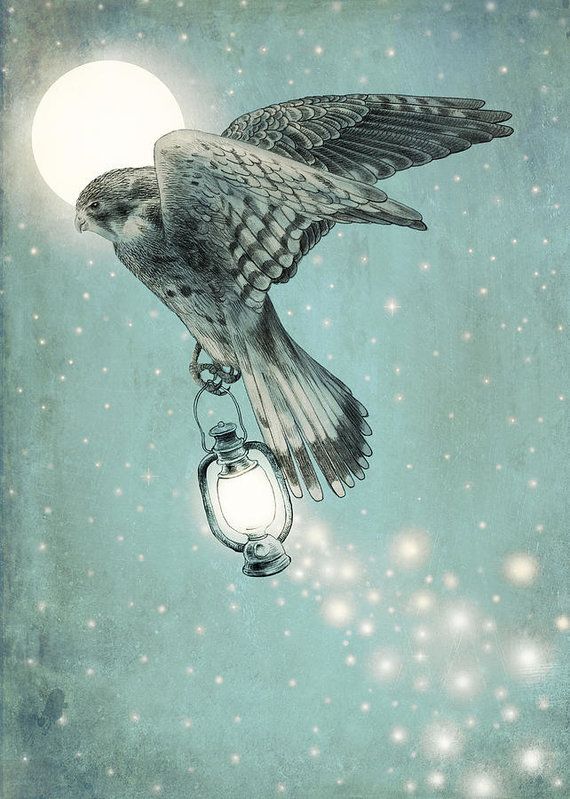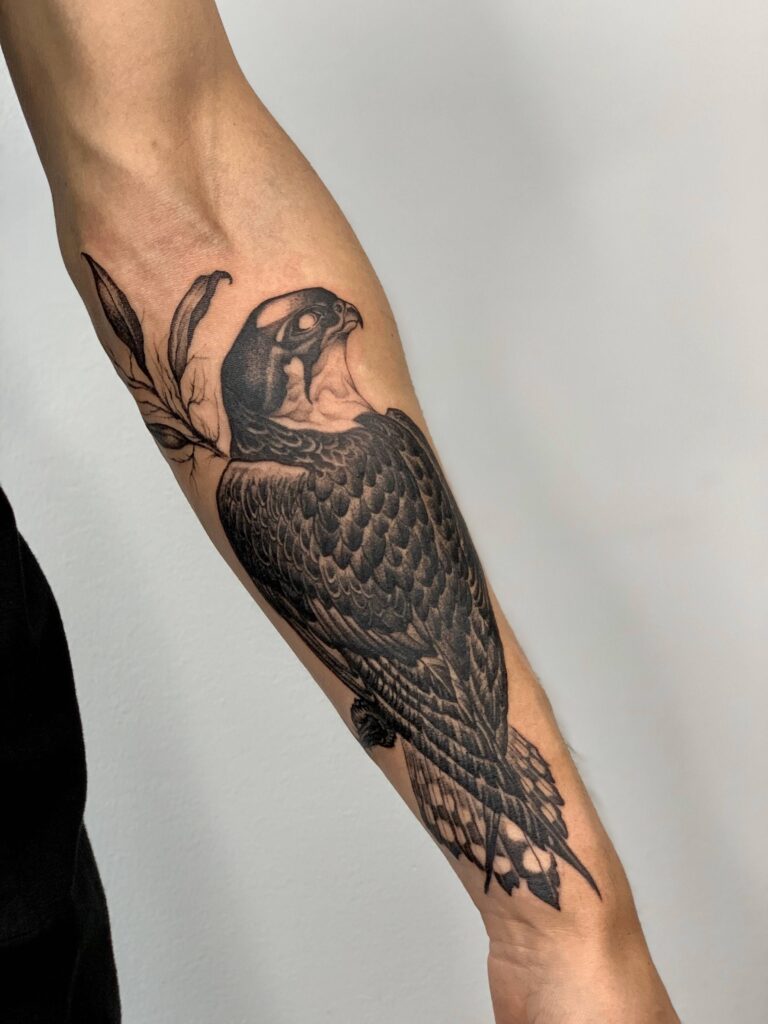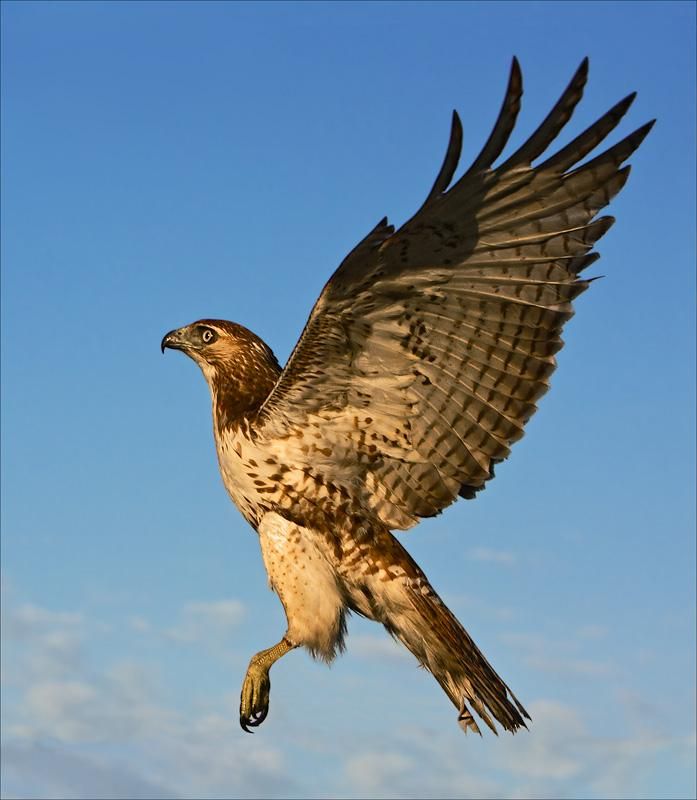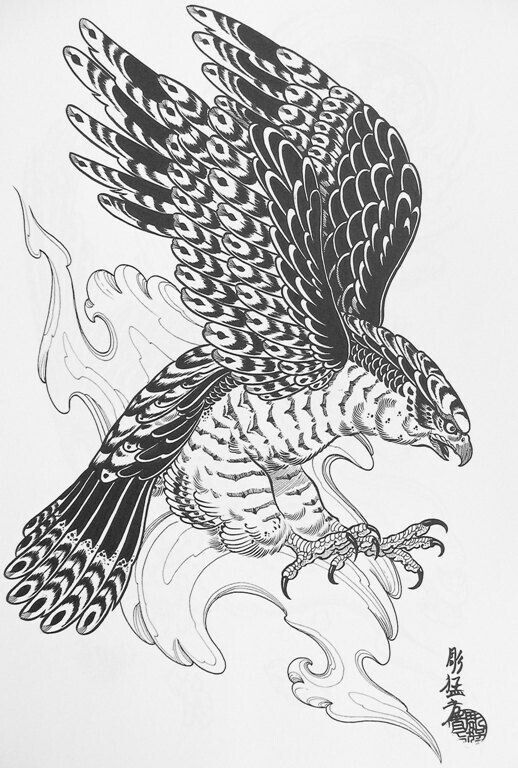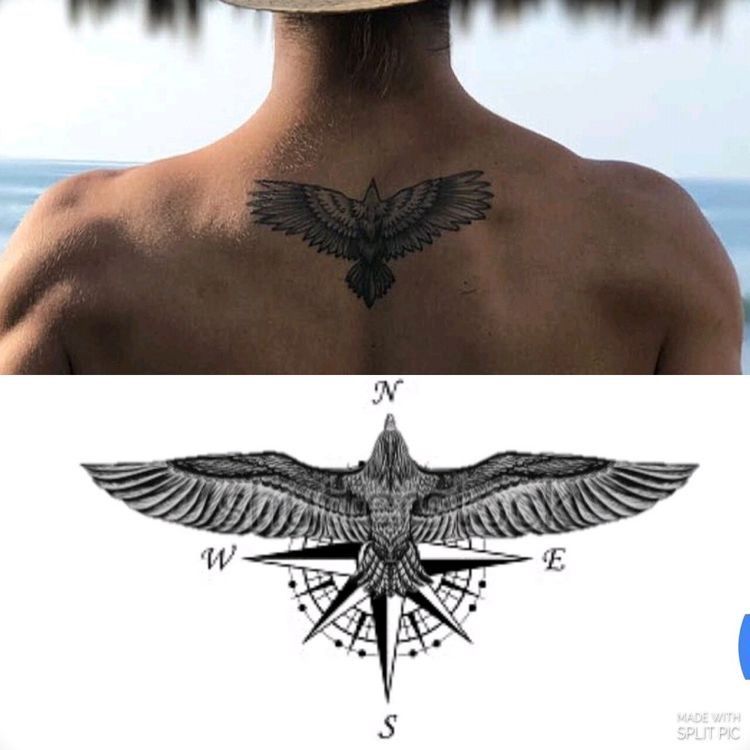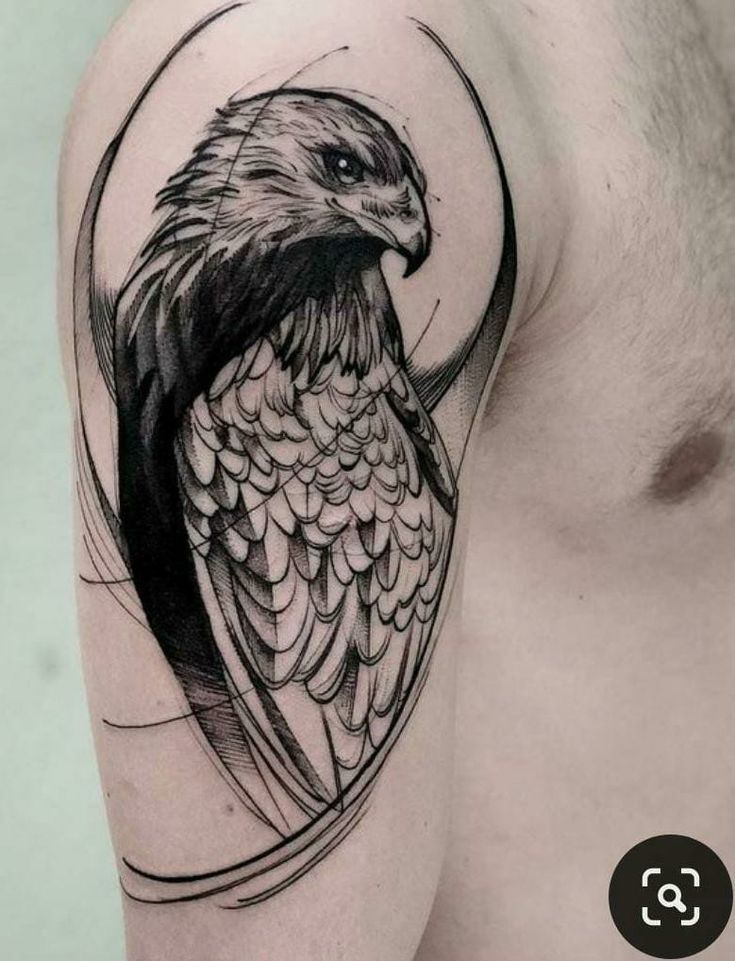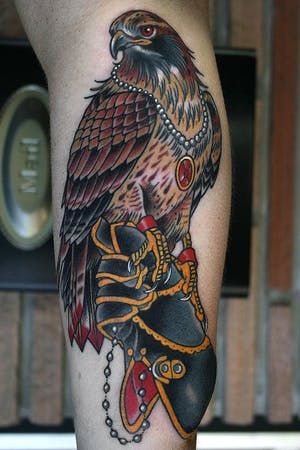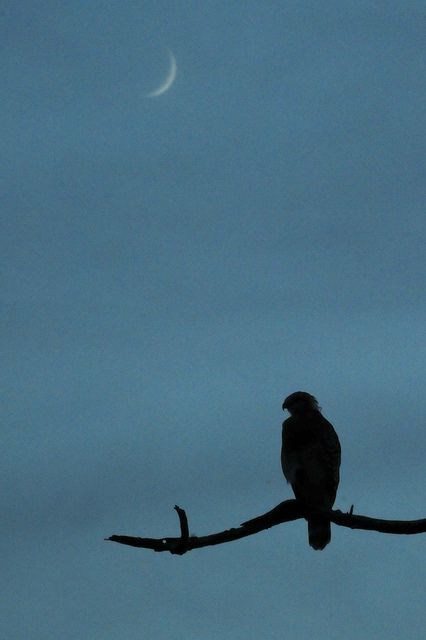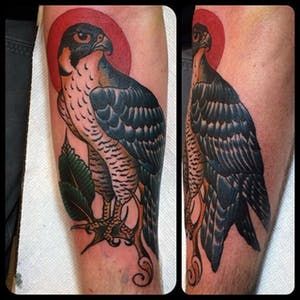 Hawk Sigil Tattoos