The meaning of snake tattoos
Snakes have various symbolisms in different cultures. The following are some of the most common meanings of snake tattoos.
Snakes represent fertility and rainfall. Native Americans used to perform snake dances in the hope of more rainfall and good weather in the coming year.
In Japan, snakes are a symbol of protection and luck. It is believed a tattoo where a snake poses to strike will protect the wearer against bad energy.
Snakes represent greed and temptation in Western countries because of the Garden of Eden. The snake tempted Eve to bite the forbidden fruit and eventually resulted in the banishment of Eve and Adam.
Snakes can also represent dangerous women because of Medusa in Greek mythology. She has snake-like hair and could turn a man into stone with her gaze.
In Chinese folklore, a white snake fell in love with a man and was punished for love. Thus white snakes can be seen as a token of sacrifice for true love.
Disclaimer: This tattoo collection is for inspiration only. Please do not copy the artwork. If you love these tattoos, follow artists and show them some support.
Snake tattoos for women with meaning
Snake and the gold staff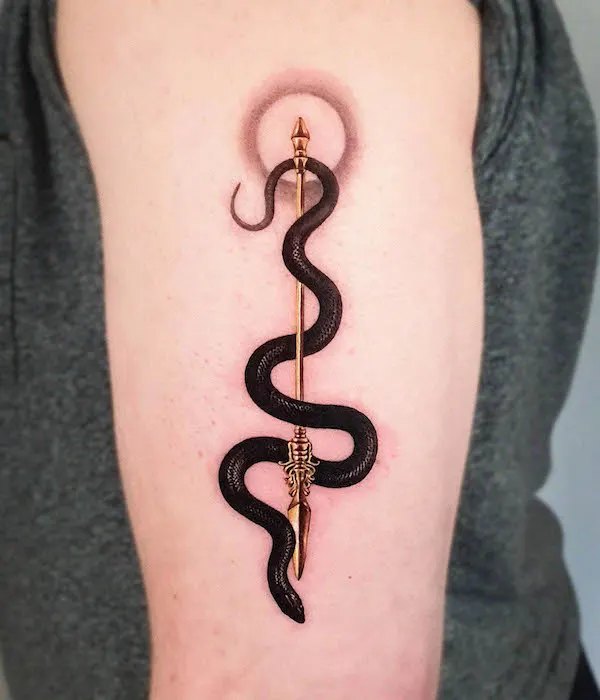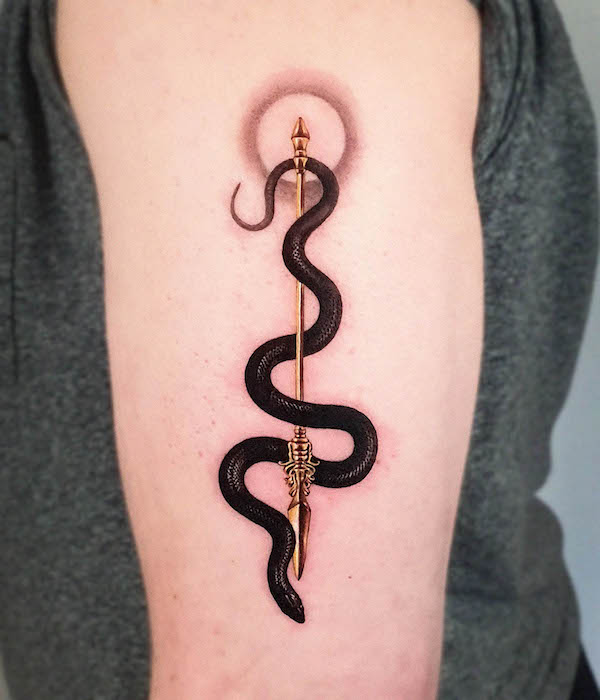 @jiro_painter
Snakes are associated with legends and myths. This tattoo depicts a snake coiling around a golden staff, resembling the Rod of Asclepius.
Asclepius is the son of Apollo. He learned how to heal from a snake. That's why the Rod of Asclepius often symbolizes healing and protection.
Snake collarbone tattoo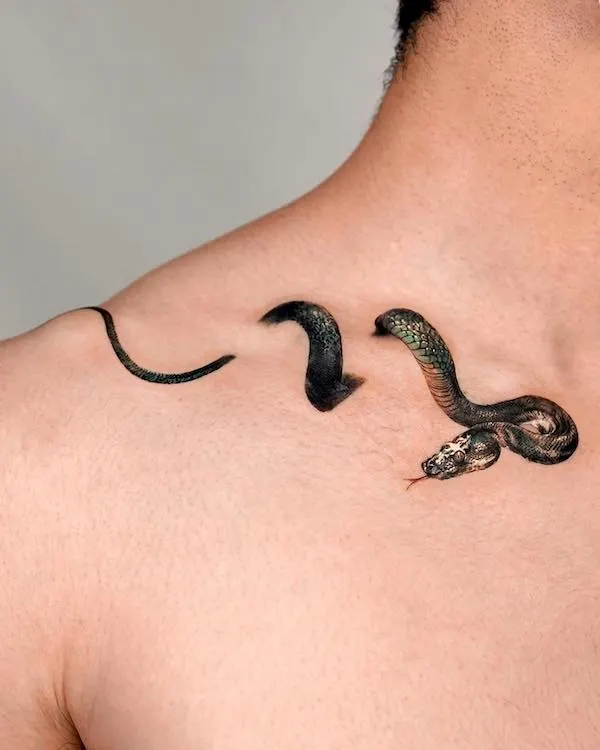 @stuffie.ink
It's hard to find a tattoo that makes you wow and gives you chills. This collarbone snake tattoo is one of them. The snake coils around the collarbone. And the gap in between creates a visual illusion as if it goes into the skin.
Gemstone and snake tattoo for women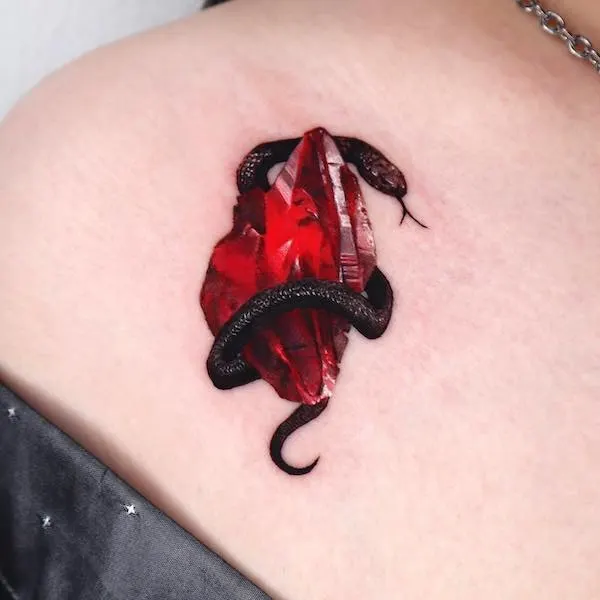 @tattooist_coldy
Is this snake a protector, or is he trying to steal the gemstone? We don't know. But the precise illustration of the gemstones makes it pop on the skin. Together, the black and red form alluring imagery. This is als a good way to incorporate your birthstone with snake tattoos.
Matching snake bracelet wrist tattoos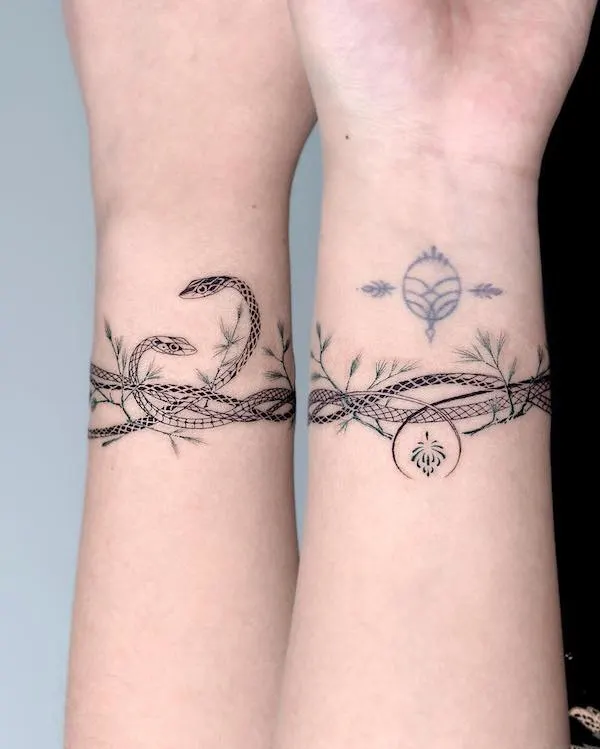 @bium_tattoo
Snake tattoos tend to wrap around the limbs, wrist included. They are not just a tattoo but jewelry in this case. The tattoos here incorporate snakes with leaves, adding femininity and freshness to the matching design.
Detailed snake and flowers sleeve tattoo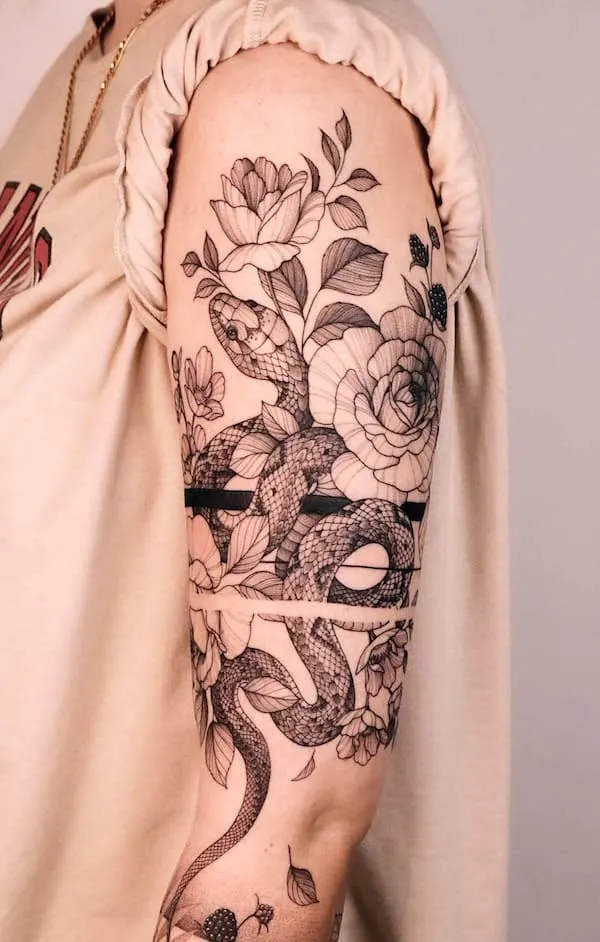 @aestet.ink
Full sleeve tattoos are not just for men. The snake sleeve here shows how a tattoo can be big and feminine.
Elegant and simple snake and rose chest tattoo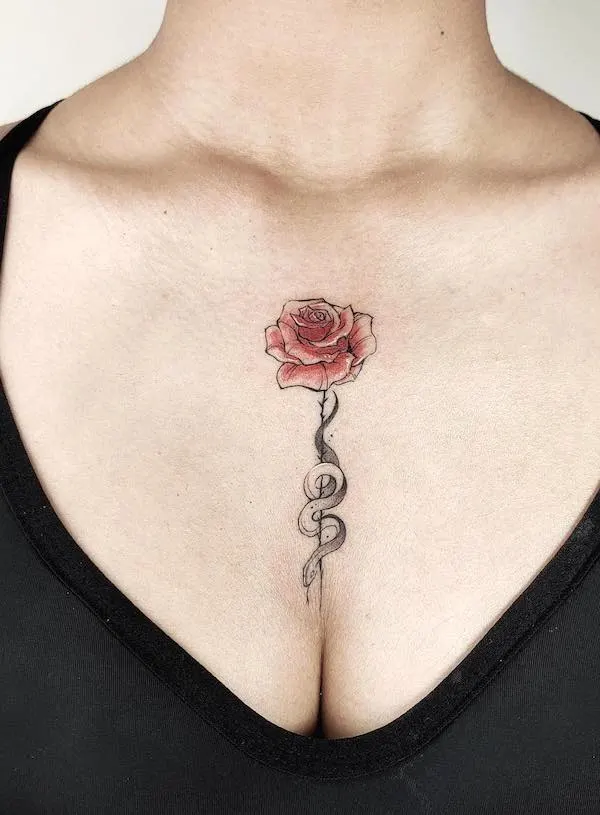 @macy.tattoo
When you get a tattoo on placements as private as the chest, you will want something elegant and timeless. And this snake and rose tattoo with sleek lines is exactly what you need.
Tiny snake finger tattoo for women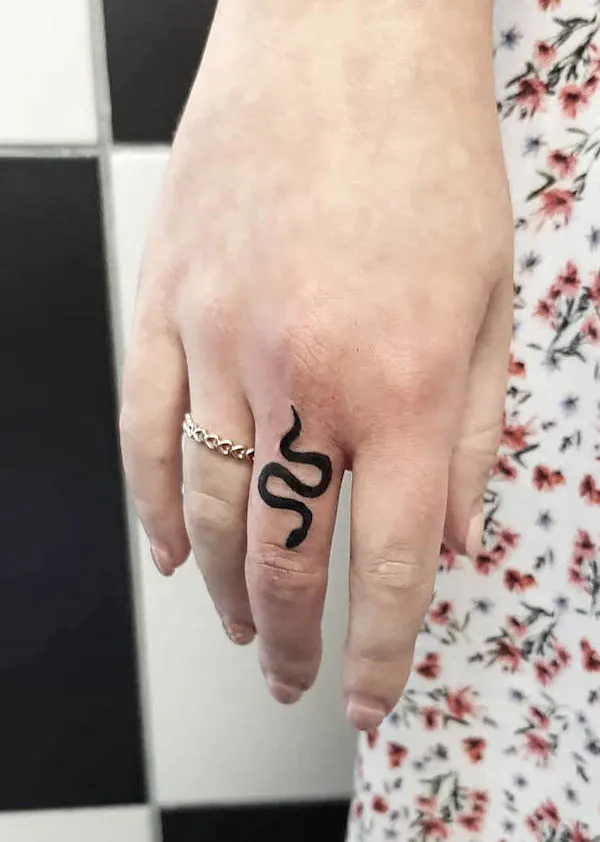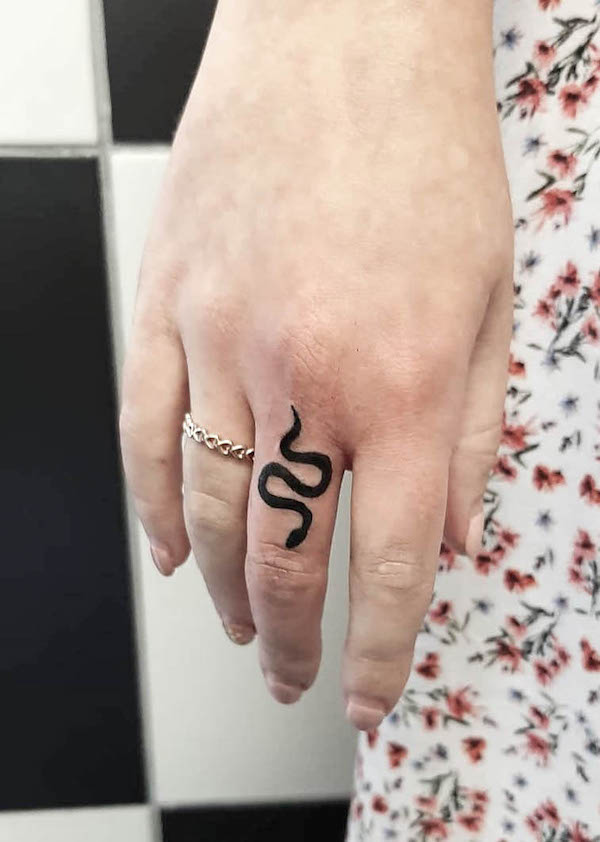 @froggiemaggie.tattoo
Yes, a ring is great. But a permanent statement on the finger is even better. This small snake finger tattoo doesn't have a lot of details. It's colored in black. But the contrast to the skin tone makes the tattoo stand out.
Tiny sparkling snake forearm tattoo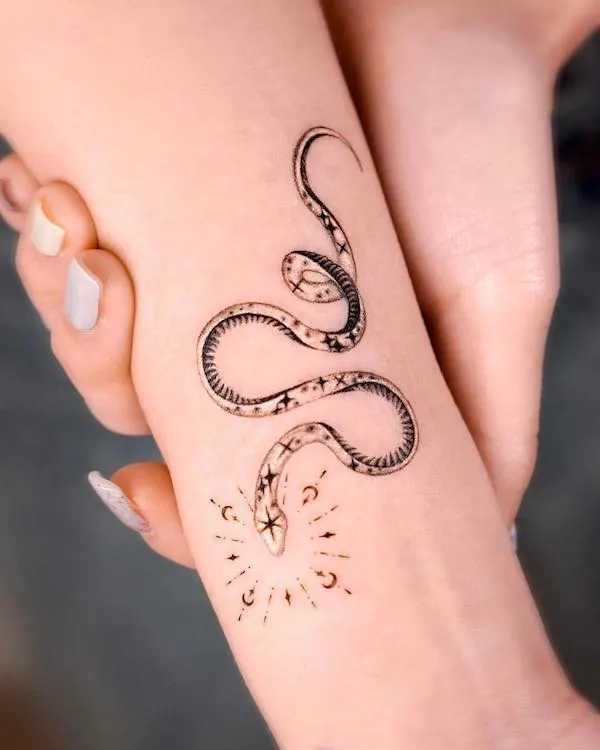 @norangtattoo
If you want to make a tattoo more feminine, consider adding different shades of colors and small ornaments.
Take this snake forearm tattoo, for example. The scales on the back and ventral are in black and white instead of one single color. The patterns on the scales and the small star-like symbols around the head give the tattoo a girly feeling.
Snake and red spider lily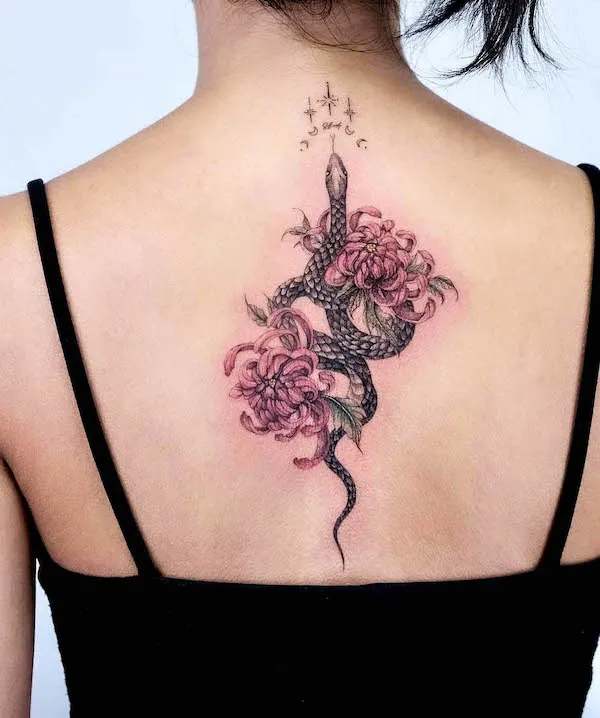 @modoink_tattoo
Red spider lily blooms with its petals turning inward, just like the claws of spiders. It represents death and reincarnation.
Snakes shed their skin and thus become a symbol of rebirth. In terms of meaning, the two elements are complementary. This snake back tattoo would belong to someone with a unique aesthetic and a deep understanding of life.
Small snake ankle tattoo for women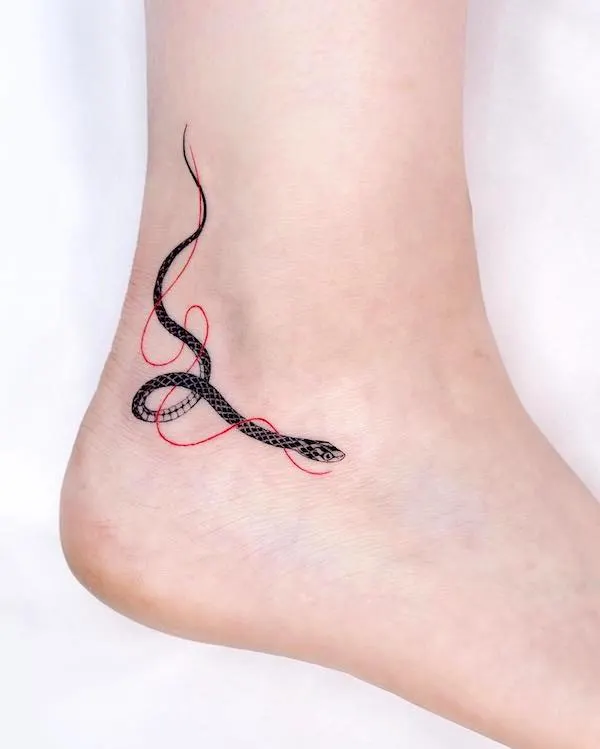 @bium_tattoo
Why not keep it simple with a small, black snake ankle tattoo? This minimalist tattoo adds character with a red thread intertwining with the snake.
Feminine floral snake tattoo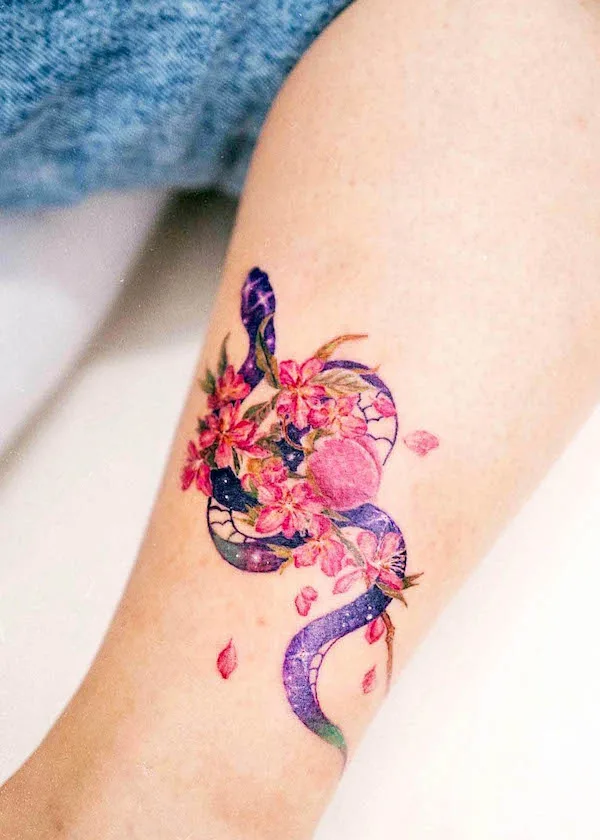 @tattooist_ou
Flowers are good decorations for snake tattoos, especially when they are colored. The pink is in contrast with the snake's purple color. Together they achieve a beautiful balance.
Bold snake foot tattoo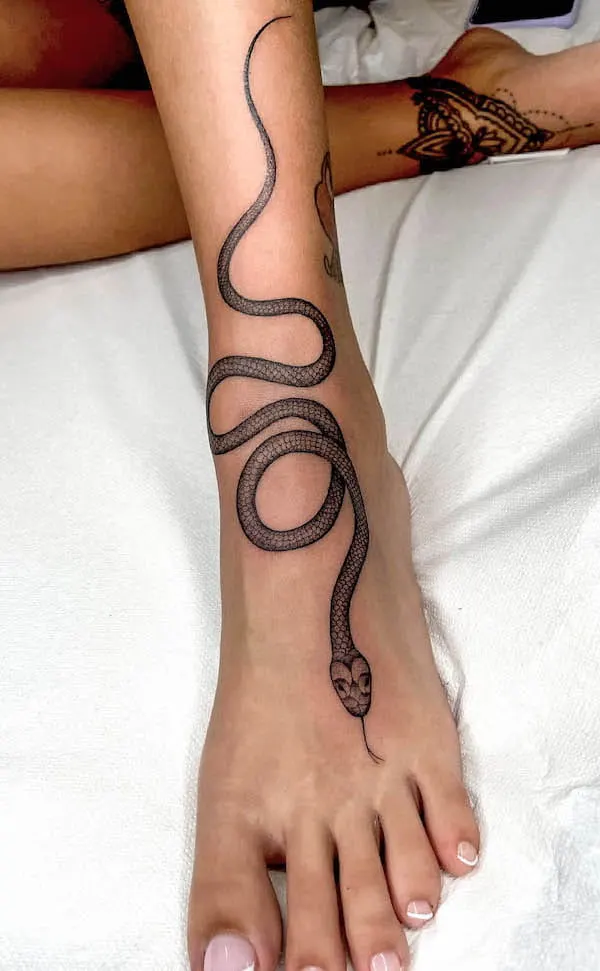 @dalila_wolf
If you want to maximize the visual impact of a snake tattoo, consider stretching it on two body parts. This snake tattoo starts above the ankle and extends all the way to the foot. Even when one of the body parts is covered, you can still have a glimpse of the tattoo.
Snake and rose sleeve tattoo
@philipppfohl
Flower tattoos are naturally feminine. But they can be a little conventional and too popular. By adding a black snake through the petals, the tattooist gives the design a badass vibe. If you want something special to represent your uniqueness, this may be a good example.
Stunning snake shoulder tattoo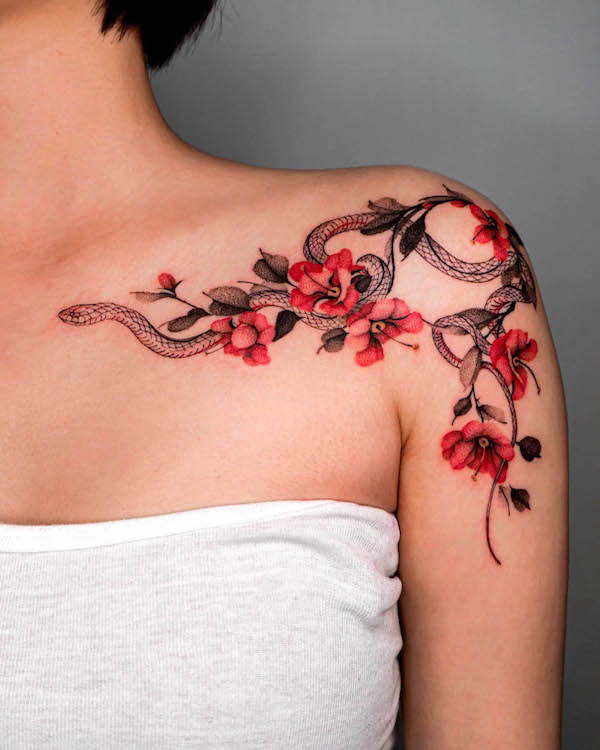 @onyo_ttt
At first sight, this shoulder tattoo seems to depict flowers growing from branches. But look closer, and you will find that the branches are actually a coiling snake. The surprise definitely gives the tattoo a wow effect.
Snake and rose arm tattoo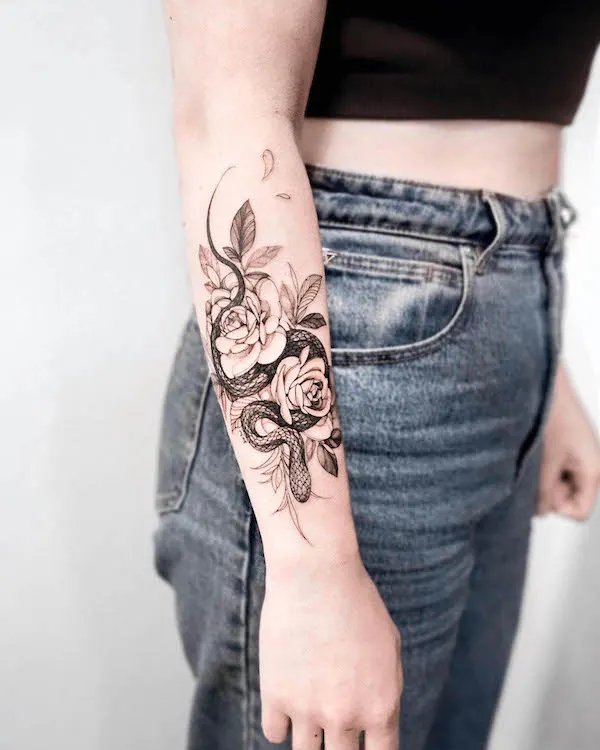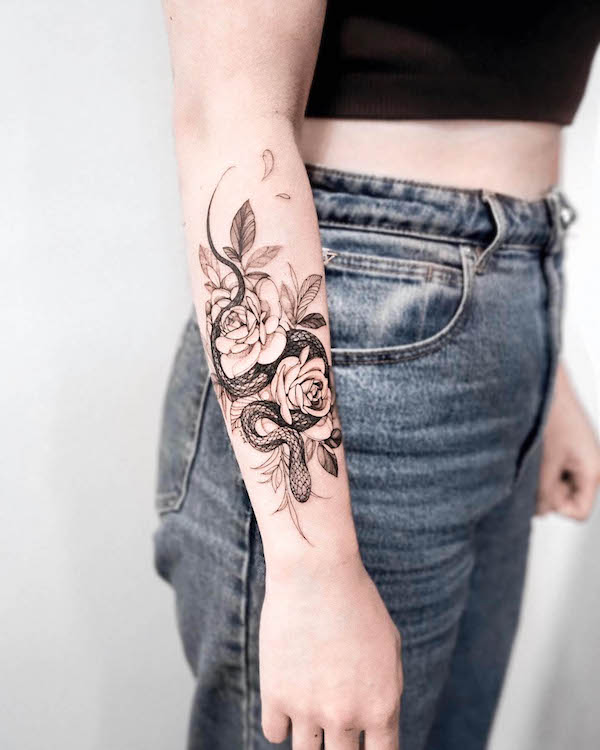 @goyotattooart
The hand and the forearm are highly visible placements. And you don't need vibrant colors to make a tattoo stand out. A black and grey snake tattoo like this one will capture all the attention with its sophisticated composition and sleek lines.
Beautiful snake sleeve tattoo
@lemontreeink
While a snake tattoo itself can seem a little intimidating for girls, adding an oriental vase to it gives an elegant feeling.
Read also: 38 Elegant oriental tattoos with meaning
Small two-color snake chest tattoo
@eunyutattoo
The chest is not the most visible area. However, to make a snake chest tattoo more seen, go for contrasting colors like red and blue. This is how this tiny tattoo manages to be both simple and sexy. Check out our interview with tattooist Eunyu to see how she creates magic with colors.
Snake and moon neck tattoo for women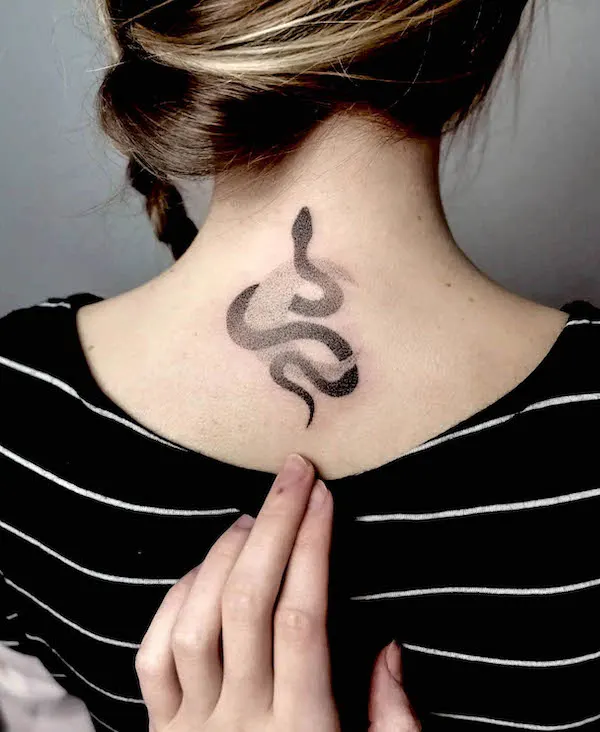 @amaris_ink
Make a statement by choosing an often exposed area like the back of the neck. With a size as big as this snake neck tattoo, everyone will pay attention, even if it's in black and grey.
Snake and flower sleeve tattoo for women
@aestet.ink
Ready to go bold? A full sleeve snake tattoo may be a good option. And you can always start with a smaller ink like a snake and gradually add other elements to it.
Gorgeous snake thigh tattoo
@aestet.ink
A side of the hip tattoo as large as this one takes lots of work and time. Every piece of the scale is so distinctive and complementary to the flowers.
Wrap around the arm red snake tattoo
@frannk.tattoo
If you want something different, consider red snake tattoos. It's not as visible as black ink. But the color itself will make an ordinary tattoo extraordinary.
Metallic snake thigh tattoo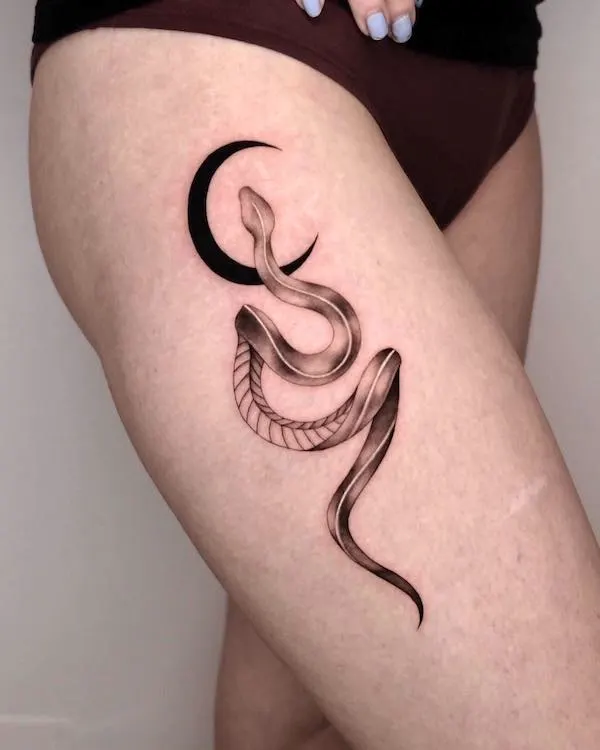 @law_ink
Most snakes in tattoos are either all black or black-ish. This moon and snake tattoo is something different. The snake's scales have a metallic glow, making this tattoo unique and more feminine.
In terms of meaning, the moon represents feminine energy and fertility, which corresponds with the snake's symbolism. Together, this tattoo would be a token of feminism and beauty.
The Forbidden Fruit
@stuffie.ink
The snake or the serpent is considered to be evil in the west for its role in Genesis. In the Garden of Eden, the snake convinced Eve to eat the forbidden fruit, resulting in Adam and Eve's banishment. That's why snakes often symbolize temptation and greed.
This tattoo depicts a snake coiling around the apple's leaves. It's the exact interpretation of biblical mythology.
Red snake and rose spine tattoo
@johnb.designs
In the same way you can extend a snake tattoo on the spine, why not fill the space vertically with scripts? It can be a quote tattoo that you resonate with. This way, you keep the snake in the center of attention, and the quote also makes the tattoo more personal.
Snake finger tattoo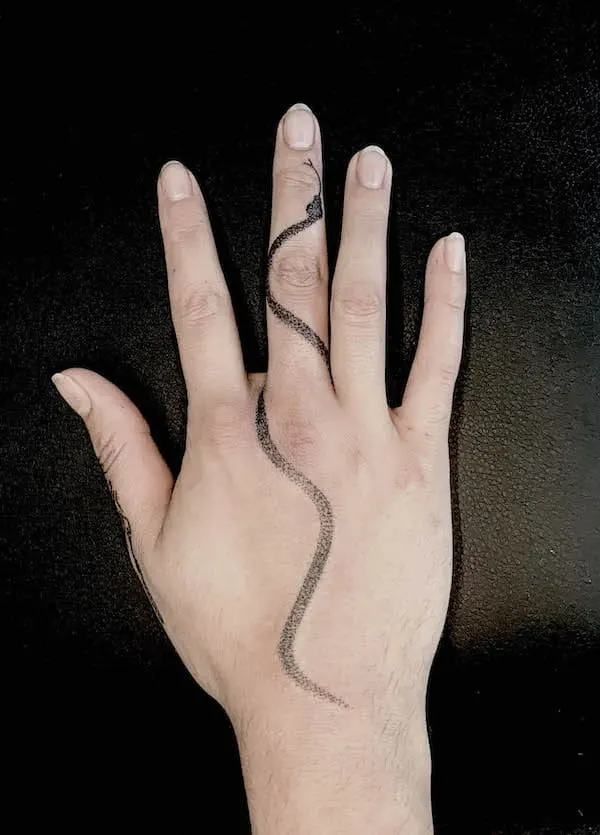 @bap_tats
Snakes make perfect finger tattoos because you can tweak the shape and position in any way you want. This snake finger tattoo stretches from the hand all the way to the fingertip. With the snake flicking its tongue, you can almost hear it hissing.
Snake and skull upper arm tattoo
@stuffie.ink
A skull tattoo is not necessarily the most feminine ink element. But the lines are crisp and sleek. The snake coiling around the skull gives flow and motion, making it less masculine. This tattoo will be perfect for women with a darker aesthetic.
Blue Japanese snake tattoo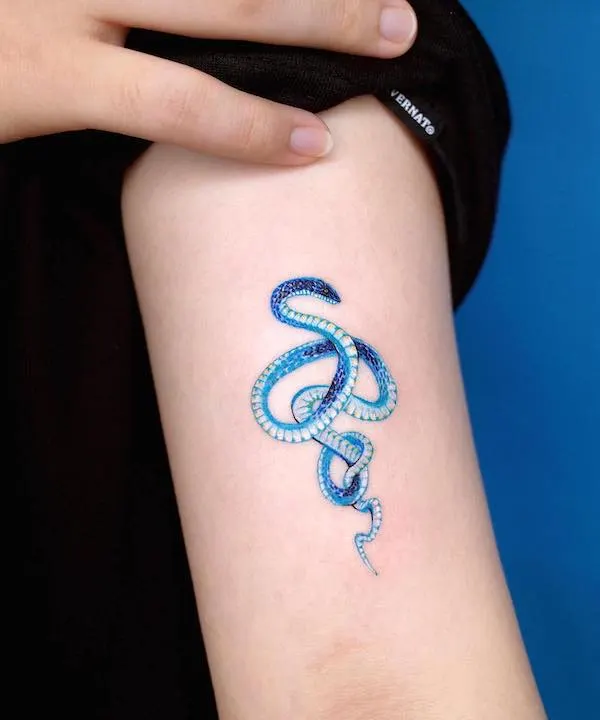 @soosoo.tattoo
Snakes with vibrant colors are usually poisonous. This blue snake might look stunning and harmless. But it may kill with a single bite. Such a tattoo from tattooist Soosoo reminds us not to judge something or someone by appearance.
Elegant snake tattoo around the ankle
@jay_tattooist
A tattoo that wraps around the ankle is called an anklet. Anklet tattoos for women are usually flowers and vines. By replacing the common elements with a snake, the tattoo instantly becomes more badass.
Thigh and waist floral snake tattoo
@tritoan_7th
Another huge snake floral tattoo on the side. The best part is, if you wear shorts, people can still see the head of the snake creeping out from above. It's definitely a statement and a conversation piece.
Realism snake and rose leg tattoo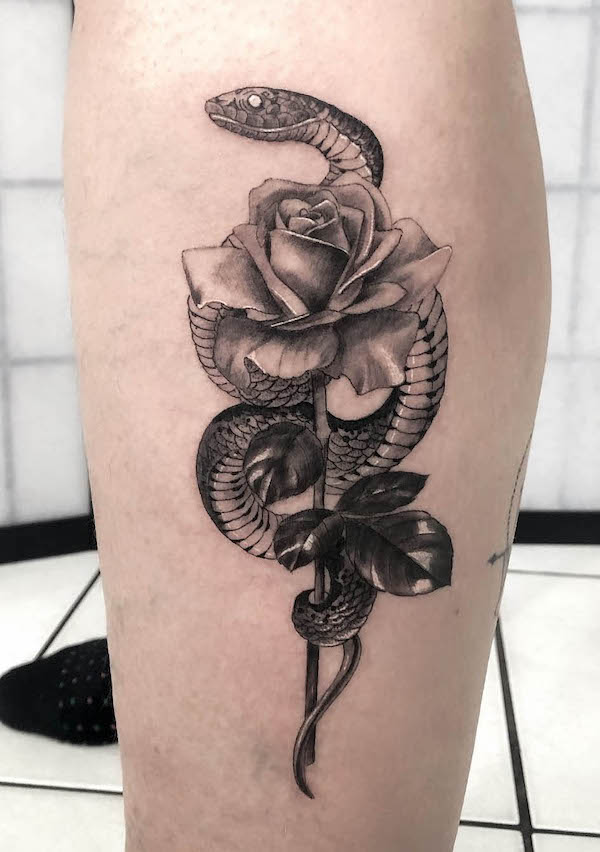 @wannaanna_
Rose and snakes are often put together in tattoos. The trunk gives the snake something to wrap around. And because roses are a symbol of beauty and snakes represent temptation, the combo often reveals how beauty can lure people into dangerous situations.
Snake and rose between the boobs
@sednae
It's a smart move to only color the rose red. This way, it draws maximum attention. And when people look closer, they can see the snake moving down the body, which creates an in-motion effect.
Wrap around the arm snake tattoo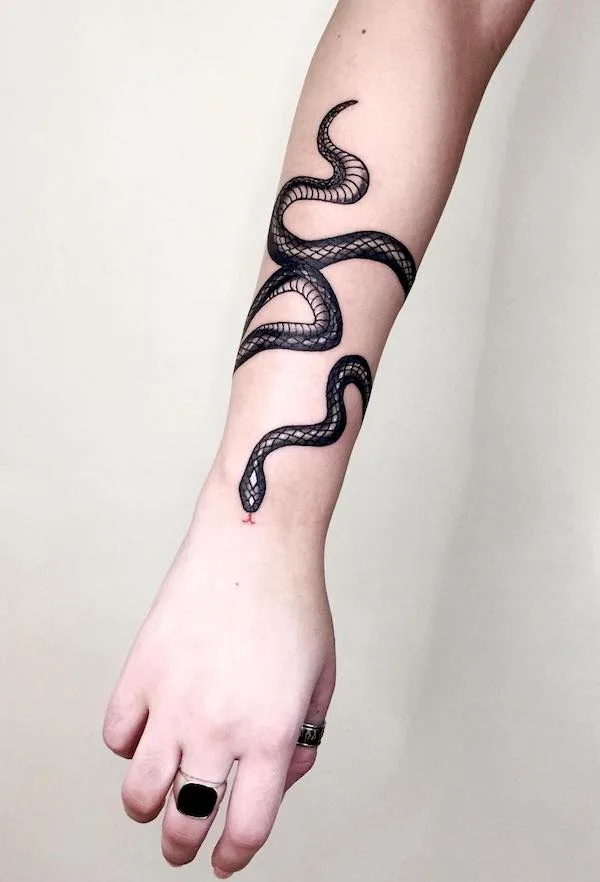 @dee.tats
You can't really look away when you see a snake wrapping around one's forearm. After all, it's not something we see in real life. But there's more to this tattoo than the visual impact.
In Buddhism, snakes are seen as the protector of Buddha. That's why snake tattoos can sometimes be a talisman that protects the wearer. And this snake forearm tattoo is a clear message that the wearer is not someone to mess with.
Black snake chest tattoo
@stuffieink
If you want a discreet tattoo but don't want it to be tiny, placements like the lower chest are a good idea. You can hide it most of the time and show it proudly with a bikini in summer.
Intricate snake and flowers back tattoo for women
@miakim1984
You don't have to incorporate lots of different patterns and colors to elevate the look of a tattoo. The good thing about snake tattoos is that you can add more curves to the body and create extra space for patterns just like this one.
Cobra snake leg tattoo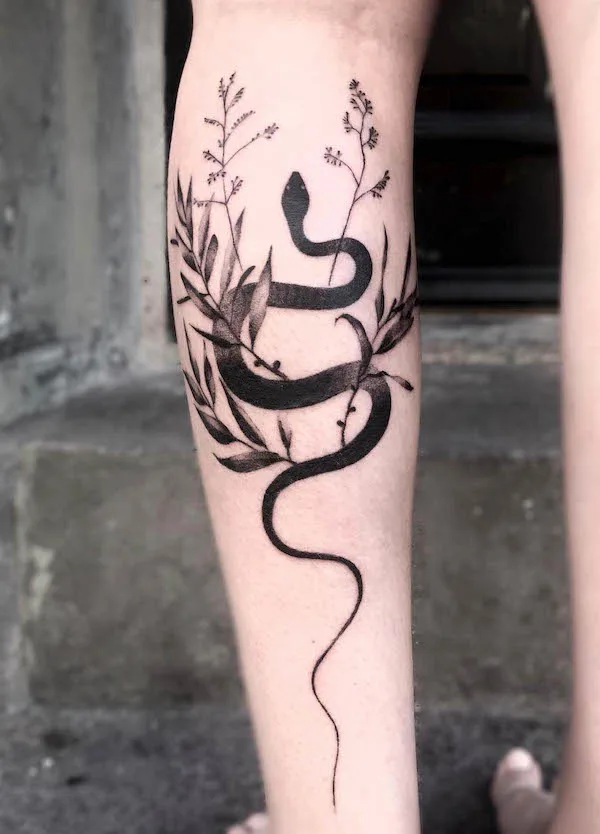 @natalia_lines
While you can go as detailed as you want with a snake tattoo, simple black work never goes out of time.
Cute lunar snake tattoo for girls
@zvee._.tt
Snakes are fearsome animals. But snake tattoos don't have to be terrifying. The pink of this small snake tattoo makes it cute and girly.
Two-color snake and sword sleeve tattoo
@baam.kr
Snakes are strategic hunters. They hide and wait for the best timing to strike. And they can take down prays times their sizes. That's why the combination of a snake and sword can be seen as a symbol of strength and wisdom.
Intricate tree and snake back tattoo
@hwan.ink
Snakes shed their skins and turn into a new form. This characteristic gives snakes the symbolism of rebirth. On the other hand, trees are mostly seen in tattoos that celebrate life. Together, the two elements honor the beauty of life.
Green snake on the rib cage
@soosoo.tattoo
Everyone has his favorite color. Consider tattooing a snake in your color to make it personal and relevant.
Witchy snake tattoo
@tattoosbybrittanys
This traditional black snake tattoo plays with the concept of witchcraft. Witches are believed to be able to summon animals like cats and snakes to perform their tasks. This witchy tattoo would be a statement to not cross the wearer.
Snake and sword arm tattoo
@aima_tat
Similar to swords, a dagger and snake tattoo represent both strength and courage. It's proof that whoever wears this tattoo is not a coward but a force to reckon with.
Symmetrical black and white snake
@masa__island
To make a snake tattoo stand out, consider adding patterns to the scales, just as shown above. The contrasting black and white and the symmetrical composition also contribute to its uniqueness.
Small oriental pattern snake arm tattoo
@tattooist_ou
Another great example of how patterns make a common tattoo uncommon. Look closer, and you will see the Japanese-style painting engraved in the small snake arm tattoo. The creative twist adds an artistic vibe to the dainty tattoo.
Snake and moon arm tattoo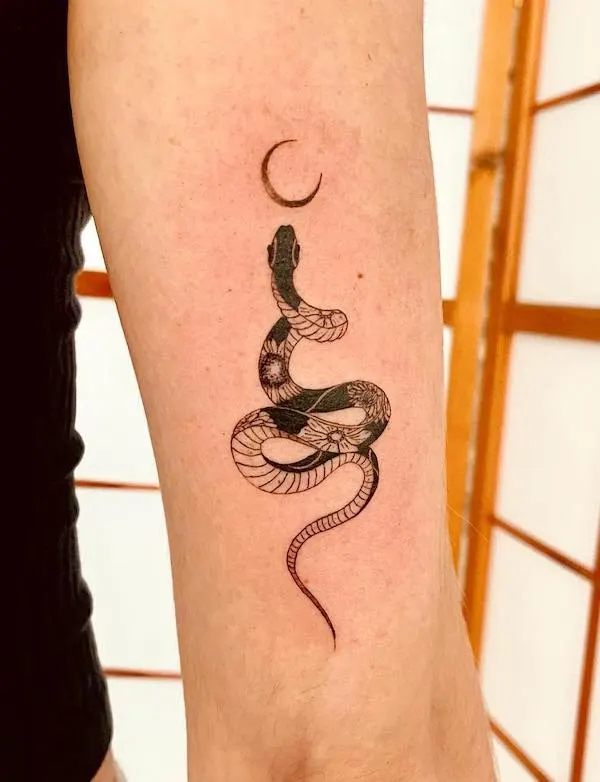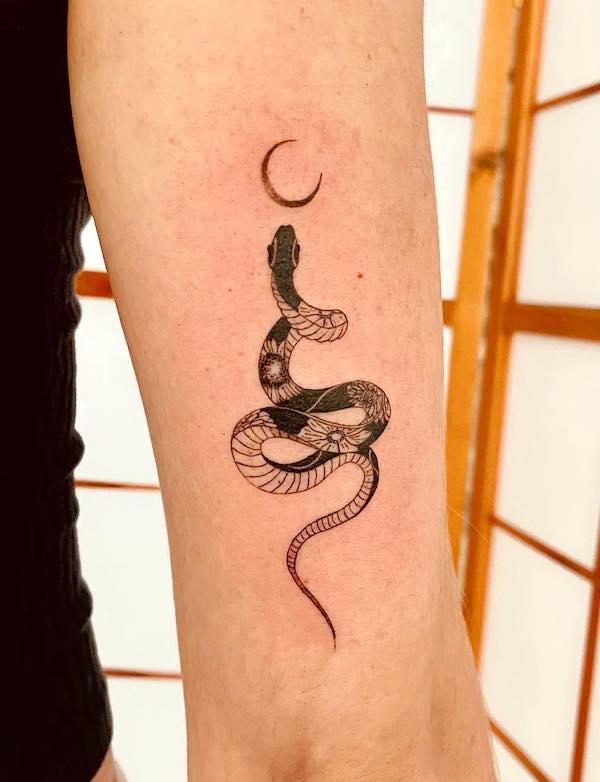 @minkutattoo
Tattoos may be static on the skin. But the natural flow of snakes, dragons, or mermaids gives the tattoo motion and liveliness.
Matching snake music tattoo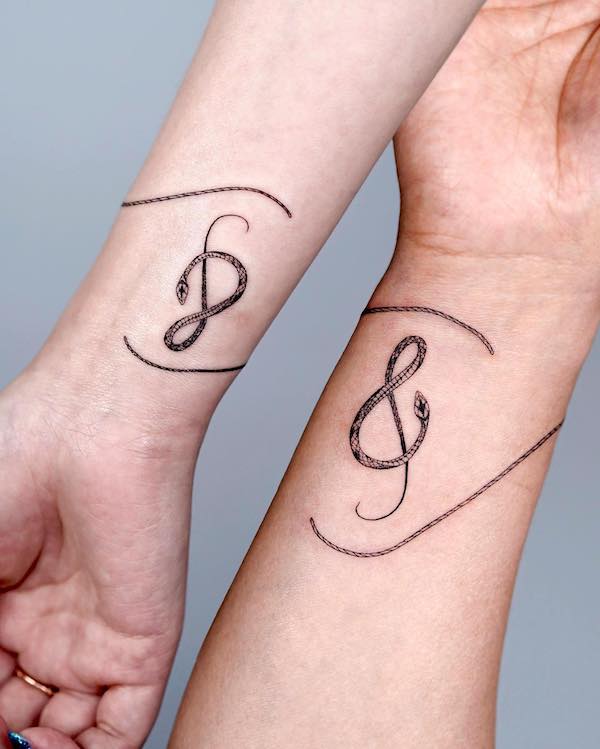 @bium_tattoo
True love is rare. If you can find someone who shares the same passion with you, why not honor it with matching tattoos?
Small rose and flower upper arm tattoo
@sozil_tattoo
The inner arm or bicep tattoo is not as visible as a sleeve tattoo. A medium-sized tattoo like this one is perfect for the placement – not overwhelming but still gorgeous.
Snake and flowers rib tattoo
@bium_tattoo
When you decorate a snake tattoo with intricate patterns like flowers, it's easy to overdo it and steal the shine of the main motif. This rib cage tattoo, however, illustrates only the outlines of the flowers. And it also helps to maintain the simplicity and lightness of the tattoo.