No flower is more iconic in the world of tattoos than the rose. It is a flower whose meaning provokes feelings of beauty and pain. Beautifully colored petals and a slender stem draw in the eye, but painful thorns warn you against treating it without caution. For these reasons alone it is easy to see why you are interested in getting inked.
But before you go and get your own rose tattoo, let us help guide you in choosing the perfect piece of ink. Below we'll show you the coolest, cutest, and best-looking rose tattoos of 2023. You'll surely be inspired with the perfect idea of which tattoo style to get, as well as where to get tattooed on your body.
With that said, let's begin.
We Hope You Enjoy These Rose Tattoo Ideas! First Off: A Hand & Pink Rose Fine Line Tattoo on Woman's Ankle
Thoughtful choices are employed in this rose tattoo which enhance its intended feminine mood. Watercolor styling adds muted color to the rose and leaves while outlines are done in the Finelines style. Even the tattoo's location is important as the ankle itself is so delicate and intimate. Feels just like a lovely summer day. Credit to the artist, Sio out of Seoul, South Korea.
@tattooist_silo
Realistic Red Rose Armband Tattoo
A rose by any other name is still a rose – even when it's done in the big, bold Realistic Color style used here. The forearm allowed the artist to provide the customer with her custom tattoo; a very detailed rose along with an armband which seems to be holding it all in place. If this all wasn't enough the shading on the armband just adds to the realism of this dramatic tattoo. Kudos to the Artist: Ahm from Panumart Tattoo, Thailand.
@panumart_tattoo
Minimal Rose, Sun, Moon & World Tattoo on Woman's Forearm
Yes you can have it all; a rose, the sun, moon and world all in one very delicate tattoo.The "lightness" of this tattoo is enhanced by the use of Minimal Linework style with the addition of no color.The intricate detail within the small graphics is evidence of the artist IG tattooist_majo skill. And of course the stretch of the forearm provides the perfect canvas for this long vertical design.
@tattooist_majo
Minimal Single Line Rose Tattoo on Woman's Outer Forearm
This is Instagram style101: delicate single Linework style with Minimalism through and through. No complicated design, no color but loads of sophistication. And it's readily visible on the outer forearm running down along its length for all to see. Camera anyone?
@roza.fineline
Red Line Rose Tattoos With Black Snake Tattoo on Woman's Side Thigh
Contrasting styles, colors and themes make this one exquisite snake tattoo. The red roses are perfectly outlined and detailed using Linework Style which is often used with floral tattoos. Alternatively the snake is done with bold black ink in the Blackwork style. Then there's the story. The rose is a symbol of innocence; the snake temptation. I don't know who's going to win but I do know this tattoo certainly does. Great work by the artist Rozi from Seoul, South Korea who used the thigh to showcase this large tattoo.
@iam_rozi.tt
Fine Line Floral Rose Tattoo on Woman's Inner Biceps
Here's another floral tattoo by @iam_rozi from Seoul, South Korea done completely in Linework style.Thin lines are used without the addition of any color. You can see that the rose and leaves fit perfectly in the space provided by the bicep; not too big, not too small. Beautiful design in a perfect location.
@iam_rozi
Pink Rose Floral Tattoo on Woman's Shoulder Blade
Rose tattoos, symbolizing love and beauty, have traditionally been a popular theme for women's tattoos. The pastel color and subtle shading make this rose so pretty. Then there's its location on the back shoulder; always an intriguing location. Adding particular interest is the orientation of the tattoo to the back shoulder. It's positioned so the upper portion is framed by the curve of the shoulder from where it's allowed to drape gracefully downward and to the side.
@panumart_tattoo
Women's Rose & Snake Linework Spine Tattoo
Here's another beautiful example of a rose tattoo and snake done in the Linework style. A snake – dangerous yes but here the fine lines make it quite sensuous. The spine along the upper back serves as the perfect location for this long vertical tattoo. You can feel and sense the snake, entangling the rose, inching its way up this woman's back. Definitely makes it come alive.
Check out more spine tattoo designs here.
@tayyy_babetattoos
Women's Black & Gray Roses Collarbone Tattoo
This floral black and gray tattoo is actually a coverup of an earlier work. Amazingly none of the original tattoo is visible; only the recently added roses and leaves are seen. The woman's collarbone serves as the perfect canvas for these roses. At once the location provides sufficient space for the width of the tattoo while also beautifully framing it. Notice how the design follows the gentle curve of the collarbone as it sweeps upwards towards the shoulder. A perfect picture in a perfect frame.
@panumart_tattoo
Black & Gray Rose & Skeleton Tattoos on Man's Hand
Who says a rose has to be feminine? Case in-point; this man's rose tattoo on his hand. Masculine through and through it shows how location and style definitely impart meaning to a design. Although a floral theme is the basis of this tattoo, the use of Black and Gray style imparts a strong masculine mood. Here the black ink is watered down to create different shades. This style is a fantastic showcase of the artist's shading skills. And if you like the look of this tattoo, then check out our page on finger tattoo ideas.
@art_vocate_
Fine Line Floral Underboob Tattoo
What a pretty floral tattoo. Flowers, stems and leaves are gently "painted" on this woman's chest using thin lines in black and muted colors. The beauty of this design is its location: underboob and between the breasts. It looks like this body area was made specifically for this artwork. Don't you agree?
@olgatattooocean
Line Work Rose / Purple New School Rose Forearm Tattoo
This is such a super-cool custom rose tattoo; I love it! It's by Vincent_bloodline from Italy. It showcases the artist's personal style of combining Linework style on one side and New School style on the other. Bold outlines and simple colors characterize New School making this rose very modern; very fresh. Of course the forearm is a perfect location to highlight its design.
@vincent_bloodline
More Rose Tattoo Designs: A Women's Rose Wrist Tattoo
Here's a completely modern take on adorning a woman's hand with a fancy glove. Since most women are no longer wearing long gloves, achieve a fresh take on this look with a floral tattoo on the hand and wrist. The rose tattoo's dimensions are a perfect fit for this area. The rose and leaves are done in Linework style with shades of gray making it very feminine. Guess what's old is new again.
@sergetattooer
Women's Large Floral Rose Hip & Side Thigh Tattoo
The hip and side of the thigh are the perfect location for a large rose tattoo. The size of this woman's tattoo makes it bold but is balanced by the style. Here Linework style with black lines is used. The roses and leaves have a touch of lighter color ink detailed with skilled shading. This combined gives this tattoo a soft, feminine feel. Who wouldn't want to show off this beautiful tattoo in a little mini dress.
Check out more thigh tattoo designs here.
@olgatattooocean
Black Rose Tattoo on Woman's Outer Forearm
This dramatic floral tattoo is the masterpiece of artist SOMA from South Korea. Many think of floral tattoos being done in Lineworks style (think fine lines) or Watercolor style but not this one. Here Blackwork style with its application of bold planes of black ink is used. It's bold but remains feminine highlighting the skill of the artist. Its placement on the outer forearm allows for its long vertical design to be showcased.
@tattooist_soma
Small Rose Tattoo on Woman's Forearm
Who says simple can't make a statement. This small rose tattoo in Fine Linework style definitely attracts your attention. The soft lines of the rose petals and leaves on the forearm are exquisite. Just look closely at that detail. That along with the lifelike 3D shading makes me think that a petal or two might just be blown off by a light breeze. Careful.
@kathy_tattoo
Linework Rose Tattoo on Woman's Spine / Upper Back
If you have a pretty back why not make it even prettier with a perfectly centered tattoo. This rose tattoo and stem running along the spine/upper back is done in the Linework style. There's a mix of both the very fine lines of the petal and the thicker linework of the stem and leaves. These thicker lines are further accented by the darker ink and shading used. So as I said, this woman had a pretty back now made prettier with her tattoo.
@dea_j_tattoo
Blackwork X-Ray Rose Tattoo on Side of Man's Neck
So what's an X-Ray tattoo? Generally it's a tattoo done in the likeness of a flower that's been x-rayed. Of course this calls to mind black ink which the Blackwork style is all about. With this style you'll also see the use of bold solid planes of black ink. This is a nice mix-up to the usual delicate lines used to ink a rose. The x-ray look of transparency is achieved by very skilled shading as seen in the rose petals at the top. Kudos to the artist. Positioning this tattoo on a very visible and unexpected part of the body, here the side of the neck, just serves to up the drama. This black rose tattoo is definitely not for the shy.
@sixtenism
Matching Rose Tattoos For Friends / Sisters
The bond of friendship or family can only be strengthed with matching tattoos. These matching fine line rose tattoos are really beautiful.
@dalgu_tattooer
Small Cat Tattoo Made Out of Blue Roses on Woman's Triceps
These roses pop because of the color used, a vibrant blue, and its location over the triceps. Although watercolors are often muted by their dilution with water this is just a variation on the use of pastels. Here the colors are kept within the lines which gives an earthy feel to these roses. They look like they're still growing (right on her arm).
@fluffy_tattoo
Large Dramatic Watercolor & Black Brush Rose Tattoo on Side of Calf
This red rose on the side of the calf is no wallflower even with the use of the Watercolor style. Some rose petals are distinguished by the diluted red ink employed. Diluted – yes but not at all muted or shy. Same is true for the greens. Adding to the drama are the bold black lines. Common to the Watercolor style are the splashes and spills of ink outside the lines. Now with all this drama you really didn't expect painting within the lines, did you?
@thiagomelloarte
Simple Red Ink Rose & Linework Snake Tattoo on Woman's Forearm
Mix and match: beautiful red line roses with delicate shading (I love these) and a menacing snake done in Linework style. Somehow it all "fits" – figuratively and quite literally on this woman's forearm. The length of the forearm perfectly showcases this vertically oriented tattoo. Love the cord bracelet next to it too!
@vibetattoo.ut
Women's Black and Gray Rose Hand Tattoo
For those into the black and gray look, here is a very popular idea of placing a rose right atop the hand.
@ricardo.di.paulla.tattoo
Upside Down Black and Gray Rose Tattoo With Spider Over Triceps
This hanging rose dangles dramatically over the triceps ending right above the elbow. There the spider's web begins whose shape mimics the lines formed by the upper contours of the elbow itself. None of this beautiful framing and positioning is accidental. It's all the work of a skilled artist with not only inking skills but an eye for artistry. Combined, this is what makes a great tattoo. The light, fragile nature of this tattoo is enhanced by the absence of any color which is the Black and Gray style of tattooing.
@exotichni
Matching Minimalist Red Roses on Woman's Collarbones
Many people select black Linework style for their floral themed rose tattoos. Not as common is the use of red ink with this style. But when it's used – Voila: You have Red Linework style. Here two pretty red roses adorn each of this woman's collarbones; each rose gently following the curves of the bones. As in other tattoos, the innocence of the rose is often paired with the temptation served by the snake; here seen wrapping around the wrist and moving closer to those roses. Watch Out!
@tattooer_dogy
Minimal Butterfly Outline Tattoo Filled With Black and Gray Roses on Woman's Forearm
What could be a better but unexpected pairing – but a dainty butterfly adorned with roses. All this lightness of feeling is enhanced by the Minimalist tattoo style where light touches of ink are applied without the use of color; here just black and gray. These blacks and grays are used within the outlines of the butterfly to create the roses. Magnificent shading work appears on the petals and leaves. This takes skill especially in such a small space. This butterfly appears to have just landed on this woman's forearm and lucky for her it isn't going anywhere.
@rafix_tattoo
Minimal White Ink Leaf Tattoos & Pink Flower Full-Sleeve Tattoo
A full-sleeve tattoo can definitely make a statement but it can also be intimidating. This full-sleeve tattoo though is like you just landed in "Strawberry Fields" – soft and safe; dreamy. First you have multiple strawberry pink roses beautifully shaded and outlined with white lines. Then these white lines continue as the outlines of the leaves adorning the entire length of the arm. Who knew one's arm was meant for this large "painting". Looks like springtime forever.
Style: strawberry pink roses (we don't know the name of this style) with white linework leaves. *we selected this pic because of the nice shading and due to its unique look.
@mbakertattoo
Blackwork Rose & Snake on Woman's Shoulder
I usually wouldn't be comfortable with a snake so close to my neck, but I'd make the exception for a tattoo as beautiful as this. I really love the location as well, with the top of the shoulder also being great for mandala tattoo designs.
@tasminpatriciatattoo
Cute Watercolor Rose Tattoo With Blue Leaves
This flower looks like an Impressionist master might have painted it. And of course it would deserve to be on display just as it is on this woman's forearm. Notice there's sufficient space here for its large dimensions. The Watercolor Brush style is characterized by splashes and spills of color inside and outside of the lines. Here Messy is Neat.
@ceez_tattoo
Fine Line Purple Watercolor Rose Tattoo on Woman's Arm
If you're looking for a pretty floral tattoo you've got to consider the Watercolor style. Diluted pastel colors which are typical of this style are used here. Some of the ink is applied in a very precise manner while some shadowing occurs just outside the outlines. These outlines are done in the Fineline style with a light touch which syncs with the floral theme. I think the upper arm perfectly frames this design.
@tattooist_silo
Women's Full Forearm Rose Tattoo
This half-sleeve black and gray rose tattoo perfectly enhances this woman's forearm. Thanks to the Linework style it's large but not imposing. This is further accomplished by the use of the subtle gray shading that compliments the black lines and black shading. Great fashion statement.
@mara_tattooart
Trash Polka Rose Tattoo on Man's Hand
Have you ever heard of the Trash Polka style of tattooing? Take a look at this tattoo and you'll get it. The style was created by Simone Plaff and Volko Merschky in 1998 at their Buena Vista Tattoo Club in Germany. It's characterized by realistic compositions with an abundance of black ink and shades of red (or occasionally blue). The black rose here looks like it was expertly stamped on this man's hand, expertly matching the hand's contours. Result: A Perfect Tattoo.
@ruhwan_tattoo_art
Large Blue Butterfly Rose Tattoo on Woman's Upper Back
This blue butterfly tattoo fits perfectly between this woman's shoulder blades which serve as its frame. You can see how with tattoos it's often about Location, Location, Location. The central rose is done in the Black and Gray style with very skilled shading. This contrasts with the larger butterfly done in the Linework style with touches of beautiful color.The pinks, purples and blues seem to have been dabbed on with a cloth adding to a sense of "lightness" which is associated with butterflies. The bold solid blackwork on the lower wings seems to support the rose. I think this design and where it's located makes this woman's back seem to take flight. Beautiful.
@wonhae_ink
Women's Realistic Watercolor Pink Rose Tattoo on Top Forearm
Look at this tattoo and you could think you're looking at a photo of a beautiful, lightly faded pink/red rose. The colors of the petals look dabbed and lovingly painted with watercolors. The stem looks real, the leaves look real with their gradations of color. All this is achieved by an artist very skilled in shading and ink application. This beautiful rose then gets to be showcased on top of the forearm for all to admire. What a gorgeous piece of body art. Lucky you.
@tattooist_soma
New School Red Rose Tattoo on Woman's Forearm
New School style is easy to spot: bold black lines, simple shading along with a simple color palette. Think of your Grandpa's sailor-day tattoo. This tattoo aptly fills the whole of the forearm screaming "Here I Am"!
@gennarovarriale_magnete
Man's Bold Black and Gray Rose Hand Tattoos
Who says roses are only for girls on Prom night. Not this guy or his artist. These rose hand tattoos are done in the Linework style: bold black outlines along with shades of gray. The skill level of this artist is obvious as seen in the awesome gray shading; not an easy feat. I love how the roses seem like they were always intended to be right on top of this dude's hands. Perfect Fit.
@richardsmithtattoo
Realistic Black and Gray Rose on Woman's Bicep & Inner Elbow
Not your typical rose tattoo but oh so beautiful. It's dramatically done in the Realistic style with only blacks and grays. Expert shading, use of light and dark shadows all perfectly define the contours of this rose and bring it alive. It has character, it has mood. And it lives perfectly on your arm from the bicep to the inner elbow. Lucky you.
Sketch Rose Forearm Tattoo With Black Leaves
We haven't shown much of this style termed Sketch. It's characterized by overlapping lines, incomplete strokes, bold shading and lines that don't fully close leaving empty or negative space. The leaves and stem in the tattoo are done in Blackwork style as noted by the heavy solid planes of black ink. This is where you can take something like a rose, typically seen as a gentle design element, and turn it on its head via a specific tattoo style. Then it's visible for all to see right on your forearm. And that's called creativity.
@mike_riina
Women's Blackwork Rose Sternum Tattoo
Nothing says perfection like a rose tattoo over the sternum extending down to the cleavage. This one done in Blackwork style with its bold planes of black illustrates your style. This girl's not afraid to raise her hand and be heard. And in this case – Seen.
@child.pictures
Pink Watercolor Rose Tattoo With Blackwork Stem on Woman's Forearm
I love this awesome custom rose tattoo by IG: alainhead. How unique to combine the Watercolor style of the rose with the Blackwork style of the stem and leaves. The rose: soft with dabs of both vibrant and diluted reds inside and outside the lines along with drips of color. The stem and leaves: bold and "in your face" solid black planes. A contrast made in Tattoo Heaven. Thank you Alain.
@alainhead
Old School Red Rose Tattoo
Old School style: simple color palette, simple design, bold black outlines. It's what your Grandpa had inked during his army years, which is why this style is also called American Traditional. Maybe it didn't look exactly like this one but bet he would have liked it.
@dereksayegtattooer
#1 Rose Skull Tattoo
Associations of the skull and rose open the door to deeper meanings such as the death of a loved one, the defeat of an addiction, change, a transition, or a rebirth…
The combination of the two allows the wearer to commemorate a loved one. The skull may represent death, but the rose gives beauty to the life lived. The rose might also represent the memories they left behind, while the skull represents their demise.
The rose and skull are frequently associated with life and death, beauty and repulsiveness, or the conflict between good and evil.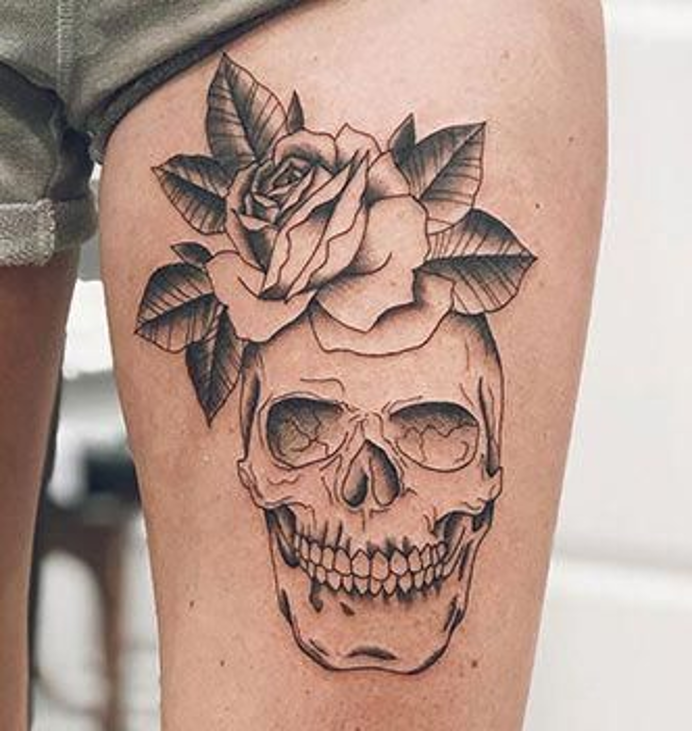 #2 Rose Cross Tattoo
The rose and the cross are components or symbols that have connotations in the religion of Christianity, as well as its heritage and culture. A rose symbolizes purity, love, martyrdom, joy, and so forth, and what's a better way to show your deep Christian faith than with a rose cross tattoo?
Such a tattoo demonstrates how devoted and committed you are to your beliefs. A rose cross tattoo demonstrates your spirituality as well as how cool and creative you are even when it comes to religion.
Try combining these lovely flowers and their cross to make the image less painful and more pleasant. The combination of roses and a cross is commonly found in tattoo designs, and Christians enjoy using it to express their religious values and beauty.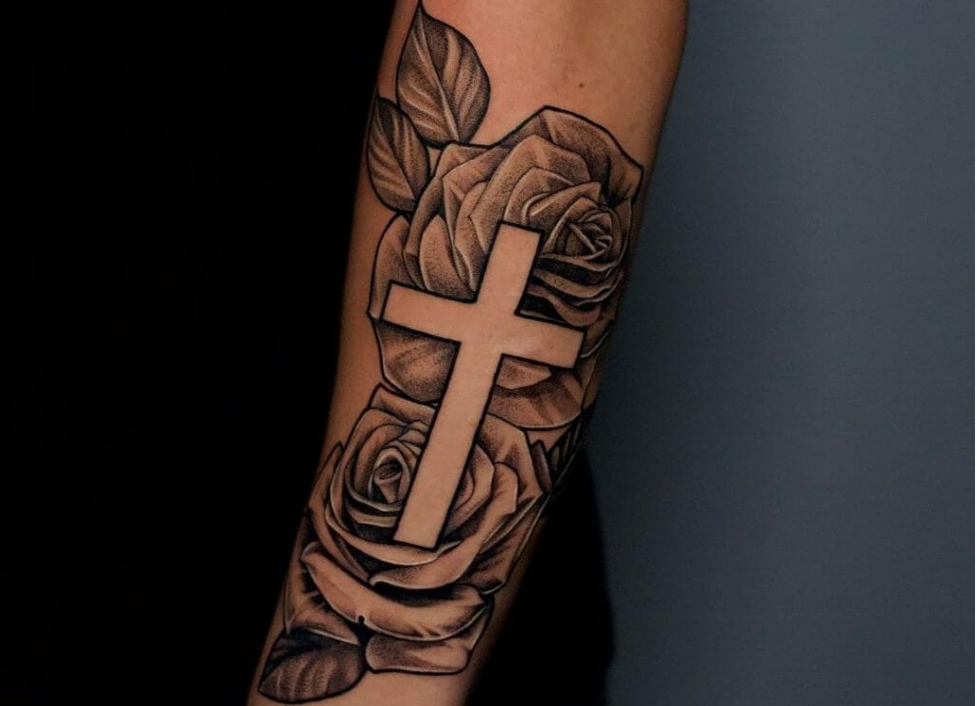 #3 Rose Anchor Tattoo
Sailors made a lot of these tattoos to commemorate the people and the memories they experienced on different trips.
The addition of the rose to the anchor tattoo symbolizes loyalty, honor, sacrifice, and love, and will have a significant impact on the design's significance and meaning.
The flower represents a strong unconditional love for a deceased person or a newborn child. Still, by adding an anchor tattoo, you represent additional compassion, joy, and a strong bond or attachment…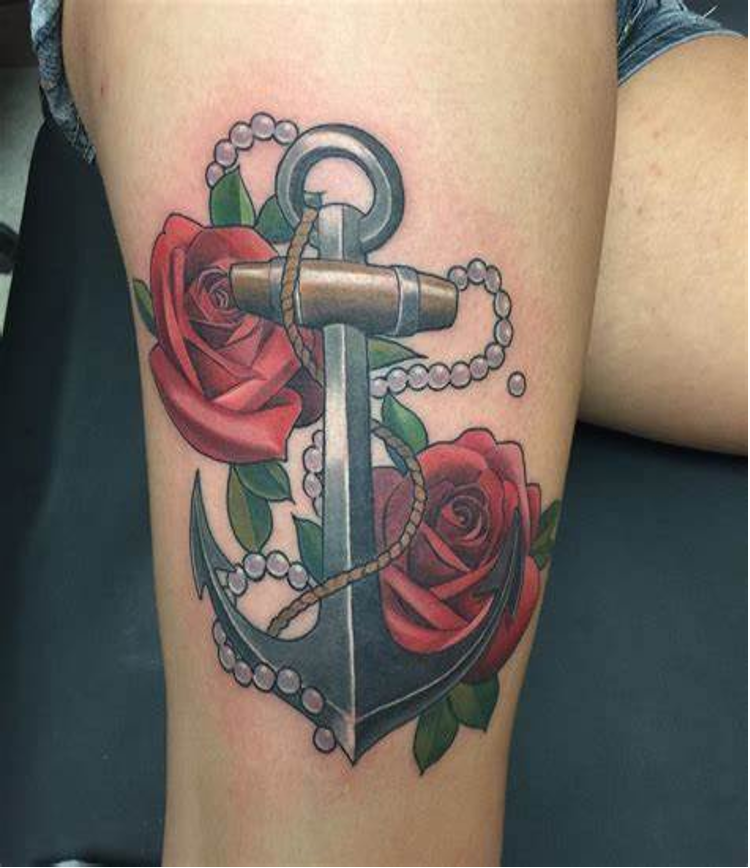 #4 Rose Butterfly Tattoo
Women adore flowers and butterflies. The flower denotes female tenderness and beauty, while the butterfly depicts female attractiveness and freedom. A rose and butterfly tattoo is a hybrid of a flower and a butterfly. That is, it is a combination of liberty and beauty. This tattoo represents feminism. The meaning of this tattoo is beauty, love, or freedom from love.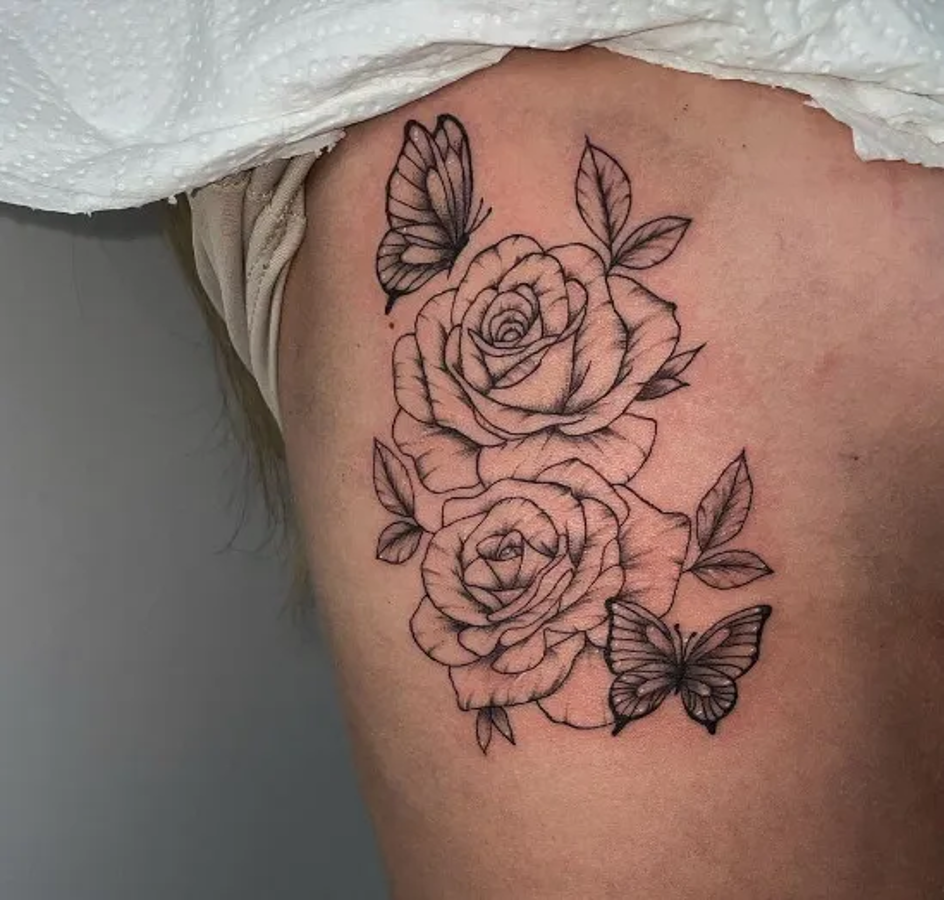 #5  Rose Owl Tattoo
When a rose blossom is coupled with an owl tattoo, the rose petals are frequently represented to be falling off. This depicts the loss of a loved one, with the owl following the individual to the great beyond. These tattoos are typically inked by people who have either had a close encounter with death or have lost a loved one.
But some people tend to get this mixed tattoo simply for their love of owls and tattoos.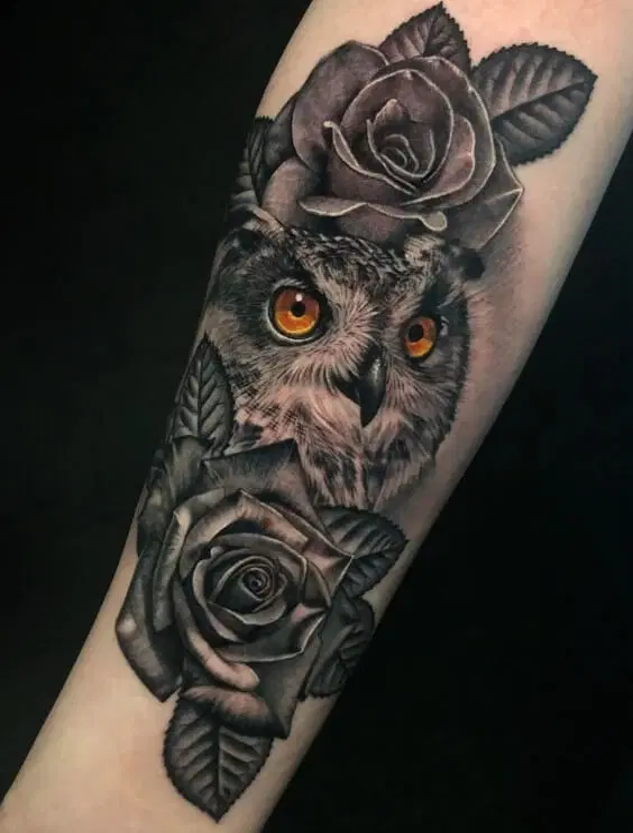 #6 Rose Wolves Tattoo 
Wolf with rose tattoos suit a range of various styles and can portray two aspects of your personality – one strong and independent and the other sensitive and affectionate.
The rose tattoo design, when combined with the wolf, is a classic emblem of passionate love. A wolf tattoo with flowers might even symbolize your love of nature. In short, a wolf tattoo and a rose tattoo combine the wolf's fierceness and courage with the rose's tenderness and grief.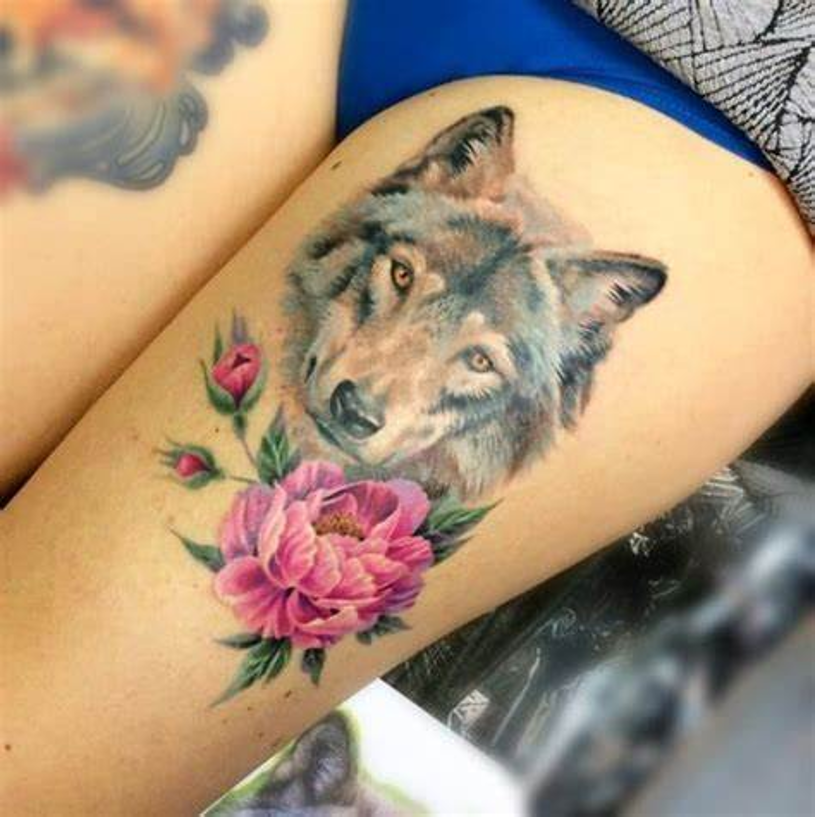 #7 Rose Snake Tattoo
A rose and snake tattoo combines negative and positive aspects of life!
We know that snakes and roses represent a combination of temptation and destruction and that they are frequently done in red, with both the rose and the leaf tips in red to emphasize the dominating presence of love and desire.
The snake is always associated with evil in our society, however, this is not true for all snakes. The majority of snakes are good luck emblems as well as protective deities.
Coupled with roses, it represents temptation, desire, and passion.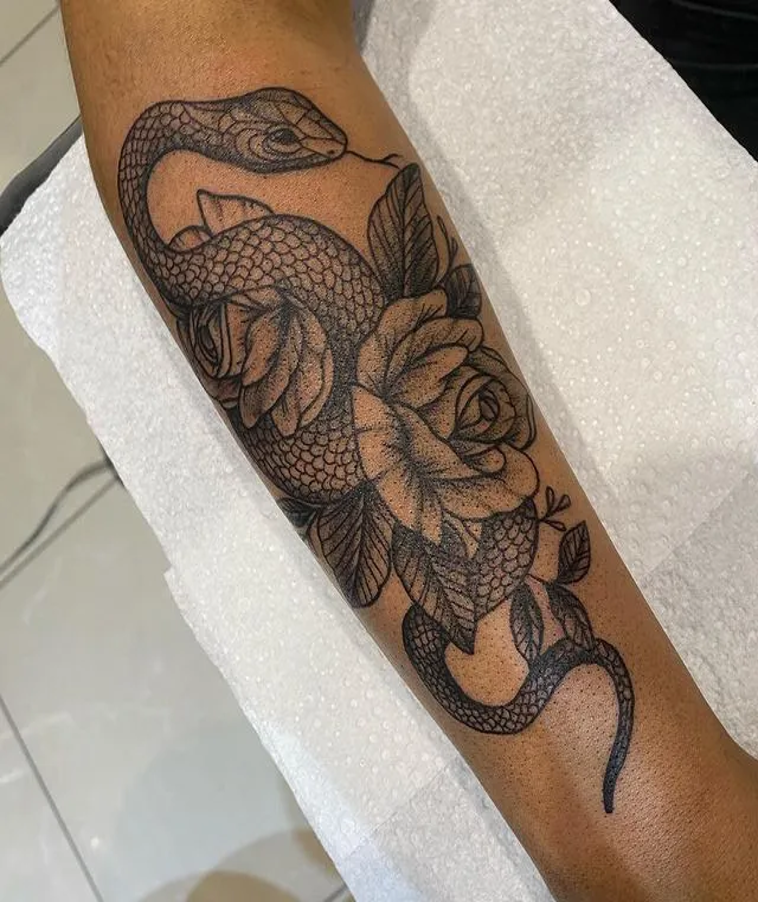 #8 Rose Scorpion Tattoo
Because it can be both frail and robust, the rose represents both strength and beauty. It represents the strength of love that is constantly with us, as well as the sensation of not being alone on this journey known as life.
The scorpion indicates something we should dread but also learn to overcome so that we may enjoy its blessings despite its danger.
The meaning of a scorpion with a rose tattoo is that the person who has it has attempted to find beauty in the face of hardship. It also implies that they have overcome adversity in their lives.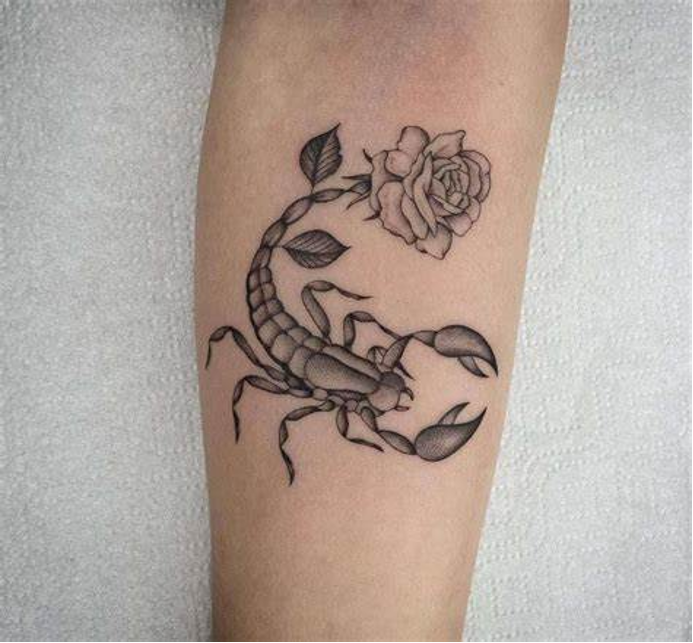 #9 Minimalist Rose Outline – Single Needle Tattoo
Creating the rose tattoo with a fully linked, squiggly line emphasizes the most fundamental characteristics of the flower to create a simple design. To make the tattoo more personal, insert a word in the squiggles of the stem.
To achieve a clear design, this rose tattoo employs basic, clean lines. The tattoo stays current and minimalist by not including any extra lines, dots, or shading. After all, a flower is the purest and simple form of love!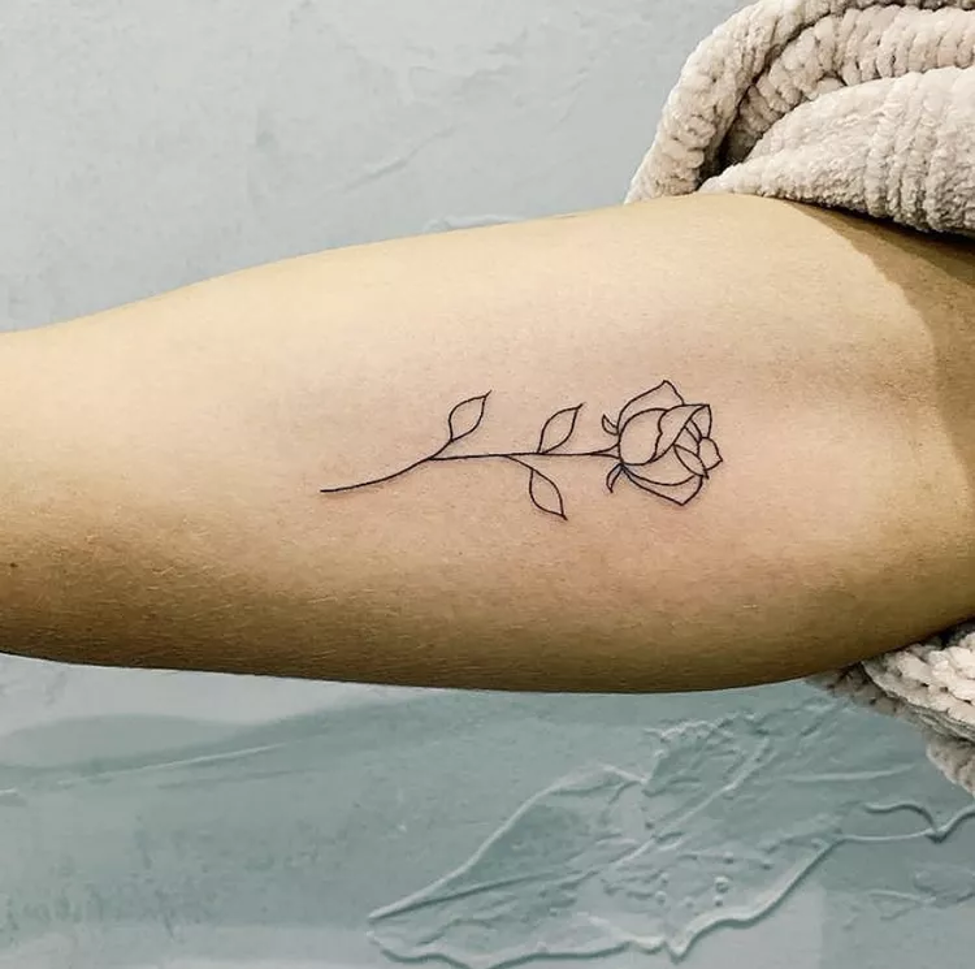 #10 Rose Geometric 3D Tattoo
Because it is quite prevalent in art disciplines to reproduce a rose's beauty, they sought to be fun, but in a more rigorous way, in tattoos. Geometric rose tattoos are a fun, inventive, and one-of-a-kind method to bring the beauty of the flower to human flesh. Of course, it did not lose all of its artistic value; in fact, geometry adds another dimension to it.

#11 Rose Music Note Tattoo
Music is the most universal language that humans share, and what's more romantic than a classic song? You guessed it – a rose.
When artists combine music and roses, they are worshipping their love for both. This passion is truly beautiful to behold.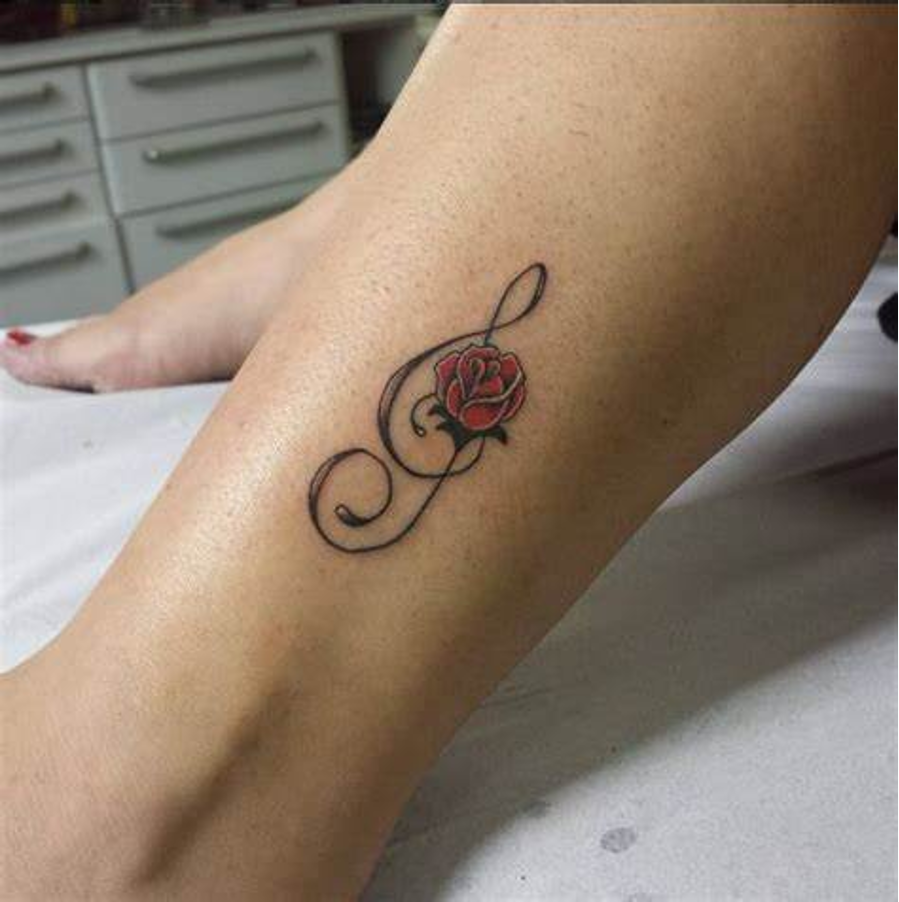 #12 Rose Heart Tattoo
Both men and women like getting tattoos of hearts and flowers. The rose and the heart are both powerful symbols that are known all across the world as love symbols.
Although the pattern is most commonly done in red, some individuals defy convention and choose white, yellow, pink, purple, or even black instead.
Rose-and-heart tattoos include banners, writing, and letters, and they are popular among parents who wish to reflect their children's names, children who want to reflect their parents' names, or even couples who get matching rose-and-heart tattoos.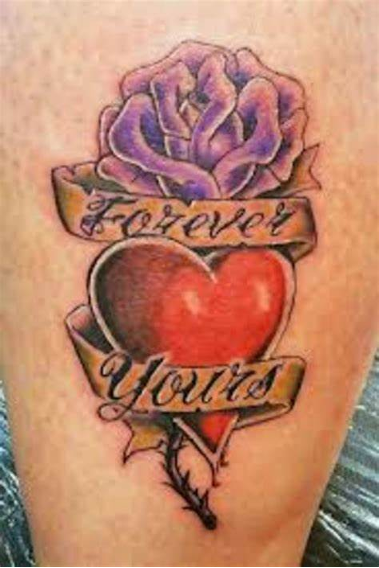 #13 Rose Infinity Tattoo
Just like rose-heart tattoos, rose-infinity tattoos come to celebrate love.
It represents friendship, sisterhood,  love, devotion, and loyalty to your lover but also to a passed loved one.
The rose inside represents beauty, and it is surrounded by an infinity sign, which represents how life continues even after death, forever, with no end. This is a lovely and meaningful tattoo for anyone who wishes to remember a loved one who has died.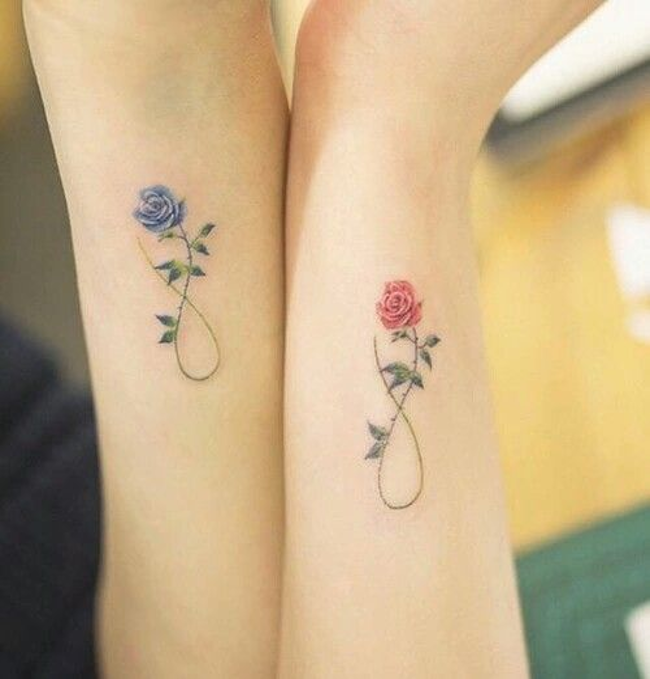 #14  Rose Date Tattoo
To commemorate an important occasion, this rose date tattoo is frequently done in roman letters. Whether it's your child's, parent's, lover's, marriage date, or whatever day is closest to your heart.
It might also be the date your partner or someone you care about died. So, what better way to commemorate that date than with a rose?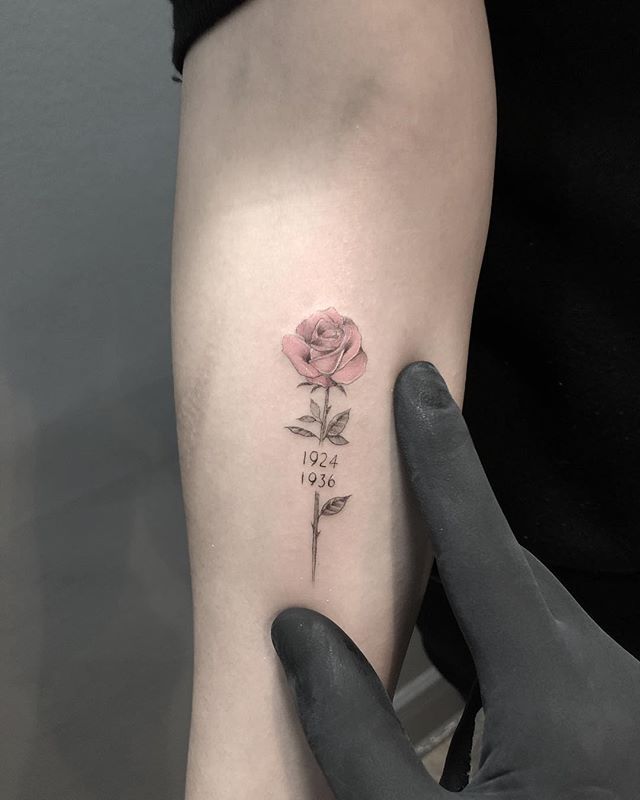 #15 Rose Quote Tattoo
Thousands of designs and placements to choose from! What's your all-time favorite quote? We love that one too! How about tattooing it with a rose for daily motivation and reminders?
This tattoo design will also help you document your battle, your victory, or your strength. You can get it in small sizes too.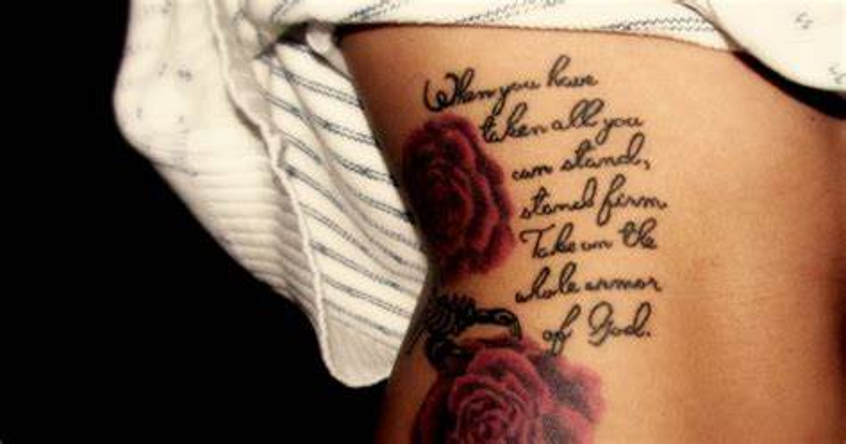 #16 Rose Behind Ear Tattoo
A rose behind the ear tattoo is an excellent alternative if you want a smaller and simpler rose tattoo. This lovely arrangement is so sweet and feminine that it may be paired with an evening gown and stilettos. It exudes "feminine grandeur" and may be worn with a variety of outfits.
If you're a first-timer, you should know that it's a little unpleasant but well worth it!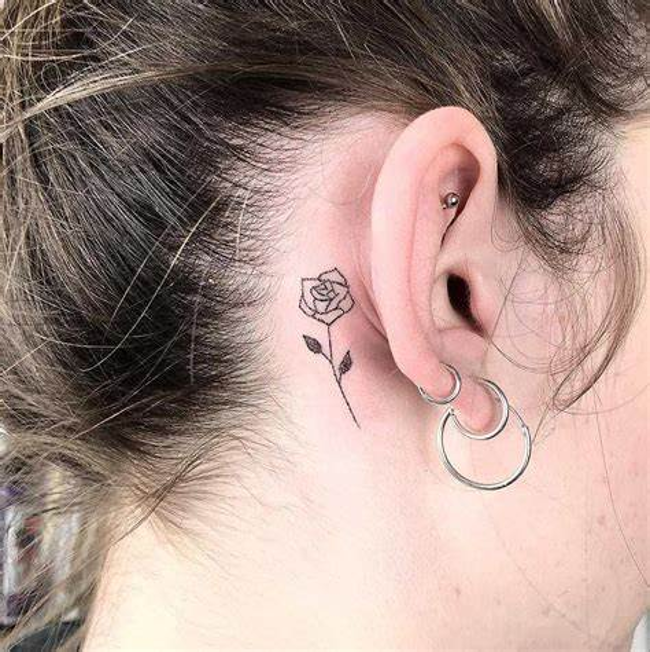 #17 Rose on Finger Tattoo
Another excellent placement for rose tattoos. However, this one is far more obvious.
The key to this vibrant and brilliant design is effective highlighting, which will entice the observer with its positioning.
A rose-themed middle finger tattoo is one-of-a-kind, and a lovely, little rose represents love and affection. If you believe in the unbreakable power of love, this little flower-finger tattoo design on the middle finger will sparkle like a diamond and radiate optimism and happiness.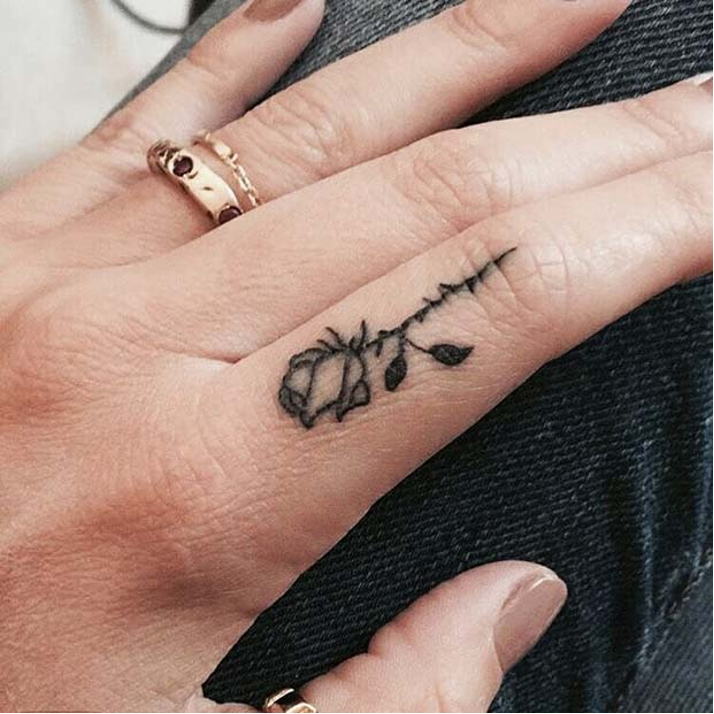 #18 Rose Ankle Tattoo
We love this simple yet stunning rose tattoo location. It has a lovely appearance.
feet.  A tattoo on the ankle is an excellent way to add an artistic touch to your feet and a great method as it is very simple, flexible, and fast enough to move from idea to final output.
Ankle tattoos are getting more fashionable as they symbolize strength. Because our blood arteries are mostly concentrated in our ankles, they signify strength because it takes a lot of effort to go through the day, hold down a job, care for children, and cope with other duties. Ankles contain powerful muscles as well, therefore they represent growth since muscles increase. Rose represents power and strength. You get it now…

#19 Rose Ribcage Tattoo
One of the most beautiful placements! This feminine design looks sensual and worth getting. It can be done horizontally or vertically depending on your preference. It can also be done in different colors.
We must say that it is our current favorite because of the flexibility to customize it in different styles.

#20 Rose Tighs Tattoo
Finally, saving the best for last! This crazy choice is for strong confident women who like to do things big and to perfection! It has some of the most beautiful designs and styles to pick from although it's a bit challenging.
Check how amazing the result could be!