The thigh is undoubtedly one of the most attractive tattoo placements for women. It may be visible or hidden depending on where you put a thigh tattoo. Therefore, a thigh tattoo can be either eye-catching or mysterious.
Thigh tattoos are a lot like upper-arm tattoos. You choose when to show them by wearing different kinds of clothing. In this case, thigh tattoos for women are perfect for the summertime, as it's the season for shorts and bikinis.
But tats on the thigh are not just a way of flaunting. They can also be a statement. When you pick a meaningful thigh tattoo, either big or small, it serves as a reminder for the viewers and yourself. And that's the power of a good tattoo; it touches hearts.
So whether you are getting inked for self-expression or aesthetic reasons, here is a list of thigh tattoos for women you may relate to. From small to big, simple to elaborate, you will find the one that represents you in this post.
Disclaimer: This collection of thigh tattoos for women is for inspiration only. Please do not copy the artwork. If you love these tattoos, follow artists and show them some support.
Do thigh tattoos hurt?
The pain level of thigh tattoos largely depends on the actual placement.
For example, an inner thigh tattoo may hurt more than the ones on the front thigh because the skin is more sensitive. So if you are less pain-endurant, the front and side of the thigh are better ideas.
It also varies on the size and design of the tattoos. Generally speaking, large tattoos tend to hurt more. And the more detailed a tattoo is, the more pain it will potentially cause.
But in the end, we all react to pain differently. If you are getting your first tattoo and have no idea how much pain you can take, start with something simple and small. The thigh has a large, flat space to tattoo on, and you can always add more to an old tattoo going forward.
Thigh tattoos for women with meaning
Rose thigh tattoos
Roses often represent passion and love. Depending on the style you opt for, rose thigh tattoos can be bold, vibrant, or small, simple blackwork. Below is a list of rose thigh tattoos for women to give you some ideas.
Stunning red roses upper thigh tattoo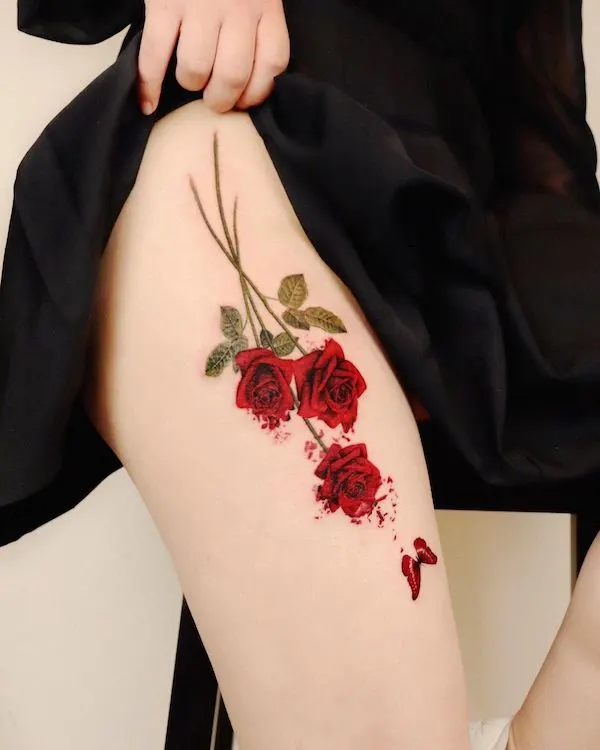 @peria_tattoo
Small rose hip and thigh tattoo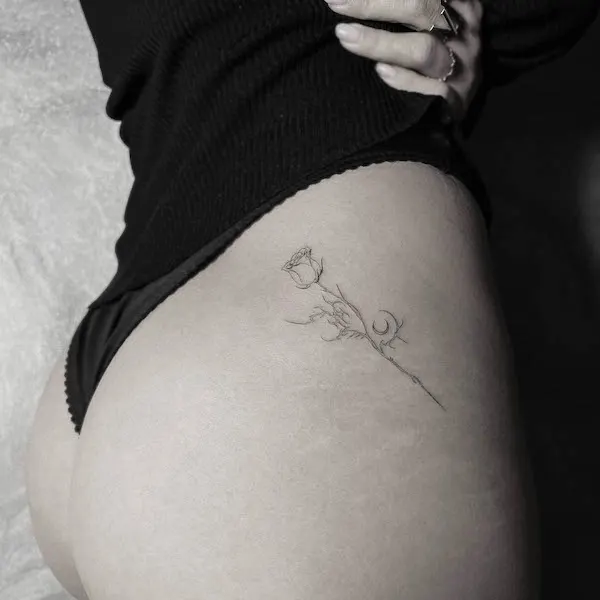 @jakenowicz
Elaborate side thigh tattoo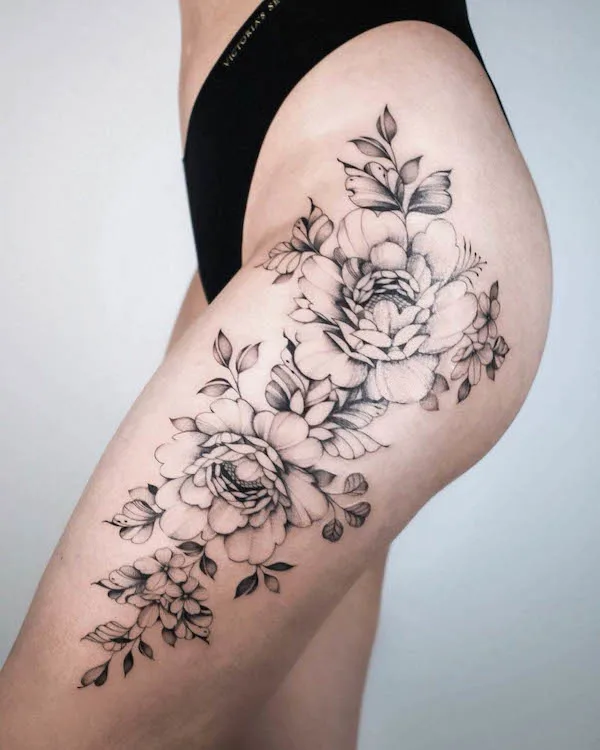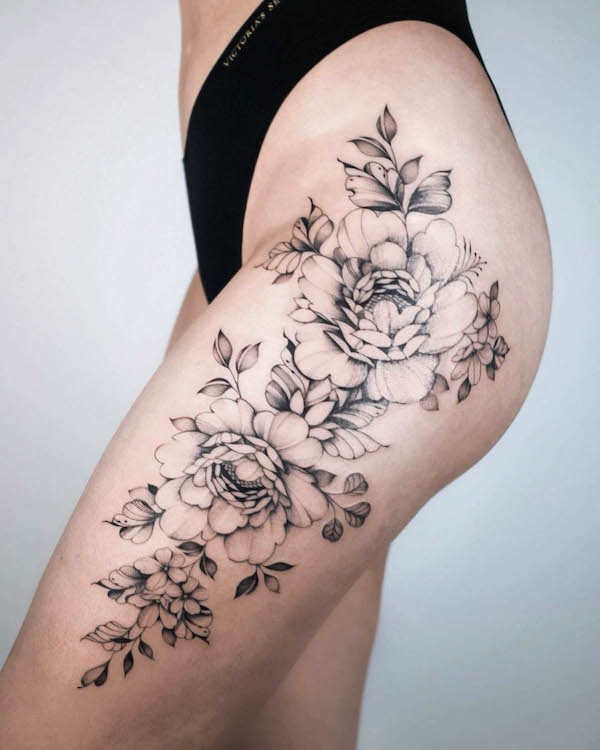 @mafmonroy
A thigh tattoo doesn't need to be limited only to the thigh. You can extend it to the waist or cascade it down along the side of the leg.
Realism rose and butterfly thigh tattoo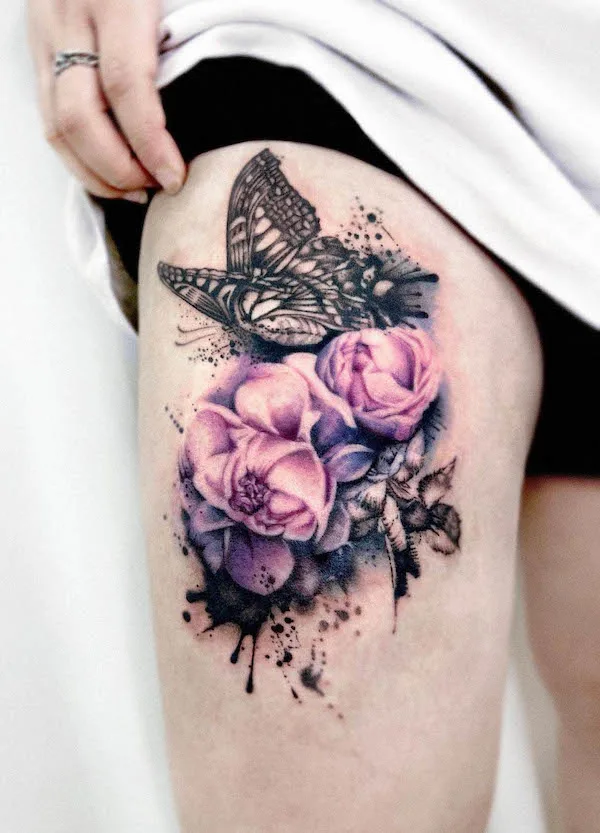 @gooka.tattoo
Flower thigh tattoos
Besides roses, many different flower species make great thigh tattoos. And each flower tattoo has its own symbolism.
Because of the various colors, shapes, and meanings, flower tattoos provide endless possibilities for everyone.
The trick to getting the perfect flower tattoo? Find the one whose symbolism you relate to, and personalize it with a color palette of your choice. This way, you will come up with a design that is both meaningful and personal.
Family birth flowers tattoo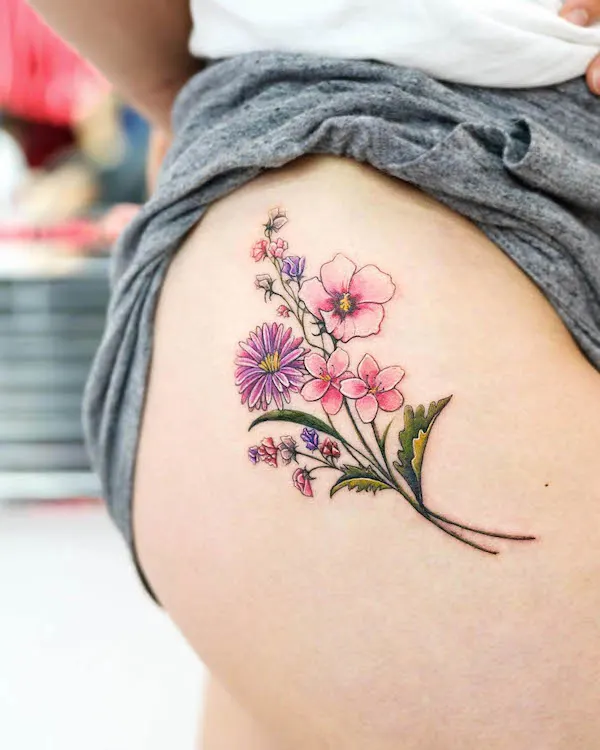 @jooyoung_tt
Family tattoos don't always have to be initials, portraits, or names.
This thigh tattoo takes a different approach by bonding the birth flowers of each family member together. It conveys that each person may be different, but that doesn't stop them from being inseparable.
Floral compass tattoo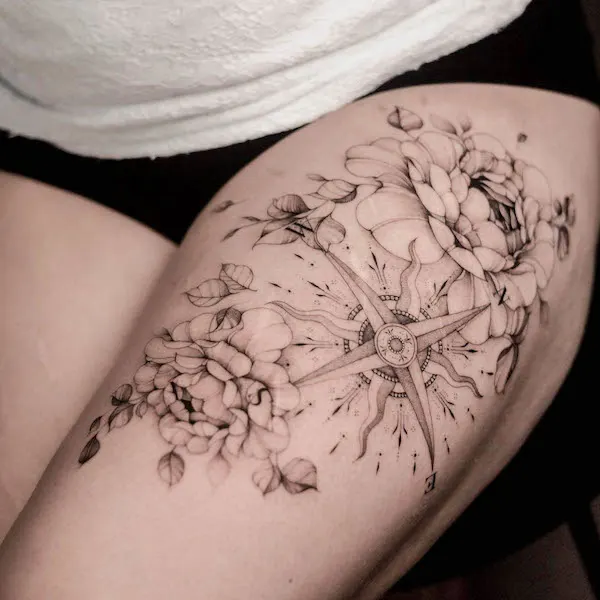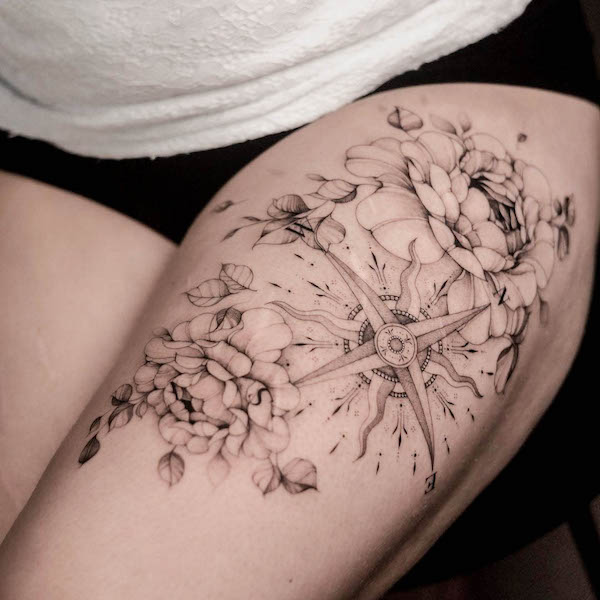 @dnq.tattoo
Compass tattoos often symbolize guidance, intuition, or home. Besides the meaning it adds to this beautiful floral tattoo, it also creates a different texture, making the tattoo more comprehensive.
Beautiful flowers thigh tattoo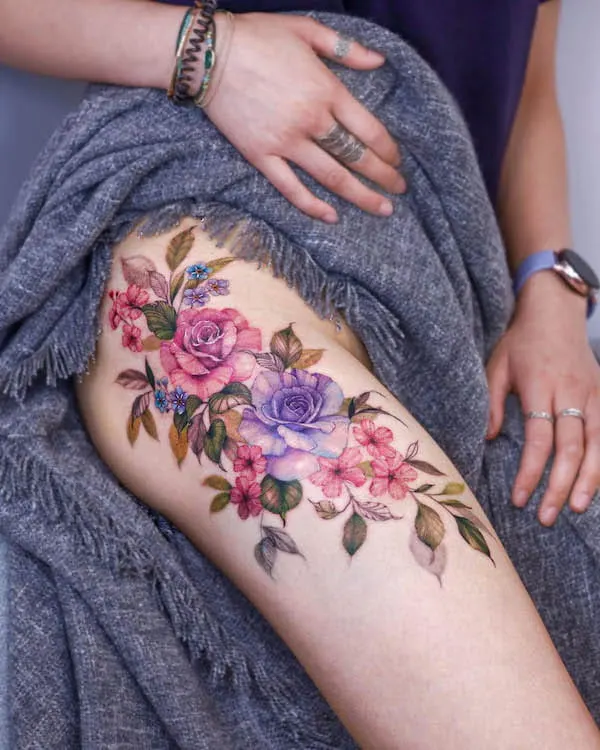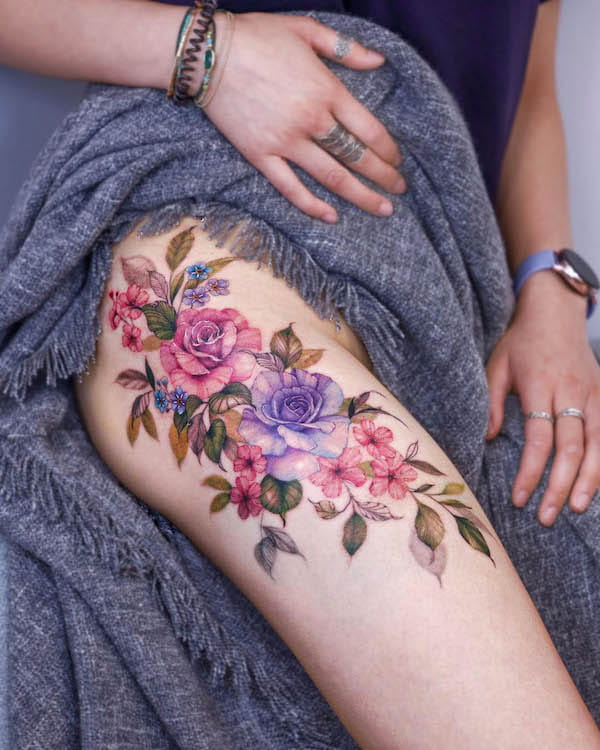 @tattooist_silo
Sunflower thigh tattoo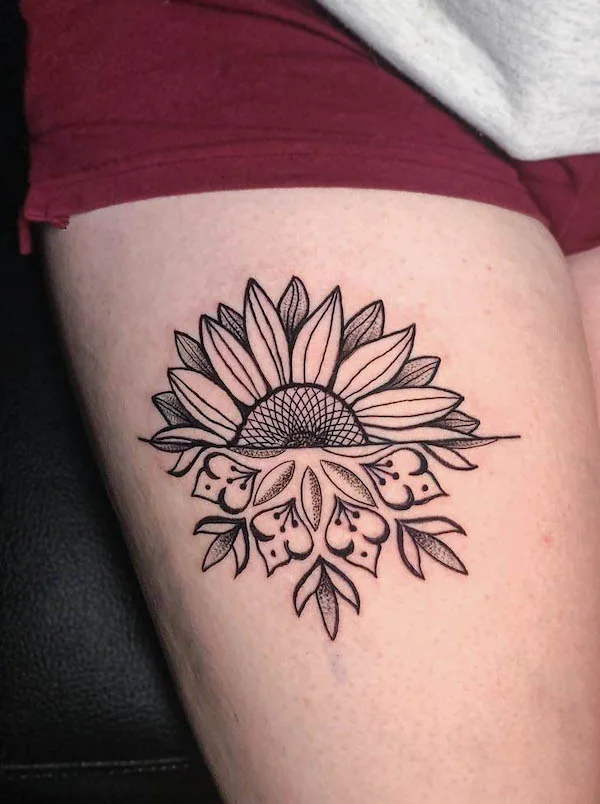 @daveinks.88
Sunflowers are a token of positivity and energy. Their bright yellow color is naturally uplifting. Although this sunflower is black and grey, it stands out because of its design.
The bottom half of the sunflower is actually made of the Queen of Spades, symbolizing wisdom and creativity. What a clever way to add meaning to a tattoo.
Sunflower hip and thigh tattoo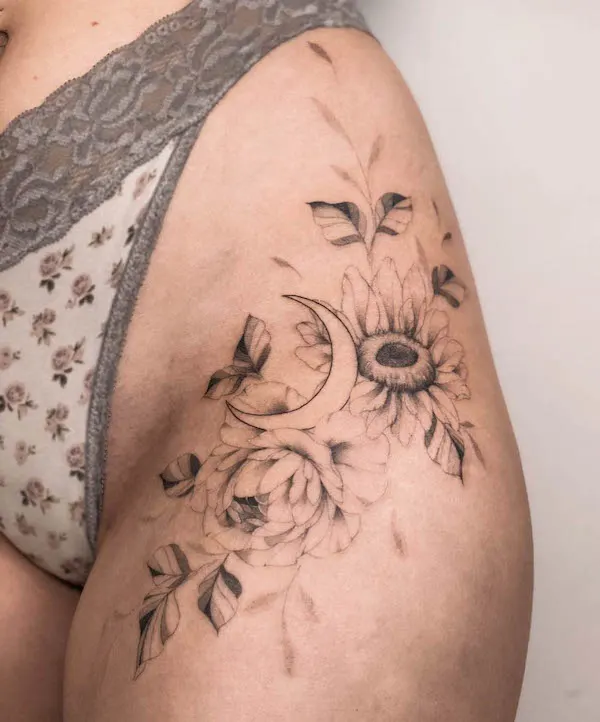 @bakken_tattoo
Lily black and white ink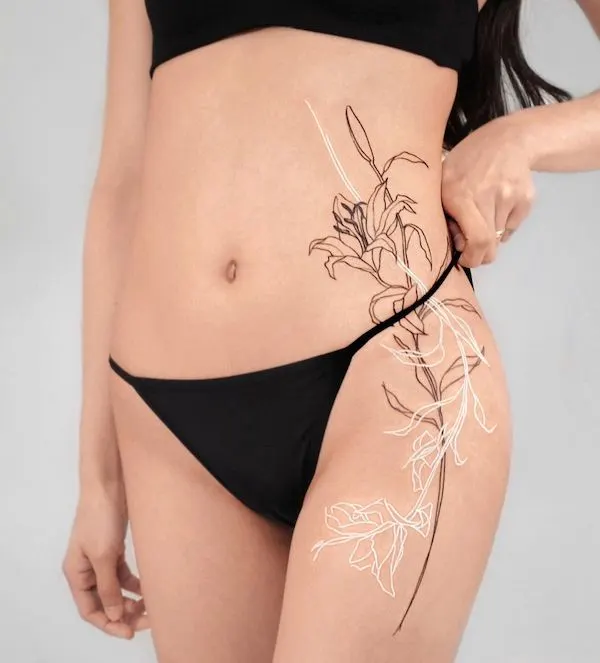 @pauline.son_
Lilies symbolize rebirth and purity in a tattoo. However, as they come in different colors, the meanings may vary.
White lilies are associated with innocence, often used to represent one's purity in heart. Calla lilies, also known as black lilies, represent elegance and mystery.
This waist-to-thigh tattoo combines both and creates a visually contrasting yet beautiful design.
Morning glory and vines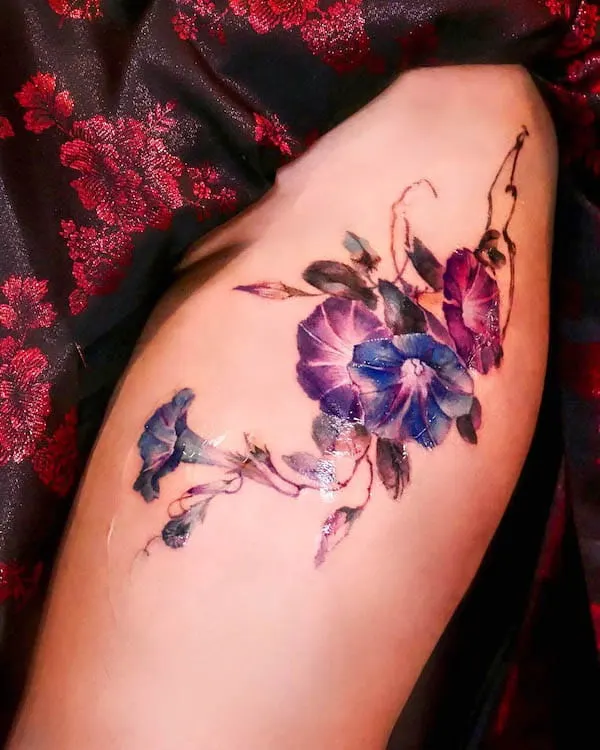 @seolheetattoo
Black and grey flowers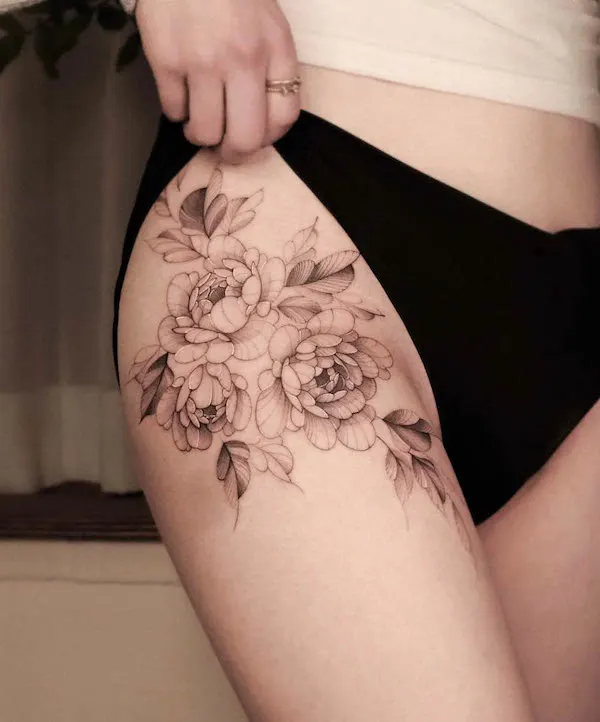 @saku.tatt_
Black and grey lotus flower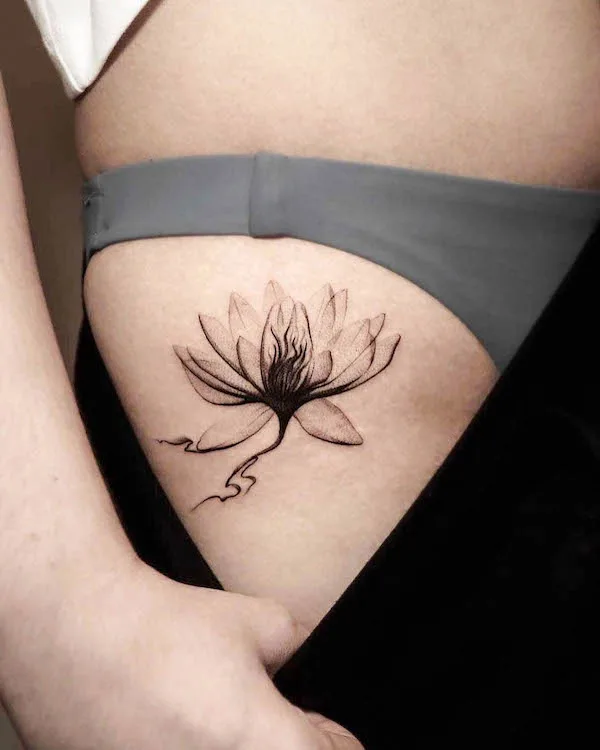 @indygrain
The lotus flower is one of the most adored motifs across cultures. We can often spot them in yoga tattoos or meditation tattoos. And it's not hard to see why.
Different from most flowers, the lotus grows in ponds above water. But its petals are never contaminated by the mud around them, giving them the symbolism of purity and calmness.
Dragon tattoos on the thigh
In the west, dragons might be seen as evil creatures that burn down villages. In the east, however, they represent the emperors and royalty.
So a dragon tattoo's meaning may vary depending on your culture. But either way, dragons make great thigh tattoos for women because of their elongated, curvy body shapes.
If you want a tattoo accentuating your body silhouette, dragon tattoos may be a good fit. They are also badass tattoos, as dragons are no doubt powerful.
Floral dragon thigh tattoo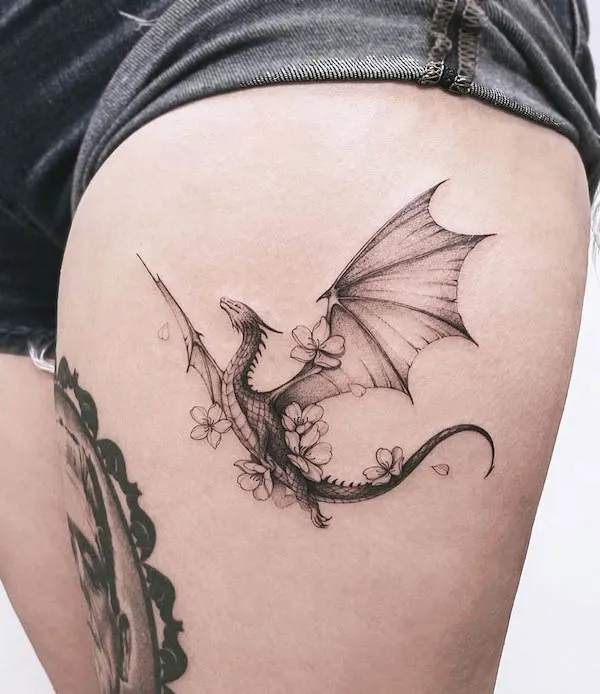 @baronarttattoo
Black dragon thigh tattoo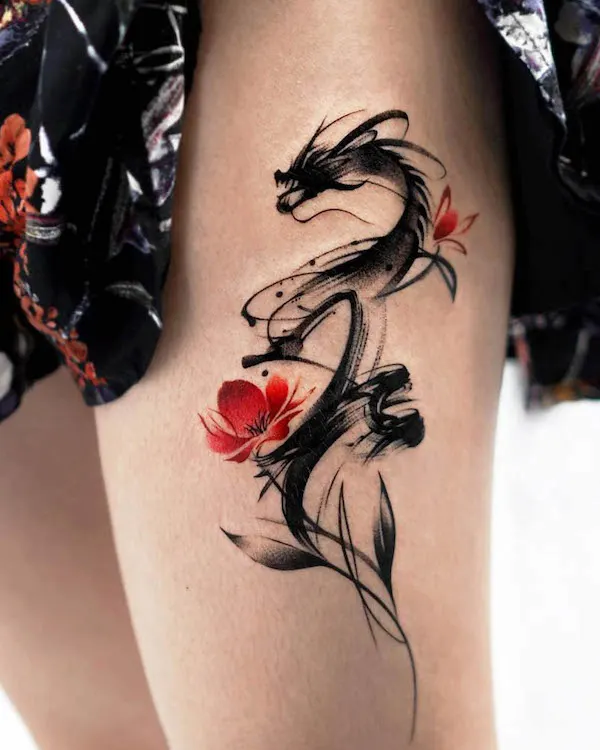 @mukyeon_tattoo
Butterfly thigh tattoos for women
Butterfly thigh tattoos are for you if you are on a new life chapter. They symbolize changes and rebirth because butterflies must go through metamorphosis before spreading their wings.
They also fit in the thigh placement, as you can tattoo them as small or big as you want. A symmetrical butterfly tattoo will reveal your determination to embrace changes and also emphasize your femininity.
Butterfly and blood moon ornamental tattoo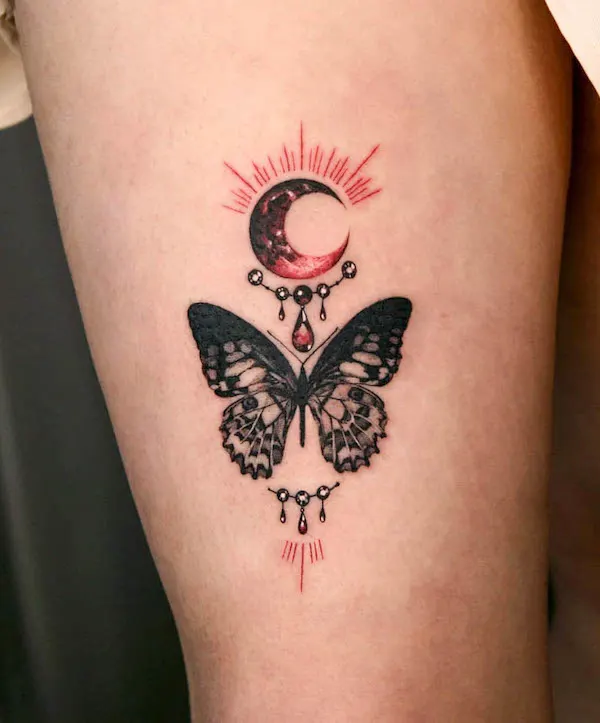 @tattooist_danha
Butterfly henna thigh tattoo for women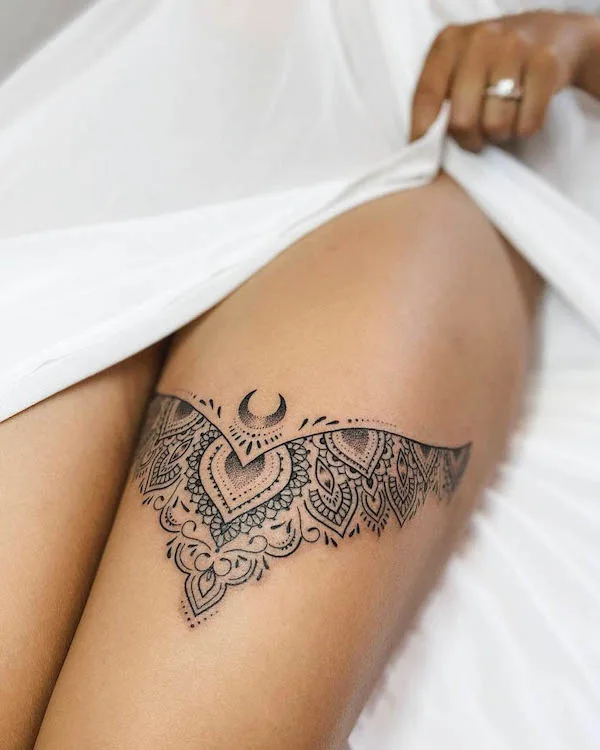 @anais_chabane
Red ink butterfly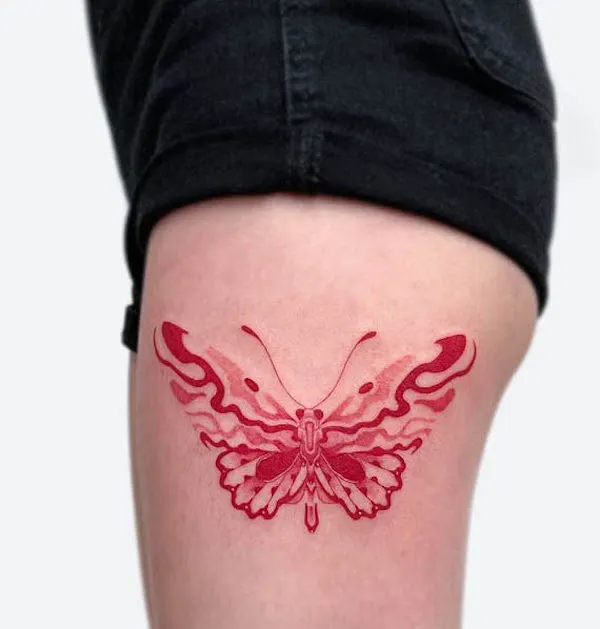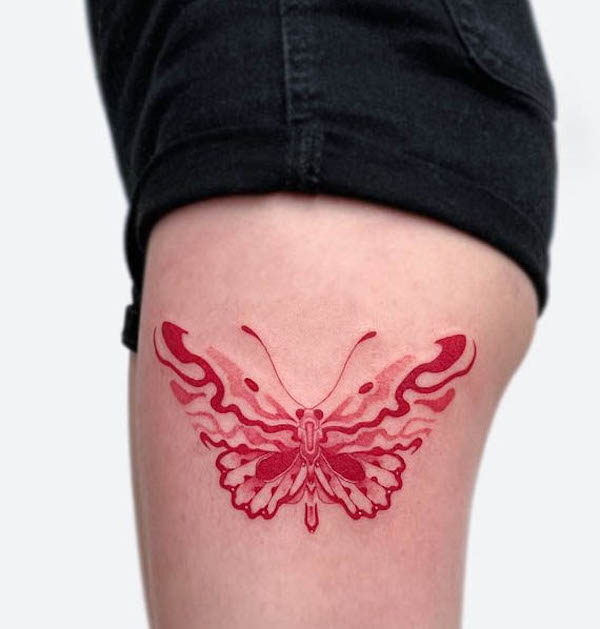 @nxe_xiner
Small thigh tattoo ideas
Usually, when we think about thigh tattoos, the big, bold designs would be the first to come to mind. But lately, we are seeing more and more people opting for tiny tattoos on the thigh. And there's a good reason.
Because they are easy to spot but difficult to observe, they attract the viewers to come near for a closer look. And if your tattoo is meaningful or creative, the impact can be as profound as large tattoos.
Below is a list of cute small thigh tattoos for women to subtly reveal your sexy side.
Tiny chilies sister tattoos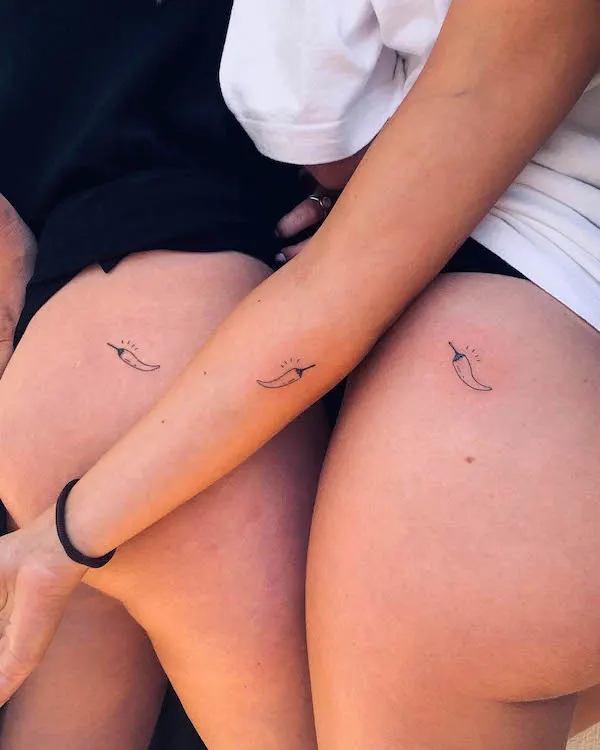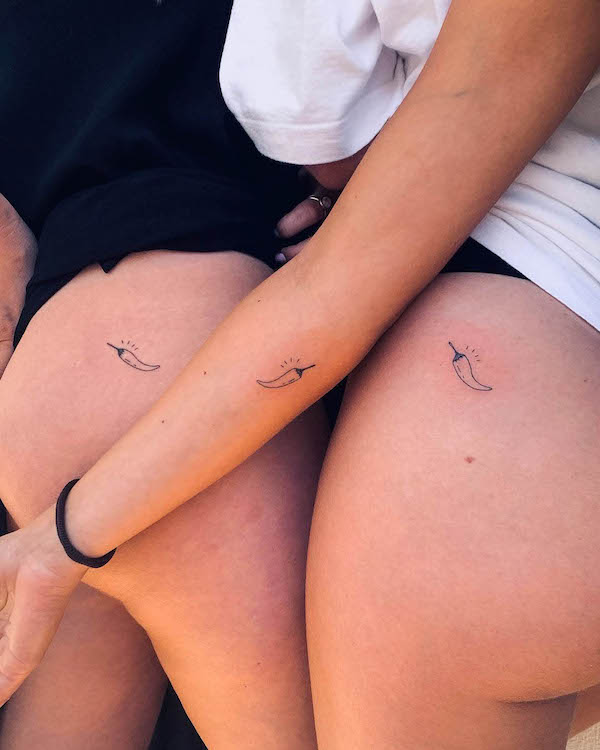 @handpoked_humancanvases
Hot and cute, these sibling tattoos not only pay tribute to the bond between sisters. They also add personality to the skin.
Tiny rose tattoo on the thigh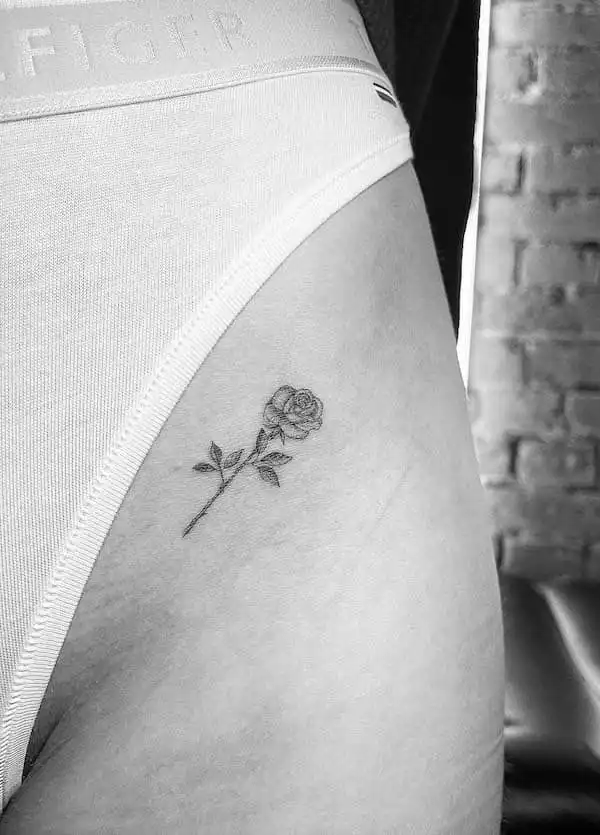 @line.art_.tattoo
Small shark thigh tattoo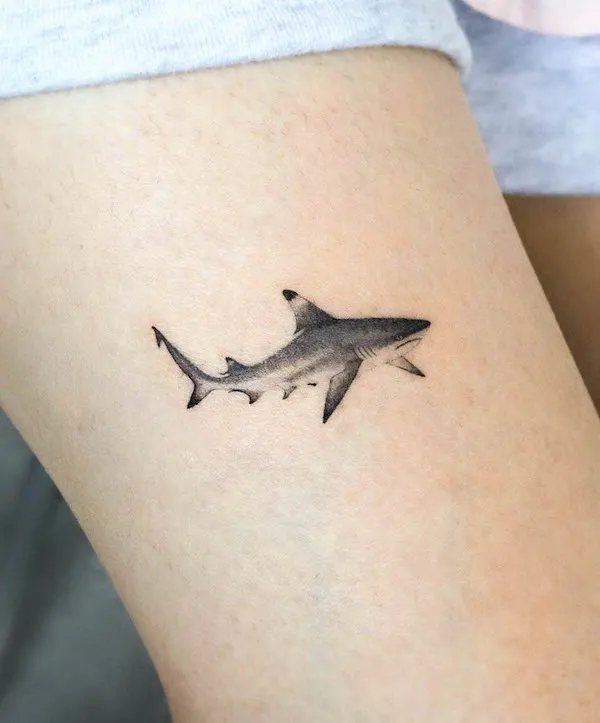 @eunyutattoo
Small bow thigh tattoo
@palette.tt_
Small butterfly upper thigh tattoo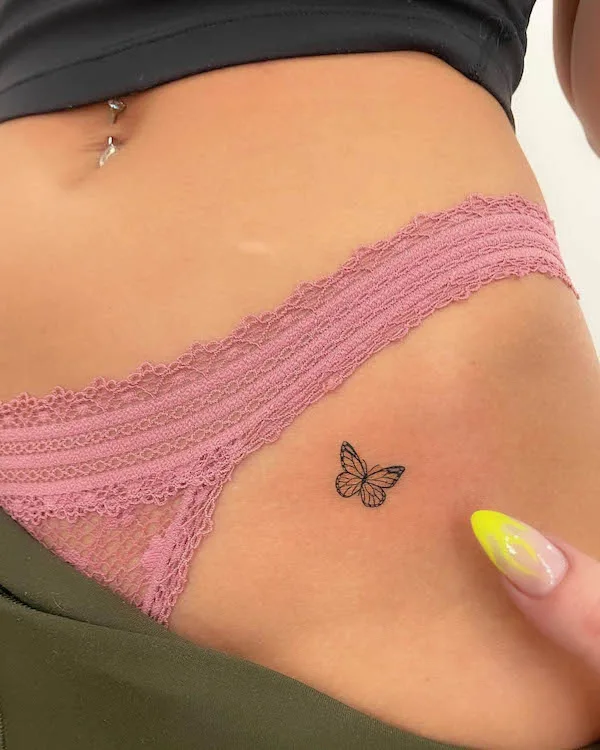 @joannamroman
Small Scorpio thigh tattoo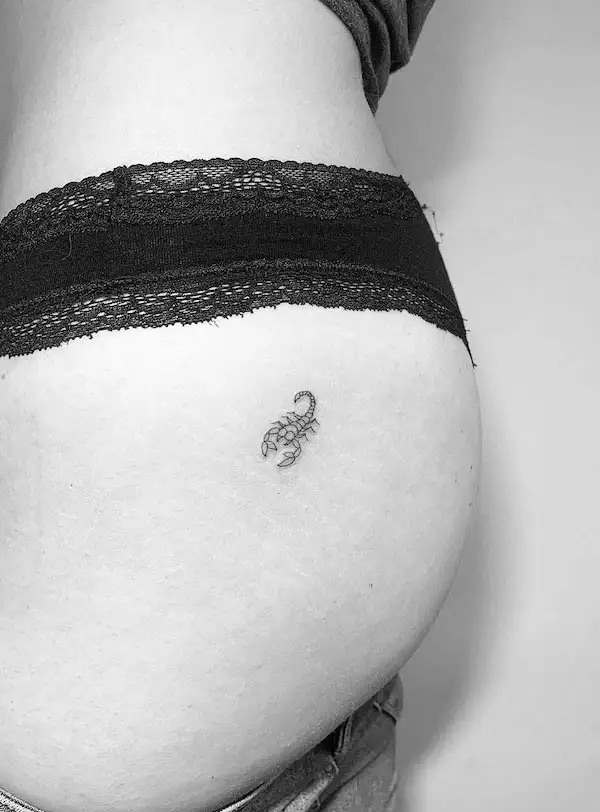 @line.art_.tattoo
Hip and thigh tattoos refer to those that are placed on the top of the side thigh, adjacent to the hip area.
Because this placement is more private compared to the front or the side, hip and thigh tattoos are naturally alluring and mysterious.
Scorpio tattoos are a good fit for the placement as Scorpio is a mysterious sign. A tiny scorpion like this would be a perfect representation of the Scorpio's attractiveness.
Tiny snake on the upper thigh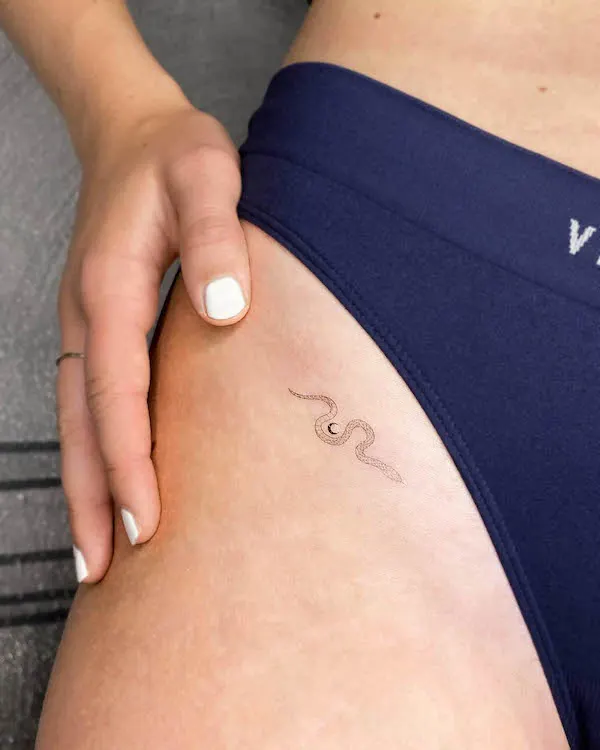 @jakenowicz
Meaningful quote thigh tattoos for women
Quote tattoos are often scripts of a meaningful phrase or sentence. The possibilities are endless if you consider the characters' fonts, colors, and sizes of the characters.
To come up with a unique quote thigh tattoo, start with the meaning first because that's what a quote tattoo is all about. Think about a line or a motto you resonate with.
And after that, try to mix and match the line with different fonts using computer software. And see which one you like better. Then, pick two to three ideas for a tattooist to modify.
Upper thigh statement tattoo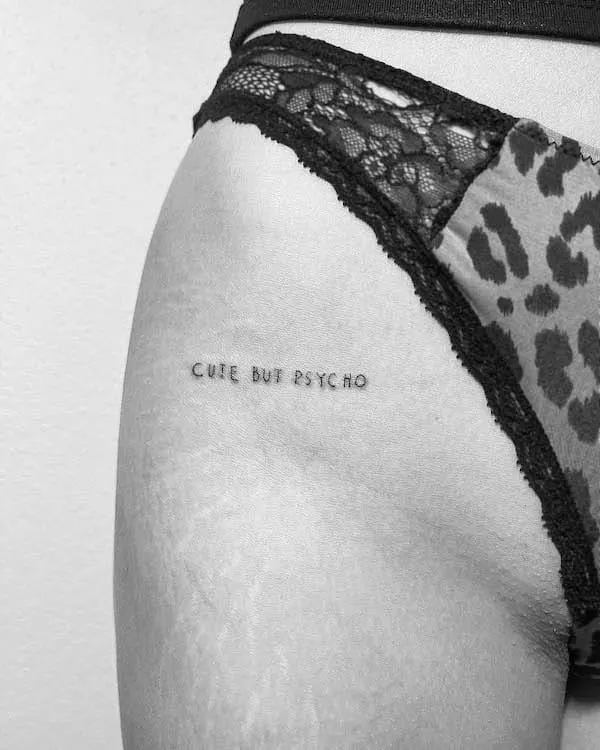 @line.art_.tattoo
Fear no evil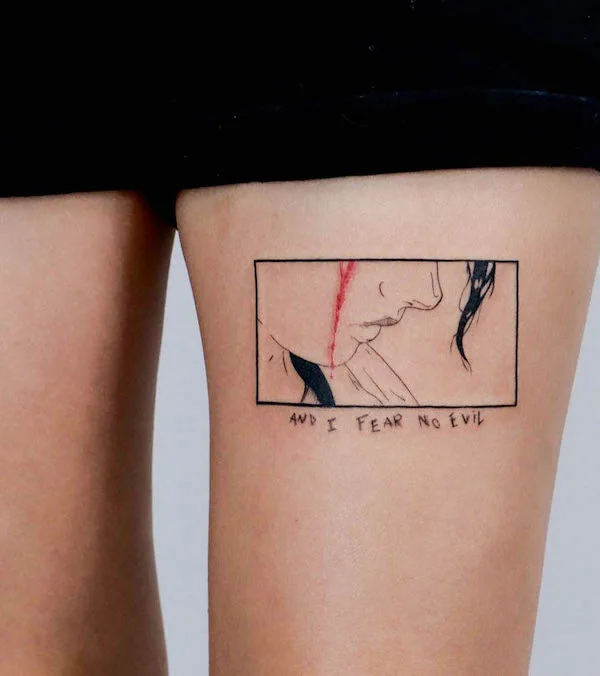 @modoink_gary
Quote tattoo on the side of the thigh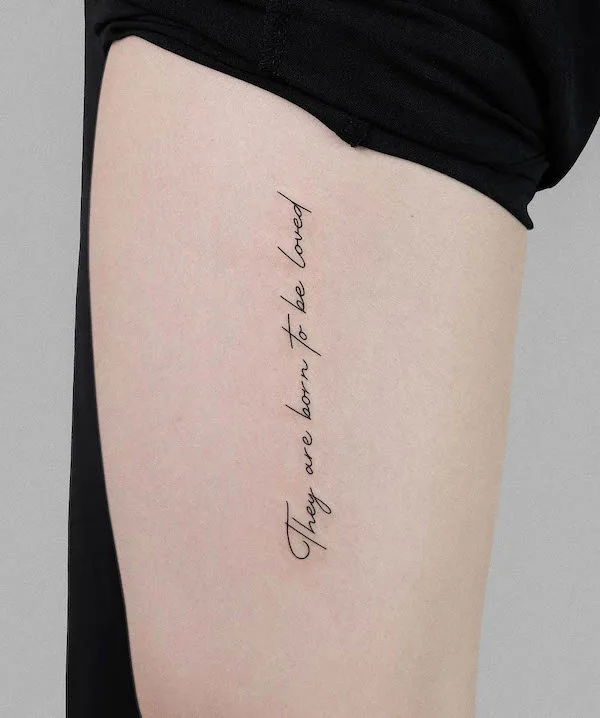 @floi.tattoo
Never enough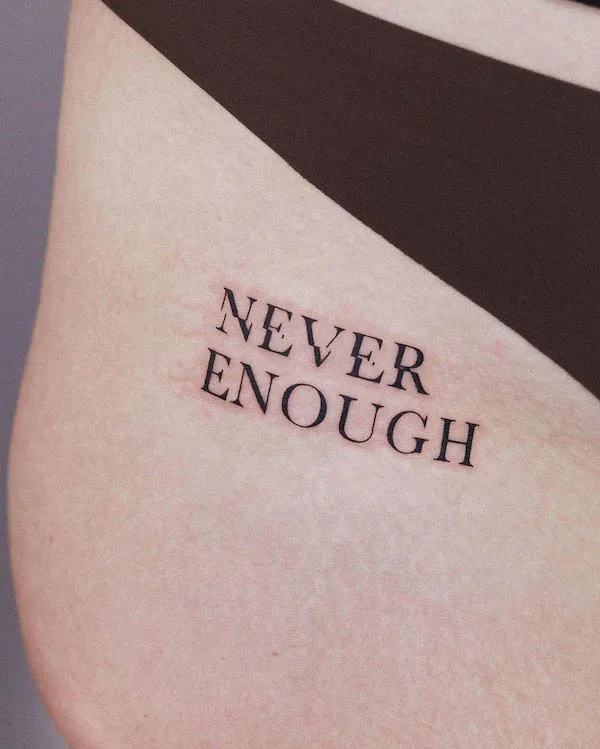 @baekryeon_tattoo
Elegant thigh band tattoos
There are thigh tattoos, and there are thigh band tattoos. While a thigh tattoo can be a single motif of your choice, thigh bands are usually a collection of imagery that connect with each other.
Like the bracelet, necklace, or armband tattoos, the most common patterns for thigh bands are flowers, leaves, and vines. But you can also explore and experiment to come up with something new.
Blue leaves around the thigh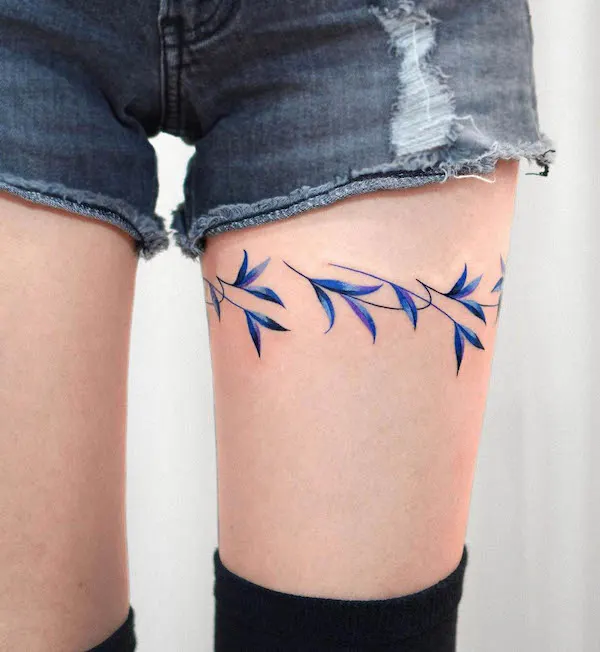 @eden_tattoo_
Tororo and friends thigh band tattoo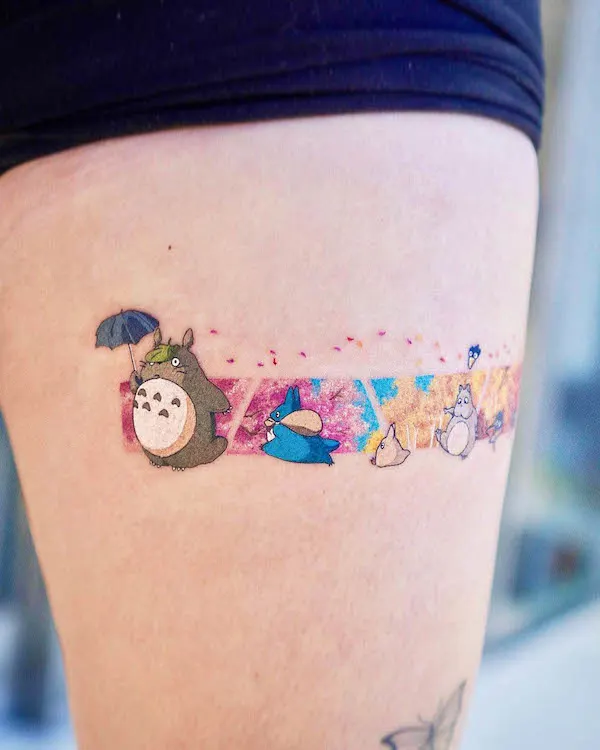 @daldam__
This cartoon character tattoo shows another version of thigh bands.
By connecting these cute characters together, this thigh band tattoo not only looks cohesive. It also represents the profound influence of the cartoon on the wearer.
Flower thigh band tattoo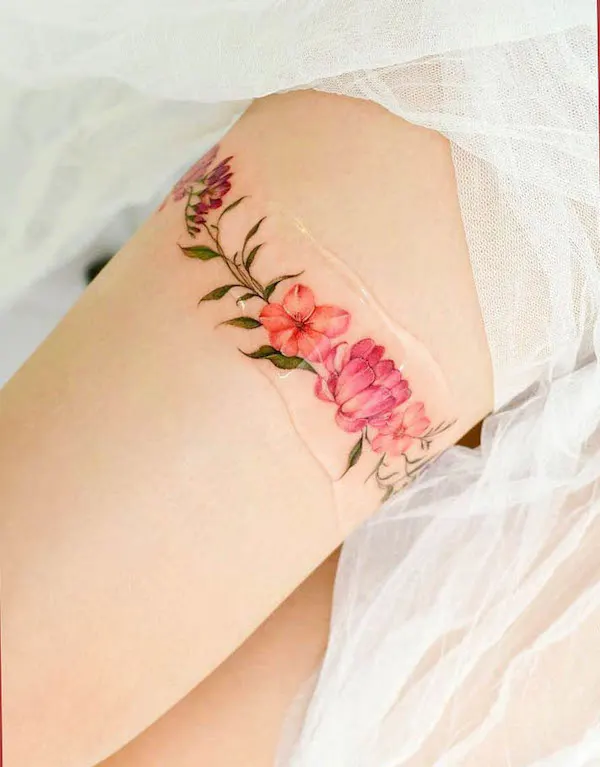 @yerae_tt
Black ornaments on the thigh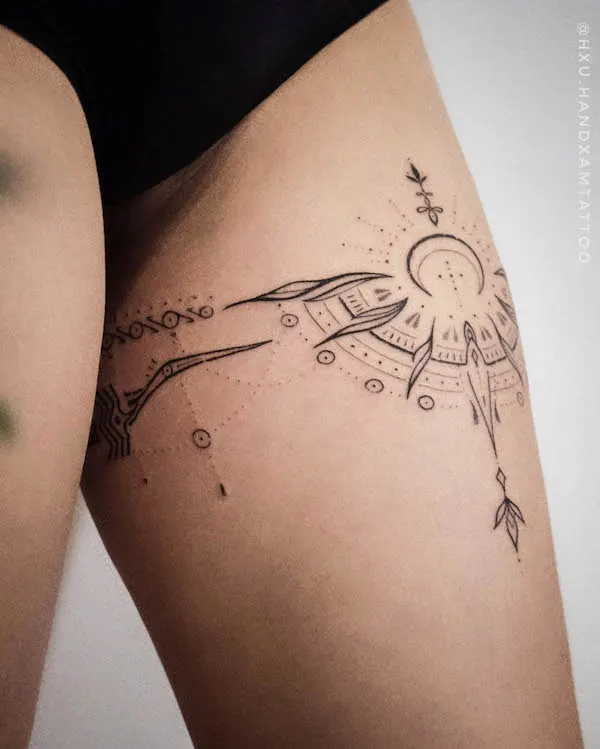 @hxu.handxamtattoo
Butterfly and botanical thigh band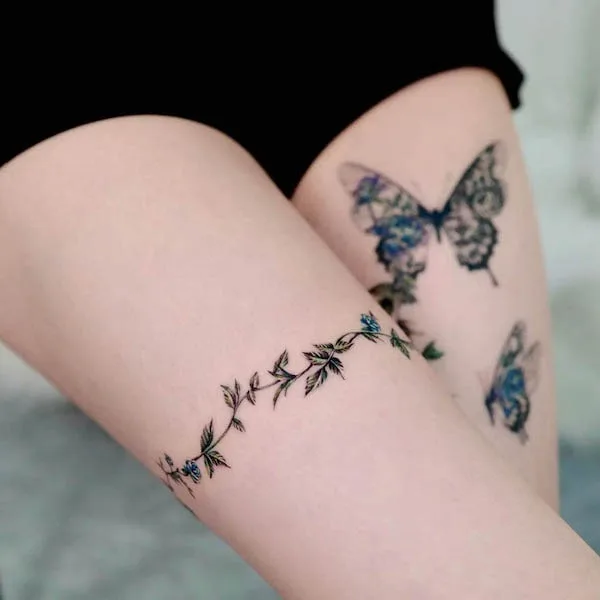 @forest__tt
Snake thigh tattoos for women
Similar to dragons, snake tattoos fit into the thigh placement because of their long, stretched bodies. You can place them vertically on the thigh as if climbing up the body. Or you can wrap them around the thigh to create a thigh band tattoo.
In terms of meaning, snakes usually symbolize greed in western countries. Thus they are seen as evil. But in the east, people view them as a symbol of protection and fertility.
Either way, snakes are mysterious and powerful by nature, something you don't want to mess with. So if you want a tattoo to awaken your inner strength, snakes might be the one you are looking for.
Snake thigh band tattoo
@e.nal_.tattoo
Snake and flowers thigh band tattoo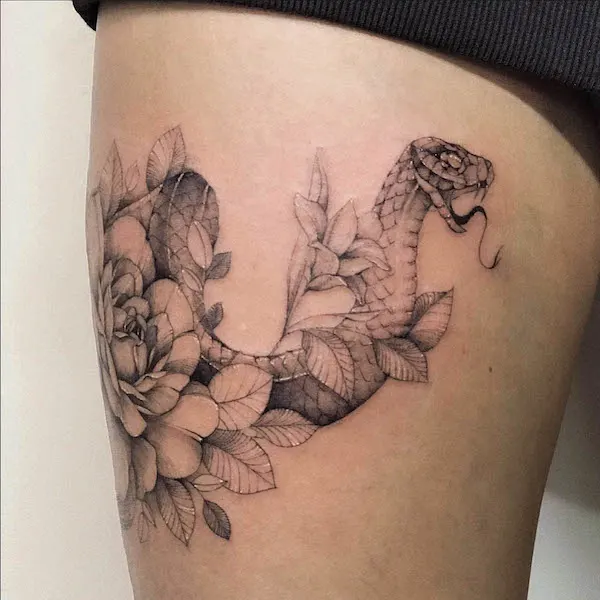 @dnq.tattoo
Side thigh fantasy snake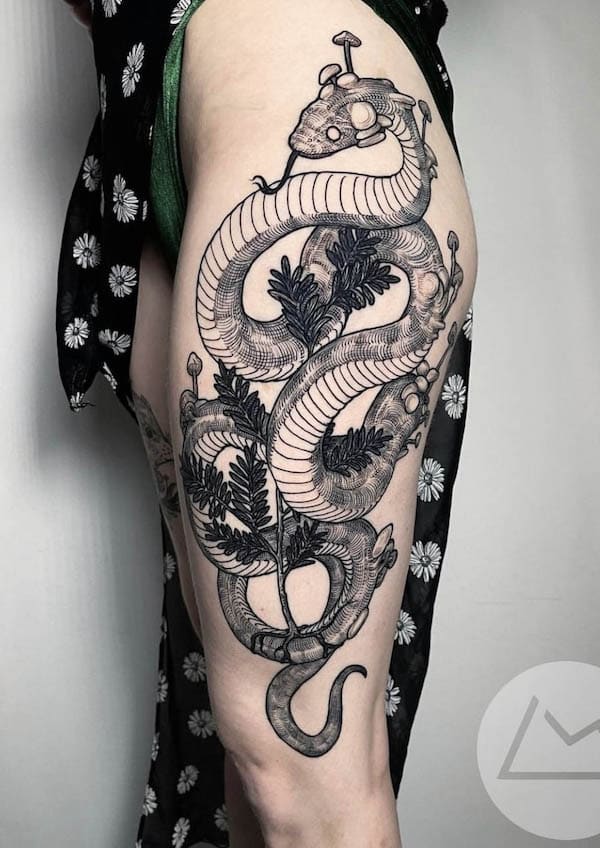 @allsacredtattoo
Animal tattoos on the thigh
We all have an animal that we adore. It can be a pet like a cat or a dog. Or your spirit animal might be something wilder like a lion or a wolf.
When tattooing animals on the thigh, the first thing to consider is the size. While you can go big, not every animal is a good fit for large tattoos.
For example, a large lion on the thigh looks stunning. But a huge cat may seem weird. So if you want to narrow down your search, below is a list of animal tattoos on the thigh.
Lion and flower thigh tattoo for women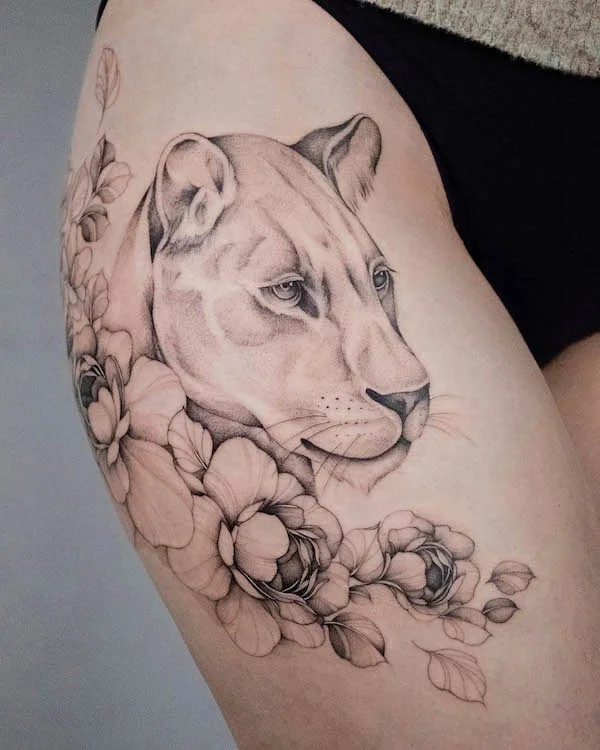 @tasiatattoos
Purple whale
@ornot_tattoo
Pisces fish thigh tattoo
@leean.ink
Fish tattoos usually symbolize freedom and flexibility. But when you have two fish swimming towards each other, the tattoo may represent the Pisces sign.
Fox spirit tattoo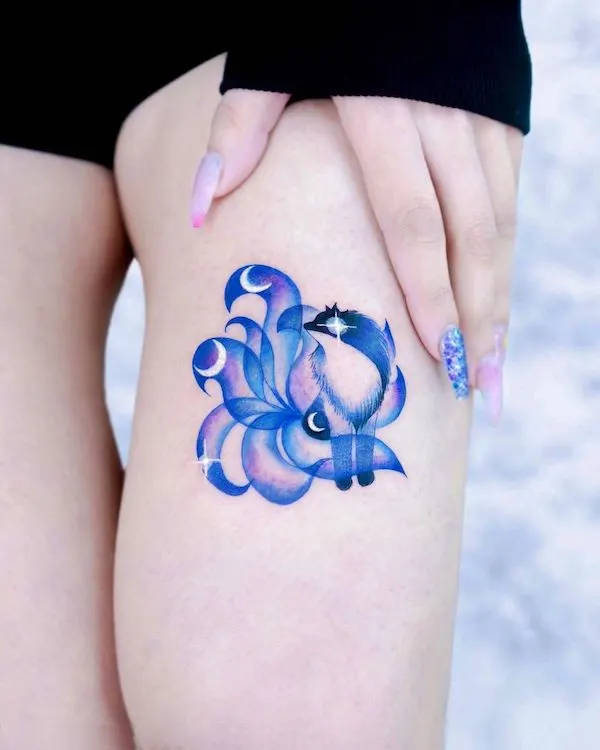 @hwyl.tattoo
Cute rainbow and cat tattoo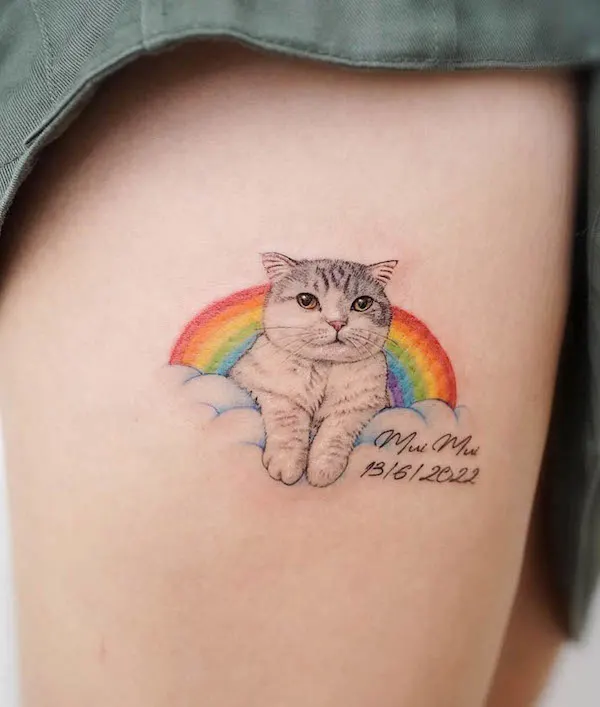 @hktattoo_ying24
Intricate birds and flowers
@mylittleblueforest
Most bird tattoos are smaller. This tattoo, however, upscales by adding flowers and the moon to the background. The twist brings a dreamy feeling and a natural transition to the tattoo.
Ornamental thigh tattoos for women
Not all tattoos have to be meaningful. In fact, in our interviews with tattooists, some point out that ornamental tattoos tend to stand the test of time better.
So if you are unsure what tattoos to get, here is a list of ornamental thigh tattoos that act as jewelry on the skin.
Gold frame and gemstone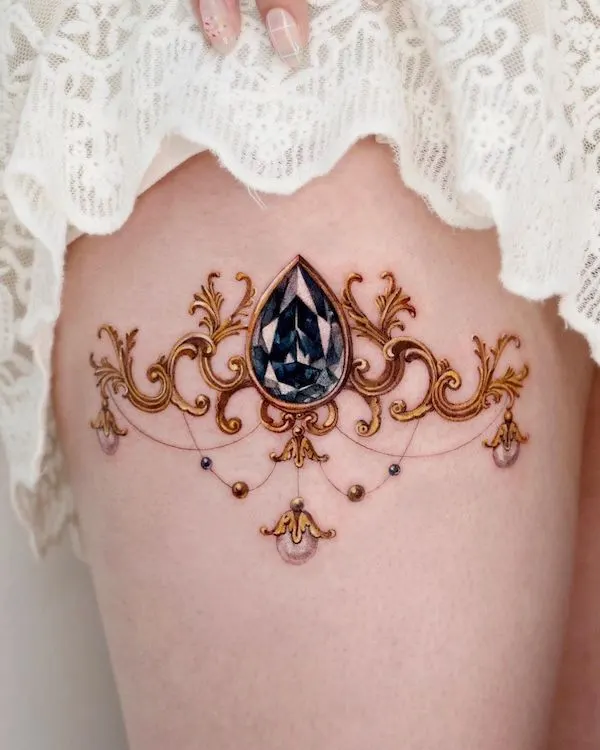 @chou_ta_1
Abstract ornament thigh tattoo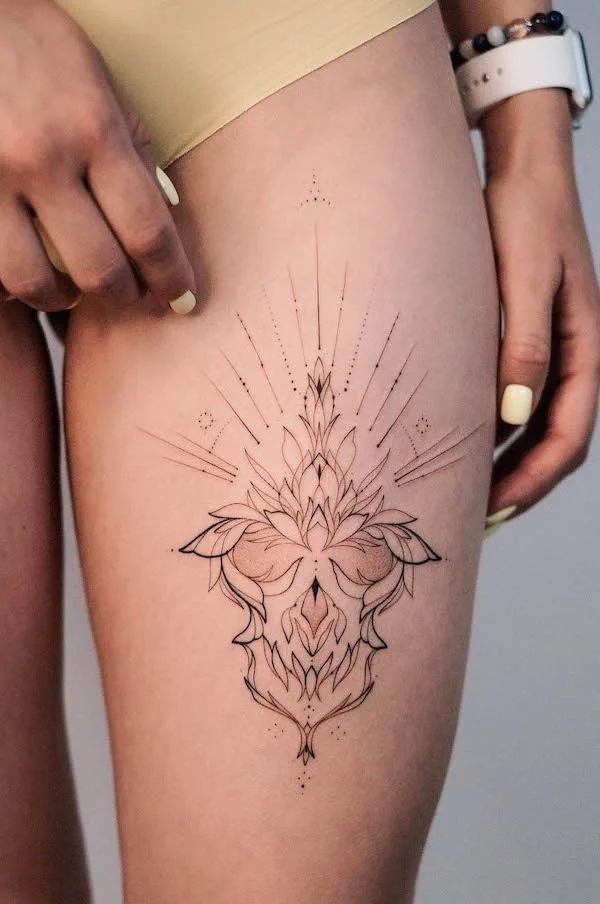 @flow.tts_
Black ornament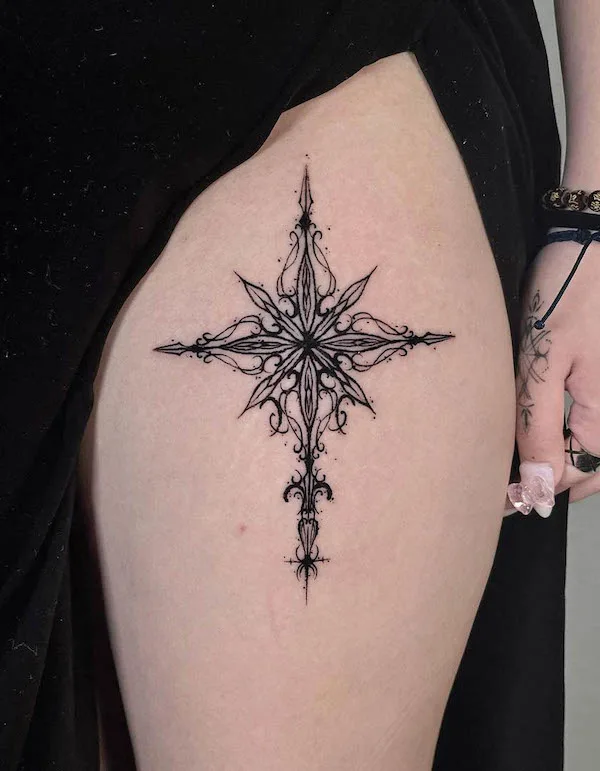 @kwann_ew.blk_
The magic scepter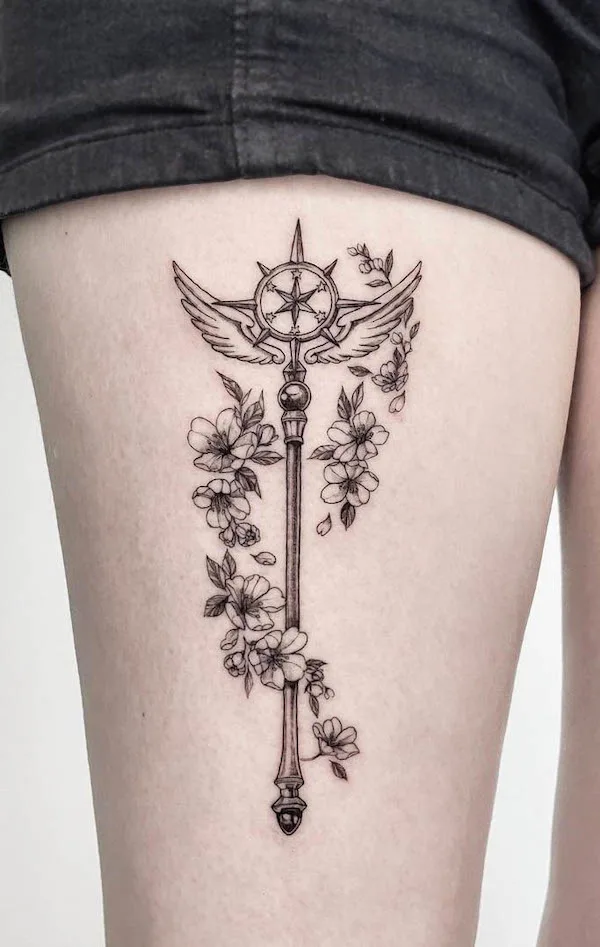 @paeonytattoo
Stunning jewelry tattoo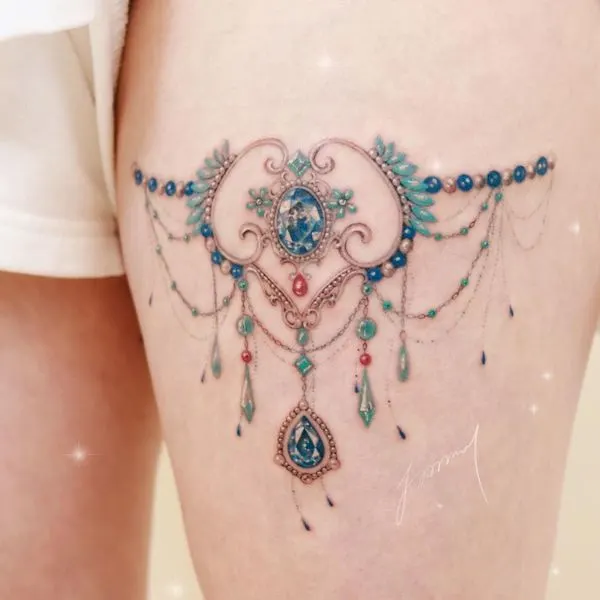 @tattooist_jammy.j
Meaningful thigh tattoo ideas
The best tattoos are personal and meaningful. However, they usually require the wearers to clearly understand what they are trying to express.
Maybe you want a tattoo that reminds you to love yourself. Or you may be searching for a deep tattoo about mental health.
So how do you come up with something meaningful?
First, write down what you are trying to say. Then search for three to four symbols that are associated with the idea.
For example, butterflies symbolize rebirth and wings usually mean freedom. Take them to a tattooist and discuss the possibilities.
It's a process. But it's worth the effort when you have a meaningful tattoo that will inspire you for a lifetime.
Abstract fine line tattoo on the thigh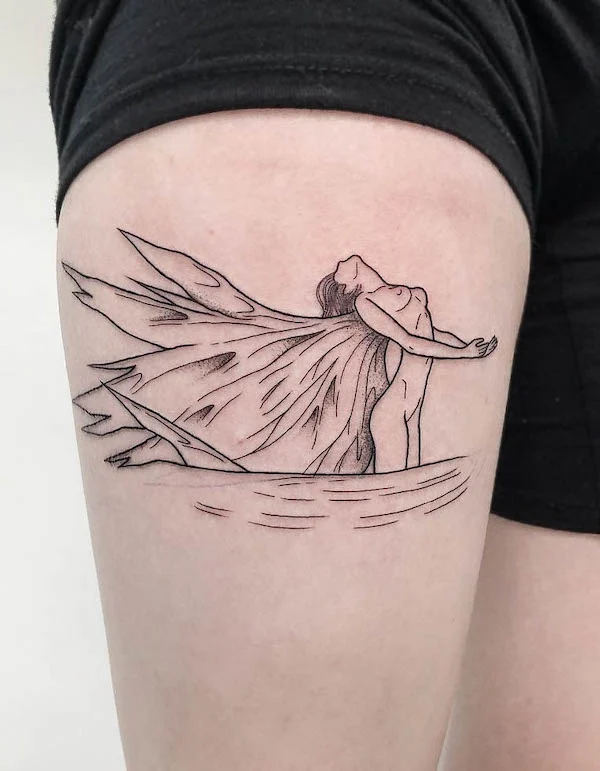 @muchttoomuch
Heaven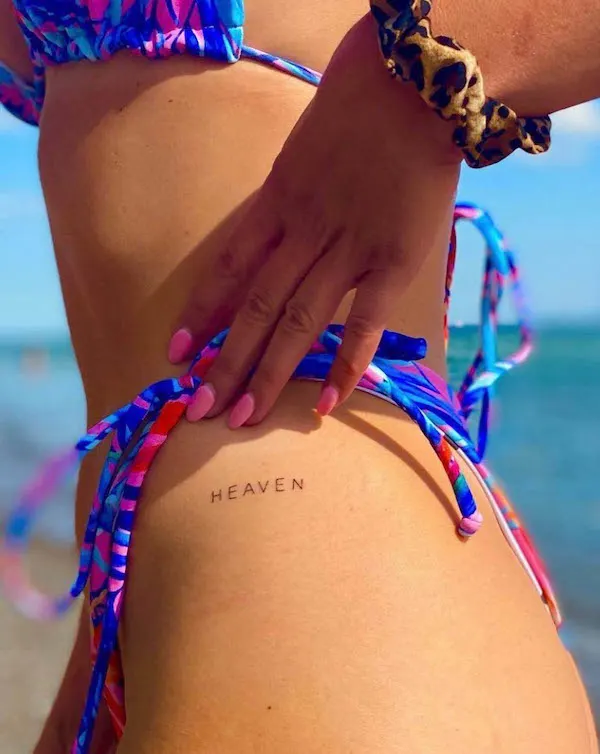 @joannamroman
Fine line self-love tattoo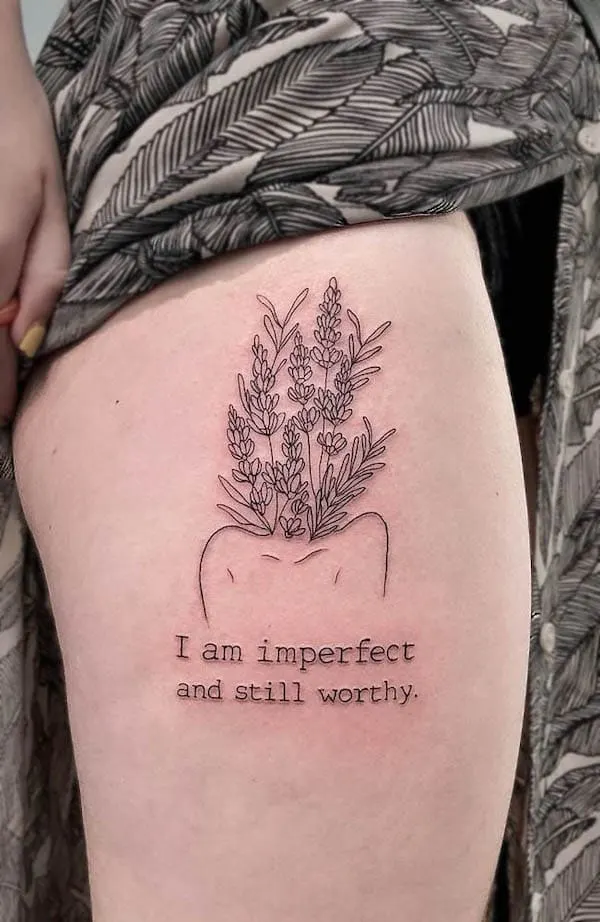 @muchttoomuch
Creative tattoo ideas for thigh
So far, we've covered women's most popular thigh tattoo ideas, roses, dragons, snakes, etc. And you may already find what you are looking for.
But some tattooists go outside the box and show how versatile a thigh tattoo can be. They are either abstract, bold, or symbolic. And before you make up your mind, here are some notable creative thigh tattoos you don't want to miss.
Abstract blackwork on the thigh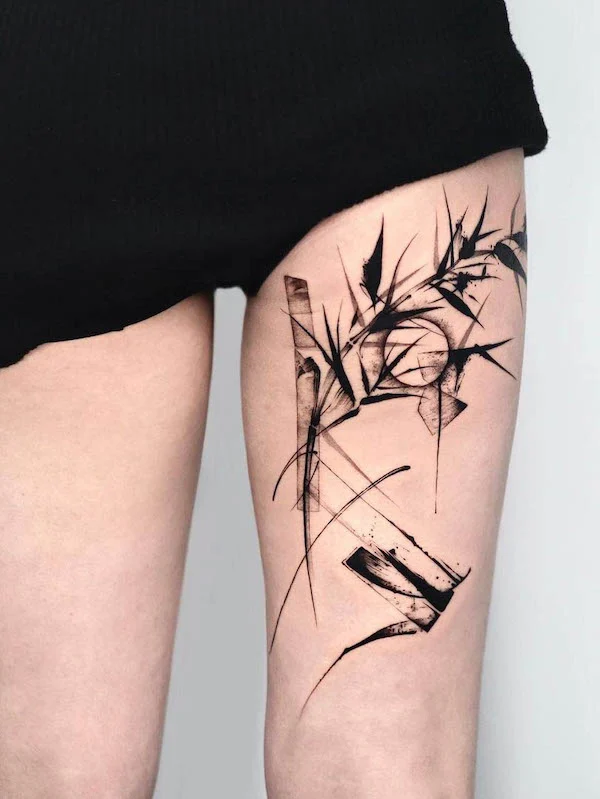 @sixtenism
A blooming mind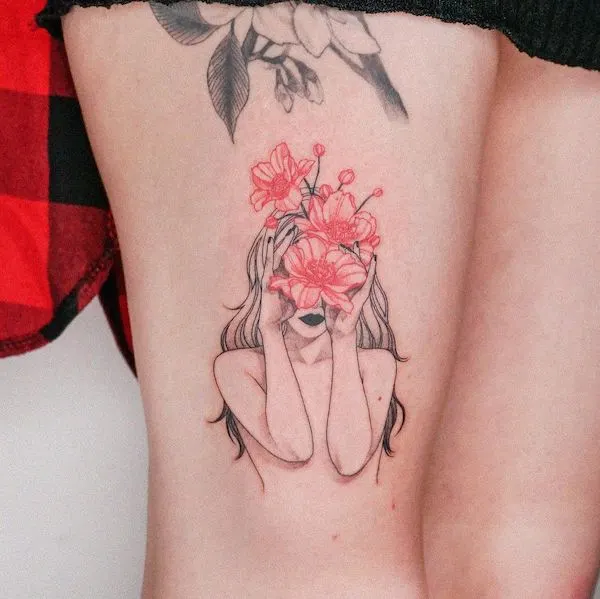 @roda.tattooer
Artistic thigh tattoo
@pranjalivart
A windmill tattoo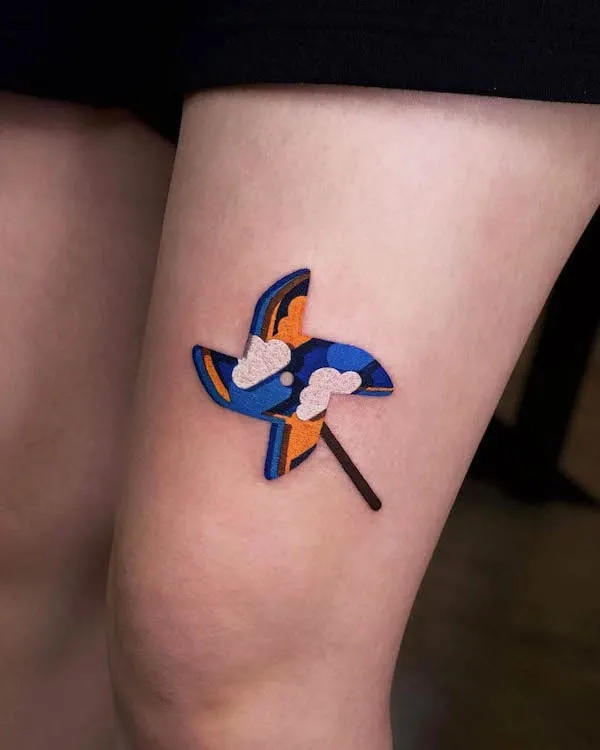 @zoonmo
Like paper plane tattoos or other origami tattoos, a paper windmill recalls one's childhood memory. It also symbolizes hope and resilience, making it a meaningful motif not just for kids but for adults, too.
Burning heart
@sashatattooing
Loki's helmet and mistletoe
@chou_ta_1
Lovers tarot card thigh tattoo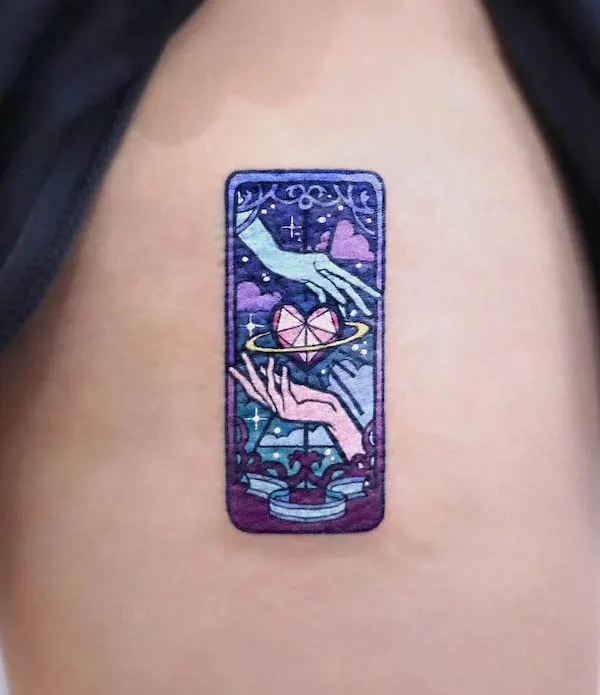 @tattooist_sigak
Single line side thigh tattoo
@mackro.ttt_
Colorful landscape thigh tattoo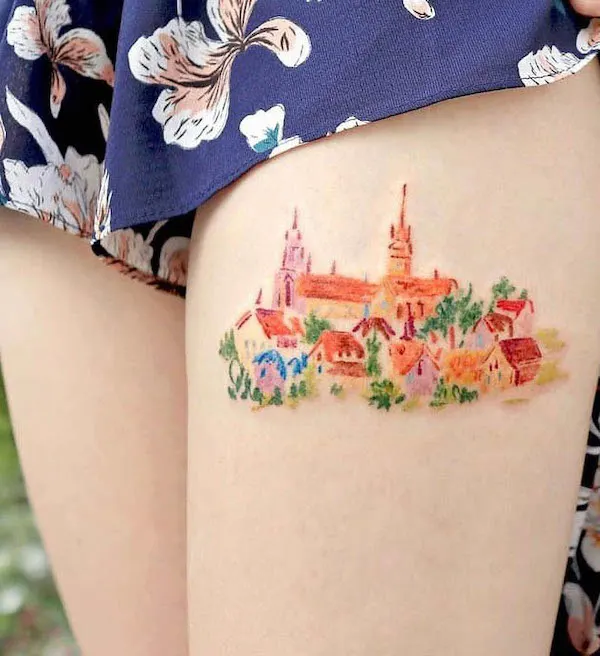 @ovenlee.tattoo
Tattooists Ovenlee has created a collection of dainty, simple color tattoos. But she also captures an emotion or a memory in each of her works. This landscape tattoo is no different.
It turns a journey into permanent ink and shows the wearer's passion for exploring the world. Check out our interview with Ovenlee to know more about her work.
Rainbow color moon phase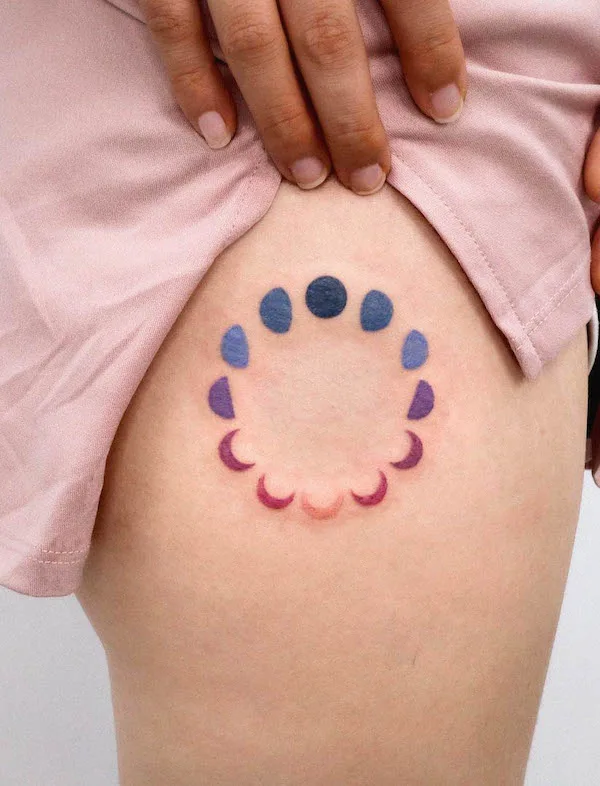 @tattooist_sigak
Multi-color planets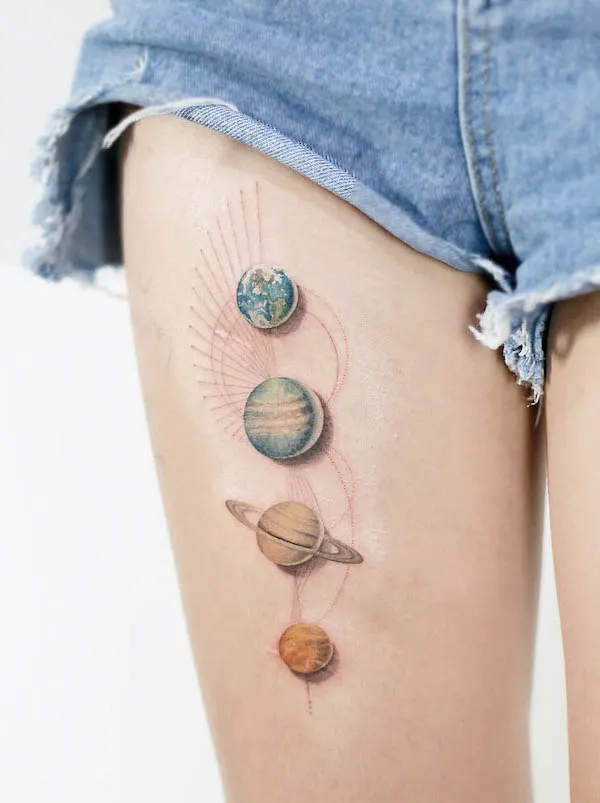 @tattooist_doy
Sunset vibes
@modoink_gary
One-word tattoos can say a million things about an individual. If you are the sunset vibe kind of person, you will rock this look.
Space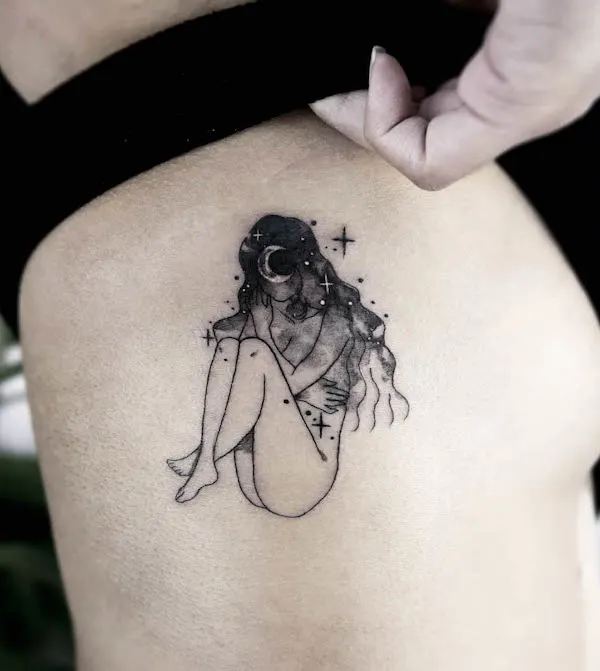 @tattooist_danha