Ask a tattoo artist and he would probably tell you that finger tattoos are a bad idea. The skin of our hands is often exposed to the sun and water, making finger tattoos less likely to stand the test of time. But it doesn't make it any less popular.
Finger tattoos are usually small, dainty, and less attention-seeking. They are perfect for those who want to keep a low profile and at the same time, express themselves. With the right design and execution, finger tattoos are just as memorable as tattoos on other body parts.
If you are thinking about getting one, here is a list of finger tattoo ideas for your inspiration.
Disclaimer: This tattoo collection is for inspiration only. Please do not copy the artwork. If you love these tattoos, follow artists and show them some support.
Unique finger tattoos with meaning
Table of content
Common symbols for finger tattoos
Dainty finger tattoo ideas
Bold statement finger tattoos
Matching finger tattoos for couples
Creative thumb tattoos
Gorgeous cuticle tattoos
Common symbols for finger tattoos
Listed below is a collection of meaningful symbols you can put on your finger. If you want more finger tattoo ideas, keep scrolling.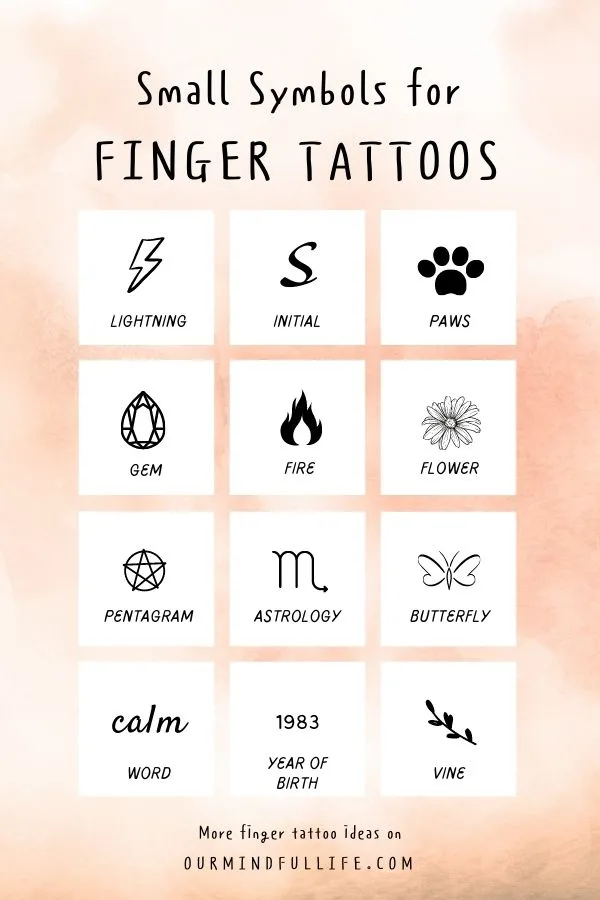 Dainty finger tattoo ideas
We don't have much space to work with on our fingers. That's why small and sleek designs are preferred. But it's not easy to find a personal design that fits into such a small area. So here is a list of gorgeous small finger tattoos to give you some ideas.
A fiery flame tattoo on the middle finger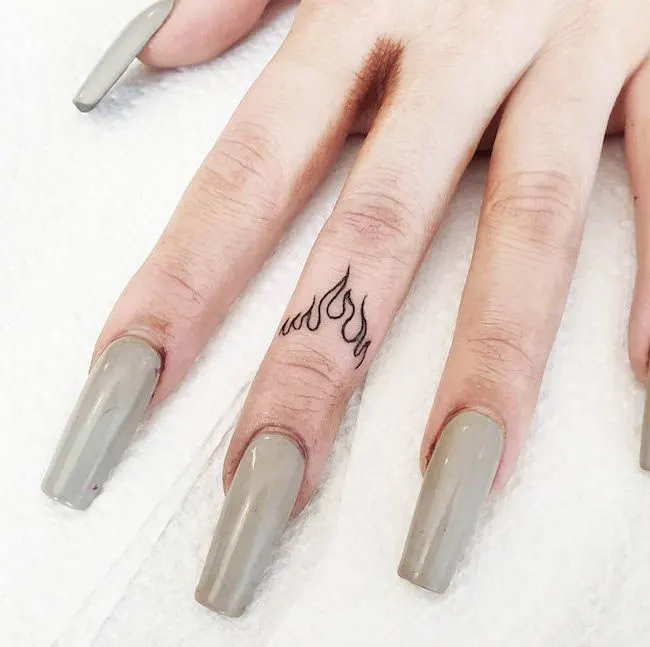 @emjaytattoo
Fire is the symbol of heat, light and destruction. A fire tattoo can also represent passion and an uncontainable personality. Though you may not have a lot of spaces to work with on the fingers, a fire tattoo can still be an indicator of your badass attitude.
Read also: 26 Badass tattoo ideas for women
A dainty floral finger tattoo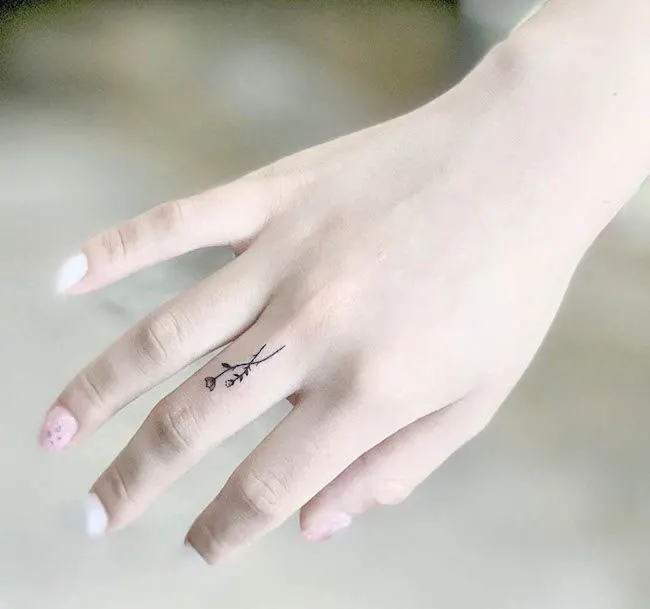 @chorong_tattooer
A cute emoji tattoo on the finger tip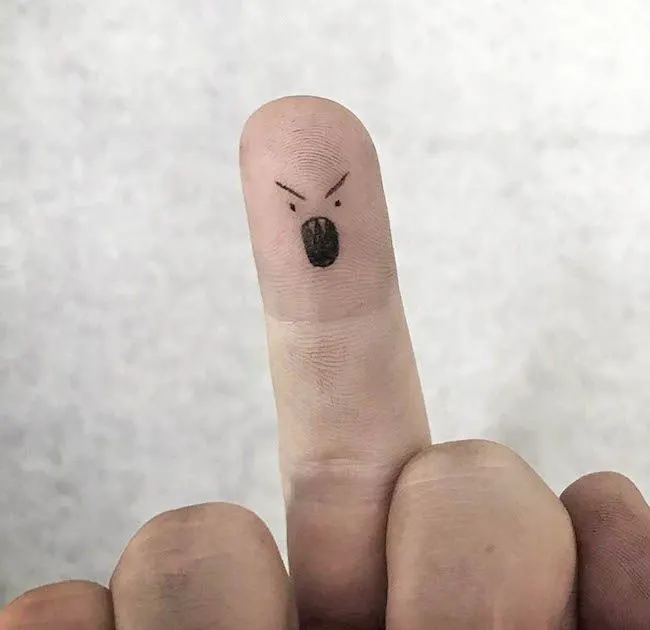 @dexael.art
A blackwork lightning tattoo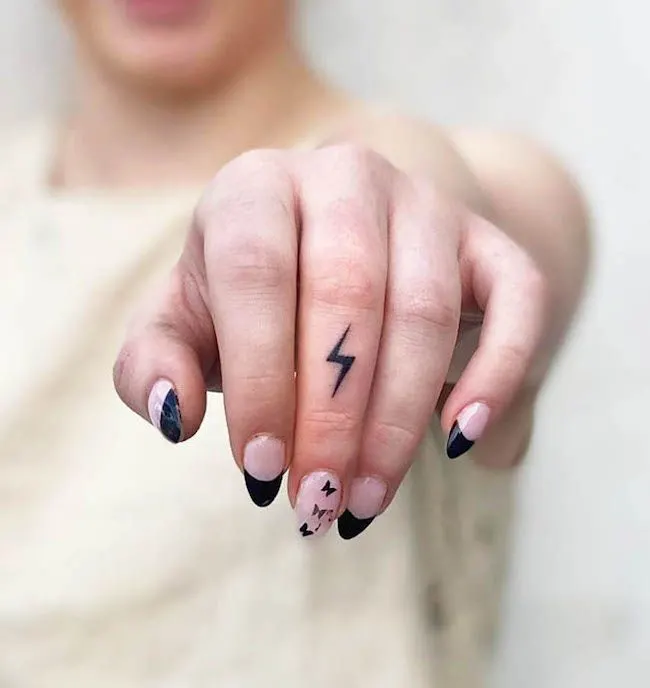 @garryfineline
A minimalist initial tattoo on the inner finger
@heze_tattoo
Angel+Devil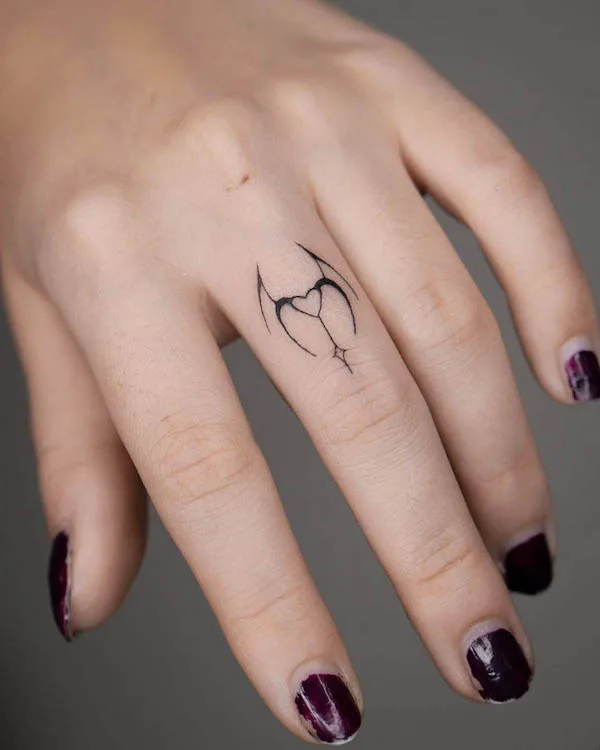 @nurai.tattoo
A small Scorpio finger tattoo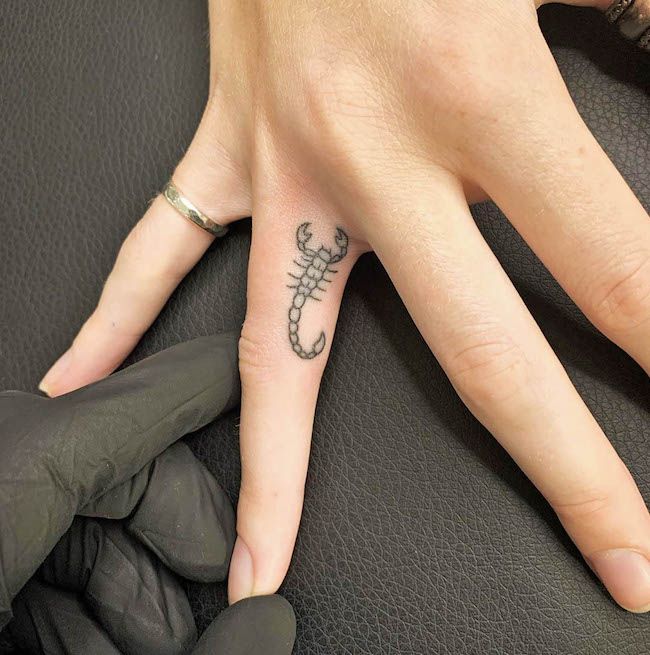 @kirkbudden
Scorpio is a mysterious and deadly attractive sign. And you don't want to mess with a Scorpio. If you are looking for a small tattoo to represent your identity, a zodiac symbol or glyph can be a good fit.
Read also: 59 Creative and mysterious Scorpio tattoos
An abstract one-line flower tattoo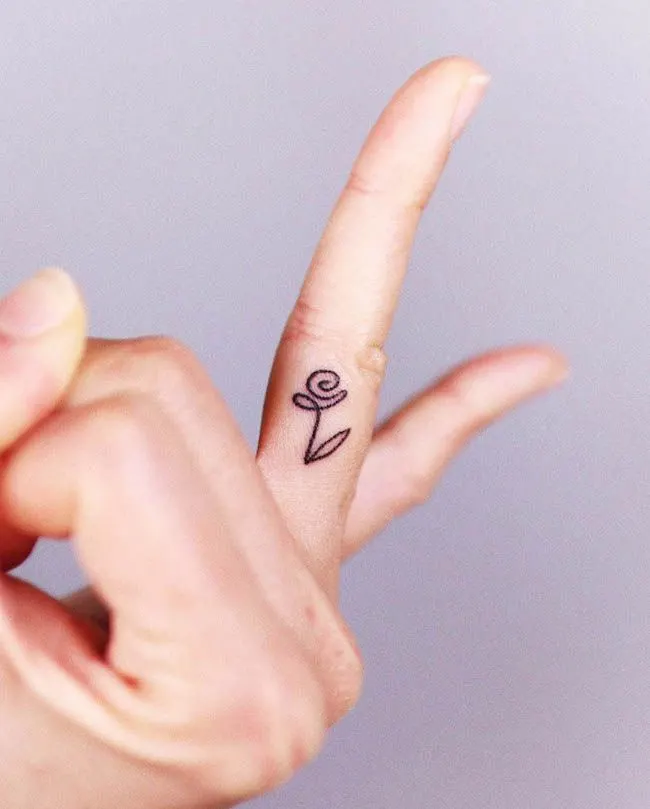 @howdy_tattoo
Tiny paw tattoo for dog lovers
@tatuagens_deliicadas
A small butterfly ring finger tattoo for women
@j.ryong_tattoo
Butterfly tattoos are evergreen, especially for women. It symbolizes transformation and beauty. For those who are going through changes in life, a butterfly finger tattoo is proof of their strength and courage.
A Libra sign finger tattoo
@jessicalaurentattoo
Zodiac glyph tattoos, like this cute Libra symbol, is perfect as finger tattoos. They are a combination of lines and dots, simple but expressive.
Read also: 53 Libra tattoos that are as elegant as the sign
A white ink lettering tattoo on the inside of finger
@lackschaft
An infinity ring finger tattoo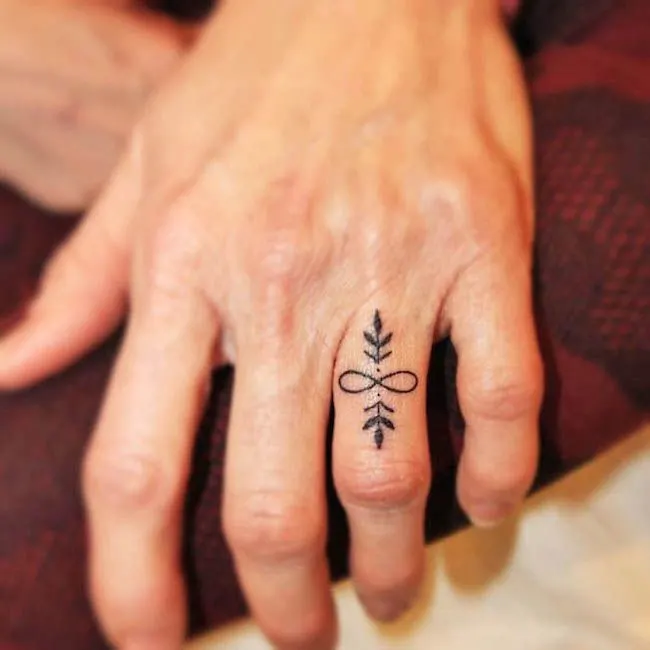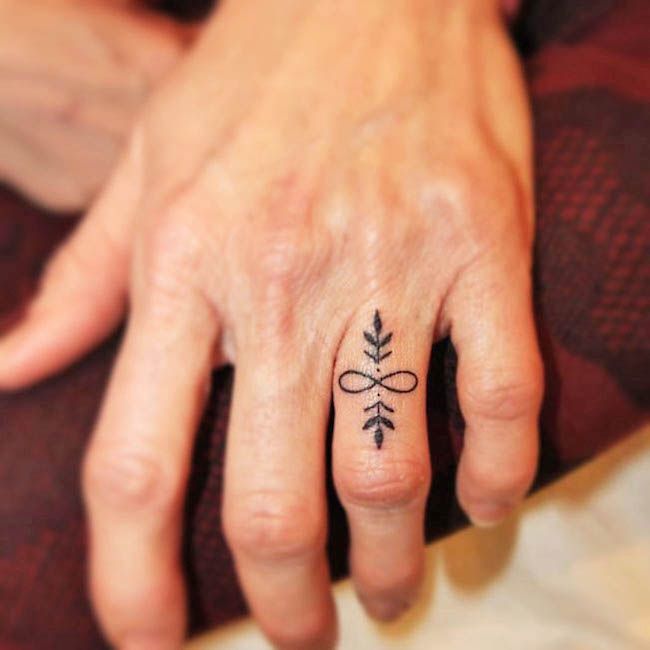 @lovecrafttattoo
A blackwork koi fish tattoo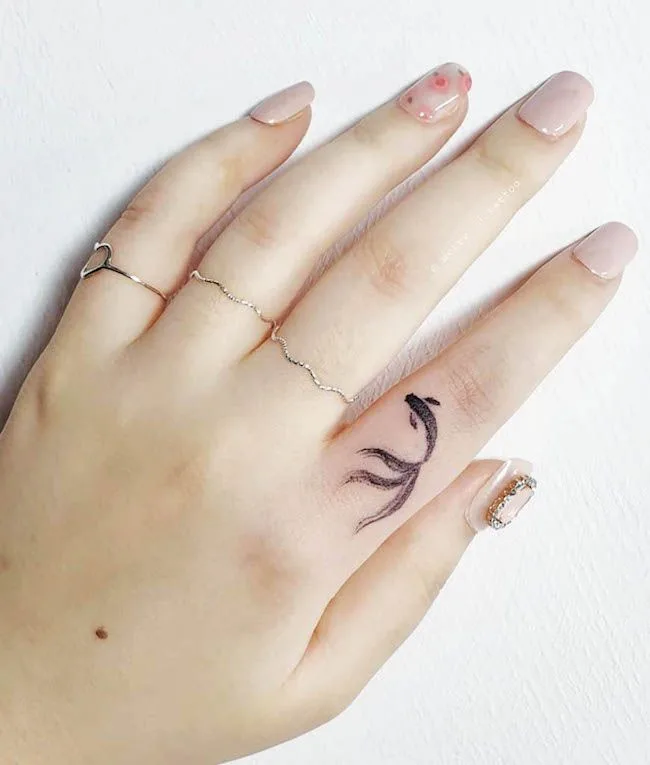 @merry.jhyun
An inner finger tattoo that shines
@nickyink
Elegant dark rose tattoo
@onyx_gil
A minimalist fish inner finger tattoo
@onyx_gil
Read also: 46 Unique tattoos for Pisces
A cross tattoo on the middle finger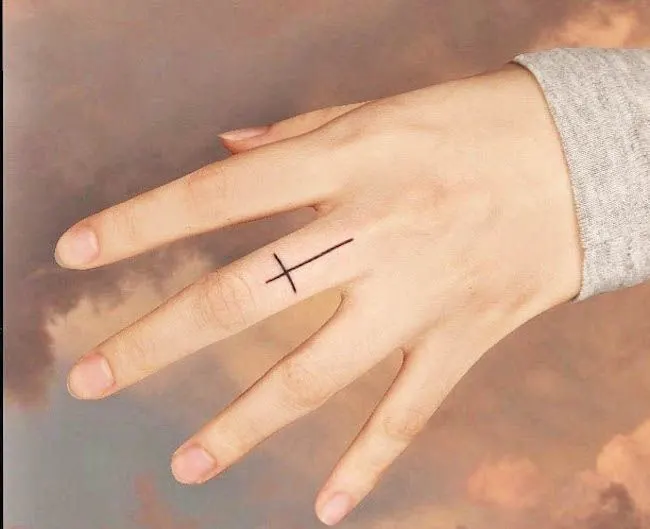 @pomme_tat
A crescent finger tattoo for women
@royveksler
The crescent moon, or half-moon, represents the cycle of life and birth. Its feminine energy makes it a regular on women's tattoos.
A dainty storm finger tattoo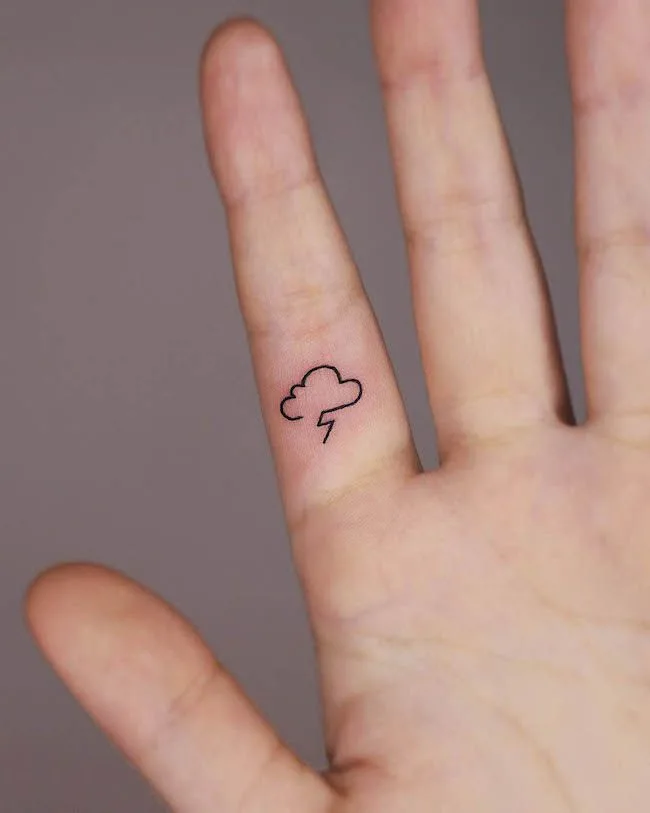 @yoyo_tattoo
A detailed dandelion inner finger tattoo for women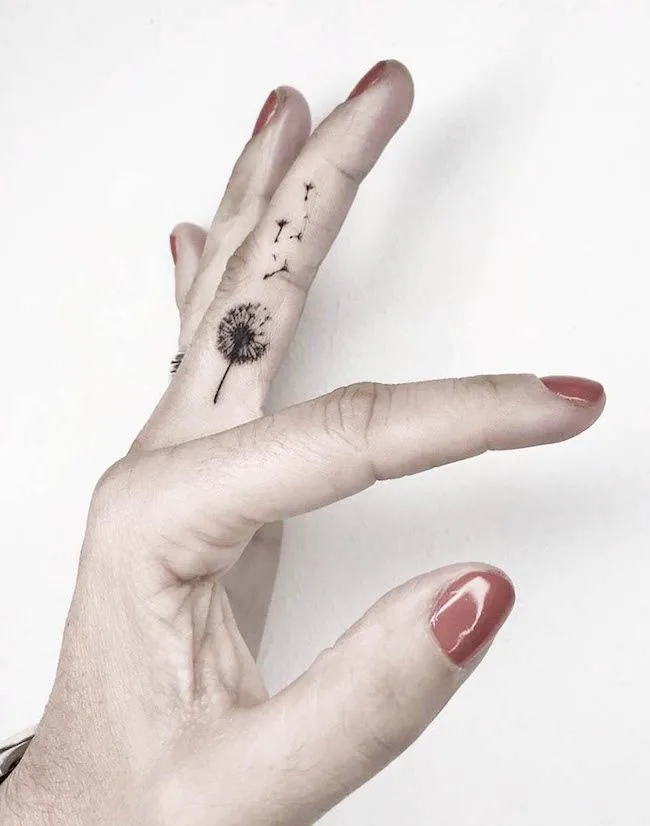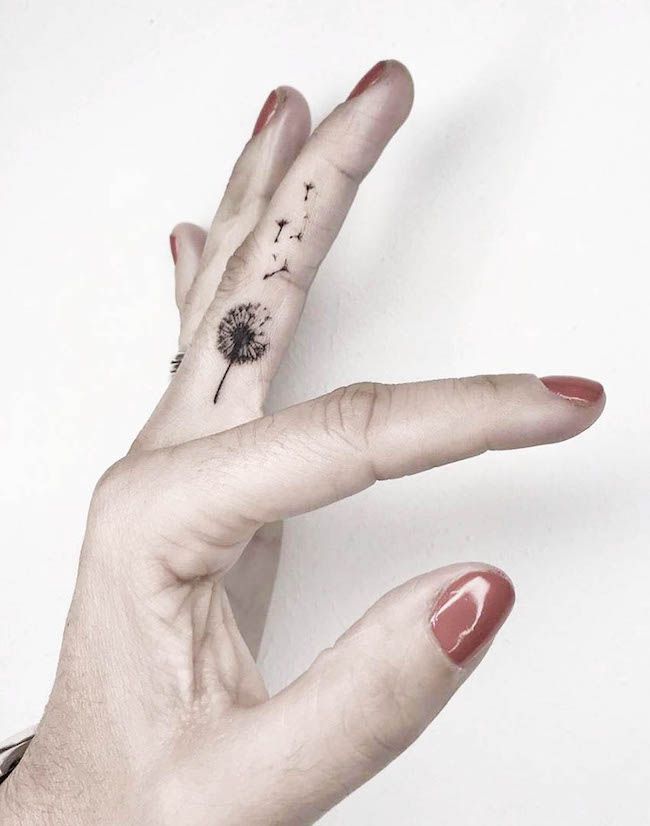 @sartoriadellinchiostro
A good dandelion tattoo requires perfect design and execution, especially when it's a small finger tattoo. That's why this small tattoo is one-of-a-kind.
The word "dan-de-lion" translates to "the lion's tooth" in French. Fragile it might seem, it's a symbol of strength, probably because it is brave enough to let things and people go. If you are going through a tough recovery process, a dandelion tattoo may bring you extra courage.
A small Batman tattoo on the index finger
@sasha.yurieva
A minimalist lettering tattoo on the inner finger
@soseul_tt
A dual color string tattoo on the ring finger
@tattooist_yara
A cute smirk inner finger tattoo
@wittybutton_tattoo
A dollar sign tattoo on the inside of finger
@yujin_tattoo
Bold statement finger tattoos
Just because finger tattoos are small doesn't mean they can't be bold and expressive. Here is a list of finger tattoos that will make you stand out from the crowd.
A vine tattoo on the ring finger
@bamtattoos
The vine might not be as eye-catching as flowers, but they survive extreme conditions to reach for the sky. That's why vine tattoos are for the sun-seekers with an unwavering will.
A badass snake finger tattoo
@charcoaltattooclub
Natural elements tattoos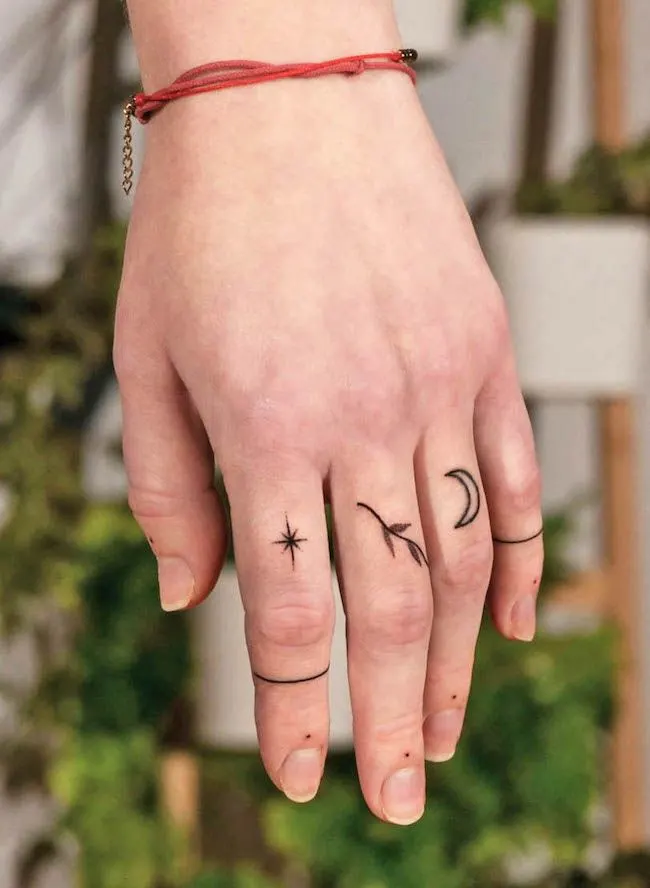 @inkedlodz
A constellation tattoo on the finger
@skyejohnstattoo
Henna tattoos on the palm
@inkmindcrew
Because ink doesn't last on the skin of fingers and the palm, going temporary can be a better option. Generally, henna tattoos last for about two weeks. Once the pattern starts to fade, you can use salt water or scrub to remove it completely.
The evil eye middle finger tattoo
@palmer_tattoo
It may sound contradictory. But the evil eye is a symbol of luck and protection. It is believed that the glare of jealousy would bring bad luck. By wearing a talisman, tattoo, or jewelry of the evil eye, the wearer would gain protection against curses, misfortune and evil spirits.
A cover-up lace tattoo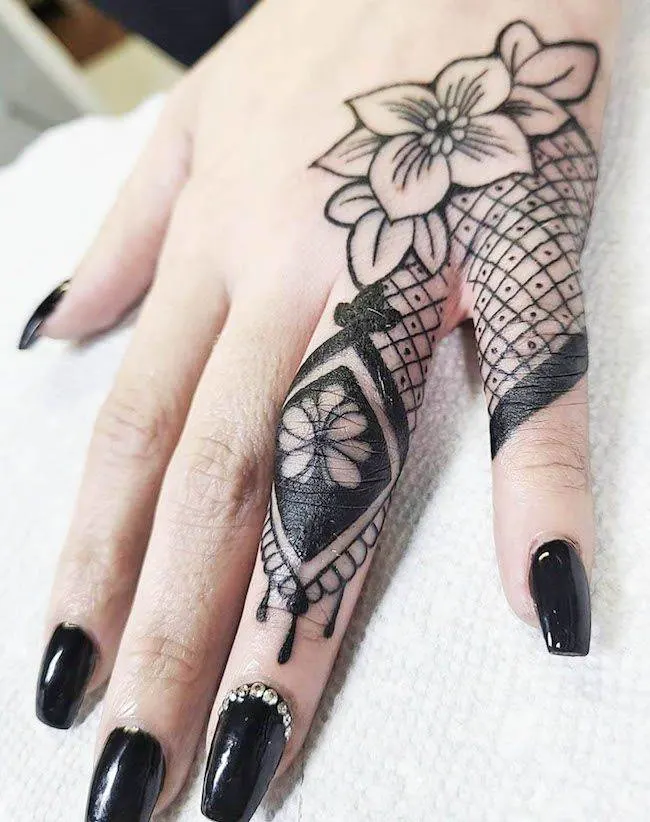 @shannongatesart
A fierce gun tattoo
@subc_tattooer
A dotwork vine tattoo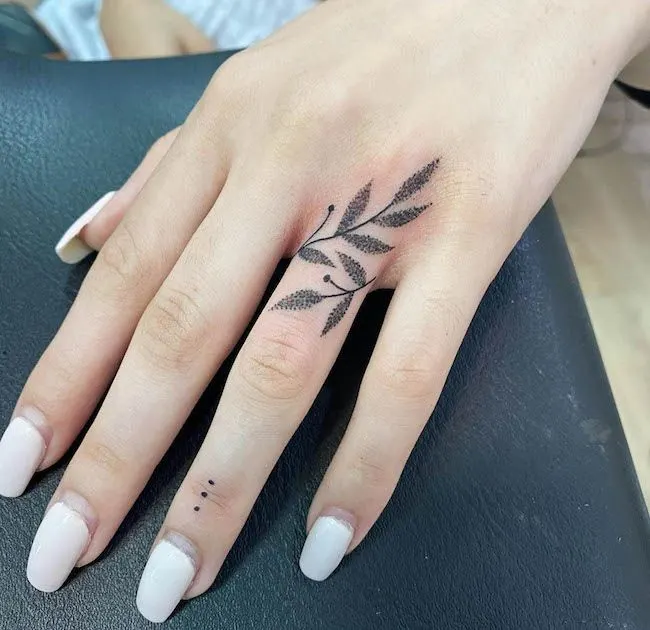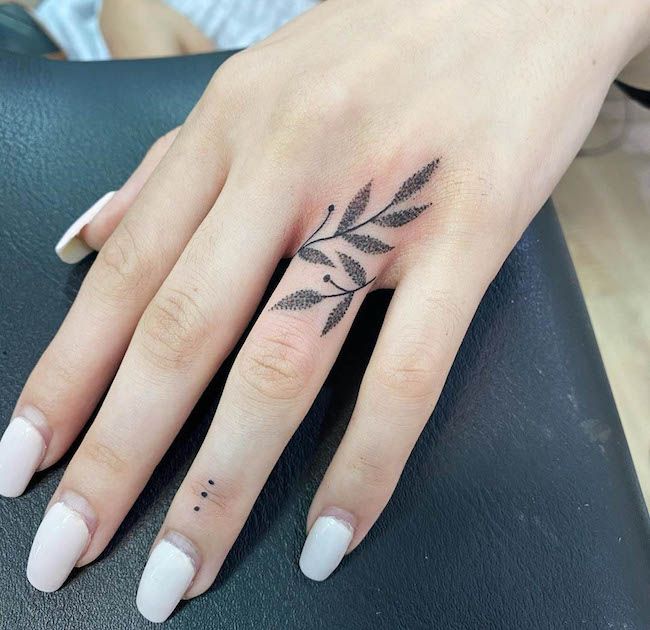 @vivislm
Matching finger tattoos for couples
Tattoos are personal. When you get a matching tattoo with a Significant Other, it becomes even more special. Just like a ring, matching finger tattoos is a commitment, a symbol of fidelity, and eternal love.
So what are some good couple finger tattoo ideas? Keep scrolling.
Tie the knot
@dominickdtattoos
Minimalist matching wedding band tattoos
@5e_tattoo
Mountain and ocean matching ring finger tattoos
@jdot5512
The beating heart couple tattoos
@siminamina
Diamond ring finger tattoos for couples
@jimmyyuen
Small heart tattoos on the palm
@morae_tattoo
Unique white ink symbol tattoos
@maty_pokes
Matching lavender tattoos
@tattoo.bloom
Lavender is not often seen on couple tattoos. But it represents devotion and purity and is also considered to be healing. If your partner brings the best out of you and helps you to heal from past traumas, consider getting lavender tattoos to honor the relationship.
Better than a ring
@tattooer_jina
Matching number tattoos
@tayyy_carter
Cute matching smiley faces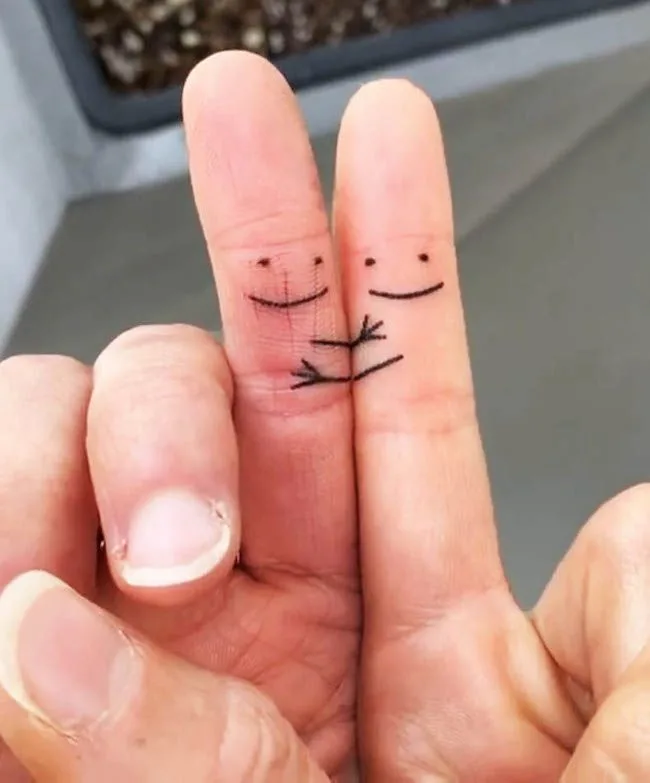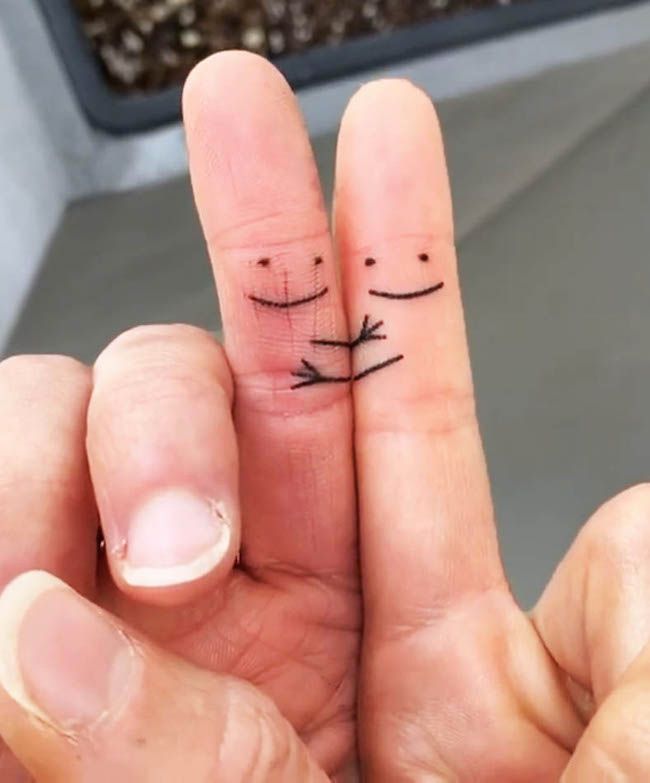 @shadow_tattooer
Or smile on your own
@tattooist_arar
Cute heart inner finger tattoos
@tattooer_jina
Read also: 109 Hopelessly romantic couple tattoo ideas
Creative thumb tattoos
Bold snake tattoos on both thumbs
@blkttt
No-Face anime thumb tattoo
@charlottebergmantattoo
It's lit
@vincent_bloodlinea
A tiny abstract rose on the inner finger
@gorae_tat2
A black ornamental tattoo
@emmanuelledenazareth
A unalome thumb tattoo for men
@gayatree.talisman.tattoo
A intricate dragon tattoo
@elizabethftattoos
Contrasting sun and moon thumb tattoos
@handpoked_gelfwai
A unique dagger tattoo
@ghettoninjatattoo
The Eye of Horus thumb tattoo
@sara_scribbles
In ancient Egyptian mythology, the Eye of Horus is a symbol of protection, recovery, and health. Horus is the God of Sky. He lost one eye during a battle, but it was magically restored and healed. That's why the Eye of Horus tattoo is believed to bring strong protection to the wearer.
A realistic rose tattoo on the thumb
@laceylilactattoos
An artistic face tattoo
@madame_unikat
A witch hat thumb tattoo
@sara_scribbles
Read also: 65 Badass witch tattoos that are beautiful and whimsical
Plant tattoos on both thumbs
@tattoosbyeloise
A magical Sailor Moon wand tattoo
@tibbles.tattoo
A realistic eye tattoo
@zach_brunner
Happy and sad face thumb tattoos
@ziggiestattoo
Gorgeous cuticle tattoos
Most cuticle tattoos are not inked directly on the cuticle but around the nails. The cuticle is not a common placement for a finger tattoo, because the space is limited and the skin tends to peel off quickly. But they make good ornamental tattoos, especially for those who have beautiful nail art done. If that sounds like you, here are some cuticle tattoo ideas to consider.
@charliescottg
@cloverpoke
@emajconway
@simply.selma
@tinypokesx