Besides portraits, illustrations, and patterns, there is a type of tattoo that is loved by many people – symbols. Because they are not as literal as other styles, these tattoos are more for the "insiders" – knowing the meaning indicates a connection with the wearers.
The infinity symbol is no exception. Looking like a sideway figure 8, the mathematical symbol has been increasingly popular for the past few years, and rightfully so.
In terms of meaning, infinity tattoos can represent eternity, which is its original definition. But they can also symbolize one's unlimited potential, never-ending love, and a core value you stand by for life. Paring the motif with other elements like the bird, flowers, and words gives more depth to its symbolism.
Design-wise, the infinity symbol is among the simplest tattoo motifs. But that doesn't mean infinity tattoos are boring. Simplicity actually provides more possibilities in terms of sizes, colors, and designs.
So if you are searching for meaningful tattoo ideas, you are at the right place. From small to big, simple to intricate, these infinity tattoos will inspire your next ink.
Disclaimer: This collection of infinity tattoos is for inspiration only. Please do not copy the artwork. If you love these tattoos, follow artists and show them some support.
Meaningful infinity tattoos
Unique and beautiful infinity tattoos
Though the infinity symbol is minimalist, with a creative twist, you can turn it into something stylized and unique. Below is a list of creative and personal infinity tattoos to stand out from the crowd.
Metallic infinity and heart tattoo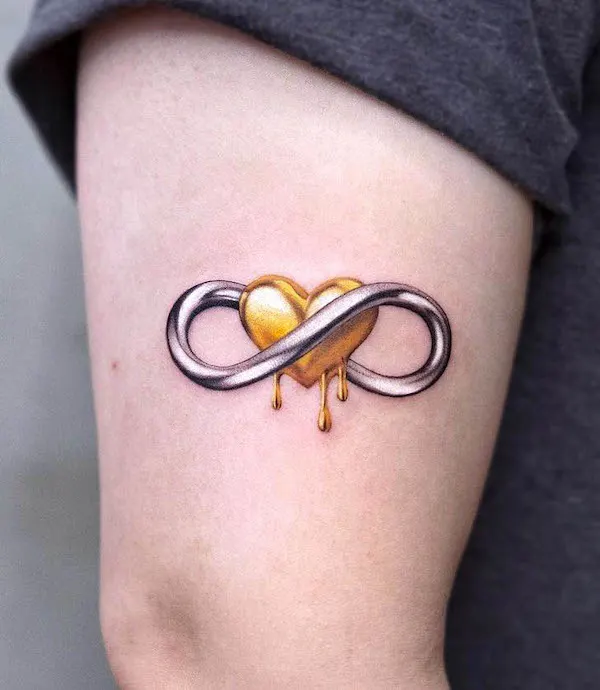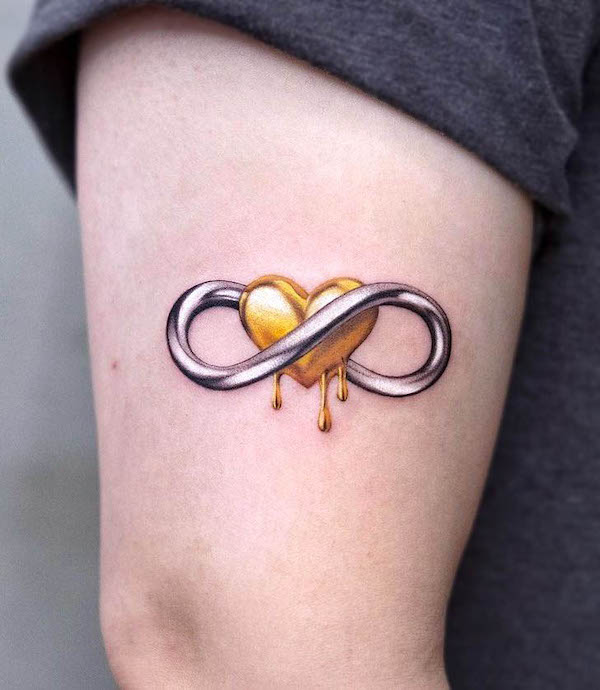 @inkflow_akiwong
When a heart is added to an infinity symbol, it represents the endless love between two people. But it's not the only place this arm tattoo shines.
The gold and silver turn this tattoo into a luxurious ornament. And the gold dripping from the heart adds movements and makes this tattoo more interesting.
Crown and infinity tattoo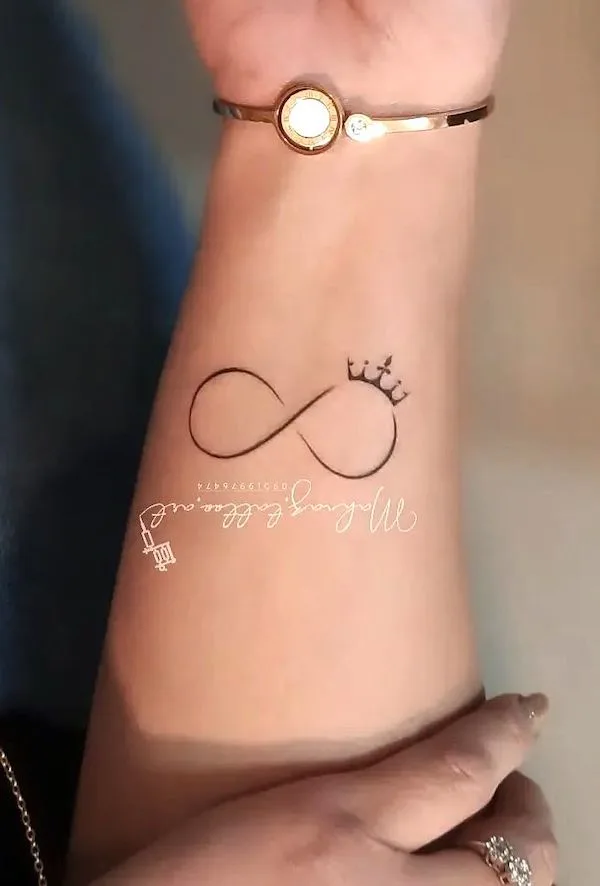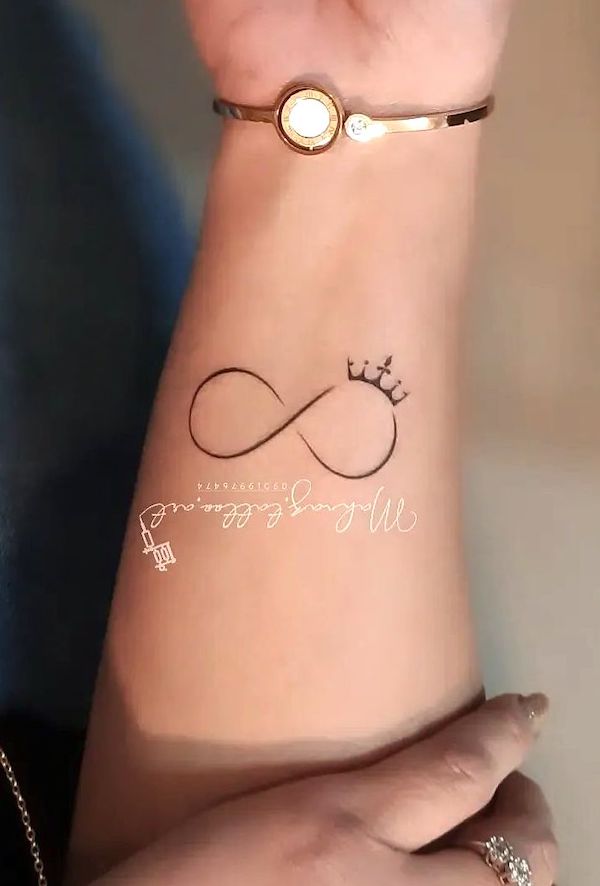 @mahnaz.tattoo.art
Incorporating an uncommon texture into an infinity tattoo is not the only way to make it special. By adding a small crown to the outline, this tattoo instantly becomes more regal.
Infinity feather and name tattoo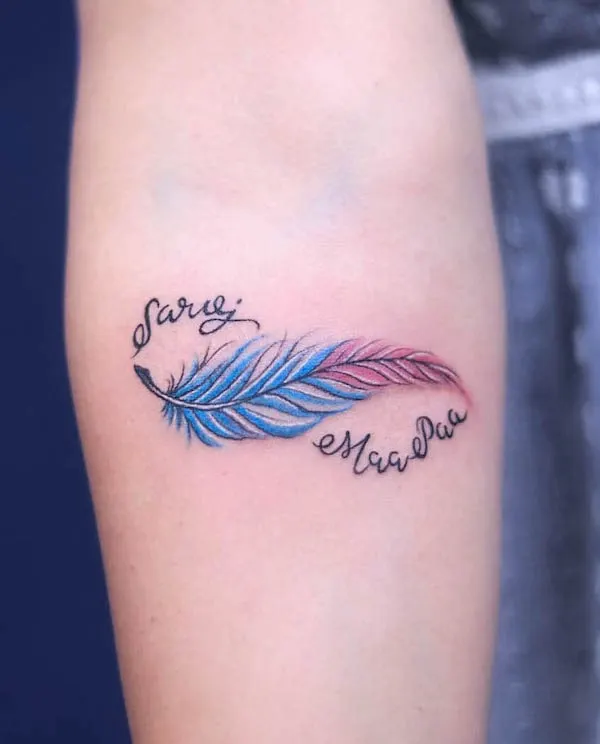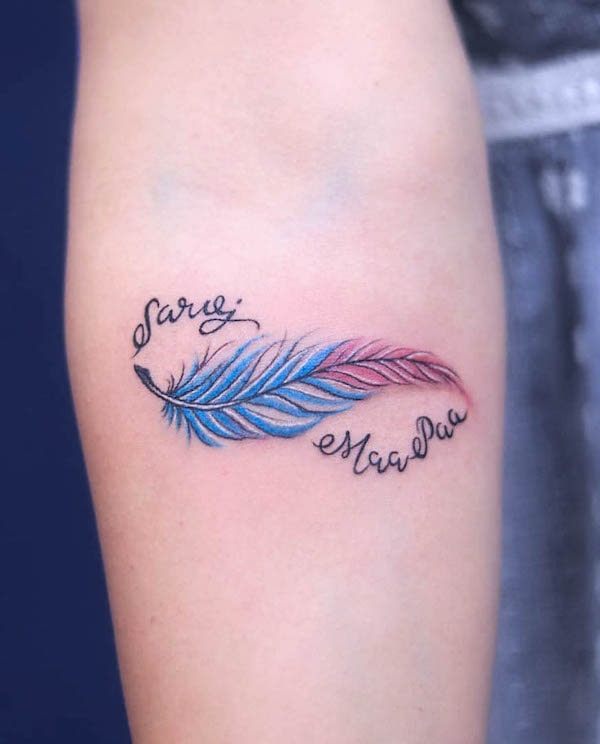 @blue_heaven_tattooz
Although this tattoo doesn't have any not solid outline, you can still recognize the form of an Infinity. Plus, the details of the feather are portrayed to perfection. And the contrast between warm and cool colors adds to its visual appeal.
Small and simple infinity initial tattoo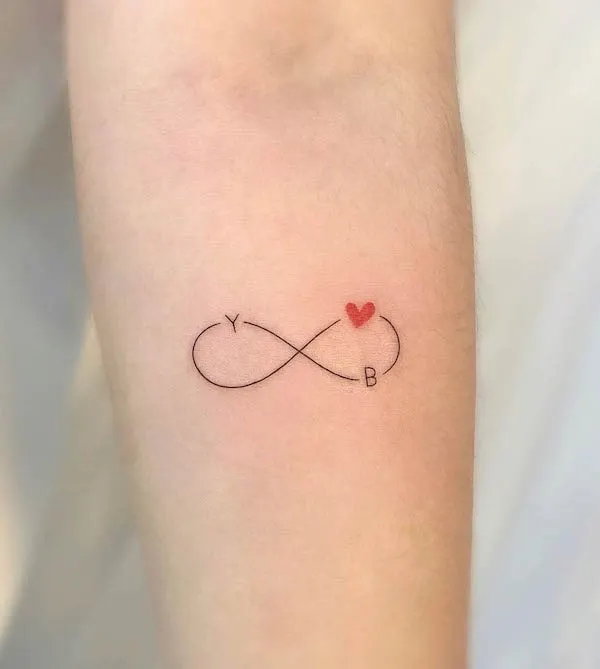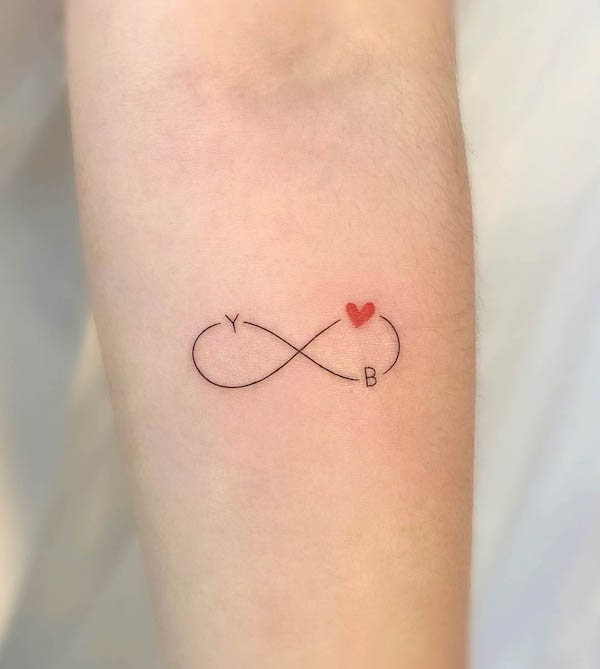 @tattooist_neul
If you want a subtle representation of your relationship, replacing names with initials can be a good idea. This simple tattoo shows how you can get your message across but still keeps it sleek.
Abstract infinity dragon tattoo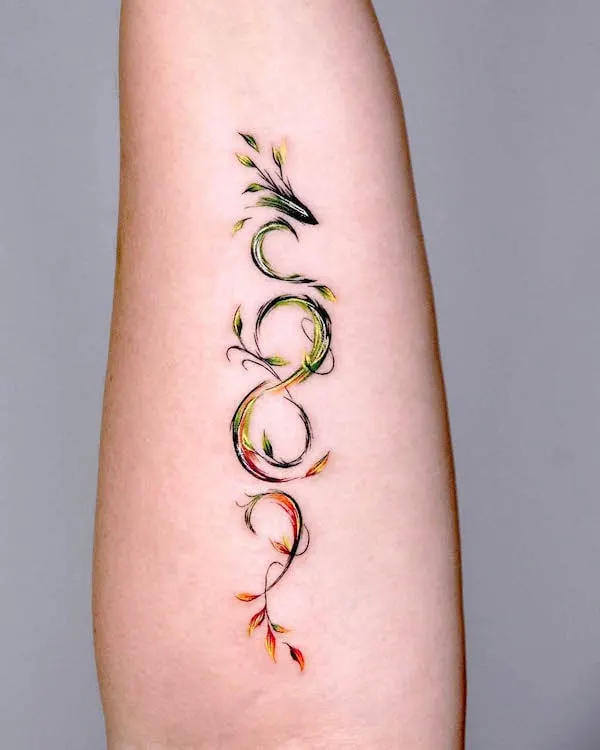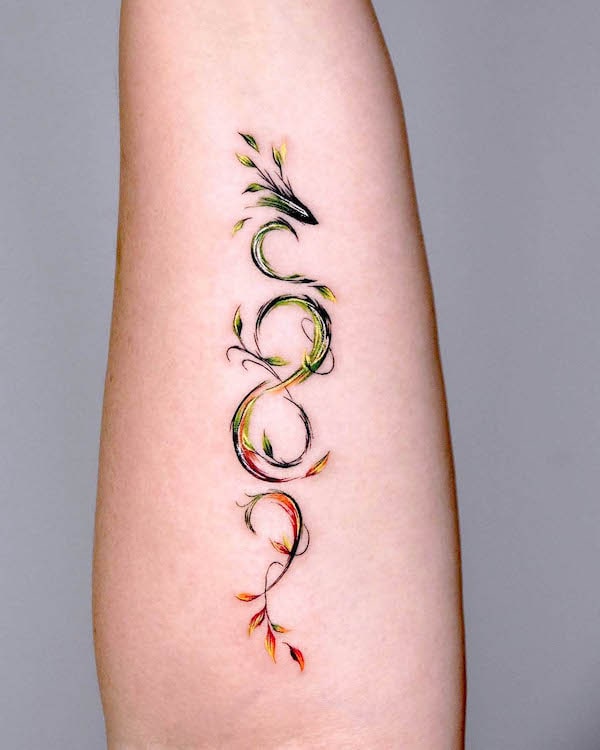 @tattooist_zela
With the tail curving into the shape of an infinity symbol, this dragon tattoo is a natural piece of art. What makes it even more impressive is the transition from spring to fall colors. It reflects the endless cycle of seasons and life.
One-word infinity tattoo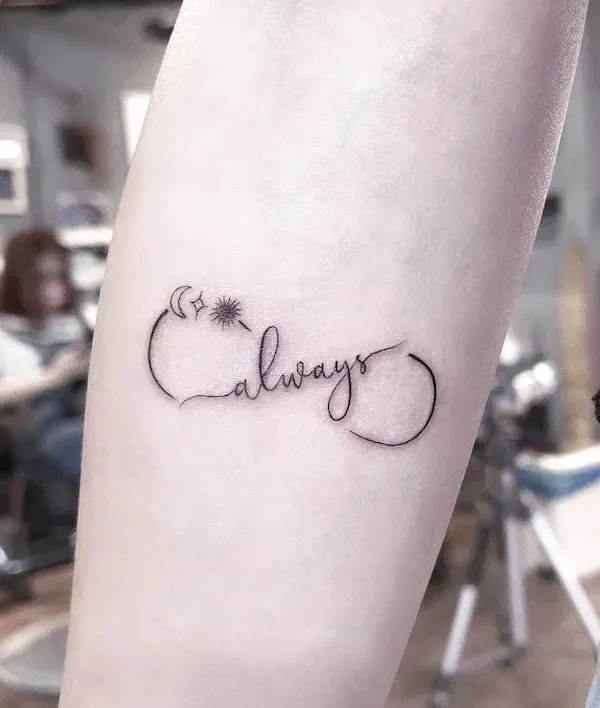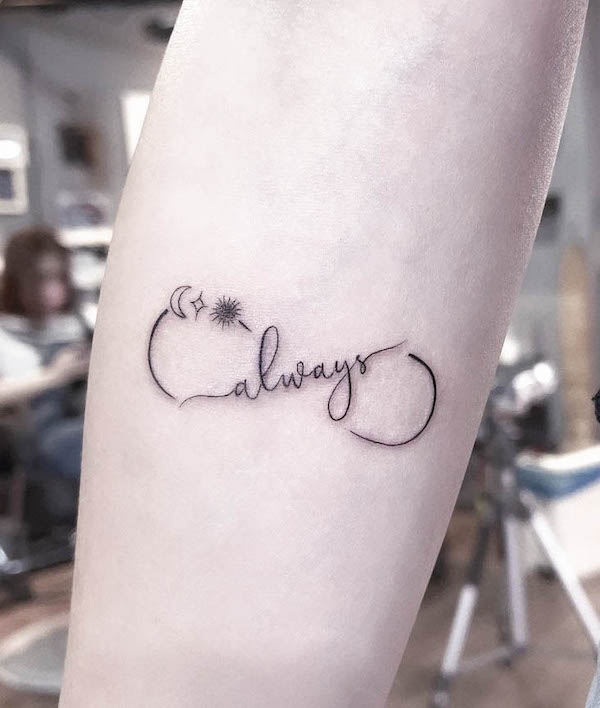 @rui_tattoois
Adding names is a common way to make an infinity tattoo special. But you can also replace the name with something meaningful to you, just like in this one-word tattoo.
Antique ornamental infinity tattoo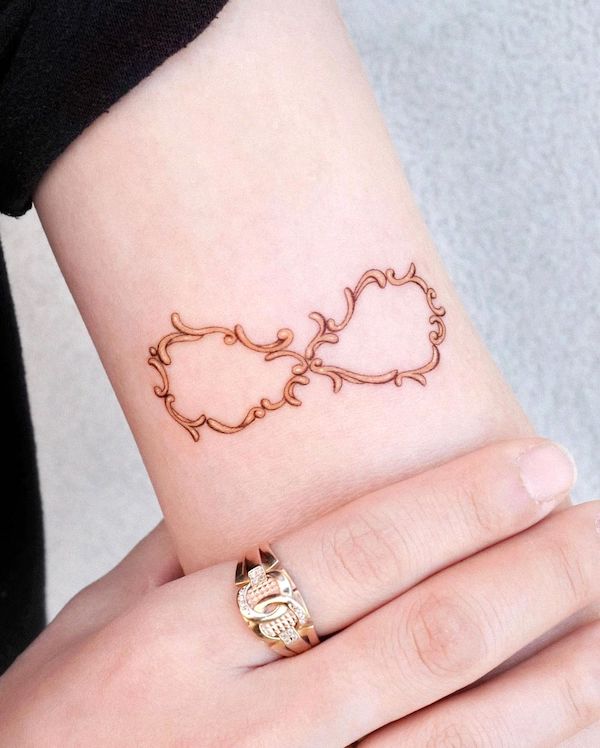 @tattooist_solar
Not all ornamental tattoos are made of intricate shapes and lines. This upper arm tattoo takes a different approach. The colors and reflection all give shine to this antique design, making it look polished.
Black and grey infinity feather tattoo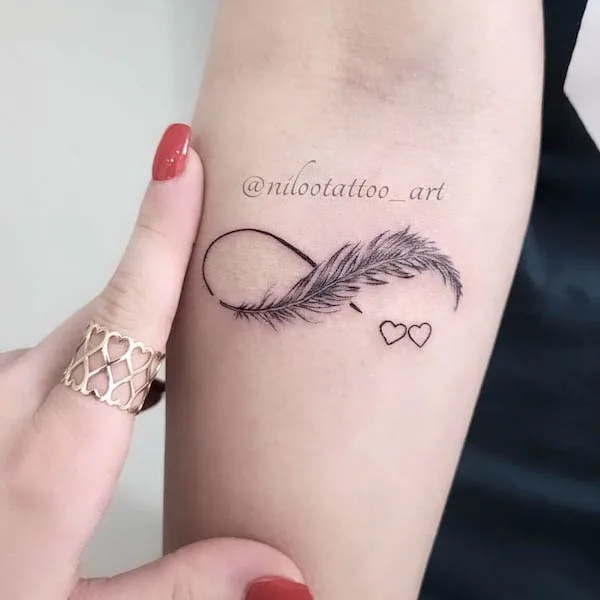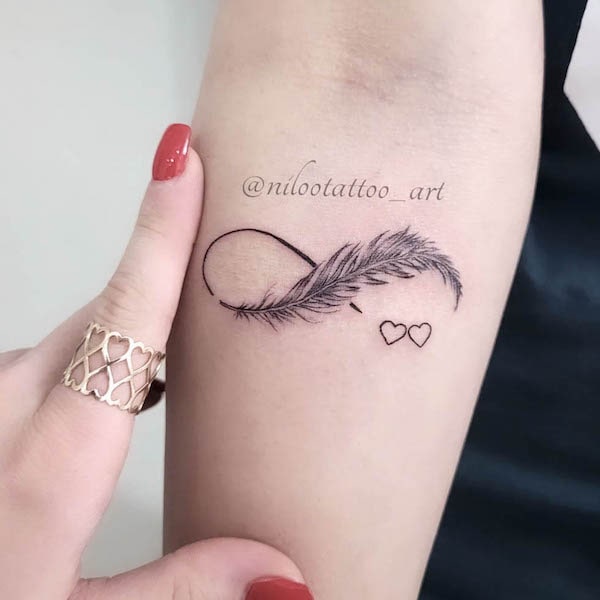 @nilootattoo_art
Here's another feather infinity tattoo but in black and grey. Without the color, the details of the feather still look striking. And the gap between the hearts and the feather provides room for imagination.
Bold infinity wrist tattoo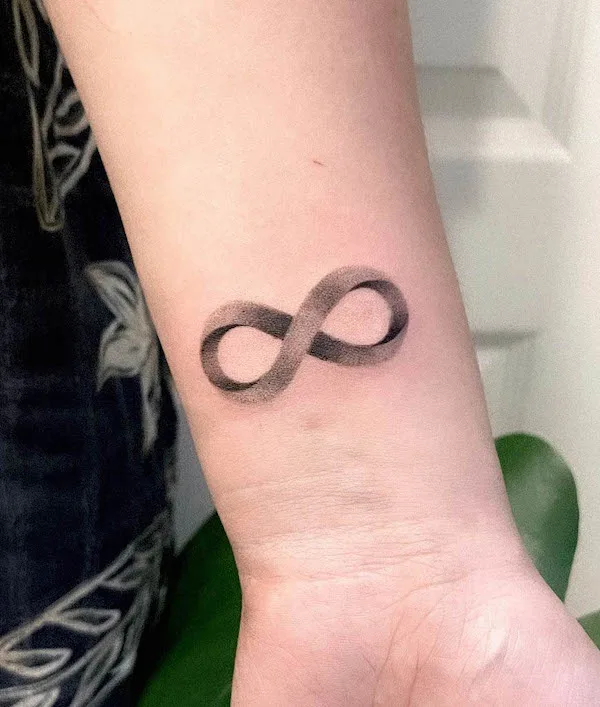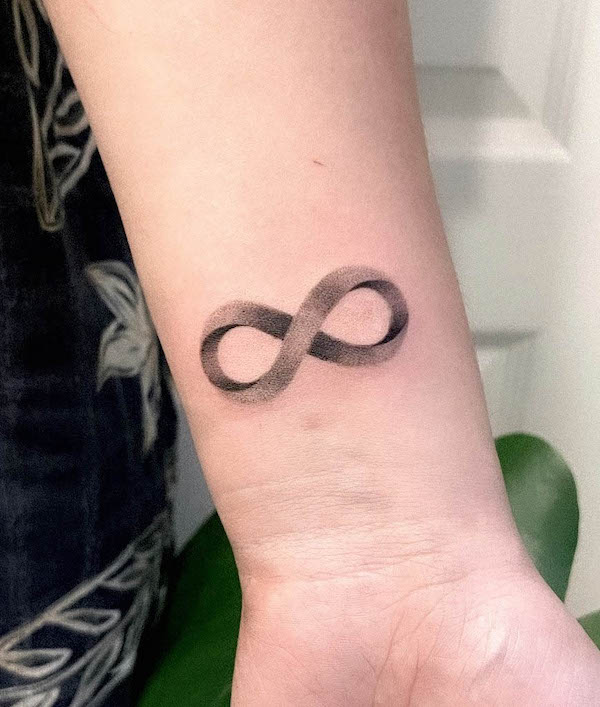 @jins_tattoo
Want a unique wrist tattoo that stands out? The gradient black gives this infinity tattoo a 3D effect, turning a simple design into something special.
Infinity wave shoulder blade tattoo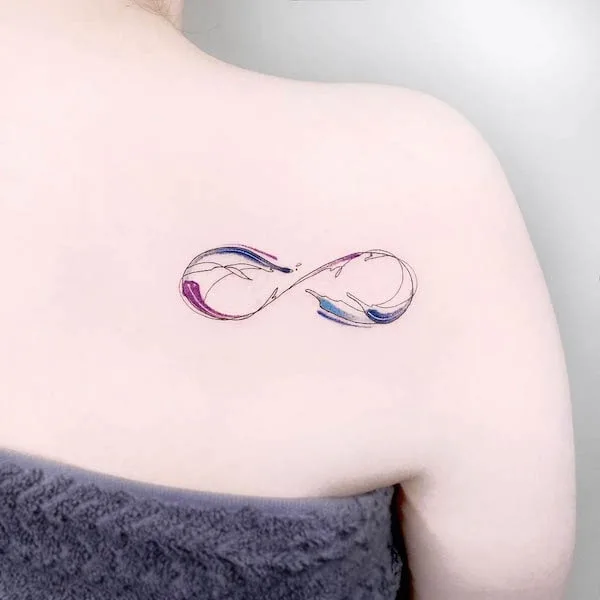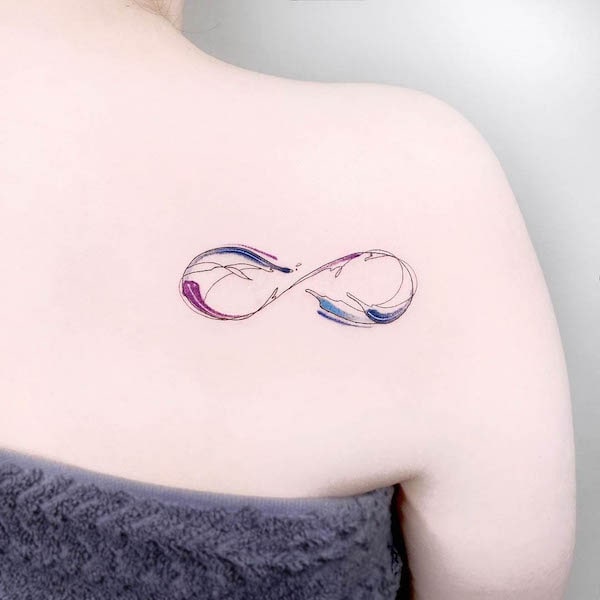 @imfine_tat
This infinity symbol on the back of the shoulder mimics the waves of the ocean. They collide but the colors are in harmony, bringing contrast and movement.
Bold initial infinity neck tattoo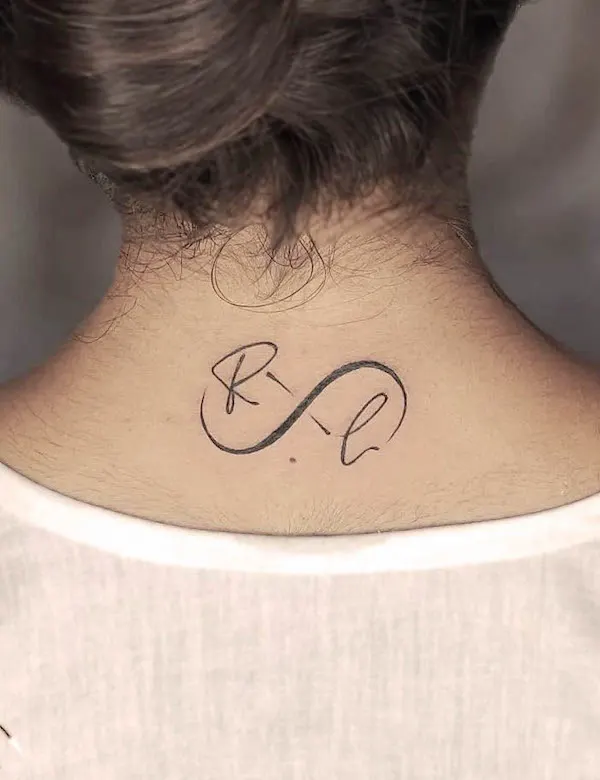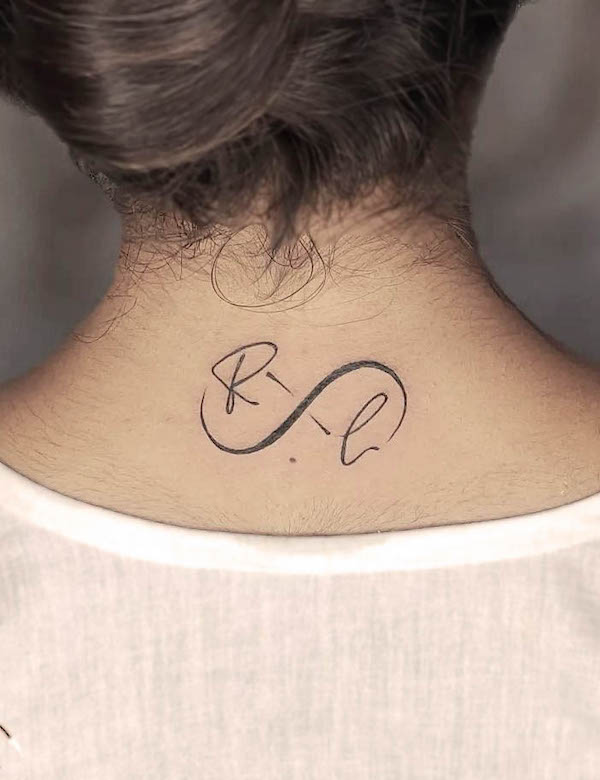 @rascalinktattoos
This neck tattoo shows how different fonts can significantly influence the style of a tattoo. With a wild and bold font like this, this infinity design will belong to someone who proudly stands behind her beliefs.
Unique infinity ankle tattoo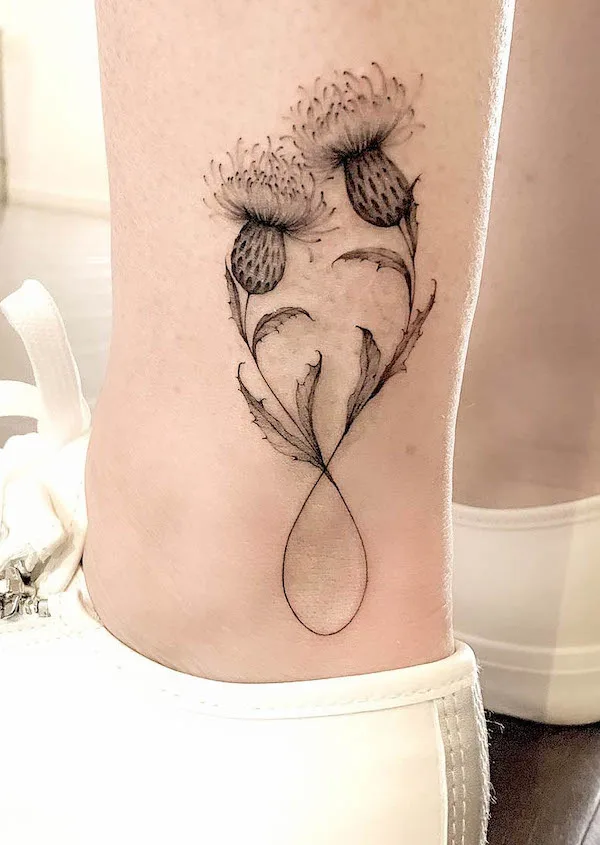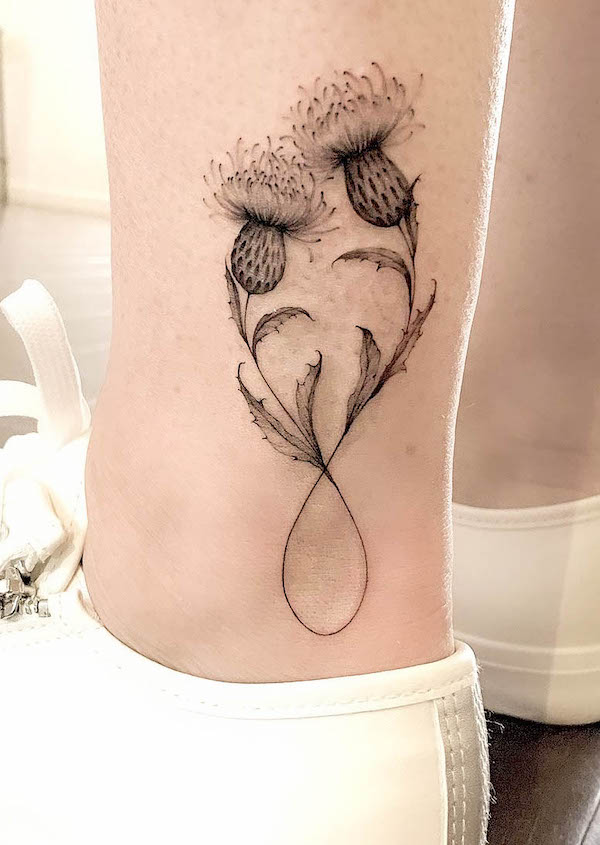 @katyhayward_art
Because of its rough exterior, thistles often symbolize protection, which is the theme of this mother-son tattoo. The two thistles in this design represent a loving mother-son duo. And the infinity symbol formed by the stems is proof of a strong and everlasting bond.
Cosmic infinity tattoo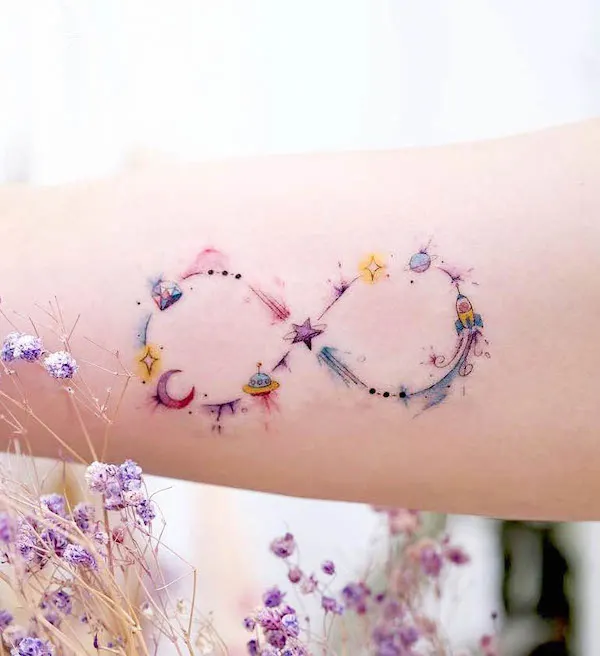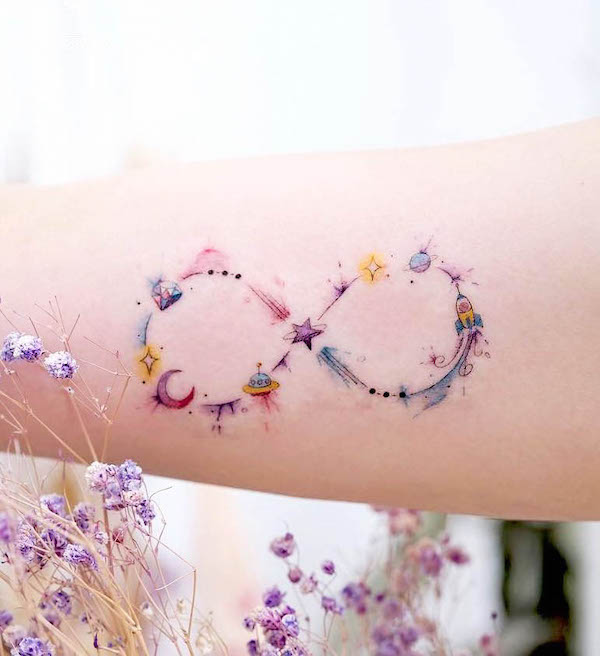 @hktattoo_cara
Have you ever dreamt of exploring space when you were a kid? If so, this girly arm tattoo may speak to you. With the stars, the rocket, and other elements of space, this cute design will belong to an adventurer.
Floral infinity collarbone tattoo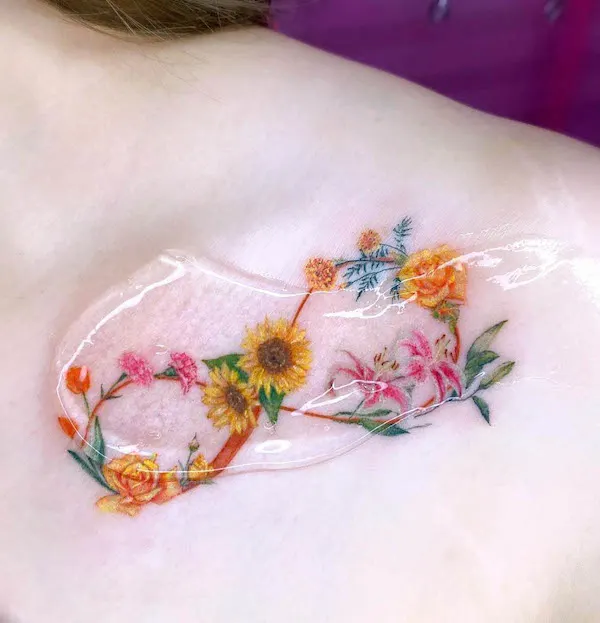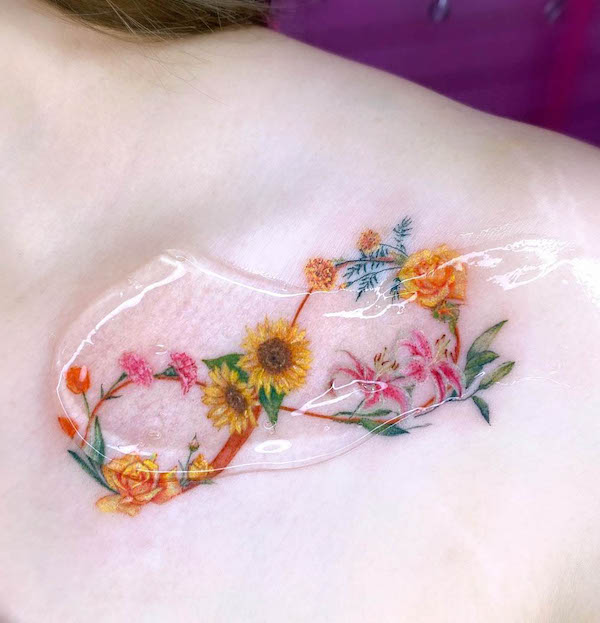 @blckpich_studio
The sunflowers, lilies, and roses in this infinity tattoo look like a garden with vibrant colors. The flow of energy and life in the blossoms gives this tattoo a positive vibe.
Simple infinity bird tattoo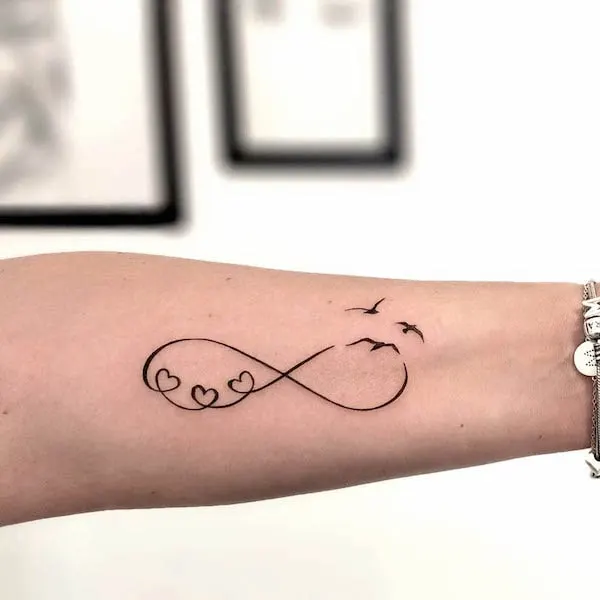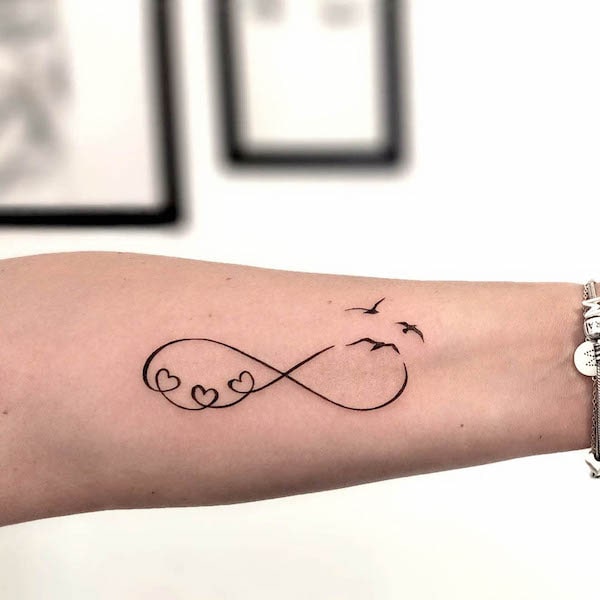 @rotmansh_tattoo
If you want to honor your loved ones, this is the design to consider as a family tattoo. The three hearts can be a representation of the family members. And the birds show that each of them is able to thrive because of the love and support from the family.
Floral infinity collarbone tattoo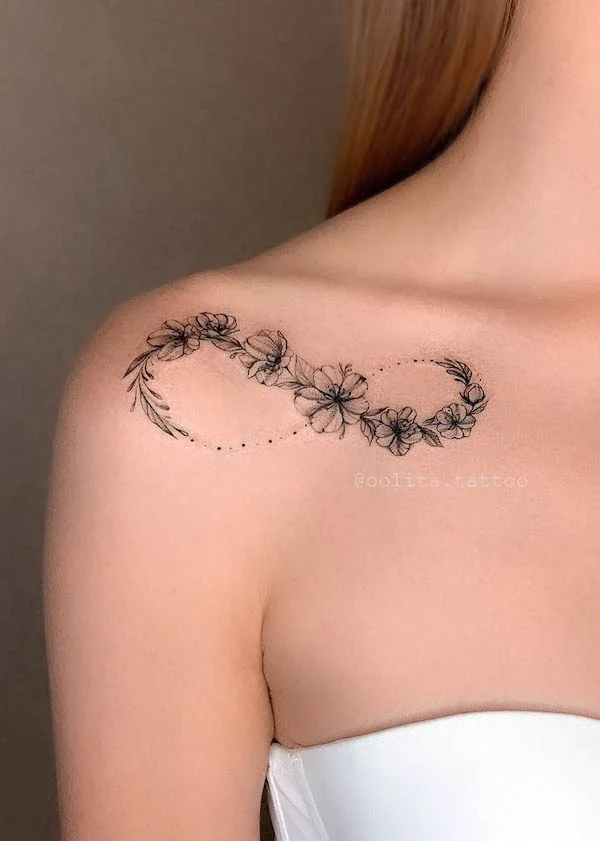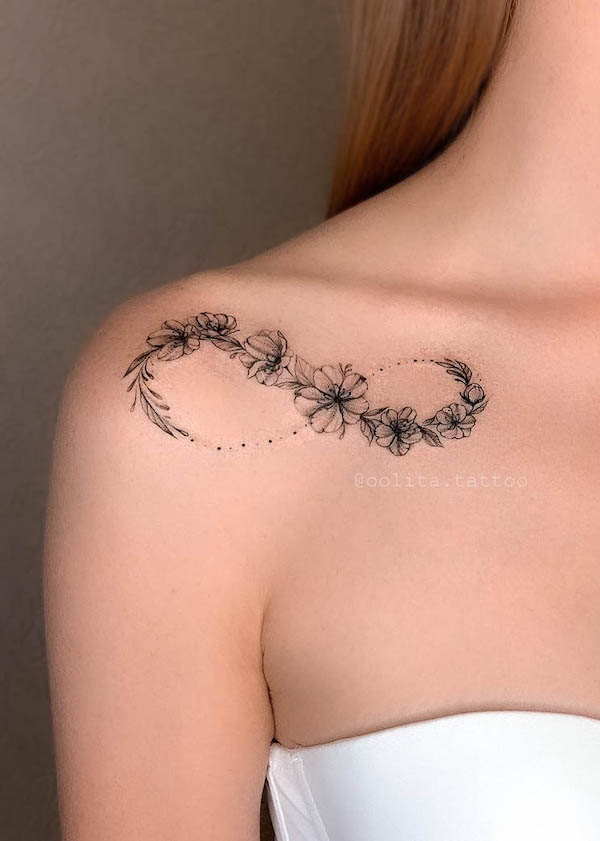 @oolita.tattoo
When a tattoo is placed between two body parts, the shape needs to flatter both of them.
Take this floral infinity for example. The slightly tilted angle follows the collarbone, while the circle fits on the top of the shoulder. The final result is elegant and sophisticated.
infinity ouroboros tattoo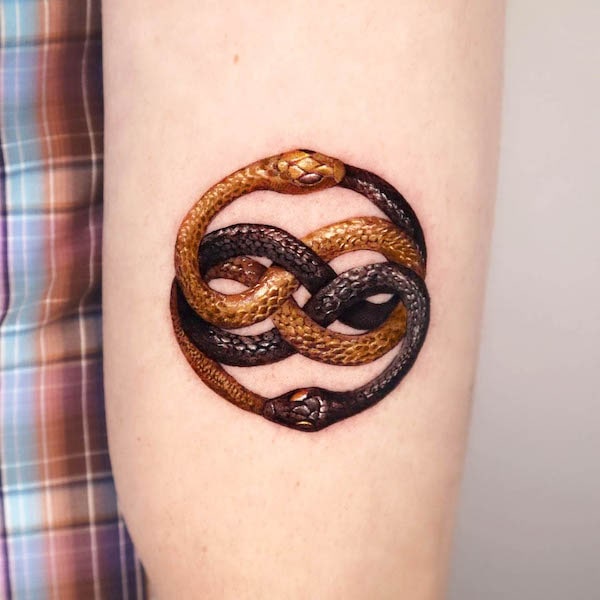 @tattooist_coldy
Auryn is a symbol from The Never Ending Story, a 1979 novel, and was later adapted into a movie. It depicts an ouroboros with two infinity signs overlapping in the center.
As it initially symbolized protection in the novel, the Auryn symbol also inherited the meaning of an ouroboros, which stands for eternity and endless evolution.
infinity ankle tattoo with names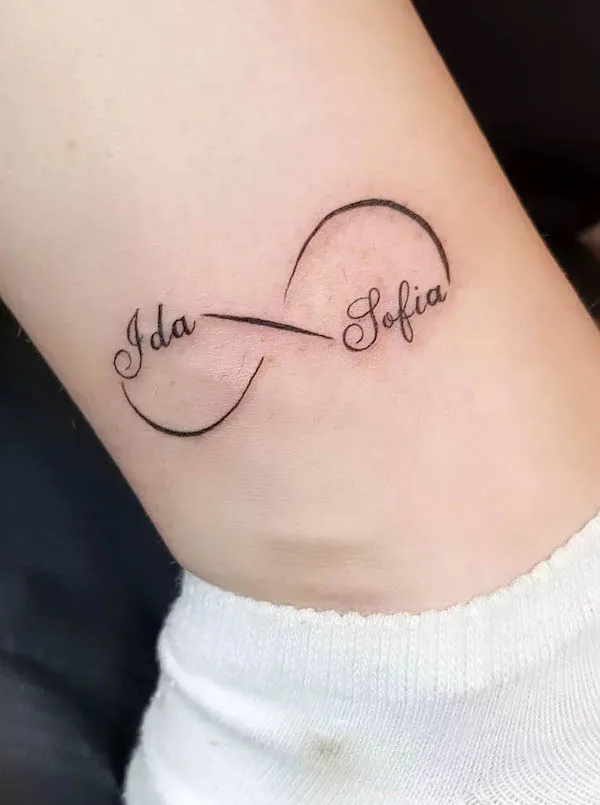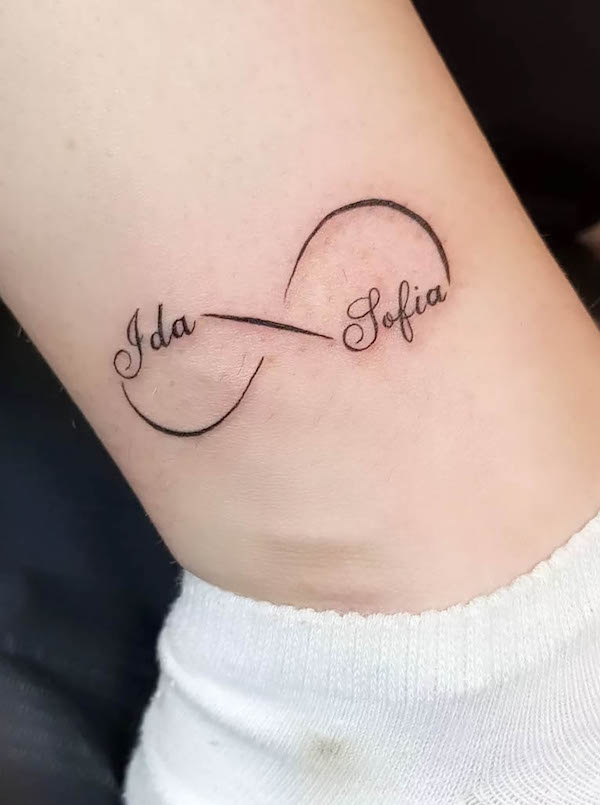 @maiapoppytattoo
It's a big commitment to tattoo the names of someone important, whether it's a sibling, a parent, or a Significant Other. But that they are irreplaceable in your life, a tattoo like this will be a meaningful tribute and a lifetime promise.
Infinity snake tattoo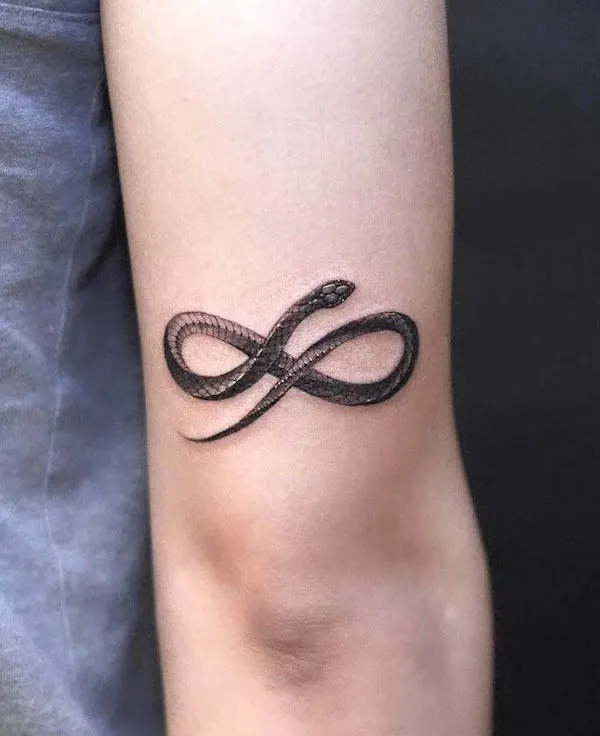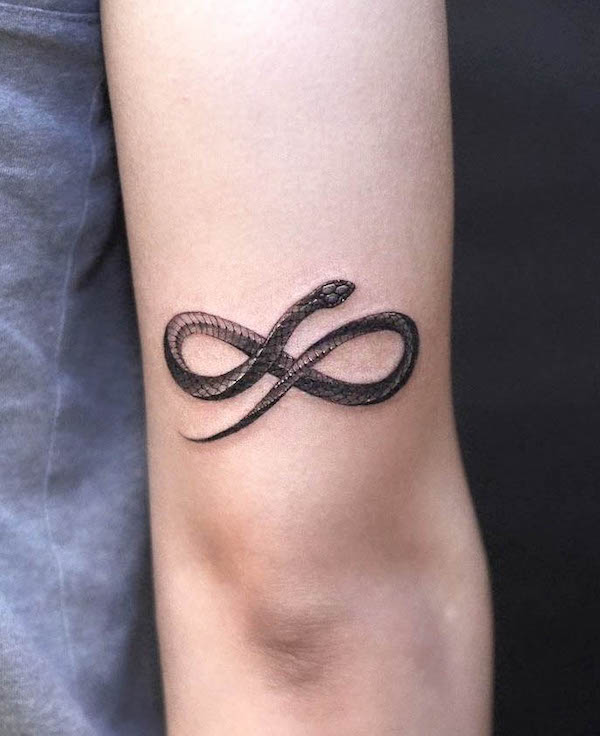 @tattoo_grain
Depending on the culture, a snake tattoo can be both evil and good. But despite the differences, it will always be a representation of transformation as snakes shed their skin regularly. It's a cool reminder to never stop growing and embracing changes.
Water infinity tattoo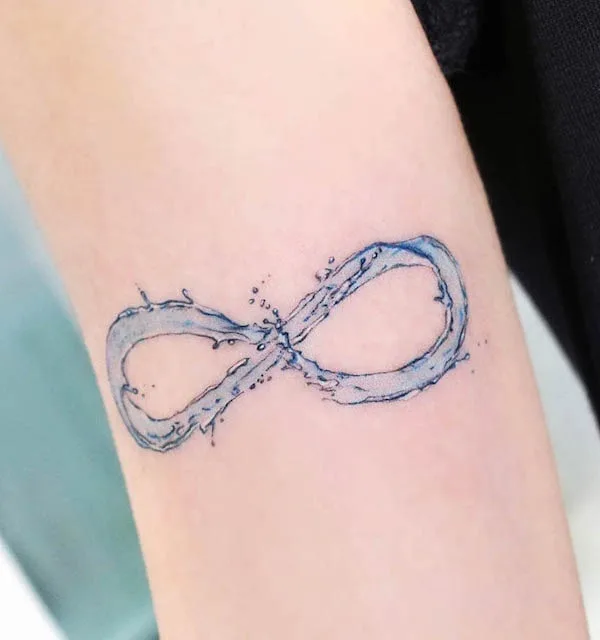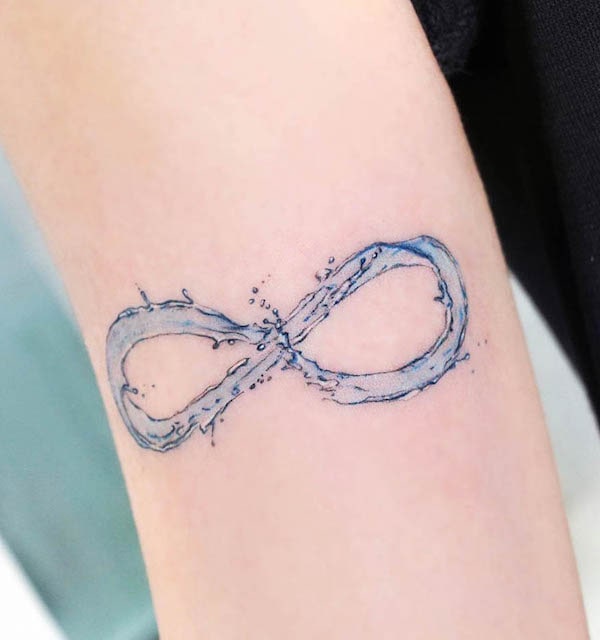 @tattooist_greem
The meaning of water tattoos largely depends on the design. For example, an infinity water tattoo symbolizes eternality. But it would mean something else if it is turned into an animal or another symbol.
infinity heart symbol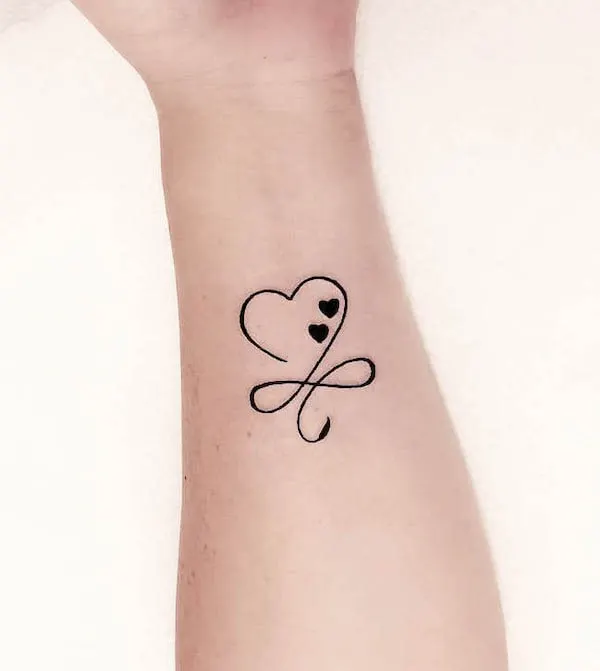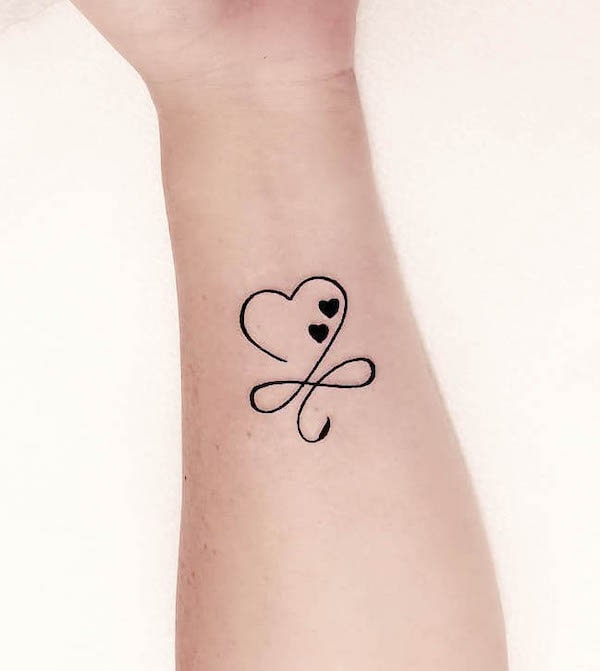 @mr.jones_.tattoo
A heart infinity tattoo not only represents romantic, eternal love. Take this black outline tattoo for example. The two hearts represent the two children of the wearer, making it a hearty mother tattoo.
Infinity feather tattoo on the chest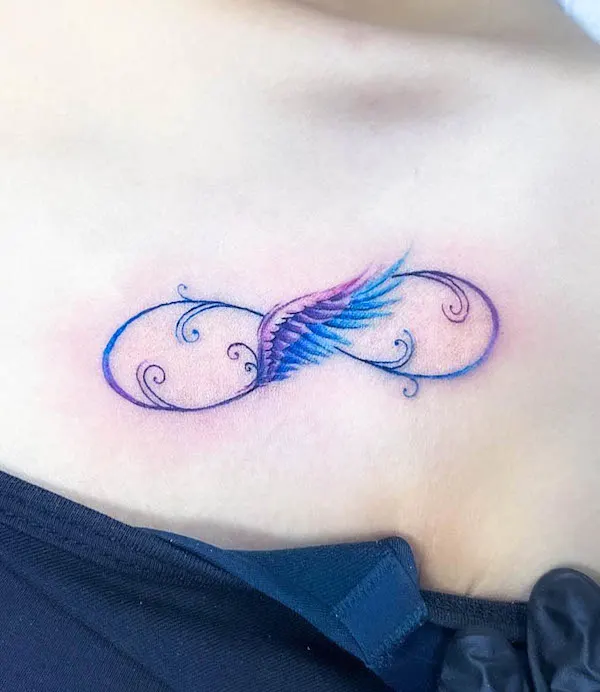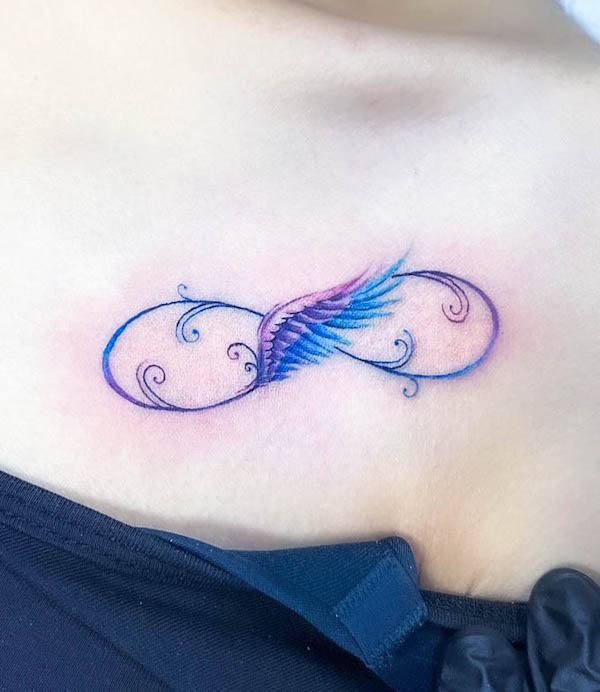 @josie.tattoos
Feathers symbolize freedom and bravery. This feather infinity tattoo is the perfect representation of the wearer's free-spirited personality.
What makes it stand out even more is the transition between purple and blue, giving the design a whimsical feeling.
Infinity lotus wrist tattoo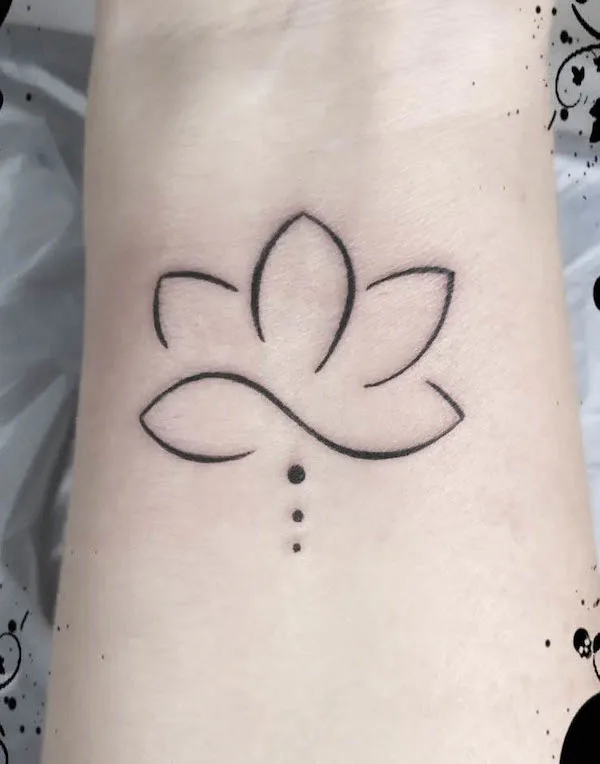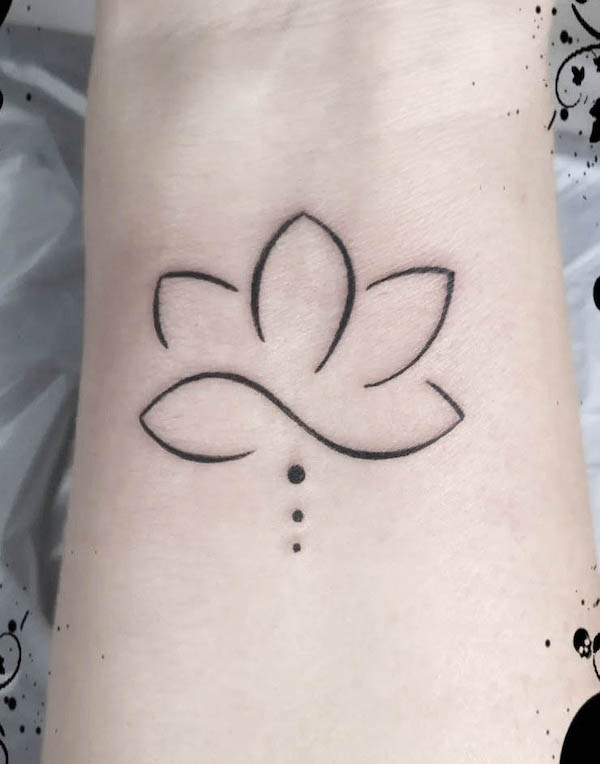 @lizzartzbiancakiezenberg
Lotus flowers are a spiritual symbol in Buddhism and Hinduism, representing zen and calmness. Combined with the infinity symbol, this lotus tattoo will remind the wearer to always protect her peace of mind.
infinity name tattoo with butterfly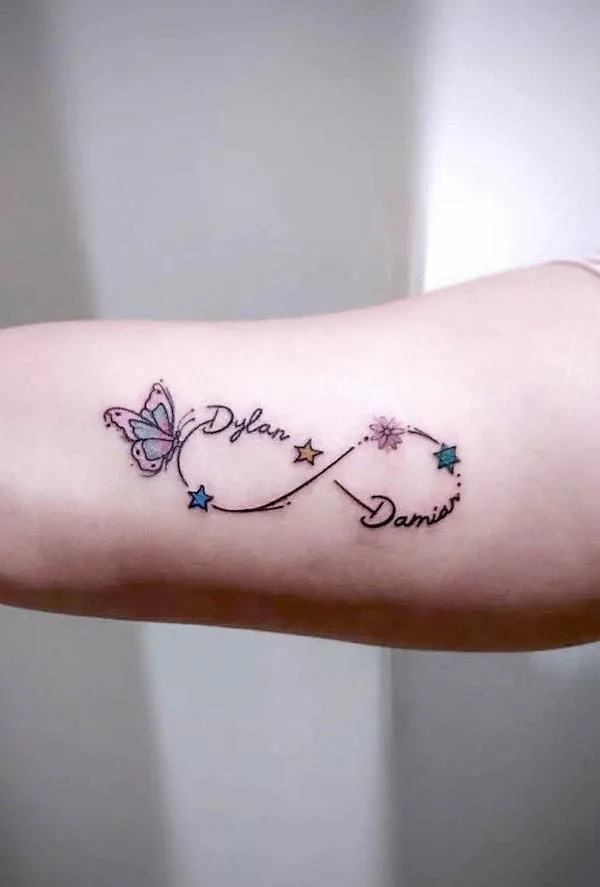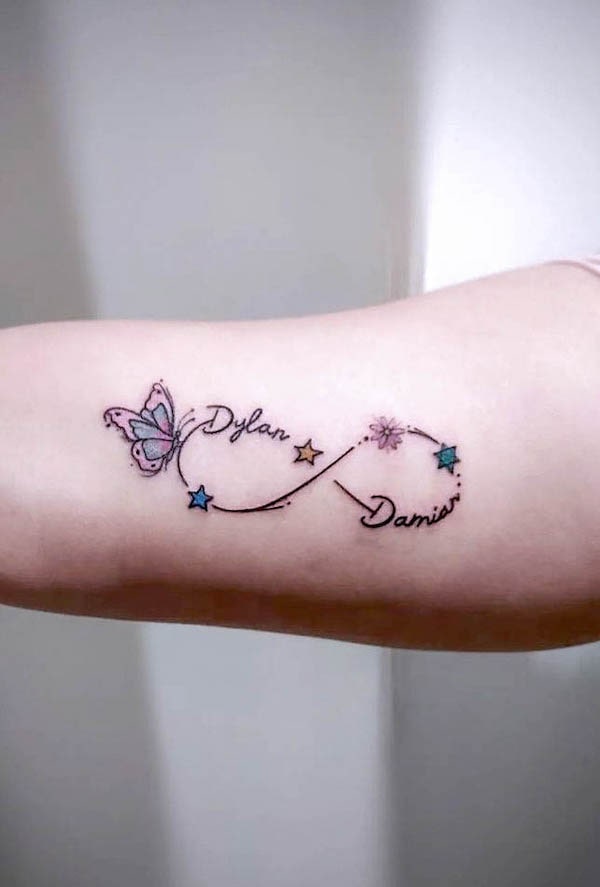 @daniel_venomdyt
Here's another parent tattoo with the names of the wearer's kids. The stars and the butterfly just make it more adorable.
infinity number tattoo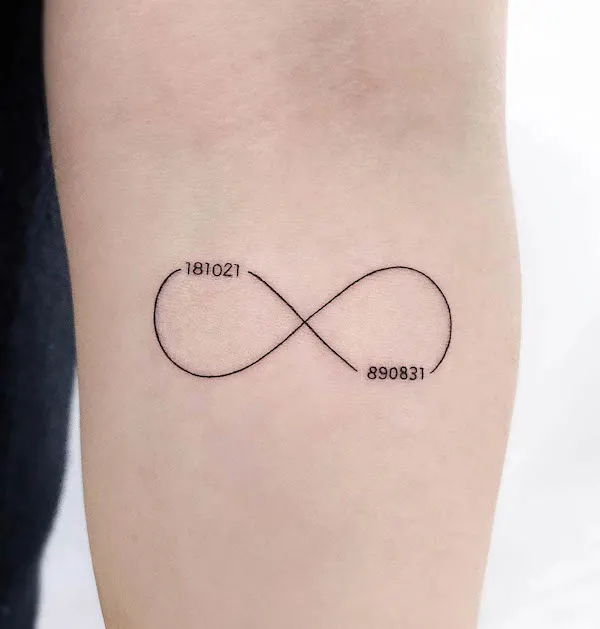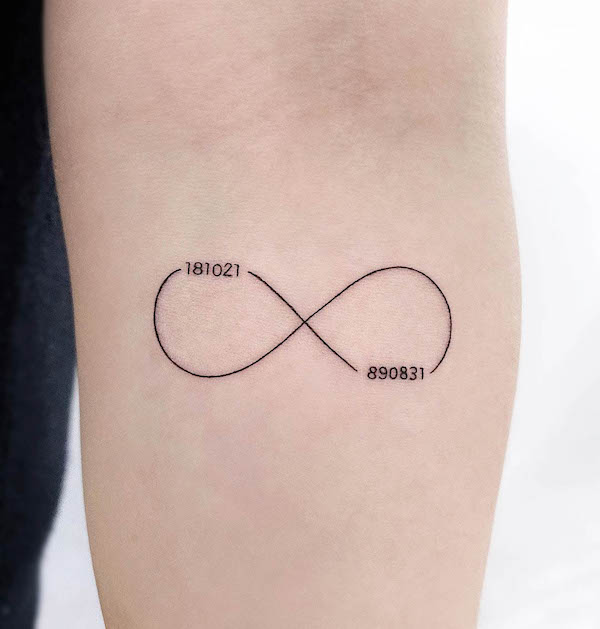 @simbar_tattoo
Numbers can represent a lot of things: date, year, places…you name it. The two strings in this tattoo are the birthdays of two family members. It's less literal than name tattoos but still feels close to the heart.
Infinity tattoo for travelers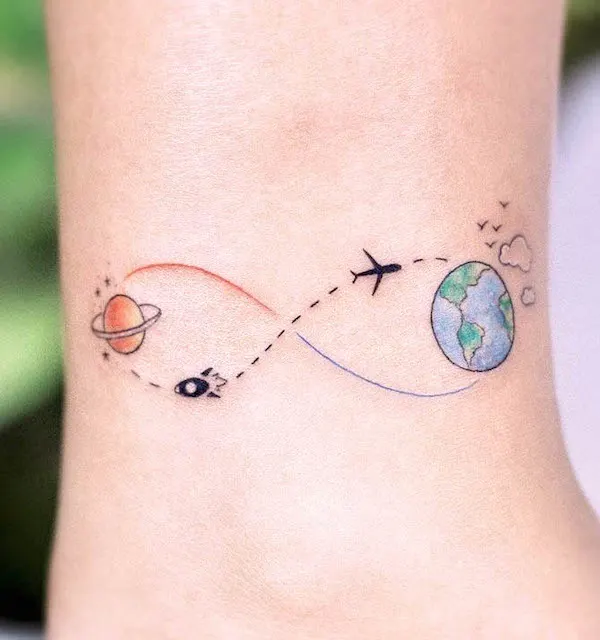 @minie._.chan
The passion of the wearer is fully translated into the elements like the plane, the planet, the earth, and the rocket. It will be a statement tattoo for travelers and explorers.
Lunar infinity tattoo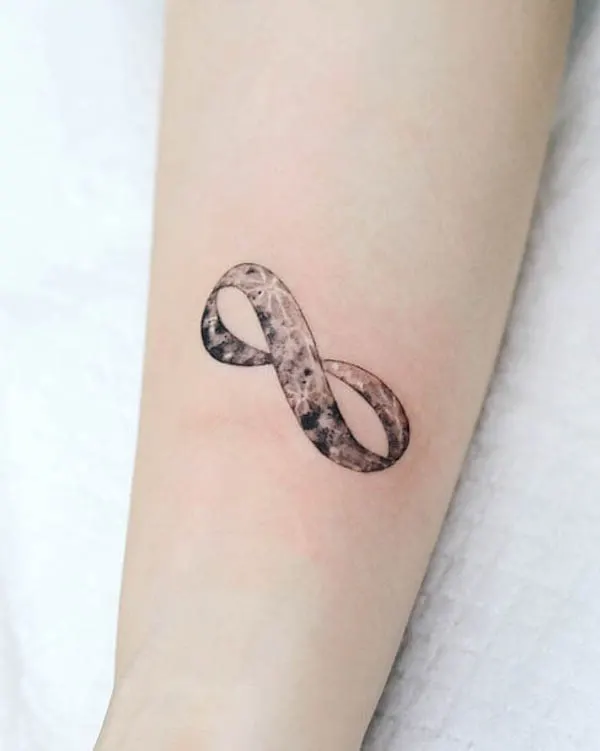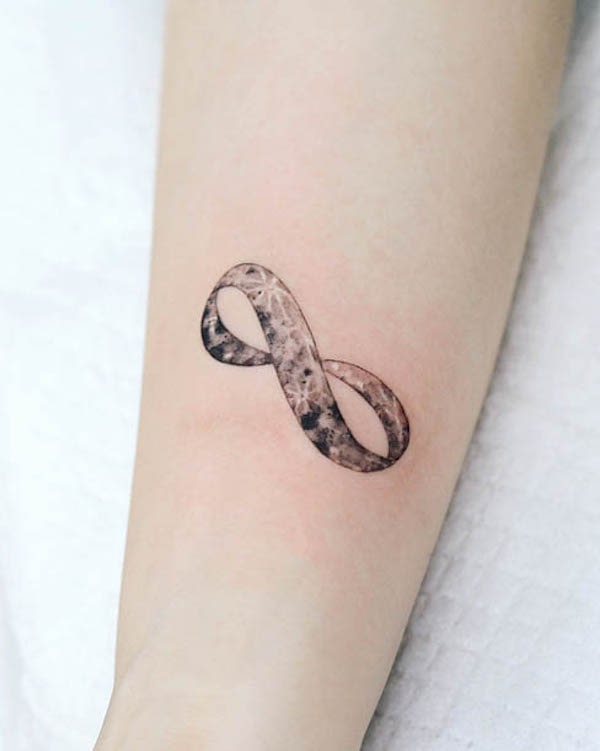 @tattooist_dal
From afar, this may look like a regular infinity tattoo. But the tattooist applies the pattern of the moon's surface onto it and creates a mysterious feeling.
Infinity waves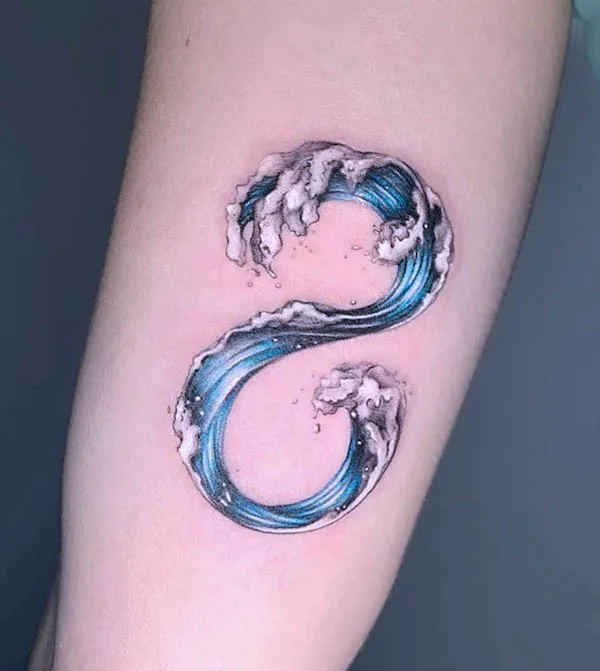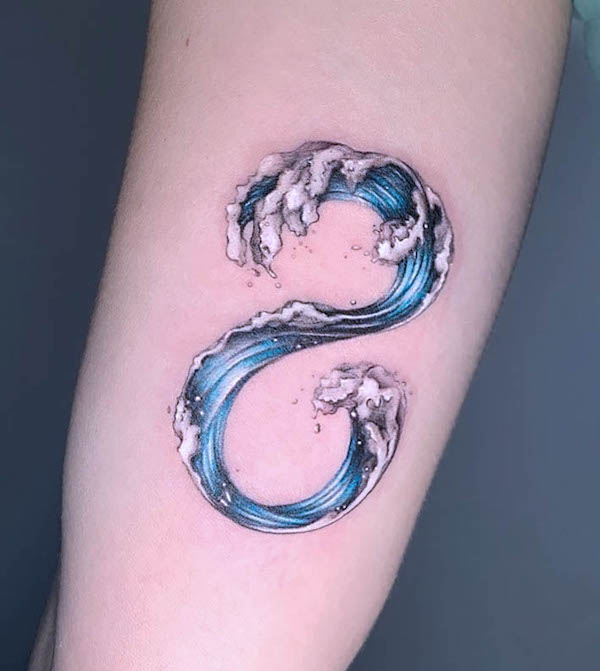 @tattooist_suf
With every hit on the shore, waves morph the shape of the coastline, giving it a new life. That's why waves often appear in tattoos about new beginnings and rebirth. With the waves turned into an unclosed infinity symbol, this tattoo embodies the power of nature.
Stunning infinity rose tattoo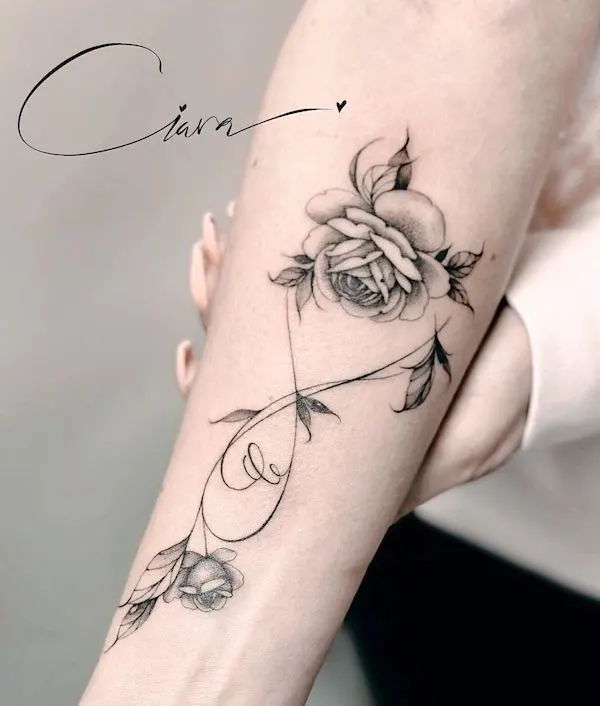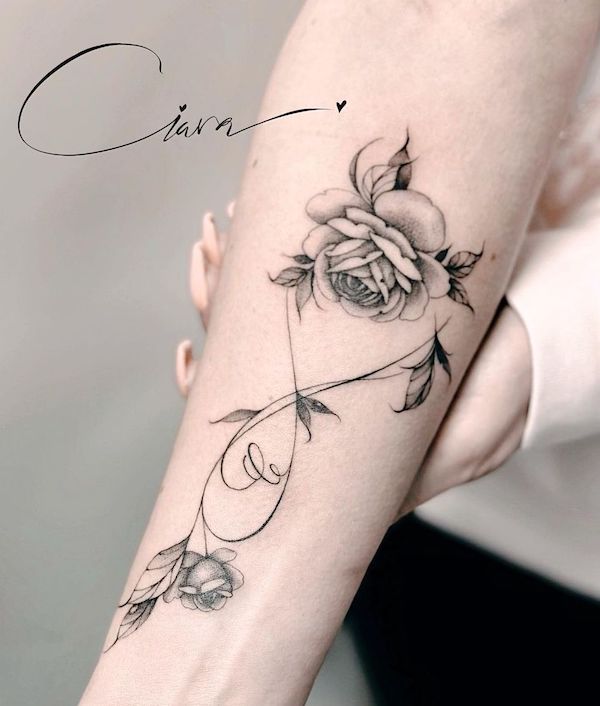 @inkbyciara
Rose tattoos never go out of style because of their rich symbolism and endless possibilities of design. This forearm tattoo turns the stems of the roses into the shape of an infinity symbol. The curves and fine lines make it even more feminine and elegant.
Sword and infinity tattoo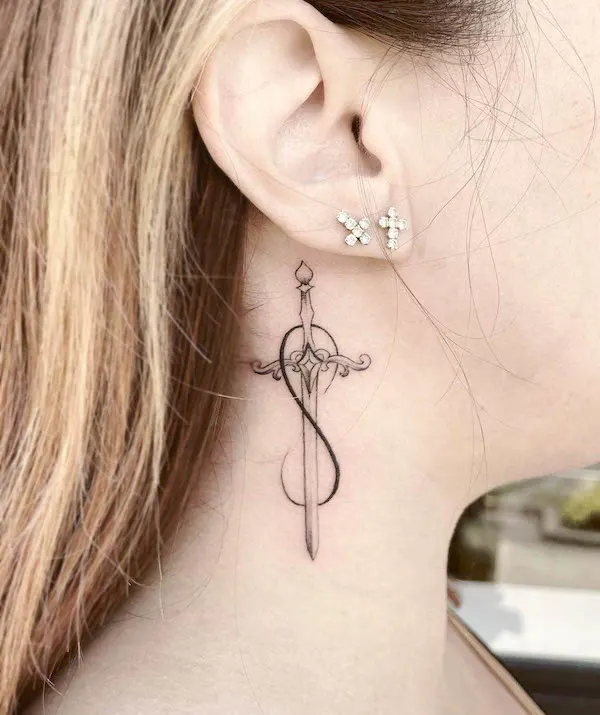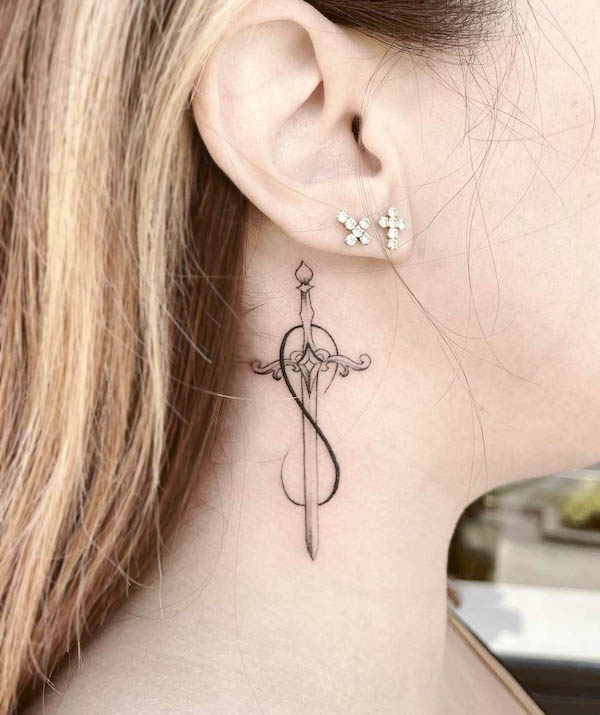 @heej.ink
Sword tattoos have long been a popular choice for those who seek empowerment from body art. Layering an infinity symbol on top of a sword makes it a lifetime reminder of one's inner strength.
Tribal infinity tattoo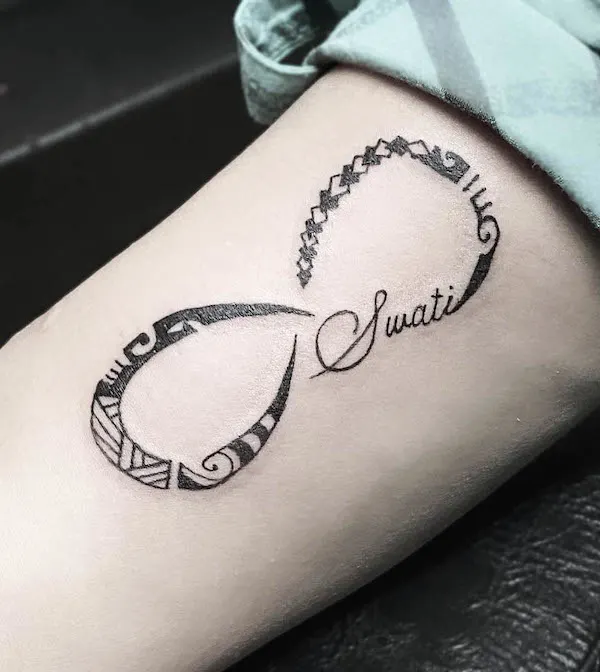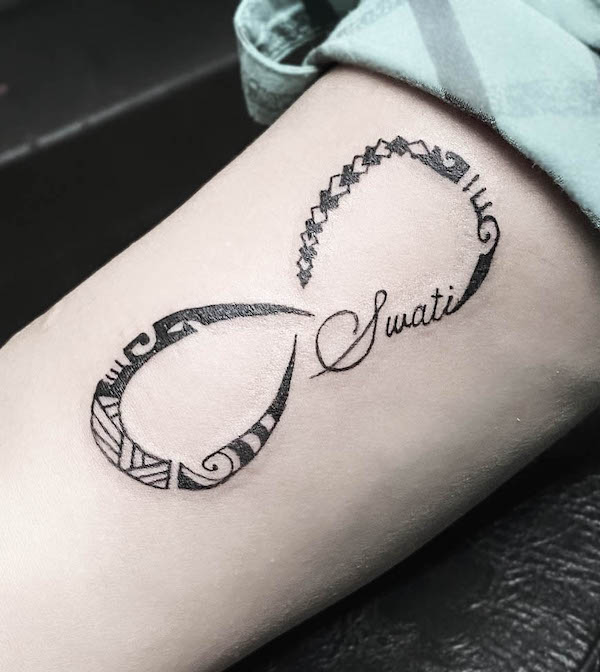 @ektatattooart
Tribal tattoos showcase one's heritage and aesthetics. The thick lines and intricate patterns reflect the wearer's strength and courage.
Cute finger infinity symbol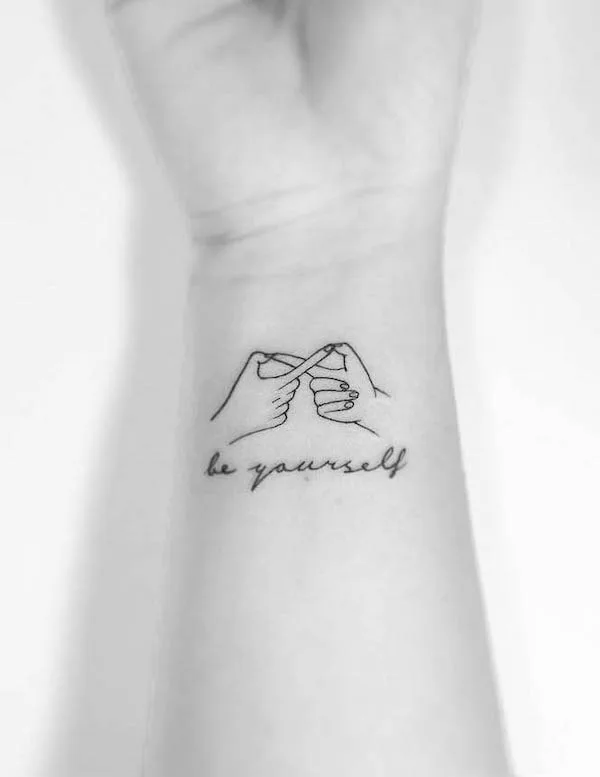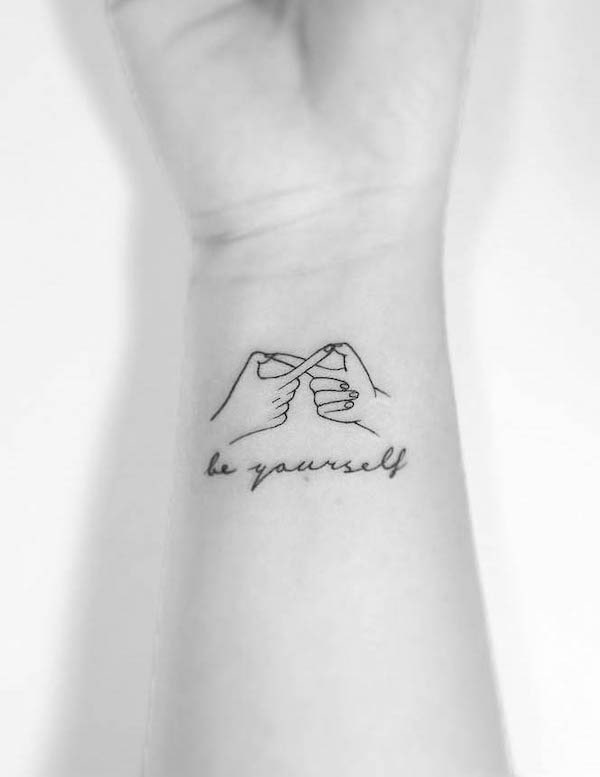 @playground_tat2
Unlike most infinity tattoos that are made of lines and decorative elements, this design depicts two hands forming a figure 8. It's a light-hearted reminder to be yourself.
Rose infinity symbol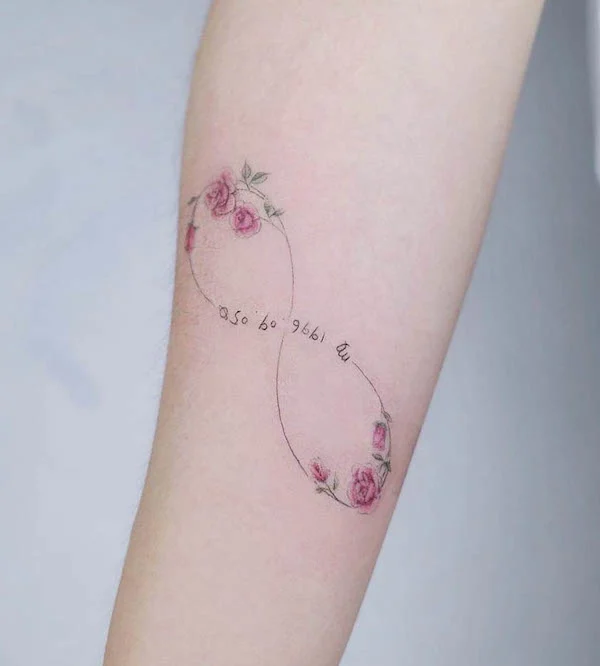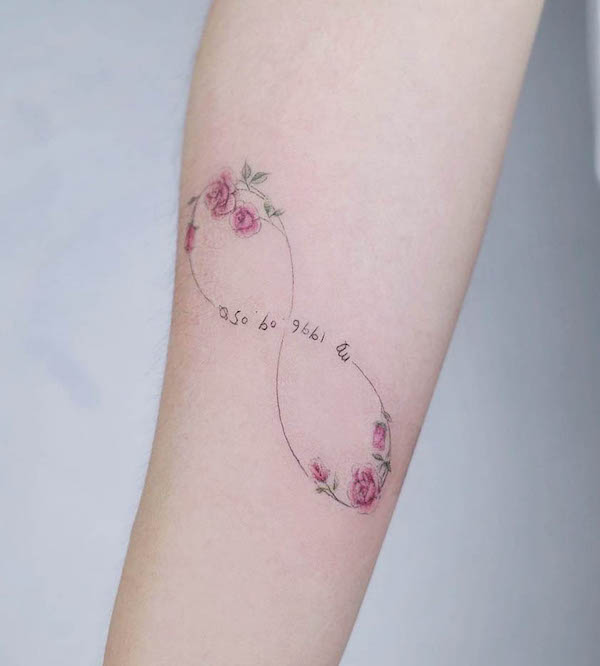 @jiayu77121
A fine-line tattoo can stand out with a pop of color. And the flowers in this design are the highlight it needs.
Infinity symbol ouroboros tattoo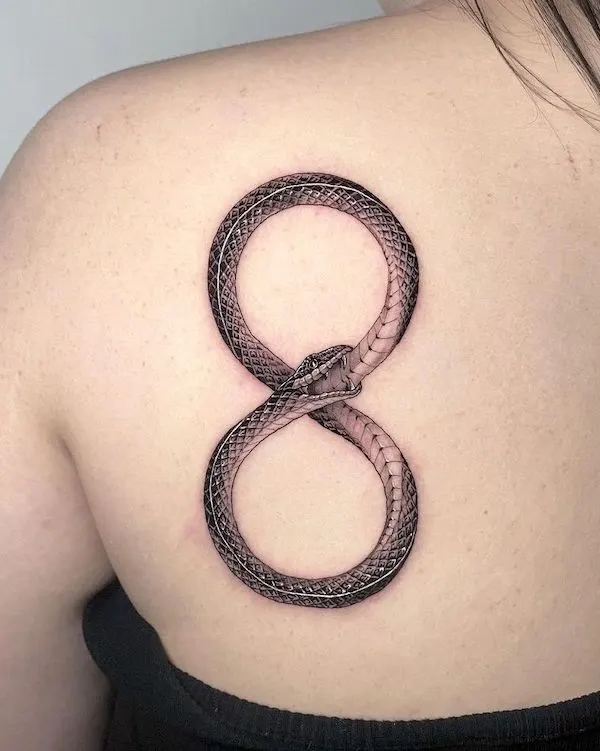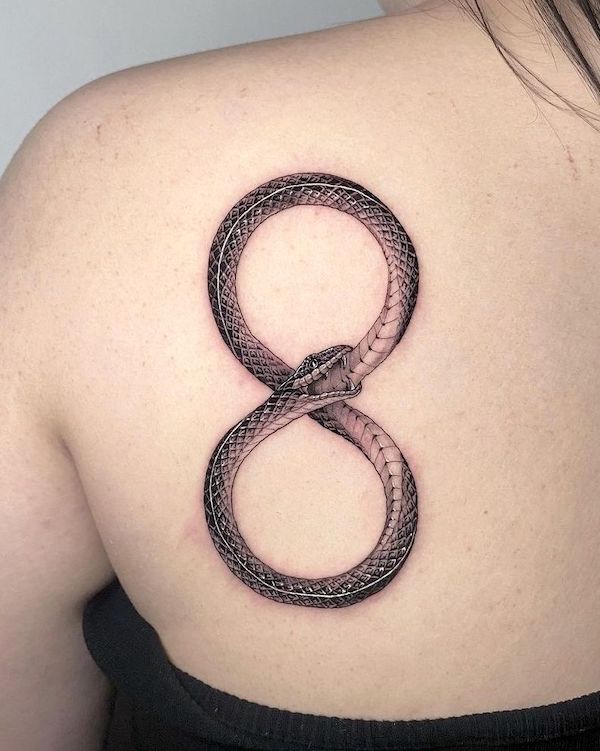 @hangang_tattooz
Ouroboros tattoos usually depict a snake biting its tail, forming a circle. This snake tattoo, however, replaces it with the shape of an infinity symbol, emphasizing that life is an endless cycle. And the details of the scales make it hard to look away.
Rainbow infinity symbol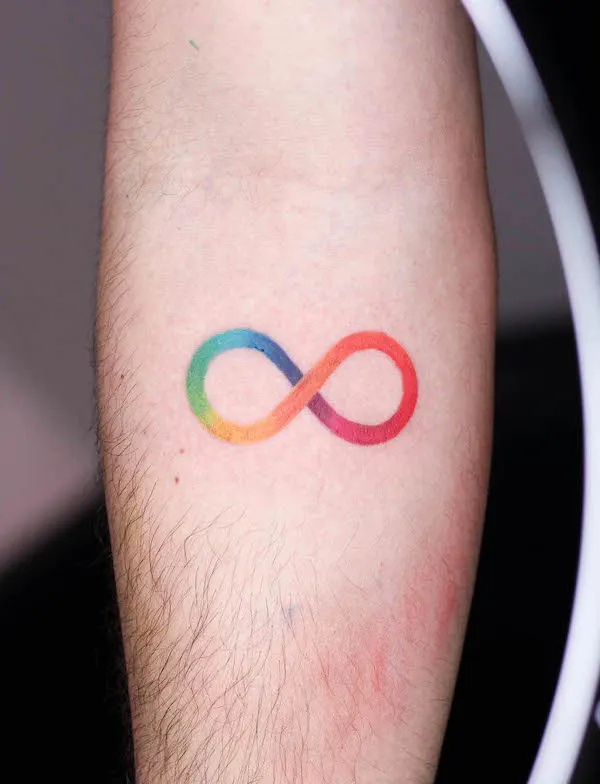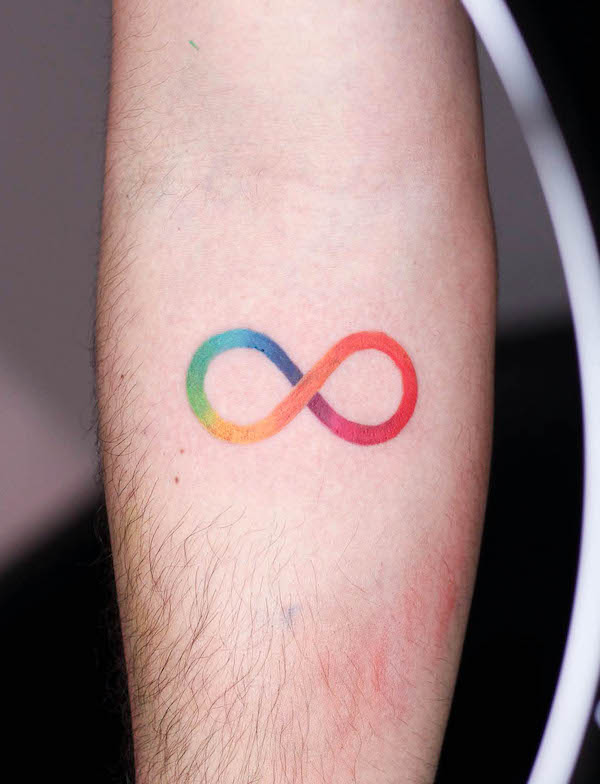 @havilavienna
Rainbow tattoos are not only an emblem of the LGBTQ community, raising awareness of equality and inclusivity. It can also represent the abundance of life and remind us to embrace the opportunities life offers.
Mom dad forearm tattoo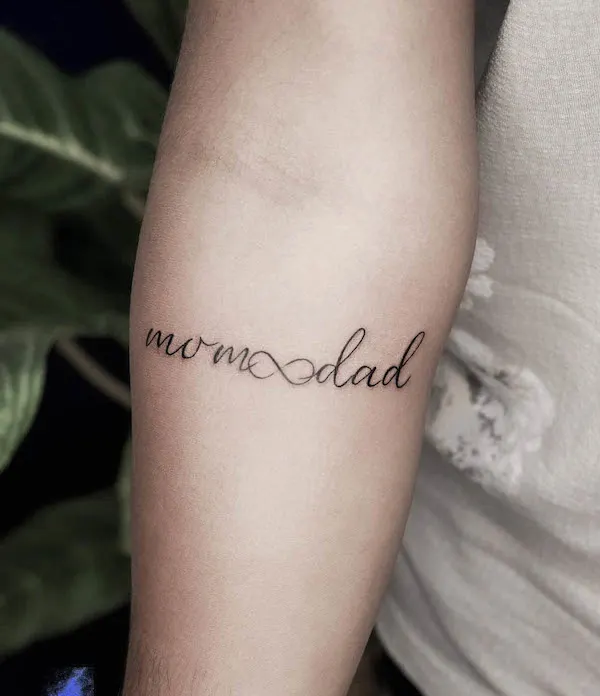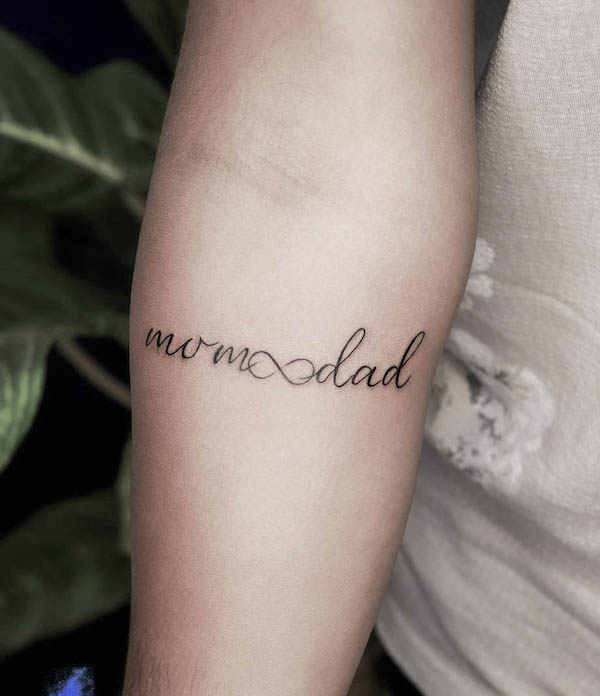 @blue_heaven_tattooz
The love between the parents is the best gift for a child. This mom dad tattoo with the infinity symbol in between shows how unbreakable the wearer's family is.
Stethoscope and infinity symbol tattoo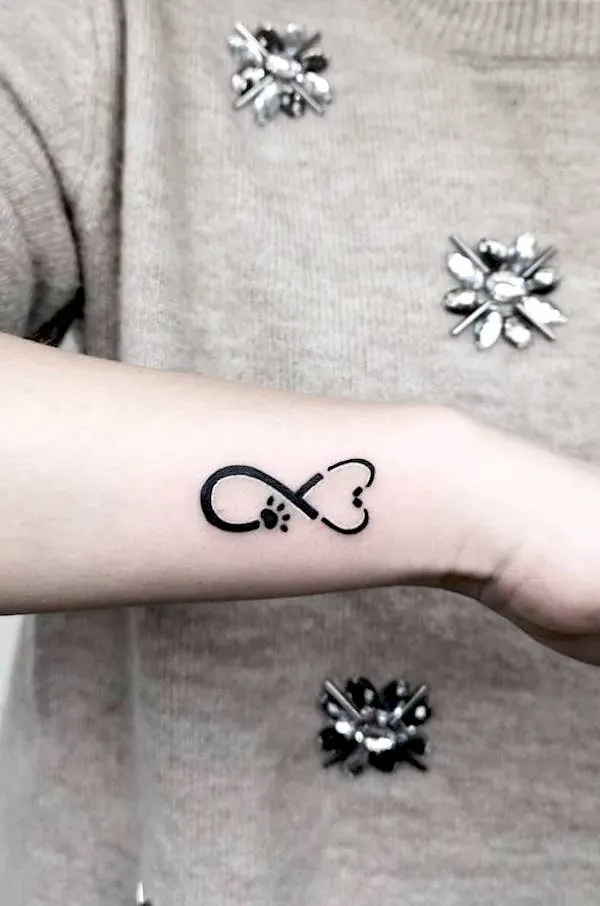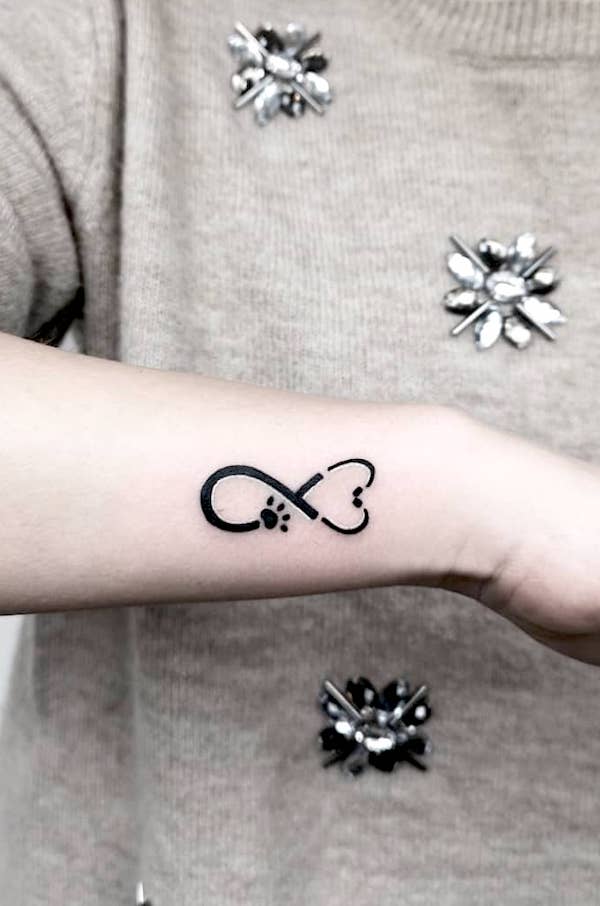 @nikita.tattoo
In this small wrist tattoo, the stethoscope is twisted into an infinity symbol, making it a subtle doctor or nurse tattoo. It indicates that the commitment to one's profession lasts forever.
Small infinity symbol tattoos
Because of its simplicity, an infinity tattoo can be as small or big as you wish. For those who want to keep a low profile, a tiny infinity is the perfect subtle decoration on the skin. Placing it on areas like behind the ear or the inner finger will further lower its exposure.
However, just because a tattoo is small doesn't mean it's monotoned. Below is a list of small and even tiny infinity tattoos that are sleek and pleasing to the eye.
Small infinity arm tattoo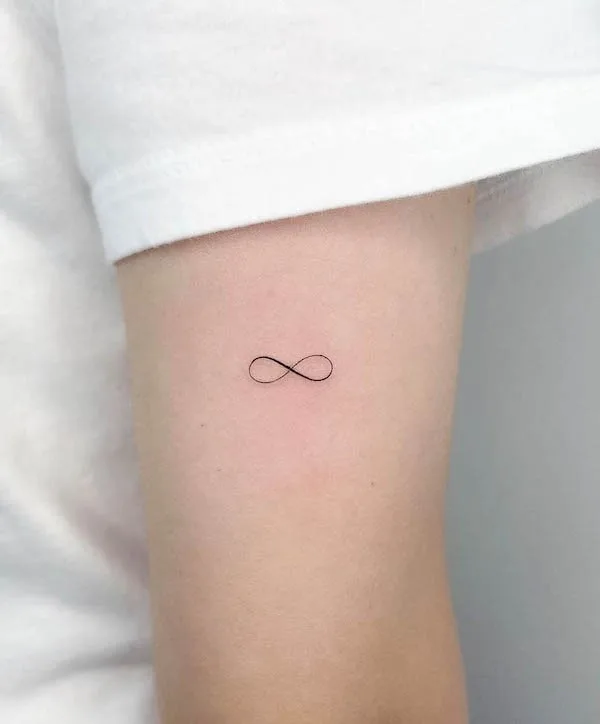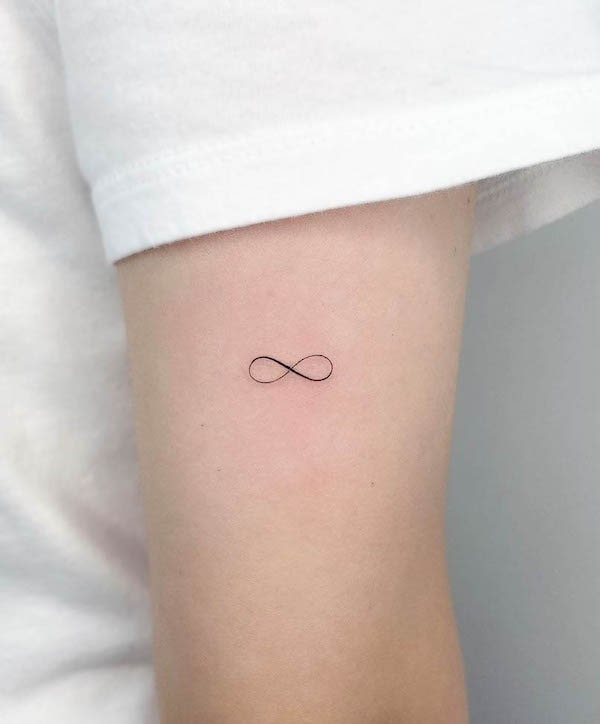 @sop_tattoo
Tattooist Sop mentioned in our interview that he loved to make the tiniest tattoos unique in his way. This small infinity tattoo gives a hint of how he did that.
Even on such a small scale, the different thickness of the line makes this tattoo special, giving depth to the design.
Cute small infinity arrow tattoo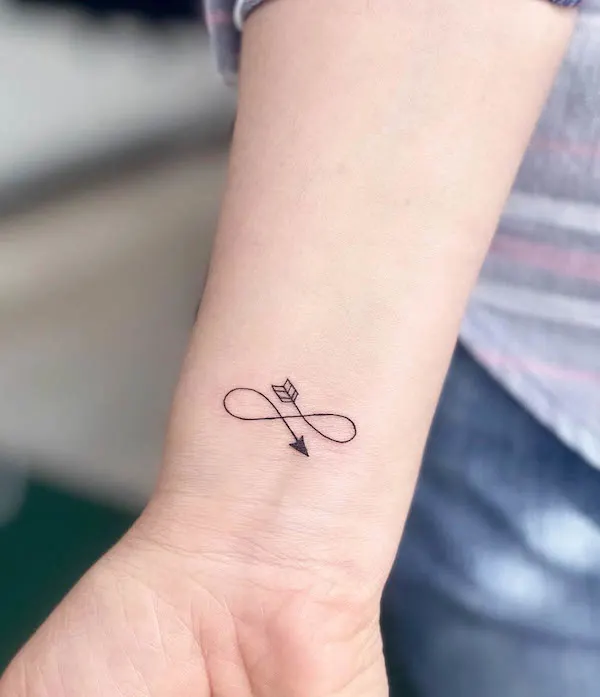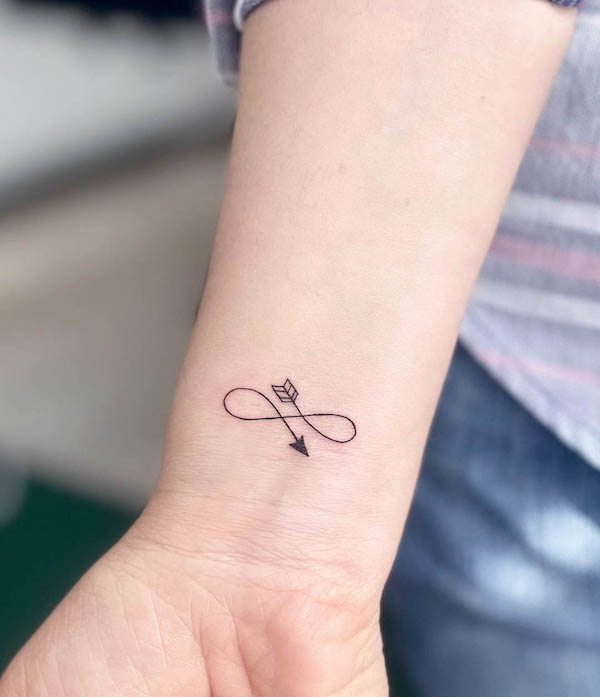 @zeetattooo
Arrow tattoos represent direction, intuition, and determination. Combining the arrow with the infinity symbol, this tattoo will be a reminder to always follow one's heart.
Elegant floral infinity tattoo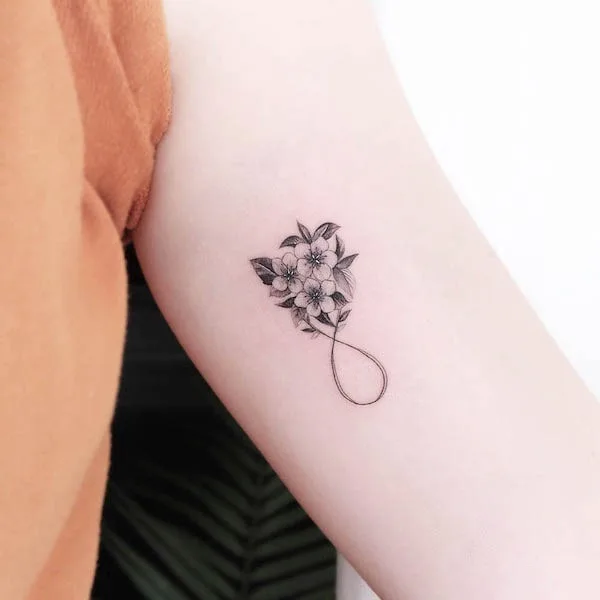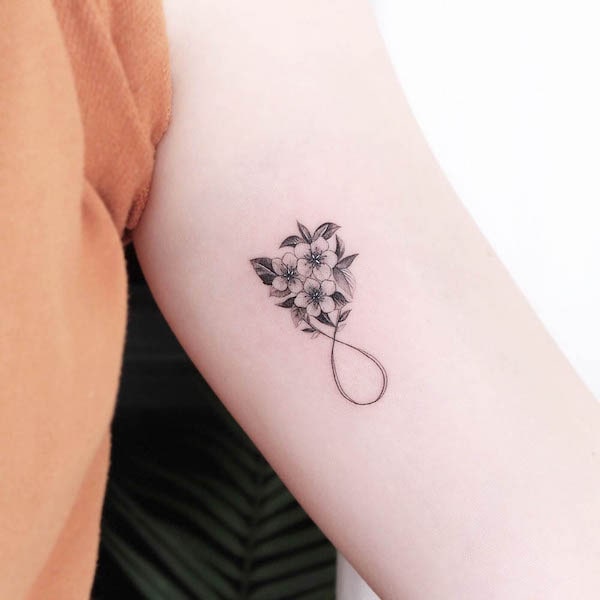 @tattooist_greem
In this tattoo, the flowers not only add femininity to the design. The full blossoms also make the tattoo more lively, reflecting the wearer's positive life attitude.
Small iridescent infinity tattoo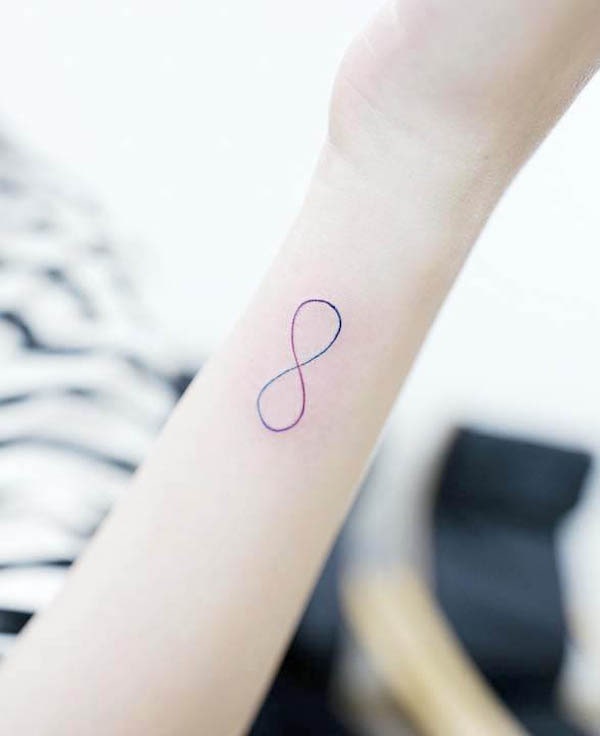 @tattooist_banul
While a large bold tattoo stands out for sure, a small one like this can win attention even with just a slight twist. The iridescent colors of the outline give the wow factor this tattoo needs.
Dainty small infinity tattoo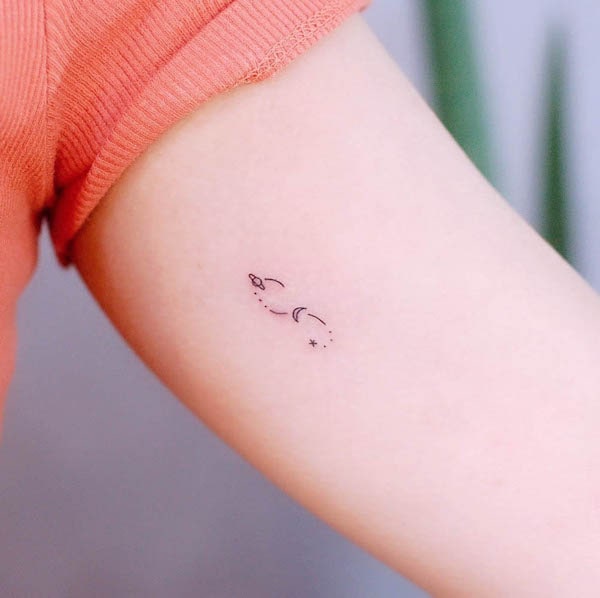 @wittybutton_tattoo
Are you a space lover? If so, this simple small tattoo will be the right fit for you. The planet, the moon, and the orbits all show the wearer's love for space and her passion for exploration.
Infinity finger tattoo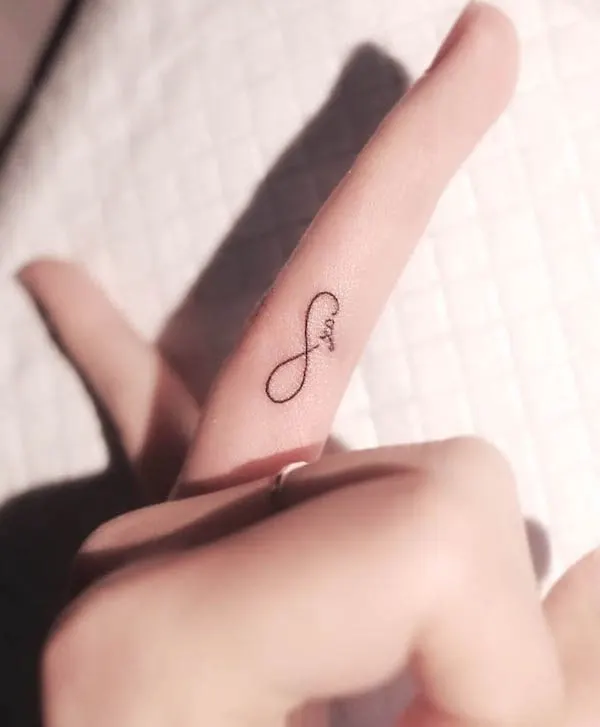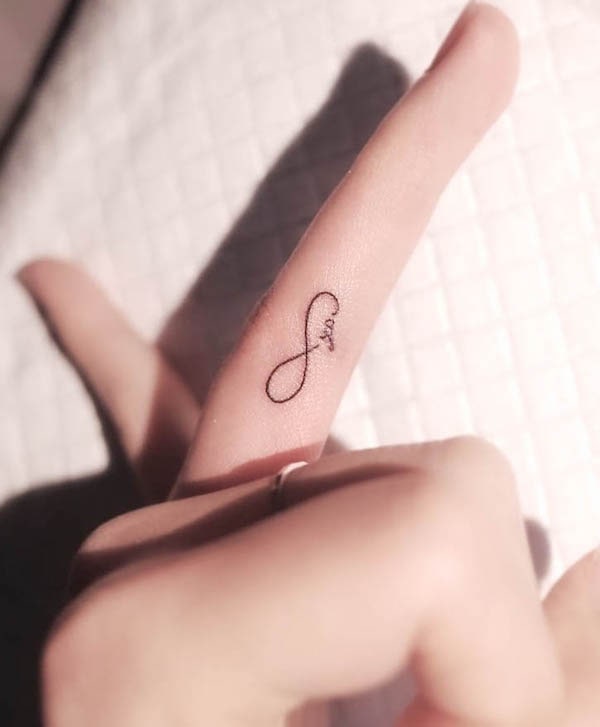 @wittybutton_tattoo
Some tattoos are meant for the wearers themselves. They are visual reminders instead of a tool for attention. That's why hidden tattoos are always popular. And placing a tattoo on the inner side of a finger makes it even more discreet.
Small rose infinity tattoo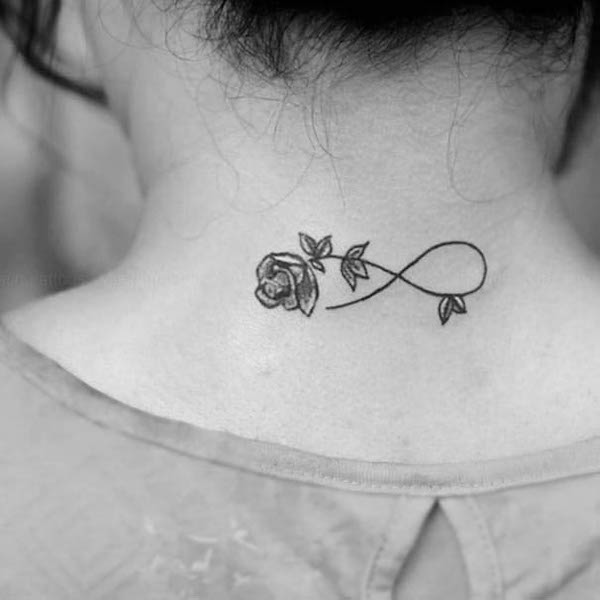 @she_the_luna
If you love to add personality to a tattoo, flowers can be something to consider. Also, switching the rose into your birth flower will make a tattoo even more meaningful.
infinity bird tattoo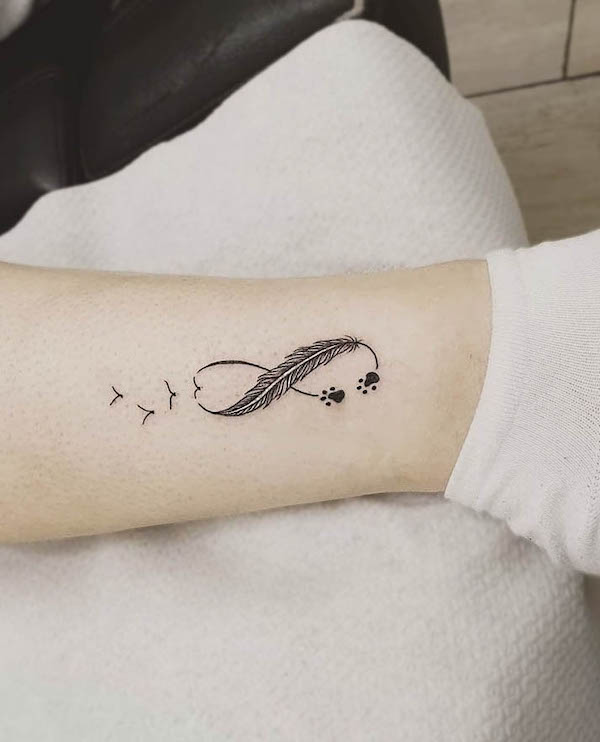 @mr.jones_.tattoo
Bird tattoos belong to untethered souls. When birds are added to an infinity tattoo, they symbolize the wearer's lifetime pursuit of both physical and spiritual freedom.
Tiny infinity tattoo with date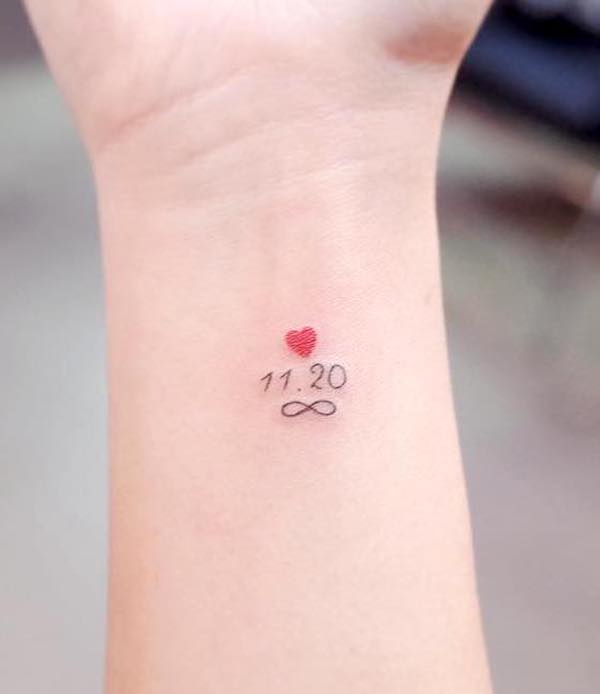 @wittybutton_tattoo
Infinity hearts wrist tattoo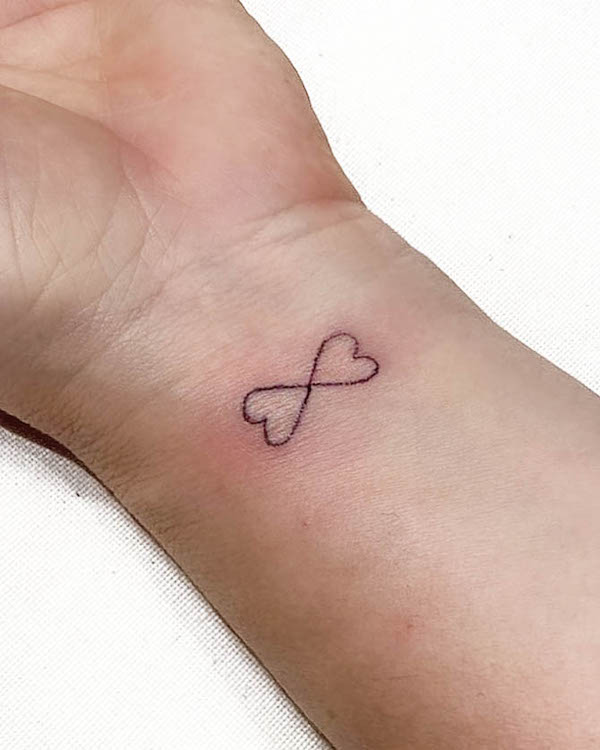 @amar.natbagatini
In this wrist tattoo, two hearts are connected with each other. It pays tribute to a loving relationship and reminds the wearer of someone close to the heart.
Girly infinity tattoo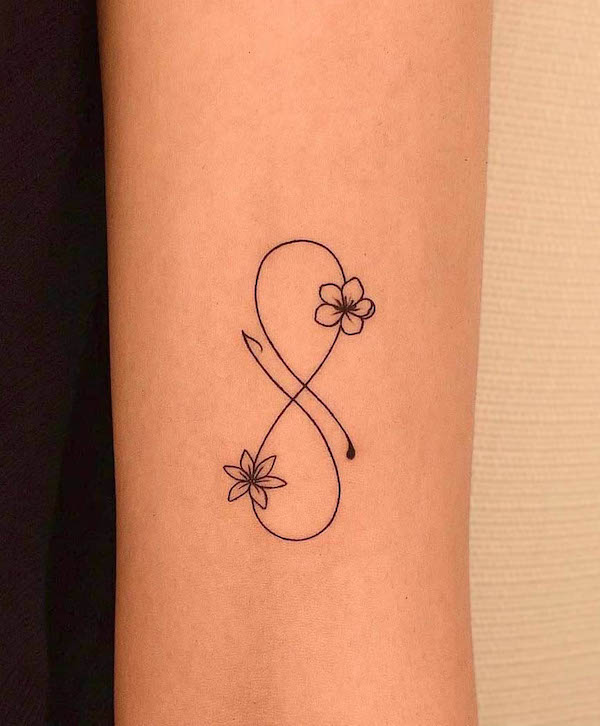 @women.tattoo.tehran
This tattoo is simple yet unique. The start and end of the line mimic that of a musical note. And the flowers add a cheery vibe to the tattoo.
Super small infinity ankle tattoo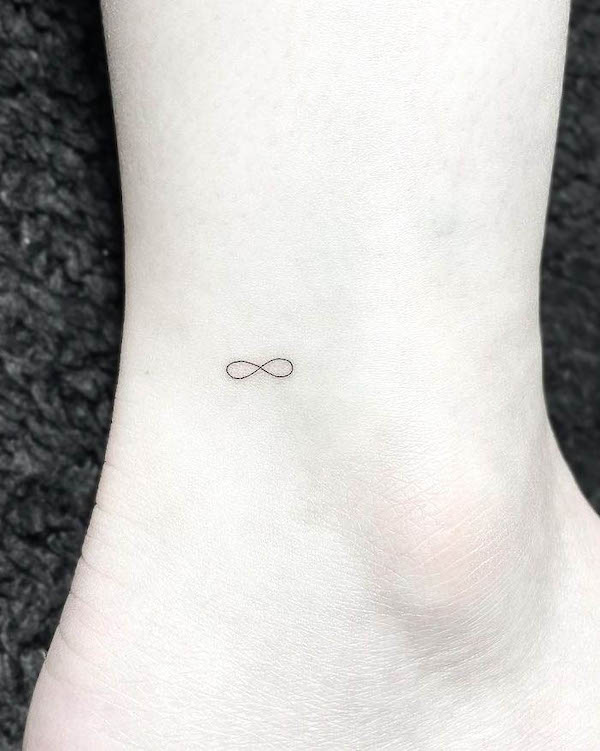 @sop_tattoo
If you want something with less exposure but not entirely hidden, ankle tattoos may be what you are looking for.
Whether it's a small tattoo like this or one with bigger coverage, placing it on the ankle will help tone down the volume.
Small and simple infinity bird tattoo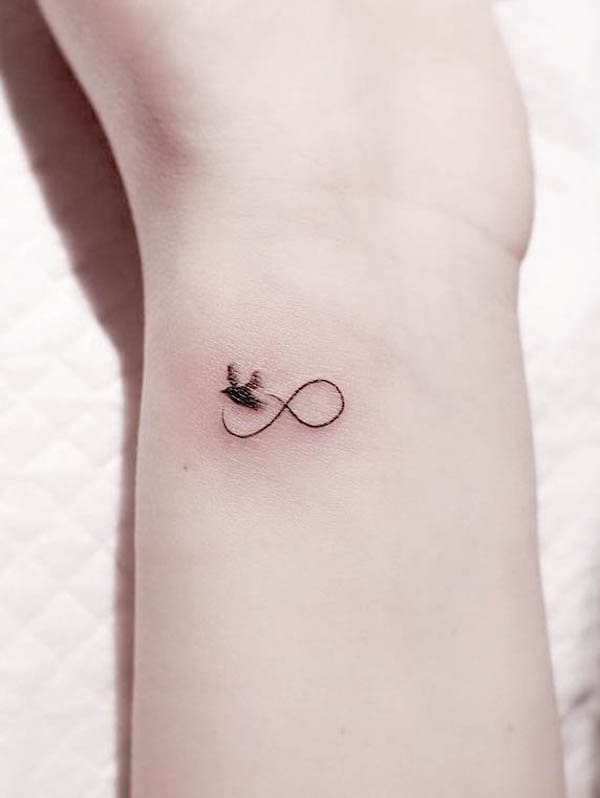 @wittybutton_tattoo
Infinity heart symbol tattoo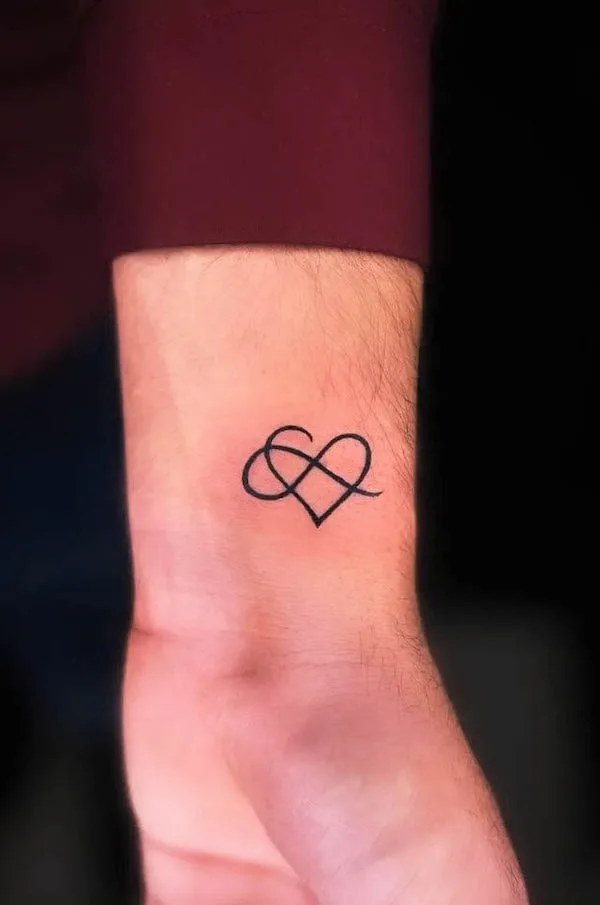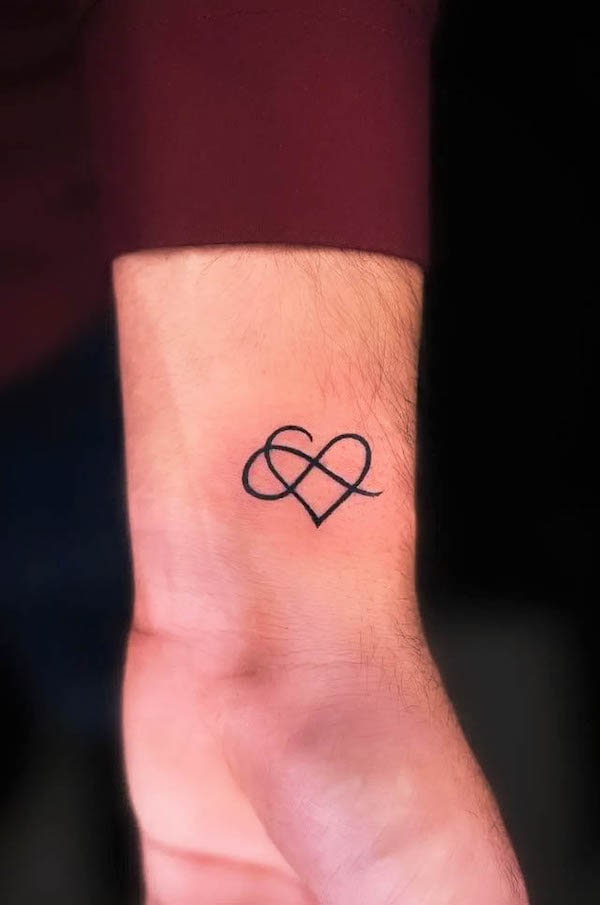 @_____marky______
Heart infinity tattoos are a romantic gesture of love. They not only show how strong the relationship is but also indicate that the love will last for a lifetime.
Small colored infinity tattoo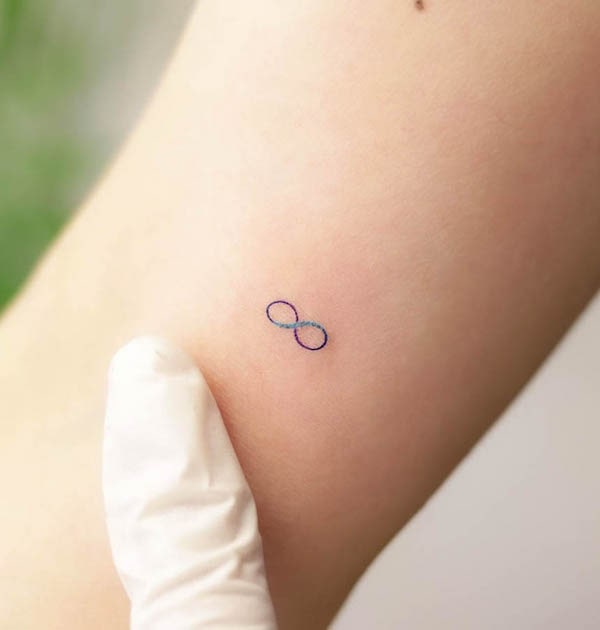 @wittybutton_tattoo
Small infinity side wrist tattoo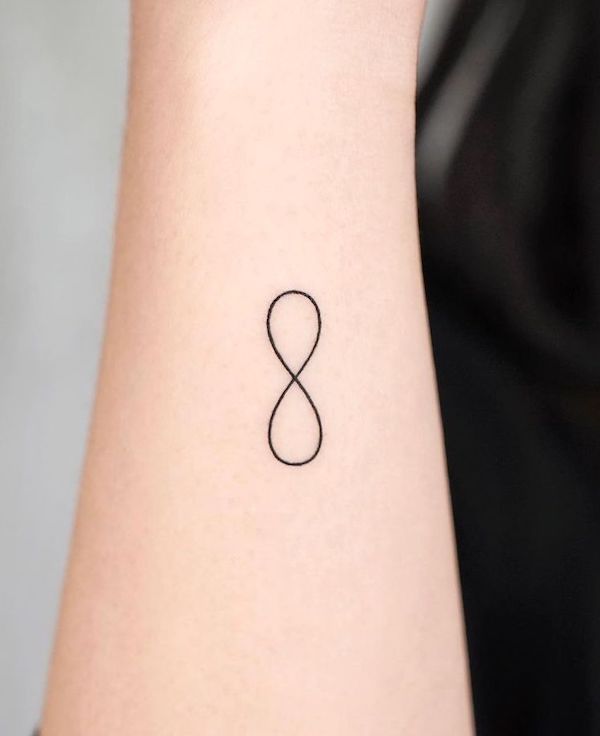 @simya_tattoo
If you are getting your first tattoo, it's always a good idea to start with a simple, affordable, and timeless design. And this vertical infinity symbol may give you some inspiration.
Unique infinity rib tattoo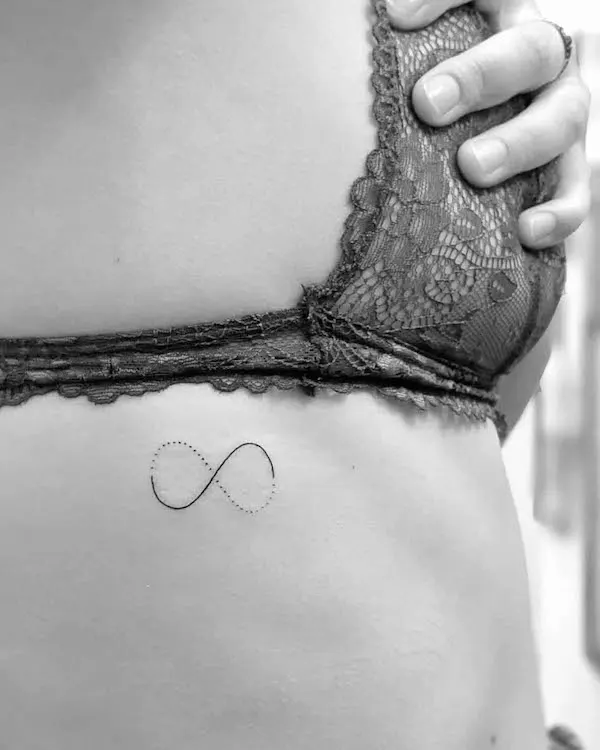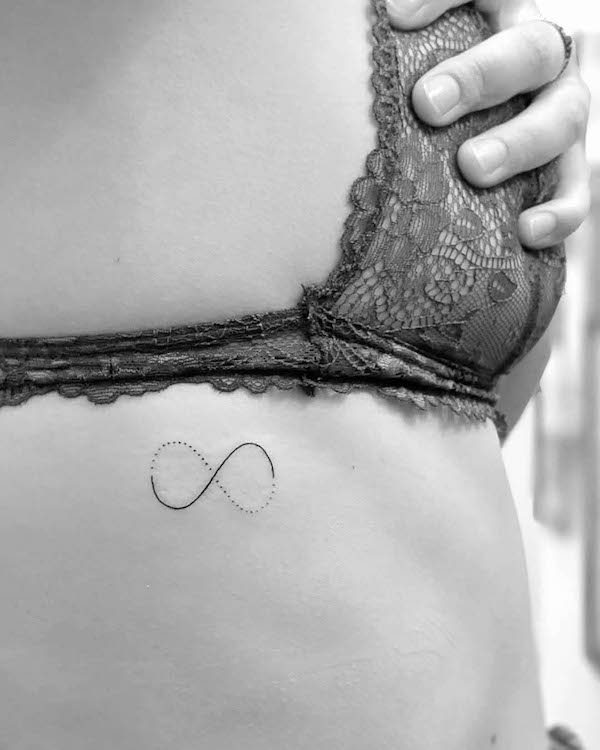 @stephen_doyle_tattoo
The rib is among the most painful tattoo placements because the skin is thin. That's why if you are pain sensitive, it's a good idea to go for something simple, just like this minimalist rib tattoo.
Infinity date tattoo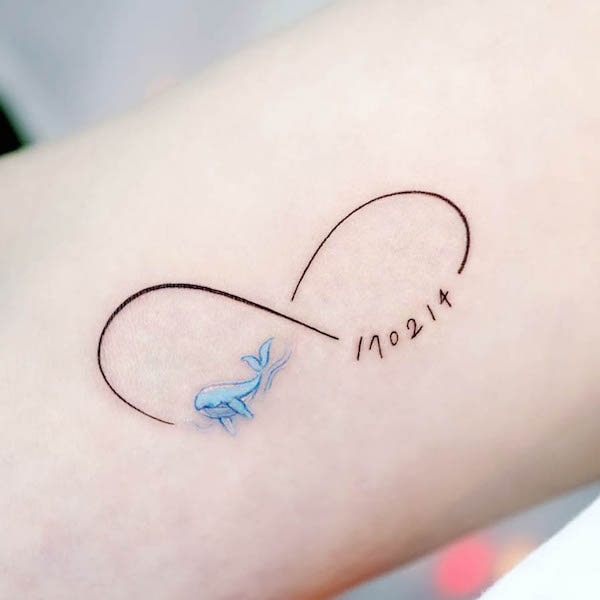 @tattooist_namoo
Do you have a spirit animal that you relate to or that represents your personality? If so, adding it to an infinity tattoo will make it more meaningful and cute.
Tiny infinity arm tattoo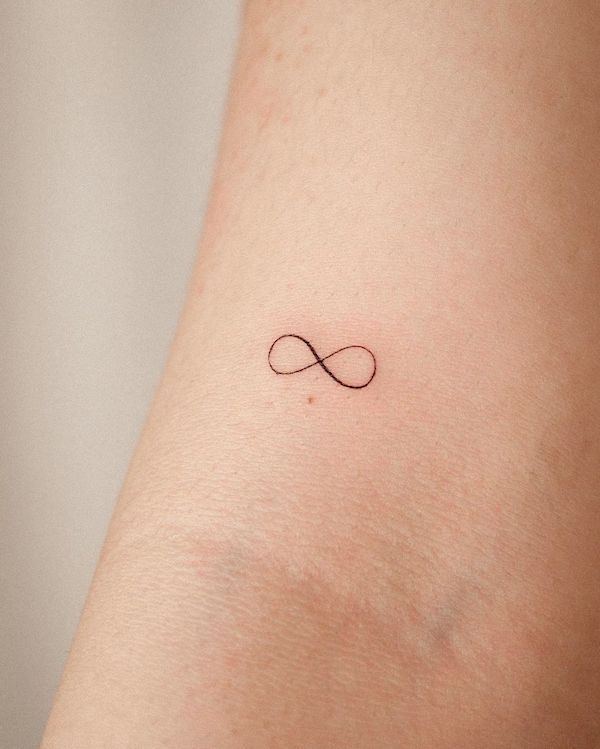 @orma_tattoo
Simple infinity heart tattoo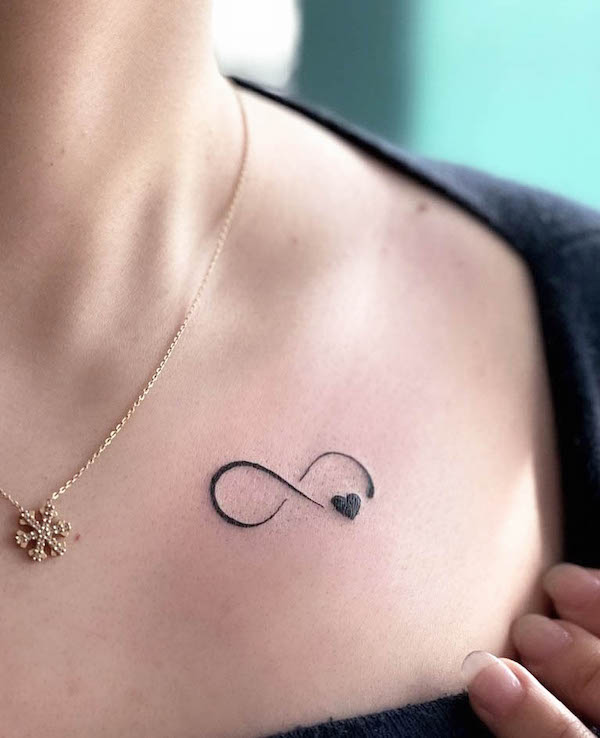 @zeetattooo
Infinity heart tattoo for pet owners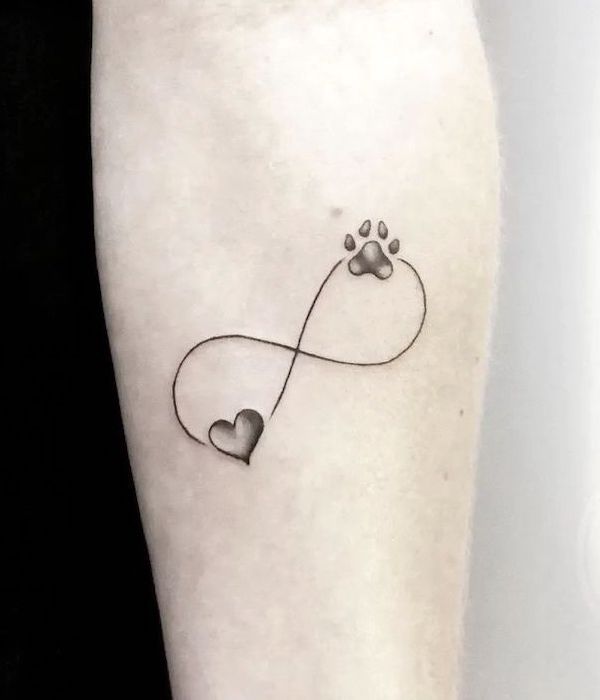 @inkpulztattoo
Our fluffy pals are part of the family. They shower us with unconditional love and cheer us up on bad days. If you are a proud pet parent, a paw tattoo like this one will be a statement of love.
Small infinity symbol finger tattoo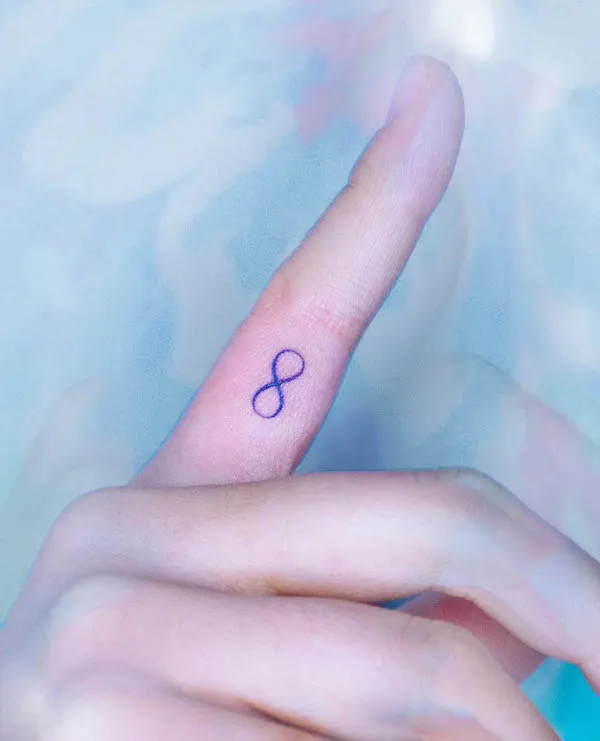 @tattooist_chio
The infinity symbol used to be purely mathematical. But today, it represents an endless life cycle and eternity. A small inner finger tattoo like this will be a subtle statement of what you believe in wholeheartedly.
An infinity ring finger tattoo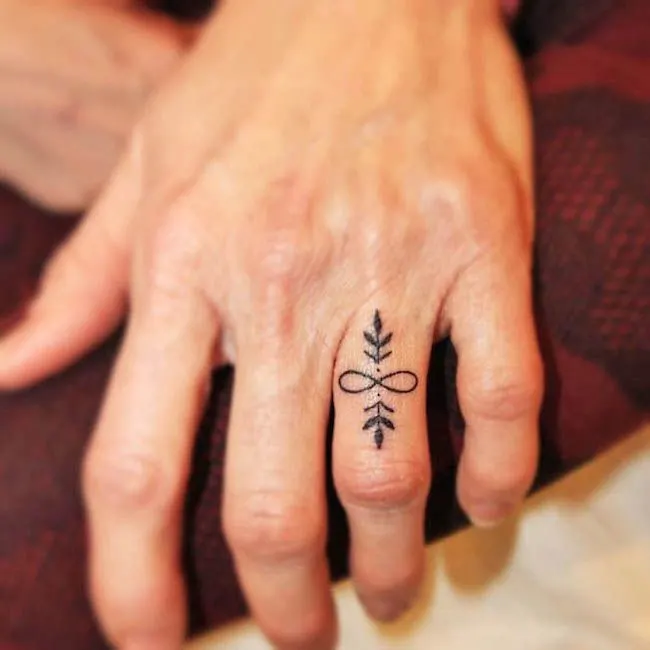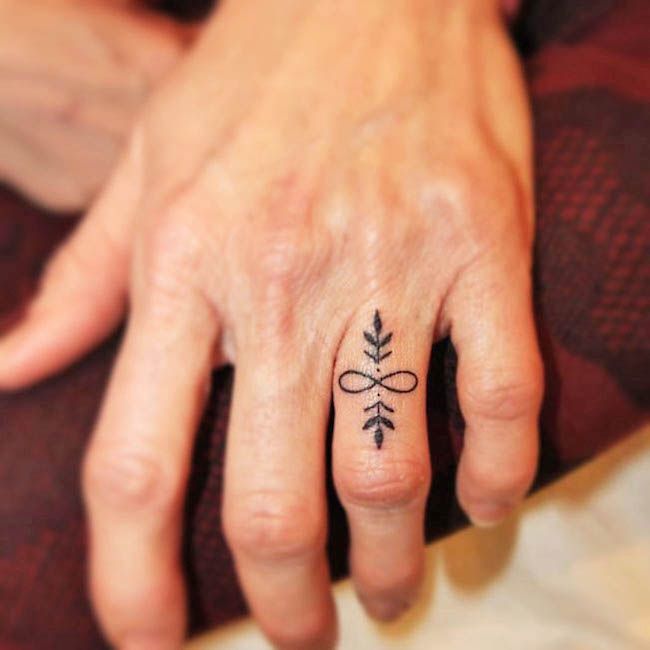 @lovecrafttattoo
Simple but not common, this small ornamental finger tattoo represents the wearer's aesthetic and is better than a ring.
Matching infinity tattoo ideas
When it comes to finding a minimalist matching tattoo with someone you love, the infinity symbol is a good idea.
Meaning-wise, it represents endless love and an unbreakable bond. And it can be customized to fit each individual. So if you are searching for something personal and elegant, don't miss out on the following matching infinity tattoos.
Matching infinity tattoos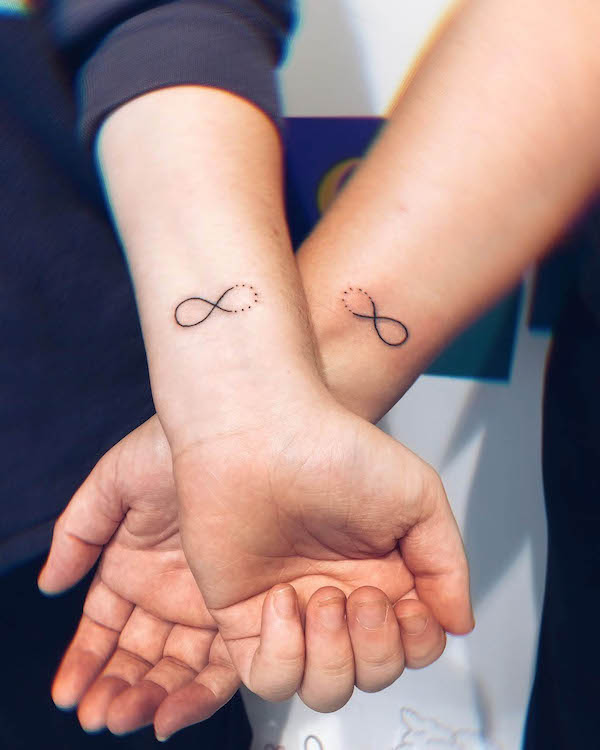 @stayte_of_art
The easiest way to make an infinity tattoo special is to play with the line. The dots in this design gives a regular symbol a new look.
Infinity knot tattoos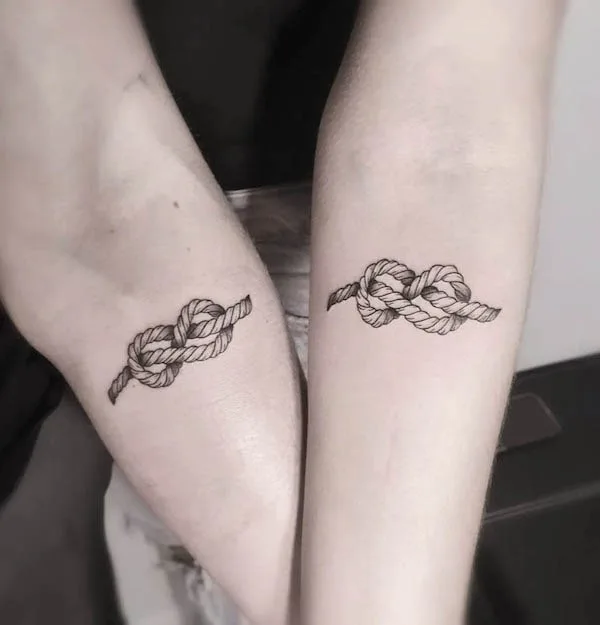 @kristellatattoo
Knots often appear in symbolic love tattoos, representing the tight bond between two people. And these tattoos are also perfect for married couples, echoing the phrase "tie the knot."
Matching infinity heart tattoos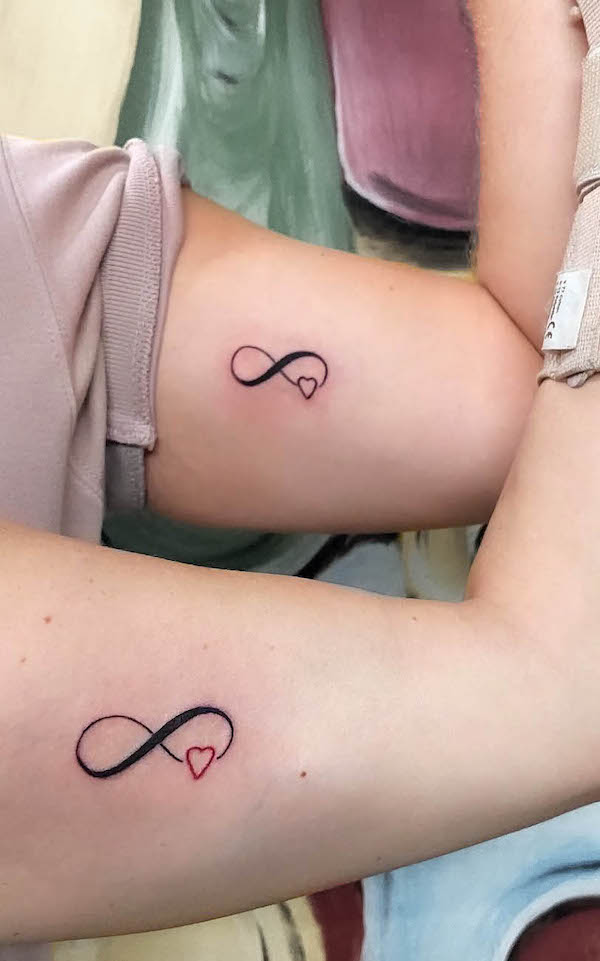 @jelena.gajic76tattoo
This pair of bicep tattoos shows how you can make the same design work for both genders. The small changes in the hearts' colors show the tattooist's thoughts on the design.
Matching infinity bicep tattoos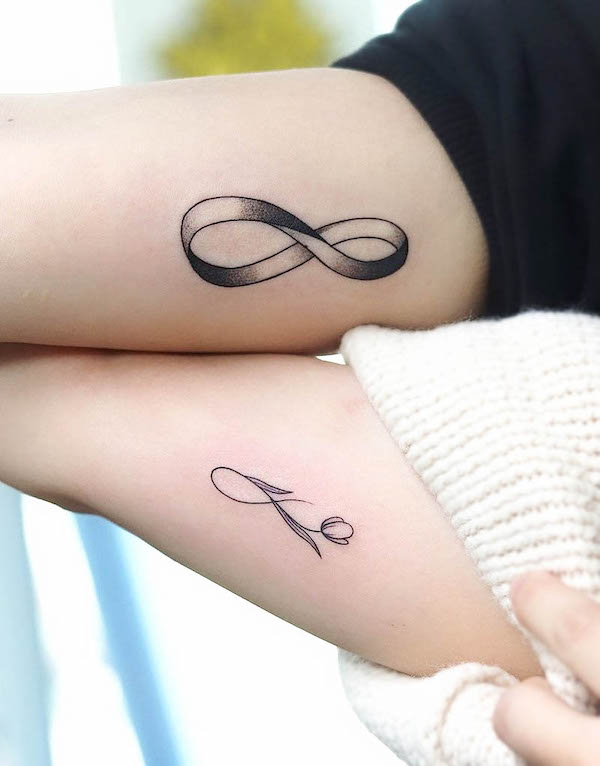 @tattooer_dogy
Here is another example of the same element in different styles.
In these couple tattoos, the guy is wearing a bold blackwork while the girl has a fine line floral tattoo on her arm. They are customized to each person so no one has to sacrifice their aesthetics.
infinity initials couple tattoos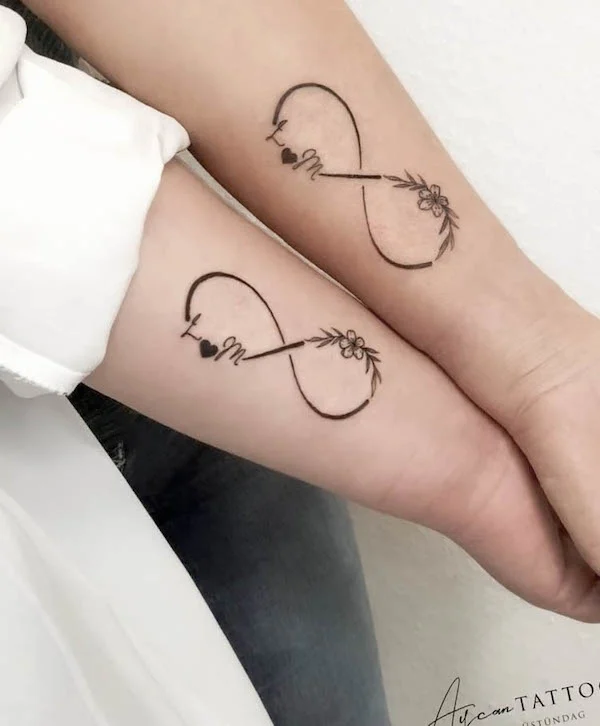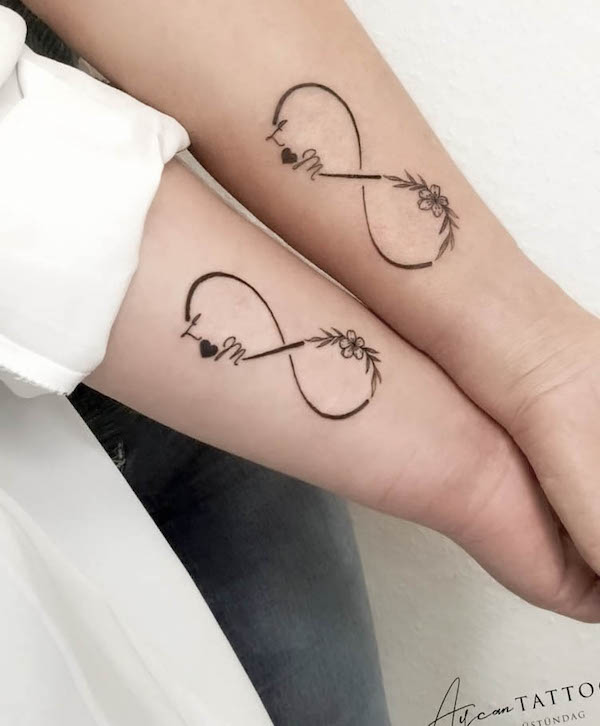 @aycan_tattoo
Inking your significant other's name on the skin is a huge commitment. However, if you have found the one, matching tattoos like these will be a token of forever love.
Matching watercolor infinity tattoos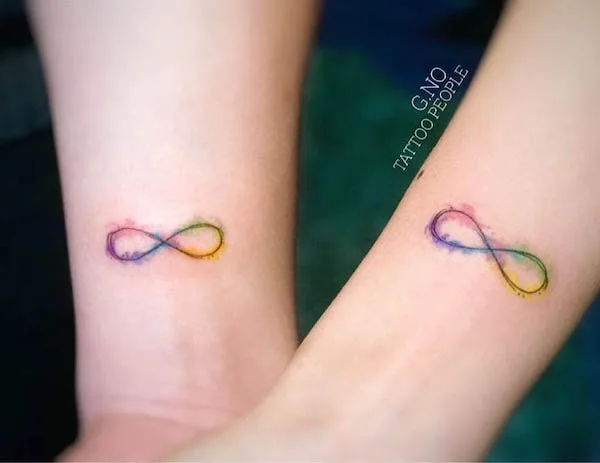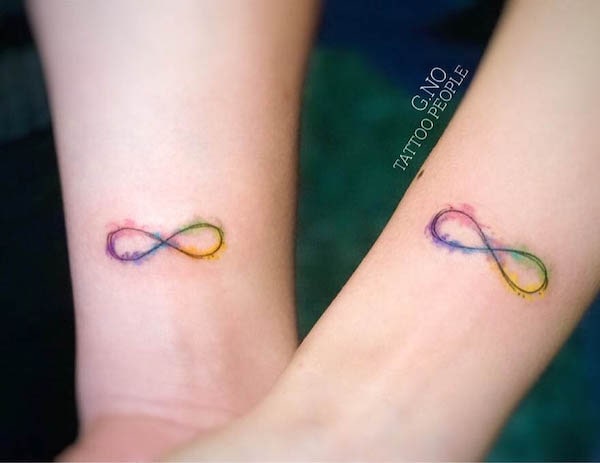 @gno_tattoopeople
Watercolor tattoos naturally stand out on the skin because of how vibrant they are. Tattoos like this pair will belong to couples that see the beauty in each other as well as in life.
To infinity and beyond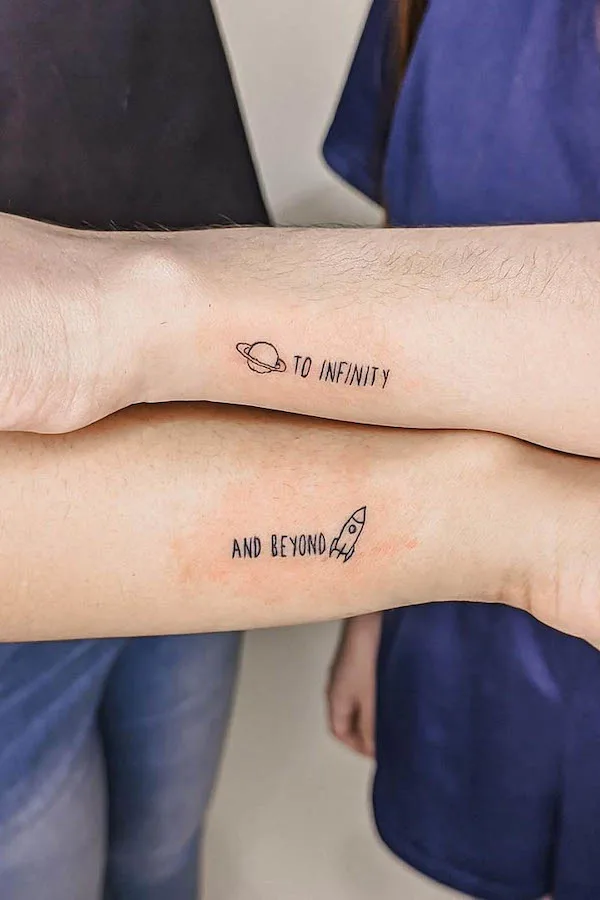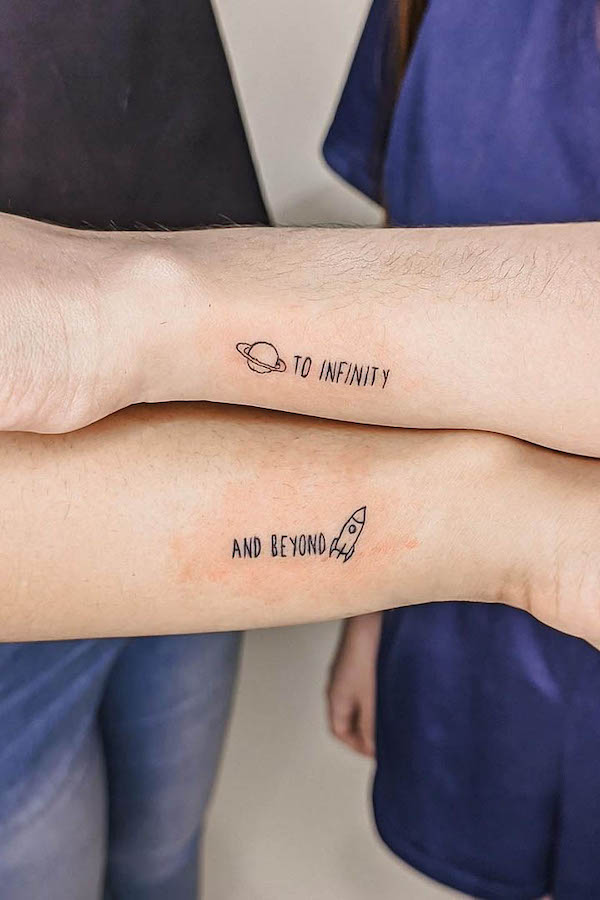 @lano.ink
If you break a quote tattoo into two parts and ink them separately on two people, the tattoos only make sense together. That's why they are only for those who are determined to spend a life with each other.
To infinity and beyond – elegant script tattoos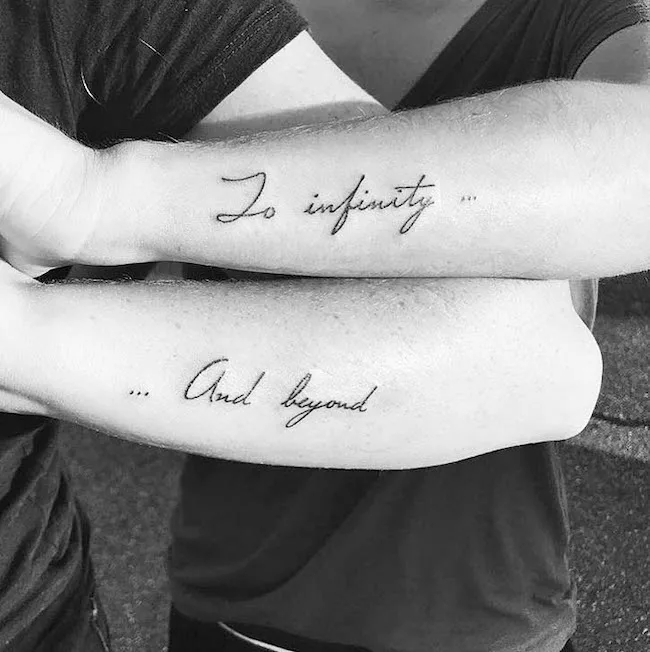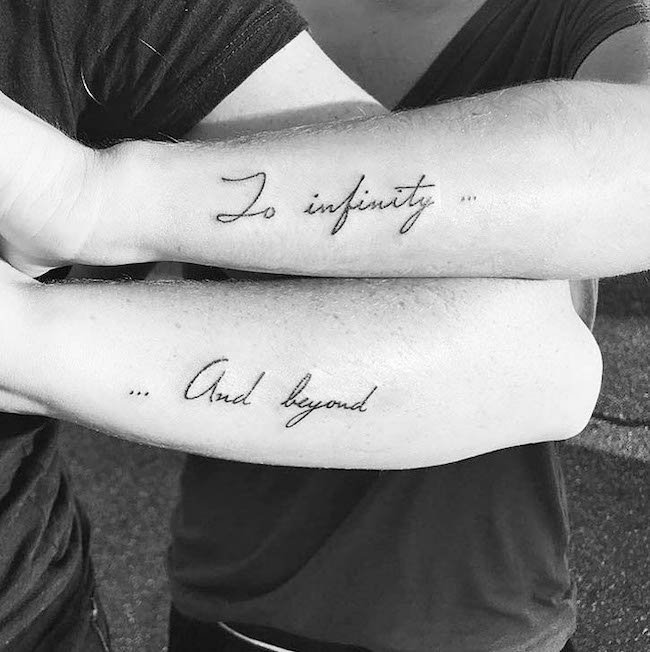 @masqueradetattoo
These forearm tattoos show how changing the font gives the same design totally different vibes. The handwritten scripts add a layer of finesse and elegance.
Infinity arrows for three sisters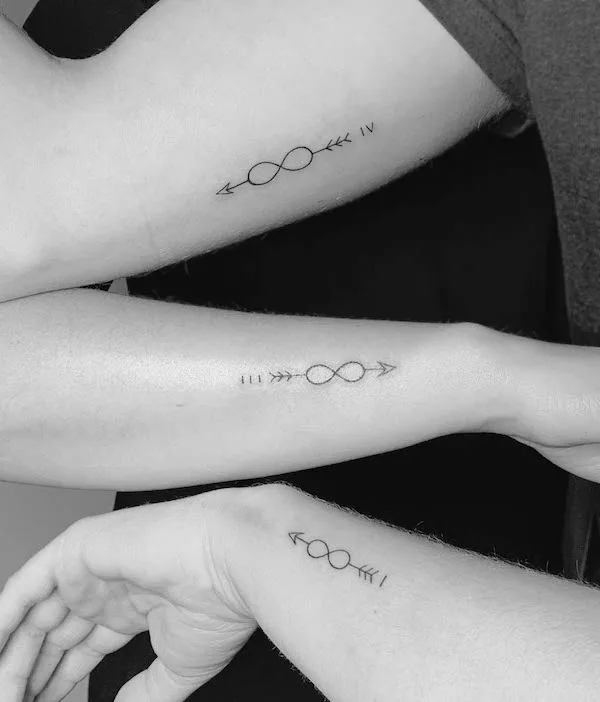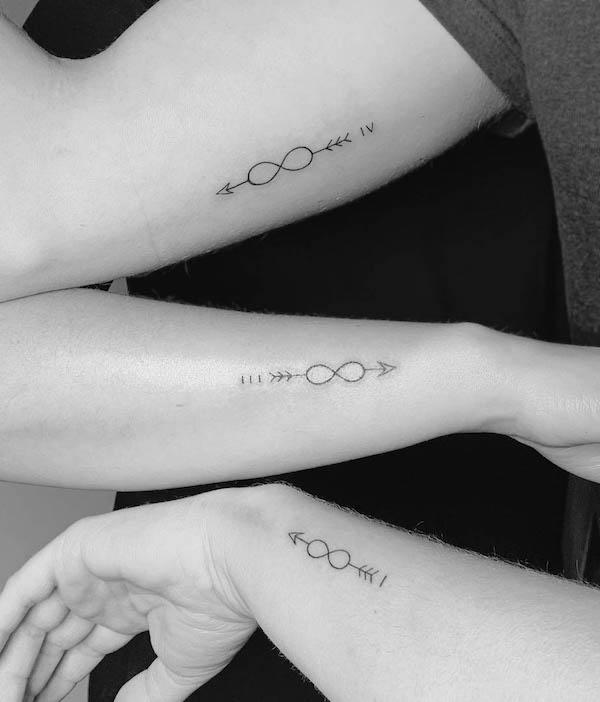 @nillo.ink
What makes these arrow tattoos so unique is the infinity symbol. The slight twist turns the sister tattoos into a lifetime tribute to the bond between the siblings.
Infinity symbol airplane tattoos for best friends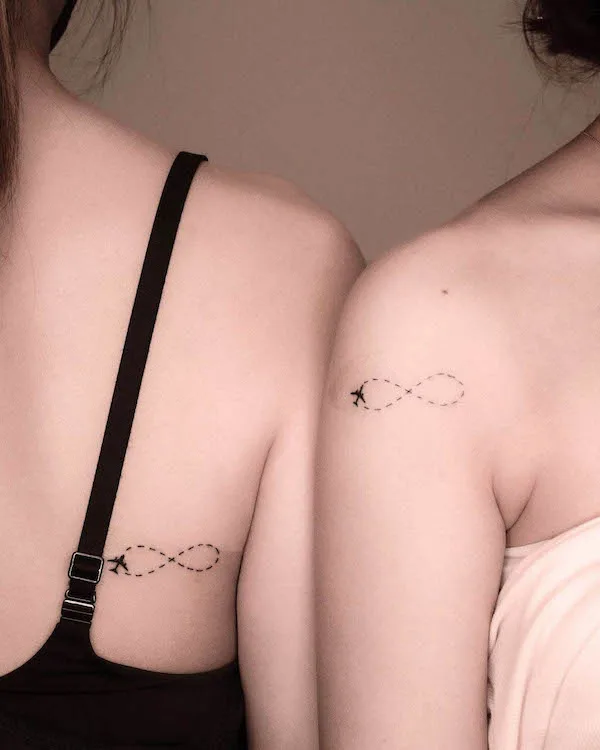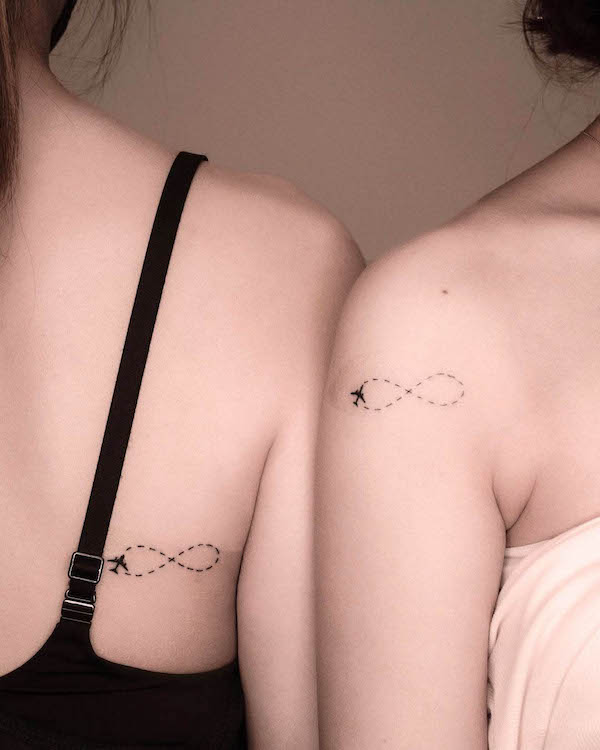 @eat_my_pen
Airplanes are often seen in friendship tattoos because they represent the way home. The plane contrails in this design resemble the infinity symbol, meaning that the friendship will never end.
The infinity hearts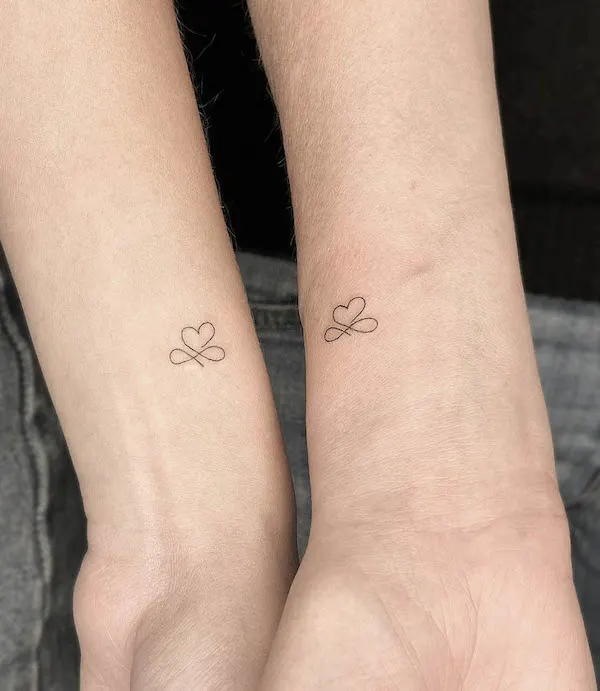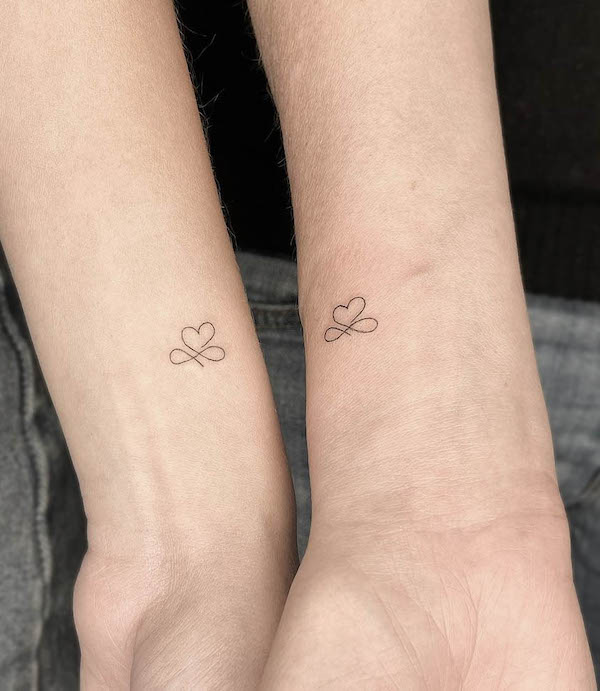 @tattoobychang
One of the best loves one can have is motherly love. These symbols belong to a mother-daughter duo.
The heart represents love, and the infinity symbol below shows that the bond is eternal and unbreakable. Such meaningful mother-daughter tattoos warm the heart of everyone who sees the
Flowers and infinity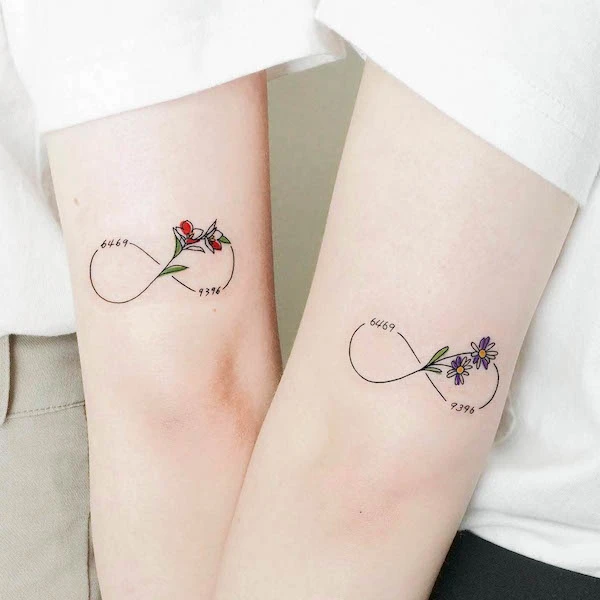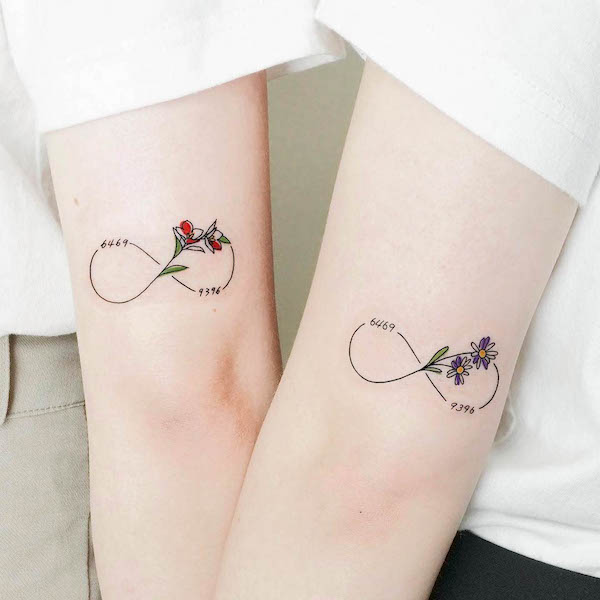 @heim__tattoo