Getting a matching tattoo with someone else is a huge commitment. Unlike mother-daughter tattoos or sister tattoos, you'll never know if the relationship with your best friend or a Significant Other is going to last forever.
But if the love is real and this particular person means a lot to you, why not celebrate the connection with matching couple tattoos? Carrying the same stories together is beyond romantic.
Should I get matching couple tattoos?
If you have already made up your mind, you are welcome to skip to the couple tattoo designs. But if you are still considering whether or not to get matching tattoos, here are 5 things to know before getting inked with your Significant Other:
Couple tattoos don't turn a bad relationship around. If you are considering getting inked to save a relationship, you'll most likely regret it.
Choose tattoo designs that mean something to you already. Even if you break up with a boyfriend or girlfriend, the tattoo will still be meaningful to you.
Getting couple tattoos is a relationship ritual. So make sure both of you are willing to carry it for the rest of your lives.
Name tattoos are believed to bring back luck to relationships. So if you can, avoid them.
If you treat tattoos as a timeline of life, and the person you tattoo with is a big part of it, go for it.
What are some common couple tattoo ideas?
Below are some common symbols for couples. Keep scrolling and see more couple tattoo ideas.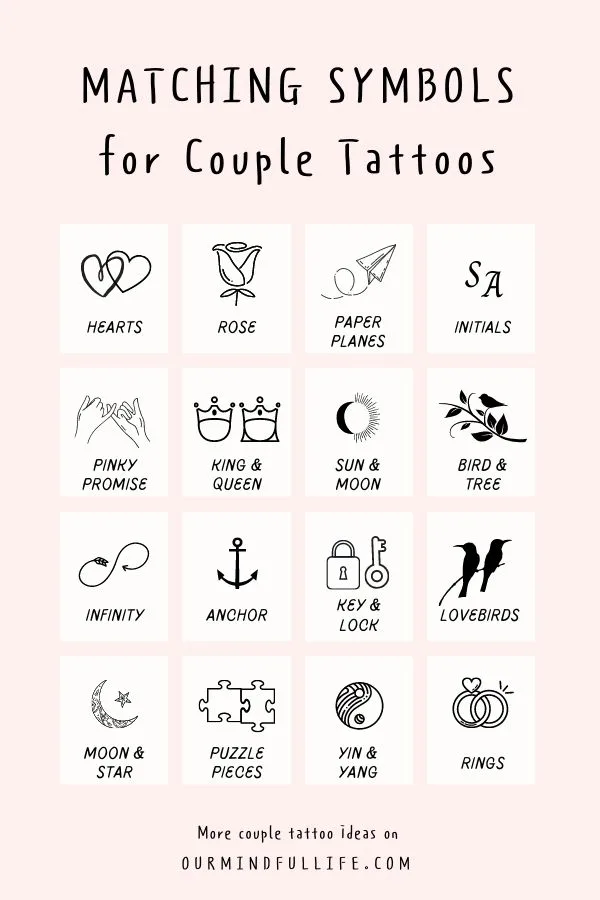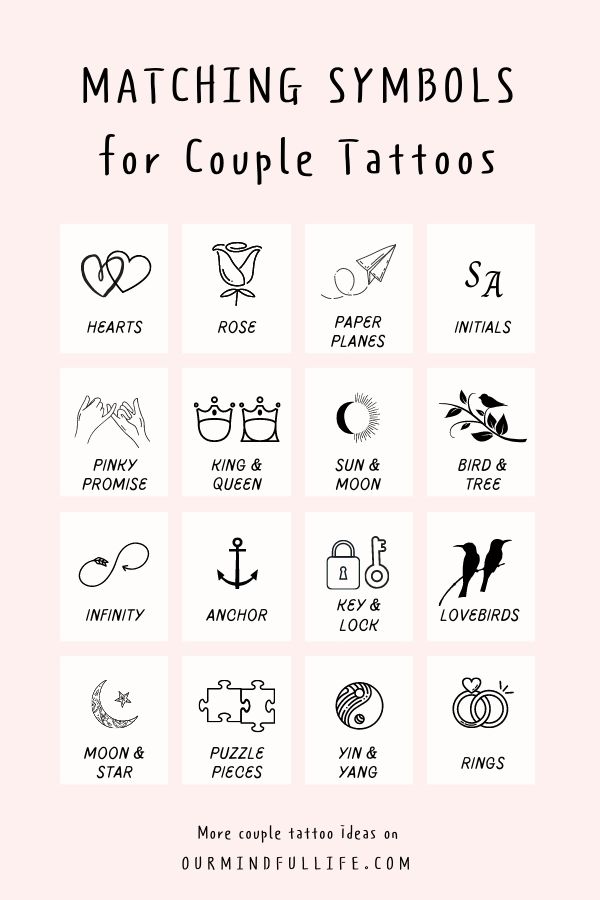 Couple tattoos for the romantics
Table Of Content
Small matching tattoos for couple
King and queen couple tattoos
Meaningful matching tattoos that tell a story
Chic and cute couple tattoos
Unique matching couple tattoo ideas
Minimalist tattoo ideas for couples
Matching love quote tattoos for couples
Note: This post is for inspiration only. Please don't copy the designs. And go follow these tattoo artists and give them some love:) 
Small couple tattoos
Starting small is a good idea for couples that haven't tattooed before. Small couple tattoos are just as gorgeous as the big, bold statement tattoos. If you and bae want to keep a low profile, you'll love these tiny matching couple tattoos.
Matching tattoos for long-distance couples
Long distance relationships are hard. It helps when you have something to hold onto when your sweetheart is not by your side. This cute long distance couple tattoo will be a reminder that love is stronger than the distance.
Behind-the-ear dinosaur tattoos
@madmeowmad
Because you are rawesome.
Wine and wine glass tattoos
@erik.weiss.bln
Fun Tetris tattoos on the wrist
@cerimonial_dezaleon
Bees tattoos for family people
@minjiyang_tattooer
Bees stick together throughout their lives. Each member has its duty, and they communicate in their own language. As small as they are, together, they form a functional and unbreakable unity. If you are searching for matching family tattoos, the bee may represent your love for family.
Leaf and sprig
@dovmemm
Waves of love wrist tattoos
@tattooivek
His and hers tattoos for couples
@kikmajk
Nothing says more about your love than tattooing his name on your skin. Just like marriage, you take his last name as yours. These initial tattoos are simple, meaningful, and also perfect for married couples.
Pinky promise anniversary tattoo
@tattooist_kimria
Anniversary tattoos, just like any couple tattoo, are a way to express love and celebrate the special day. This pinky promise back tattoo has the date of the anniversary on the bottom. It will be a lifetime reminder of how grateful the couple is for the relationship.
You are my better-half
Instagram
Not all couple tattoos have to be sentimental. These avocado tattoos are cute and perfectly on point.
Year of birth tattoos
Instagram
King and queen finger tattoos to empower each other
Instagram
Read also: 66 Unique small finger tattoos that will capture your attention
The moon and sun matching wrist tattoos
@playground_tat2
King and queen couple tattoos
Nothing screams "relationship goal" better than a king and queen tattoo. If you have found the one that makes you feel powerful and complete, why not show off the pride with these matching king and queen tattoos?
Matching crowns on shoulder
Using the crowns as a symbol makes the couple tattoo unique. It's also smart to add a date to the design. It can be the date of your first date or your wedding. A small personal touch will make a huge difference.
@glo_sigagna_art
Husband and wife ring finger tattoos
@john_martin_tattoo
King and Queen matching tattoos on the ribs
@m_deu
Superman and Wonder Woman
That's the modern version of king and queen, right? It's even better if you and bae are diehard Marvel fans.
@revengetattoo66
Meaningful couple tattoos that tell a story
Matching tattoos are a symbol of the bond with your partner.
Do you have a story to tell about your relationship? Find the one that will still be significant 10 years from now. And there you'll have the perfect couple tattoo design that you won't regret.
"Better together" pinky promise tattoos
@dolcecristina
Bird and cage tattoos
Some say "forest birds never want a cage" while others argue that "home to me is what a cage is to a bird". Which one do you agree with?
@peace_loves_tattoos
Infinity tattoos for husband and wife
@justinkaboutit.tattoo
Matching lighthouse tattoos
"You are my lighthouse when the sun is swallowed by the sea".
@ladvtattoos
Love song tattoo
@blackpearl_tattoo_kasaragod
Always by your side
These matching couple tattoos capture the bittersweetness of a long distance relationship. You may feel empty when you Significant Other is a thousand miles away. But just because you are separated from each other, it doesn't mean that you are apart.
@yaranirivera
Chinese character tattoos for husband and wive
The Chinese character "囍," means happiness. The word is often seen on traditional Chinese wedding decorations. These bold red Chinese tattoos carry the wishes to extend the joy of the wedding to infinity, making them the perfect husband and wife tattoos.
@v_tattoo_x_blackwork
His beauty, her beast
Are you a fan of Disney but don't want your tattoo to be too cartoonish? If so, these abstract outline tattoos of Beauty and the Beast are perfect for you.
@pigment_studio_mielec
Small key finger tattoos
@pigment_studio_mielec
The orbit tattoos
@redchairoffical
Together, you are the Universe.
Matching bird tattoos on the arm
A healthy relationship makes us strong and empowers us to chase our dreams. If you have found the one, these matching tattoos are the one to honor your love.
@ritualpolanco
Astronaut and Space Girl tattoos
One may never know where he belongs before meeting the love of his life. But when he finally does, all the loneliness and suffering will pay off.
@ilforestierotattoo
Distance is only a number
@karincatattoo
From strangers to soulmates
@miuguuu
Soulmate lettering tattoos on the ankle
@txttoo
Soulmate wrist tattoos for couples
@coupletattoo_palma
Cute couple tattoos
It can be difficult to find cute tattoo designs that work on both men and women. So here are some adorable tattoos to give you some ideas.
@monsieurgrognon
Astronaut tattoos for travel couples
"With you, I have the courage to go beyond the sky." These intricate astronaut tattoos express the love for each other as well as the passion for adventures.
@ink_h
Read also: 32 Travel Tattoos And Symbols To Fuel Your Wanderlust
Tea and teabag tattoos
@ilya_brezinski
Key and lock tattoos for couples
@1srecko
Missing puzzle pieces matching tattoos
@1srecko
Emoji tattoos for police and firefighter couple
@sinners.cvlt_.tattoo
Flirty lollipop tattoos
@ali.bloom_.tattoo
Take my hand
@minos.g
Moon phase tattoos
@marina.gavadza
Read also: 50 Stunning moon tattoos that will bring you good vibes
"I love you" "I know"
@cerimonial_dezaleon
Beauty and the beast Disney tattoos
@ex_muvesz
Read also: 76 Cute Disney tattoos to unleash your inner child
Cute hand heart tattoos
@forest_fil
Tinker Bell and Peter Pan wrist tattoos
@ismail_chatzisouleiman
Simple and cute tattoos for lovers
@viola_forestink
A bow straight to the heart
@jello_t
Matching couple tattoos inspired by your favorite moment
@handitrip
The Pulp Fiction matching tattoo
@conlll
A common interest makes a great theme for your matching tattoos. If you are both fans of the classic movie Pulp Fiction, consider these cute tattoos replicating the Mia and Vincent dance as your next ink.
Unique matching couple tattoo ideas
Getting matching tattoos is sacred. And the last thing you'll want is to have the same tattoos as other love birds. So here are some creative and unique tattoo ideas for couples that have their own stories to tell.
Space-themed matching ink for husband and wife
@culpamiatattoominimal
"You are my final destination."
Oriental matching yin and yang wrist tattoos
@e.nal_.tattoo
Yin and Yang inner arm tattoos
@culpamiatattoominimal
Matching mandala tattoos on the hands
@7anyamaia
Never apart
@oo2tattoo
Chain tattoos are often seen as dark and oppressive. They represent restraint and the loss of freedom. But these two, however are different.
With the two knots locking with each other, the tattoos symbolize the unbreakable relationship of the couple.
Butterfly hand tattoos for soulmates
@berkantattooartyamaia
Floral Sleeve Tattoos
@chronicink
Relationships are like flowers, it takes time to nourish so it can blossom.
The love birds wrist tattoos
@robcarvalhoart
Reverse landscape tattoos on the ankle
@a_r_t_1_2_3_t_a_t_t_o_o
Star Wars tattoos for lovers
@stefanitattoo
Obsessed with Star Wars? Get Han Solo and Princess Leia​ inked is the best way to showcase the craze and unwavering love for each other.
The Hamsa tattoos
Image from @toiatattoo
Consider Hamsa if you are looking for a tattoo with meaning. It symbolizes the energy flows in the body from the 5 chakras. In some cultures, however, it represents blessing and strength.
The fingerprinted heart couple tattoos
Image from @cansuolga
"Under the same sky" couple tattoos on the arm
Image from @samkrach
Simple tattoos for minimalist couples
If you are not into complex tattoo design or bold colors, there's still a way to commemorate your relationship with ink. Take a look at these minimalist tattoo ideas for couples and you may find the one for you.
Four-leaf clover shoulder tattoos
@melpzvc
Four-leaf clovers are rare compared to clovers with three leaves. Therefore, four-leaf clovers represent luck and faith. And matching four-leaf clover tattoos not only tell others how rare your relationship is. They will also bring luck to both of you.
Origami ankle tattoos
Image from @ash.hin
"Cherish" one-word tattoos
@5e_tattoo
Sometimes a single word says a million things. If he or she is a keeper, these matching one-word tattoos are the perfect statements.
Connected arrow tattoos
@tudor.tatts
Ring finger tattoos
Image from @toiatattoo
Image from @intothewildtattoostudio
Straight-line thumb tattoos
Image from @toiatattoo
Image from @jimmyyuen
"Love by the moon, live by the sun"
Image from @tattooist_shinji
Matching rosemary tattoos
Image from @zaya
Small triangle tattoos for couples
Image from @lauradebruyn
Matching Numbers Tattoo
Image from @quotetattoos
Number tattoos are great ideas for new couples. The number can the date of your first date night, first kiss or engagement. And none of you will forget about anniversaries anymore.
The connected finger tattoos
Image from @e_bathory
These tattoos only make sense when they are connected with each other, representing a bond that should never be broken.
It takes great courage to make a permanent mark on the skin. Same with devoting yourself in a relationship.
This matching couple tattoo indicates the strong mutual support you have for each other. And it's also another way of saying "you make me complete"
The anchor tattoos
Image from @philipphonner
A matching semicolon tattoos
Image from @1920tattoozhub
Read also: 32 Semicolon tattoo ideas and the meanings behind
Matching love quote tattoos for couples
While it's true that a picture is worth a thousand words, a short quote can be a meaningful statement of love, too. Scroll on to explore some of the best romantic matching love quote tattoos and more quote tattoo ideas for couples.
Always matching wrist tattoos for couples
@riseinktattoo_and_nailart
Love what you do
@flowers.tattooist
Forever finger tattoos for couples
@playground_tat2
You are my soulmate quote tattoos
@valmark.ink
Keep your mind. Keep your time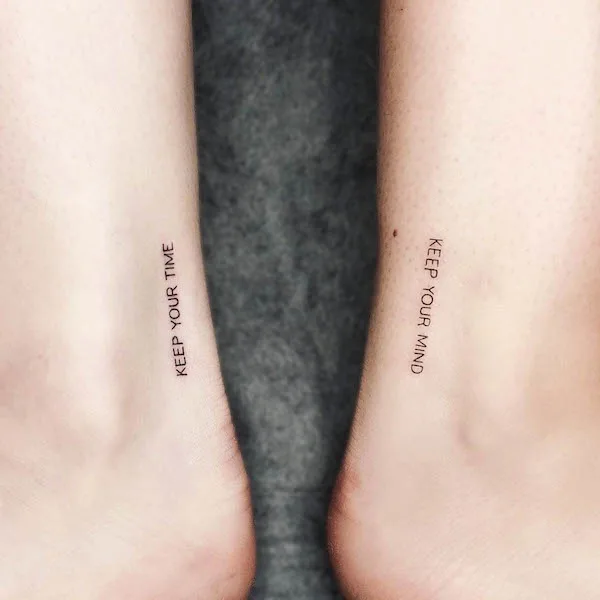 @honeybeetattoo
You are my person quote tattoos
@fabian.mendoza.tattoo
Make every day count arm tattoos
@tattooist_neul
You are my last piece quote tattoos
@g9in_xoxo
You for me, me for you – a quote tattoo for couples
@culturacolectivalifestyle
His and hers quote tattoos
Instagram
When the right person enters your life, they take on many roles: a lover, a family, a shelter, and a soulmate. These his and hers tattoos honor the importance of a Significant Other. They are more than a quote on the wrist but also a lifetime promise.
Promise tattoos
"If you promise to stay, I promise to never leave." A single line quote tattoos can say a million things.
@bezowskiart
His only, her one
Pinterest
Another emotional his and hers matching tattoos to consider if you've found the keeper.
Infinity tattoos for couples
@feartattoodom
Do you have a favorite love quote that speaks to both of you? It may be a good idea to turn it into a promise that won't fade away.