Swords symbolize strength and courage. From small to big, simple to intricate, these sword tattoos will inspire your next ink.
For many people, swords are more than a weapon. They are a symbol of strength, power, and heroism. Sword tattoos, in this case, represent the warrior in all of us and the strength we have to fight for what we believe in.
And it can also tell a story. Whether it's a battle against difficulties or a triumph over pain and struggles, sword tattoos are a badge of honor. And that's what makes them such a powerful statement.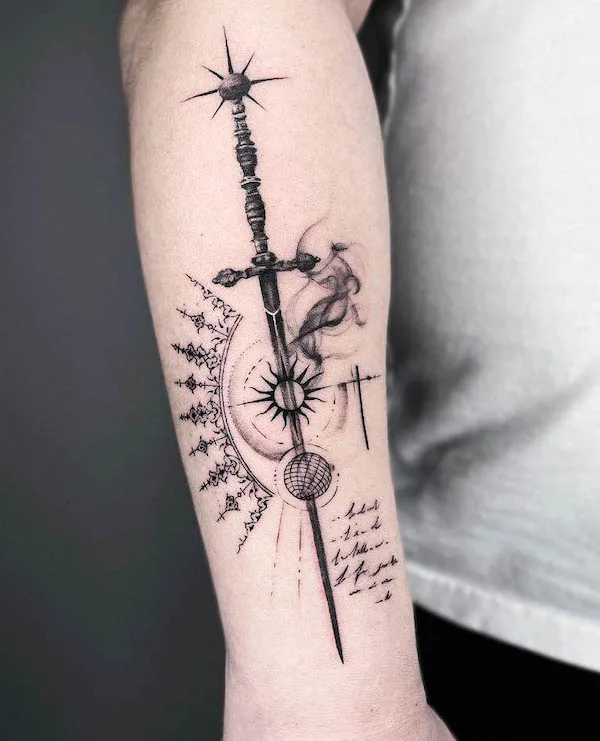 Many people portray swords as these cold weapons with hard edges. But in fact, they can be anything from feminine to masculine, color to black and grey, and small to big. You can also pair it with other elements to level up the design.
So if you are intrigued by getting a sword on the skin, you have come to the right place. Below is a list of stunning and diversified sword tattoos with their meanings explained. And you will find something that speaks to you.
Disclaimer: This collection of sword tattoos is for inspiration only. Please do not copy the artwork. If you love these tattoos, follow artists and show them some support.
Incredible sword tattoos with meaning
Stunning sword tattoos
Sword tattoos used to be a symbol of violence and wars. But today, they are a representation of strength and bravery. And instead of fearsome and outrageous, they become more sophisticated and classic. And the following modern takes on sword tattoos will impress with their looks and creativity.
Astronaut and sword concept tattoo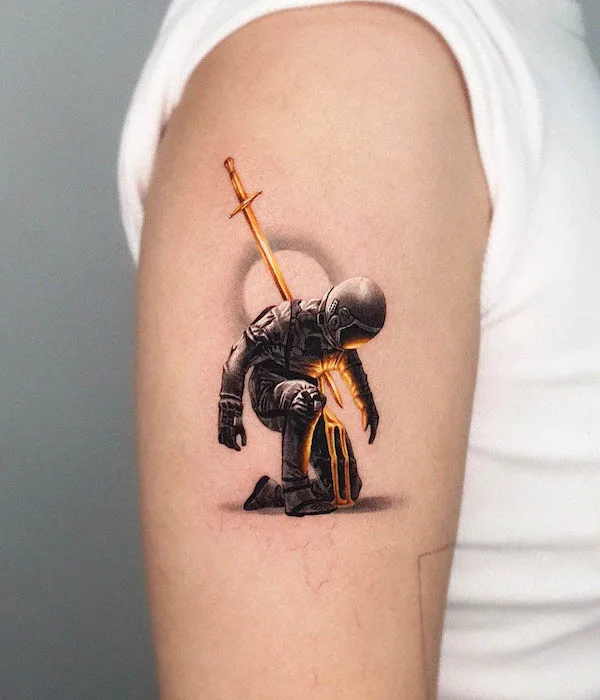 @jiro_painter
This tattoo is more than the look. It depicts a golden sword piercing the astronaut through his heart. Whether he's a sinner or a martyr, we don't know. But the creativity and the great execution reflected in this piece deserve a round of applause.
Sword in a fairy garden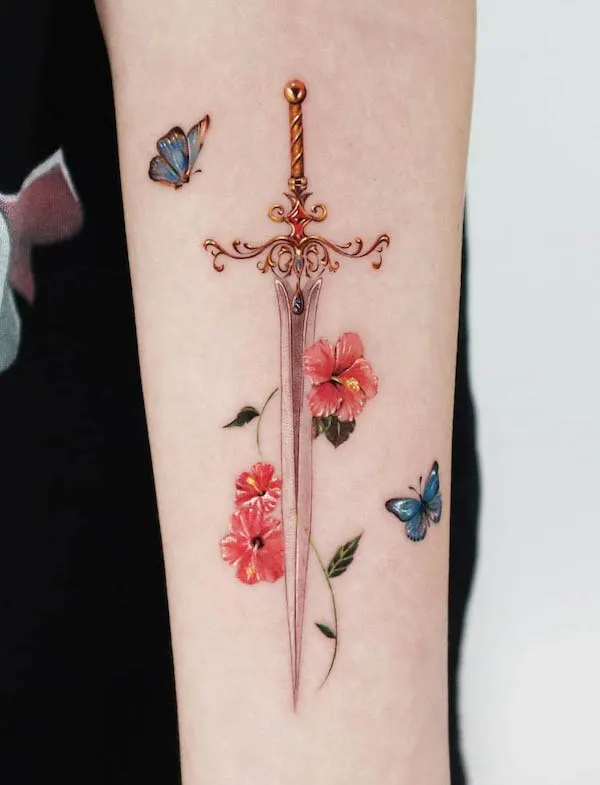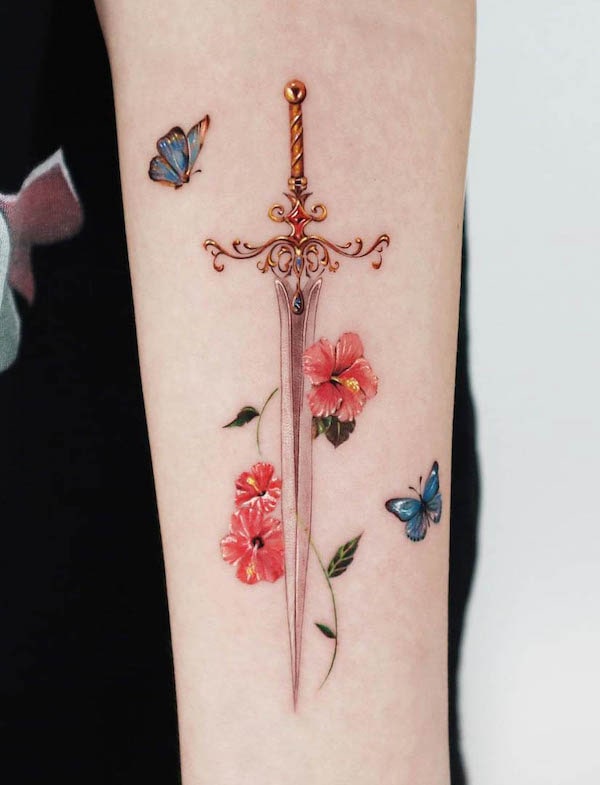 @jooa_tattoo
By adding flowers and butterflies, the tattooist shows us a sword that belongs to a princess or a fairy. And it represents feminine power elegantly.
Bird and sword
@tattooist_irae2
Bird tattoos are often a representation of freedom and peace. With the bluebird sitting on the sword, the tattooist wants to tell us that swords are not just weapons. They can be a tool for peace and freedom. It all depends on how we use them.
Snake and sword
@tattooist_gaon
In some cultures, snakes are seen as a symbol of evilness and greed. But snake tattoos can also symbolize change and the transition from one state to another. Together with a sword, this tattoo shows that there's power in transformation.
Porcelain snake and sword sleeve tattoo
@hwyl.tattoo
Here's another snake and sword tattoo but in a different style. The sword in this design is a katana, the Japanese samurai sword. And by adding porcelain pattern to the snake, the tattooist transforms the imagery into a beautiful oriental tattoo.
Realism snake around the sword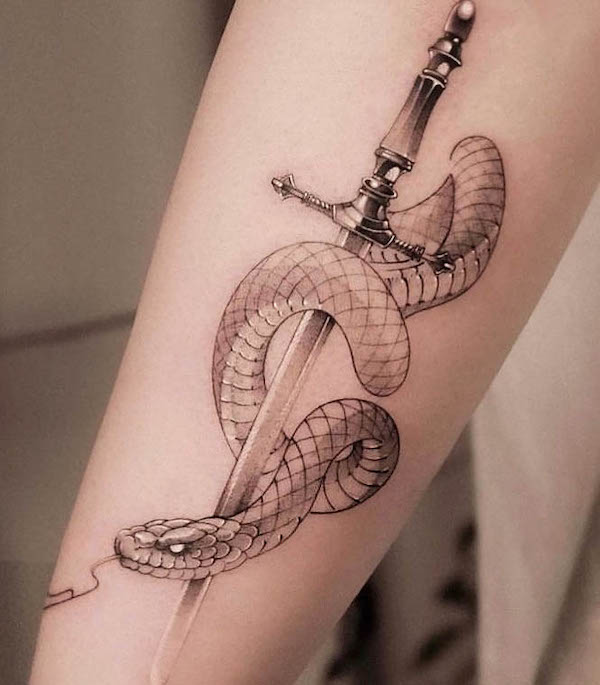 @saku.tatt
The same elements may have different meanings in a tattoo, depending on how you portray them. In this one, for example, the snake is hissing with its tongue stretched out. And unlike the previous designs, this one oozes a sense of danger. Such a badass tattoo will be a warning not to mess with the wearer.
Medusa sword tattoo
@hami_shin
This full-arm tattoo is a complicated one in terms of meaning and design. On top, we can see an eagle that represents freedom. The moon phase elements symbolize life changes.
And with the swords and Medusa tattoo taking up the most part, this design may be built around the concept of revenge and redemption.
Snake and sword between the boobs
@philipppfohl
It's not easy to find the right design for a between-the-boobs tattoo because of the shape of this area. However, the sword and snake imagery is perfect for the placement. It's elongated and sophisticated. And the flowers just add to its femininity.
Stunning sword and skull tattoo
@jiro_painter
The sword and the skull in this chest tattoo may seem a bit dull in color. But the blood poured from the crown adds both movements and drama to the design.
Butterfly sword sleeve tattoo
@yeriel_tattoo
Like flowers, butterflies are another common element that makes a tattoo feminine. This sleeve tattoo takes one step further by using iridescent colors. And the result is stunning.
Bleeding sword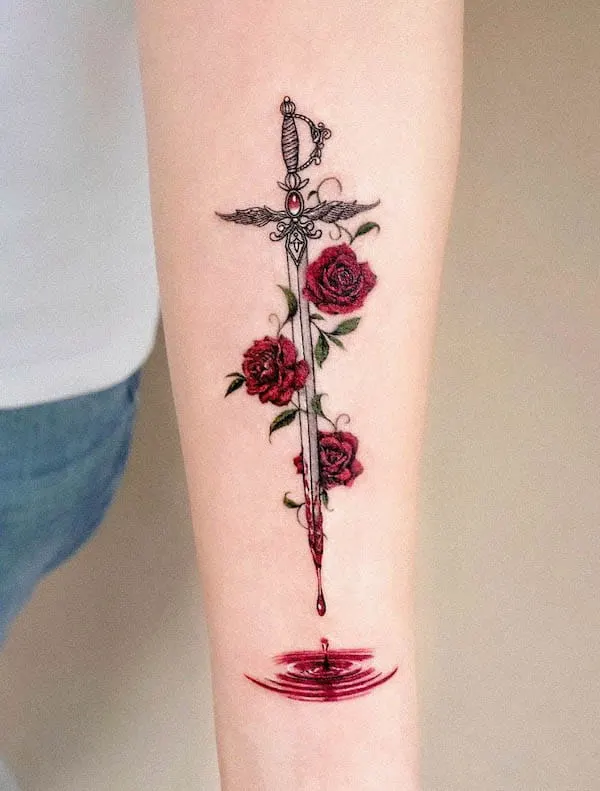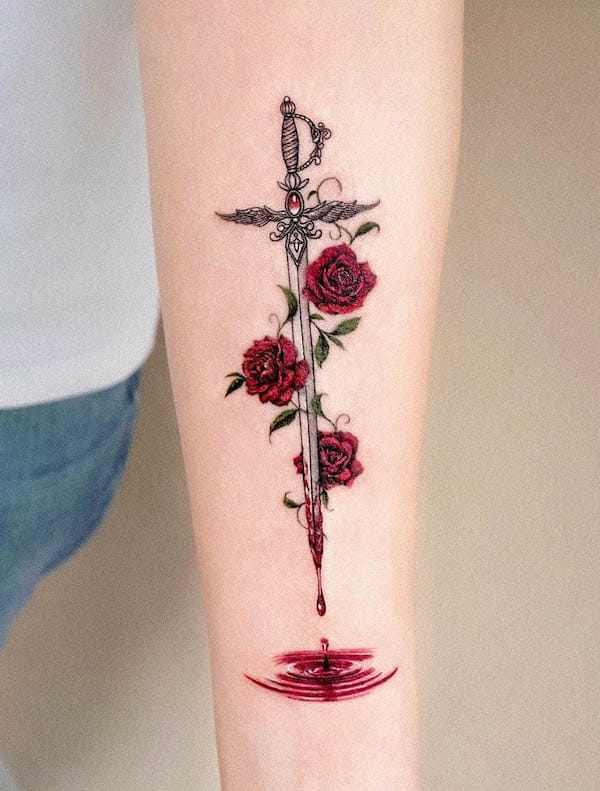 @tattooist_solar
Roses symbolize pure love and beauty. This sword and rose tattoo, however, embodies a sense of death with the dripping blood. It looks like a scene from a romantic story that ends in tragedy.
Red spider lily sword tattoo
@tuttitatts
Unlike most flowers with positive symbolisms, the red spider lily is often associated with death and reincarnation. And it makes this gorgeous sword tattoo even more dramatic.
Black and grey sword tattoo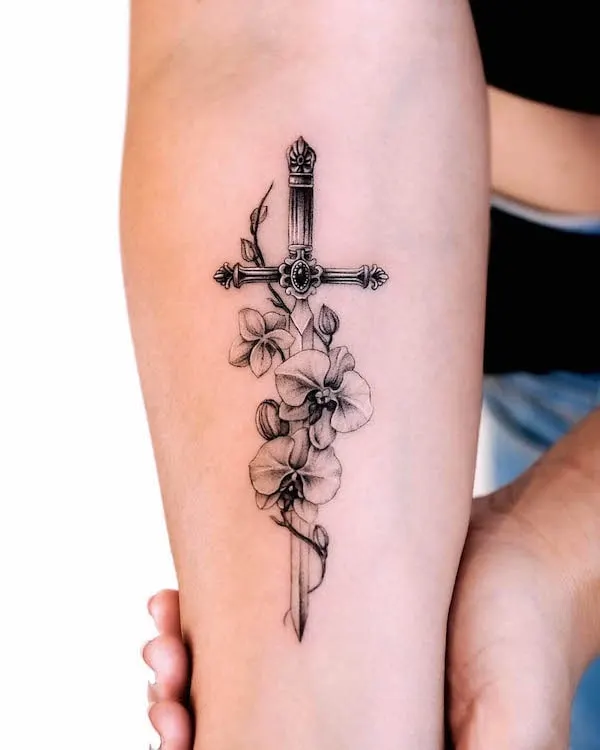 @_rony_tattoo
Detailed oriental dragon and sword
@dudutattooist
In eastern cultures, dragons are a symbol of power and royalty. And with such an intricate dragon intertwining with the sword, this back tattoo just becomes a divine piece of art.
Elegant dragon and sword shoulder tattoo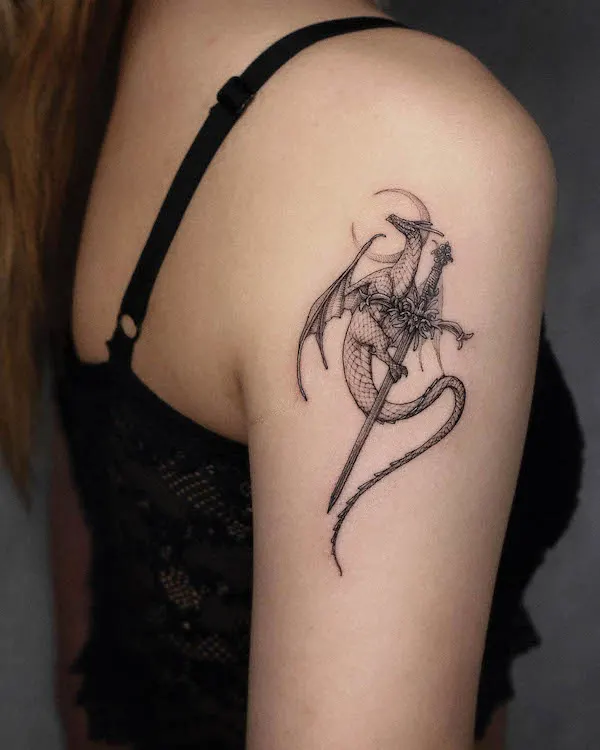 @tattooer_intat
Instead of depicting the dragon as wrapping around the sword, tattooist Intat portrays it as stealing and flying away with the sword. This creative twist makes it more interesting and turns it into a conversation piece.
Crown and sword bicep tattoo
@jooa_tattoo
If you are opting for a regal look, adding a crown to the sword will be a good idea.
This tattoo, for example, achieves a balance of delicacy and strength. And the gemstones just make the entire look more expensive.
Behind-the-ear sword tattoo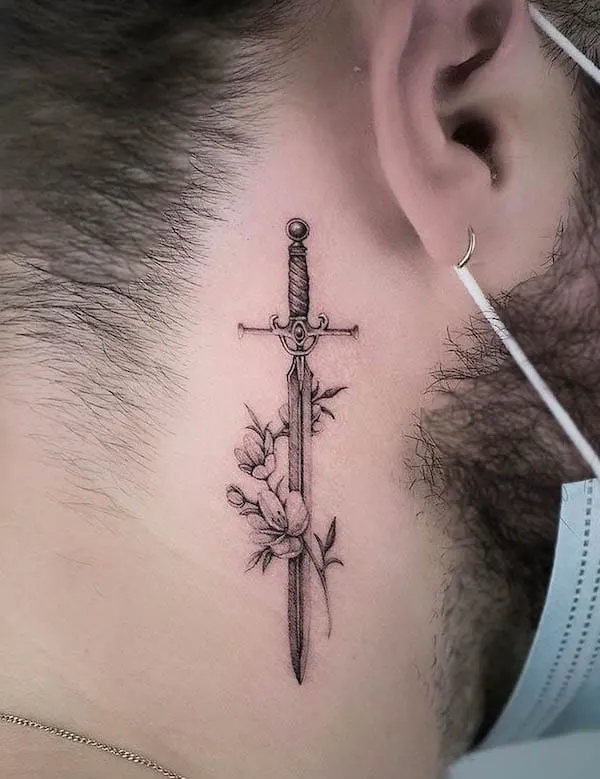 @jankyjake_tattoos
Most sword tattoos are placed on the arm, the leg, or the spine because of their elongated shape. This one, however, is located behind the ear. As visible as it is, the details and the overall clean design make it a pleasure to look at.
Broken Narsil tattoo
@fun.tattooing
Here's another behind-the-ear tattoo but with a twist. Unlike most sword tattoos, this one, inspired by Nasil's sword in Lord of the Rings, depicts the blade as broken. The fragments create a visual impact that captures attention.
Crossed swords back tattoo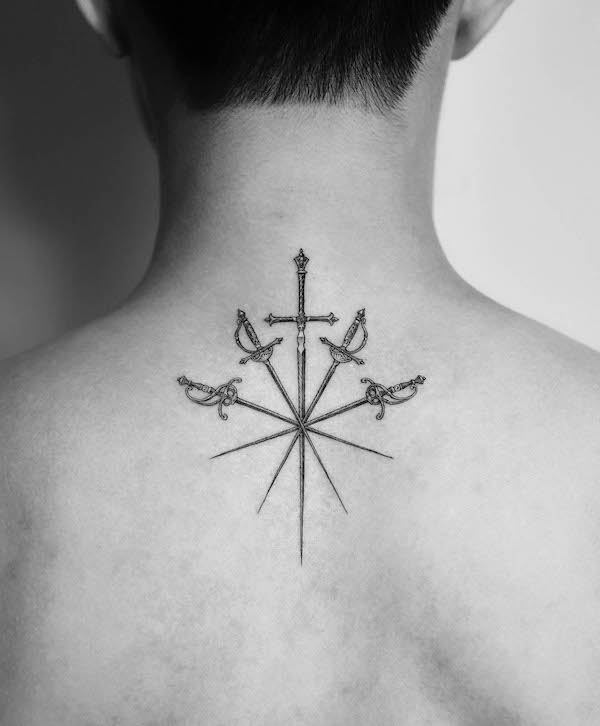 @jeon_____
In most cases, crossed sword tattoos represent the readiness to fight. However, if the swords point downward, it indicates that the fight is over. This back tattoo with five crossed swords may symbolize the beginning of a peaceful era.
Sword and unicorn thigh tattoo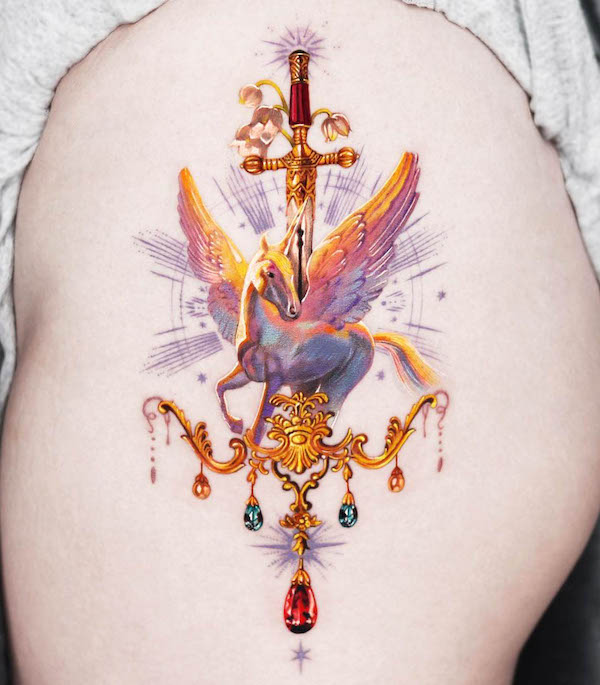 @jooa_tattoo
How stunning is this piece on the thigh? The golden sword on the back is the perfect background for this unicorn tattoo. And all the details are portrayed to perfection that it looks like mythologies coming true.
Final Fantasy sword tattoo
@dusi.2
Swords are a comment element in animes, games, and movies. If you are a fan, why not take the sword of your favorite character and turn it into a permanent ink like this one?
Flaming sword chest tattoo
@efter.image_tatts
If you have a fiery soul, this chest tattoo will represent your personality. Although it's not a huge tattoo, the flames are enough to make a statement.
Fortnite sword
@e.nal.tattoo
Gemstone sword on the back
@tattooist_solar
Because of their elongated form, swords are not only perfect for the back. But they make great spine tattoos as well. And this one is a good example.
Geometric sword tattoo
@exoticink.tattoostudio
Intricate vintage sword tattoo
@chou_ta_1
If you are into the vintage style, why not embrace it to the fullest by wearing a classic and refined sword tattoo like this one?
Detailed sword tattoo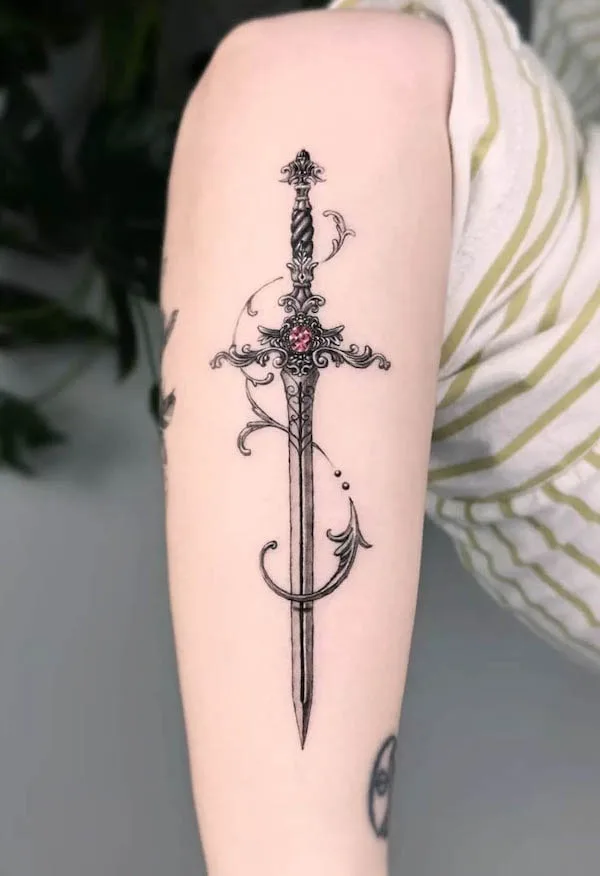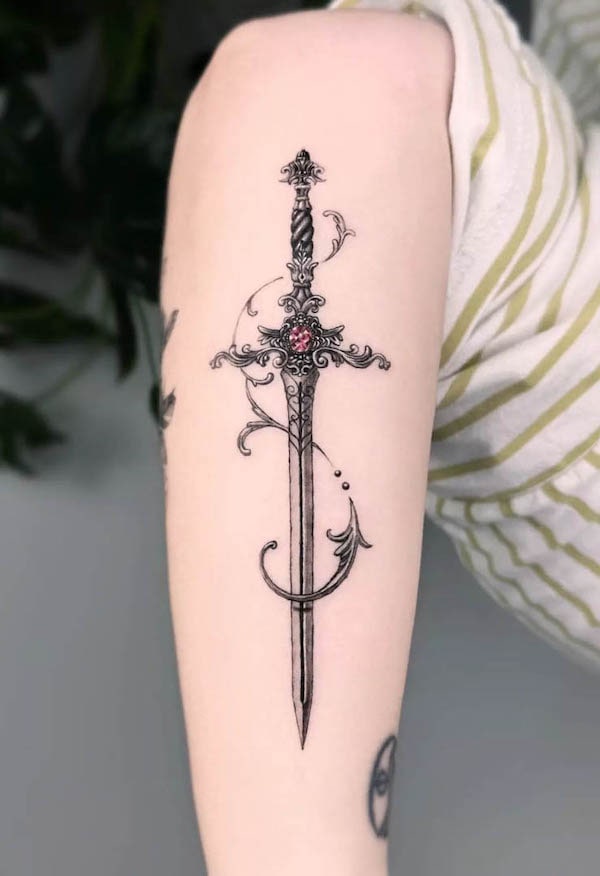 @tattooist_robe
This would have been another regular black and grey sword tattoo. But the water circulating around gives it movement. And the red gem gives a pop of color, highlighting the entire design.
Lily and sword
@mooongnyum_tattoo
Pierce the heart
@matt_hewittt
In the history of Christianity, the Sacred Heart has been associated with devotion and suffering. It represents the great love of Christ for his people.
This one, however, is inspired by the Sacred Heart of Mary, Jesus's mother. By depicting a sword piercing it, the tattooist aims to accentuate the pain and sufferings love brings.
Balance
@ygtattoos
Do you function on logic or intuition? This tattoo inspires you to listen to both your heart and your brain. And the balance between them will take you further than you expect.
Sun and sword ornamental tattoo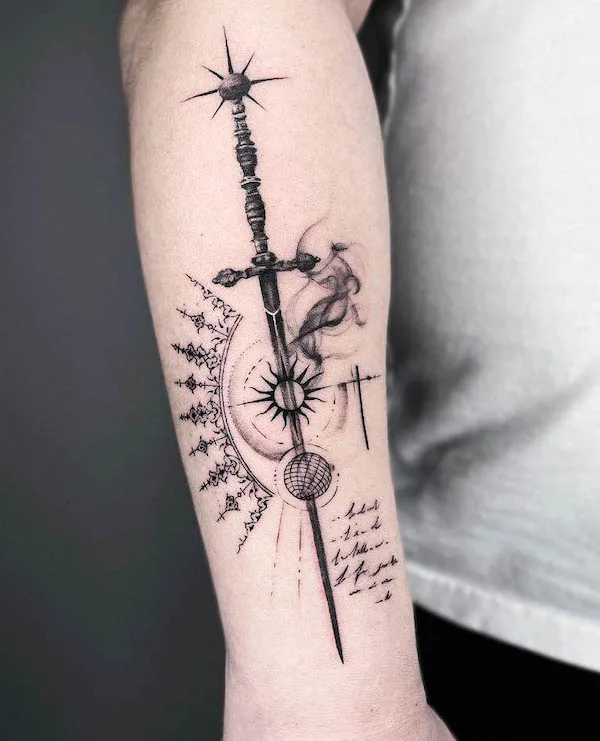 @khakittattoo
The sun is a symbol of vitality and energy. Paired with a sword, this ornamental sun tattoo on the forearm is perfect for those who know what they want and are tireless in doing what they love.
Sword and chess tattoo
@ik_tatz
Sword and moon phase
@dan_tattooer
Unlike the moon, which symbolizes femininity, moon phase tattoos emphasize the endless life cycles. And with a looming sword, this moon tattoo will boost confidence for those embarking on a new journey.
Tribal sword tattoo
@guzumaki_nu
Sword and compass tattoo
@modoink_simon
Most compass tattoos symbolize direction and intuition. But they can also represent exploration and the world.
The sword, on the other hand, is a powerful statement of the wearer's confidence. Together, these elements depict a courageous soul ready to take the world by storm.
Small sword tattoo ideas
It's true that most sword tattoos tend to be large. But it's not always the case. If you want something more subtle, or you don't want your tattoo to overpower you, the following small sword tattoos may be what you are looking for.
Dainty crossed sword tattoo
@hwahongtattoo
As mentioned above, crossed swords have been a symbol of war because soldiers raised their swords when they were about to launch an attack.
However, today, crossed sword tattoos take on a more symbolic meaning. They become a token of courage to conquer any obstacles in life.
Matching small swords for best friends
@kimbudziak
Most matching best friend tattoos are about flowers, animals, or sophisticated ornaments. However, if you and your besties want a more edgy look, these minimalist matching tattoos are a great fit for you.
Small sword with wings rib tattoo
@tattooist_fini
Small constellation and sword tattoo
@ire_tattoo
Simple sword rib tattoo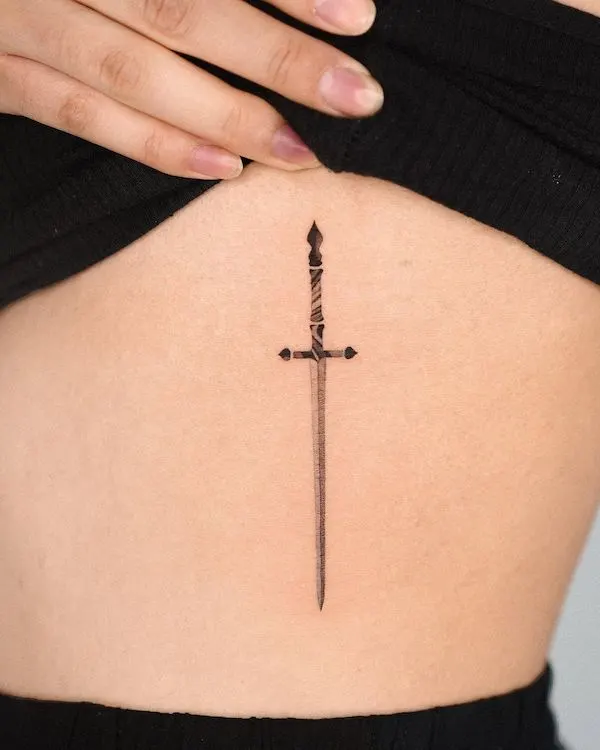 @choiyun_tattoo
Tattoos on the ribcage can cause more pain than those on the arm or thigh because of the thin skin. However, a sleek small sword tattoo like this from Choiyun will keep the pain level to a minimal.
Small sword ankle tattoo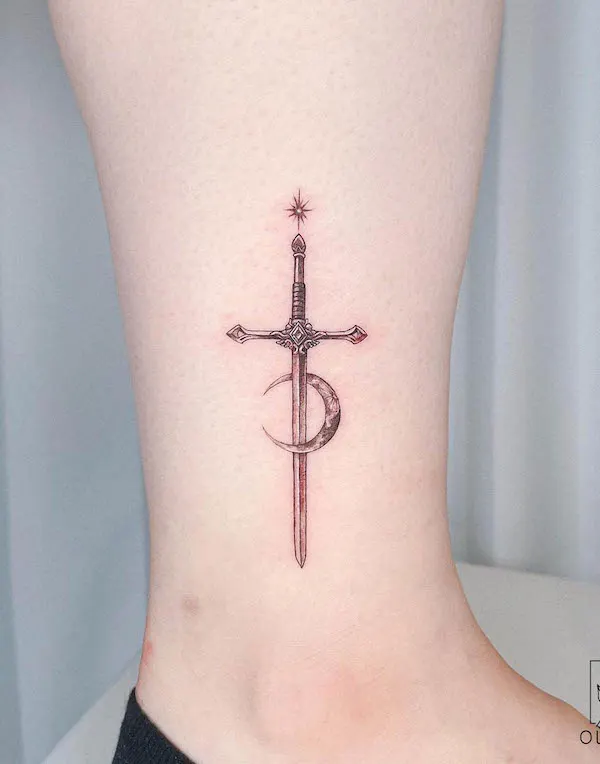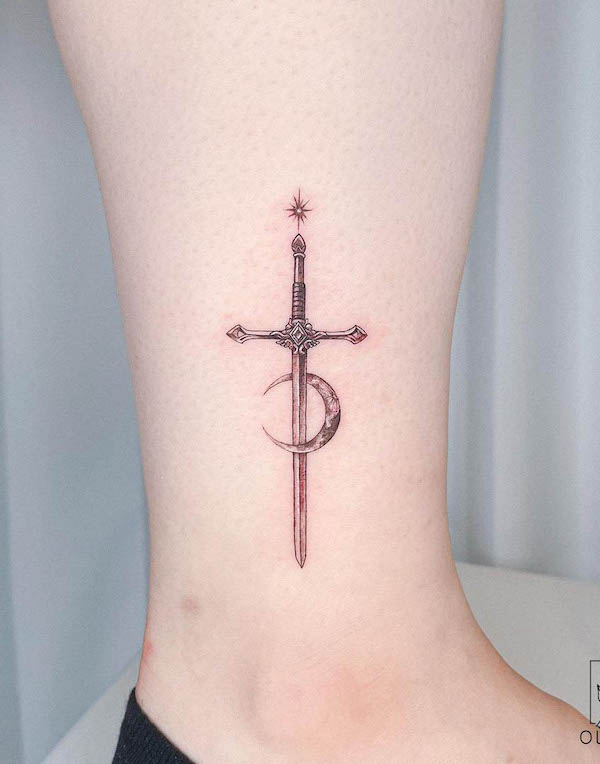 @tattoo_artist_olive
Ankle tattoos are trending right now because of the medium exposure. Tattoos in this area can be sophisticated, bold, or outrageous without being overwhelming.
Tiny sword tattoo
@antstattoo_zoey
Small sword wrist tattoo
@tattooist_fini
The dragon sword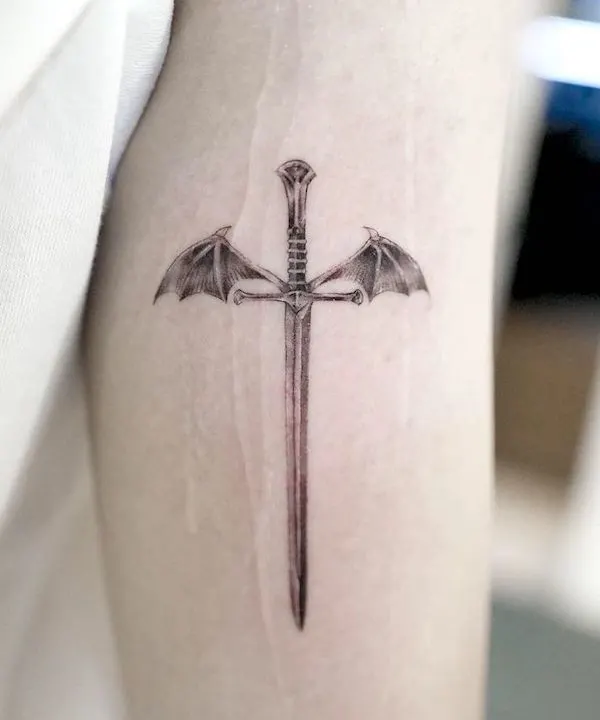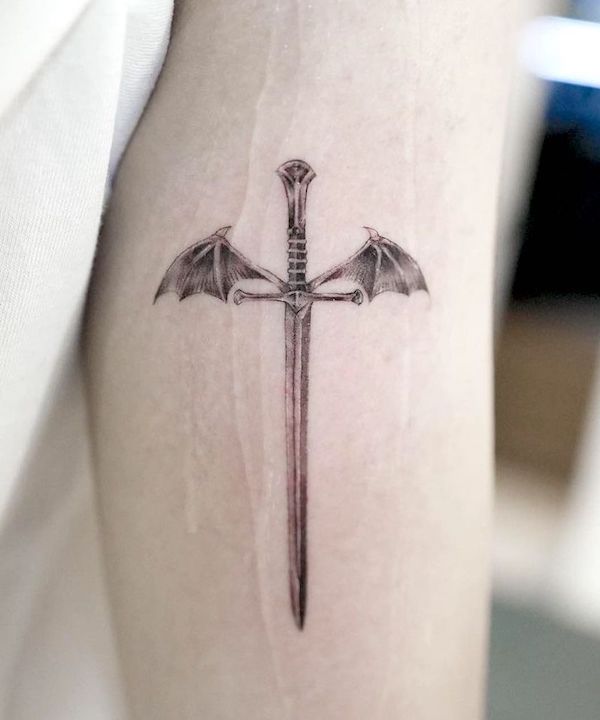 @boomzodat
Both the dragon and the sword represent strength and confidence. This small arm tattoo combines both elements and creates a simple yet powerful tattoo for fighters.
Katana tattoos with meaning
Katana is a Japanese sword that symbolizes power and strength. Because it is a staple for soldiers, the katana is also known as the Samurai sword.
Compared to most swords in the west, the katana has a signature curved blade with a long grip. And because it often appears in Japanese anime, katana tattoos are also loved by anime fans worldwide.
Abstract dragon and katana
@e.nal.tattoo
Unlike most dragon tattoos with solid forms and intricate details, the tattooist takes a different approach. She uses brushstrokes to create an abstract dragon. But it still feels empowering, matching with the katana's symbolism.
Floral katana thigh tattoo
@firstjing
If you want a canvas for creativity and imagination, thigh tattoos are for you. The large enough space allows you to go as big and detailed as you want.
Girly katana from Demon Slayer
@coldchillchild
This katana tattoo is inspired by Japanese manga series Demon Slayer. But instead of drawing the entire sword, the tattooist only keeps the upper part, creating a subtle and girl look.
Japanese katana tattoo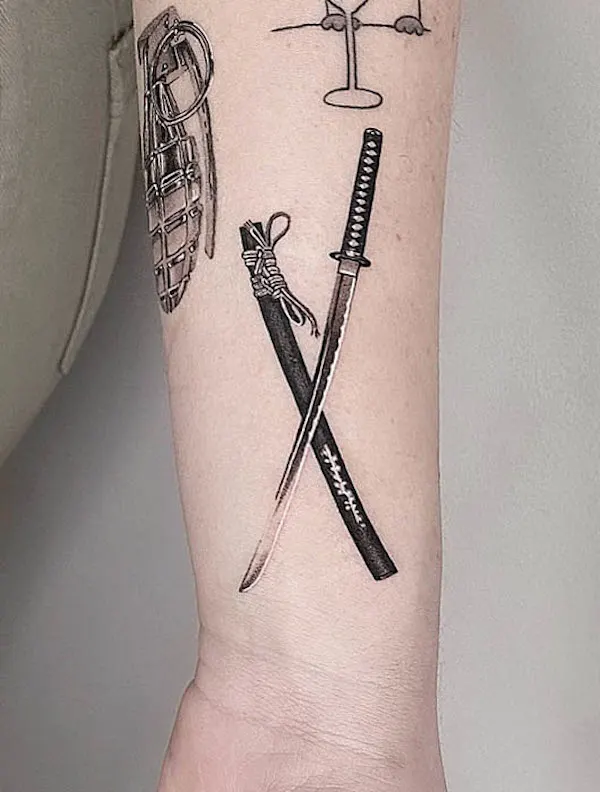 @yeontaan
Water and fire
@coldchillchild
Combining water and fire, the tattooist creates a wow factor that naturally catches your eye. If you love contrasting colors, this tattoo will speak to you.
Katana with ceramic flowers
@e.nal.tattoo
Simple samurai sword tattoo
@coldchillchild
Water and fire matching tattoos
@tattooist.inno
Which of these sword tattoos is your favorite?