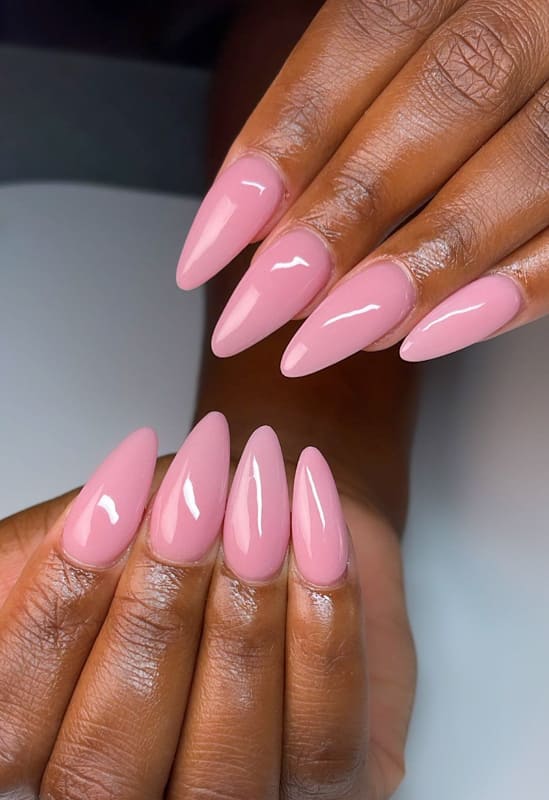 Hello friends, today I am with you with a new topic. We will look at the topic of beautiful pink nails. I will present you 25 different ideas for your pink nails. In this article where we will see many different shades of pink, light and dark, we will see how you can decorate them and make them more interesting. In this article, where you will discover which pink tone is more compatible with your skin tone, I hope you will find the answers to all your questions. The picture below will be the first example of this. Coffin nails in light pink tones look great on dark skinned hands, don't they? So start reading now.
Pink Nails Shapes and Nail Designs
Pink nails warm us up with their chirpy look, especially in summer. In summer, we women always prefer to use vibrant colors. We want to be chirpy, from our clothes to our accessories and even the nails that adorn our hands. Sometimes we want them to be alive by drawing different shapes on a transparent nail polish. In other words, we prefer a nail design dominated by vibrant colors. In this picture, we see a great example where pink and its close tones are used together.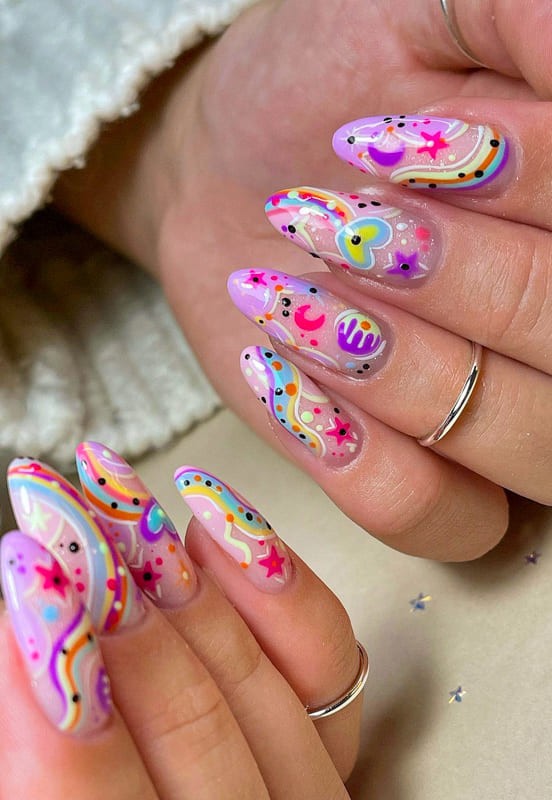 One of the biggest reasons why the color pink is preferred is our desire to see it as a whole with our accessories. We women know very well that pink and its tones will be in perfect harmony with every accessory we will use. Especially in our pink nail design, small star details, colorful polka dots and rainbow models that contain every tone of pink will be great for summer months. The color tone that goes best with pink is undoubtedly lilac, as in the picture.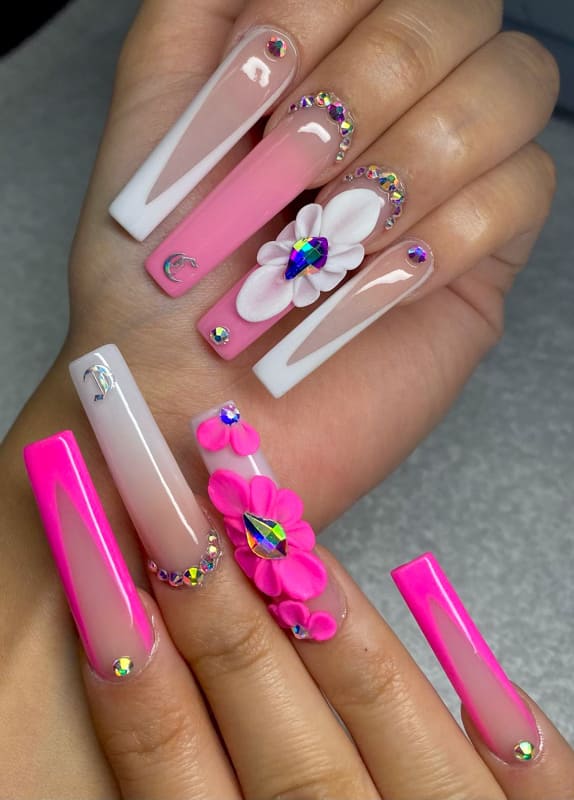 Acrylic red and pink nails
Let's take a look at the pink and red nails that seem to be opposite each other. Have you ever thought that the nails with pink undertones that you decorate with different patterns in red on your acrylic nails can look this good? The size of your nails does not matter, but acrylic and well-groomed nails will be great for this nail design. You can also try pink patterns on your nails with red nail polish. It will surprise you that these two colors that you think are incompatible are in harmony.
Almond pearly pink nail polish
Almond nails all women love. It's also true that we use almond nails much more often than acrylic or coffin nails. Now I want to tell you about a wonderful nail design. It will be a great nail design to polish our pearl pink almond nails by decorating them with a pattern you want. In this picture, we see that half circles are drawn with a yellow glitter nail polish on pearl pink almond nails and then the nails are polished. Do I need to tell you how beautiful she looks?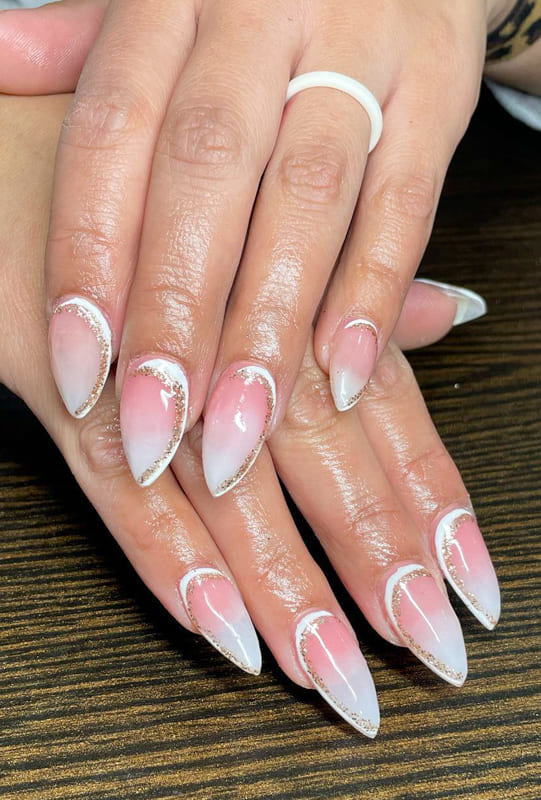 Almond shape soft pink nails
Soft pink tones are one of my favorite tones as well. Perhaps this is the soft color that best suits almond nails. Instead of using a transparent nail polish, you can give your nails a simple but stylish look by choosing a soft pink nail polish. If you want to be simple and add a little difference at the same time, you can add a different atmosphere to your soft pink nails with a pattern you want, as we see as a heart in the picture below.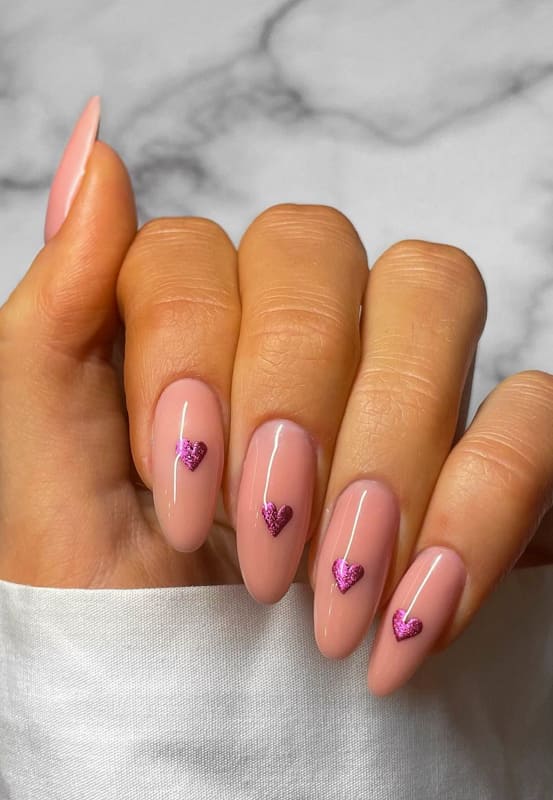 Dark pink coffin nails
It takes courage to use these nails! Dark pink coffin nails, the best example of which you can see in the picture, are really difficult to use, but they are also an eye-catching nail design. How you want to make this design is in your hands. If you wish, you can use sticky glitters and glitters on some of your nails, while some use plain dark pink colors as in the picture. In fact, you can make light and dark pink colors dance in harmony with color transitions.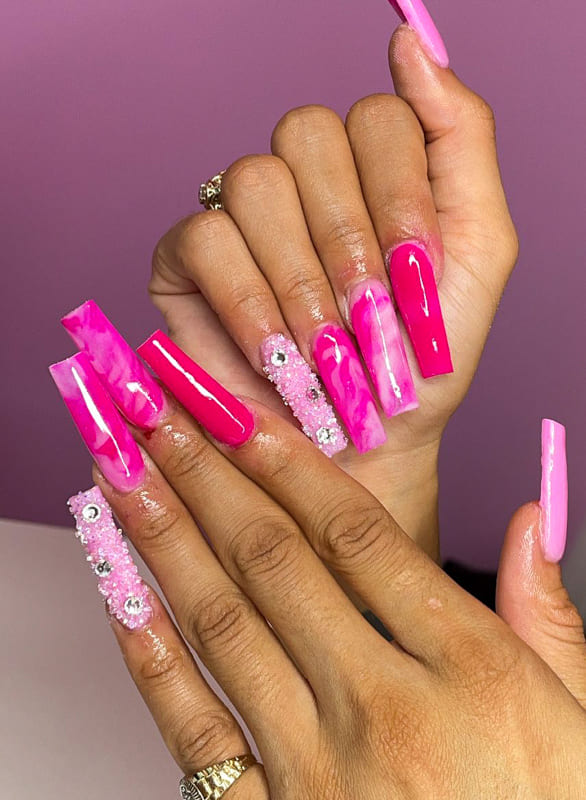 Long coffin bright pink nails
Coffin nails are not a nail design that everyone can easily use. Of course, you decide the size when using this design. In this article, we will look at the harmony of long coffin nails with bright pink colors. In the picture below, we see that the bright pink color is used plainly. If you wish, you can decorate with small stones as in the picture or you can have a different nail design. It would really be all kinds of awesome.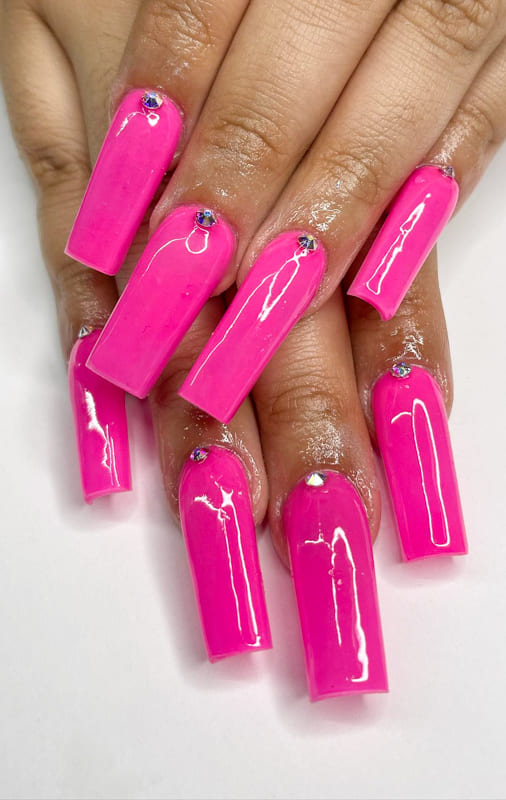 Long square pink christmas nails
Who doesn't love Christmas themed nails? I'm sure everything with a Christmas theme excites you as much as I do. Of course, our clothes, the houses we decorate, our trees, all our Christmas-themed items and our nails should also be compatible. In this picture, we see the use of Christmas themed snowflakes on pink square long coffin nails. You can also get a wonderful Christmas design pink nails with figures such as a Christmas tree, Christmas decorations or snowflakes.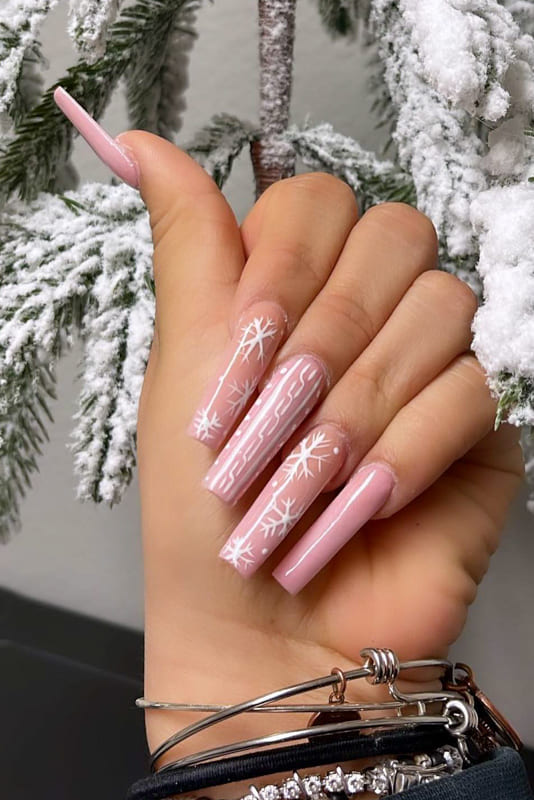 Pink and black halloween nails
We love Halloween. We love to paint and shape our faces and nails with different figures on Halloween even more. Of course, everyone knows that the most used color in Halloween is black. Can you believe that pink and black are so in harmony? It will be great especially with your black accessories. We see a great example of this in the picture. I highly recommend you to try it on Halloween.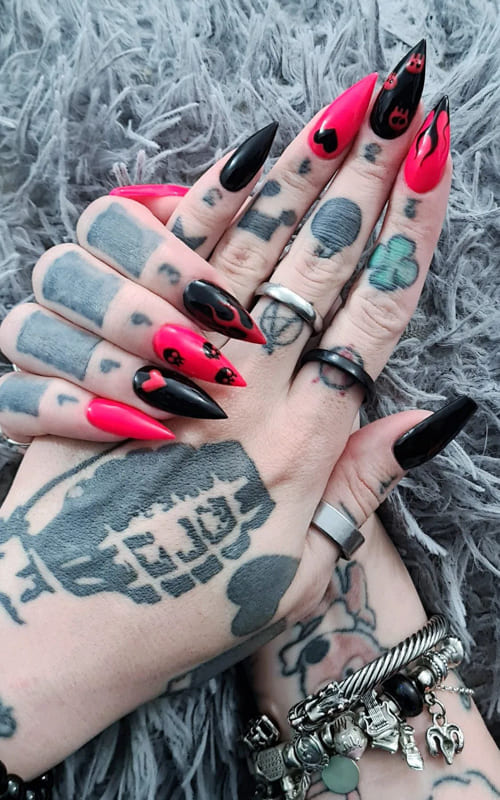 Pink and white long ombre nails
Here we will talk about my favorite nail design. Long ombre nails. In this picture we see a great example of long ombre nails in pink and white. I know we women love ombre nails. Whether our nails are long or short, perhaps the most suitable nail design is ombre nails. Don't you think that the transition of white color towards the ends with soft pink tones on the upper parts is wonderful?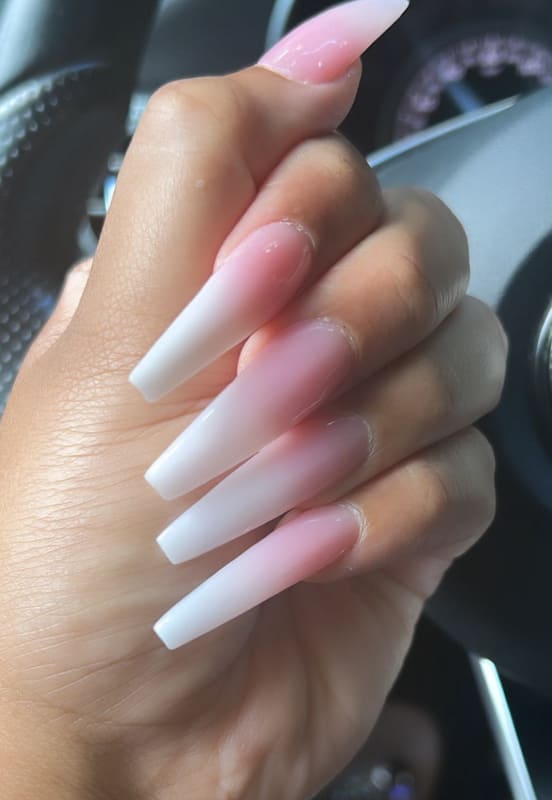 Pink long marble nails
Marble pattern is very widely used in nail designs. Although it may seem easy to make this pattern, it is a job that requires a lot of mastery. Marble pattern can be made in almost any color you want. It can be applied to the entire nail, as well as to only some parts of the nail, as we can see in the example in the picture. This picture, which we see also decorated with glitters, is a great example of long pink marble-looking almond nails.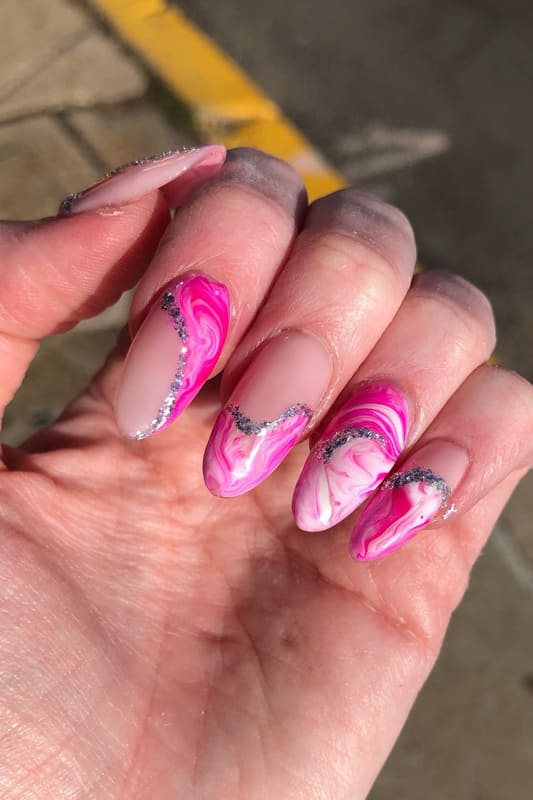 Pink nails for spring
In the spring, when the trees bloom, everything becomes colorful. We women would like to see these colorful spring breezes on our nails. Because it makes us feel very beautiful and happy. Light mint green and light soft pink tones are among the most popular spring colors. In the picture below, we see the perfect harmony of these two colors with each other.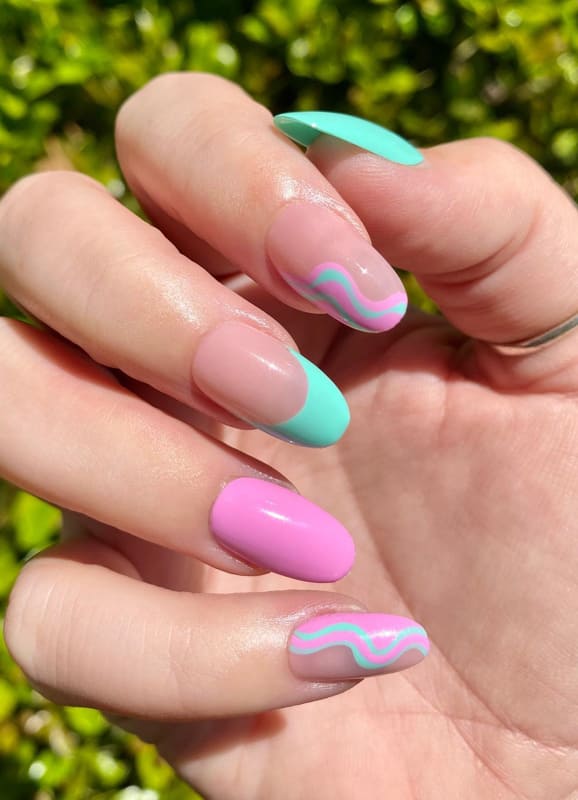 Pink pastel marble nails
We have mentioned marble nails before. Now I want to talk a little more in detail. When the pink color is combined with the marble patterns, we see that this design is usually made with white colors. However, giving the appearance of marble with golden yellow on pink nail polish provides a great job. We see a great example in this picture. Do not think that they will be compatible with each other, believe me, it will be very nice.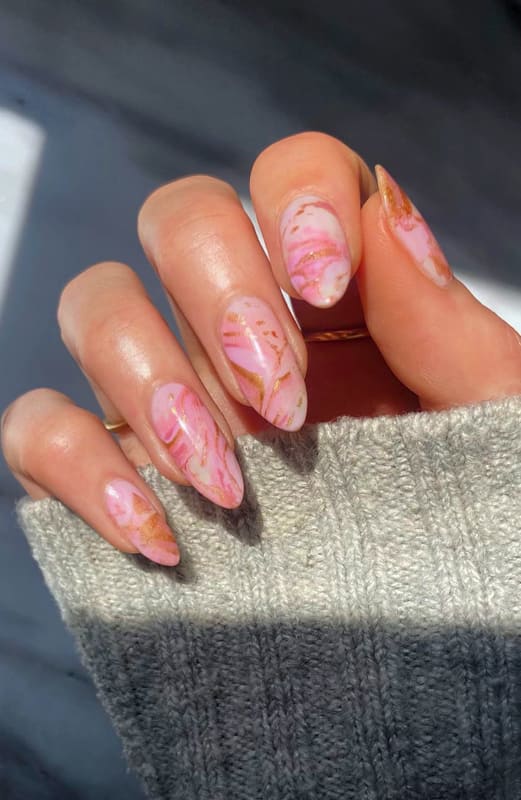 Short pink and white nails
Nail lengths of women who want to have nail design are usually medium or long. They usually do not prefer short nail length. However, some women, especially those who love to cook, like to use short nails. Of course, great nail designs can be found for them too. In other words, having short nails does not mean not having colorful nails. In the picture, we see a wonderful nail design dominated by pink and white in short length. This is a good example for short nail designs.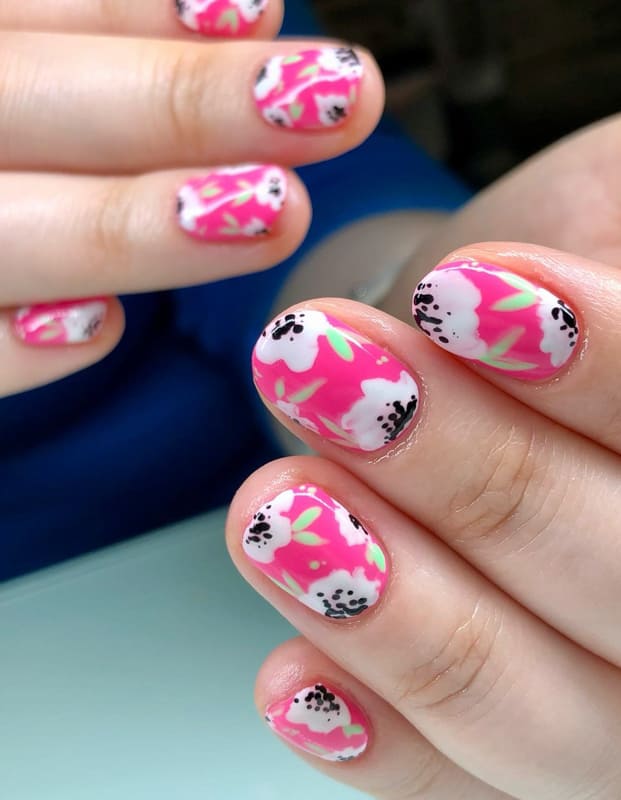 Almond pink chrome nail polish
I came with a brand new suggestion for your almond nails; chrome nails. It has a very bright appearance with the polish applied on the mirror-like chrome nails. As you can choose with any color, I wanted to show you that you look very beautiful with pink nails. I think this rainbow-patterned chrome polished nail design, which includes pink and different colors in the picture below, will be a good example for you.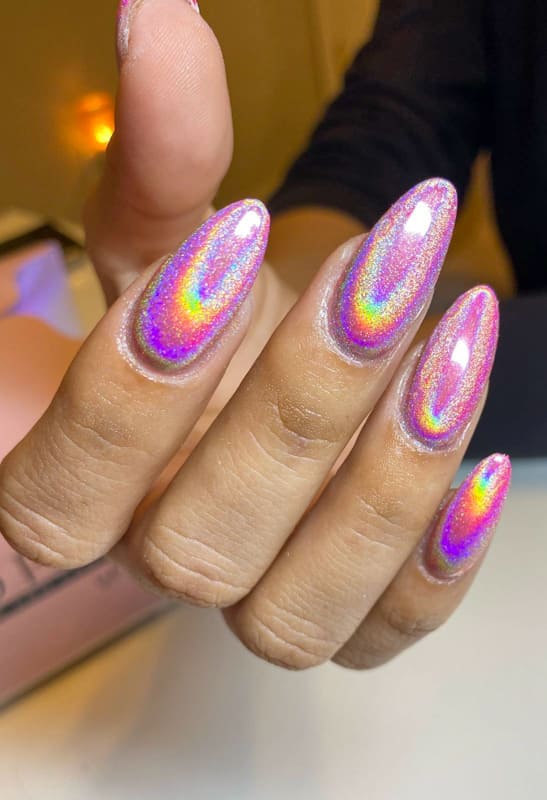 Baby pink long nails
I would like to talk about the wonderful baby pink long nails of this beautiful girl with very kind hands that we see in the picture. You should see the harmony of soft colors that are in perfect harmony with different accessories. We see that soft pink, lilac and cream colors show themselves with golden yellow accessories. You should definitely try baby pink nail polishes for your well-groomed and long nails.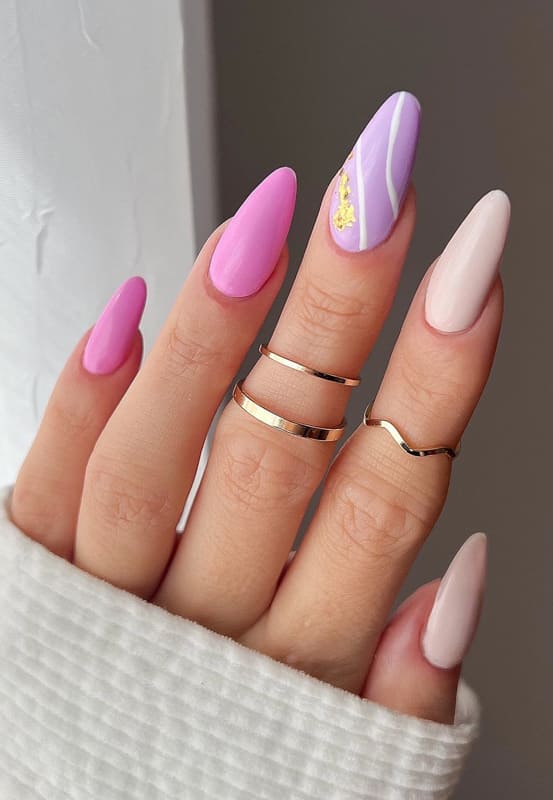 Barbie pink color nails
There is such a thing as barbie pink, right? I'm sure you don't want to use this tone alone that every woman loves and young girls can't give up. We agree, it is a very vibrant and striking color. In our example in this picture, we see that leaf patterns are used for two nails. While only barbie pink nail polish was used on the three finger nails, the black leaves and glitters on the two finger nails added a different atmosphere to this design. You should definitely try it.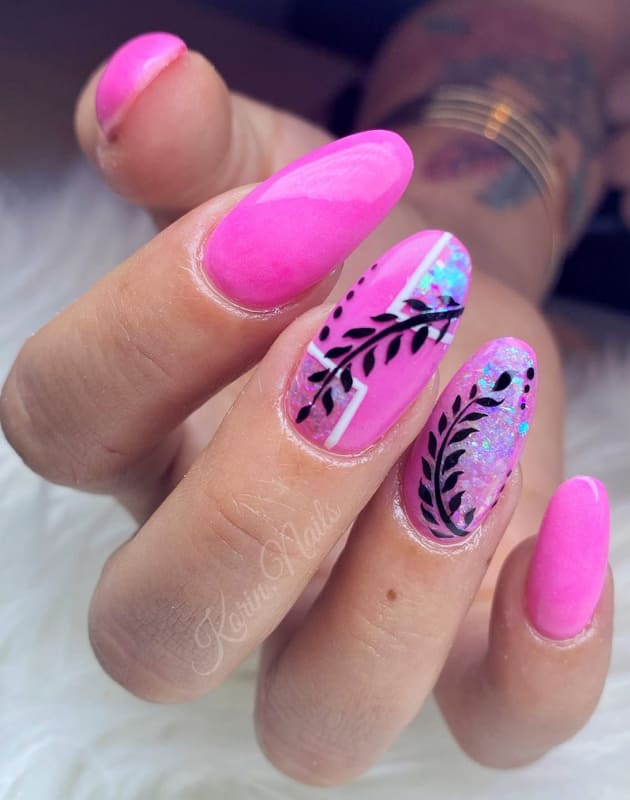 Cerise pink easy nails
Cherry pink, which is a darker color than soft pink tones, resembles a cherry bruise color. This color is very popular and is generally preferred as plain nail polish. Nail design is not usually done on cherry nail polish. Because it is a very flashy color even in its plain form. So it makes a good example of easy nail shapes. In the picture below, you can see how well this color looks on square nails.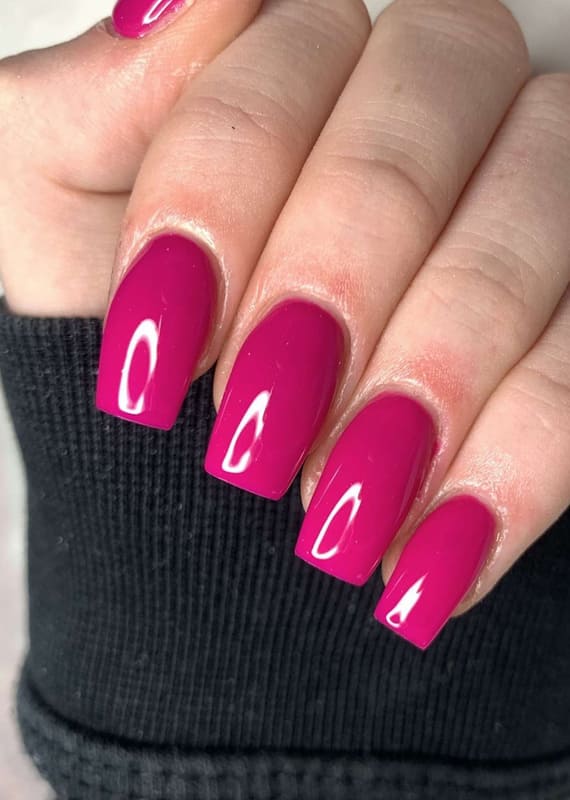 Gradient short pink nails
Gradient short pink nails are preferred very often like other nail designs. It is an easy model as it is mostly used as flat nail polish. However, it is up to you to decorate them, use them in different color tones or add a different atmosphere with nail stones. It depends on how much you like simplicity. Again, we see the harmony of different colors with the accessories used in the picture below.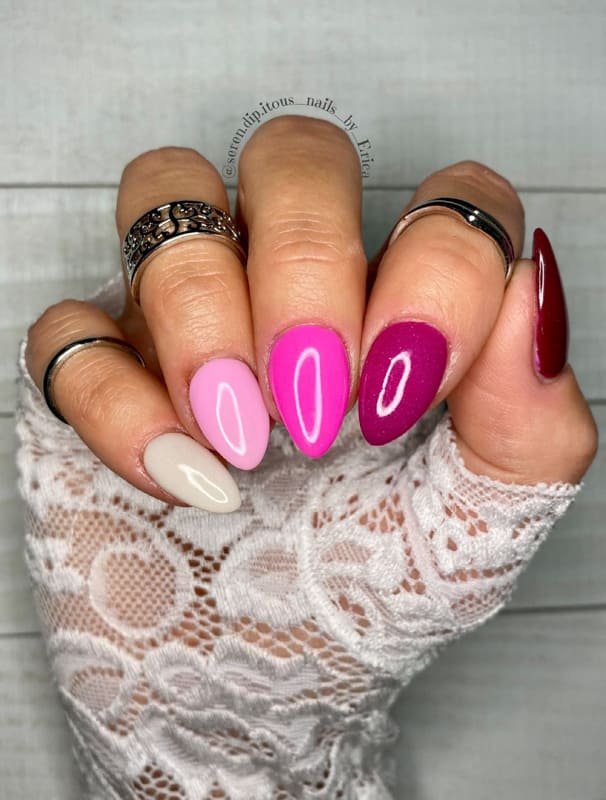 Neon color pink nails
Neon colors are especially preferred by our young girls. Each of the neon colors is more vibrant and beautiful than the other. The place of neon pink is also very different. It would be much nicer to use it simply. Because it is already a very flashy color. In this picture, we see that neon pink is used on the three finger nails, and black stripes are drawn on the soft pink on the two finger nails. This design dazzled you too, didn't it?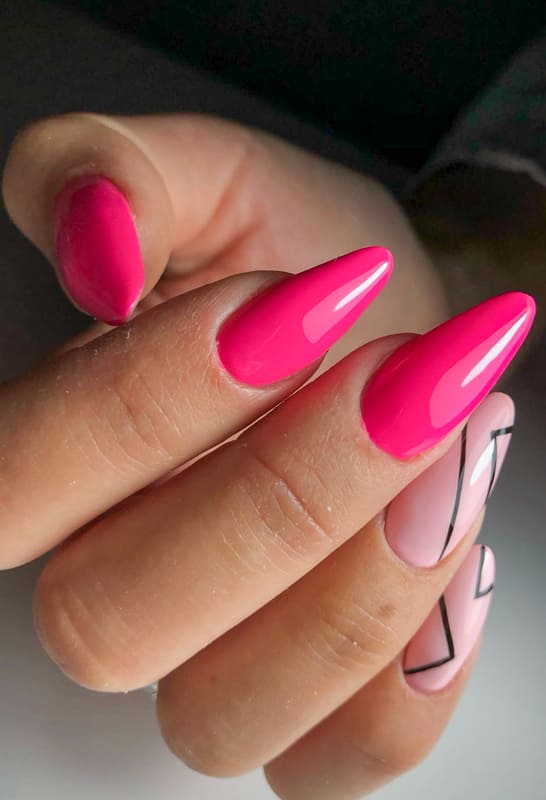 Pink french stiletto nails
Stiletto nails are very difficult to use, but they are a great nail design that highlights a woman's femininity. In this nail design, which we see a great example in the picture below, transparent nail polish is used on the upper parts and soft pink tones are preferred for french at the ends. The tiny heart detail is also impressive. Finally, the nail design was completed with the polish applied on it. You should definitely try making pink french for your stiletto nails.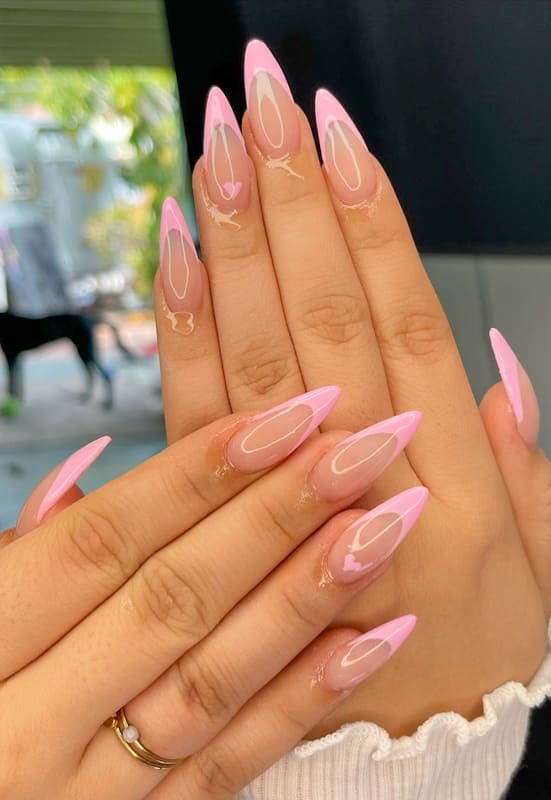 Pink glitter coffin nails
We have another great suggestion for your coffin nails; glitter nails. Throughout an entire article, we've looked at the pink nail designs you can choose from. Shiny nails will also be one of the best examples. In the picture below, we can see how eye-catching the glitter coffin nails are. If you find that much glitter is too much, you may prefer soft pink on some finger nails, while you may prefer glitters, sticky glitters or shapes for some finger nails. We hope this article has helped you.