It's a blessing to have a sister that loves you the same way you love her. You never feel alone with a sister because you'll always have someone to talk to, share your secrets with, and support you through tough times.
And that's why so many are getting sister tattoos to honor their bond. A tattoo is a lifetime promise, and so is the connection between sisters.
Most matching sibling tattoos are gender-neutral, so they also work for brothers. But if you are getting matching ink with your sis, there are a lot of stunning designs that complement your femininity.
So in this post, we've rounded up a collection of sister tattoos for you and your person. From small to bold, simple to intricate, you will find the ideas you and your sister will adore.
Disclaimer: This collection of sister tattoos is for inspiration only. Please do not copy the artwork. If you love these tattoos, follow artists and show them some support.
Meaningful sister tattoos
Small and simple sister tattoos
Simple doesn't mean boring. While it's difficult to find a bold and outrageous design that both you and your sister resonate with. Small sister tattoos, in this case, are more universal.
And because of their size, they will not scream for attention. Instead, they are a low-key expression of your love for your person.
Tiny flower hip and thigh tattoo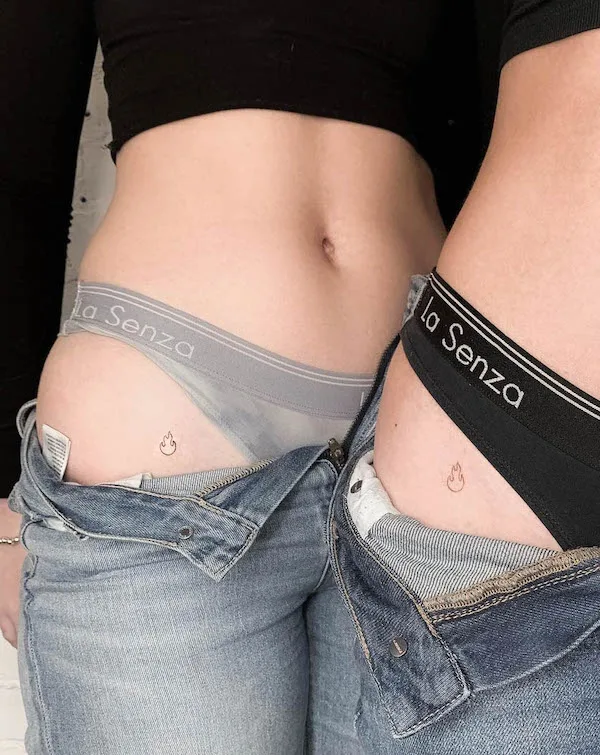 @asterwalu
Fire symbolize passion and an uncontainable personality. If you and your sister are wild souls, tiny fire thigh tattoos like these will represent you.
Matching zodiac sign tattoos for sisters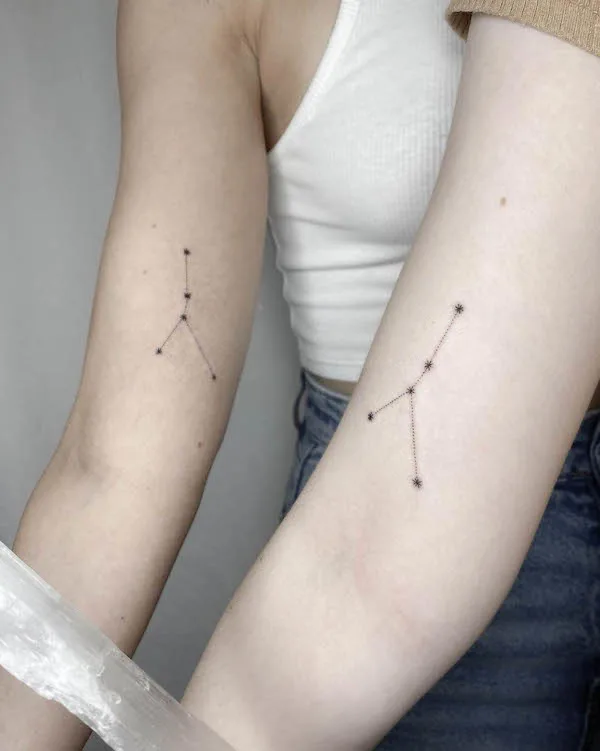 @colette.ink
If you opt for something dainty and personal, consider zodiac tattoos. They can be as simple as your sign's symbol. Or they can be less literal, like these Cancer constellation tattoos.
Simple poppy bouquets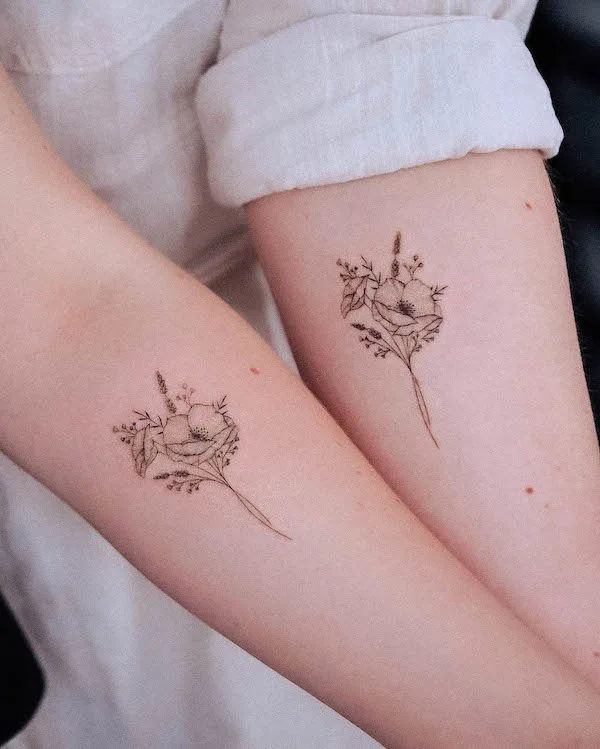 @bunami.ink
The poppy is the birth flower of August. They represent hope, courage, and their uplifting colors bring joy. Although these poppy bouquets are black and grey, they still reflect the sisters' inner strength and positivity.
Sun and moon matching tattoos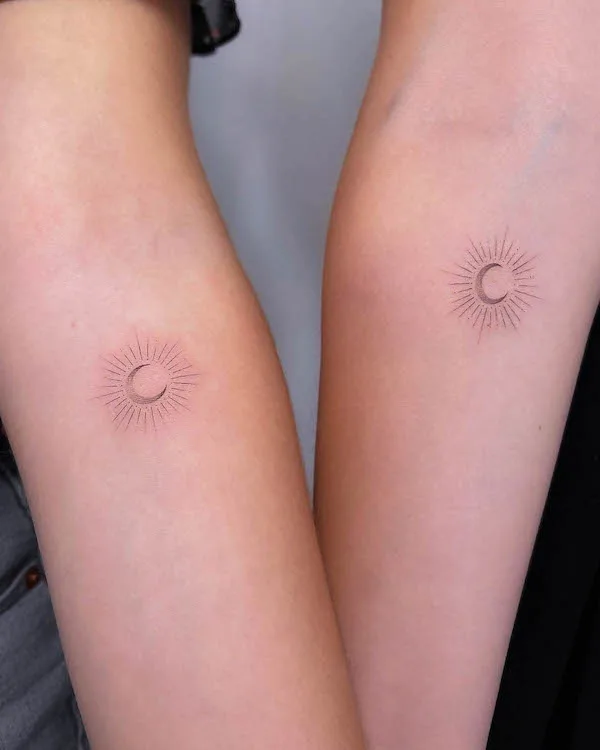 @emilyjtattoos
The sun and moon are like yin and yang. They create a balance when paired together. These small sister tattoos carry the same connotation. They represent the sisters' complex yet mutually-complementing personalities.
Cute eyes tattoos for sisters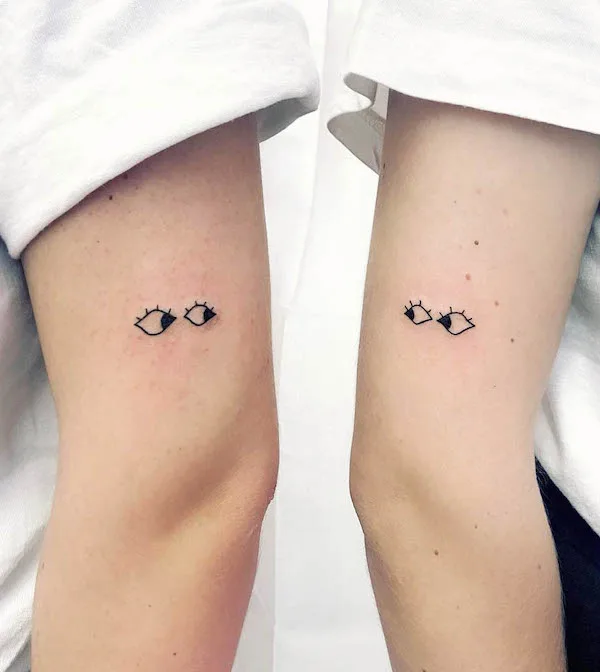 @doetanitattoe
Cute, and fun with a personality, these tiny sister tats surprise us with how simple yet creative they are. The gaze shows that the sisters always look out for each other. And the eyelashes just make them even more adorable.
Tiny stars shoulder tattoos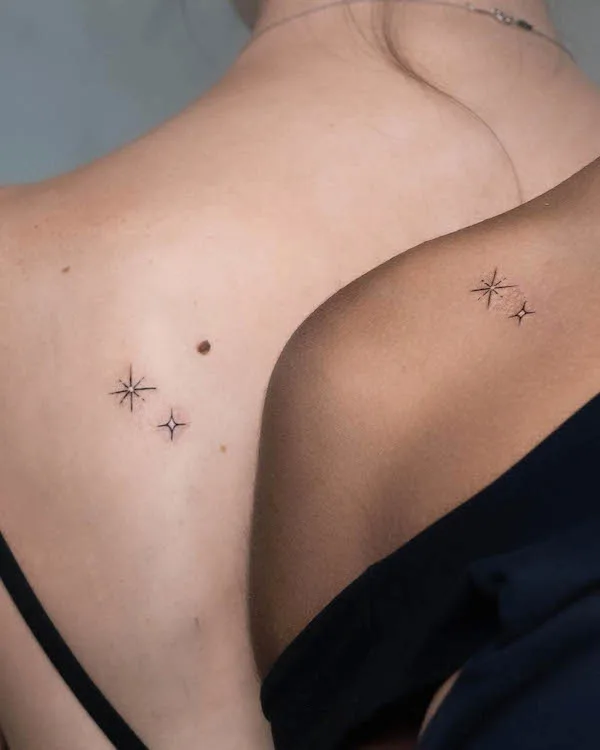 @miagldstn
Stars are a symbol of hope, guidance, and inspiration. A pair of star shoulder tattoos like these will be a tribute to sisterhood and a highlight on the skin.
Blue evil eye forearm tattoos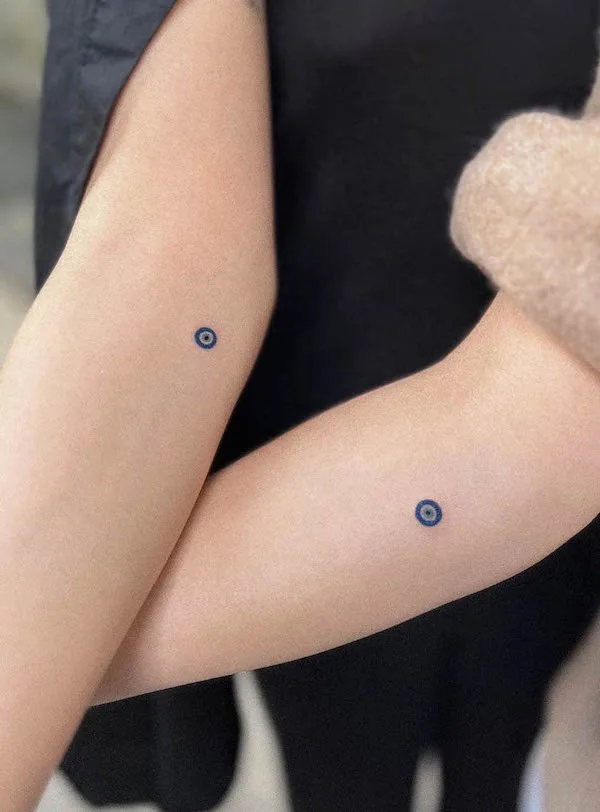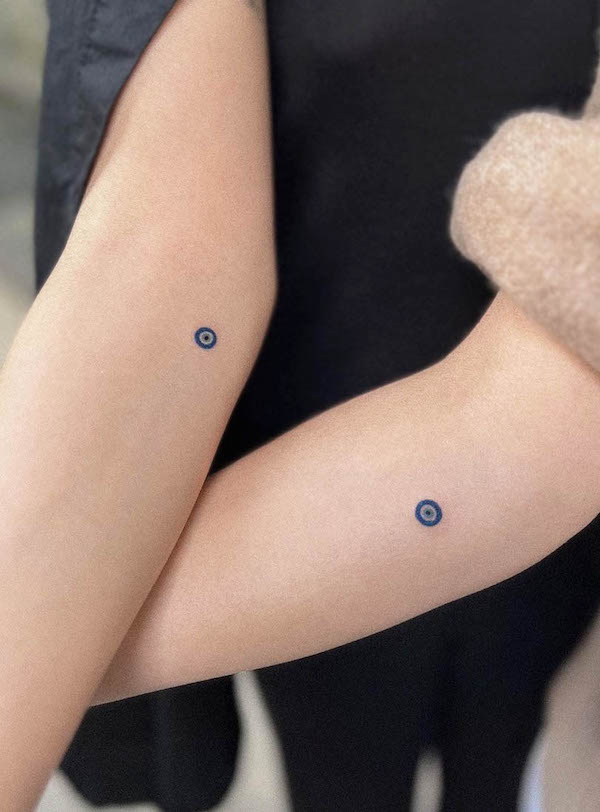 @pelinnsimsek
The evil eyes are considered lucky charms and are worn as a talisman. They are believed to protect the wearers from negative energy. These two circles with a dot in the middle are a simplified version of the evil eye. But it still shows the sisters' best wishes and intentions for each other.
Super cute duck ankle tattoos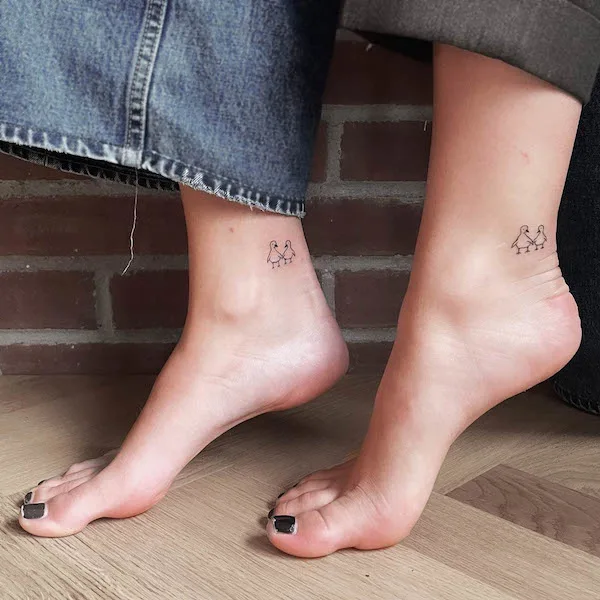 @chlo_poke
How cute are these baby ducks! If you have a cartoon character or an animal that recalls your childhood memories, consider them your next tattoo.
Small croissants above the ankle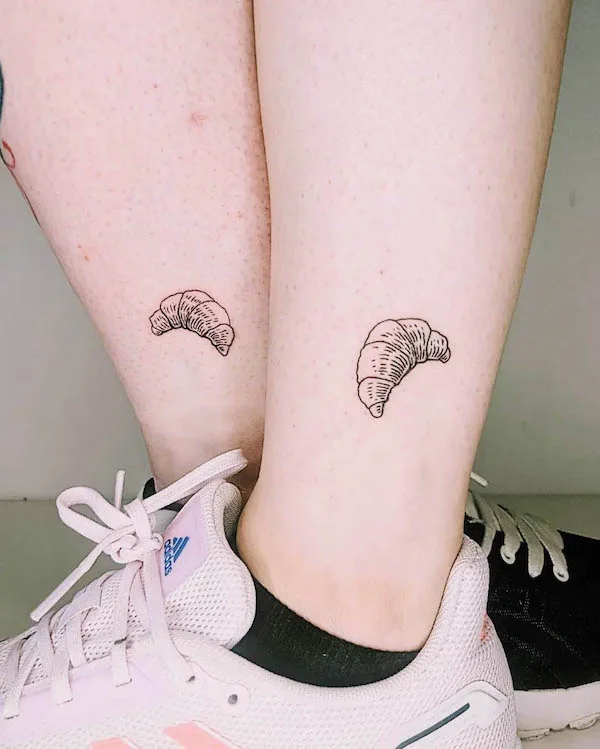 @ediebea
Who can say no to a croissant that just comes out of the oven? These cute small croissants on the ankle are perfect tattoo ideas for foodies.
Simple dual tattoos above the elbow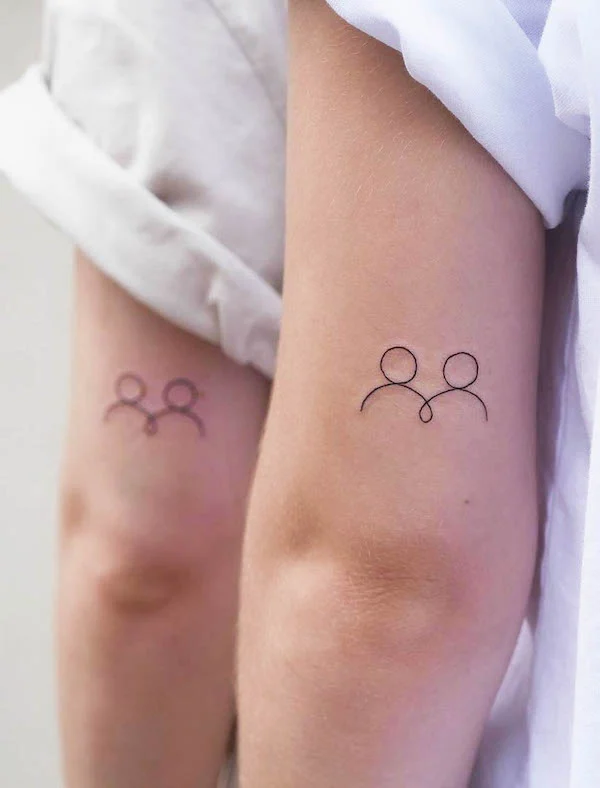 @maricatattoo
What seems like a simple design actually carries a deep meaning. The entire tattoo is drawn in one line, mirroring the unbreakable connection between sisters. And because it is so sleek, it will make great sibling tattoos for brothers and sisters as well.
Tiny lightnings on the arm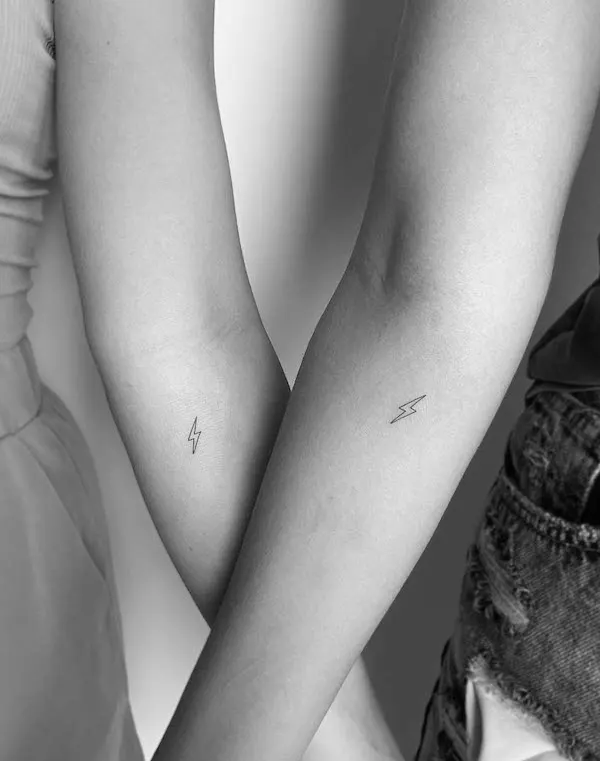 @mrs.tattoo_
Lightning tattoos, whether small or big, are perfect representations of one's strength and fiery personality. Those who wear a lightning tattoo are bold, reckless, and decisive. They make up their mind and take action, and nothing will hold them back.
Small yin and yang tattoos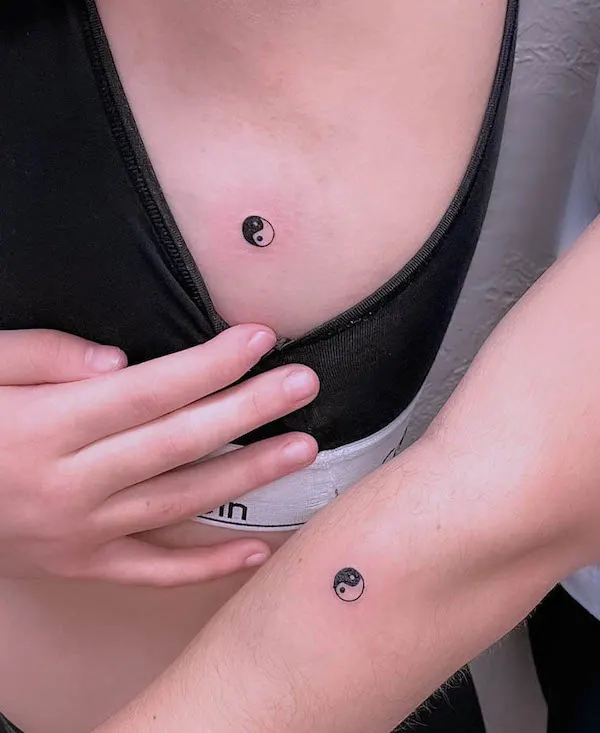 @permanentbeautyxkylie
Yin and yang represent light and darkness, masculinity and femininity. If you value balance and harmony, these small sister tattoos are for you.
Hearts on the wrist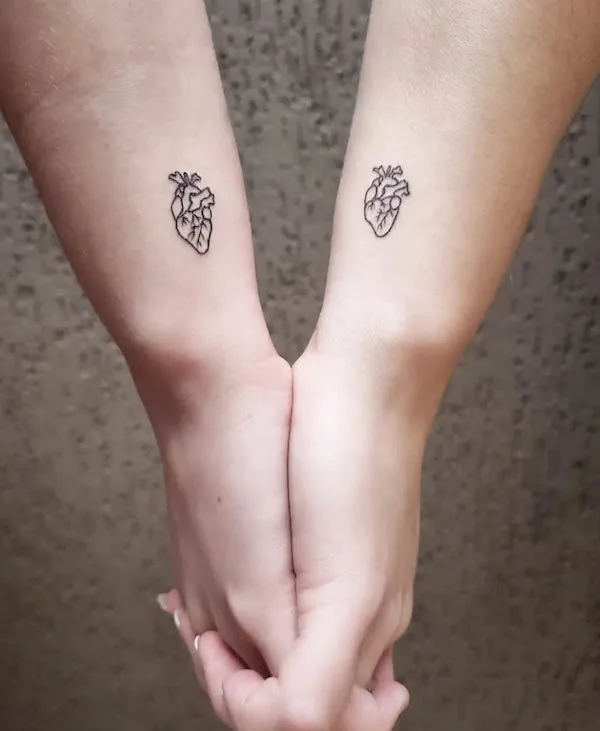 @seckinktattoo
The anatomical heart often appears in symbolic love tattoos to represent affection. But they can also symbolize friendship and sisterhood. Side by side, the wrist tattoos resemble two sisters that hold a special place in each others' hearts.
Purple heart shape shoulder tattoos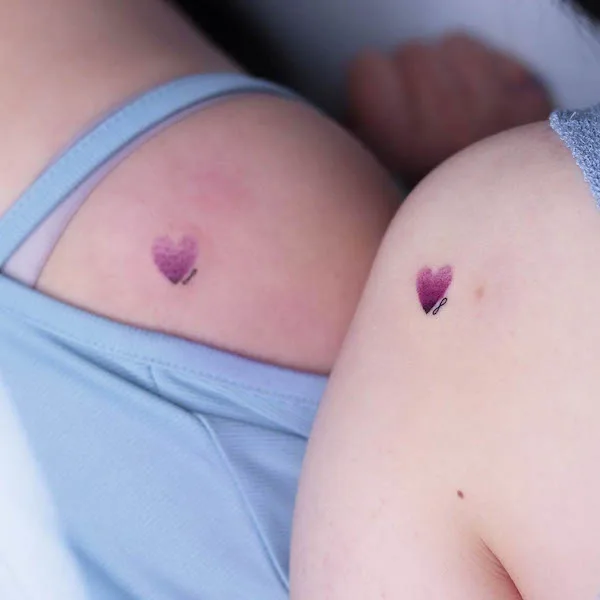 @tattooer_dogy
Unlike anatomical hearts we just saw, heart shape tattoos are simpler. But they carry similar meanings. They also allow you to customize the size and color, so you have something both of you adore.
Black and white compasses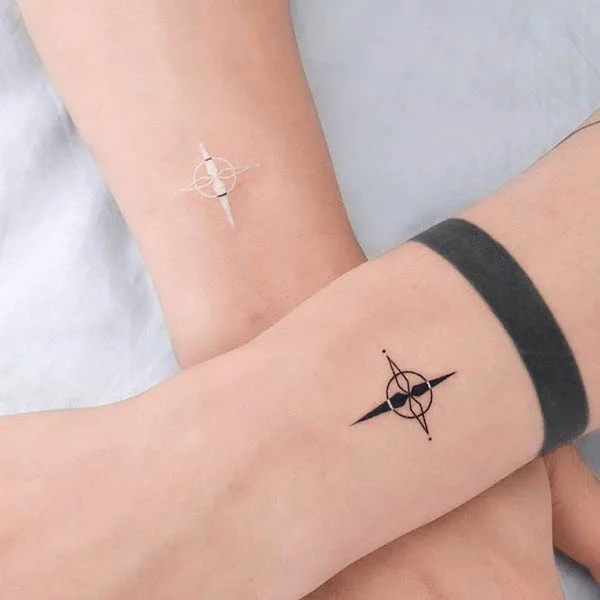 @tattoos4two
Compass tattoos are often symbols of direction, intuition, and home. These black and white compasses on the wrist show how much the sisters value their families and each other.
Matching plane wrist tattoos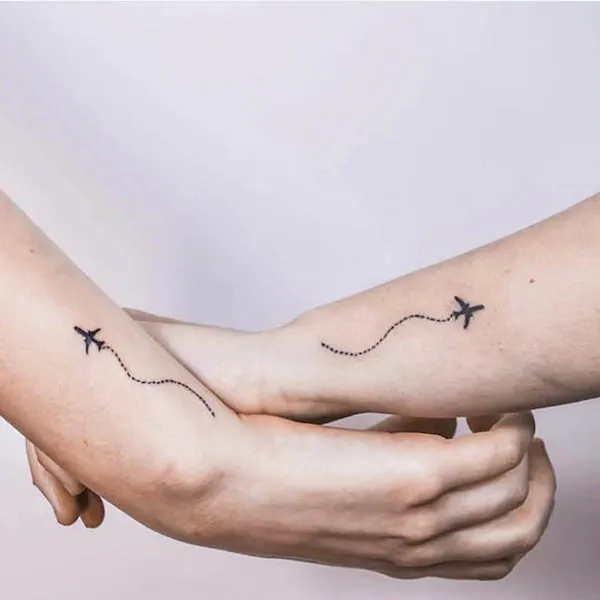 @tattoos4two
Plane tattoos are for those who love traveling or live far away from home. But as minimalistic matching tattoos, the planes can symbolize the connection between the wearers. They are reminders that sisters are always together at heart, even when they are apart.
Powerpuff Girls sister tattoos for 3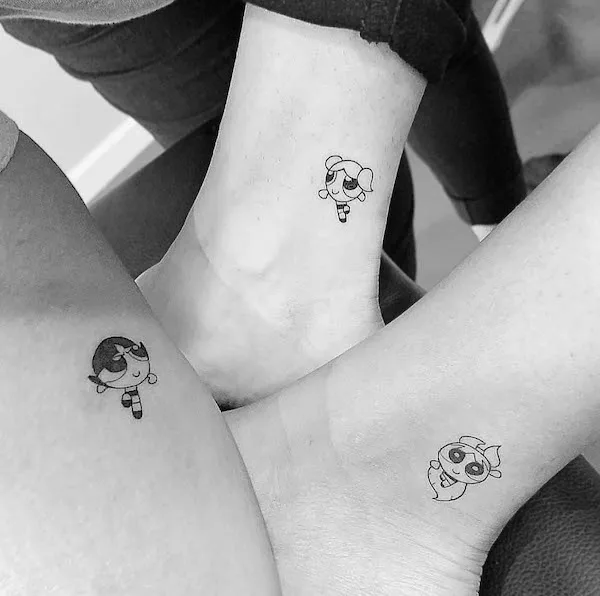 @axtattoo
The Powerpuff Girls are among the most beloved cartoon characters. The three girls all have different superpowers and a genuine heart. As tattoos, they perfectly show each sister's personality as well as their love and support for each other.
Simple arrows thumb sister tattoos for 3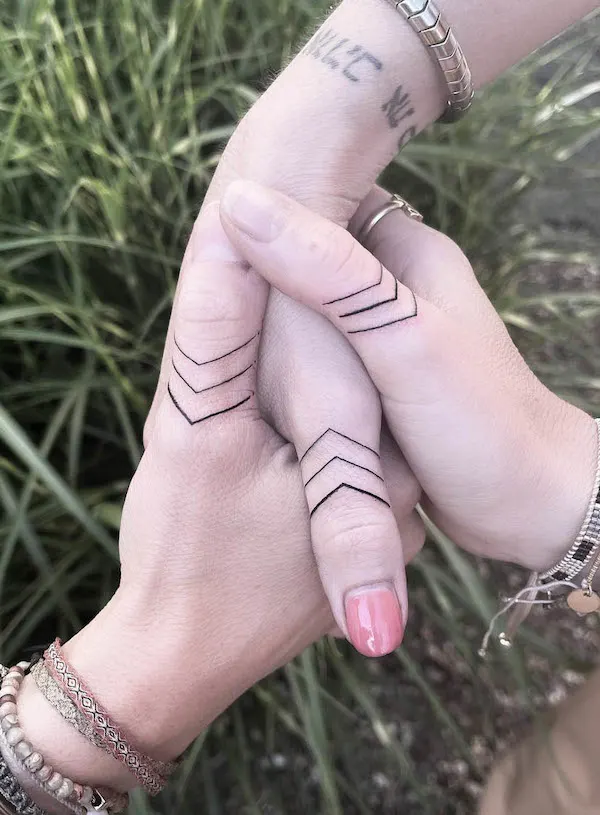 @tattoojoey_cynthia
If you are looking for an always-visible tattoo as a reminder of your amazing sisters, these arrows on the thumb may inspire you. They are sleek, simple, and make sense both independently and together.
Cute flower number tattoos for sisters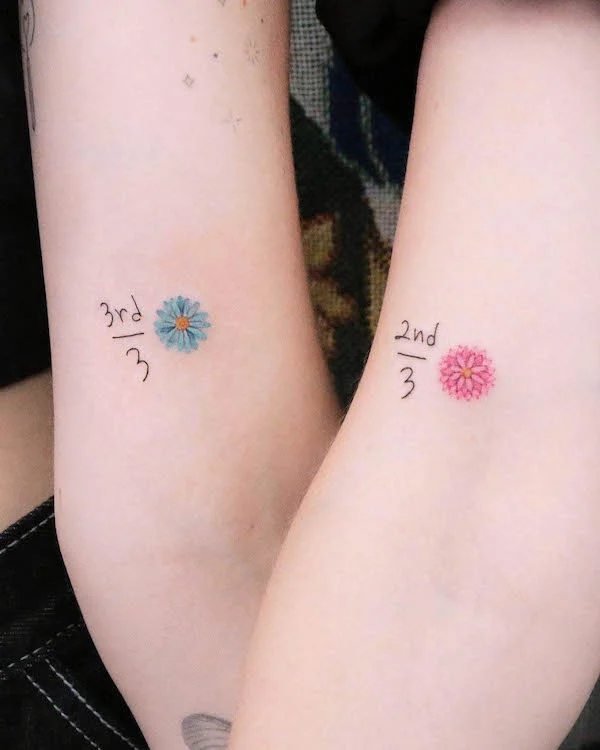 @pureum_tattoo
Fraction tattoos work for you if you have more than one sister. They clearly indicate the birth order in a cute, numeric way. These matching tattoos add a flower by the fraction catering to their personal aesthetics. It will be more meaningful if those are the birth flowers of the sisters.
Four-leaf clovers for sisters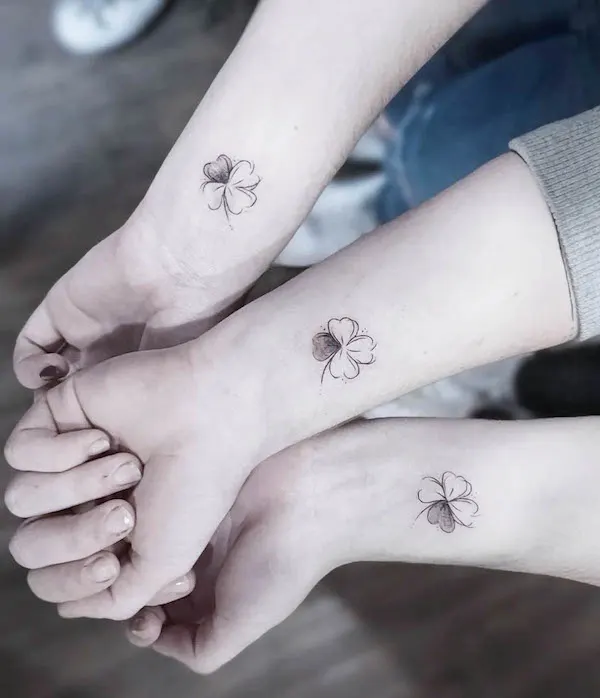 @m.kptattoo
Because most clovers have three leaves, a four-leaf clover is a lucky charm. In these wrist tattoos, each leaf represents one of the sisters. Therefore, they not only reflect their bond but will also bring them blessings.
Infinity arrows for three sisters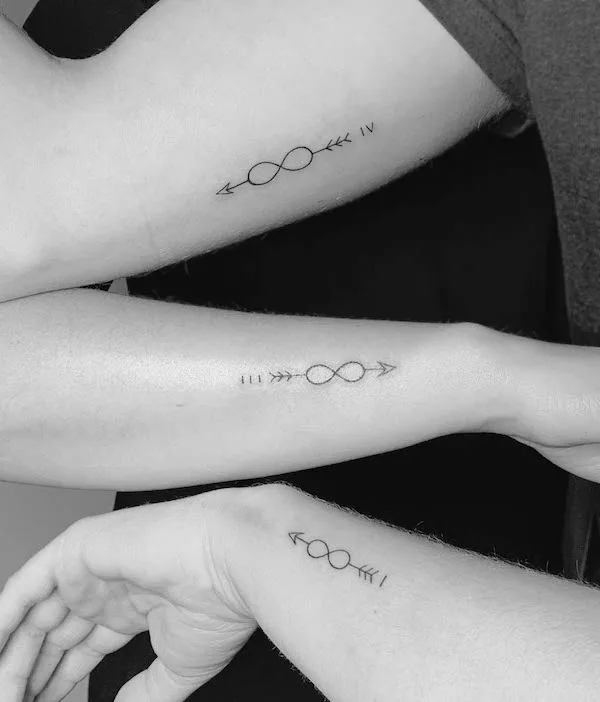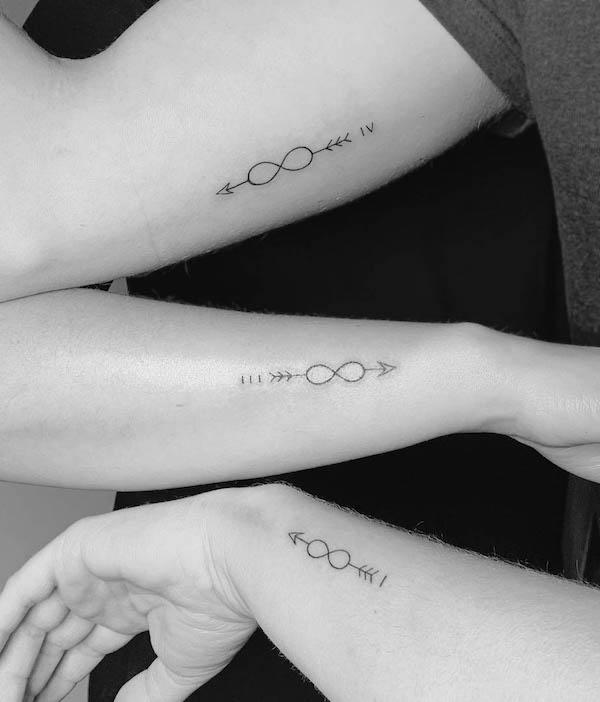 @nillo.ink
What makes these arrow tattoos so unique is the infinity symbol. The slight twist turns the wrist tattoos into a lifetime tribute to the love between the sisters.
Roman number wrist tattoos for 3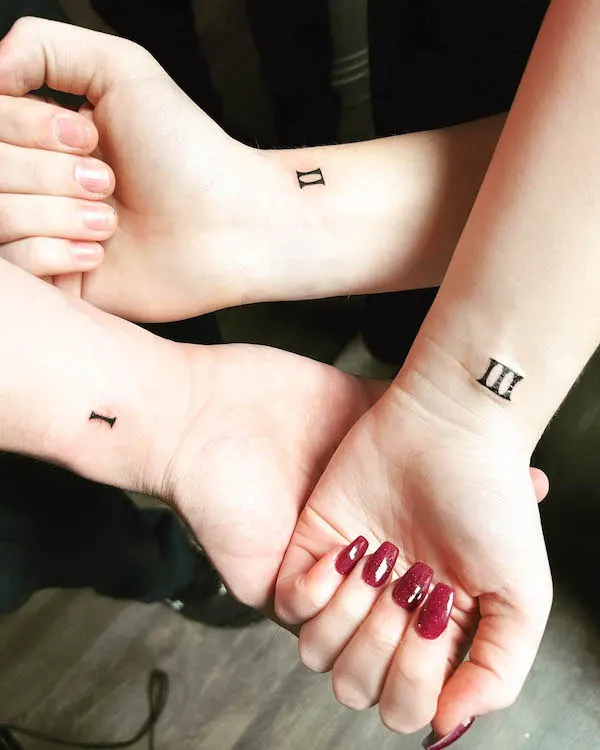 @impromptu.tattoos
Sun, moon and star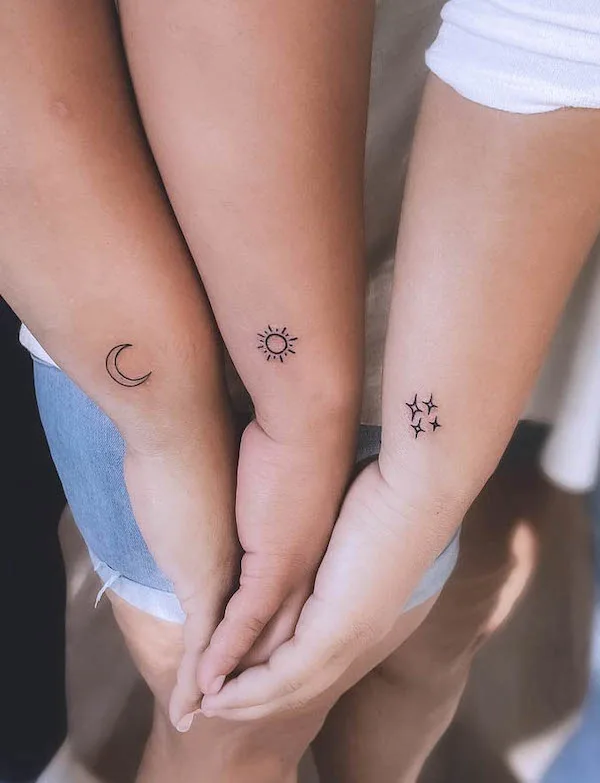 @permanentbeautyxkylie
Bold and beautiful sister tattoos
Tattoos are not just a decoration but a statement as well. So if you want to celebrate the loving sisters you have, why not wear your heart on the sleeve with a bold tattoo? Sounds like you? Below is a list of daring and vibrant sister tattoos that will resonate with you.
Matching koi fish tattoos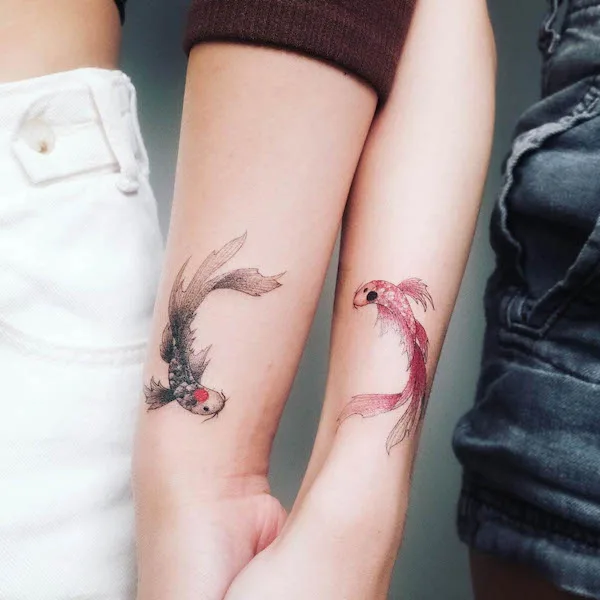 @ciel_tattoos
Sisters are different individuals that share an unbreakable bond. In these matching forearm ink, the black and colored koi fish are a great metaphor for two unique personalities caring for each other.
Butterfly arm tattoos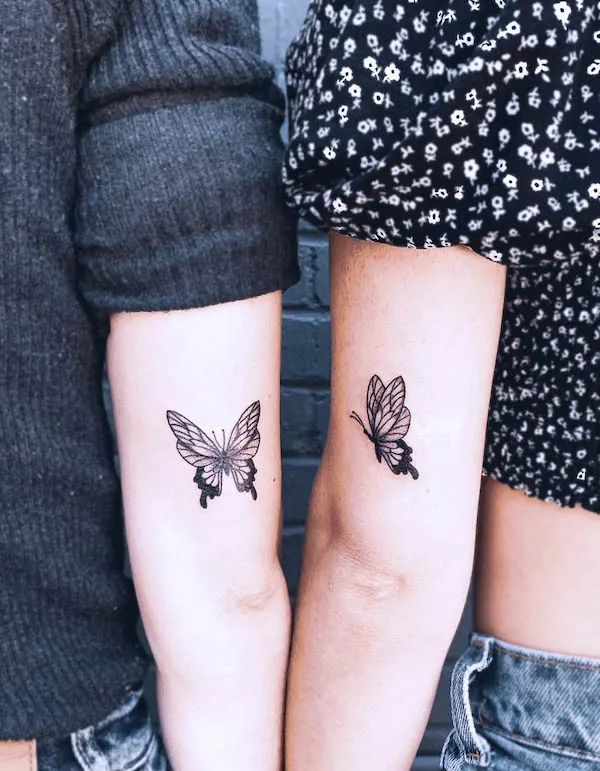 @butterbeetattoo
Butterfly tattoos look good both individually and in pairs. They belong to those who embrace changes and are not afraid to transform.
Antique jewelry matching tattoos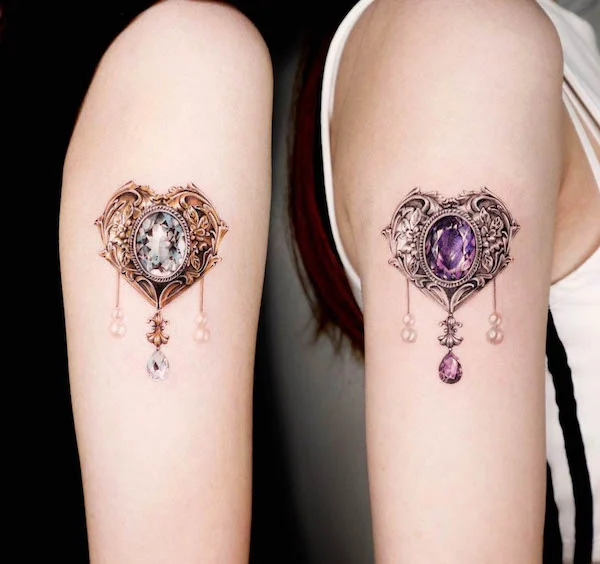 @tattooist_siia
These beautiful gemstone sleeve tattoos complement the sisters' femininity perfectly. Plus, the gem's color can be customized to one's liking, adding personality to the tattoo.
Connected hearts
@goldencobratattooclub
These hearts connected by a string may be a simple idea. But the use of red and black makes them pop on the skin.
Sunflower arm tattoos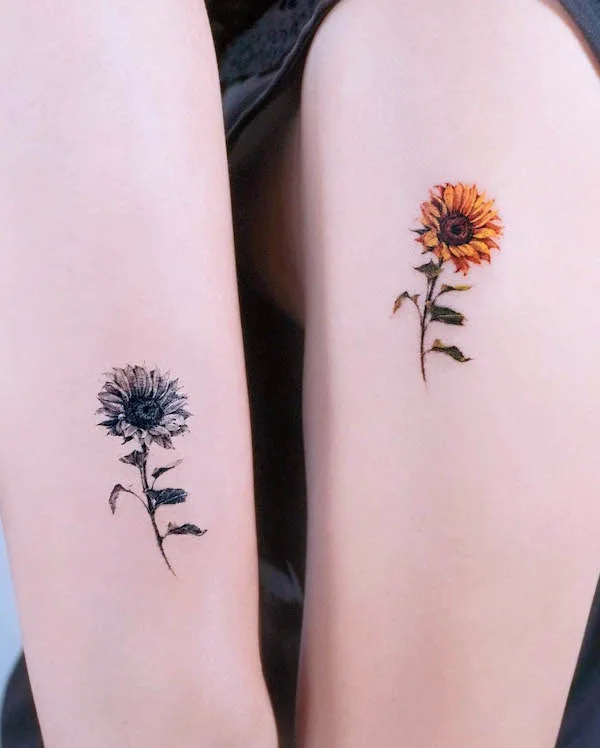 @tilda_tattoo
Sunflowers represent optimism. Thus they often appear in positivity tattoos. These pair of sunflowers on the arm are initially mother-daughter tattoos. But they will also fit a loving sister duo.
Floral infinity symbols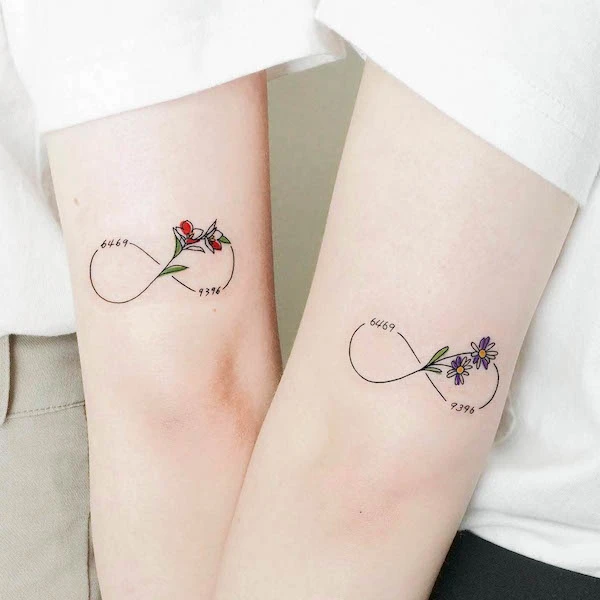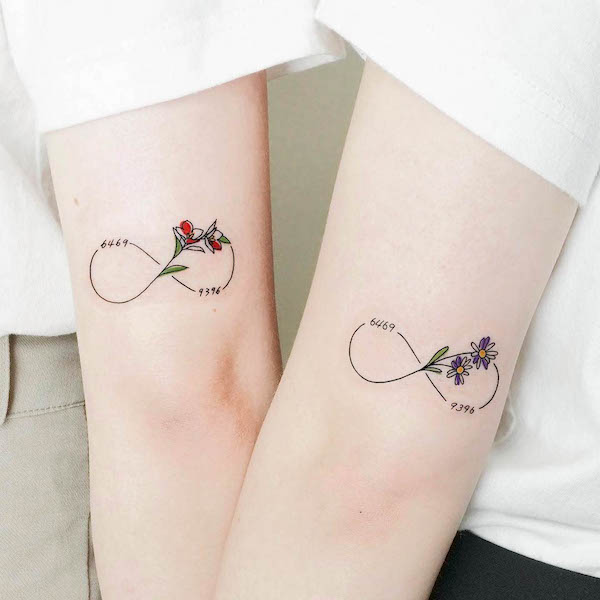 @heim__tattoo
Sisters are forever. And what represents this lifetime bond better than an infinity symbol?
Little sister and big sister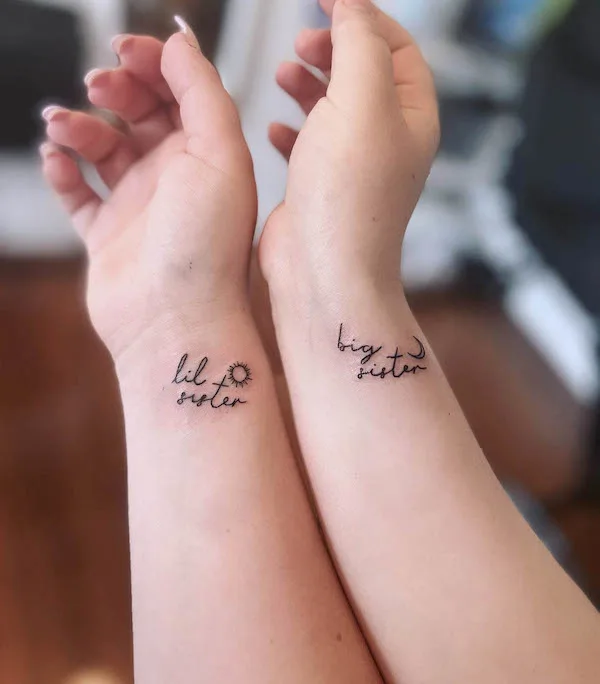 @inkxiety_
Matching sparrows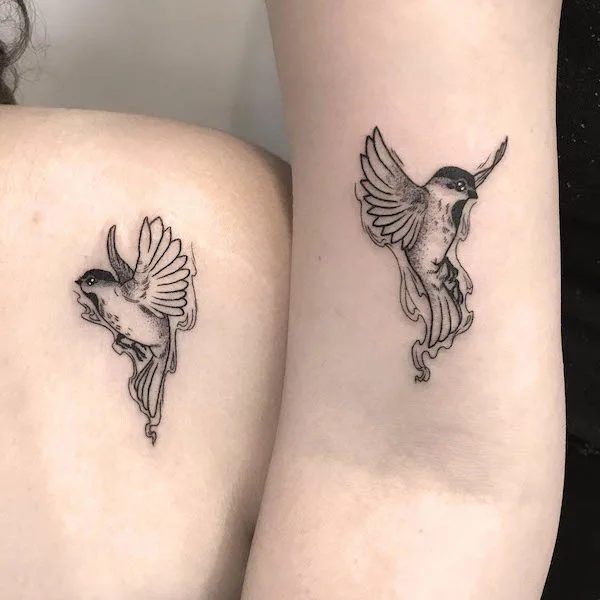 @_november_rush
These sparrows show that matching tattoos don't have to be in the same place on the body. Instead, choose the area according to your preference, so you can show or hide as you need.
Hold me tight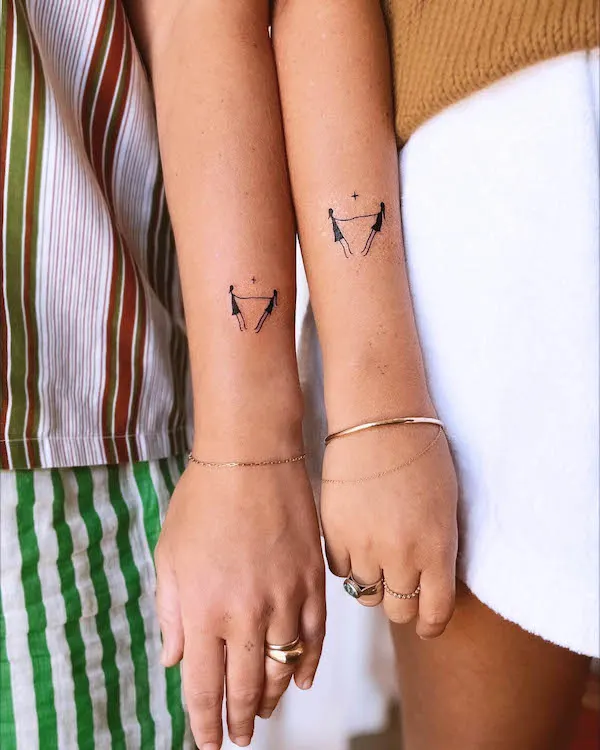 @goodthanks.studio
Have you ever grabbed your sister by the hand and just danced like no one was watching? If so, these cute tattoos will recall the sweet moment and remind you how lucky it is to have someone to grow up with.
Matching compasses with a quote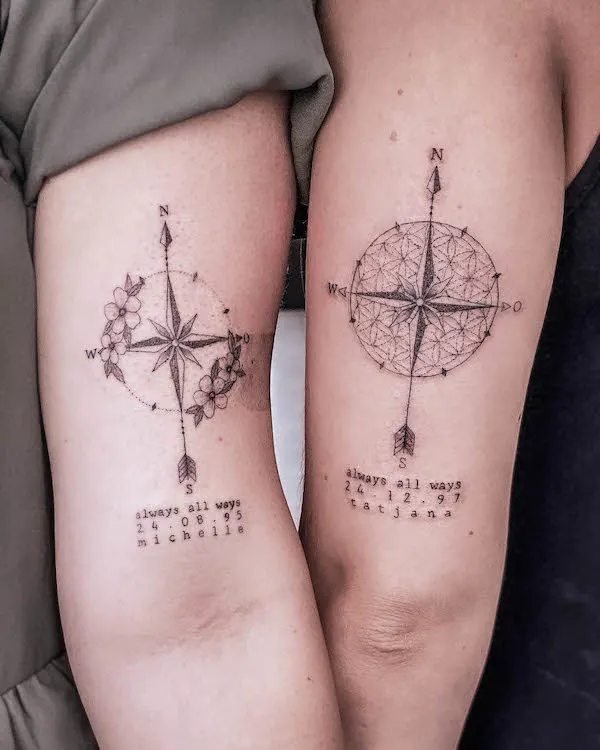 @leoniemoistattoo
These matching compass tattoos look similar but not exactly the same. The one on the left has simpler construction and flowers as decoration. The one on the right, however, has a complicated mandala-like background.
With the same quote, birth dates, and names, these sister tattoos reflect individual aesthetics without losing visual cohesion.
Botanical armband tattoos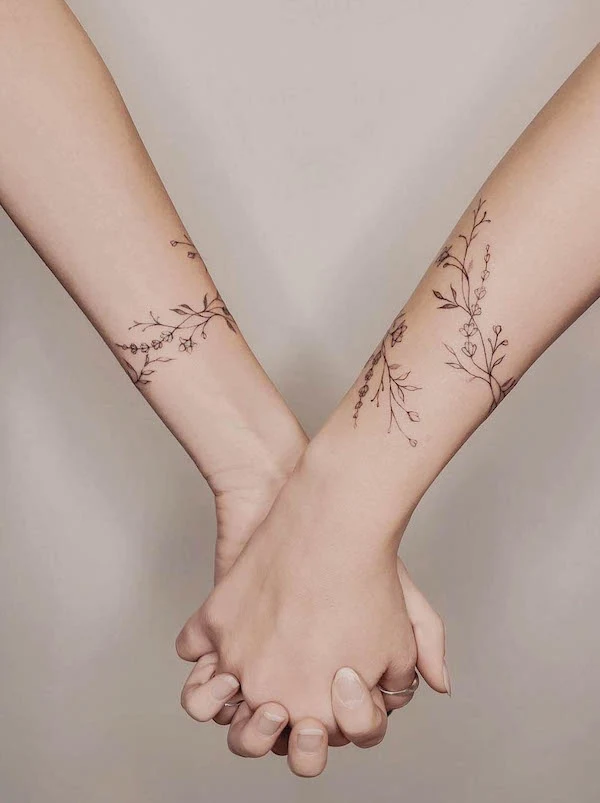 @jsemevelin
Like bracelet tattoos, armband tattoos wrap around the limb like accessories. They are often made of flowers, branches and leaves, just like these two. But there's a simplicity and elegance to them that make them a pleasure to look at.
Year of birth tattoos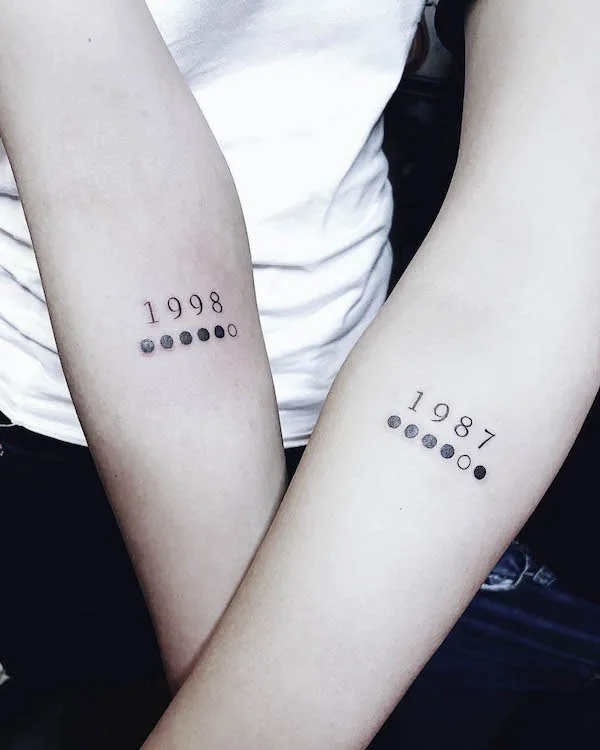 @melanietuliao
Elsa and Anna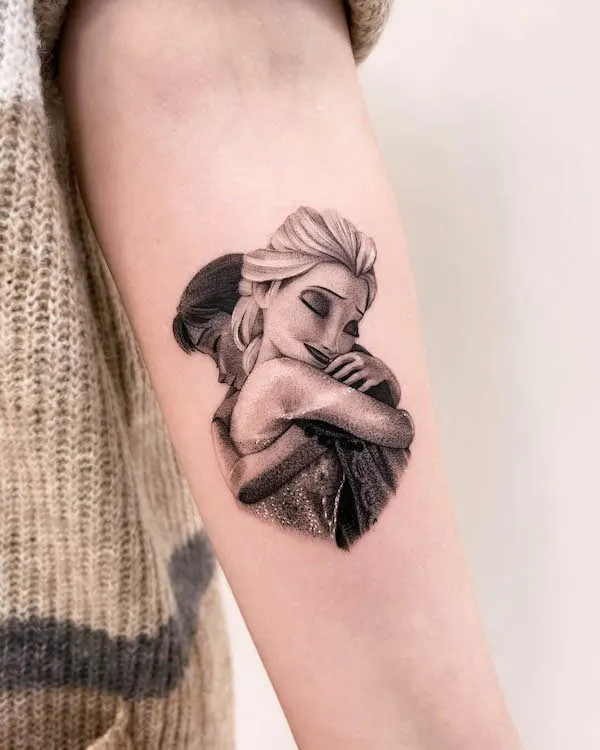 @mariimo.ink
As one of the top hits of Disney, Frozen's Elsa and Anna steal people's hearts for a reason.
Like many sisters in real life, their relationship has its ups and downs. Misunderstandings and fights are unavoidable. But what we can see in this arm tattoo is their love for each other despite all their differences. And that's what makes sisters precious.
Girly tattoos for carefree sisters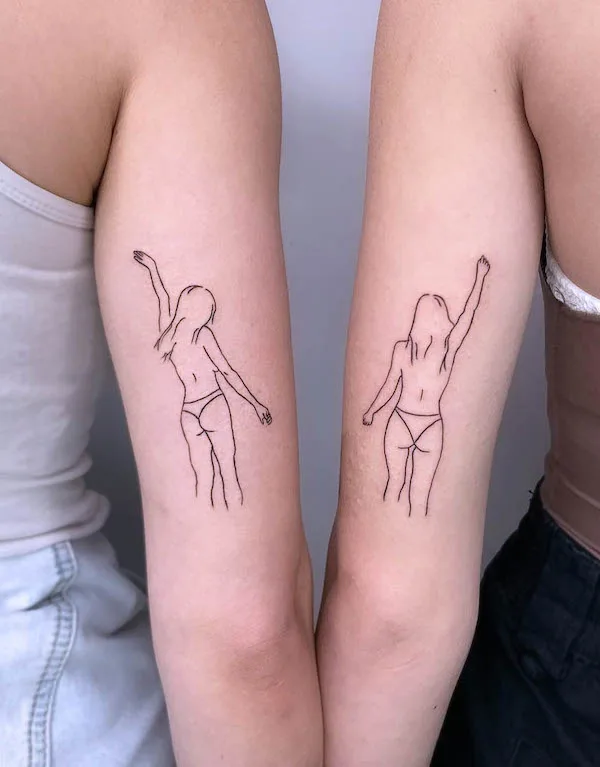 @tamir_tatts
Simple unalome wrist tattoos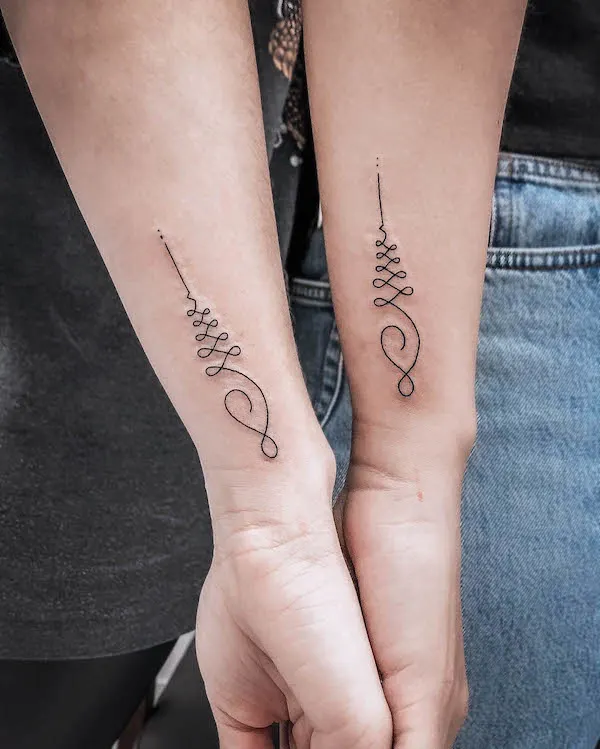 @leoniemoistattoo
Symbolically, a unalome refers to the journey of enlightenment. The straight line and the following twists and turns represent the life path.
Half-geometric, half-realistic dragonfly tattoos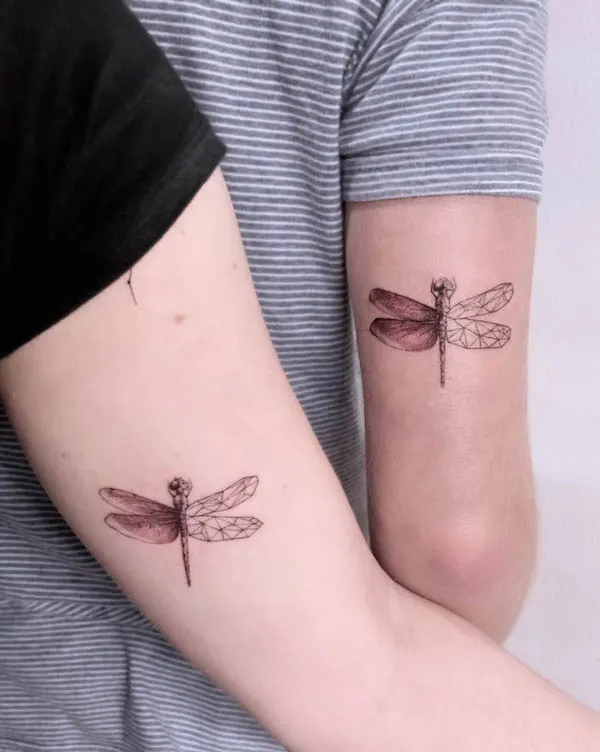 @blancart.vic
Some cultures believe that if you see a dragonfly, make a wish, and it will come true. Therefore, dragonfly tattoos are seen as a good omen. They also represent changes and prosperity.
Design-wise, the half-geometric look creates a contrast between real and unreal, showing the unique taste of the sisters.
Last name tattoos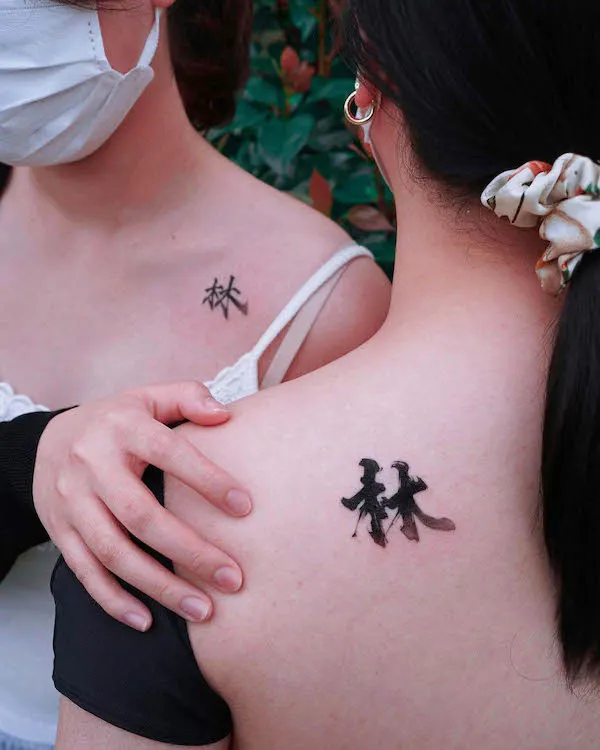 @mooho.oriental
Sisters share the same family name. Thus it can make great family tattoos. As a token of love and bond, family name tattoos will connect all the members together.
Cute dog tattoos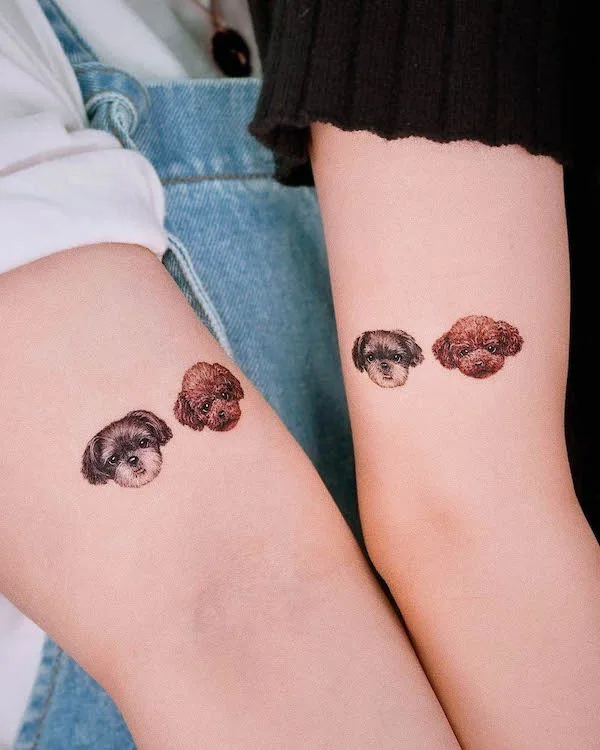 @youngchickentattoo
Are you and your sister dog lovers? If so, consider putting your fluffy pals on the skin as a tribute to the wonderful company.
Floral script tattoos on the forearm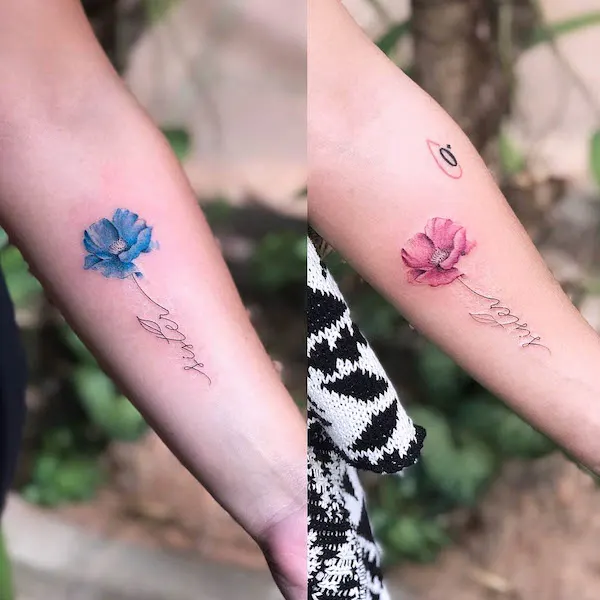 @narrimatattoo
From afar, these may look like regular flower tattoos. But when you get closer, you will see the script reading "sister." The gratitude and love embedded in this pair of ink make good tattoos even better.
Bonded by blood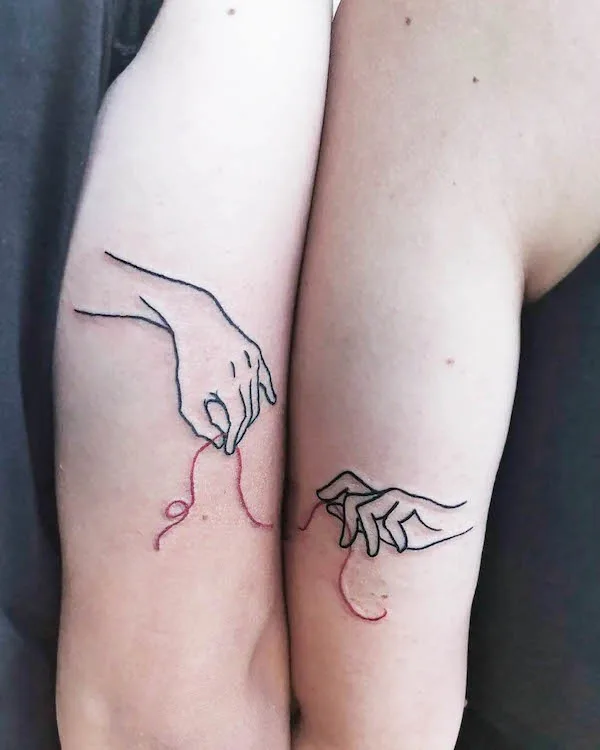 @darkarts.tattoos
Cute rainbow tattoos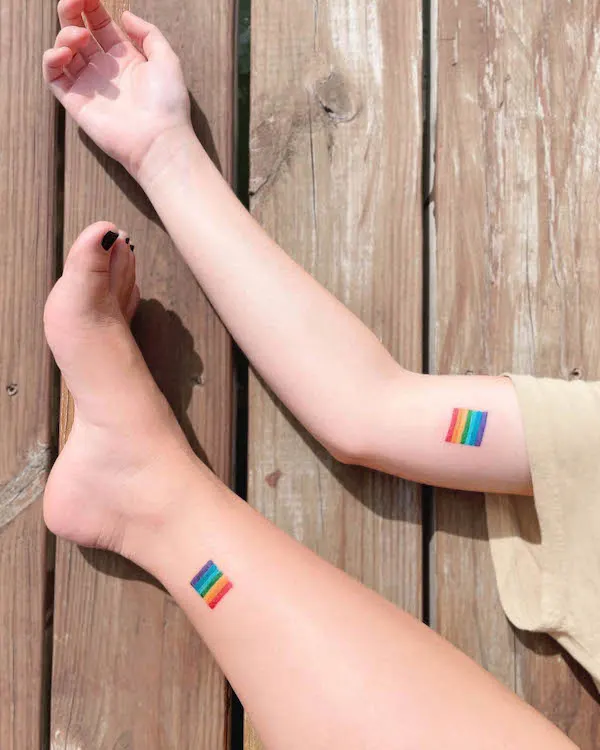 @maggiejosstudio
For the LGBTQ community, the rainbow is the emblem. It represents equality, acceptance, and inclusiveness. But rainbow tattoos are not exclusive to the community. They are for you if you want a tattoo to support the support for a loved one or a good cause.
Super adorable cartoon bears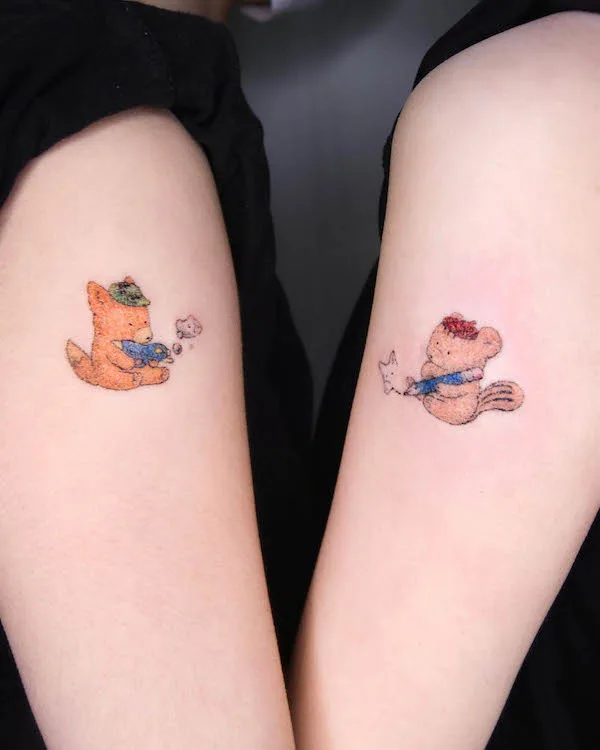 @mewon_poke
Pinky promise
@miguelcampos_tattooartist
Initial and heart tattoos
@nachacarotattoo
Black and grey fish tattoos on the shoulder
@neat_tattoo
Aquatic animals make great tattoo objects because of their natural movements. Fish tattoos, mermaid tattoos, and turtle tattoos all have the natural flow that brings the ink to life.
Meaningful one-word tattoos
@ruby.rad
These customized abstract arrows are not just cohesive in style. They also represent each wearer's core value. One word can say a lot when you pick the right one.
Nature symbols
@neilgtatt0069
Sleek plant tattoos
@sondertattooco
Matching lotus ornamental wrist tattoos
@sarah_baukau_tattoo
Lotus is a symbol of calmness of mind and purity. Thus these symbolic lotus tattoos will remind the sisters to always prioritize their inner peace and protect the innocence of their souls.
Let go or be dragged
@tattoobahar
Quote tattoos are evergreen because they are precise statements. Take these pair of wrist tattoos as an example. They point out the importance of moving on in life. Although it's not always easy, such meaningful tattoos will give the wearers strength to take the first step.
Sun and moon matching sister tattoos
@shanda_tattoo
Colorful waves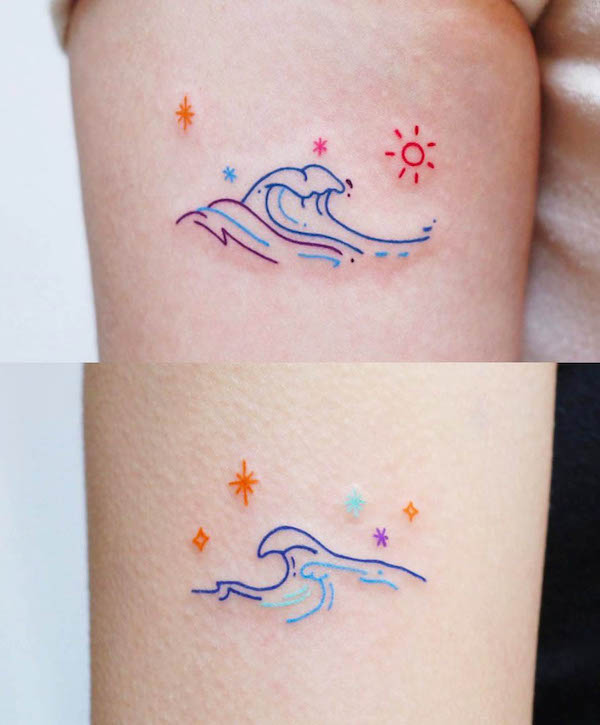 @soy_tattoo
Waves often show up in tattoos about rebirth and new beginnings. But the symbolism is not the only thing that makes these matching ink so hearty. The opposite direction of the waves, the stars, and the sun all create a connection between these loving pieces.
Rays ornamental tattoos
@stickswell
Creative sister tattoo ideas
So far, we've covered some of the most pretty and heart-warming sister tattoo ideas. But if you have a unique taste for body art or personality, the following creative matching tattoos are for you. They are everything but cliché and will be a cute proof of love.
Pomegranate and peach matching tattoos
@e.ple_tattoo
What a pair of juicy and peachy tattoos. The fruits are illustrated in detail, and the colors are captured to perfection. And it's difficult to move your eyes away as they look so cute and delicious.
Floral squares on the forearm
@china.ink
Hold my hand
@ciotka_zu_tattoo
Gibbons are not necessarily a common tattoo element. But together, these gibbon tattoos melt hearts as they tell a story. They show how much the sisters trust and rely on each other.
Butterflies and initials
@hold_the_line_tattoo
Initial tattoos are not the most creative ideas. But adding a butterfly wing to each initial creates movements and a new look.
Always
@tattoos4two
Sisters till the end
@forgopeti.tattoo
Children in the Sea
@mov.film_.art
These artistic tattoos are inspired by Joaquin Soroya's "Beach Kids". They are inked separately on the two sisters, representing the time when they grew up and had fun together.
Always you, boo
@lexibkip
Perfect match
@baris.tattoo
Unique dinosaur tattoos
@zoltytattoo
Dinosaur tattoos are not as common as other animal tattoos. But why not if you relate to these prehistoric beasts? Whether it's a triceratops or a brontosaurus, always choose the one you are drawn to.
Sister tattoos to awaken your inner child
@katscratchkatie
Who can say no to these game boy tattoos? If you don't mind a bit of humor and retro, these fun tattoos can be your next ink.
Fun disco ball sister tattoos
@wambam_tattoo
Avocado tattoos for 3
@kattiemc92
Most avocado tattoos are in pairs. But if you are a loving sister trio, why not make them three and one of a kind?