The arm is probably the most popular placement for tattoos. And it has every reason to be. First, it's elongated. You can tattoo the upper arm, the forearm, or the entire sleeve if you want. And you can play with the exposure with arm tattoos. If you want something more visible, the upper arm is perfect. But you can also have a discreet tattoo on the upper arm or the bicep.
So if you are looking for arm tattoos for women, you are in the right place. In this post, you will find elegant, creative, tiny, or big tattoos on different arm parts. Scroll on, and you will find your next ink.
Disclaimer: This collection of arm tattoos for women is for inspiration only. Please do not copy the artwork. If you love these tattoos, follow artists and show them some support.
Arm tattoos for women with meaning
Stunning forearm tattoos for women
The forearm is a placement with high exposure. That's why you will want a forearm tattoo to be not only personal but also stunning. The following forearm tattoos for women check all the boxes. Keep scrolling to discover more.
The water god dragon on the forearm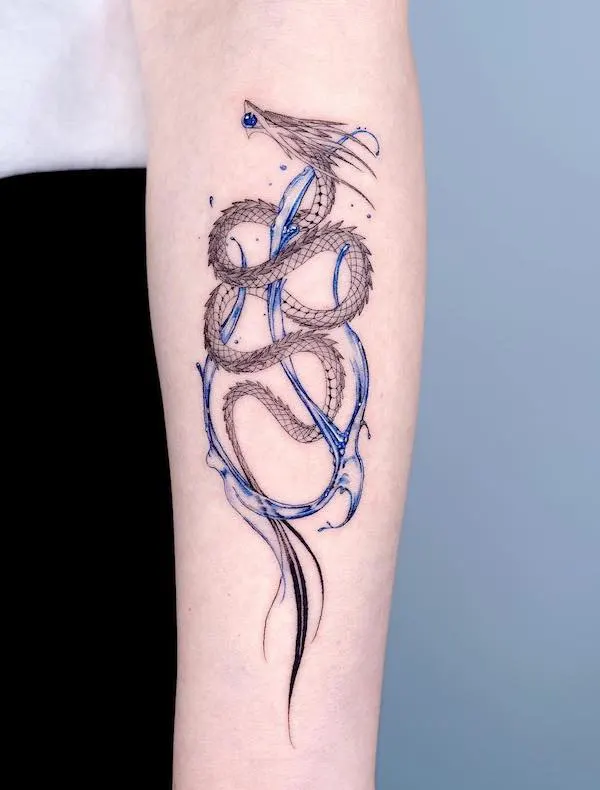 @bium_tattoo
In Asian countries like Japan, dragons are not terrifying beasts but gods. They are often associated with rivers and the ocean. This dragon tattoo on the arm depicts a dragon intertwined with a stream of water, highlighting its divinity and power. And the elongated, curvy body shape fits perfectly on the forearm.
Tiny dragon tattoo
@yura_tatt
Abstract phoenix arm tattoo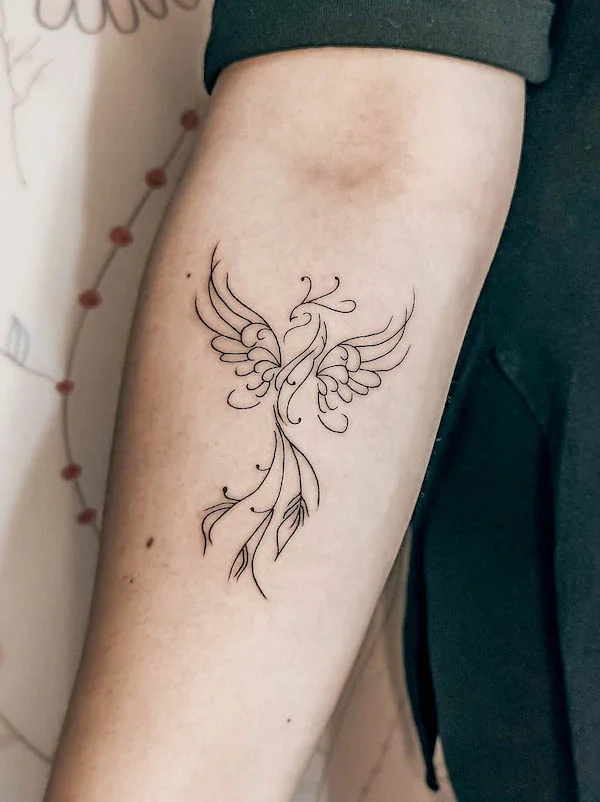 @ciziktattoo
Phoenix is a mythical creature with wings like an eagle and tails like a peacock. It is believed to be reborn in ashes, thus becoming a symbol of reincarnation and transformation.
Because of the feathers, phoenix tattoos are usually complex and require much work. But the tattooist simplifies the imagery with clean outlines. And it's perfect for a smaller area such as the forearm.
Realistic snake that wraps around the arm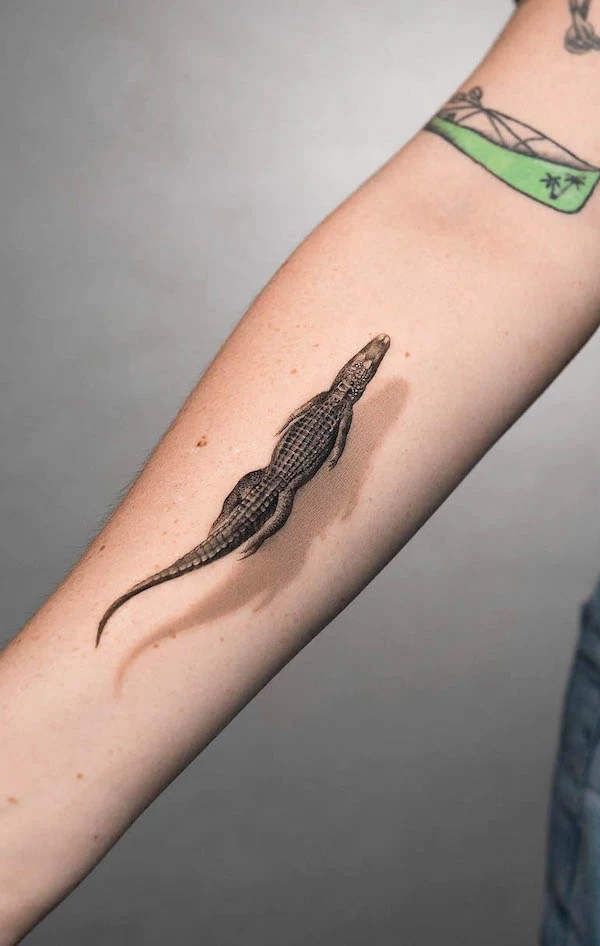 @tatu_panda
When the shadow is captured perfectly, it adds to the realism of a tattoo. This crocodile forearm tattoo is a good example. The drop shadow creates a realistic 3D effect as if the crocodile is swimming on the skin.
Realistic snake that wraps around the arm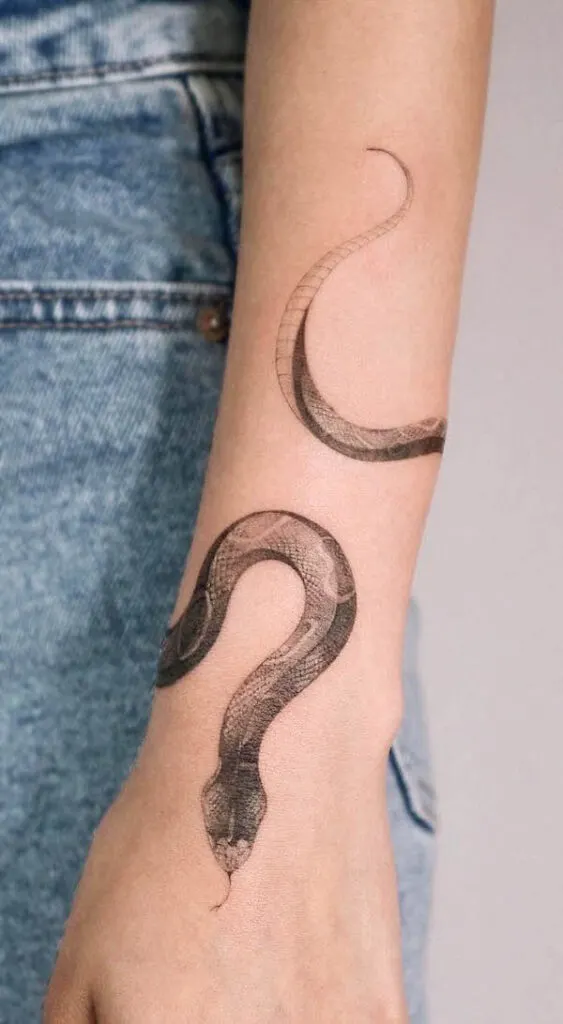 @choseung.tat
Snakes are dangerous, poisonous, and mysterious. That's why snake tattoos can be an identity statement of a badass woman. In this tattoo, the snake wraps around the forearm all the way to the wrist, as if it is a secret weapon of the owner, giving the tattoo an even stronger witch vibe.
Yin and yang koi fish forearm tattoo
@bium_tattoo
Koi fish is a symbol of wealth, success, and perseverance. But this tattoo has a deeper meaning. The tattooist creates a Yin Yang pattern by painting one of the fish darker and the other lighter. It's a reminder to always value and keep a good life balance.
Manta ray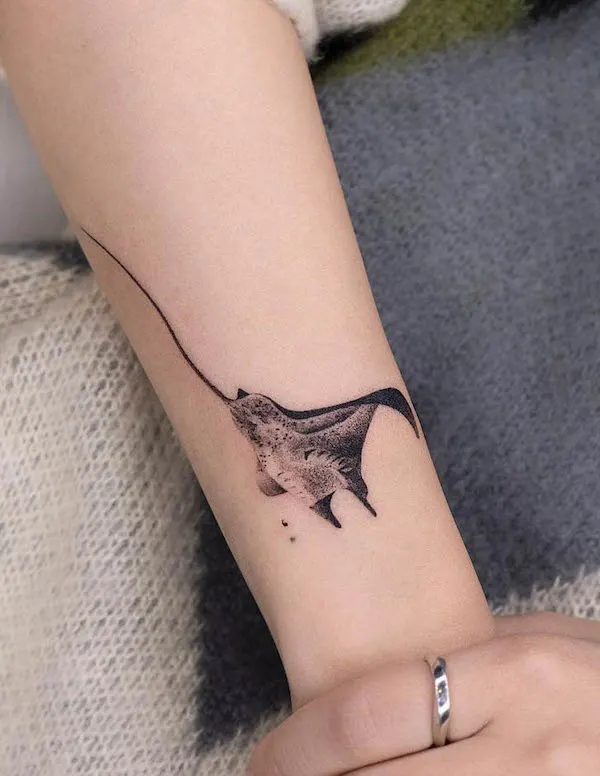 @pokhy_tattoo
Like fish tattoos, manta rays have a natural movement that makes a static design feel alive.
They also represent intelligence as they have one of the largest brain-to-size ratios among fish. So if you want a mysterious and unique symbol for wisdom, the manta ray is the perfect option.
Girly wolf tattoo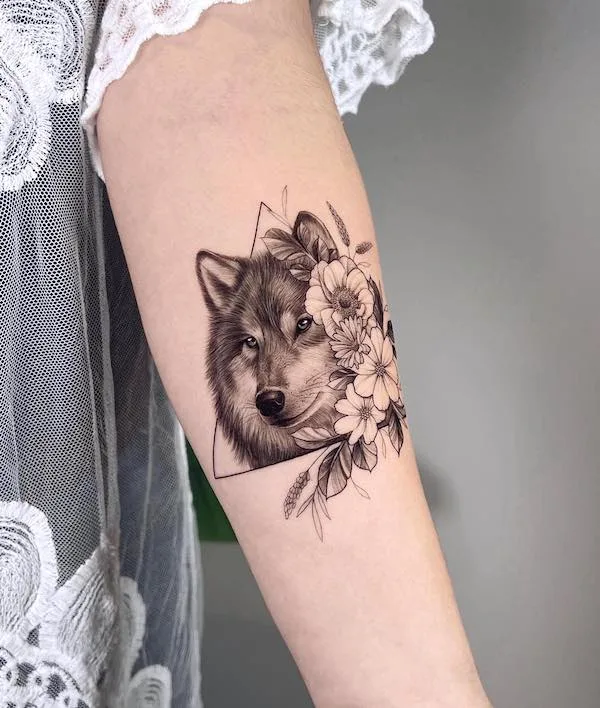 @okeanos.tattoo
Despite their fierce looks, wolves symbolize loyalty, friendship, and protection because they live in packs. They hunt together and keep each other safe. That's why the animal is relatable to both men and women.
This realistic wolf tattoo on the arm captures the beast's softer and calmer side. In addition, the tattooist enhances its femininity by adding flowers as decoration and making it a perfect arm tattoo for women.
Floral leopard tattoo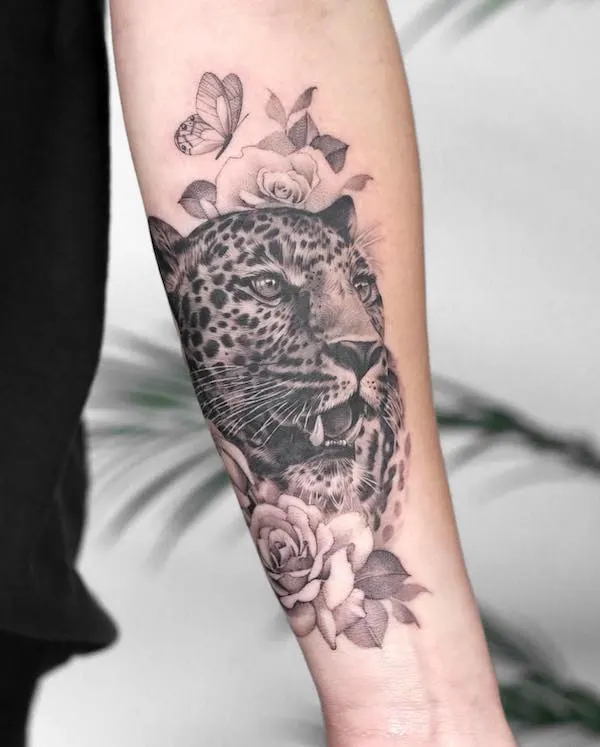 @kyla_rose_tattoo
Leopards are agile, independent, and beautiful. They are creatures of nature and can not be tamed. These characteristics make them the spirit animal for some strong, self-reliant women.
This leopard forearm tattoo captures every tiny detail of the animal. And the flowers and butterfly around it softens the fierceness and complements its beauty.
Matching cat tattoos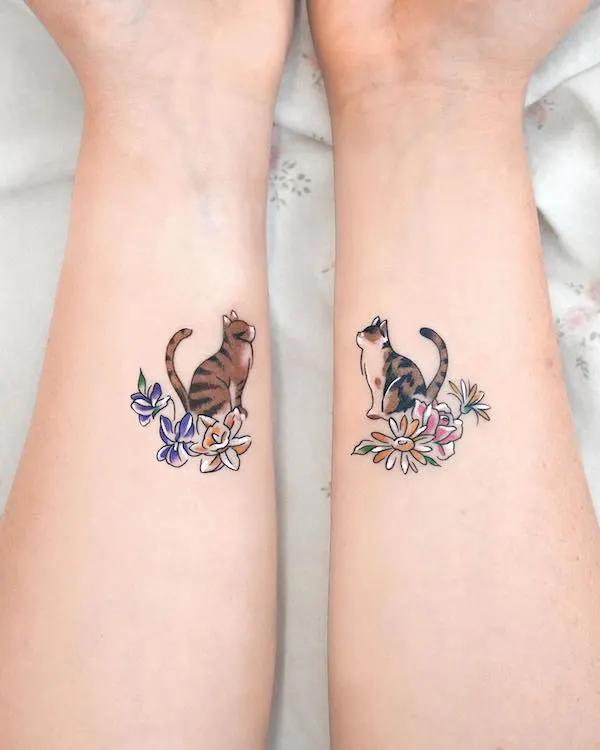 @eden_tattoo
The forearm is a placement that you will see every day. With such high exposure, it's best for tattoos that represent something or someone you love.
These matching cat tattoos from Tattooist Eden are a good example. By tattooing a small cat on the forearm, the wearers are constantly reminded how cute these fluffy little ones are and how lucky they are to have cats in life.
Read also: 91 Matching couple tattoos with meaning
Bird on the branch forearm tattoo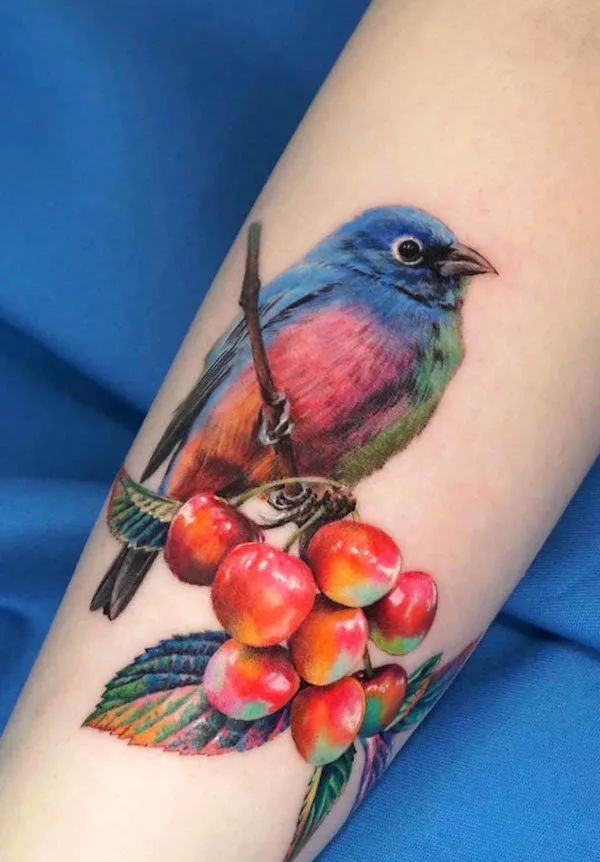 @non_lee_ink
We would expect bird tattoos to be smaller. But this one is different. Tattooist Nonlee maximizes the coverage of the tattoo and, at the same time, paints every detail to perfection. In our interview with Nonlee, she also talked about how colors brought a tattoo to life. And this is one good example.
Minimalist butterfly forearm tattoo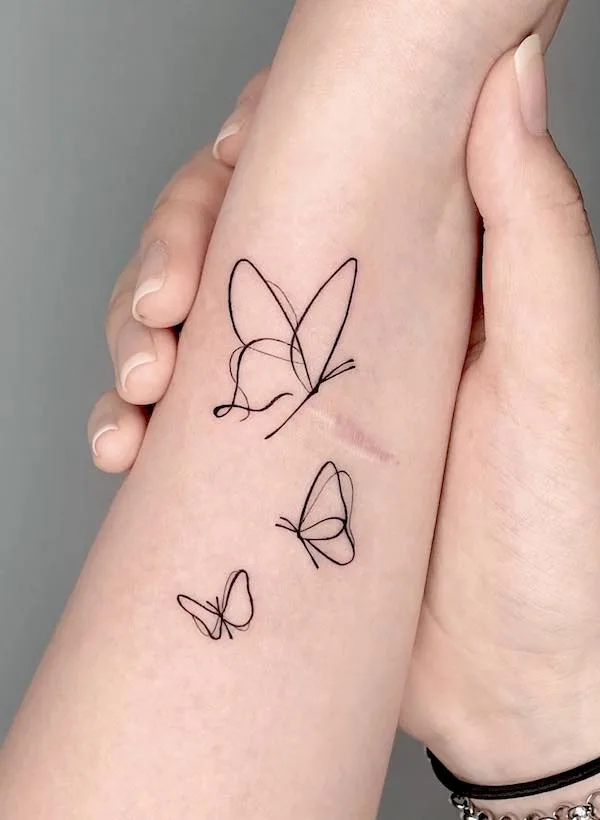 @tattooist_sunmoon
Butterfly tattoos aren't always intricate and vibrant. They can be as simple as these line art tattoos.
I also love how the tattoos didn't try to cover up the scar. Instead, it complements it, making the scar look less scar-y. And it aligns with the butterfly's symbolism – freedom. When you embrace your imperfections and past, you are set free.
Meaningful self-love tattoo on the forearm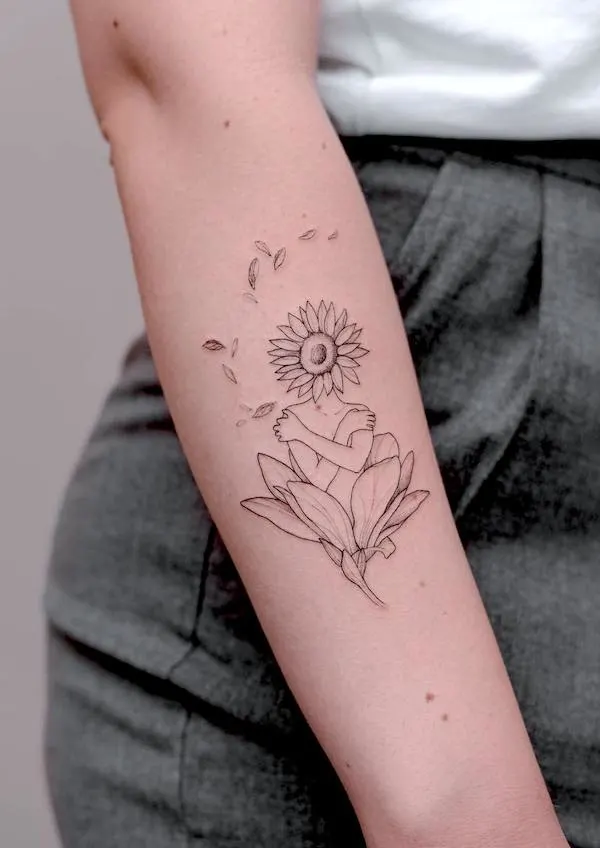 @davide_dot
Self-love is the first and longest love you have. This simple black arm tattoo reminds you that your mind and body are beautiful. And you have every reason to love yourself. Check out more self-love tattoos for inspiration.
Monet forearm tattoo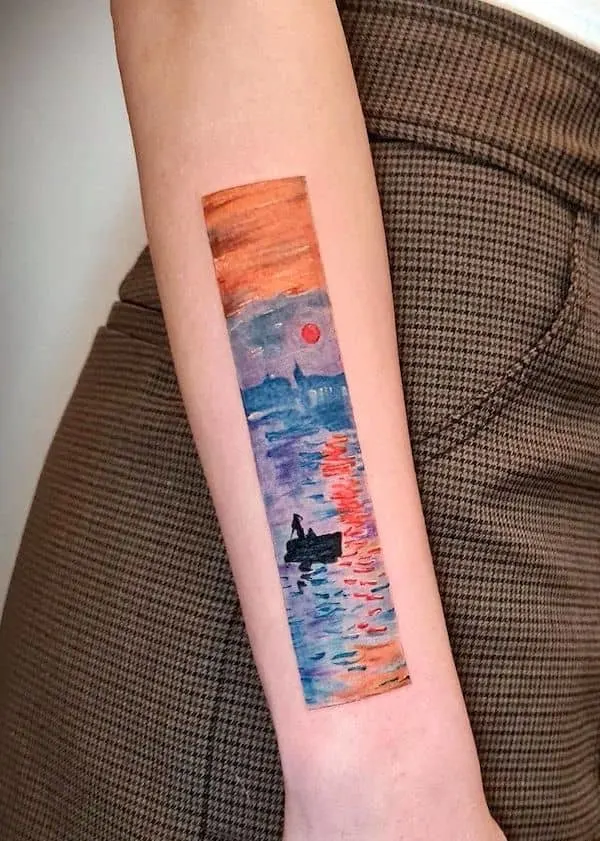 @barbara_corbucci_tattooer
Impression Sunrise is one of Claude Monet's signature artworks. It depicted a sunrise scene in the port of Le Havre. This artistic tattoo crops part of the painting out in a long stripe and makes it fit into the area.
Small cloud on the forearm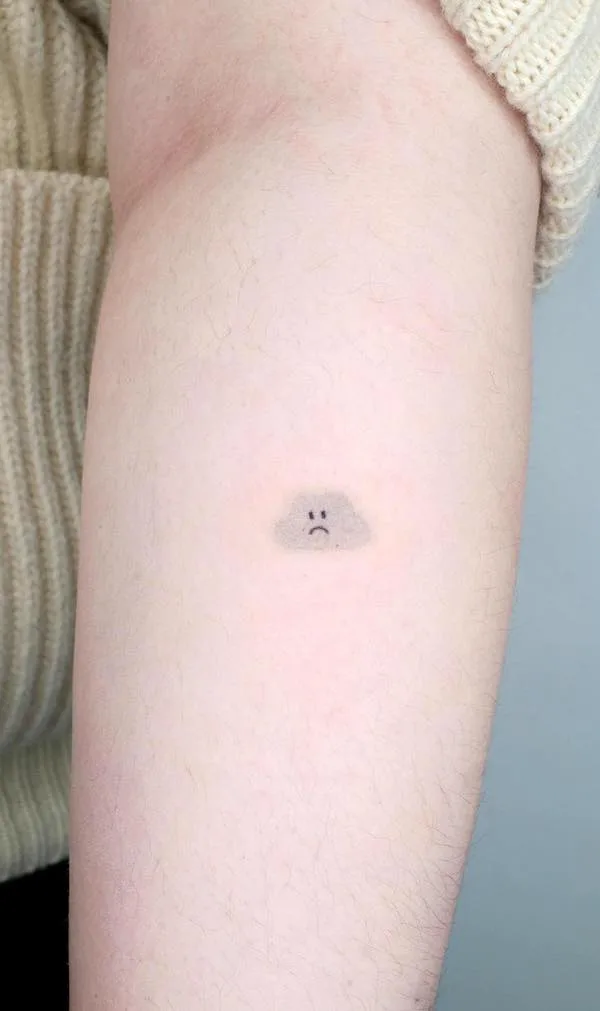 @keenetattoo
Tattoos are not just statements. Sometimes it can represent how we feel in a certain period. This small, sad tattoo may belong to someone going through hardships or struggles. But embracing the emotion also helps to heal.
Forearm flower tattoo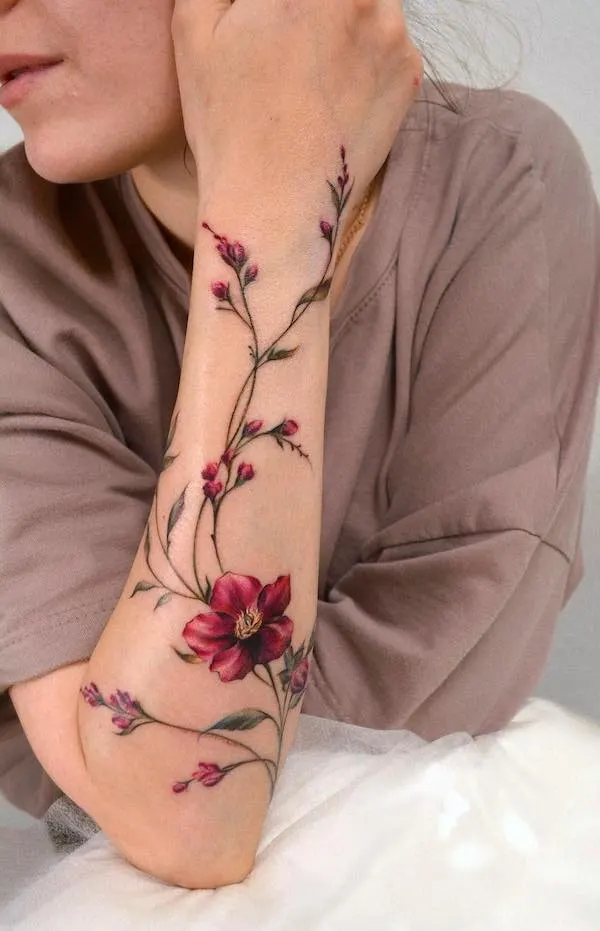 @yershova_anna.tatt
Flower tattoos are naturally beautiful. But when you stretch it to cover the entire forearm, it magnifies its visual impact just like this one.
Black metallic rose and star arm tattoo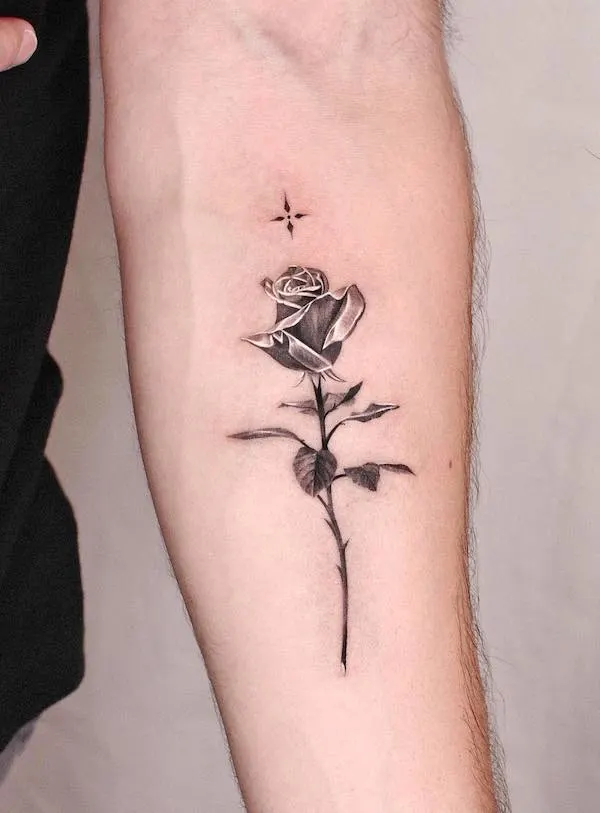 @jku_tattoo
One thing I love about this rose forearm tattoo is the contrast. The rose is painted in detail. And the glow makes it look natural and real. But the star on top is represented by a small symbol. The combination of real and unreal makes this tattoo one of a kind.
Name tattoo on the forearm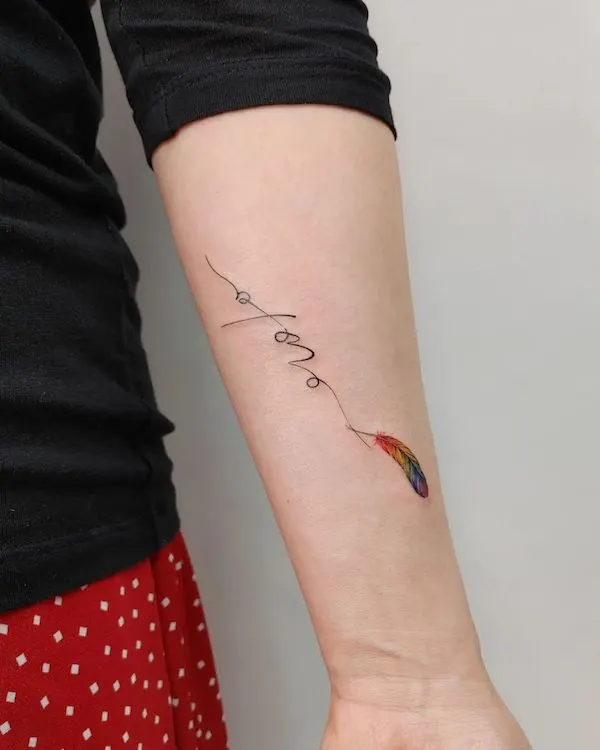 @tattooist_ssdam
Minimalist wing forearm tattoo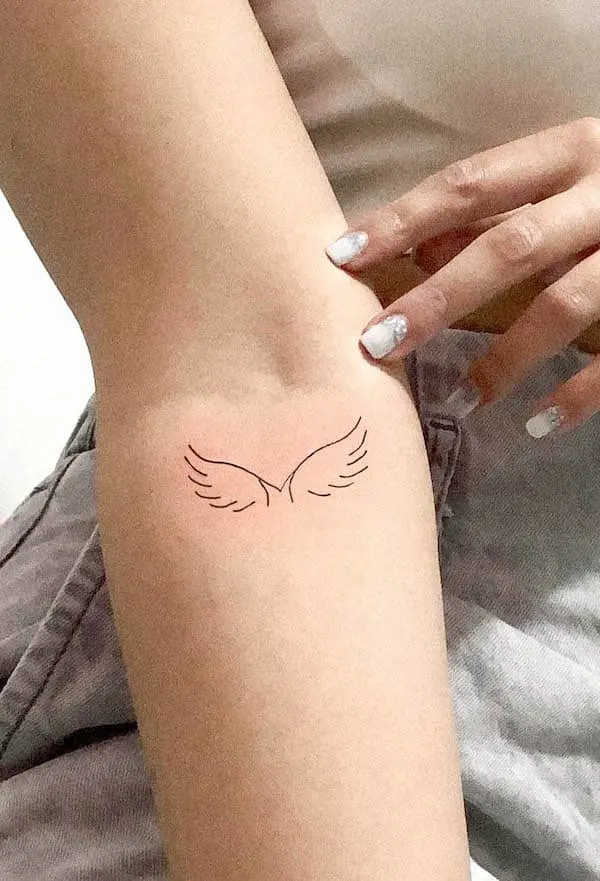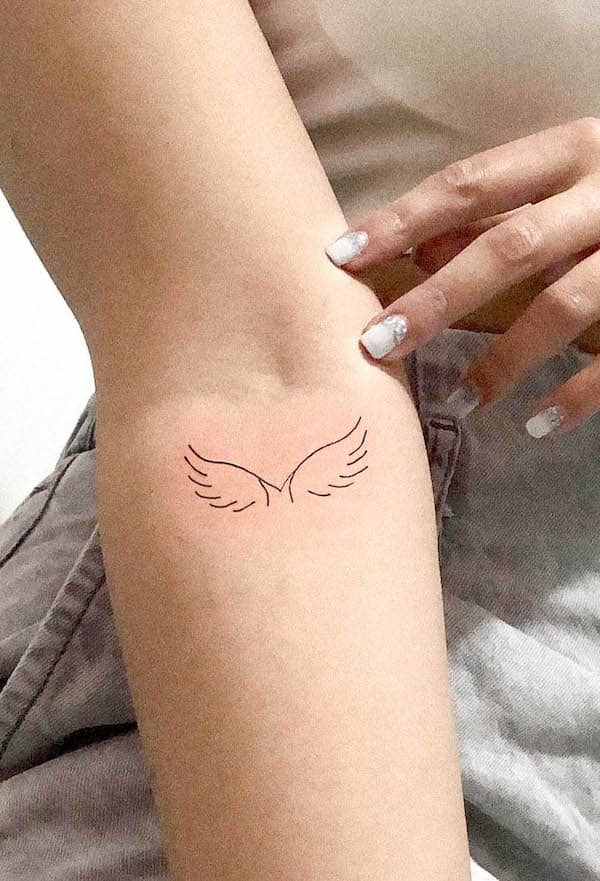 @bt.tatto
Wing tattoos might not be the most innovative idea. But for some people, they remind them of someone they love that has passed away. And one way to make a cliché tattoo timeless is to simplify, just like this small forearm tattoo. It's minimalist, elegant, and at the same time, meaningful.
Stars on the forearm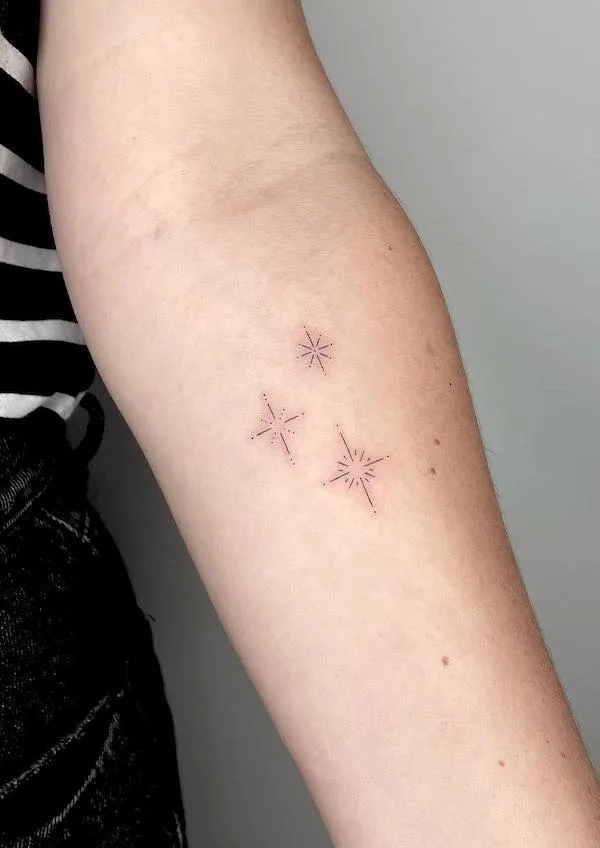 @amylowdontattoo
Stunning rose cover-up forearm tattoo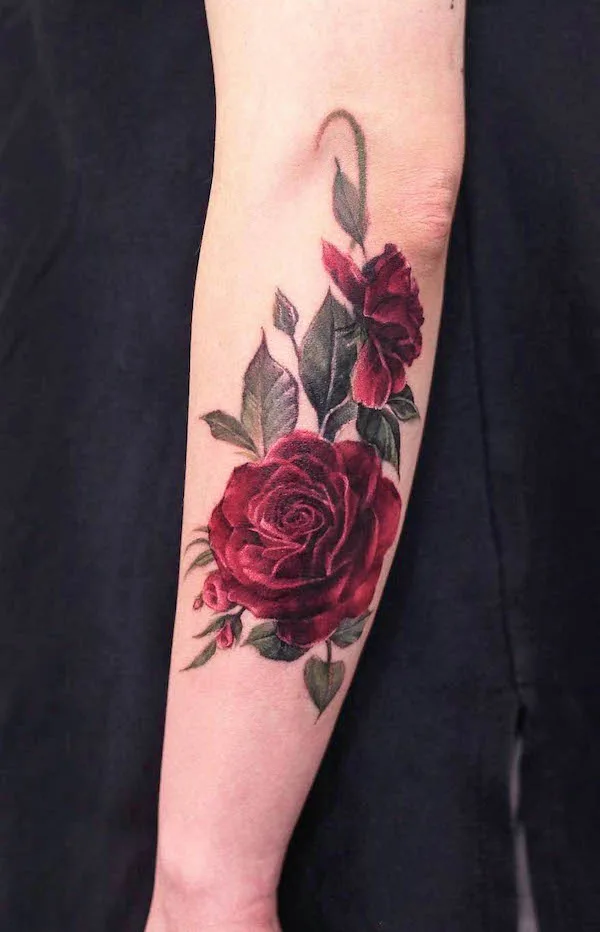 @vandal_tattoo
Roses symbolize passion, love, and romance. This rose forearm tattoo is special because of the precise lighting and shadow.
Also, because it's a cover-up tattoo, the tattooist uses wine red and dark red colors for optimal coverage. Surprisingly, the colors add a velvet-like texture to the flower, making the tattoo more recognizable.
Vine tattoo wrapping around the elbow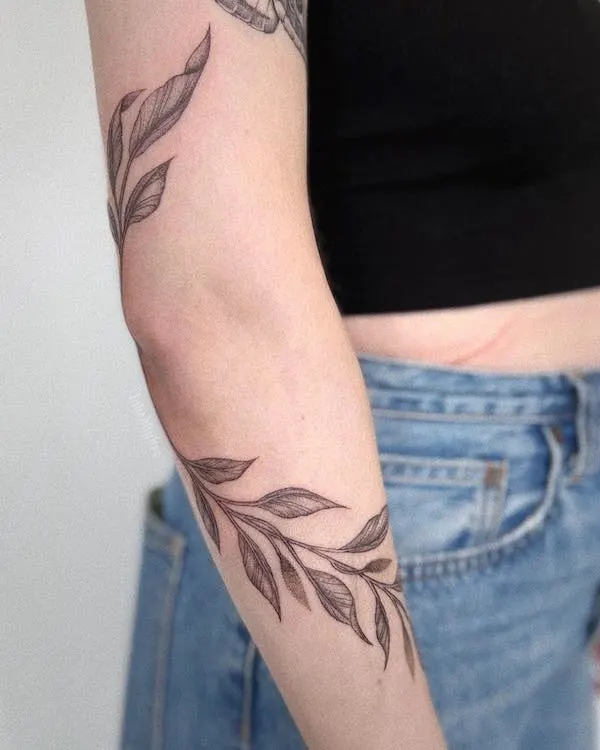 @inkedbybre
Sunflower forearm tattoo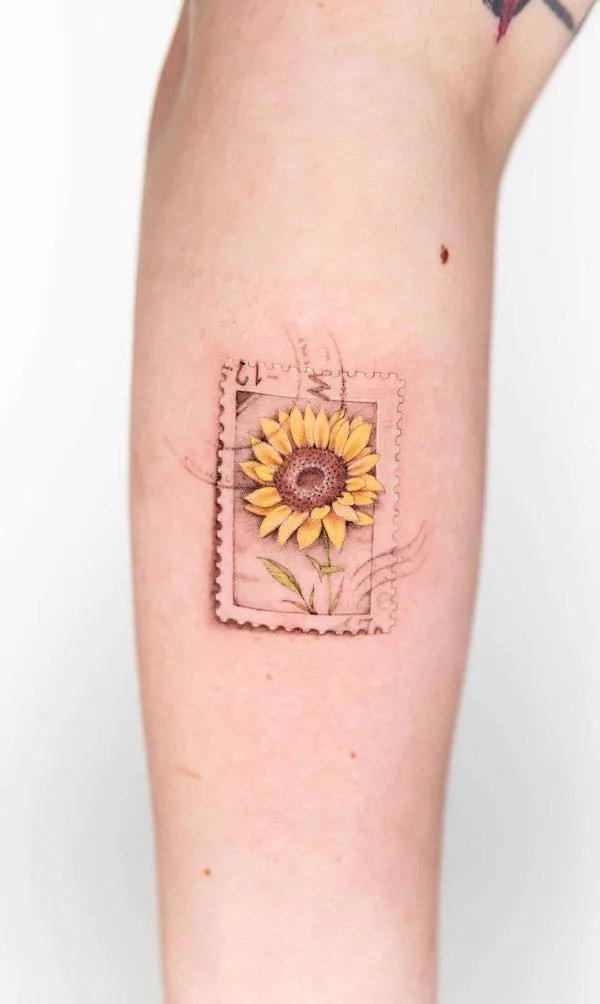 @cavecreektattoo
Elegant sleeve tattoos for women
Sleeve tattoos are the ones that cover a large part or most of the arm. Tattooing such a big space can take hours or even days. That's why some sleeve tattoos are collective efforts from different tattooists.
While sleeve tattoos for men are usually large with lots of patterns, those for girls can be elegant and sophisticated in smaller sizes. The following sleeve tattoos for women may give you some idea.
Black phoenix sleeve tattoo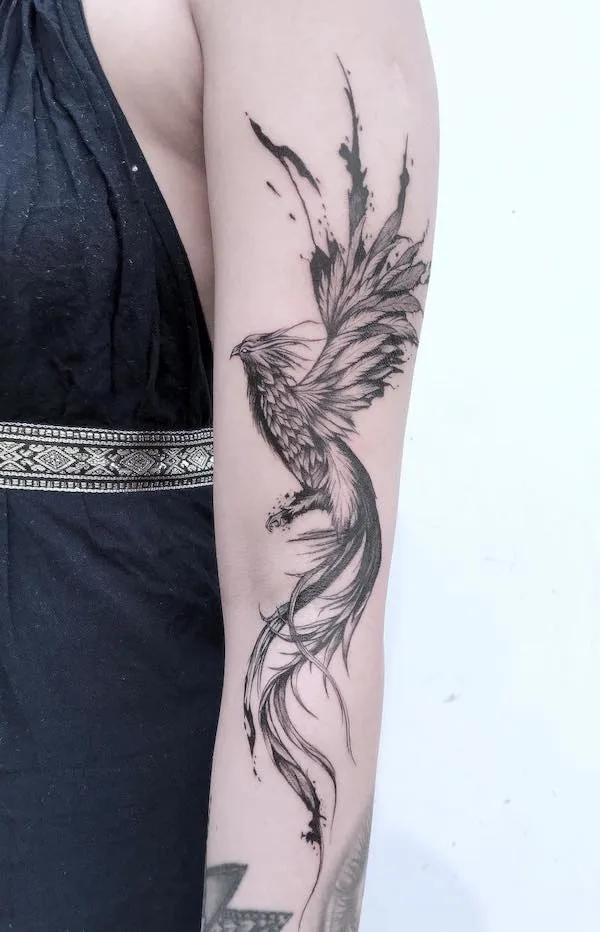 @angel_inkylicious
Unlike the phoenix forearm tattoo mentioned above, you can tattoo a phoenix in detail with more space, like a full sleeve. This gorgeous black phoenix stretches vertically on the entire arm. And the blank space on the shoulder leaves room for new ideas.
Dragon sleeve tattoo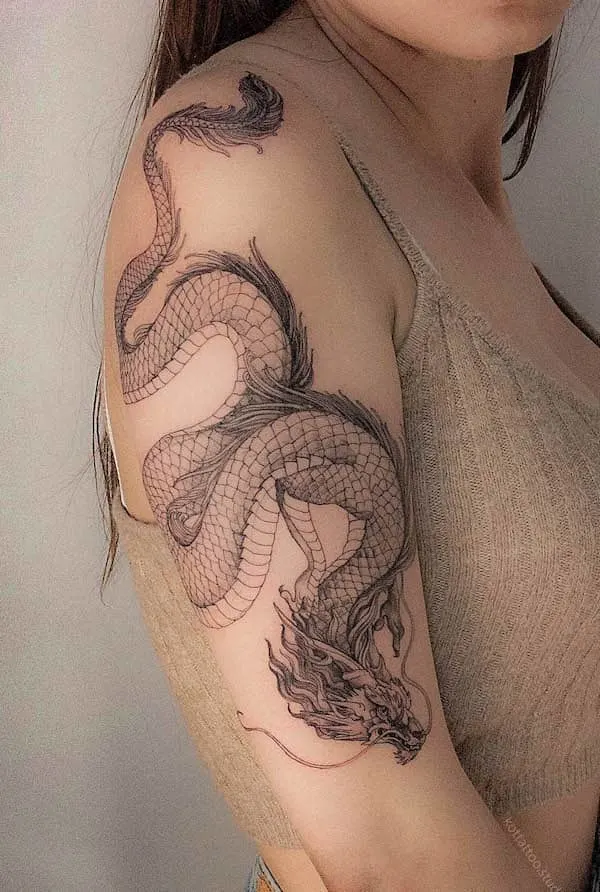 @kottattoo.studio
The dragon in the half-sleeve tattoo is typically oriental. The hair, the scales, and the head structures are all captured in perfection. The body and hair are all flying in the air. It adds liveliness to a static design as if the dragon is really moving down the arm.
Fantasy dark clouds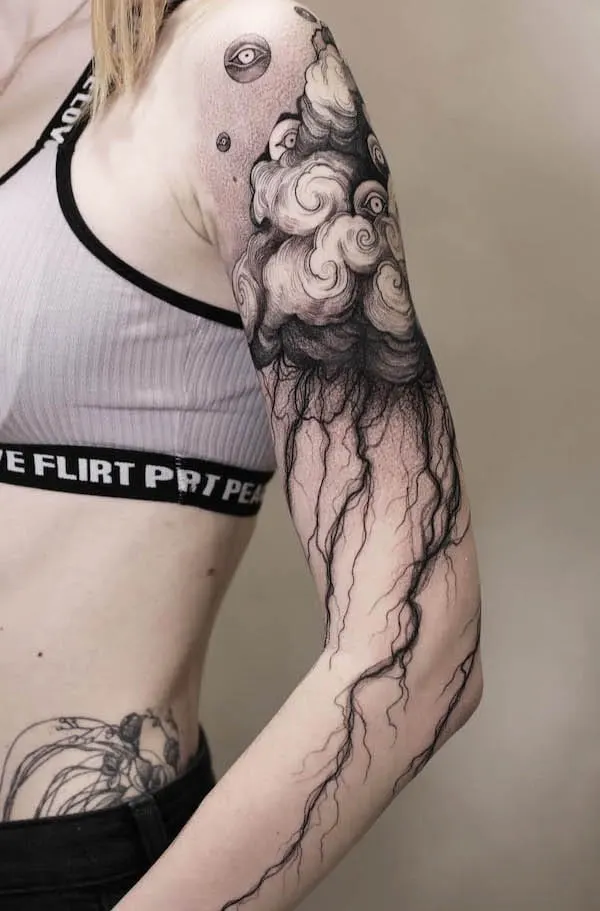 @strokin_dark
If you are proud of your dark aesthetics, why not wear your heart on the sleeve with a startling design like this?
Tree and crane oriental sleeve tattoo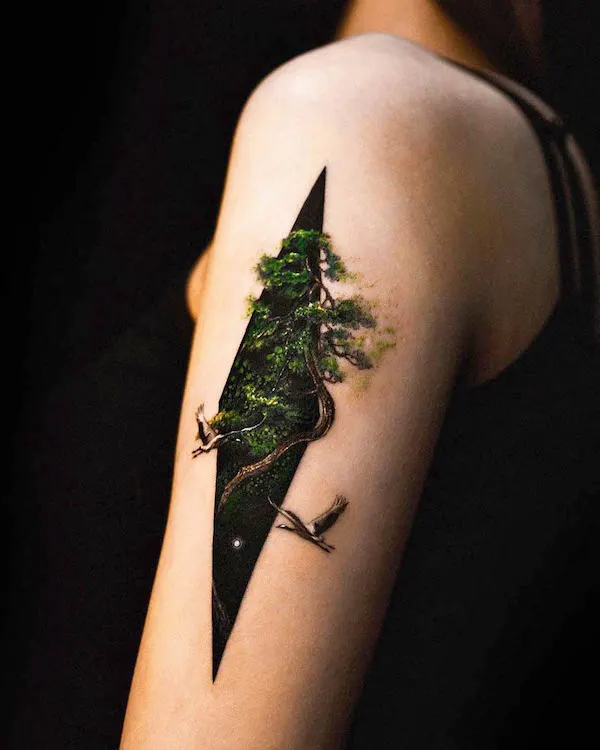 @rizn__tattoo
Unlike other sleeve tattoos that complement the placement, this tree tattoo reveals what's underneath the skin. The leaves and branches growing out of the diamond frame give the tree movements. It feels like it is rooted deep inside the body and reaching toward the sky.
Lioness sleeve tattoo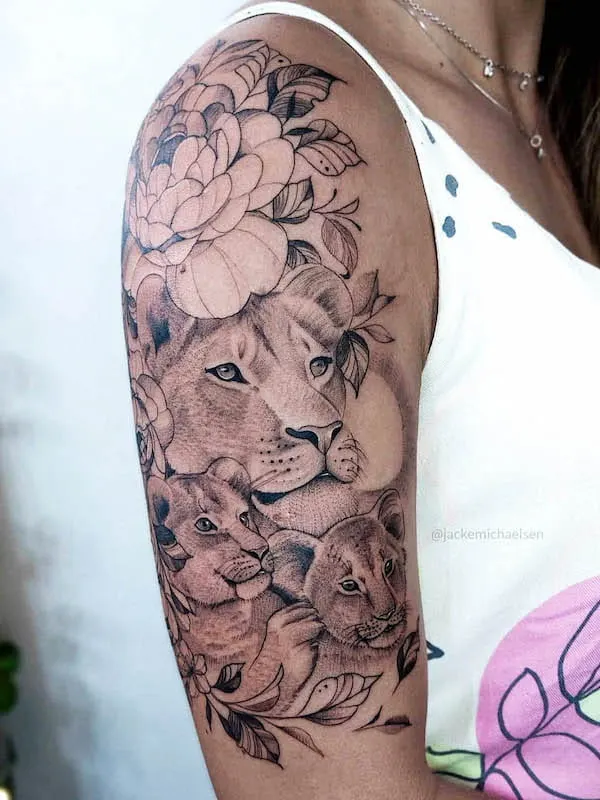 @jackemichaelsen.tattoo
A lion sleeve tattoo might seem like something masculine. Well, think again.
This tattoo of a mother lion and her two babies is something different. The flowers and leaves symbolize the motherly love and strength that keep the little ones safe. A beautiful and meaningful mother tattoo like this will belong to a great Leo mom or a strong, independent mother.
Colorful mask sleeve tattoo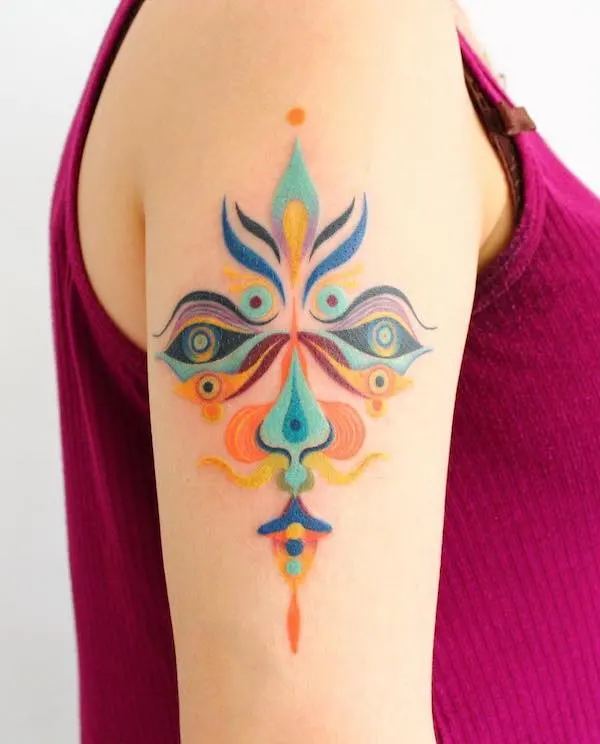 @katia.zuela
Stunning floral sleeve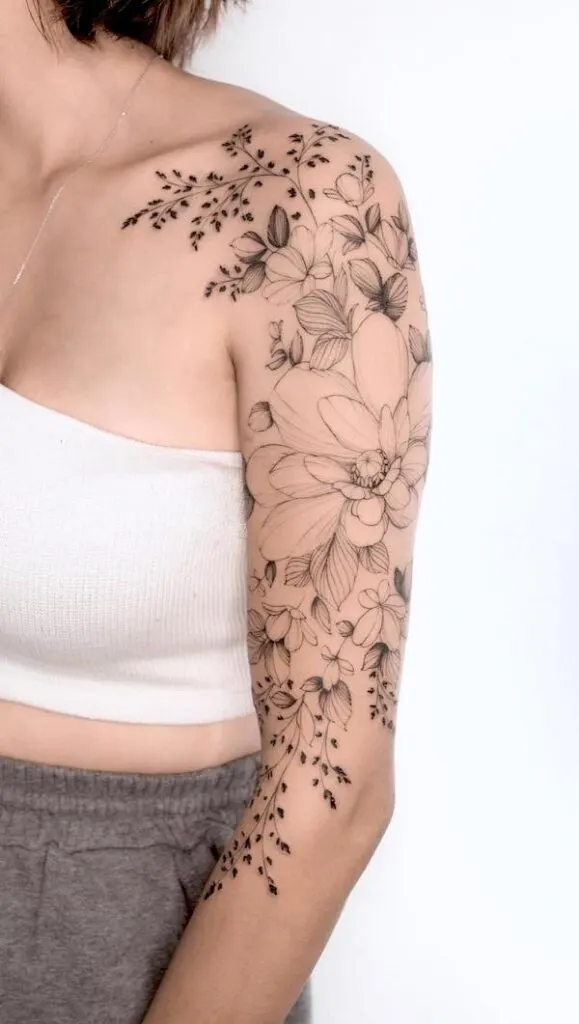 @abktattoo
Flowers, leaves, and vines are three elements to consider if you want a feminine sleeve tattoo. You can structure, multiply or move the pieces around to fill the space.
This black sleeve tattoo, for example, starts and ends with tiny black leaves. The main flower is right in the middle, creating a vertical symmetry and a sense of balance.
Gemstone pendant sleeve armband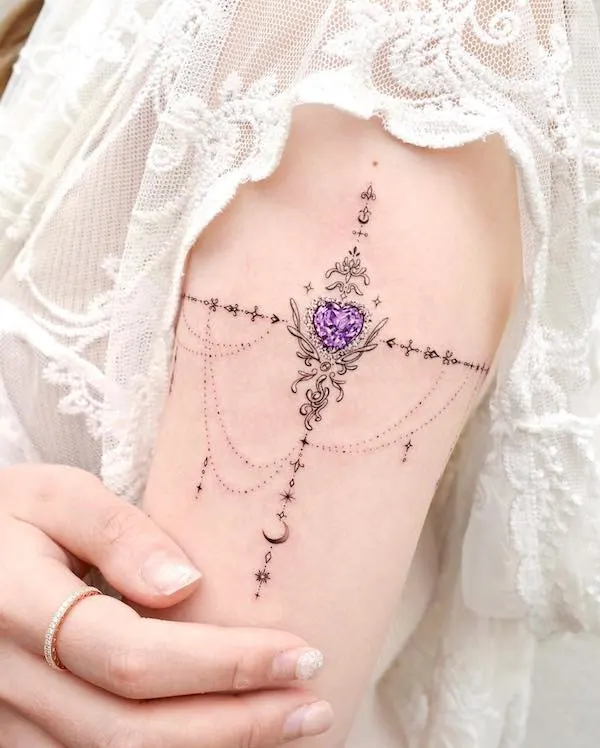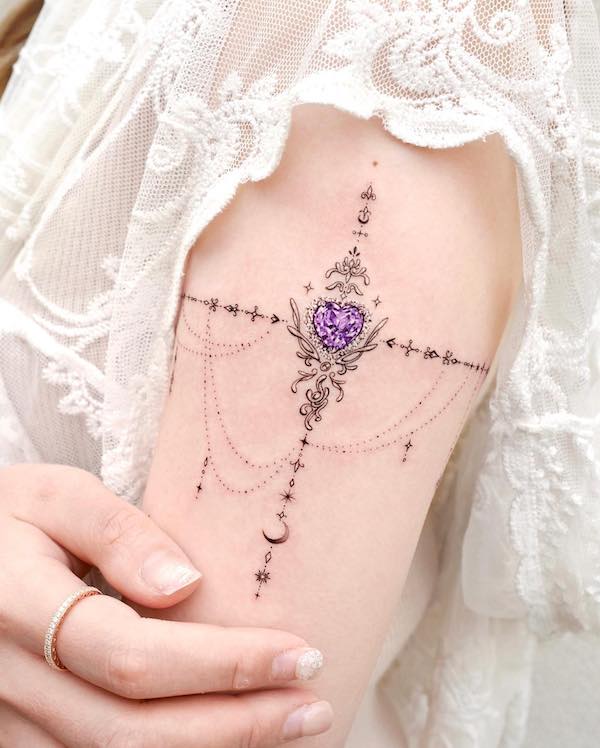 @tattooist_solar
Rose sleeve tattoo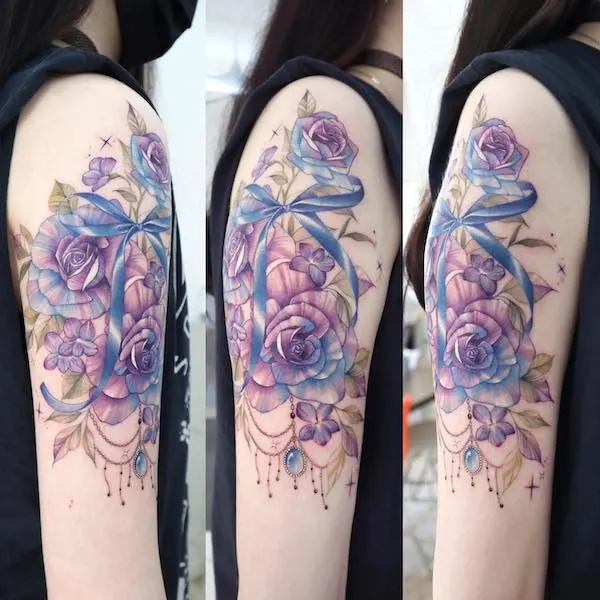 @siren_ink
Stunning phoenix tattoo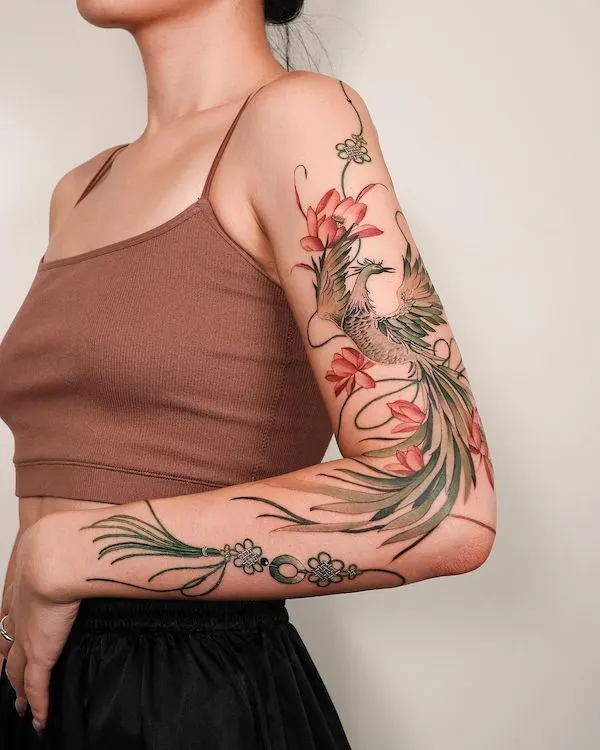 @tattooist_sion
Cloud and butterfly sleeve tattoo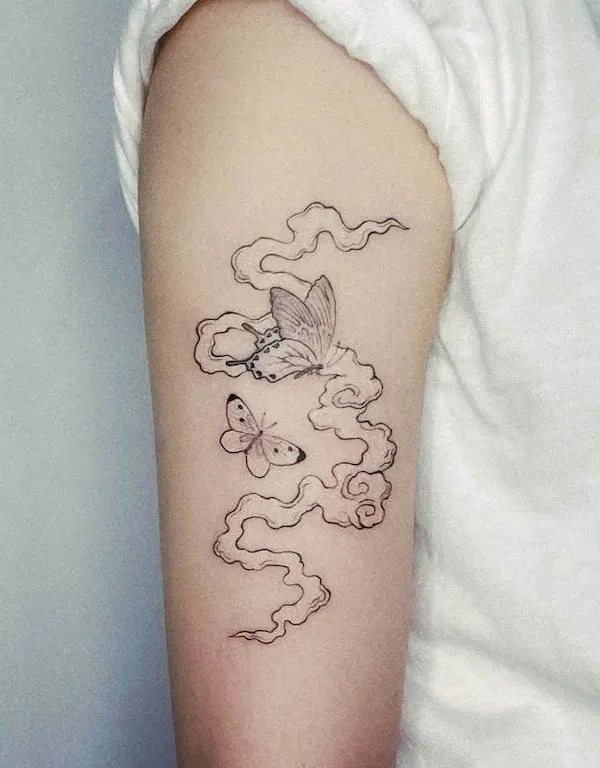 @nooytattoo
Feminine upper arm tattoos
The upper arm is a vertical elongated area, just like the forearm. But compared to the forearm, the upper arm is usually wider, giving more space for tattooists to be creative.
The following feminine upper arm tattoos are for you if you want a combination of creativity, uniqueness, and visual impact.
Black and white birds sleeve tattoo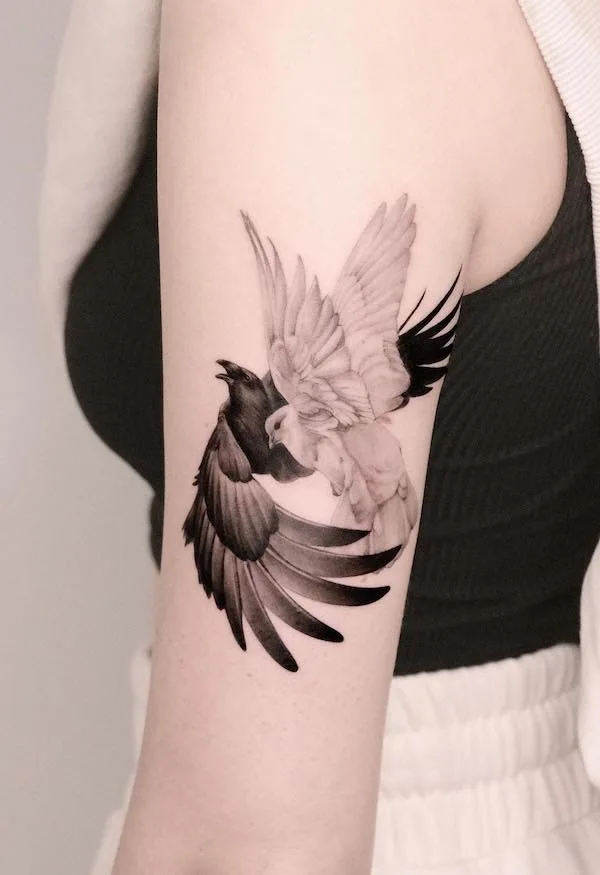 @lucy.moana
Paper crane tattoos for best friends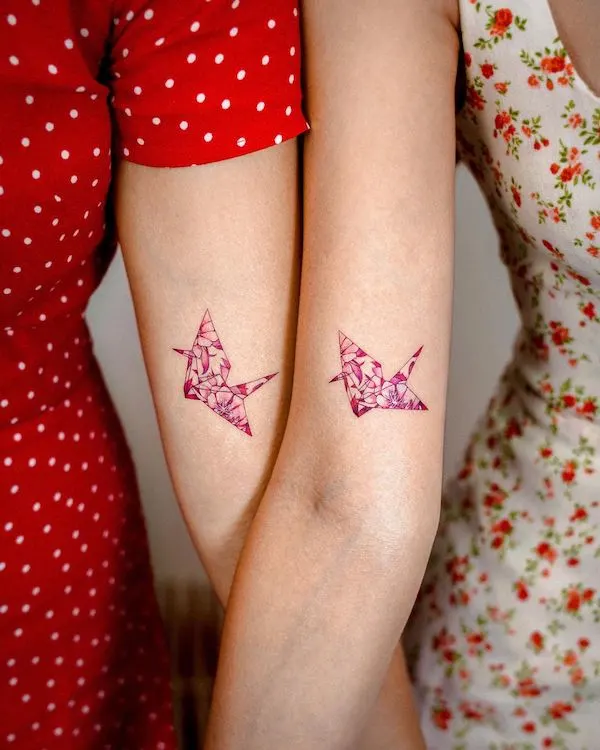 @e.nal_.tattoo
Paper cranes often carry the best wishes for a loved one. Thus they are often seen in best friend tattoos and long-distance relationship tattoos. They are proof that no matter how far away two can be, their hearts can still be close together.
Bird and moon sleeve tattoo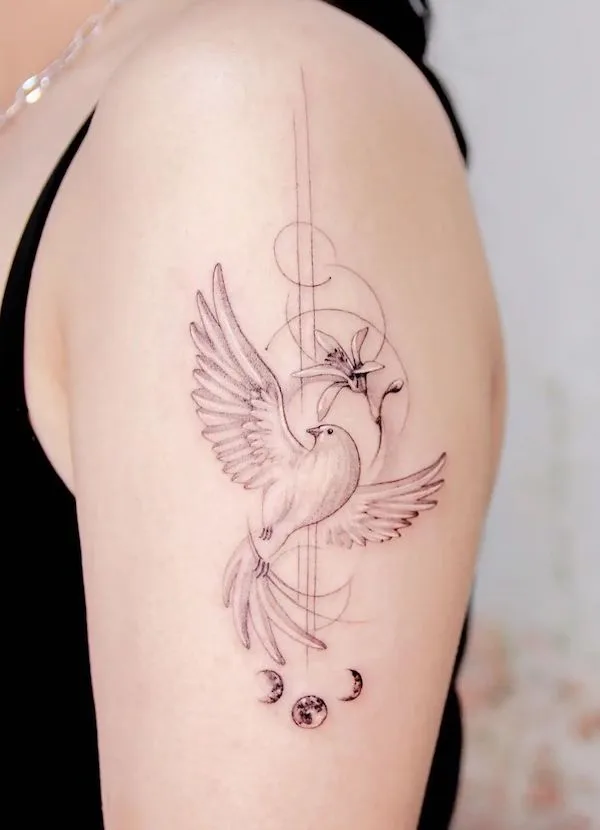 @arese_tattoo
Small double dragon upper arm tattoo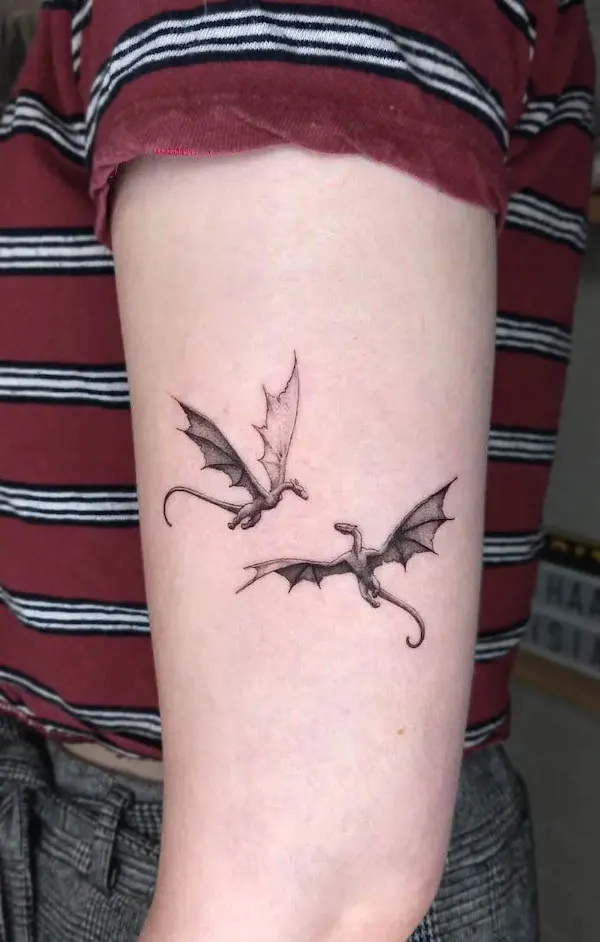 @kasper.august
Super cool phoenix arm tattoo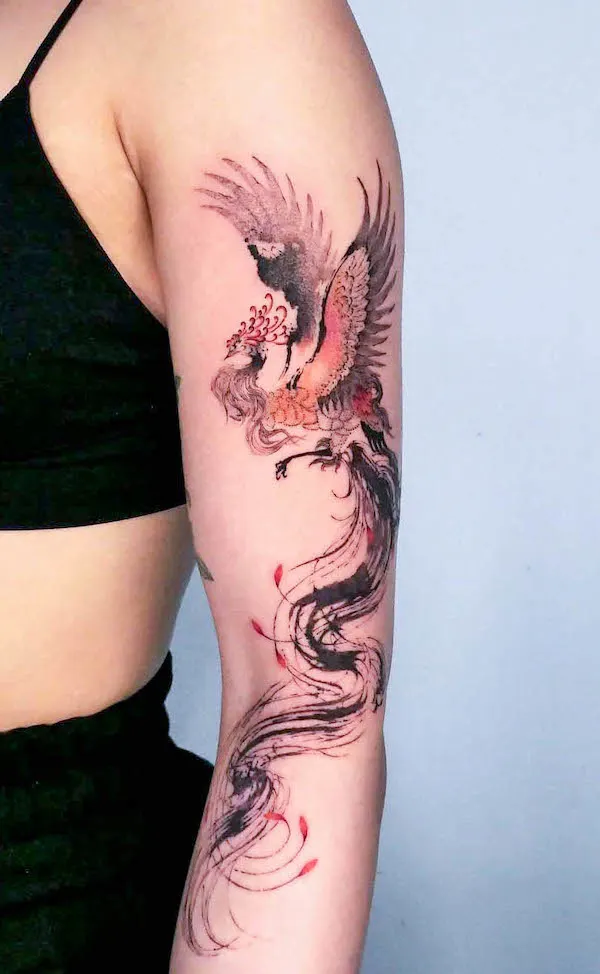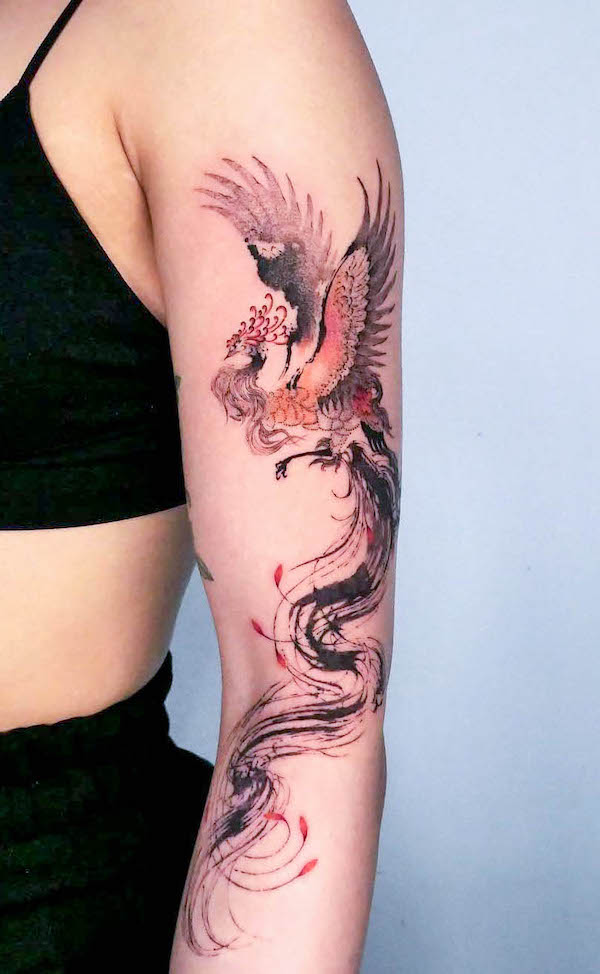 @hanu.classic
She wolf upper arm tattoo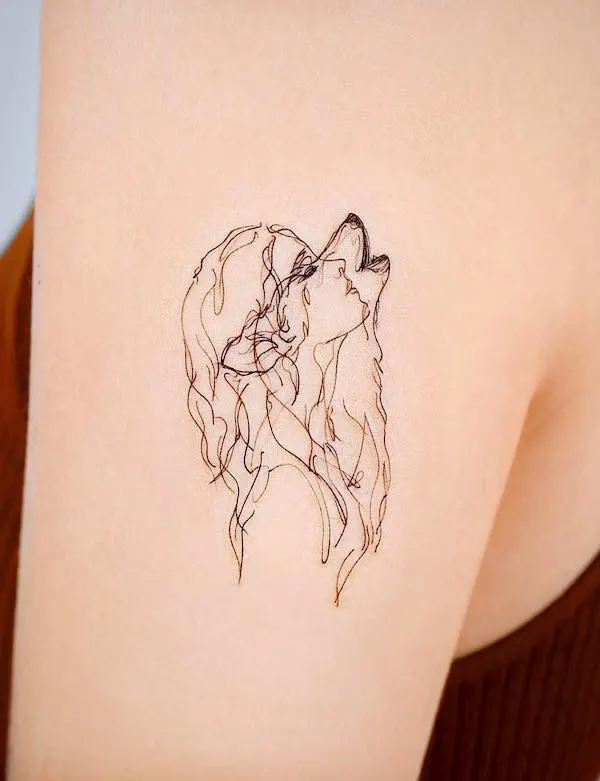 @pauline.tattoo
What's unique about this tattoo is the overlapping imagery of a girl and a howling wolf. It indicates that the two might actually be one person – a girl that has a wild wolf living inside her body.
This tattoo about strength will remind you to always keep your inner fire burning and never lose your passion.
Blue wolf bicep tattoo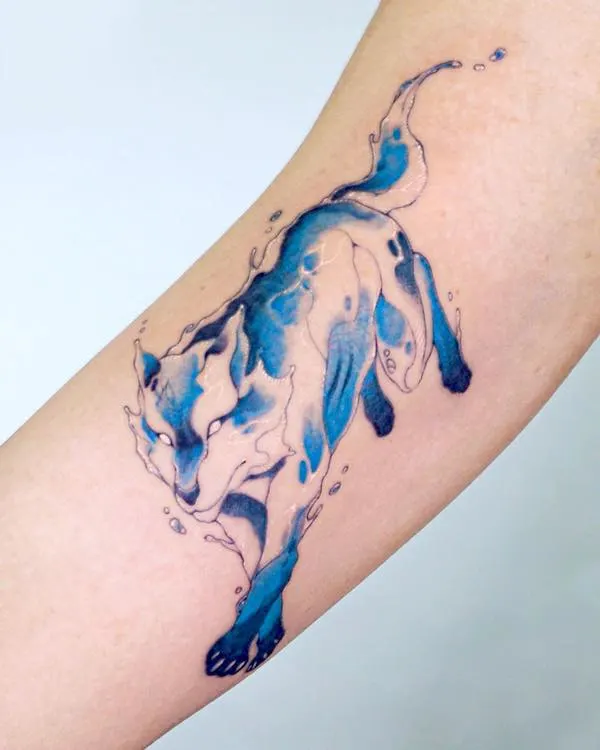 @tattooist.inno
Snake and sword back of the arm tattoo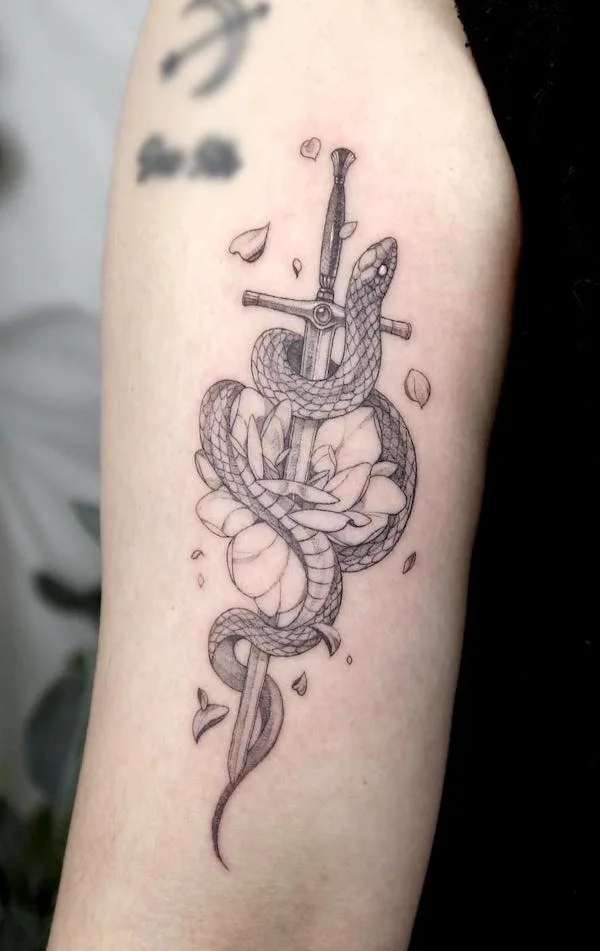 @choseung.tat
Flower and elephant arm tattoo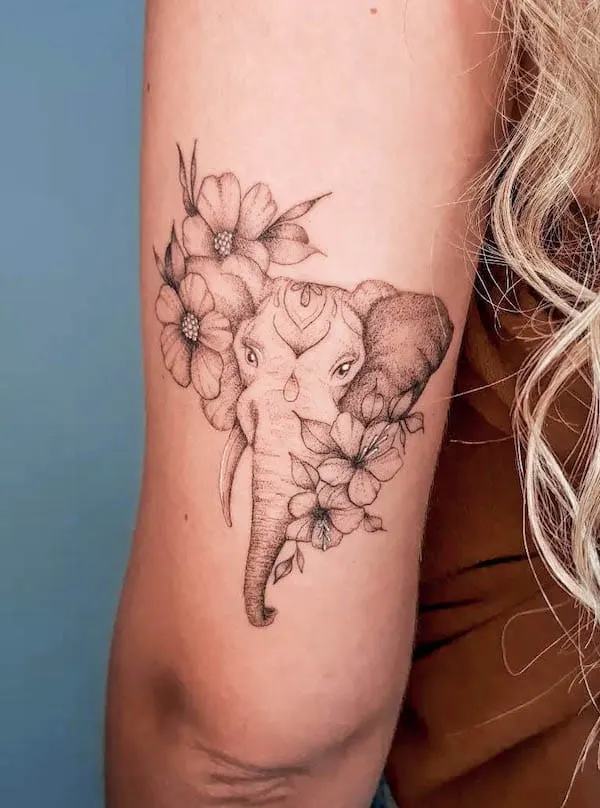 @nancimtattoo
Whimsical elephant arm tattoo for women
@miki_tatuuje
Elephants are a symbol of family, protection, and loyalty. But this black and grey tattoo captures the playful side of the animal.
The elephant is standing on his back legs while trying to grab the moon with its nose. It may also be the visual interpretation of the quote, "Shoot for the moon. Even if you miss, you'll land among the stars."
Super cute elephant above the elbow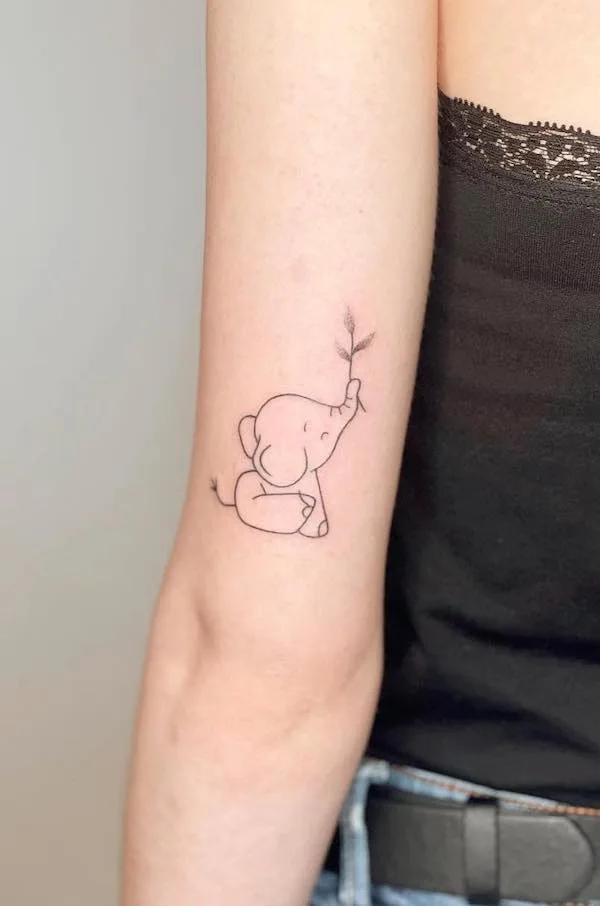 @krzywe_kropki
Tropical elephant arm tattoo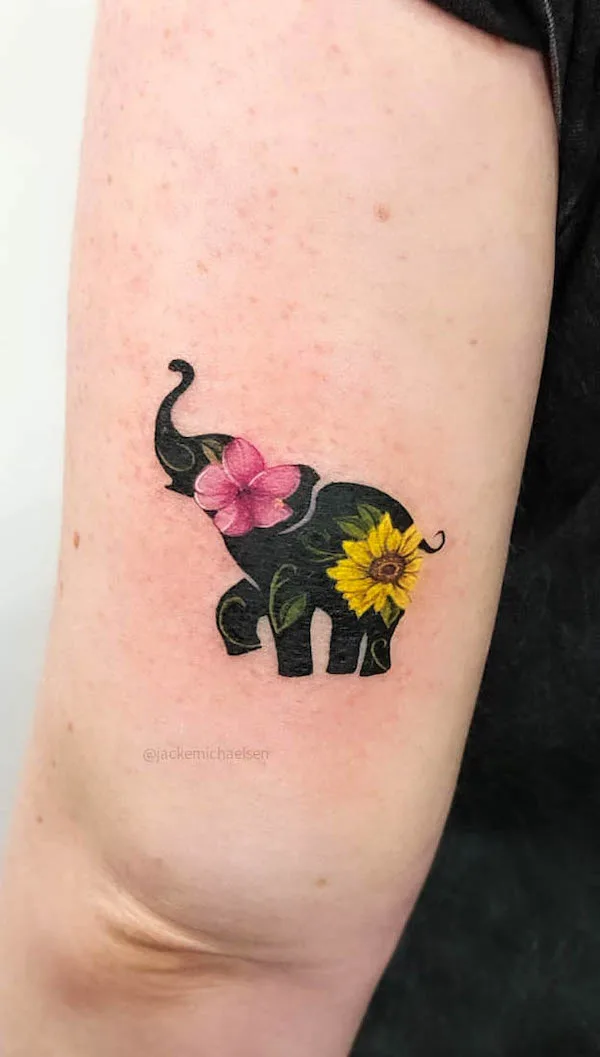 @jackemichaelsen.tattoo
Tiger upper arm tattoo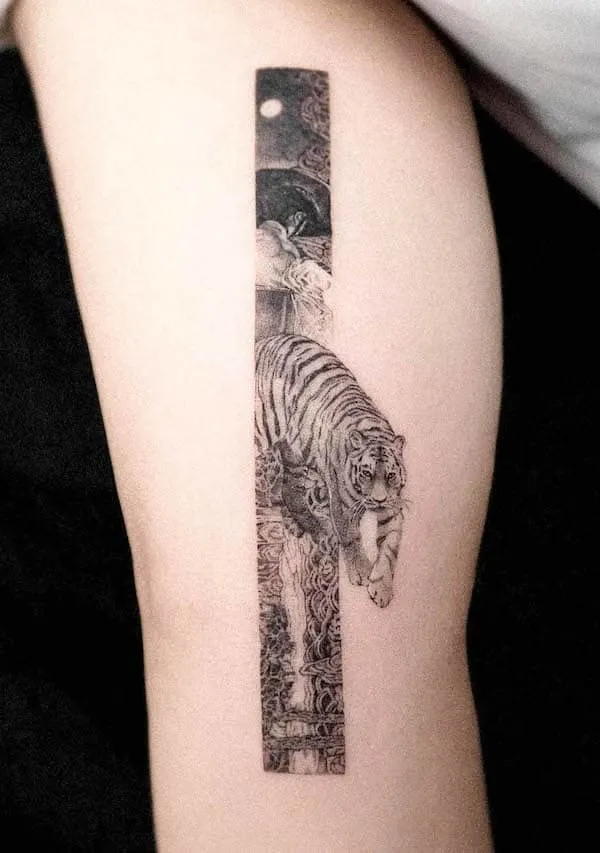 @choseung.tat
Super cute cat upper arm tattoo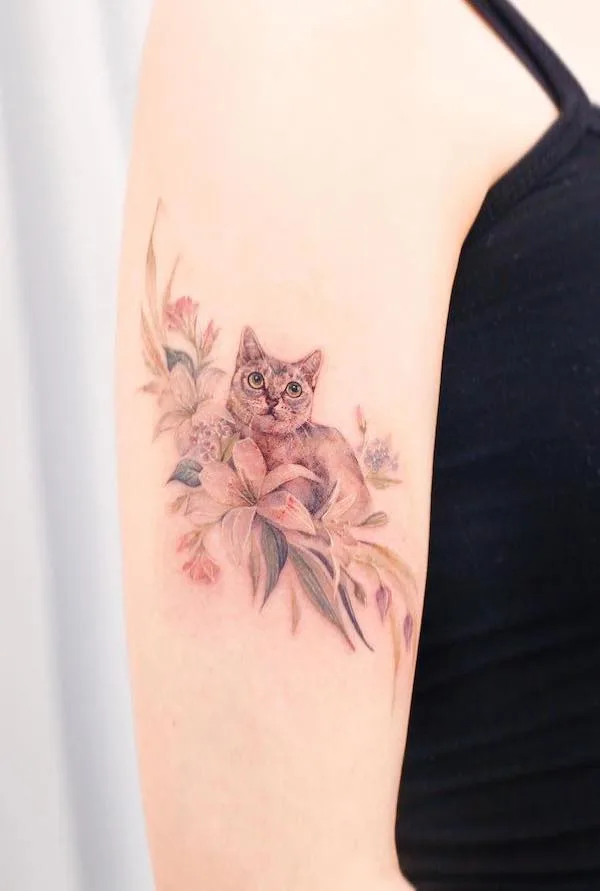 @vandal_tattoo
Gemstone tattoos for twins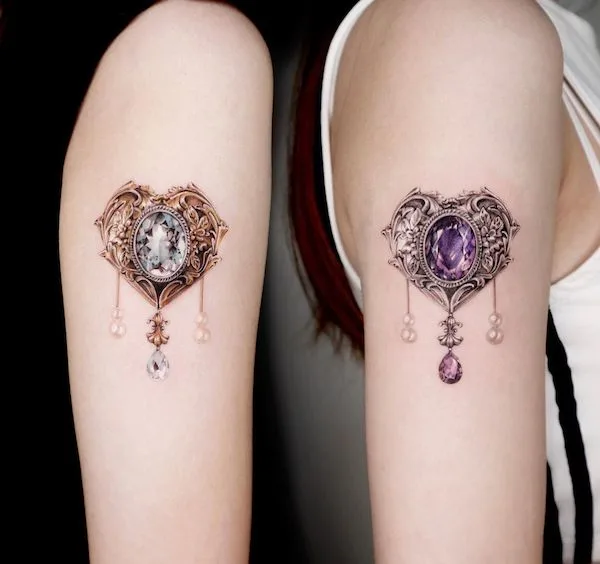 @tattooist_siia
Twins are not identical. And twins tattoos don't have to be exactly the same. These matching tats reflect the different styles of the twins and make them both shine.
Astronaut cat and star arm tattoo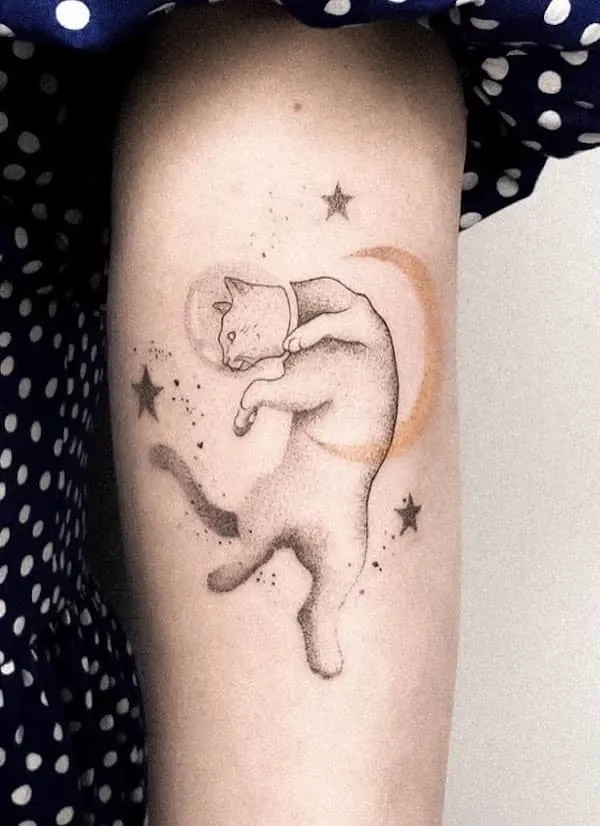 @miki_tatuuje
Goldfish upper arm tattoo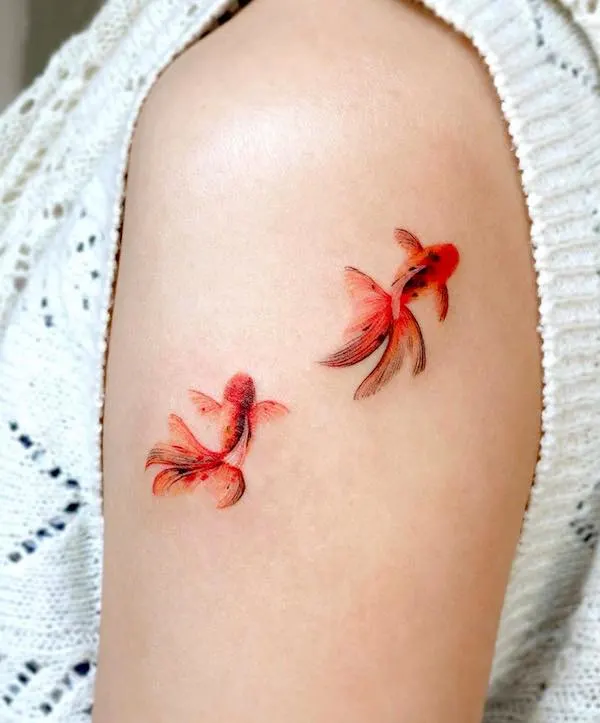 @eunyutattoo
If you want a small and vivid upper arm tattoo, a goldfish tattoo like this one might be for you.
Just like mermaid tattoos, the swimming motion makes the tattoo feel alive. Tattooist Eunyu has created a collection of elegant, flowy, and beautiful aquatic animal tattoos. Check out our interview with Eunyu to learn more about her work.
Wing tattoo on the upper arm
@9room_tattoo
Wings aren't always in pairs. This unique wing tattoo of vibrant colors highlights the individual characteristics of the wearer.
Matching wings elbow tattoo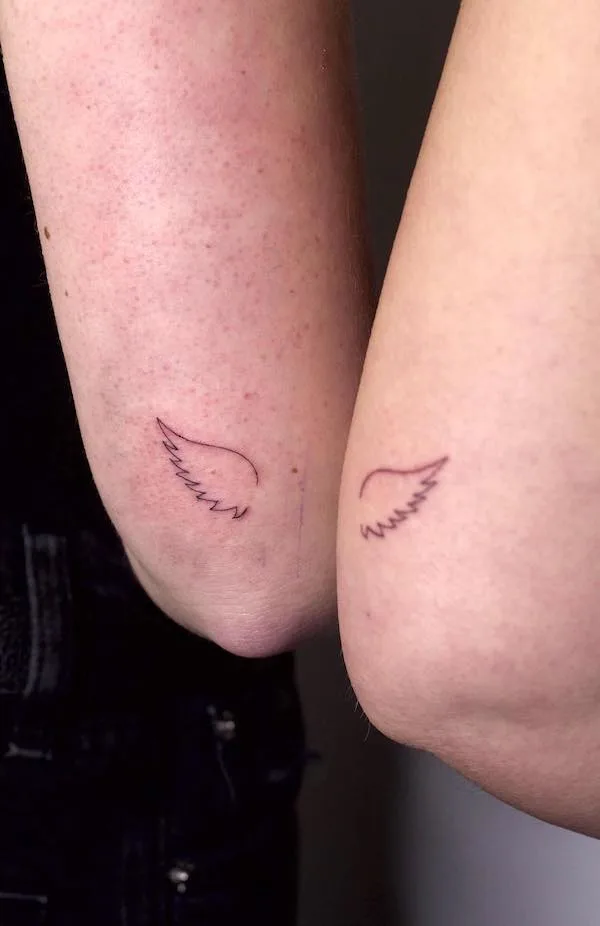 @alunar.ink
Because the skin around the elbow is thin, it's usually more painful to get a tattoo in the area. That's why simple matching wing tattoos can be a good idea. There are no complicated details or shading. Instead, the entire wing consists of a single line, making the tattoo simple and classic.
Abstract butterfly line tattoo
@pauline.tattoo
Witchy upper arm tattoo for women
@miki_tatuuje
Snakes are dangerous creatures. That's why they are often seen in witchy tattoos like this one. As deadly as this snake can be, the witch fully controls it, indicating how much power she might have.
The silence of the lamb
@soosoo.tattoo
I like the work of South Korean tattooist Soosoo because she always finds a way to make the classic gorgeous on the skin. The movie tattoo is a good example. By adapting the movie poster to the back of the arm, the tattoo is perfect for its die-hard fans.
Watercolor rose upper arm tattoo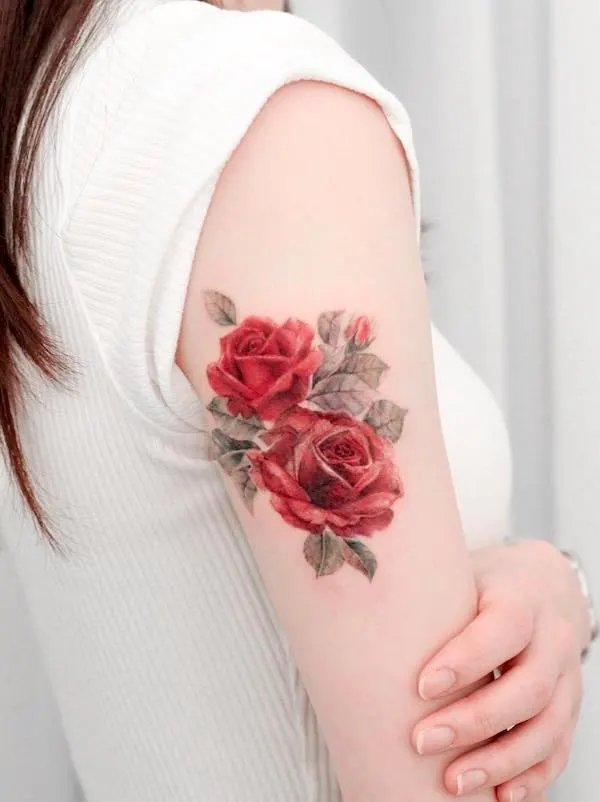 @vandal_tattoo
Beautiful bouquet
@palette.tt
Blue lotus on the back of the arm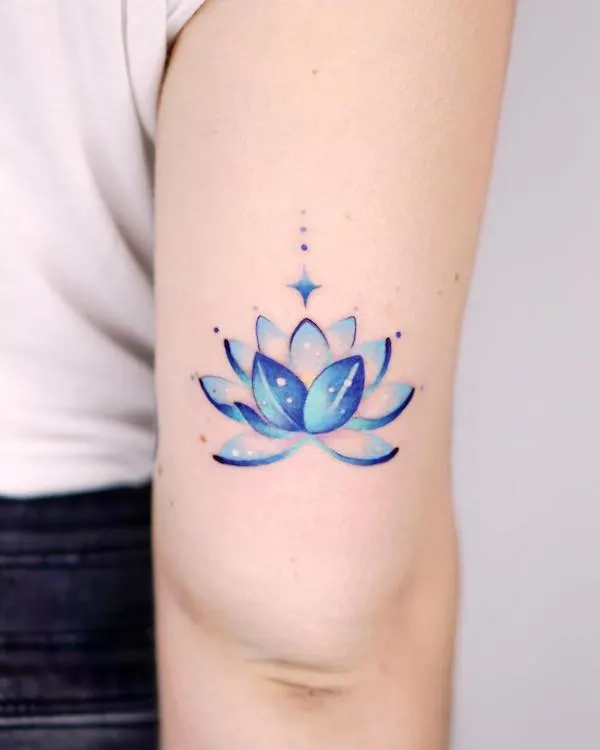 @charming_tattoo
Cute bicep tattoo for girls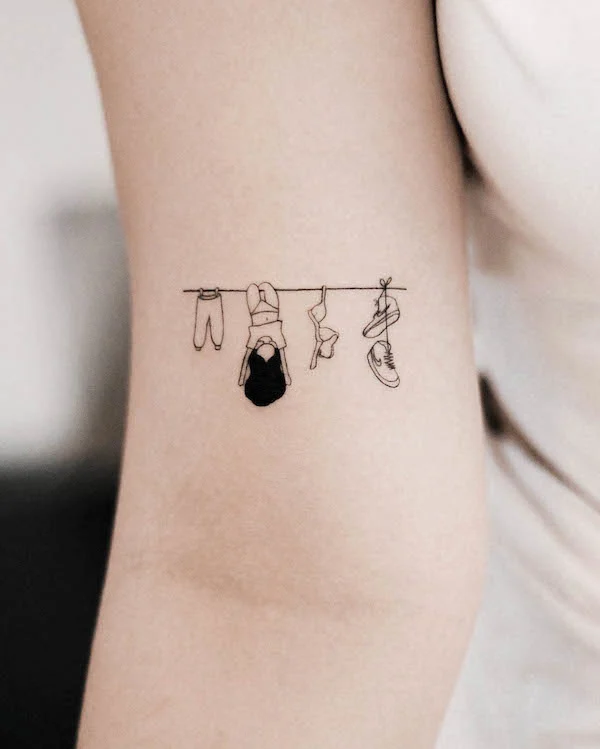 @nhi.ink
Small sunflower on the bicep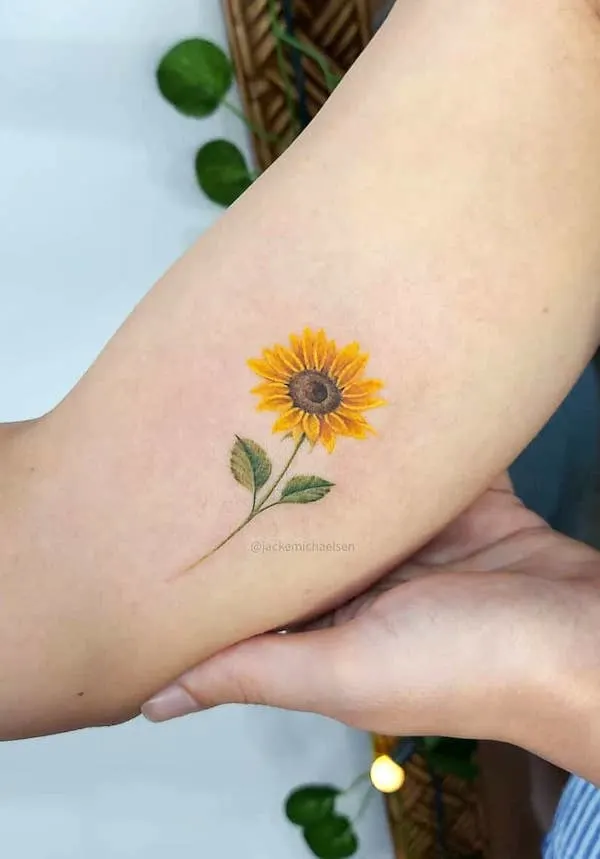 @jackemichaelsen.tattoo
A cool thing about the upper arm tattoos is the difference in exposure by season. As people wear more short sleeves in the summer, upper arm tattoos are shown more. What can better represent the summer passion than a sunflower?
Smiley faces upper arm tattoo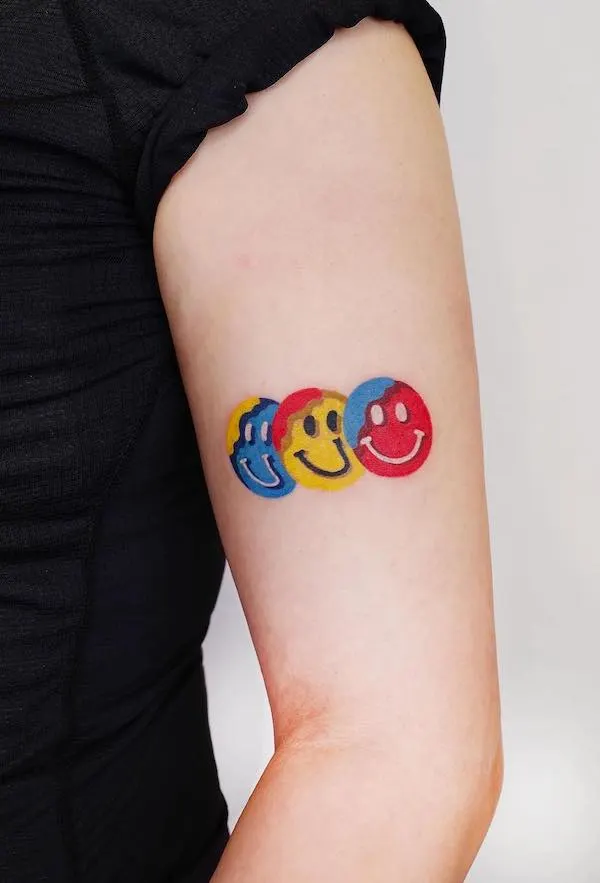 @zoonmo
Gustav Klimt arm tattoo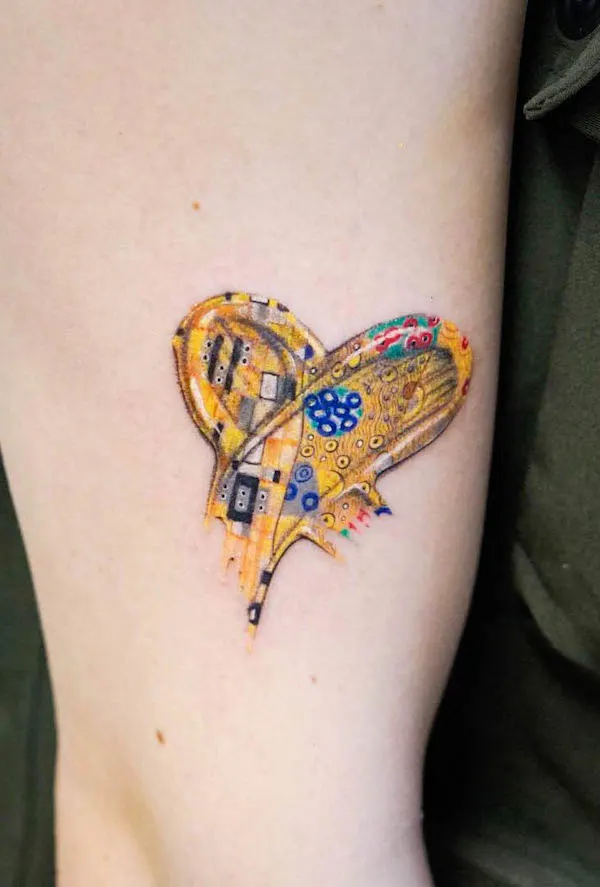 @gemma_tattoo
Gustav Klimt is an iconic painter. His painting The Kiss mesmerizes the world with the golden glitters and luxurious color palette. If you love his style, don't forget to check out more Klimt tattoos.
Name bicep tattoo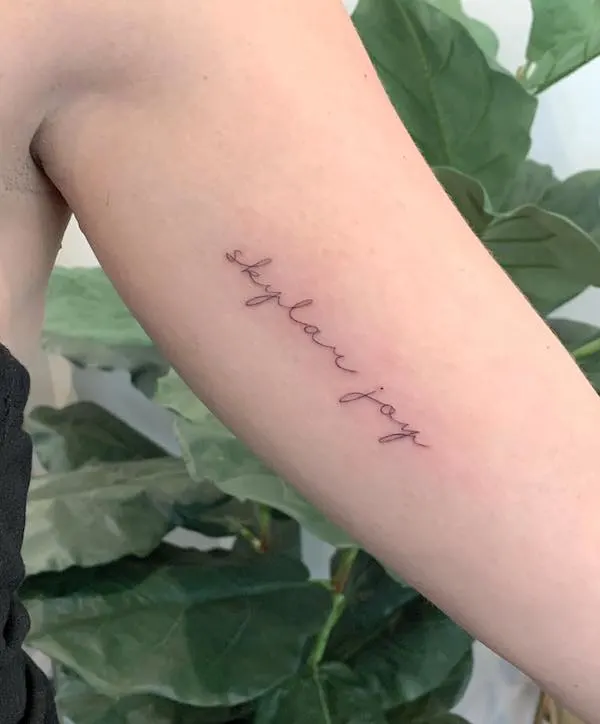 @gracedoestattoos
Name tattoo on the back of the arm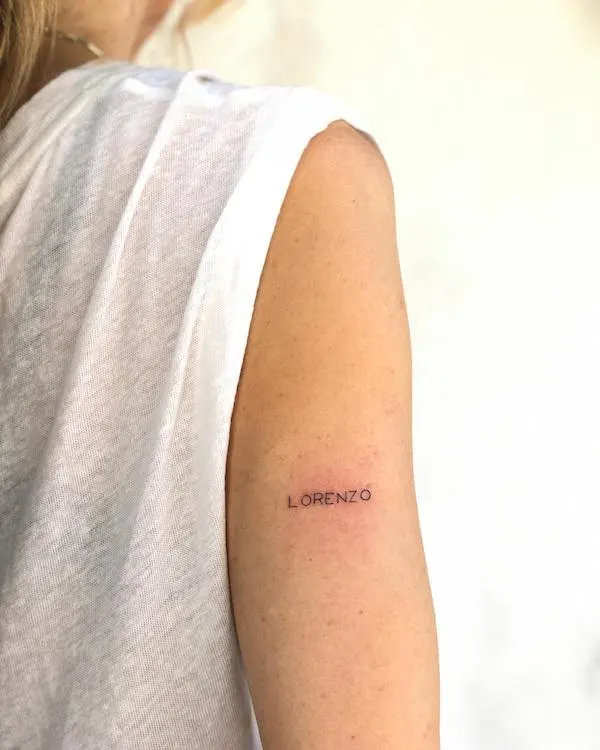 @xinattt
Gemstone cross arm tattoo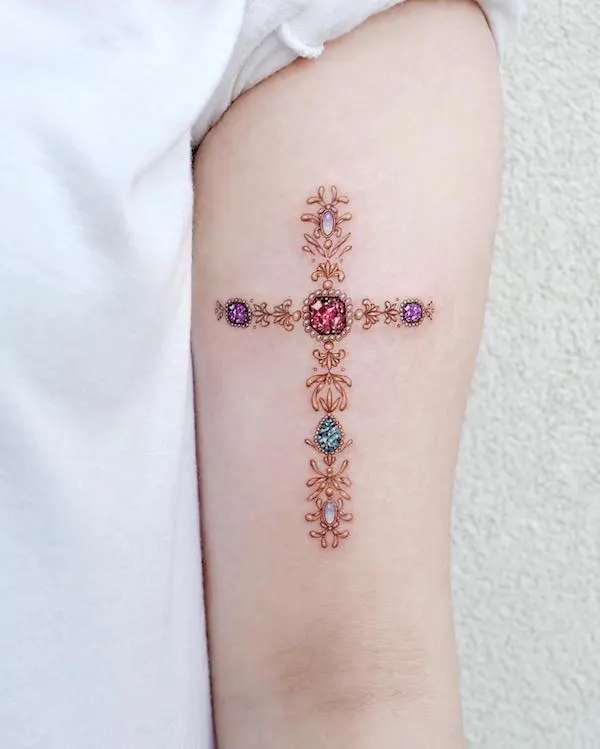 @tattooist_solar
A cross is a symbol of one's religion. It consists of two lines crossing each other. And you can add patterns or ornaments to make a cross tattoo special, just like this glowing gemstone cross upper arm tattoo.
Ornamental cross back of the arm tattoo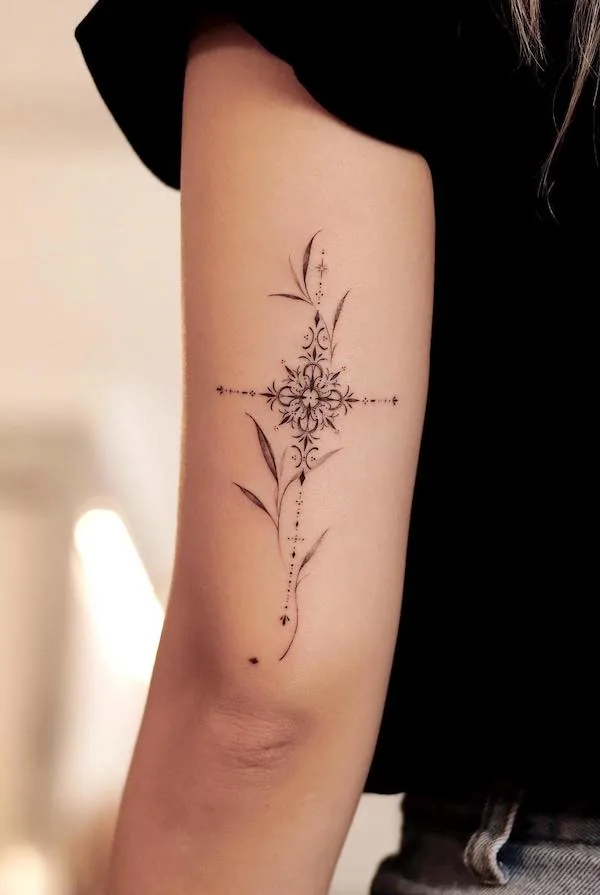 @sukza__art
Vintage cross bicep tattoo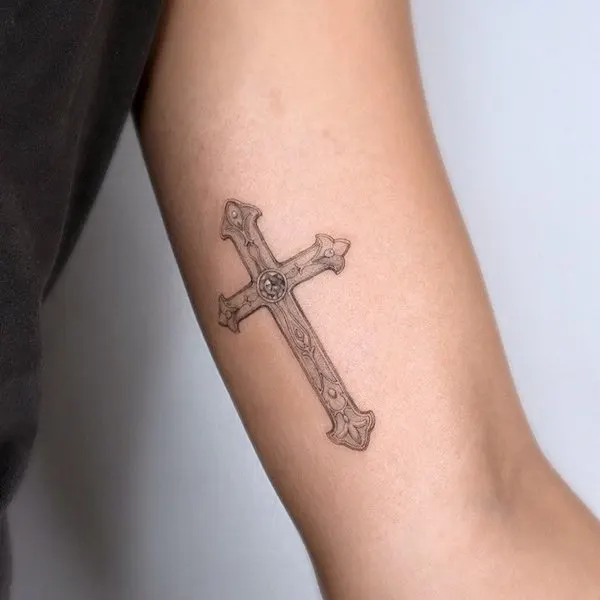 @choseung.tat
Cross with flower and quote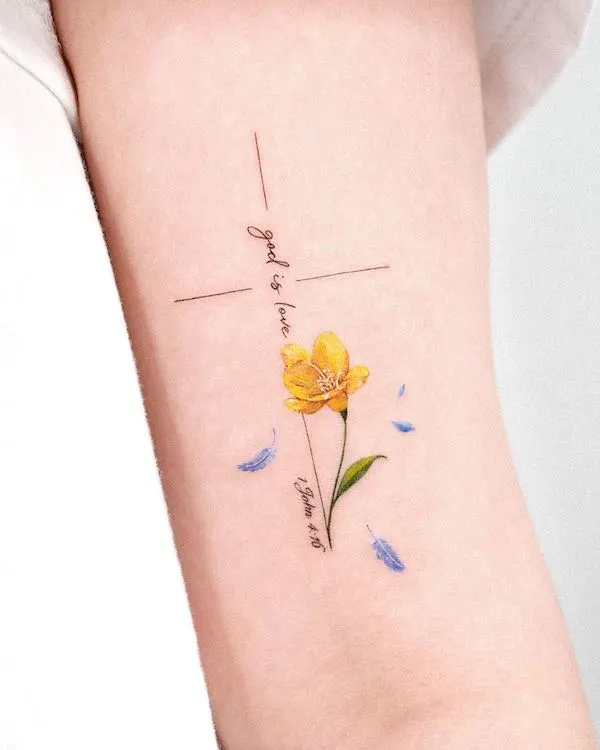 @tattooist_solar
Tiny cross inner arm tattoo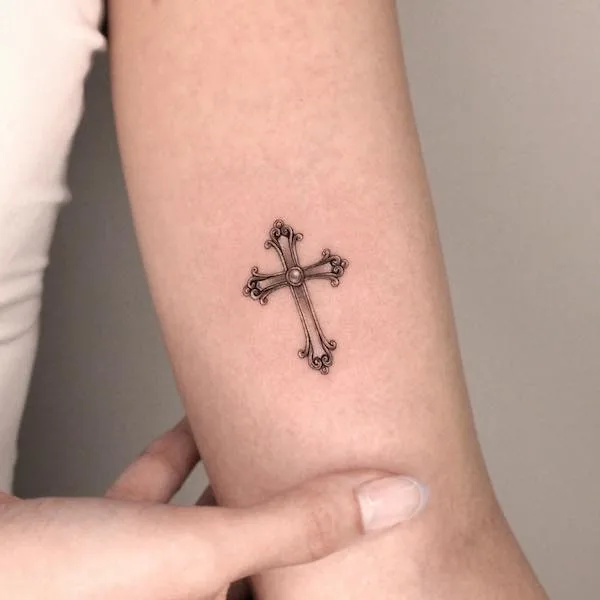 @tattooist_eheon
Simple cross outer arm tattoo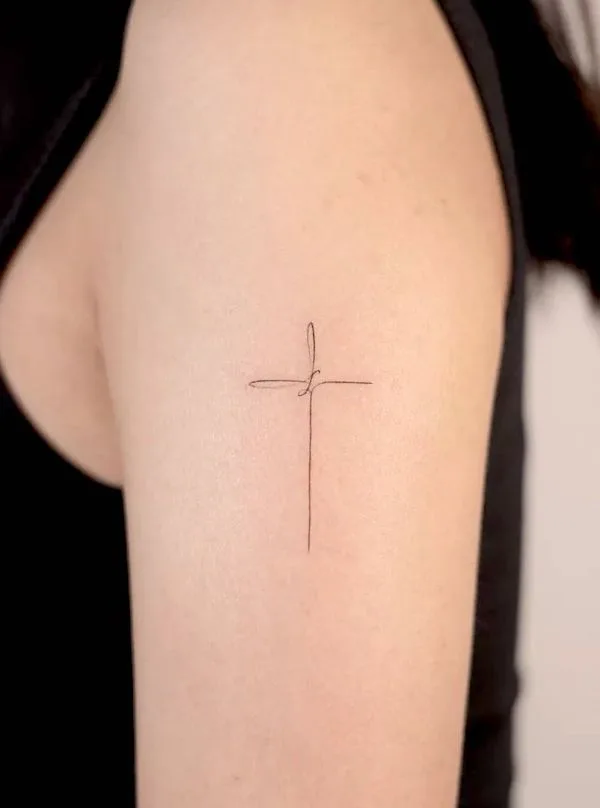 @handitrip
If you pay close attention, you will notice the little "S" the tattooist hides at the intersection of the cross. What a creative and discreet way to combine one's initial with religion.
Arm band tattoos and bracelet tattoos for women
Armband or bracelet tattoos refer to those that wrap around the arm or the wrist. While armband tattoos for men are usually black and tribal, those for girls are more airy and elegant. Scroll on to discover some of the best armband tattoos for women.
Black and grey flower bracelet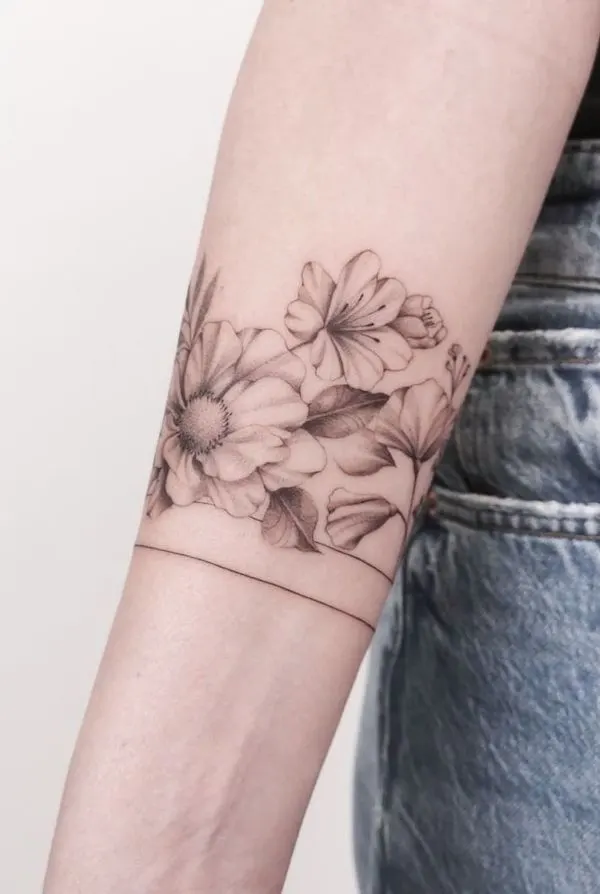 @amelie.tattooist
Floral bracelet forearm tattoo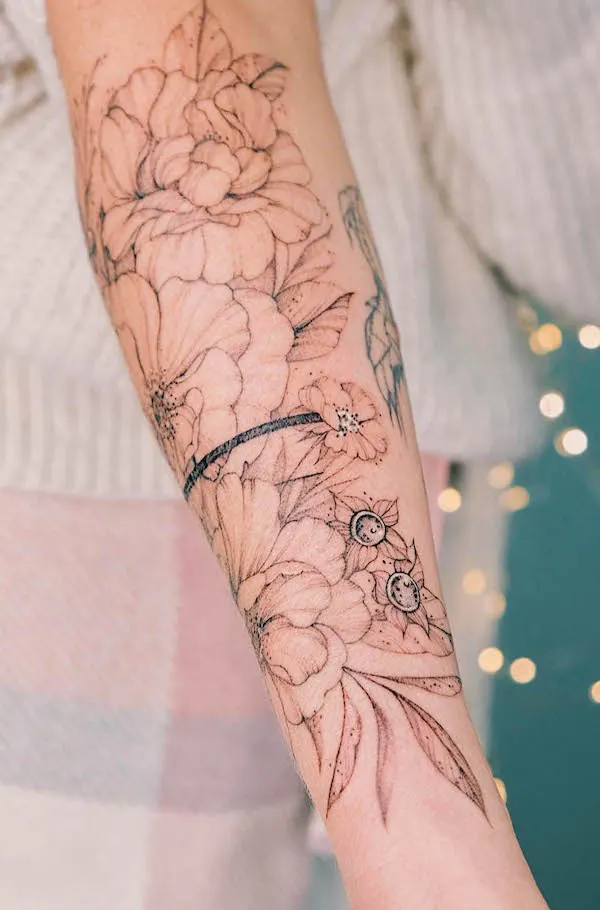 @cathy.artwork
Botanical arm band tattoo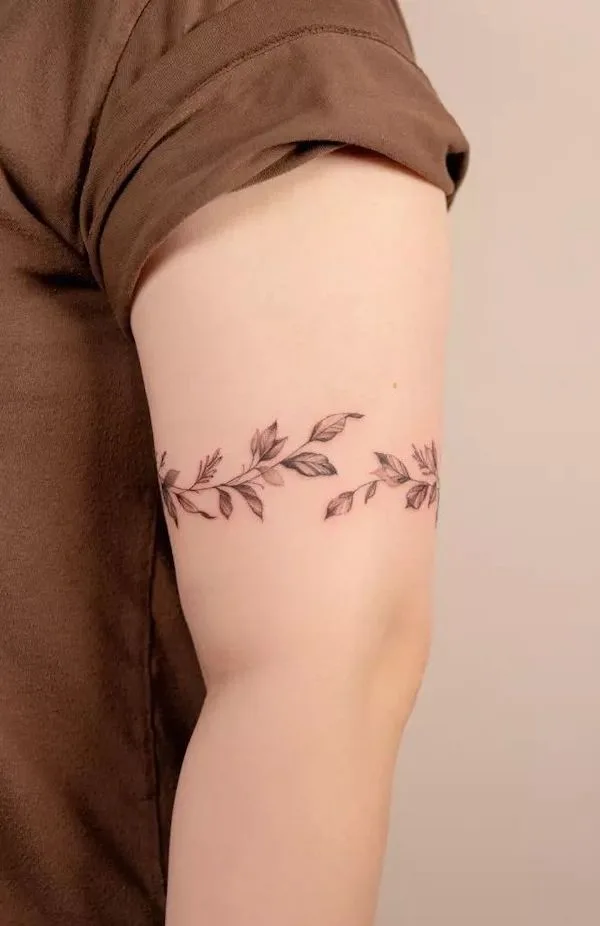 @handitrip
Upper arm vine tattoo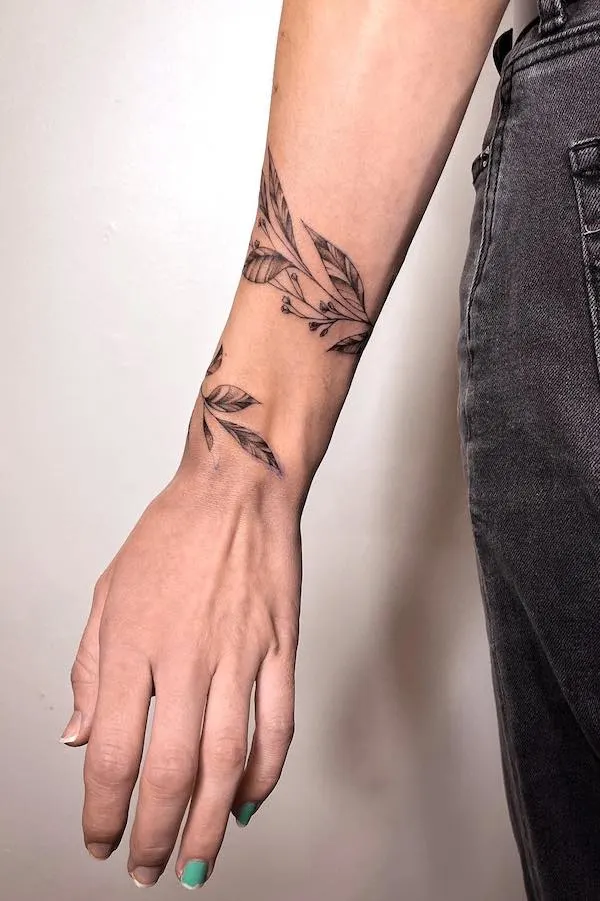 @kaylajordyntattoos